ExpiredRascals
Staff
Moderator
Let me be your Cyrano
Join Date:

1/10/2011

Posts:

12,432

Member Details
Disclaimer: This post is still in progress. If you have anything to add or would like to help me flesh out any section, let me know!
Solidarity
Also known as Reset High Tide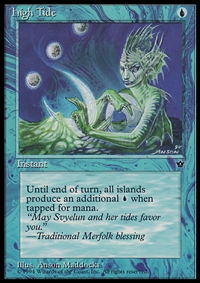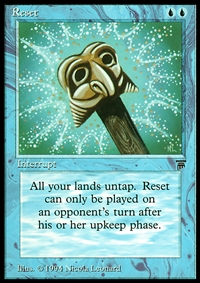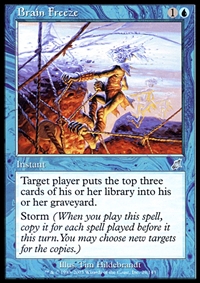 History
Solidarity is a variant of High Tide with a long and rich history in Legacy. It was one of the early dominant decks in Legacy following the transition away from the joint ban list with Type 1 (it was actually initially developed for Type 1.5 prior to the split when it was jokingly known as "Strictly worse than Dragon"). Solidarity in its initial form was primarily designed by David Gearhart, morphing from what must be termed a "casual" budget deck into one of the most feared decks of the newly formulated Legacy format. For more on the early developement of the deck, I recommend reading
Finn's interview with Gearhart
, published on this very site back in 2007.
Solidarity in its initial dominance looked something like the list at right, but it was far from a one-hit wonder (Search SCG's decklist database
here
for a broad selection of top placing examples of the deck) While Solidarity was powerful, it had a number of weaknesses. First and foremost, it was weak to early pressure and was poorly suited to the acceleration of the speed of the format represented by printings like
Tarmogoyf
. Second, it was recognized to be quite difficult to pilot. As the format continued to develop with new printings, Solidarity fell from popularity as the difficulty of the deck was no longer justified by its strength relative to the field. For years, the deck rested in obscurity with only the occasional return to the spotlight (For example,
this Top4 in 2012
). With the printing of
Dig Through Time
, however, Solidarity has returned to the public consciousness.
Strategic Overview
Solidarity is a storm-based combo deck built around
High Tide
and the rather obscure
Reset
. Due to the constraints imposed by Reset, the deck has a unique restriction in construction -- every non-land needs to be castable at instant speed. For the early turns, Solidarity just uses its cantrips to string together land drops and sculpt its hand. After significant sculpting or at the threat of death from the opponent, Solidarity will attempt to combo off on the opponent's turn, using card draw and untap effects (in conjunction with
High Tide
) to generate storm to fuel a lethal
Brain Freeze
. From there, the kill can either be something like
Blue Sun's Zenith
for X=1 or the opponent's own draw spell (assuming you went off in response to a draw spell such as
Brainstorm
,
Ponder
, or
Treasure Cruise
) or draw step (assuming you can afford to let them finish out their turn).
One way to consider Solidarity is that it is a control deck which always has the last answer of "kill you" in response to a threat it otherwise cannot handle. Whether that threat is a lock piece such as
Counterbalance
or a game-ending play such as a lethal
Lightning Bolt
, Solidarity can respond and use that moment to end the game. This gives a strategic superiority to Solidarity in the face of interaction because it means that Solidarity is always representing a virtual counterspell of "Kill you".
Solidarity is very different from
Spiral Tide
and other other High Tide variants. Those decks lean heavily on the power of cards like
Merchant Scroll
,
Candelabra of Tawnos
, and
Time Spiral
while in contrast Solidarity's unique constraints force it to forsake these for the power of
Reset
and the maneuverability and flexibility of being instant speed. Solidarity is the one combo deck that does not ask "Will I live through another of turn my opponent's turn?", but rather "Will I die right now?".
Modern Revival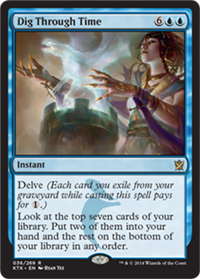 Solidarity's recent revival has been entirely on the back of this card. Because it does not run
Time Spiral
, Solidarity is free to fully indulge in its graveyard as a resource (Unlike the more prevalent Spiral Tide). This means that Solidarity gets to harness
Dig Through Time
's powerful delve ability (and to a lesser extent, Snapcaster Mage's method of recursion). Dig Through Time is arguably the most powerful card selection spell printed since
Brainstorm
and it dramatically increases both the speed and consistency of the modern iterations of Solidarity in comparison to the versions of the deck seen in its heyday.
So what does the Solidarity of today look like? There is not a "stock" list for the reborn Solidarity, but they are already beginning to converge upon certain features. I have included my own list alongside two well-publicized lists in the spoiler below.
A Note on Lands
Solidarity desperately needs to make land drops in the early game, but a higher land count negatively impacts the deck's consistency when actually trying to execute the combo. Different lists address this problem in different ways. My list featured above trimmed lands with the understanding that early cantrips would need to be used aggressively to find and string together land drops. Longmore and Lossett both went the opposite direction and erred towards more lands by going with 19 (compare this to my 17). Despite such wildly differing land totals, the lists are each designed with a healthy respect for the importance of making land-drops, and different lists vary with as many as 20 lands or as few as 17.
Each list also features a large number of
fetchlands
. This is for three reasons:
They provide shuffle effects for Brainstorm.
They stock the graveyard to fuel delve for Dig Through Time at minimal cost.
As you use fetchlands in multiples, the thinning effect can actually become quite significant due to this deck's plan to aggressively draw through its deck. To demonstrate, if my list featured above makes its first 4 land drops with fetchlands, and then attempts to go off on Turn 4, Meditate has a better than 1/3 chance to draw all spells due to only 9 land remaining in the deck. This effect is only magnified as the game continues and additional lands are fetched out of the deck.
Card Selections
Coming soon!
Previous Threads and Other Links
The original MTGS Primer (circa 2005)
and its
discussion thread
Solidarity Primer and Thread on The Source
The original Solidarity thread on the Source (circa 2005)
GP New Jersey Deck Tech with Feline Longmore
Quote from

Just got to say, you've definitely earned distinction as an MTGS hero
Quote from

Because he's the hero MTGS deserves, and the one it needs right now. So we'll global him. Because he can take it. Because he's not just our hero. He's a silent guardian, a watchful protector. An expired rascal.
Quote from

ExpiredRascals you sir are a god-like hero.
Quote from

ER is a masterful god who cannot be beaten in any endeavour.
Quote from

:ER:, you suck as a hero