Xantid Swarm
Join Date:

10/3/2009

Posts:

148

Member Details
(Banner by Piet)
Primer - Hulk Rebirth
General Description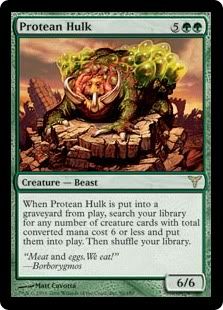 Hulk Rebirth is a deck that use
Natural Order
to find
Protean Hulk
and do a kill combo with it.
Progenitus
is backup if the combo somehow fizzles. Obviously, combing out consistently and early is important, so the deck uses four of both
Natural Order
and
Pattern of Rebirth
, as well as many ways to kill your Hulk.
Hulk Rebirth is robust and flexible as a deck. Undisrupted, it's a pretty consistent turn three killer. Cards like
Cabal Therapy
, which is also good for getting your combo off, and
Xantid Swarm
, the deck can also very easily break through the walls of countermagic featured in a lot of modern legacy decks. Hulk Rebirth is also surprisingly resilient against graveyeard hate and very consistent even when attacked by discard spells. In fact, when you play Hulk Rebirth, it's easy to be in a position where a lot of draws will win you the game on the spot. Very often,
Natural Order
,
Pattern of Rebirth
, and
Academy Rector
feel like four mana win-the-game spells. When you have seven mana available, something that you can regularly reach on turn 3 to 5 with all the mana accelerants the deck has, you can also win on the spot with a topdecked
Protean Hulk
. At eight mana, you can even
Green Sun's Zenith
directly into the Hulk. At this point, it's a real nightmare for a slow control deck unable to present a fast clock, as they are assured to run out of counter-magic before you'll run out of treats.
The main goal of the deck is to get a
Protean Hulk
into play, which as mentioned above is generally via
Natural Order
or
Pattern of Rebirth
. You then kill it in some way with one of the many sac-outlets at your disposal. From that point, you normally win at instant speed: the Hulk's triggered ability gets you a
Body Double
(who comes into play as a copy of
Protean Hulk
) and a
Viscera Seer
or a
Carrion Feeder
.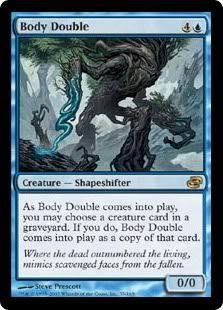 You sacrifice your
Body Double
into the black creature to get a new Hulk trigger and search for
Reveillark
and
Mogg Fanatic
. Fanatic pings the opponent for one, then you sacrifice
Reveillark
into the Seer/Feeder to get back Fanatic and
Body Double
. This time,
Body Double
comes into play as a copy of
Reveillark
. You ping again with Fanatic and then sacrifice your new
Reveillark
to get back...
Mogg Fanatic
and
Body Double
again! From that point it's an infinite loop.
The basic game plan is generally this:
Turn 1: Mana acceleration. Ex:
Birds of Paradise
or GSZ into
Dryad Arbor
Turn 2: Disruption. Ex:
Cabal Therapy
or GSZ into
Xantid Swarm
Turn 3: Kill. Ex:
Natural Order
&
Pattern of Rebirth
When one sac-outlet is missing to complete the main combo, the deck also feature the more traditional target for
Natural Order
:
Progenitus
. A bit slow compared to the fast kill Hulk can provide, the big Hydra is still enough to get the job done in a lot of situations (and you can get it into play as fast as turn 2 with some help from Ancient Tomb or Tinder Wall). It's the solid B plan. Remember that both
Natural Order
and
Pattern of Rebirth
can got you
Progenitus
when needed.
Finally, try to not forget every opportunity to turn yours creatures sideways, because when all else fails, the little damage that your various 1/1's can do can add up. I have won games with this deck attacking with Dryads Arbor under Standstill against an unlucky opponent who do not find a
Wasteland
or Factories. I also won a couple of games with a 5/5 or 6/6
Carrion Feeder
or with
Reveillark
or
Protean Hulk
attacks... I even vividly remember a game I won with a Xantid Swarm attack under Humility. So, do not forget your attack phases, you never know.
The Deck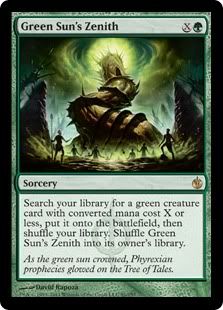 Take note it's a 61 cards list. If you absolutely want to reduce the list to 60, the most reasonable choice is to cut a
Pattern of Rebirth
, but I dislike the idea of not playing a full playset. Cutting a
Gitaxian Probe
is lame, as the card took almost no real place in the deck and is generally amazing, particularly in game 1. Cutting a Bird is also a possibility, but I'll not recommend it as
Birds of Paradise
is generally your best turn 1 play. All the rest is untouchable in my opinion.
Deck Dissection
After a lot of testing and games with the deck, I'm convinced that the actual land count is optimal.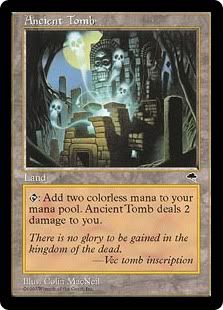 You really want to be able to make your land drops and you're in good shape if you do for at least 3 turns. 21 land with four Probes guaranty that you'll do it in most games.
Another crucial thing is to be able to generate green mana on turn one. Unless you mulligan to 5 or less or you are sure your opponent is not playing
Wasteland
/
Sword to Plowshare
/
Lightning Bolt
, never keep an hand with
Dryad Arbor
as your only green source. This is the reason why I think the total count of fetchlands + Forest +
Bayou
+
Savannah
can't go under 14.
As everyone knows, the fetchlands (3
Verdant Catacombs
, 2
Wooded Foothills
, 2
Misty Rainforest
, 2
Windswepth Heath
) are amazing. They get you your critical green mana sources, including those that produce multiple colors of mana and
Dryad Arbor
. This flexibility and the natural immunity they provide to
Wasteland
explains why I choose to play nine even if it exposes you at the little risk of running out of targets in the deck. Playing a mix like that (3-2-2-2) is optimal against
Pithing Needle
and
Extirpate
. These are niche cases, but it is something to think about.
1
Forest
– Essential. You know,
Wasteland
is a card in this format (and also
Back to Basics
,
Magus of the Moon
,
Path to Exile
...)
3
Bayou
– This is generally the default target of the first fetchland you crack on the play. Black is the second colour of the deck, and 3 Bayou guarantee you you'll never run out of them.
1
Savannah
– White is needed to cast only 2 cards main deck (
Academy Rector
and
Reveillark
) but you want to be able to do it when you need – particularly the Rector. Just remember you only have one, so do not expose your Savannah to enemy Wastelands without a good reason.
2
Dryad Arbor
– Awful cards to draw, amazing cards to have in the deck. Those Dryads do very important things to make the deck work properly: they can be fetched and they allow you to use
Green Sun's Zenith
as
Llanowar Elves
. Once in play they have so much utility, it's hard to believe: they are targets for
Pattern of Rebirth
, food for
Natural Order
or flashbacked
Cabal Therapy
, chump blocker, they can kill a
Goblin Lackey
or a
Dark Confidant
(or even, in pair, a
Gadock Teeg
), they raise the count for
Gaea's Cradle
, they get sacrificed into
Phyrexian Tower
, or to
Viscera Seer
when you dig for a game winning top deck. Two Dryad Arbor is the right count: you'll sometimes be sad that you aren't running three, because those little Dryad get killed very easily, but three would be a nightmare for starting hands.
3
Ancient Tomb
– These provide a lot of explosiveness on early turns. They give you a realistic chance of casting
Natural Order
for
Progenitus on
turn 2, as well as helping you to play all your key spells a turn faster. Natural Order, Pattern of Rebirth, Green Sun's Zenith and Academy Rector all benefit from this. Three is the right number, because you are generally happy to see one Tomb, but typically do not want to see a second one.
1
Gaea's Cradle
– In many ways, it's your fourth
Ancient Tomb
, with the added bonuses of providing green mana and in crazy quantities at no life payment, but also with the disadvantage of giving just one or zero mana on occasion . You'll appreciate the ability to fetch out a Dryad Arbor when you have Cradle in hand or in play. Take note that Cradle can allow Turn two-win, a feat that Hulk Rebirth is generally unable to achieve without the Slaughter Pacts from the sideboard (Turn 1: Forest, Birds; Turn 2: Cabal Therapy, Tinder Wall, Cradle for GG, sac Tinder Wall for RR, Natural Order). I play only one Cradle because it's less consistent than Tomb to provide two mana (obviously, there is also the legendary rule).
1
Phyrexian Tower
– A versatile land: you can tap it for 1 colorless or use it as a two-mana land at the cost of one creature. But the main reason to play the Tower is as an additional (and sometime crucial) sac-outlet.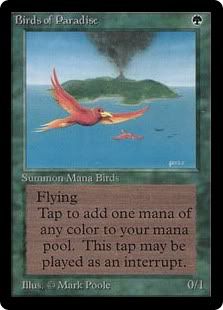 I know this big list of singletons turns some heads, and makes my list look a bit like one from Vintage, but all those numbers and names make sense.
4
Birds of Paradise
– Most of the time, this is your best turn one play. You are always happy with a Birds in your starting seven. These Mana Birds generally allow you to have access to 3 or 4 mana on turn 2.
2
Tinder Wall
, 1
Wild Cantor
– These three creatures are needed in the deck to be able to hardcast a
Reveillark
or a
Body Double
from your hand after you sacked Protean Hulk. They also play the role of mana accelerators and are excellent targets for Pattern of Rebirth. Remember that sacking Tinder Wall for or Wild Cantor is a mana ability (and don't use the stack) so you can sacrifice your Wall with a Pattern on it even when your opponent targets the enchantment with a Krosan Grip. Also note that Tinder Wall is able to block a significant number of creatures (Lackey, Teeg, Confident...). Do not forget the Tinder Wall's second ability! Rarely useful, but those 2 point of damage on a blocked creature can sometime win you the game if the creature in question is Gaddock Teeg or
Tidehollow Sculler
.
1
Wall of Roots
– Another mana accelerator that doubles as an excellent blocker. You sometimes need your Wall of Roots to cast a Pattern of Rebirth against an opponent holding a
Pyrokinesis
, a
Fireblast
, or simply a
Lightning Bolt
.
1
Carrion Feeder
, 1
Viscera Seer
– Combo pieces that you fetch when you sac Hulk. These also help you to go off. Each one has it's own specific advantages. Feeder can become very big and laugh at your enemy's
Leyline of Sanctity
or
Pithing Needle
naming Mogg Fanatic. Seer can block and allow you to dig for a top deck if you are in the posture of do-or-die. Playing two with two different names give you a sort of immunity against Pithing Needle's effects as well.
1
Starved Rusalka
– As long as Wizard doesn't print a green Carrion Feeder, this will be a necessary evil. Starved Rusalka is a very bad creature, but having it in the deck turns all your Green Sun's Zenith in potentials sac-outlets.
1
Xantid Swarm
– In a combo deck playing 4 Green's Sun Zenith, against a metagame where 60% to 80% of the decks are playing 4 Force of Will (and often a lot of other counters), there is no question that Xantid Swarm is a must. But Xantid Swarm is not only good against counters: the little insect allows you to play Pattern of Rebirth without fear of removal and makes your opponents who bring Extirpate from sideboard look stupid. Finally, as a green creature, Xantid Swarm can be sacked for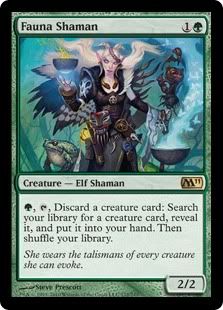 Natural Order...
1
Fauna Shaman
– You need Fauna Shaman in those situations when there is no Natural Order, Pattern of Rebirth or Academy Rector in your hand. Thanks to mana accelerator, Green Sun's Zenith can get her in play on turn 2. Fauna Shaman can get you a sac outlet and an Academy Rector to combo off or a lot of other things.
1
Academy Rector
– With a Feeder or a Seer, Rector allow you to combo out instantly, so it's like your ninth four mana "I win" card. He can also come into play as a result of the Hulk's trigger to allow you some shenanigan to get around hate pieces (more about this in the section on strategies).
2
Protean Hulk
, 1
Body Double
, 1
Reveillark
, 1
Mogg Fanatic
– The combo engine. They are not as dead of cards as it may seam. Mogg Fanatic from a Birds or a Tinder Wall can kill some annoying creatures pre-combo. You'll be surprise how often you'll be able to hard cast a Protean Hulk, sometime as early as turn 3. Reveillark can be a good blocker/beater who bring back some creatures you need to win. Even Body Double can be useful pre-combo, if you have the chance of having a Birds or your Wild Cantor to cast it.
1
Progenitus
– A great plan B, enough to get you the game in a lot of situations. The sad thing about running it is, as everybody know, the possibility of drawing it. There are a few ways to get rid of him in your hand (Cabal Therapy on yourself, Fauna Shaman) that most of the time you just need to forget about it and try the main combo.
4
Natural Order
– The main "I win" card. Resolving a Natural Order is the main goal of the deck, and when you succeed, it's normally good game.
4
Pattern of Rebirth
– Natural Order number 5 to 8. They assure the consistency of the deck. Just be aware of the removal in opponents hand before playing them (playing this against an untapped plain is a risky shot) and be sure you can sac the target immediately after, without letting priority go.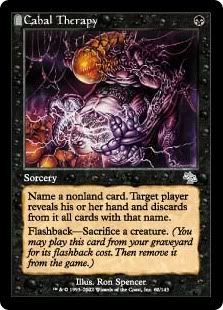 Note that Pattern can fetch any creature, not just green ones (something that rarely matters, but still).
4
Cabal Therapy
– A Therapy is a good disruption weapon doubled in combo piece for the deck. Sweet to have in hand, very sweet to have in grave. Turn one, against an Island, you almost always name Force of Will. Latter in the game, the same Therapy can get rid of another Force of Will to allow you to cast Natural Order into Progenitus, or it will permit you to go off instantly. The best hands always include this + Natural Order.
4
Gitaxian Probe
– Another sweet card. Played on turn 1, the information Probe give you permit you to organize your strategy for the game: do you need to play around a Daze? Around a Spell Snare? Later, at almost no cost, Probe allow you to know if you can cast Natural Order right now or if you need to Zenith for Xantid Swarm or use a Therapy from the grave first. By the way, the synergy with Therapy is awesome and can be back breaking for the opponent if he holds more than one copy of the same card in hand.
4
Green Sun's Zenith
– Awesome card, never play less than 4 of it. X=0 brings you a Dryad Arbor. X=1 can put into play a Xantid Swarm around Mental Misstep (so sweet to see the face of the Fish player who failed to use his Force of Will against your GSZ – oups, too late...). It can also offer you a 2 mana boost for the next turn (Tinder Wall) or the missing sac outlet (Rusalka). If you lack a combo piece, X=2 get you Fauna Shaman. Late game, you'll even find yourself casting it for 8 mana to get an instant win with Protean Hulk. In fact, GSZ gives you so much flexibility and options, it's sometimes very hard to play it optimally.
Not Good Enough for Main Deck
These are the cards that just weren't good enough or didn't make the cut.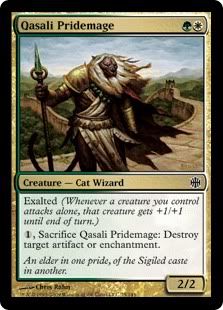 Qasali Pridemage
– I tried it main deck for awhile, but quickly made the decision that game 1, he just did not do enough to justify running him, even as a singleton target for Zenith.
Taiga
– I used to play 1 Taiga during a time where there was also 4 Tinder Wall in the deck (as the Taiga can be used to cast Mogg Fanatic and to pay for Tinder Wall's second ability). With only two Tinder Wall now, I can't justify the Taiga anymore, and the ninth fetchland took it's place.
Sylvan Library
– A close call. Sylvan Library is a very good card that almost always will win you the game shortly after you play it. It's just hard to fit it in the deck. For GP Providence, I cut the fourth Pattern to squeeze one main deck. I'm still undecided about it, feel free to try it. For now, I choose to not play it main deck because it's nice to turn opposing
Spell Snare
s into dead cards.
Swamp
– Some people suggest it, but I really believe that 14 turn 1 green sources is the minimum to avoid too much mulligan. Swamp would take the place of an Ancient Tomb, and I wouldn't like having only 2 of them.
Sideboard
I'm always tinkering with the Sideboard. My actual 15 is this: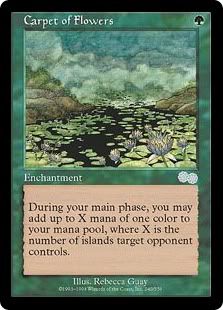 4
Carpet of Flowers
– As long as we are in a meta filled with blie, I'll play a full playset of these. The more mana the deck can generate, the better it works. Carpets can turn all your Green Sun's Zenith into instants wins. With two of them and a Tinder Wall, it's even possible to hardcast a
Progenitus
!
4
Slaughter Pact
– You side these in against any deck that can play Gadock Teeg, one of the worst enemies of the deck. You would also use it against a lot of things like
Meddling Mage
,
Iona
,
Aven Mindcensor
,
Painter's Servant
, and many others. Even when the hate bears don't show up, the Pacts accelerate your deck significantly by providing a way to kill Protean Hulk for no mana (turn 2 Natural Order + Slaughter Pact is a very fast kill). This why I also side in the full playset of Pacts against
Storm Combo
.
1
Qasali Pridemage
– Very important sideboard card. You should almost always bring it in if you think opponent is bringing in the grave-hate. With Pridemage in the deck, you can use Zenith to get rid of problematic artifacts and enchantments. Prime examples includ
Leyline of the Void
,
Relic of Progenitus
, and
Tormod's Crypt
, but there are many others. The best part of it is that you can bring the Pridemage alongside Academy Rector as a result of Hulk's trigger. That way, you can break a Crypt or a Relic before going off via your Rector, virtually ignoring the first hate piece in play.
2
Krosan Grip
– When
Counterbalance
was largely played, this was a must. Still good against various deck and needed in a lot of situations.
2
Xantid Swarm
– Obviously, you side this in this against anything running
Force of Will
s. I used to play only 2 in my 75 (1 main, 1 side) but I'm going to test a third because the situation where I can't Zenith for Swarm anymore actually came around.
2
Sylvan Library
– Bring them against decks playing a strong discard suit (
Hymn to Tourach
,
Thoughtseize
, ect) and against slow control decks, where paying life does not matter a lot. Even with an empty hand, Library generally wins you the game a few turns after landing.
Other Cards to Consider for Sideboard
City of Solitude
– Dodge
Mental Misstep
and
Spell Snare
, stop
Crypt
,
Relic
,
Faerie Macabre
,
Top
, ect, ect, ect
Vexing Shusher
– I decided against running him after testing with him, because it costs too much mana to use him effectively.
Thoughtseize
– I used to play few of them for a long time, but they were not as good as they seemed.
How to Side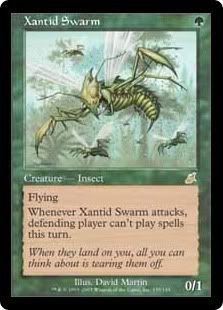 The most difficult part of sideboarding is not to choosing what to bring in, but what to take out. You do not want to reduce too much of the combo. Never cut a Green Sun's Zenith (always cut Birds instead) or a Cabal Therapy (too good!). Always keep both Tinder Wall to be able to hard cast a Reveillark or Body Double as you sac Hulk. What you can cut:
- Against blue matchups, bring in 4 Carpet of Flowers. You can then cut few Birds and lands (not green lands: I'm talking about Tombs, Tower, or Cradle). If your opponent plays no
Wasteland
or other mana denial, you can probably cut 4 or 5 mana sources (otherwise, you probably can still cut up to 3 mana source to bring the Carpets).
- Against non blue deck you can normally take out
Xantid Swarm
.
- Against decks that cannot deal or race a 10/10 with protection from everything, you can put yourself on the "Progenitus plan" and take out 1 Protean Hulk, 1 Starved Rusalka, 1 Seer or Feeder (not both!), 1 Academy Rector
- Against fast combo decks, you can take out the "slow cards": Rusalka, Progenitus, Academy Rector, Wall of Roots, 1 Dryad Arbor (keep 1), Fauna Shaman;
- You can generally cut 1 or 2 Pattern of Rebirth without too much problem (but I don't recommend cutting two against Hymn to Tourach decks)
- The 4
Gitaxian Probe
s main can be seen as a flexible spot where you can put cards post board without weakening the combo or losing options. You can almost always cut 1 to 4 Gitaxian Probe to make room for sideboards cards.
- Against fast aggro deck, when those 2 life lost can matter, it's in fact probably a good idea to cut 2 to 4 Probes. In some matchup, when you need to enter a lot of cards, it's often okay to cut some probes.
Important Strategies
Except against fastest combo you are generally the aggressor. Your line of play must always put you in position to win or to have a good shot at winning next turn or the next. Birds almost always comes out on the first turn when possible.
Counting Your Sac Outlets
Your main sac outlets are Cabal Therapy in grave, Viscera Seer, and Carrion Feeder. Phyrexian Tower, Starved Rusalka, and Natural Order are other ones you'll find yourself using from time to time.
With Feeder or Seer in play, resolving
Natural Order
,
Pattern of Rebirth
, or
Academy Rector
generally means instant win.
Each Therapy in grave is a precious resource, as they can act to get rid of a Force in hand late game or, when you keep them in grave, they count as sac outlet, but remember you can use each of them only once.
How to Play Against Blue Mages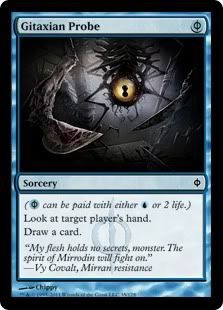 Blues matchups are almost always the most skill testing matches, but for a combo deck, Hulk Rebirth is very capable of beating blue and far from being resource less.
Each blue decks are different animal but they generally share in common one powerful card, Force of Will.
Your main tools to beat Force of Will decks are Cabal Therapy and Green Sun's Zenith for Xantid Swarm and, to a lesser extend, Gitaxian Probe, allowing you to see if the way is free or if you have to wait a bit before going off. Another tool is the simple redundancy you have by running 4 Natural Order, 4 Pattern of Rebirth, 1 Academy Rector, 4 Green Sun's Zenith and 2 Protean Hulk. They just can't counter them all!
Playing Against/Around Mental Misstep
If you have seen the
Mental Misstep
, or are uncertain they have one in hand, your best game plan is to use up less important 1-drops first. For example, if you have 2 sac outlets (Feeder and Seer), but only 1 Birds of Paradise, you will play a Feeder/Seer first to get try and get the Misstep out, and then play your Birds + your second sac outlet. In the reverse, if you are mana flooded, you'll throw in your 1-drop mana source first in hope to get rid of Misstep and then get your crucial 1 drop pass.
Another possibility when you have a GSZ is simply to skip your first turn and then, on turn 2, to Zenith for Xantid Swarm (if you have an Ancient Tomb, you can even do that around
Daze
or around
Spell Snare
). You can then, on turn 3, play all your 1-drops without fear (and often win on turn 4).
I tend to play
Gitaxian Probe
immediately on the opening. The information it provides will tell you which cards you are going to want play, and the card drawing permits you to know exactly what your tools to do it are. But there is also some merits to wait with a Probe for the turn you go off, to be sure the way is free, if your hand is good enough without the cantrip.
How To Combo Around Removal
Pre-combo, creature removals can be anoying as losing mana dude can slow you down and losing a Xantid Swarm can be very bad. But when you go off, you are normaly able to always sac you creature at instant speed at any moment, so one removal spell can't stop you.
Always keep priority when Protean Hulk came into play and sac it immediatly. Opponent have no room to anwser. You then get Academy Rector + Viscera Seer + Carrion Feeder + all Dryads Arbor still in the deck. From that point, Rector get you a Pattern of Rebirth for a second Hulk and you can still go off, even if opponent hold a removal spell. Unless you are sure your opponent has nothing in hand, it's always safer to combo out that way when possible.
Playing Against Hate
Sometimes opponents will bring a lot of hate to fight our combo game 2. Do not forget the big 10/10 Hydra, often a nice way to win against a lot of hate...
Grave Hate – Always bring in your 1 Pridemage if you think there is a chance you'll see
Tormod's Crypt
,
Relic of Progenitus
or
Leyline of the Void
.
Against 1 Crypt or Relic, you can generally go off easily if you already have a Seer or Feeder in play. Fetch 1 Academy Rector + 1 Qasali Pridemage as result of the first Hulk's trigger. Use the Pridemage to destroy the artifact, then sac Rector to go off again.
Stifle
,
Extirpate
– If you see these cards in the opponent's hand (via Therapy or Probe) or think opponent has a good chance of holding one of them, it's probably better to try to win via Progenitus, if you are not able to get rid of them via Therapy or to attack with Swarm before going off.
How To Combo With Pieces in Hand
Having a Reveillark, a Body Double or a Mogg Fanatic in hand generally does not stop you from using the combo. Use the Hulk's trigger to get Wild Cantor+2 Tinder Wall to hard cast the combo piece you hold, and from there, you can continue to go off.
Matchup Analysis
Any Show and Tell Variants or Hypergenesis Cascade: Complete Blow-Out
Once you know what your opponent is playing, you can mulligan properly and you almost can't lose. Just let them resolve Show and Tell or Hypergenesis and win from it.
Dredge: Very Favourable
Try to always have a creature that can sac itself (or better, that can sac others) in play, as fast as possible. Remove their
Bridge from Bellow
in response to the trigger. Without bridges Dredge is slowed enough that you'll be able to race it.
Merfolk: Very Favourable (Mono-Blue) to Favourable (Splash)
Before Misstep, the deck used to be a complete blow-out in favour of Hulk Rebirth. Playing no
Brainstorm
, Merfolk can't hide their
Force of Will
s from our
Cabal Therapy
. With no removal in the mono-colored version, Xantid Swarm will often spell good game for Folk. Finally, you play 8 spells that they must all counter... with only 4
counters
. Sure, there is
Daze
, but you can generally play around it.
Since the advent
Mental Misstep
, the matchup got a little better for the blue tribe, but it's still a highly favourable matchup. The main bad thing is the fact they can now protect their Force of Will from our Therapy. This will often oblige us to re-use a Therapy from grave to get rid of the free counter, sometimes meaning we have no more sac outlets and need to take the Progenitus road.
Slow Control Decks (MUC, Landstill, etc): Favourable to Even
A lot of things make these matchups good for us. First, slower control decks tend to use playsets of
Spell Snare
, a card we are almost immune to. Also, in a long game, you have a good chance to reach 7 or 8 mana, with probably at least 1 Therapy in grave. At this point, you have so many topdecks that can just win you the game.
Just be sure not to overextend yourself, because these decks generally pact some form of mass removal. The best way not to is to play only one Xantid Swarm at a time.
Aggro Decks (Goblins, Zoo): Favourable
Do not underestimate these matchups. Sometimes, they can destroy your creatures and put you in an awkward position. Wall of Roots is an important card against Red aggro decks, not only to block attackers, but also as a Pattern of Rebirth target that can survive
Pyrokinesis
and
Fireblast
. Against Zoo or GW Maverick, do not forget your
Slaughter Pact
s from the sideboard to get rid of
Gadock Teeg
.
Team America: Slightly Unfavourable
What makes this matchup difficult is the combination of mana-denial, counter-magic and hand disruption. Basically, everything that makes this deck what it is. Post sideboard,
Carpet of Flowers
can help a lot and a resolved
Sylvan Library
is awesome.
Counterbalance/Top: Unfavourable
We can beat
Force of Will
. We can endure some
Sword to Plowshares
. We can recover from mass removal. We can play around an active
Counterbalance
/
Top
. But when all those are smacked into one deck, it's very hard to even struggle.
Faster Combo: Very Unfavourable
ANT, TES, Charbeltcher... those combo decks are at least 1 turn faster than we are. Post sideboard, bringing in 4
Slaughter Pact
s give us a better chance of racing them.
Anyway, that is my deck! I hope you enjoyed the read. I want to thanks a lot bone_doc for his amazing job on this primer. Thanks also to Arnnaria and Piet.
If there are any spelling or formatting errors, please contact me or
bone_doc
. Formatted and edited by bone_doc.