krimsonviper

Location:

Suisun City, CA

Join Date:

9/13/2010

Posts:

5,817

Member Details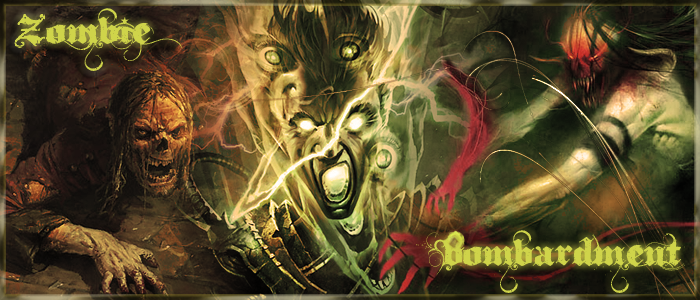 Banner courtesy of
Megabug
Zombardment's strategy is a type of rock deck in that it uses cheap recurring creatures and spells to put a constant pressure clock on your opponent and stripping their hand of their plans, responses, and threats. Originally conceived by Sam Black, it is a combo at heart, and has a touch of aggro and uses it's graveyard to an extent, where if your graveyard is disturbed you should be able to keep going.
With the introduction of
Gravecrawler
and
Bloodghast
, recursion is incredible and the free sac damage offered in the deck is a great way to finish the game. The card base allowed in Legacy offers a wide variety of strategies, making each deck a guessing game for opponents and hard to sideboard against. Due to the combo-aggro nature of this deck, sideboarding should not be concerned with hating out grave hate. Instead it should be concerned with how to better attack games 2 and 3 and to disrupt their end game against you. Let them destroy what is just a benefit to our deck and not th heart.
Base of the deck
Card Choices
Cabal Therapy
The premier discard card in our deck. Not to be overlooked or under utilized. In an experienced players deck, this card can shred opponents hands leaving them hopeless and scrambling for answers. An auto 4.
Gravecrawler
1 of 2 reasons why this deck can function and do what it does. Sac'd to Therapy if you whiffed the first time, sac'd to Carrion Feeder for big beats, sac'd to Bombardment for ping damage. A combination with a Blood Artist on the field can spell D-O-O-M for your opponent. While only being a small creature, his rock like status by reanimating are what make him golden.
Bloodghast
See Gravecrawler.
Goblin Bombardment
The lynch pin to your main win condition. While you always want to see this card every game, you don't want a 4 of. It does nothing by itself, so early game sight in multiples can slow you down and cause you a loss or mulligan.
Faithless Looting
A pseudo draw card because 19 of our cards can work from the grave or our hands. Anything you pitch helps activate Shaman and with flashback we technically never lost the cards, essentially drawing 2 cards for . A dream play is pitching 2 Bloodghasts turn 2 and then Landfall. While graveyard hate can seem to be a great shut down, the beats from your small creatures can finish the game. Graveyard is an added benefit and not the full strategy.
Lingering Souls
It provides 4 creatures, 4 damage via Goblin Bombardment if you can't attack and 8 if you can. Spamming flying chumps for cheap isn't bad either, all the while being a bad target for counters. This card also allows for blockers, which this deck lacks since Feeder, Gravecrawler, and Bloodghast can't.
Bitterblossom
This is another card that spams damage, attackers, blockers, and counters for Carrion Feeder. It is extremely powerful and should be heavily considered when building your deck and there is not much of an aggressive meta. In this regard, we are the aggressor the life loss is negligent.
Tidehollow Sculler
Another way for you to invade their hand and keep the beats coming. The best trick you can do with this is kill it in response to its EtB trigger to permanently exile the card. Yes, read that again. It also activates Gravecrawler. The downside to him being that he can't attack if they have blockers, but he provides 2-for 1 card advantage. With experience players, he can allow for complex game plays that could lead you to victory if played correctly
Thoughtseize
Another one mana hand attack that stops all threats before they become threats. In this deck, it is second to Cabal Therapy and should rarely be overlooked. If you are new to the format, let alone with this deck, this would probably be your premier discard spell over Cabal Therapy. The 2 life loss is the only downside, but the fact that you will never whiff is great. This card, or any more discard, does put the deck into mid range territory though, so keep that in mind while counting the amount of discard into your decks.
Lightning Bolt
Red's most efficient removal and direct damage spell. Any deck playing red should consider this spell at all times. With the amount of fetchlands this deck runs, red sources are never far behind and many decks runs creatures with less than 3 toughness. Using this card is highly dependent upon your build as well. If you have built this to be more aggressive, then this efficient removal or reach spell could be what you're looking for.
Carrion Feeder
Your Tarmogoyf for the deck. He provides beats and activation for Blood Artist if you run that package. But possibly the weakest point in our strategy however, and will probably be your sided out choice. He provides combat shenanigans, as well as providing answers to the random Bridge decks.
Dark Confidant
This card doesn't need much of an explanation, but I will anyway. He draws you cards for one life most of the time, practically a 2-mana Phyrexian Arena while providing a body to beat with. Since you have many ways to sacrifice him before he kills you is another major plus to him. Playing him main board or side is a tough decision, so keep in mind he dies very quickly and removal is usually waiting for him and not used on our other creatures. Remember the flavor text on him as well: "Greatness, at any cost."
Deathrite Shaman
This deck can benefit from an accelerator to keep up with the unfair decks, while keeping a solid clock with the fair decks. It helps to hose graveyard using decks and mirrors, with providing a small bit of life gain while shrinking Tarmogoyf. The major downside being he needs to sit around for a full turn before use and he taps, making him much shower than scavenging ooze, but not forcing us to splash green if all we want is the clock. The abundance of fetchlands will always allow us to accel. Also allows you to get around Solitary Confinement and Leyline of Sanctity.
Blood Artist
This card brings a shock to your opponents system every time they block. While he can't attack, he does provide a body to block and ping with Bombardment, and can keep opposing aggro at bay with the life gain and provides sudden wins out of nowhere. Not a 4-of since he can't attack, but can be kept in mind when building your deck. Downside being that it does nothing against Leyline of Sanctity and Solitary Confinement.
Zealous Persecution
A card that has been overlooked, but the added +1 damage for an alpha strike in swarm mode is beastly. It can wipe your opponent's board if they're playing Goblins, Elves, and Affinity, kills Mother, Dryad Arbor, Hierarch, multiple Delvers, non-Threshold Mongoose, SCM, along with many more creatures.
Humility
This deck can really abuse this card, but is generally only brought in against Show decks. Your creatures have the added benefit of coming back from the graveyard while your opponents don't. It doesn't shut off Gravecrawler's and Bloodghast's ability to come back from dying because they are cards and not creatures in the graveyard. Counters on Carrion Feeder are still there as well. Turning Griselbrand and Emrakul into 1/1s against Show and Tell and Reanimator is huge. RUG can't deal with it if it lands and Zealous becomes a game winner. This card also allows you to block if need be.