Damascusxie
Location:

78504

Join Date:

7/18/2011

Posts:

22

Member Details
I'm testing a system with my current playgroup to lay out something of a narrative and continuous campaign for our commander games, a system where our multiplayer commander games will have continuations from prior games and where there are other objectives and conditions than being the last man standing. What I've come up with is pretty simple and will probably see changes in the future.
THE RULES

Each player chooses a legal Pauper Commander and builds a legal pauper deck around that commander. Each player starts off with 30 health and an opening and maximum hand size of 7.

During the game, a player earns EXP based on actions done. Some EXP gains are persistent, meaning that the EXP reward can be claimed any number of times during a game. Other EXP rewards are achievements, meaning that they can only be claimed once per game. Whenever a player meets a requirement to gain EXP, they must declare it and record it themselves or else the opportunity is missed. If a new player joins, then that player is given the same amount of EXP as the player with the lowest current EXP total.

EXP can be used to upgrade your deck or to purchase other personal abilities such as increasing your life total. Uncommons and rares which are not banned on the standard multiplayer may be purchased with EXP. Commons are always accessible without EXP. EXP may only be spent in the time in between games. EXP expenditures are non-refundable.

In addition to the normal rules for a multiplayer commander game, the campaign system contains alternate objectives. Each objective has a condition required in order to unlock the objective (sacrifice 4 creatures, pay 10 life, etc). Once an objective is unlocked, it may be attacked like an enemy player by any creatures on the board. The controller of the next creature to deal any combat damage to the objective can claim the objective. Objectives can range to cards made available to add to decks to special player abilities similar to vanguard cards.

Some games will also have global commanders, usually a type of artifact or colorless creature which can be cast by anyone from its own command zone with the same commander tax and state change rules as a normal commander. If there is any interaction which would impede their move to the command zone (such as a tuck effect), the card is lost forever. This creature does not count as a commander for the purposes of commander damage, EXP gain, or objective requirements.

Each player has the option of starting to Planeswalk away. During the end of their upkeep, a player may declare that he is planeswalking away. As long as the player casts no spells and attacks with no creatures until the end of their next upkeep, that player leaves the game as if the player was defeated but keeps any objectives and EXP earned during the game. If a player is defeated, then that player loses 50% of all stored (not spent) EXP as well as losing any objectives to the player which caused the killing blow. If no enemy player caused the killing blow, the objectives are simply lost.

After 350 total exp is gained, the player may upgrade their general to a legendary creature as per normal multiplayer commander banlist and rules. Once a legendary Commander is chose, that creature is locked and cannot be changed. There is no restriction to the color differences between the starting pauper commander and the ending commander, however the only noncommon cards available for deck construction are the ones purchased with EXP. Any player may declare that they are changing their pauper commander at the end of the game.

UPDATED EXP LIST
Persistent EXP gains
-
1 exp for each point of life loss caused to another player.
1 exp for each card placed in a player's hand beyond the first card drawn in the player's draw phase.
1 exp for each land other than the normal allotted land drop.
1 exp for each 2 points of life gained.
1 exp for controlling the spell of effect which causes a card the player does not own to be placed in the graveyard, exile zone, hand or command zone.
2 exp for casting your commander + 1 exp for each application of the commander tax.
30 exp for controlling the spell or effect which causes the death of an enemy player.
Persistent EXP gains only trigger off of a single opponent for those which would affect multiple opponents. The maximum amount of Persistent EXP any single spell or effect can grant other than killing a player is 5 exp.
Achievement EXP gains
-
5 exp for placing an enemy commander in that owner's library.
5 exp for killing an enemy general with combat damage from your general.
5 exp for being the first player to cause life loss to another player in the game.
5 exp for destroying a Sensei's Divining Top in play.
10 exp for the first player to play the fourth spell on a stack.
10 exp for being the first player to resolve the second version of a creature already in play.
10 exp for being the first player to play their 12th land.
10 exp for being the first player to have 6 or more creatures in play.
10 exp for being the first player to have 6 or more artifacts in play.
10 exp for being the first player to have 6 or more enchantments in play.
EXP costs
-
7 exp - Uncommon
21 exp - Rare or Mythic Rare
3 exp - Filter/Tap/Scar/Pain/etc Land
5 exp - Shock land
10exp - Fetch land
15exp - Dual land
50 exp - 5 extra total player health (up to a maximum of +30 extra health)
200 exp - 1 extra card in the starting and maximum hand size. (Up to a a maximum of + 3 cards)
Objectives
-
Game 1 Objectives - Aftermath of the Brother's War Themed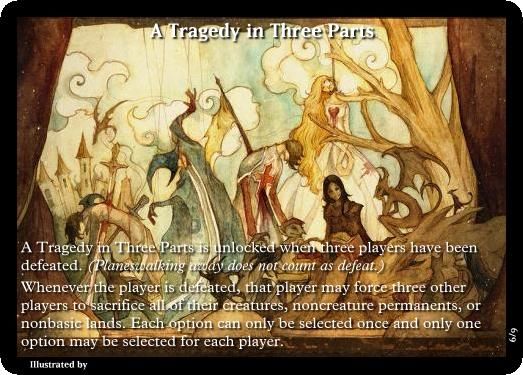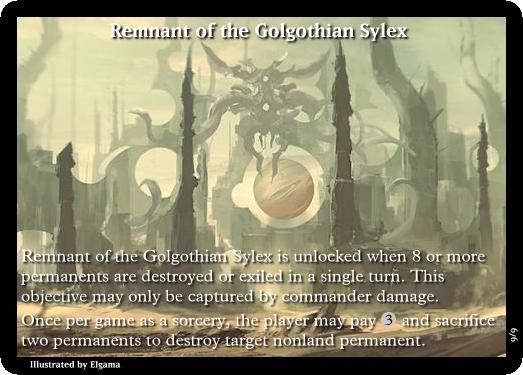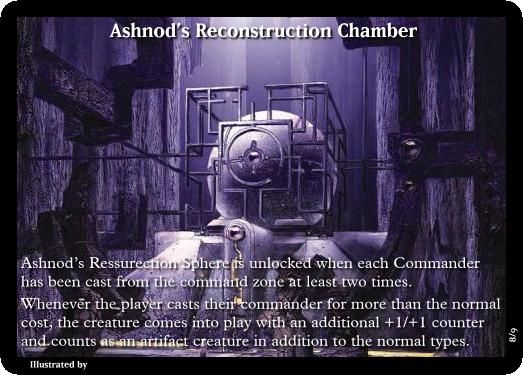 Right now I'm mostly looking into different style of planeswalker abilities could be introduced. last game the Remnant of the Golgthian Sylex was obtained by Immerwolf, so we'll see next game if the ability is overpowered or not. Other ideas are being considered, especially ones which will allow a variable type of deck construction much like commanders already do.