Artaud
Join Date:

1/11/2011

Posts:

530

Member Details
.
Izoni, Thousands of Synergies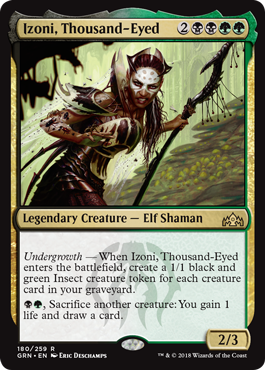 When I first looked at Izoni I was unimpressed. 6 mana for a 2/3 body with possible tokens attached? Ability to draw costing ? Too expensive! Then I returned to search for a home for mid-range reanimator/combo Commander which could also incorporate
Protean Hulk
and big mana synergies. After failed (so far) experiments with Nath, Sidisi and Muldrotha I took another look at Golgari legend and saw something else. I saw potential of token-maker and sac outlet sitting in Command Zone.
---
Let's take a closer look:
Casting cost
, body 2/3
Her cost requires stronger focus on colored mana sources but allows to reap benefits of
Nykthos
or
Karametra
devotion with only little more board presence. Three points of toughtness makes Izoni harder to kill than average dork as cards like
Elesh Norn
,
Pyroclasm
,
Massacre Wurm
or cycled
Decree of Pain
do not affect her much. She's also two-colored which means mana base is easier (and cheaper) to assemble.
Undergrowth — When Izoni, Thousand-Eyed enters the battlefield, create a 1/1 black and green Insect creature token for each creature card in your graveyard.
We have two elements here. First we need creatures in our graveyard. This can be achieved naturally (creatures tend to die) or purposely by
burying
them
alive
, discarding with
some
engines
or cycling if they allow it. Since we're playing we can also reanimate them right away.
Secondly, when graveyard if full enough Izoni produces tokens as ETB trigger. This is most important as it allows to incorporate repeatable
reanimation
tools
with tandem of token-using
mana
production
cards
.
There is even more in that matter. 1/1 tokens may not seem threatening but with enough of them
Regal Force
draws vagon of cards,
Craterhoof Behemoth
suddenly threatens with lethal damage and
Razaketh
finds all the combo pieces we need. All this out of single
Eldritch Evolution
cast or
Birthing Pod
activation using Izoni as a fodder. Not to mention
other
tools
cast before Izoni arrives.
Last but not least are benefits given by
Gaea's Cradle
and
Itlimoc, Cradle of the Sun
. Amount of mana received that way can be enormous and may even tempt to use cards like
Genesis Wave
.
, Sacrifice another creature: You gain 1 life and draw a card.
This ability seems costly at first glance but with green's
Cradle
and black's
Coffers
+
Urborg
mana is not a problem. There is also
Seedborn Muse
to reap even more benefits.
Ability to sacrifice creatures also leads to most powerful combo in colors based on
Protean Hulk
, where lack of
Flash
spell can be supplemented with burial and reanimation. There are also other creatures with powerful DIE triggers like
Mindslicer
or
Body Snatcher
as well as
numerous
gravepact
effects
. With enough mana we can even sacrifice entire board only to get it right back with
Living Death
.
---
So this is it. I like my decks to be as consistent as possible which means to use as many cards that form synergies and combos with Commander of choice as possible/reasonable. Izoni allows to build such a deck and while I played it only few times I see it can be both fun and competitive. Here comes the first draft.
Last edited by
Artaud
: Dec 5, 2018