CasualCalamity1

Location:

Bayreuth, Germany

Join Date:

2/13/2018

Posts:

419

Member Details
"Then we entered the Straits in great fear of mind, for on the one hand was Scylla, and on the other dread Charybdis kept sucking up the salt water."
- Homer, Odyssey Book 12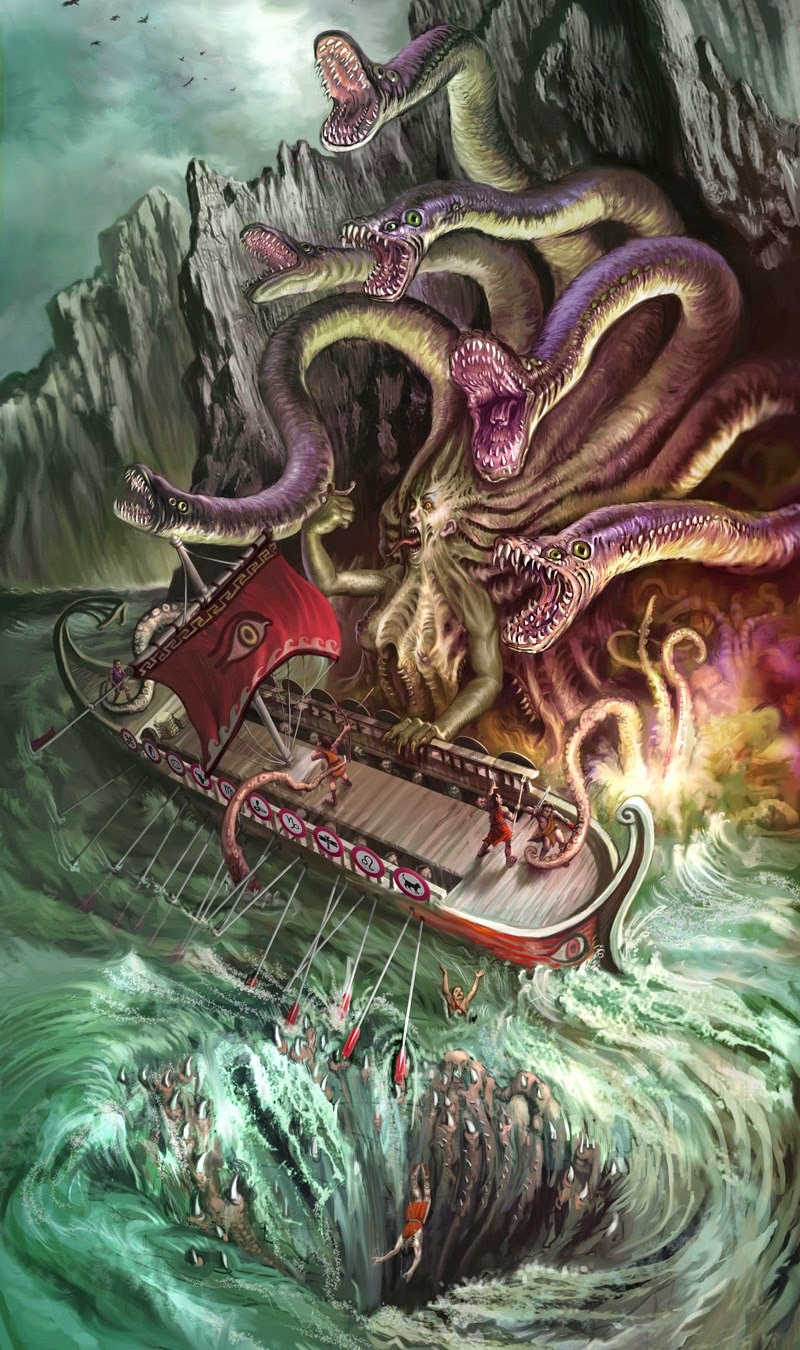 Art by Steve Somers
Hello everybody!
The goal of this deck is to create choice situations for my opponents. But, much like Odysseus' choice between Scylla and Charybdis, the only alternatives are between bad and worse. It is reminiscent of a stax deck, but rather than outright preventing my opponents from doing anything, it aims to attach a cost to any action they take. They are free to do whatever they want, as long as they are willing to pay the price. Needless to say, this twist makes for slightly more fun and interactive games than your typical stax lockdown build. When playing this deck, I want the pilot to feel like an evil mastermind, playing games with their opponents and constructing elaborate schemes, where any action taken by the heroes will inevitably cost them something that they hold dear. Think Jigsaw from the Saw movies, or the Green Goblin, or Lex Luthor...hell, if you have ever liked a supervillain, chances are they have made a hero face a
sadistic choice
at some point.
Vial Smasher the Fierce
and
Ishai, Ojutai Dragonspeaker
are a very good fit, both in terms of gameplay and flavor. For one thing, they give us access to a wide range of really cool pain cards. Furthermore, Ishai is in line with a theme of the deck (cards that do something whenever my opponents cast a spell), and Vial Smasher is a powerful reducer of life totals in a deck that doesn't always have the capacity to deal large chunks of damage. She is also incredibly fun to have on the board, as I found that due to the random nature of her trigger, other players rarely feel unfairly targeted.
The cards in the deck can be separated into various thematic categories. There are cards that punish our opponents whenever they cast spells (
Spellshock
,
Kaervek the Merciless
,
Painful Quandary
,
Kambal, Consul of Allocation
), activate abilities or tap lands (
Harsh Mentor
,
Manabarbs
), put things into their graveyard (
Bloodchief Ascension
) or search their library (
Ob Nixilis, Unshackled
) . Then there are cards that force our opponents to give something to us every time they cast spells (
Nezahal, Primal Tide
,
Rhystic Study
and of course
Mind's Dilation
- which also has great synergy with
Vial Smasher
) or play lands (
Sire of Stagnation
). Finally, there are cards that force our opponents to choose between paying tribute to us or burning themselves (
Combustible Gearhulk
,
Indulgent Tormentor
,
Sin Prodder
,
Prince of Thralls
) or force them to choose between their own life or their loved ones (
Killing Wave
,
Vile Consumption
,
Torment of Hailfire
).
Naturally, our adversaries won't be happy with these choices, and they might put it in their minds to fight back. Which, of course, they are free to do - if they can afford it.
Propaganda
,
Kazuul, Tyrant of the Cliffs
,
Dread
and
Teysa, Envoy of Ghosts
attach a steep price to attacking us, while
Martyr's Bond
makes it costly to remove our permanents.
Of course, what would a deck such as this be without our favorite Evil Mastermind, the nefarious
Nicol Bolas
himself. I opted for his
Nicol Bolas, God-Pharaoh
incarnation, as his +2 is just so gratifying (and I recently pulled a copy from a fatpack). To round things off, we have the usual assortment of ramp, draw, control (some unconditional boardwipes and removal) and protective footwork for our most unpopular henchmen to hopefully maintain our boardstate and chip away at opponent life totals until we can finish things up with a big
Debt to the Deathless
or
Torment of Hailfire
.
Because remember, kids:
"This is why only fools are heroes — because you never know when some lunatic will come along with a sadistic choice.
Let die the woman you love...or suffer the little children! Make your choice, Spider-Man, and see how a hero is rewarded!"
— Green Goblin, to Spider-Man
Vial Smasher the Fierce / Ishai, Ojutai Dragonspeaker -
Scylla and Charybdis
Tamanoa -
Welcome to the Jungle
Riku of Two Reflections - Copy, then copy again | Shattergang Brothers - Token Sac&Recur | Gahiji, Honored One - Multiple attack steps | Karametra, God of Harvests - Landfall, Creaturefall, Shroud | Ruhan of the Fomori - Stop hitting yourself | Zurgo Helmsmasher - Equipment&Wraths | Crosis, the Purger - Dragon Tribal Reanimator | Derevi, Empyrial Tactician - No stax, just tap and untap fun | Anafenza, the Foremost - Enduring Ideal Enchantress | Sharuum, the Hegemon - Sphinx Tribal Control | Noyan Dar - Spellslinger | The Mimeoplasm - Counterpalooza
Lists can be
found here
.
Still convinced the guy on
Beseech the Queen
is wearing a Mitra-type hat. Wake up sheeple!