lyonhaert
Location:

Indiana

Join Date:

10/15/2015

Posts:

881

Member Details
Chainer — In the Darkness of Dreams
— Introduction —
PLUS: Deckbuilding Goals
I think I first put this deck together after reading through
jmdt
's still-excellent retired Primer
All Your Graveyards are Belong to Me
, except that I omitted certain sacrificed-based stax and omitted discard. I didn't want to lean on
Grave Pact
effects at the time and still don't want to overdo them. I've seen them used one too many times to pin the rest of the board down while the player waits to draw a wincon. Example:
Grave Pact
,
Attrition
, and
Reassembling Skeleton
to keep the rest of the table from having creatures — 100 minutes later everybody else is still around 40 life. On the other hand I'm totally fine with someone dropping
Grave Pact
and using it to clear the way in order to try to close out the game in a turn or two. I even omitted
Sheoldred
originally, though I just recently added her to the deck again, as I'm recognizing the value of resource denial to the survival of a MBC deck.
Since the original list, it's has changed numerous times, of course. The biggest changes involved two aspects: 1. removing wincons I found boring; 2. trying out cards I thought might be interesting.
I think the first wincon I removed revolved around
Gray Merchant of Asphodel
. I first replaced
Living Death
to try to nerf it, because it was just too easy to loop that with plenty of mana and
XHD
. Same thing with just directly looping
Gary
with
Chainer
(especially with
two
doublers
out). So eventually Gary got the axe entirely.
Exsanguinate
was soon to follow because even if I didn't tutor for it, if I had it in hand and enough mana it became, "And now the game's over." That occurred too often for my tastes; I was leaning on it and wanted more challenging win conditions.
On the matter of interesting cards to try, I like
Head Games
. I like how that works with full-hand discard like
Mindslicer
or
Myojin of Night's Reach
. I like how
Homeward Path
and
Faceless Butcher
allow me to play politics by reanimating and returning a creature. I like how
Ice Cauldron
can rattlesnake an answer in an almost-untouchable place — it's a hilarious card I want to find/make a good home for. I like how
Mirage Mirror
can enable the doubling of a lot of shenanigans for .
So here are my thoughts on the direction I'm trying to go:
Theme: In Chainer's story, dementia casters like himself use their own fears and nightmares, learning to control them and manifest them into the real world. In his last moments, Chainer uses the Mirari to pull horrors from all the other dementia caster's minds, too. Thus the Chainer's ability to reanimate from anybody's graveyard, do so repeatedly by not tapping (at the risk of dying), and the final ability that they leave if he leaves. This backstory is the essence of the theme I want to pursue. Actually pulling it off in a more timely manner, Chainer needs some help (hence the presence of loops).
In sticking to this theme (nightmares, horrific things, fears, madness, etc.), I like to use things that are on-theme when possible, even if loosely. I don't want to devote so much to the theme that the deck is less functional. For example, Suffer the Past seems a more on-theme form of graveyard removal than Withered Wretch, though the latter is more easily recurrable. Sifter of Skulls is more on-theme than Pawn of Ulamog. Slum Reaper is more on-theme than Merciless Executioner. Exceptions: Functionality is still important, so not-exactly-nightmarish stuff like Disciple of Griselbrand, etc. are completely acceptable to help make the deck work. He can be rationalized as a cultist in Chainer's team. However, the flavor of individual cards is not nearly as important as the theme of the epic win condition below.

I prefer the typical win conditions be combat and milling, outside of the style wins below. Opponent life lose should be a distant third.
The epic win condition: Steal absolutely everything by looping Gonti, Lord of Luxury to steal everybody's libraries (or at least the nonland cards) and cast whatever I want. Milling into exile works, too.
I don't want to lean on syphoning opponent's life, but still sustain my own life total for paying it to cost's like Chainer, Erebos, Necropotence, etc. Blood Artist is a combo piece that would quickly end my opponents with some of my loops rather than just sustain my life total so I use Deathgreeter and Dross Harvester instead.

Examples: no

Gary

, no

Koko

, probably no

Exsanguinate

. Combat damage with lifelink as well as

Crypt Ghast

's Extort are both acceptable. While the extort could be turned into a win condition if I happen to set up a storm loop, it should be an option of desperation.

Find a balance of draw and tutors. What I'm trying to avoid is winning with the same cards repeatedly, or assembling a combo too quickly or easily. I'm going for flexibility and some inconsistency in how I achieve victory, to keep things interesting.
Loops should be a bit harder to put together since I want them to be a more occasional win condition. Right now I'm using a 4-card minimum as a rubric for controlling that, as well as the draw-over-tutors guideline.
I also have some self-imposed restrictions on cards I simply will not use in any (or most) circumstances — the chief card relevant to this color identity being Sol Ring.
I welcome comments, though I recognize that most typical suggestions for Chainer may not fit within my self-imposed restrictions. Also any other advice on internal balances, which pieces are winmore vs a piece that would make it more cohesive/robust, is welcome.
— Decklist —
Weaponizes madness and stuff.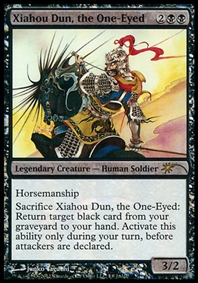 This dude's cool, too.
— Changelog —
MOST RECENT FIRST
So yeah, massive set of changes in this, and some different toys to test.
I'm trying to refocus on variance in games by taking out some tutors for card draw. I'm actually fine with
Demonic Tutor
staying but it's needed in another deck where it's easier to cast there than
Beseech the Queen
is here.
Final Parting
would have been kindof like a black pseudo-
Intuition
so I can't say it'll never see play in the deck again. I considered
Corpse Connoisseur
— we'll see if I end up wanting that or
Vampiric Tutor
for those moments I need to save my hide. Also trying
Liliana of the Dark Realms
in place of one of the other tutors since tutoring for swamps is harmless. I have a feeling she'll be pretty redundant to the actual ramp and fetches but that emblem is on my bucket list. I also need to test how well ramping goes without
Solemn Simulacrum
at some point.
Razzy
I know would have been amazing as a giant beater, tutor, and sac outlet, but that tutor part is where he's getting benched for now.
Torgaar
was supposed to be a toolbox piece for bringing somebody's life down from too high or keeping mine afloat — but maybe if I was planning to need the manual override then my other life support wasn't doing too good.
Sepulchral Primordial
was basically redundancy with Chainer, and to magnify the effect of his ability. In their place, please welcome returning guest
Abhorrent "Tokens for Days" Overlord
and two brand new guests:
Drana, Kalastria Bloodchief
and
Sheoldred, Whispering One
.
I read an interesting opinion recently that
Vedalken Orrery
can also be a useful deterrent to attacks and we're going to test that in place of
No Mercy
. Enough tokens will be dying that I imagine
Aetherworks Marvel
would also be good and can do neat tricks with
Volrath's Stronghold
/
Scroll Rack
/
Vampiric Tutor
/
Library of Leng
, so this is actually a flex slot to switch between Aetherworks and Orrery.
Fallen Ideal
is a die-hard sacrifice outlet but has no real benefit from the sacrifice, so now we're going to see what it's like to perform surgery on our opponents' hands with
Mind Slash
. Along the same lines of discard effects we're bringing in
Oppression
and
Myojin of Night's Reach
for
Dark Deal
and
Mindslicer
(not that 'Slicer isn't good — we're just going to try something different).
Plaguecrafter
buttons this up as teammate for
Slum Reaper
that can get a planeswalker or as a
Liliana's Specter
if our opponents don't have creatures (Specter was on the list for consideration, but I still want to lean more on removal than discard). I considered adding
Bloodgift Demon
in place of
Doom Whisperer
, but that Surveil 2 still needs testing.
Burnished Hart
is out for
Wayfarer's Bauble
and
Myr Retriever
, but since that's two cards I figure
Sudden Spoiling
might be enough fog for this deck and cut
Darkness
.
While
Claws of Gix
has saved my bacon a time or two, I think
Dross Harvester
shows some promise for keeping my bacon out of the fire in the first place.
Viscera Seer
was very often underused by me because, while I wasn't a fan of the timing of the Scry 1 vs
draw triggers
, I was just always using other outlets. Perhaps the card draw of
Vampiric Rites
will prove more useful. In place of
Ambition's Cost
I'm adding the somewhat-similar
Infernal Tribute
, returning as my sacrifice-a-liability tool. The extra token production may change my mind about
Seer
someday regarding having card draw vs having scry combined with other card draw, so it's sortof a flex spot between the two, but as a sacrifice outlet it could also become
Attrition
if I figure I have enough card draw but want more removal.
Finally on the mana/tokens front we'll be trying
Pitiless Plunderer
instead of
Nirkana Revenant
and
Pawn of Ulamog
as back up for
Sifter of Skulls
, replacing
Defense Grid
. I may end up liking
Smothering Abomination
even more.
Somehow I didn't have any graveyard answers other than
Chainer
himself. I want something not too difficult to recur since an answer might be needed at instant speed.
Withered Wretch
can be mana intensive but is quite surgical and I've used him before, so we're going to try
Agent of Erebos
as a wholesale graveyard exile that can be re-used if I happen to get another enchantment on the field after him. Part of the reason for going for the wholesale exile approach is some recent experiences with enchantments and
Bruna
. Better to just nuke that whole 'yard.
Cavern of Souls
and
Homeward Path
are out for a third booster land,
Crypt of Agadeem
, and a discard enabler in the form of
Geier Reach Sanitarium
. And I figured
Vesuva
is better here than in another deck where it would only have copied some colors or fetches, so I replaced a Swamp.
— Acknowledgments —
Initially my list was heavily based on
jmdt
's still-excellent retired Primer
All Your Graveyards are Belong to Me
and its extended discussion. I learned quite a lot from that thread. Makes up for the Comic Sans in the OP.
I'm also appreciative of the insight and discussions in this thread, especially from
ProfessorWhen
,
GloriousGoose
, and
benjameenbear
.
I must also acknowledge that I've probably gleaned a fair bit from decklists and good discussions had in other mono-black or Bx threads by:
GloriousGoose
,
toctheyounger77
,
bobthefunny
,
Outcryqq
, and
MrCoupon
.
Note: I will be adding further, primer-like sections on card selection, interactions, strategy, etc. in the future.