nekorin

Join Date:

1/12/2012

Posts:

728

Member Details
Gishath - Semi Dino Tribe with Enrage synergies
Deck ver 0.3
With Ixalan comes a new tribe, Dinosaurs! Currently with just the Ixalan set alone, dino support honestly is a bit disappointing, but that doesn't stop us from building our favorite Dino tribal deck. Building Gishath is still very much possible with the available pool of dinos we have, just that we need to get more creative in the card choices to pair with the dinosaurs. Hopefully with the new Ixlan release in Jan2018 we will get more dinosaurs with better utility.
Dinosaurs as a tribe
---
I do feel that this is a section that needs to be covered at the very start before getting to the deck list since dinosaurs is a new tribe. What are the pros and cons of the tribe? Answering this will allow us to see the kind of synergies we are going to look for when we build the deck. In the 1st Ixalan set, we get a glimpse of what this new tribe has to offer:
Creatures are generally high power and toughness
Mana curve falls on the higher side
Has a unique mechanic which is Enrage (is dealt damage mechanic), with interesting triggered abilities for them
Low reliance on ETB abilities except for a few of the dinosaurs which are 5+ mana and above
Lack of low casting cost utility creatures
Most low casting cost creatures have combat centric abilities
Little to no "own tribe matters" cards
"Own tribe matters" here refers to cards which either boost own tribe (like Dinosaurs get haste or +1/+1, we do have those) or cards which care about other same tribe on the field (like P/T equals to number of Dinosaurs or get +1/+1 for each Dinosaur etc). With this it is much easier to map out what kind of support cards a dino tribal deck will employ. We need to provide focus support in the following areas:
Have enough mana accelerant to push out the utility Dinos faster, since most utility Dinos are higher in curve
Enough protection for on board Dinos since they are so costly. Will be hard though as recursion is somehow lacking in Naya colors with white being able to resurrect low cost creatures mostly.
Have some methods to trigger the Enrage ability as it forms the bulk of the creature utility
Have a way to boost the tribe's efficiency/abilities as a whole since tribe alone doesn't support it much
(Personal criteria) Have some way or means to push through damage without attacking in the situation where the combat route isn't applicable/feasible.
As the current pool of good dinosaurs is relatively small (as of now there are only 19 dinosaurs are in the deck), the deck needs a sub theme to keep the deck somewhat viable in the meta I'm in. I've chosen to expand on the enrage mechanic to keep the sub theme inline with the Dinosaur tribe since they are mainly about the enrage mechanic.
So onward to the decklist.
Why you should consider this deck
---
This is the deck which is suitable for those who:
Wants to satisfy the inner Timmy in them
Likes to explore various jank~equse synergies which aren't easy to pull off
Likes experimenting with a new tribe which still can't pull its weight yet
Willing to spend time to tune and test out strategies
More aggro centric with a hint of combos.
This deck might not be suitable to those who:
Likes spikish plays, every card must be powerful and top tier
Likes good stuff decks
Like tried and true strategies
Prefers combo heavy decks
Decklist
---
Statistics:
Average Casting Cost: 3.46
Number of Dinosaurs(including changelings) in deck: 19
Link to deckstats:
https://deckstats.net/decks/5022/815352-gishath-rawr
Interactions and Combos
---
You might be wondering, does Gishath even have combos? The entire tribe looks like pure aggro based. The answer is "Yes! Do not underestimate this Naya Dinosaur." As you see, this deck is built with the Dinosaur theme in mind, hence combos must be strictly Dinosaur based only, or at the very least Dinosaurs must get involved.
Meta Naya combos such as Yisan roll into KikiBoring isn't welcomed here.
Let us break down Gishath's abilities one by one.

Gishath, Sun's Avatar -
Legendary Creature - Dinosaur Avatar

Trample, vigilance, haste

Whenever Gishath, Sun's Avatar deals combat damage to a player, reveal that many cards from the top of your library. Put any number of Dinosaur creature cards from among them onto the battlefield and the rest on the bottom of your library in a random order.

Apart from the really powerful combat abilities Gishath has, its 2nd ability is what makes Gishath so formidable and impressive as a Dinosaur Tribal Alpha. It is able to call upon other dinosaurs into the battlefield based on how much damage is dealt to an opponent. If an opponent takes 3 damage, we can reveal the top 3 cards and put any number of Dinosaurs into play.
This is a nifty ability to allow us to cheat big creatures into play, but it comes with 2 weaknesses.
It is greatly dependent on what the top cards of the library are
The trigger happens after the combat damage phase, which the creatures that come in can't attack even if they have no summoning sickness
For the 1st weakness we can cover with cards that manipulate the top of the library, such as
Worldy Tutor
and
Congregation at Dawn
. We can also 'revive' Dinosaurs which died too by bringing them back from the graveyard to the top of the library too, with cards like
Noxious Revival
and
Reinforcements
.
The 2nd weakness is a bit harder to cover, as going for 1 turn around the board our precious cute Dinosaurs might get boardwiped to extinction. In most cases this can be solved by creating more attack phases, so that Gishath and the herd can attack again and again in the same turn.
But this posts another set of problems, much of the deck will need to cater to give the turn more attack phases and also give the herd haste. Currently in Ixalan we only have 1 dinosaur which grants haste, so we need to more deck slots to fit cards which grant haste.
So how do we make Gishath's initial bite so powerful that everyone will not forget about it?
They should remember that a dinosaur's bite is more painful and dangerous than a Dual wielding Samut (human) can ever do. We go the combo route, so that as long as the dinosaurs which Gishath brings out can close the loop, Gishath's bite becomes lethal.
Dino Combo 1: Gishath's Tender-loving Bite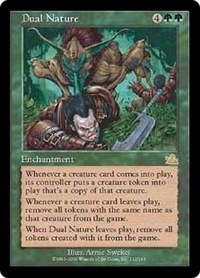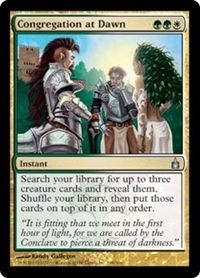 Pre-requisite
:
Dual Nature
and Gishath on the battlefield, Congregation at Dawn in hand.
Effect
: Infinite combo off, kill off all opponents.
How to use the combo:
Have Gishath bite an opponent for at least 2 damage. With the reveal top cards trigger on the stack, cast Congregation at Dawn and search for the following two Dinosaurs: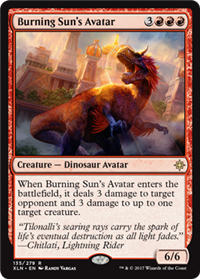 Both Burning Sun's Avatar and Changeling Titan ETB
Dual Nature triggers along with both dinosaur triggers, stack it in a way that Burning Sun's Avatar trigger trigger first
Deal 3 damage to target opponent
Dual Nature trigger for Burning Sun's Avatar then resolve, create a token which deals 3 damage to target opponent
Changeling Titan original ETB then resolves, champion Burning Sun's Avatar (exiling it)
With the original Burning Sun's Avatar exiled, the avatar token also exiles
Dual Nature's trigger for Changeling Champion then resolves last, creating a token of Changeling Titan
Changeling Titan token ETBs, champion its own original Titan
Since the original Titan is exiled, Burning Sun's Avatar is returned back to the battlefield
Since the token lost the original, it also leaves the battlefield, which brings back the original Changeling Titan
Restart from 1 and loop until every other player dies.
So we have a powerful way to close out the game if we need to (we just need a 2 damage bite :3), next is the other interactions in the deck. We just can't have the alpha dinosaur do all the work.
Dino Combo 2: DO NOT engage/enrage the dinosaurs
Ixalan introduces a new mechanic which belongs to Dinosaurs, the Enrage mechanic. It is a triggered ability which whenever the creature is dealt damage, it will trigger the enrage ability. This paves way to interactions with cards that deal damage to our own creatures, such as
Pyrohemia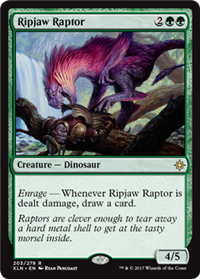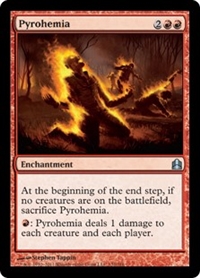 There are more ways to use this enrage ability, to our advantage. Enters the best buddy with all the enrage dinosaurs~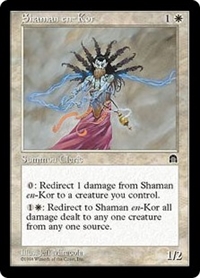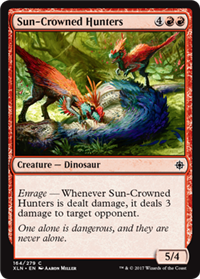 Shaman en-Kor
has the ability to redirect any kind of damage dealt to him to any other creature we control, in this case a Dinosaur with enrage ability. Since the ability triggers in the form of 1 damage by 1 damage, 3 damage dealt to the shaman with the redirect will trigger enrage 3 times! We can draw 3 cards with
Ripjaw Raptor
or deal opponent 9 damage with
Sun-Crowned Hunters
!
What's better is the 2nd ability of Shaman, he at the cost of , can redirect any damage dealt to any creature (yes even to opponent's creature) to himself, to be redirected and spread out to the Dinosaurs. How neat is that? We can "save" players creatures by redirecting their damage to the shaman and use it to further grow our dinosaurs with cards like
Rite of Passage
, or to search for lands with
Ranging Raptors
. Wait... there is more to come.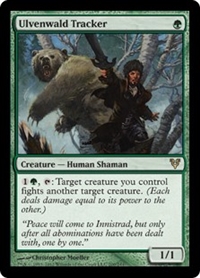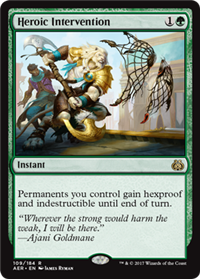 Ulvenwald Tracker can allow our dinosaurs to fight other creatures, the Shaman can reroute the damage all to dealt from the fight to our Dinosaurs with enrage.
Cards like Heroic Intervention/Boros Charm give indestructible to our creatures, this makes it an interesting interaction when the Shaman, Tracker and Sun-Crown are online together with
Gratuitous Violence
. A 5/5 of ours fight will deal 10 damage to an opponent's creature, in which Shaman en-Kor will redirect back to himself, then distribute it 10 times (10 damage) to Sun-Crown Hunters. Sun-Crown's enrage ability will trigger 10 times, dealing 60 (30x 2 due to Gratuitous Violence) damage to opponent(s). This is just with using off the activation of Tracker and Shaman.
Enrage mechanic is boosted with the addition of the card
Boros Reckoner
(Really hope for a Dino functional reprint of it, which I think is very likely since cards like Sun-Crown Hunters is already printed). This allows another route to close the game with the deck without over relying on alpha swinging with Gishath.
Deck Combo: Aggravated Gishath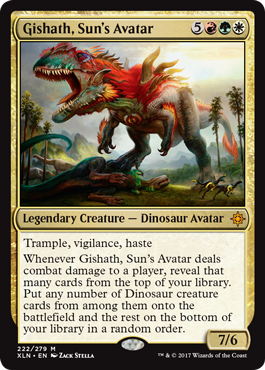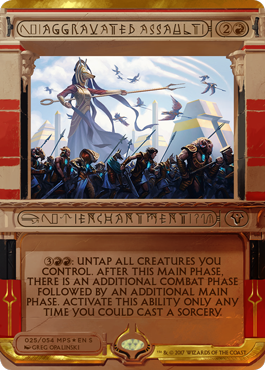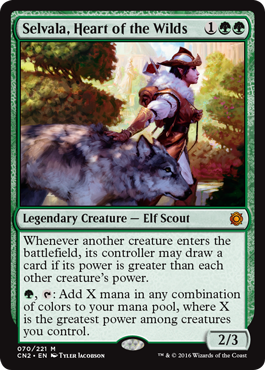 This aren't some unique combo as Aggravated Assault is known to combo with elves a long time ago, but since quite a number of our creatures are big fatties and are combat phase oriented adding this becomes a no-brainer. With Gishath having power of 7 and above, Selvala is able to generate infinite mana together with infinite attack phases when used in combination with Aggravated Assault. Infinite Attacks is what Gishath is good for, imagine an opponent running away from a huge T-rex, as the more he runs the more Dinosaurs come running after him.... lol.
It is kind of slow though, since aggravated assault happens at sorcery speed. And we do need the haste dinosaur to give all other dinosaurs haste in order to work. Other haste enablers which are good include
Ogre Battledriver
,
Samut, Voice of Dissent
,
Xenagos, God of Revels
and
Fires of Yavimaya
. In terms of ability wise, Ogre Battledriver is one of the best as it pumps up all creatures with a +2/+0 and haste. Xenagos will be much better though as he is tutorable "creature" with the tutors available to our deck and makes Gishath much more dangerous. The God also makes extra attack steps more attractive too since it triggers at the beginning of each combat step.
-----------------------------
To be further updated.
-----------------------------
Edit: 1/10/2017
-1 Farseek
-1 Heroic Intervention
-1 Kodama's Reach
-1 Otepec Huntmaster
-1 Priest of the Wakening Sun
-1 Sneak Attack
-1 Huatli, Warrior Poet
-1 Krosan Verge
-1 Unclaimed Territory
+1 Aggravated Assault
+1 Insult // Injury
+1 Legion's Initiative
+1 Red Elemental Blast
+1 Shaman of Forgotten Ways
+1 Tempt with Discovery
+1 Xenagos, God of Revels
+1 Cavern of Souls
+1 Thespian's Stage
Edit: 2/10/2017
-1 Tauren Mauler
-1 Tempt with Discovery
+1 Boros Reckoner
+1 Mwonvuli Acid-Moss
Last edited by
nekorin
: Oct 1, 2017