Forgotten One

Join Date:

1/4/2006

Posts:

3,319

Member Details
Grand Arbiter Augustin IV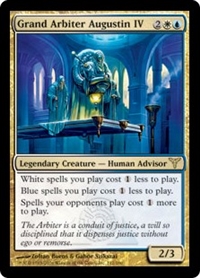 "Scholars say that arbiters exist on every world, created by an unknown hand to enforce justice."
---
When I first started making an Azorius deck, I wanted to originally do something a little off-beat, something that would slow down the pace of the game, and something that really drove home the theme of taxing that was shared by blue and white. The result of that exercise was the abomination that is listed below.
Overall, I would consider this deck a total failure. Although it was fun to build and tune, the resulting deck was miserable to both play with and to play against. I either got hated out of the game from the opening die-roll or the opponents conceded one by one once their positions became less and less tenable. Never actually winning a game (as opposed to always getting concessions) ends up being nowhere near as fun as it sounds.
I post this deck as a cautionary tale; it is really easy to take a theme too far even when you aren't trying to really be an ass. Your opponent's have to be in a good place mentally to accept the challenge and to actually want to combat a deck like this, but even then it's one of those things that is cute maybe once or twice.
---
This decklist hasn't been updated in a while, but it would most certainly have
Baral, Chief of Compliance
in the mix if I were to update it.
---
Taxing "All" Spells

Grand Arbiter Augustin IV – The leader of the deck for a reason, GAAIV does double-duty to not only make all your opponent's stuff cost more but it also cheapens all of your colored spells to help counteract some of the other cost increases going on in the deck.
Chancellor of the Annex – A little expensive, but it gets the job done well.
Sphere of Resistance – Resistance is futile…
Spelltithe Enforcer – Not quite "your money or your life", but "your mana or your permanents" is as close as it gets in Magic: The Gathering.
Rhystic Study – I guess we will allow our opponent's to bribe us with cards instead of paying this tax…
Taxing Non-Creature Spells
Taxing Creatures/Combat
Other Taxes
Tax Loopholes
Other New Regulations
Disposal Procedures
---
Cards in theme, but didn't make the cut
You could make 3 decks with all the possible cards that could go into a deck like this, and if you are quite the masochist you can build all three, get some "friends" and play them all against one another (sounds about as much fun as a
Fork
ed
Shahrazad
). Since this thread is more for the sake of posterity than anything else, it made sense to document all the possibilities and why they were either not good enough or were too miserable even for this deck (which is saying something).
Anyway, there have been a few thread recently that have talked about lockout cards in blue and white and overall stax/prison strategies, so I thought I would throw my deck and opinion in on the party. Hopefully, this saves people some time in figuring out what not to do. This is one of those decks that I have no intention of rebuilding, so take it for what its worth.
My Commanders


Jalira, Master Polymorphist


|


Endrek Sahr, Master Breeder


|

Bosh, Iron Golem

|


Ezuri, Renegade Leader




Brago, King Eternal


|


Oona, Queen of the Fae


|


Wort, Boggart Auntie


|


Wort, the Raidmother




Captain Sisay


|


Rhys, the Redeemed


|


Trostani, Selesnya's Voice


|


Jarad, Golgari Lich Lord




Gisela, Blade of Goldnight


|


Obzedat, Ghost Council


|


Niv-Mizzet, the Firemind


|


Vorel of the Hull Clade





Uril, the Miststalker



|



Prossh, Skyraider of Kher



|



Nicol Bolas



|





Progenitus








Ghave, Guru of Spores



|



Zedruu the Greathearted



|



Damia, Sage of Stone



|



Riku of Two Reflections