Forgotten One
Join Date:

1/4/2006

Posts:

3,646

Member Details
Vorel of the Hull Clade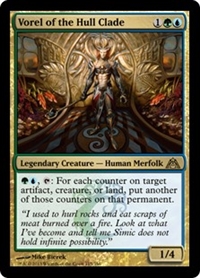 "Of course it will grow beyond control—it was designed to choose its own evolution."
---
My journey into the realm of the Simic has been a long one. Much like the ideals of the Simic guild, the ideas of the deck have morphed, evolved, and grown over time. It's been an interesting odyssey to say the least, one full of interesting twists and turns (at least, interesting to me).
Simic colors are in no way short of interesting and powerful commanders, but the one that seemed to draw my interest more than others was
Vorel of the Hull Clade
. It seemed that if I was doing things right, I would be able to play the other generals in the maindeck (specifically,
Prime Speaker Zegana
,
Momir Vig, Simic Visionary
,
Experiment Kraj
, and even
Edric, Spymaster of Trest
).
At first, I didn't want to do the +1/+1 counter theme as that was the theme of another deck I had built (
Ghave, Guru of Spores
). After looking at the cards though, I decided that ignoring +1/+1 counters would exclude a lot of interesting cards and that any of the other themes I wanted to explore wouldn't be big enough to fill a deck anyway. My decision then was to just try and do the +1/+1 counter theme differently, utilizing Graft, Evolve, Proliferate, and the general Simic theme of growth and evolution. While there is some overlap with my Ghave deck, anything that wasn't absolutely necessary and was already in Ghave was cut, making the decks feel different enough to make things interesting.
One other theme that I wanted to explore from the beginning was Charge counters. Things like
Everflowing Chalice
,
Magistrate's Scepter
,
Sphinx-Bone Wand
,
Umezawa's Jitte
,
Gemstone Array
,
Golem Foundry
,
Titan Forge
,
Lux Cannon
,
Sun Droplet
, and
Surrakar Spellblade
, in conjunction with cards like
Coretapper
,
Power Conduit
,
Energy Chamber
, and
Surge Node
seemed like something I could get behind and at least try out. In the end, most of this theme got cut, but I mention it here to remind myself to re-visit Simic again and give these cards a home.
I started looking at other potential themes, and two others stood out as possibilities; Level counters on Level Up cards gave me access to some interesting cards like
Echo Mage
,
Enclave Cryptologist
,
Lighthouse Chronologist
,
Joraga Treespeaker
and
Kazandu Tuskcaller
, and Spore counters and Fungus cards like
Thallid
,
Psychotrope Thallid
,
Sporesower Thallid
,
Saproloth Ancient
. I decided that the Spore counter theme would be better served in Ghave (where only
Psychotrope Thallid
eventually made it into the deck), but the Level-Up cards seemed like they might find a spot.
Although all these themes were very interesting to look into, the resulting "short-list" of cards that I wanted to put in the deck was almost 140 cards. Even after paring things down to get rid of anything that was trying to be "too cute", that only got to 110… and I needed to get down to 63-64. At that point, I did something drastic; I pulled almost every mono-colored card that was a "staple" because of the colors I was in.
That process resulted in the following deck. The current overlapping cards with this deck and my Ghave +1/+1 counter deck are
Renegade Krasis
,
Rishkar, Peema Renegade
,
Kalonian Hydra
,
Rampant Growth
,
Cultivate
,
Hardened Scales
,
Doubling Season
,
Primal Vigor
, and
Contagion Engine
. 9/62 is not bad, and it makes this deck play out much more different than Ghave.
Updated through Dominaria, 5/25/2018
---
The deck should be pretty self-explanatory; use all the various effects available to go crazy with +1/+1 counters making huge creatures, drawing tons of cards, and creating tons of mana with which you use to bludgeon your opponents to death. The deck doesn't rely entirely on Vorel, but it goes a little nuts once you've established some things in play with some counters.
Produce +1/+1 Counters
These cards are in the deck to produce counters for doing things that you normally want to do anyway (play spells, draw cards, etc.) These are the meat and potatoes of the deck and they are all fuel for other shenanigans or end up as huge beaters.
Use +1/+1 Counters for Profit
Most of these generate their own +1/+1 counters, but I separate these because they all use the +1/+1 counters to fuel other aspects of the deck.
Other Kinds of Counters
The beauty of Vorel and Proliferate is that they don't care just about +1/+1 counters, so this deck includes a few cool cards to take advantage of that. I want to expand this part of the deck, so I'm actively looking for cards that do cool things with counters.
Proliferate/Counter Doubling
These are what drives the deck into overdrive and they have become the core theme.
Untapping Creatures/Vorel Synergy
If you aren't untapping Vorel, you don't have many other creatures to untap (your other main untap options are
Joraga Treespeaker
and
Experiment Kraj
), so I felt that just the ones that are on-theme or grant other abilities (pseudo-Haste and Protection) were acceptable. Seedborn Muse and Murkfiend Liege also combo with
Opposition
and
Tradewind Rider
to help control the board.
Ramp
This is where I've really cut back, trying to just hit enough ramp to see 1-2 per game. I can definitely see adding in more over time, but I think it all depends on where the mana curve ends up.
Card Draw/Card Advantage
The beauty of running UG is that there is little need to run a card strictly for card draw. Everything is either a draw trigger or gets you something into addition to drawing cards.
Removal/Counters/Bounce
A bare minimum suite of control cards is necessary. One card that needs explanation is
Opposition
; the card is often synonymous with lockdown strategies, but its inclusion here was for interaction with
Gilder Bairn
(along with
Tradewind Rider
;
Earthcraft
, and
Nature's Chosen
are other great options).
---
Synergies
The deck is full of lots of little synergies. Some of these are listed below:
Deadeye Navigator
+
Mulldrifter
or
Mystic Snake
, or abusing more Planeswalkers, or trying to untap Vorel 10 times per turn, I think the deck does its own thing rather well.
My Commanders
Jalira, Master Polymorphist
|
Endrek Sahr, Master Breeder
|
Bosh, Iron Golem
|
Ezuri, Renegade Leader
Brago, King Eternal
|
Oona, Queen of the Fae
|
Wort, Boggart Auntie
|
Wort, the Raidmother
Captain Sisay
|
Rhys, the Redeemed
|
Trostani, Selesnya's Voice
|
Jarad, Golgari Lich Lord
Gisela, Blade of Goldnight
|
Obzedat, Ghost Council
|
Niv-Mizzet, the Firemind
|
Vorel of the Hull Clade
Uril, the Miststalker
|
Prossh, Skyraider of Kher
|
Nicol Bolas
|
Progenitus
Ghave, Guru of Spores
|
Zedruu the Greathearted
|
Damia, Sage of Stone
|
Riku of Two Reflections