illakunsaa

Join Date:

10/27/2014

Posts:

1,415

Member Details
Kynaios and Tiro of Activated Ability Tribal
Quote from

Activated abilities have a cost and an effect. They are written as "[Cost]: [Effect.]
Introduction
This deck started out as a silly idea that turned out to be surprisingly resilient and successful deck. Nobody suspects a deck featuring random jank from Mercadian Masquerades.
I like to play decks with a unique angle of attack and this decks angle of attack is repeatable card advantage through activated abilities. Having repeatable advantage is really strong in Commander as games can last longer than 4 turns and being able to a card more than once means we have consistent access to an effect. No need to play
Reprisal
,
Smite the Monstrous
and
Humble the Brute
when you can just
Intrepid Hero
spear creatures to death.
Why Kynaios and Tiro?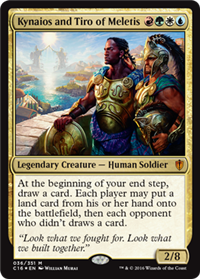 Kynaios and Tiro of Meletis
might seem like an odd choice as the commander to lead a deck filled with creatures with activated abilities but when think the usual weaknesses of tribal decks it becomes obvious why we run Kynaios and Tiro.
If you have played any tribal decks before you've probably noticed few weaknesses with tribal decks. You need a critical mass of creatures to have the synergies shine. This creates few hurdles mostly in terms of card advantage. Creature board wipes can create massive card parity between players and tribal decks suffer extra hard because they often need to dedicate many slots to sub par cards to enable tribal synergies. Normal tribal decks generally solve this problem by having bunch of "army in a can" -type cards. Cards like
Siege-Gang Commander
and
Utvara Hellkite
. Decks like elves generate value using spells like
Shamanic Revelation
. Activated ability tribal really doesn't have access to this kind of advantage.
Kyanios and Tiro more or less solve this problem by giving us a
Howling Mine
that also lets us ramp. The grouphuggy nature of Kyanios and Tiro also means we don't need to spend additional resources to just protect our commander. They do get sent to the command zone once or twice but that is usually because somebody decided to
Wrath of God
and not because
Doom Blade
Upsides
+Generates card advantage and ramp.
+Rarely gets targeted by removal.
+
Good stats
.
+More colors give more options
Downsides
-Generates card advantage for opponents.
-Are jobless social degenerates that leech off the government.
---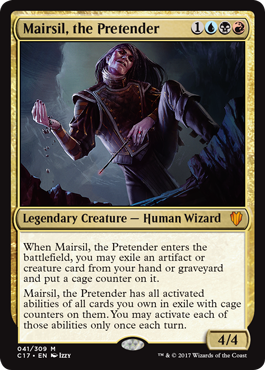 Mairsil, the Pretender
Mairsil, the Pretender
is a new legend from Commander 2017 and a really fun and interesting creature to lead an activated ability focused deck. What Mairsil wants to do is little different from what we want to do. We go for a more "traditional" route and actually want to cast our creatures and use them as is while Mairsil goes for more of a Voltron style of approach hoarding all the abilities for himself and winning the game that way. Mairsil also trades Selesnya colors for black. This means Mairsil loses one of the better creatures like
Krosan Restorer
and
Mother of Runes
in addition to land ramp which is less vulnerable to removal and gains tutors and efficient removal in form
Nevinyrral's Disk
and
Buried Alive
.
Upsides
+Is less affected by creature wraths.
+Black enables good graveyard interaction.
Downsides
-Heavily relies on Mairsil.
-More subjectable to artifact hate.
---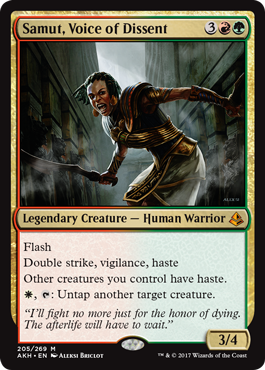 Samut, Voice of Dissent
Samut, Voice of Dissent
is basically the best activated ability lord there is. Grants haste to all our creatures, you can untap a creature with her ability, High cmc is offset by Flash and Double Strike means you can close out the game relatively fast. So why not run Samut as the commander? Samut has one crippling weakness and that is she doesn't have blue. Wraths are a major problem for creature decks and one of the better ways to fight wraths is to draw cards and blue has access to lot of draw effects. Blue also has some some of the best creatures for our deck.
Fatestitcher
,
Nin, the Pain Artist
,
Ertai, Wizard Adept
etc. In Naya colors you need to rely on stuff like
Harmonize
and
Shamanic Revelation
. By running Samut as your commander you are trading on kind of consistency for another another one at the cost of losing blue.
Upsides
+The best lord sits in the command zone.
Downsides
-She ain't got the blues.
---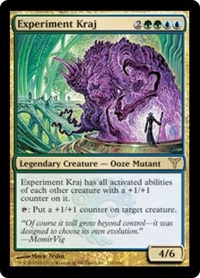 Experiment Kraj
Experiment Kraj
is perhaps the original commander to lead an activated ability deck and the years have not being kind to him. While the support for +1/+1 counters and activated abilities has increased over the years The Kraj himself has been outclassed by far more efficient legends. Six mana is a lot to pay for what is essentially a bad Mairsil. If the board gets wiped Kraj loses all the abilities.
Upsides
+Can leech abilities off opponents stuff
Downsides
-Is far too inefficient at what it does.
-Does too little
Card choices
What we are looking to do is to control the game using cards with powerful abilities like
Ertai, Wizard Adept
and
Intrepid Hero
. Naturally this leads to us wanting cards that let us untap creatures multiple times per turn. Cards like
Kiora's Follower
do this nicely by being efficient and versatile.
Another issue we have is that creatures suffer from summoning sickness so we need to solve it. Luckily we are in red thanks to our four color commander we can include stuff like
Anger
and
Bloodlust Inciter
. Downside with haste is that multiple instances of haste are redundant and to avoid drawing dead cards our haste enabler have some random utility. Samut and
Thousand-Year Elixir
can untap creatures, Inciter and Anger can serve as Nin fodder etc.
We also want to include more card advantage as relying on just Kynaios and Tiro will lead to bad things happening. Cards like
Selvala, Explorer Returned
,
Mercurial Chemister
and
Quicksilver Dagger
take advantage of our untap shenanigans. We also want to diversify our card advantage options as getting hit by a wrath or Cursed Totem leaves us in a bad position.
Fevered Visions
gives nice steady stream of cards but we also have a big flashback spell package.
Ancient Grudge
gives us an answer to Totem,
Dawn
] can generate massive value post wrath and
Memory
gives us a new hand if there are no outs to a problematic situation.
Magus of the Candelabra* - Candelabra of Tawnos is a major player in High Tide and while Magus doesn't have the same explosiveness it's not the worst card ever. 1 cmc means we have something to play on turn 1 and later something to tutor with Yisan. Mana fixing and using powerful land abilities multiple times i single turn is useful. Magus really start to get powerful when we get a karoo or two in play. Equip Magus with Illusionit's Bracers and we can produce up to 15 with a single activation.
Bloodlust Inciter* - Turn 1 haste means we get to accelerate our game plan every following turn which really powerful.
Mother of Runes* - Protection, evasion and card advantage in one cmc package whats not to love?
Budoka Gardener* - Cheap ramp that enables turn 3 commander but he can also be used as a combat trick by "flashing in" Kessig Wolf Run or as part of a game ending combo with Intruder Alarm. Sometimes it's little annoying that it flips at an inopportune time but there aren't that many cards that perform the same function.
Dawnstrider - Fogs in EDH are undervalued mainly due to fact that they are card disadvantage, usually are one use instants and don't generate you any value. The upside of fogs is they hose one most played strategies in Magic and that is beating face with creatures. Dawnstrider in conjunction with Kynaios and Tiro solve the card disadvantage and reusability problems.
Diplomatic Escort* - Mother of Runes' blue sister with its' own upsides and downsides. Paying mana and discarding a card is a downside but being able to target any creature not just our own allows some funny disrupting plays.
Dreamscape Artist* - Harrow on a stick. Mana fixing and ramp are important in a four color deck and in a pinch we can get double islands untapped for cards like Stronghold Biologist. Equipping Artist with Illusionist's Bracers lets us generate mana with each activation.
Hammer Mage* - MC Hammer Mage is the reason why this deck doesn't play artifacts (aside from Bracers and Elixir). Many decks run artifacts and being able just mini wrath is really good. Artifact decks also are harder to deal because they tend to have many noncreature permanents.
Kiora's Follower - When we got a commander like Kynaios and Tiro we are bound to get seamen sooner or later.
Nin, the Pain Artist - Nin draws cards, acts as a win con and in a pinch removes creatures. Nin is one of the better mana sinks in this deck and should be protected over other creatures. Pro tip Kynaios and Tiro are good at taking it up in the ass.
Voyaging Satyr - Mostly played as filler but we can go turn 2 Satyr into turn 3 commander. Having creatures at different mana costs also helps us to find a specific effect more easily with Yisan.

---



Devout Witness* - What Witness lacks in card advantage when compared to MC Hammer she makes it up with the ability to target enchantments.
Ertai, Wizard Adept* - People just love to hate Ertai. Every time he hits the battlefield he is regarded as the most dangerous permanent regardless of boardstate so plan accordingly.
Goblin Sharpshooter - I need a creature that can remove small-ish creatures and Sharpshooter seems like the most efficient one of all the Tim variants.
Hua Tuo, Honored Physician* - Hua Tuo is one of the few ways we can recur creatures. If we really need a specific creature back we can activate the ability during upkeep. Has some neat synergy with
Intrepid Hero* - Hero is very efficient at killing big things.
Krosan Restorer* - Restorer is well known for her combo potential with Maze of Ith but even she is just played for value she is really good. This deck really likes to untap its' lands, creatures with tap abilities and can fairly easily fill it's graveyard. Restorer has it all.
Selvala, Explorer Returned - Selvala is the only "true" mana dork in the deck and she is mostly here for the draw ability.

Stronghold Biologist and Machinist* - There aren't that many creatures with tap abilities that allow us to counter a spell and Biologist and Machinist are one of the few that are also hard counters. I value Machinist more because interacting with noncreature spells is harder. Being able make sure our opponents can't just wrath our board is really valuable. Reason why we want to run both is that they look cool while they are on the battlefield at the same time.
Vizier of Tumbling Sands* - New card from Amonkhet also gets to shine here. Being able to untap any other permanent makes this card versatile and having an uncounterable trick that replaces itself can lead to some powerful plays. Before combat if we control Hua Tuo, Honored Physician we can activate Huo Tuo to recur a creature and then cycle Vizier to draw that creature and untap Huo Tuo. we can then recur Vizier and draw her with commander at the end step.
Yisan, the Wanderer Bard* - Yisan lets us generate massive amounts of value in few turns.

---



Anger - Have you noticed how the -symbol and the word "discard" appears on many of the cards used in this deck?
Diaochan, Artful Booty* - More of a pet card but if you can into politics you can turn the card text into " : destroy two target creatures. Activate this ability only during your turn, before attackers are declared." With Mother of Runes and Glory we can also protect our stuff even if opponents don't want to cooperate.
Fatestitcher - Higher mana cost when compared to Vizier or Kiora's Follower but we get more versatility when we can also tap ]permanents and once we go infinite with Illusionist's Bracers we can also softlock the table by tapping all the things for all time if we don't have a literal wincon like Nin. Unearth also comes handy if we have a window to win but are missing an untap creature.
Stone-Seeder Hierophant* - I saw this card being mentioned in RCotD and how it combos with Thawing Glaciers so I put it in the deck. If we can double up either of the abilities (with Bracers or Retreat to Coralhelm) and have a karoo we can do a mini combo where we start generating mana. Combo is limited based on how many basic we have left in library.
Tradewind Rider - Bouncing a permanent is really versatile. We can use offensively and defensively. The cost of activating is pretty high but we can always tap Kynaios and Tiro.

---



Glory -Glory is like a mana intensive Mother of Runes that works from the graveyard.
Mercurial Chemister* - Even more removal on a stick that can also draw cards. Pro tip: Aftermath cards have really high cmc if we need to kill big things.
Samut, Voice of Dissent* - Samut is more played for the haste aspect but her untap ability isn't the worst and she works well as the other Kessig Wolf Run target.
Willbreaker* - There are a ton cards that can target creatures. Nin especially benefits from Willbreaker as we can ping creatures for lethal and also draw the cards.

---



Runehorn Hellkite - Hellkite is another wheel we can "cast" from the grave. We are not really looking to cast Hellkite.
*Have "human" -subtype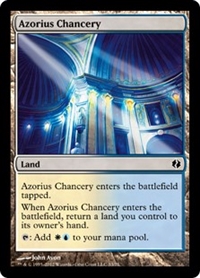 ---
Deck List
---
Deck strategy
While I've mentioning how this deck is a tribal deck the tribal nature is mostly prevalent in card choices. We got tribal creatures, lords and finishers but in practise the deck plays out more like a weird hybrid of a draw go control deck and stax. We want leave up our mana to counter a threat with Ertai like a control deck but because tap abilities are visible on board tricks they sort of function like stax pieces. Opponents are put into situation where they know their play won't work out so they don't play anything is kinda like playing against stax where you are prevented from doing anything.
Mulligans
We should always mulligan away hands that contain only
bounce
lands
as those hands are literally unplayable and this deck afford to mulligan fairly aggressively. Those hands are rare but they do happen. Ideally we want a hand that can cast Kyanios and Tiro as soon as possible.
Early game (turns 1-5)
Early game is just trying to cast because the longer Kyanios and Tiro sits on the battlefield the more value we get and people are very unlikely to kill them. Ideally we want curve out with
Bloodlust Inciter
into mana dorks. Inciter won't help us to cast Kyanios and Tiro any faster but having a cheap haste enabler helps a ton for follow up plays. We can potentially also win the game on turn 3 if we have
Intruder Alarm
,
Forbidden Orchard
a way
to untap it
and some way to end the game (eg. Samut + Nin).
Mid to Late game (turns 5-???)
Once Kynaios and Tiro is set up we start building up our board with untappers, stax pieces and start controlling the game. There is no special trick to this. We just play our stuff and try to keep the opponents under control. Generally we want to focus on players that are most likely to win first. Blowing up bunch of fast mana with
Goblin Sharpshooter
and
Hammer Mage
or slowing down spellslinging with
Rule of Law
effects generally work well. If all opponents are more or at the same power level we should try to disrupt plays that directly hurt our board. Most of the cards we play generate more value the longer they stay on the battlefield. This usually means board wipes and commanders that particularly problematic (eg.
Marath, Will of the Wild
or
Breya, Etherium Shaper
)
When building up our board we shouldn't needlessly over extend. Many cards need mana to operate (namely spell shapers) so just puking out our hand then proceed to get wiped because we didn't leave mana up for
Conrovert
sucks. Some cards like
Ertai, Wizard Adept
are also removal magnets and playing them without protection means they get blown up immediately.
Eventually we draw into an infinite combo or opponents get into a position where they can be finished with
Kessig Wolf Run
or
Nin, the Pain Artist
.
Dealing with Specific Archetypes
Aggro, Midrange and Voltron
The most common deck people play in EDH is creature focused beatdown decks and this deck well equipped to deal with these more aggressive decks. There are a ton of creature removal to deal with specific threats and silver bullet answers to power plays like
Tooth and Nail
into
Avenger of Zendikar
and
Craterhoof Behemoth
. Kyanios and Tiro alone just block really well with their big butt thwarting potential attackers.
Aggressive Combo
Combo decks that intend to win as fast as possible are problematic to deal with as we really don't have cheap early game interaction in form of counter spells. Generally the best I found to deal with combo decks is to just not even bother. Aggressive combo usually is only seen in a meta where there are other tier 1-2 decks and those decks do run cheap disruption. So best thing for us is to exploit those early turns empty our hands as soon as possible because it's very unlikely that any of our stuff gets targeted with removal or counters. If the combo decks rely on mana dorks or mana rocks things get little easier because we actually have efficient answers for those. If you feel like you need better answers for combo try swapping
Fervent Denial
and
Controvert
for cheaper counters like
Swan Song
and
Negate
.
Control
Control deck is a bit more problematic because it's harder to interact with the stack. Good thing is control decks don't really care what we are doing and we don't really care what the control deck is doing. In the end if you have managed to protect your board you are well positioned to disrupt the control player at a critical point when they are trying to win. It's is very challenging for control to beat cards like
Ertai, Wizard Adept
due to the free card advantage he provides.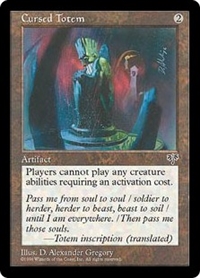 Stax
Stax and lesser extent Pillow Fort is an archetype that's entire strategy revolves around preventing other players doing anything. Our deck quite naturally hoses cards like
Winter Orb
and
Rule of Law
so Stax strategies in particular don't hurt us that much. The real threat that comes from Stax is whether we can answer
Cursed Totem
when it hits the field.
I hope you liked my deck. If you have any suggestions, comments and/or questions feel free to let me know.