Forgotten One
Join Date:

1/4/2006

Posts:

3,646

Member Details
Brago, King Eternal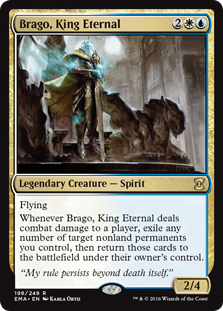 "My rule persists beyond death itself."
"I can call an army to my side in the blink of an eye. Best not blink."
---
My first attempt into UW territory was to play
Grand Arbiter Augustin IV
in a deck that was all about
taxing spells
,
effects
,
combat
, and pretty much
anything
that
anyone
wanted
to do
. It was really good at putting everyone in a bind and slowing the game to a crawl while not locking the game up entirely, but I found that being the fun-police in a game pretty much makes you the "bad guy" and that once a crack in the armor appeared I was ganged-up upon until dead. Not a fun place to be.
That leads me to a few years ago while I was investigating Bant commanders and I was looking at potential things to run in a
Roon of the Hidden Realm
deck when I came upon
Brago, King Eternal
and decided that I had finally found my Azorius commander instead.
There are many ways to go with Brago. Blinking
Palinchron
or
Peregrine Drake
to untap lands, blinking your
Mana Vault
,
Grim Monolith
, or
Basalt Monolith
to generate tons of mana and negate their drawbacks, playing
Winter Orb
and
Stasis
and ignoring them with blinking mana rocks or
Teferi, Temporal Archmage
, or even going full-on LD with
Armageddon
and/or
Land Equilibrium
. It seems like there is no shortage of mean things you can do with Brago, but I was pretty sure I wanted to avoid most of them. I did not want this to turn into GAAIV 2.0.
So I tried to focus on the value permanents with ETB or LTB effects, focusing on resource accumulation, card advantage, and removing threats without denying anyone the ability to deploy their threats. This makes me much less of an immediate threat to the table, and it gives me some leverage to focus removal on a specific player to reign them in without punishing someone who is struggling to catch up. The deck still has plenty of ways to destroy your stuff and control the game, but my opponents actually feel like they are playing and I rarely have someone just scooping to my board out of frustration.
After some playing with the deck, I finally decided on a shell I liked. I've recently updated it, so here is the most current list.
Deck updated through Ravnica Allegiance, 2/8/2019
So there you have it; my current
(perilous) foray
into Azorius territory. It fits into a category of decks that I have that I would consider "semi-competitive", in that I wouldn't necessarily play it in an unknown game or a game where we are all specifically playing our "fun decks", but its not so over-the-top as to be only playable in a tournament or in a cutthroat meta.
---
Card choice explanations
So the deck definitely breaks down into categories very well, and it helps to explain what the deck does by going through each category and how each card fits:
Blinkers
These are all in the deck to 'blink' cards in and out of play to take advantage of whatever 'enters the battled' or 'leaves the battlefield' triggered abilities they may have. They were all selected either because they can be used multiple times (no
Vanish Into Memory
,
Felidar Guardian
, or
Restoration Angel
, although these are all fine cards), or in the case of
Ghostway
and
Eerie Interlude
they can blink multiple things at once as well as possibly saving my creatures from Wrath effects.
Land Search
Since we are not a green deck, we have to find different ways to ramp. Note that
Knight of the White Orchid
and
Kor Cartographer
can get Plains cards (as opposed to Basic Plains), so they can fetch
Tundra
,
Hallowed Fountain
, and
Prairie Stream
.
Equipment/Evasion
You need to protect Brago and find a way to get him through battle unscathed.
Swiftfoot Boots
lets you keep Brago safe from targeted removal and lets you swing in right away. The Swords are in their mostly because they grant protection from whatever colors our opponents may be running (except white, but there wasn't room to run
Sword of Light and Shadow
which would be a fine addition).
Drawing Cards
The one area that I think we can improve on is the raw card advantage package, but in all honesty the deck is really ALL card advantage. I list Recruiter here because he can get any one of 18 different creatures in the deck, and with a blink effect online he becomes a tutoring engine. It's easy to be temped to run big-time draw engines like
Arcanis the Omnipotent
,
Consecrated Sphinx
,
Azami, Lady of Scrolls
,
Mystic Remora
, or even smaller effects like
Wall of Omens
,
Thalakos Seer
, or
Merchant of Secrets
, but its also easy to overdo it.
Bounce
Sometimes you just need to delay things in order to buy time, but sometimes you also need to save one of your own guys or you need to use its ETB ability and you don't have a blinker handy. It's also worthwhile to note that the first three creatures are also Wizards, so they in turn can be bounced by
Riptide Laboratory
for additional shenanigans.
Recursion
Sometimes your stuff gets killed and you want to use it again, and this suite of cards goes a long way towards being able to recur practically everything in the deck.
Archaeomancer
is also a Wizard so it can be reused with
Riptide Laboratory
,
Reveillark
can recur 22 out of the decks 35 other creatures (including
Brago, King Eternal
, so letting it go to the graveyard is sometimes an option), and
Sun Titan
can recur a host of cards including Fetchlands,
Strip Mine
,
Jace Beleren
, or a key piece of equipment. I will also note that
Karmic Guide
is an excellent option that I currently don't run.
Disruption
Each one of these can go a long way towards defeating any one particular strategy and serve as catch-alls when needed. If your metagame is more combo-oriented rather than creature oriented, feel free to replace
Stonehorn Dignitary
and/or
Linvala, the Preserver
for more counterspells.
Non-creature Removal
In addition to the the bounce spells, you have a wide variety of cards that can deal with non-creatures. All of these cards are good on their own, but they all go into overdrive when you have a blink effect online. Note that
Reality Acid
,
Spine of Ish Sah
,
Austere Command
, and
Karn Liberated
can also remove creatures, so your removal here is very flexible.
Creature Removal
A good chunk of the deck is dedicated to just removing opposing creatures. This ensures that Brago can continue to get through and that you can continue the beatdown whenever the coast is clear. Note that
High Market
is in the deck primarily as a way to sacrifice the stolen creature prior to blinking
Sower of Temptation
to steal another one.
Pirates!
One of the things that drew me to wanting to play a blink-themed deck was the ability to play with the original Pirates of Mercadia. Just the threat of these slows players down considerably, and as they affect all opponents there is rarely a time when someone feels ganged up on when you play these. There will be some metas where these are shunned, so I would have some replacement cards to put in just in case (I recommend
Knight-Captain of Eos
,
Nevermaker
, and
Slithermuse
).
Copying Stuff
All of these cards are here to get bonus mileage out of all the ETB effects. Note that
Strionic Resonator
can copy Brago's combat damage trigger, so with a
Sol Ring
or
Mana Crypt
in play you can go infinite with Brago triggers. I usually eschew infinite combos, but this one doesn't need to go infinite and it isn't necessarily an auto-win even if you have all 3 pieces out.
EDIT:
Not a whole lot of action for Brago in Hour of Devastation, but
Unesh, Criosphinx Sovereign
is quite spicy. I will be pulling
Aethersnipe
from the deck to make room.
EDIT2:
With C17 coming out, I am going to try
Stalking Leonin
as an interesting way to exile opposing creatures that dare attack me. After using it, I can blink it to reset it and do it over and over again. I'm pulling
Phyrexian Metamorph
to make room; Metamorph is a fine copy spell, but it's lack of synergy with mass bouncing stuff with Brago mkes it less than ideal. In fact, I think I would rather have
Restoration Angel
if I were to do it again.
My Commanders
Jalira, Master Polymorphist
|
Endrek Sahr, Master Breeder
|
Bosh, Iron Golem
|
Ezuri, Renegade Leader
Brago, King Eternal
|
Oona, Queen of the Fae
|
Wort, Boggart Auntie
|
Wort, the Raidmother
Captain Sisay
|
Rhys, the Redeemed
|
Trostani, Selesnya's Voice
|
Jarad, Golgari Lich Lord
Gisela, Blade of Goldnight
|
Obzedat, Ghost Council
|
Niv-Mizzet, the Firemind
|
Vorel of the Hull Clade
Uril, the Miststalker
|
Prossh, Skyraider of Kher
|
Nicol Bolas
|
Progenitus
Ghave, Guru of Spores
|
Zedruu the Greathearted
|
Damia, Sage of Stone
|
Riku of Two Reflections