Forgotten One

Join Date:

1/4/2006

Posts:

3,567

Member Details
Jalira, Master Polymorphist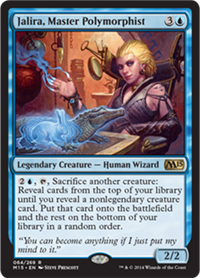 "I never metamorphosis I didn't like."
---
After some considerable back-and-forth between several options, and some
input from the MTGS Community
, I was eventually able to settle on Jalira as my mono-blue commander.
The beauty of Jalira is that her ability does not see Legendary creatures, so I was able to still run a lot of other Legends that I was debating in the maindeck without diluting the pool of cards for Jalira to polymorph into.
The deck has a bit of a Wizard sub-theme without getting too crazy (no room for
Patron Wizard
or
Voidmage Prodigy
), runs most the
Polymorph
variants
(notable exception is Synthetic Destiny)
, and some token production to feed the Polymorphs.
Updated through Battlebond – 6/5/2018
Jalira, Master PolymorphistMagic OnlineOCTGN2ApprenticeBuy These Cards
Commander
1 Jalira, Master Polymorphist

Legendary Creatures – 12
2 Baral, Chief of Compliance
2 Jace, Vryn's Prodigy
3 Thada Adel, Acquisitor
3 Vendilion Clique
3 Kira, Great Glass-Spinner
4 Talrand, Sky Summoner
4 Venser, Shaper Savant
4 Naru Meha, Master Wizard
5 Azami, Lady of Scrolls
5 Meloku the Clouded Mirror
5 Teferi, Mage of Zhalfir
6 Arcanis the Omnipotent

Non-Legendary Creatures – 7
6 Consecrated Sphinx
7 Scourge of Fleets
7 Myr Battlesphere
7 Galecaster Colossus
9 Artisan of Kozilek
11 Pathrazer of Ulamog
12 It That Betrays

Planeswalkers - 1
4 Karn, Scion of Urza

Enchantments – 2
3 As Foretold
5 Metallurgic Summonings

Instants – 17
1 Repeal
1 Brainstorm
1 Mystical Tutor
2 Counterspell
2 Cyclonic Rift
3 Capsize
3 Dissipate
3 Disallow
3 Hinder
3 Forbid
3 Thirst for Knowledge
4 Cryptic Command
4 Commit // Memory
5 Mystic Confluence
6 Reweave
6 Synthetic Destiny
8 Dig Through Time


Sorceries – 12
1 Ponder
1 Preordain
1 Serum Visions
2 See Beyond
2 Chart a Course
4 Polymorph
4 Wash Out
5 Zndrsplt's Judgment
6 Mass Polymorph
6 River's Rebuke
6 Karn's Temporal Sundering
8 Treasure Cruise

Artifacts – 12
0 Mana Crypt
1 Sol Ring
1 Sensei's Divining Top
2 Scroll Rack
2 Sapphire Medallion
2 Swiftfoot Boots
3 Vedalken Shackles
3 Thousand-Year Elixir
3 Proteus Staff
4 Throne of Empires
4 Bonehoard
5 Batterskull

Lands – 36
1 Faerie Conclave
1 Springjack Pasture
1 Mishra's Factory
1 Blinkmoth Nexus
1 Zoetic Cavern
1 Reliquary Tower
1 Scavenging Grounds
1 Arch of Orazca
1 Riptide Laboratory
1 Minamo, School at Water's Edge
1 Memorial to Genius
25 Island


---
There are plenty of obvious exclusions here, including Indestructibles like
Darksteel Colossus
and
Blightsteel Colossus
, planeswalkers such as any of the Jaces, some of the more relatively expensive token producers like
Trading Post
or
Throne of Empires
, and I tried to keep my suite of non-Legendary creatures pretty tight so no
Glen Elendra Archmage
,
Mulldrifter
, or
Solemn Simulacrum
. Overall, I think this is just one of those decks where it could easily run 150 cards and every card is as good as the next.
Anyway, this is still a relatively new deck for me, so I'm still open to suggestions and links to other people's Jalira lists that they run. Thanks.
EDIT:
-1
Stormtide Leviathan
- I was becoming too much of a non-bo with the rest of the deck.
-1
Nuisance Engine
- I started testing
Throne of Empires
and I like it much more.
+1
Throne of Empires
- With the first token costing the same as Nuisance Enginer, but each token afterward costing one less, this is just much better. I also like that they are 1/1's instead of 0/1's.
+1
Thousand-Year Elixir
- Being able to use Jalira immediately and potentially double-up her ability makes this worthwhile. It also works well with
Arcanis the Omnipotent
,
Azami, Lady of Scrolls
,
Jace, Vryn's Prodigy
, and
Stitcher Geralf
.
EDIT2:
-1
Jin-Gitaxias, Core Augur
- I never hardcast this, and it isn't "Jalirable"
-1
Uyo, Silent Prophet
- I was rarely using this at all
+1
Ætherize
- wanted another mass-bounce spell
+1
Synthetic Destiny
- this is actually better than
Mass Polymorph
EDIT 3:
-1
Tidespout Tyrant
, +1
Galecaster Colossus
- With the release of C17, I decided to give
Galecaster Colossus
a try. With the Wizard subtheme, it seemed like a perfect replacement for one of my other bouncers. I decided to cut
Tidespout Tyrant
, but I can see Tyrant coming back and something like
Wash Out
going out instead.
My Commanders


Jalira, Master Polymorphist


|


Endrek Sahr, Master Breeder


|

Bosh, Iron Golem

|


Ezuri, Renegade Leader




Brago, King Eternal


|


Oona, Queen of the Fae


|


Wort, Boggart Auntie


|


Wort, the Raidmother




Captain Sisay


|


Rhys, the Redeemed


|


Trostani, Selesnya's Voice


|


Jarad, Golgari Lich Lord




Gisela, Blade of Goldnight


|


Obzedat, Ghost Council


|


Niv-Mizzet, the Firemind


|


Vorel of the Hull Clade





Uril, the Miststalker



|



Prossh, Skyraider of Kher



|



Nicol Bolas



|





Progenitus








Ghave, Guru of Spores



|



Zedruu the Greathearted



|



Damia, Sage of Stone



|



Riku of Two Reflections