Forgotten One
Join Date:

1/4/2006

Posts:

3,646

Member Details
Nicol Bolas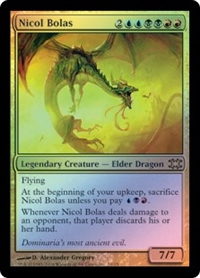 "The essence of every world, every spell, and every thought is power. Nothing else matters, because nothing else exists."
---
About three years ago, I had put together a list for my Grixis Discard-themed deck based around
Nicol Bolas
. The deck essentially uses the best discard spells and Specters to empty cards out of my opponents hand,
The Rack
effects to punish them for a lack of cards in hand, and board control spells to punish anyone who has the gall to cast spells out of their hand to avoid the discard effects.
With the upcoming release of Amonkhet and the revelation that Nicol Bolas is the antagonist, my hope is that we get some more sweet Bolas-themed cards to put in the deck.
The deck has had some cards go in and out of the deck, and being 3-color there are a ton of "staples" that I want to run but cannot find room for them. My current deck configuration looks like this; note that it is currently one card over the limit.
Updated through Rivals of Ixalan, 1/28/2018
The cards that didn't make it, but have seen recent play are as follows:
The deck basically operates like a normal discard deck; go after the opponent's cards in hand, force them to play them out faster than they normally would, then punish them with sweepers or
Rack
effects. All the bounce spells are there to combo either with Nicol Bolas, to combo with late-game discard spells that might otherwise be dead draws, and to help make sure that discard triggers for things like
Waste Not
or
Megrim
still happen.
I'm looking for advice from anyone else who runs
Nicol Bolas
as a commander, some suggestions on which card to remove to get down to 99 in the maindeck, and any other suggestions for things that might fit the theme that I might have missed. Thanks.
---
Card Choice Explanation
Discard Spells
These cards will do some good work in reducing the number of cards in your opponent's hands. They are specifically chosen because they affect all players or have other useful modes (specifically creature kill or bounce). Your hope is that you can hold onto these till after you've bounced some cards back to your opponent's hand. It is often a good strategy to hold onto these and let your opponent's play spells out of their hand naturally; once they are down on cards, these can be backbreaking in knocking the last few cards out of their hand and disrupting whatever plans they might have had.
Specters
These are the real heavy-lifters in the deck, providing early pressure on both your opponent's life totals and their hands.
Okiba-Gang Shinobi
is especially devious here, with cards like
Solemn Simulacrum
,
Mulldrifter
, or
Venser, Shaper Savant
as great cards to ninja out.
Repeatable Discard effects
Single-shot or combat-damage discard effects will only get you so far, so you need to pack additional ways to make sure your opponents are discarding cards. Nezumi Shortfang is great in that it turns itself in a
Rack
effect once you've emptied someone's hand.
Painful Quandary
works much the same way, although most people will just choose to pay the 5 life unless they are way up on cards.
Chains of Mephistopheles
is a card that many people don't have experience with, so it deserves its own paragraph of discussion. In essence, it shuts down card draw outside of the first card drawn during the draw step. In order to draw a card at any other time, a player must first discard a card. If they have no cards in hand, they get milled for 1. This is a card that you drop once you have everyone's hand emptied to keep them all in range of your Rack effects, and you need to be careful as to when you play it so that you don't shut off your card draw engines prematurely. Note that
Necropotence
does not draw the cards (they are put into your hand), so they are not affected by the Chains effect.
Rack Effects
Once you have emptied a players hand, these become consistent damage sources turn after turn. Note that
Storm World
affects all players, including you. All the other cards affect only your opponents, but
The Rack
only affects one opponent.
Discard Triggered Effects
All these cards net you value for making the opponent discard cards.
Nezumi Graverobber
doesn't have an explicit discard trigger, but he will help you reap the rewards once he is flipped to
Nighteyes the Desecrator
.
Bounce
Once you have established your discard effects, opponents will rush to empty their hands in order to not lose to your discard. The bounce spells then come in and undo all their hard work, and in conjunction with your repeatable discard effects become virtual removal. A card like
Devasation Tide
or
Cyclonic Rift
can become especially deadly when followed up by the threat of a
Nicol Bolas
attack.
Disruption/Removal
This is in addition to all the previous card mentioned that have modes that would otherwise count as removal. Again, players will try and play their hands out faster than normal, so they will often play right into your Wraths. The counters are usually reserved for card draw or to protect a key permanent.
Card Advantage
These are all part of the plan to out-resource your opponent. I'm currently using
Armillary Sphere
and
Gem of Becoming
because the deck specifically wants lots of land of very specific colors.
Memory Jar
also has the effect of triggering your
Megrim
or
Geth's Grimoire
multiple times.
As you can see, many of the chosen cards can fulfill multiple roles and fit in multiple categories. The key is to use cards that offer the most bang for your buck while at the same time offer the most flexibility.
My Commanders
Jalira, Master Polymorphist
|
Endrek Sahr, Master Breeder
|
Bosh, Iron Golem
|
Ezuri, Renegade Leader
Brago, King Eternal
|
Oona, Queen of the Fae
|
Wort, Boggart Auntie
|
Wort, the Raidmother
Captain Sisay
|
Rhys, the Redeemed
|
Trostani, Selesnya's Voice
|
Jarad, Golgari Lich Lord
Gisela, Blade of Goldnight
|
Obzedat, Ghost Council
|
Niv-Mizzet, the Firemind
|
Vorel of the Hull Clade
Uril, the Miststalker
|
Prossh, Skyraider of Kher
|
Nicol Bolas
|
Progenitus
Ghave, Guru of Spores
|
Zedruu the Greathearted
|
Damia, Sage of Stone
|
Riku of Two Reflections