ISBPathfinder
Staff
Moderator
EDH Primer Committee
Bebopin

Location:

South Dakota

Join Date:

8/16/2010

Posts:

23,538

Member Details
Abzan's Tymna & Ikra Shidiqi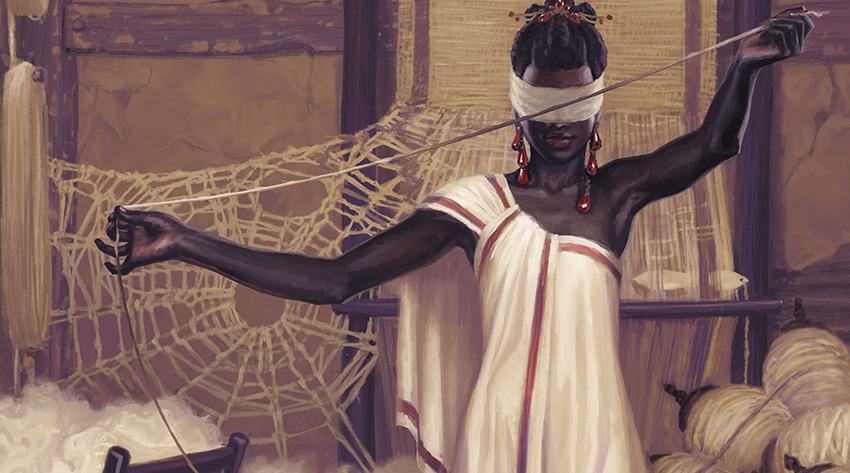 ~ ~ ~ INTRO ~ ~ ~
This deck's goal is to be a tempo oriented creature focused deck. It's strengths lie in being fast into the game with strong standalone threats as the game progresses. Many of the creatures in this build can threaten to
kill players on their own
or give us access to
generate resources
and
control the board
. This deck attempts to drop
better creatures
than our opponents while
sweeping the noncreatures
.
This is a guide to a creature focused deck with core concepts in card draw, combat, disruption, and lifegain. If you are not fond of the combat step, this may not be the list for you. While the roots and concept of this deck is in creatures and combat, it still has a lot of disruption woven in as well often when I can in creature form. It has been a very unique deck for myself in that it really does fit the mold for the definition of Rock.
Quote from

Rock (AKA "The Rock" and "Junk") is a deck archetype that appears in Legacy, but can theoretically appear anywhere. A midrange deck at heart, the traditional Rock deck would play a lot of disruption alongside solid removal. Other features include Regrowth effects, sweepers, and card draw. Once the game is under control, the deck would play a big fat finisher to close the game quickly. Due to the state of the Legacy metagame, though, the deck has adopted a much more creature-orientated approach.
I have been playing commander since early 2010 (around the release of Worldwake). My background in commander tends to be a Spike / Johnny player primarily. I like finding strong synergy between cards but I avoid infinite combo and
mass land destruction
in my preferred strategies. I am sort of known for playing a lot of mono colored decks and a lot of white in what I make.
When
Tymna the Weaver
was spoiled I knew essentially immediately that it was a commander I was interested in exploring. My first attempt was with
Sidar Kondo of Jamuraa
paired with her and I tried using a bunch of small creatures with evasion to draw me cards. I did not really foresee that partners puts a lot more board presence to play and it takes time to get both partners plus other cards to play and that made the combo feel too slow to get in play and get other board assembled. I felt like I was walking into wraths kind of hard as well. The process of rebuilding post wrath when you have two commanders you proactively want in play is a very challenging thing as it takes time and mana to get them both back into play reliably.
From there I moved to
Ikra Shidiqi
and had less of a proactive plan to play
Ikra Shidiqi
which I definitely saw benefit in. With the new deck I saw more benefit in just having some vanilla beaters in that they offered a lot more pressure per card and my commanders act as anthems to offer draw and lifegain. So I was off and my first build was chalked full of vanilla beaters that were stat efficient.
Since then, I have moved to more creatures that offer control and or generate value over time being in play. My goal with this was to redirect some of the hate off of Tymna because for a while it felt like if people just had spot removal for her the deck fell apart. Moving to more must answer creatures it has really diversified what my opponents need to remove and it has added a lot of control to my list which has been great when combined with the draw and lifegain that my commanders offer.
~ ~ ~ COMMANDER CHOICE ~ ~ ~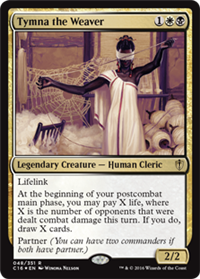 With the partner mechanic there is a very real question of: "why run any specific combination of partners." I think there are a lot of valid partner pairings and while there isn't really a wrong choice, I think there are pairings that have better or worse synergy. To get things started I will run through what my partners bring to this deck and why I chose to pair them.
Tymna the Weaver
Ikra Shidiqi, the Usurper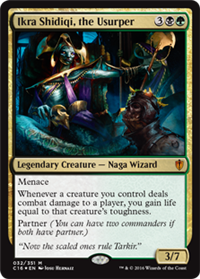 COMBINED:
ALTERNATE CHOICES:
There are a few other partners I did put into some consideration if I did not find my partner pair to measure up:
Being that the partner mechanic has a TON of potential pairings I wont run through everything you "could" do as there are a lot of them. I highlighted what in my mind would be the directions I would consider and possibly think about if I were to ever break my partner pairing but wanted to continue with something similar.
~ ~ ~ OBJECTIVES OF THIS DECK ~ ~ ~
This deck has a lot of things its trying to do so I will break some of them down and explain the reasoning for them: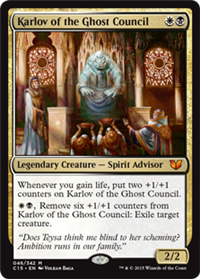 Tymna is my 3 drop plan - I essentially always prioritize her over any other play when I get to three mana. Due to this you will see that I have pushed priority to my two and four drop creatures and my three drop creatures I have accepted are essentially 4+ drops. You will see I went heavier on my two and four drops in part due to this because many three drops are a bit weaker when you look at them as four drops.
Play creatures, hate on noncreatures - You will see in my build I run a number of noncreature hate. Things like Fracturing Gust, Purify, Aura Shards, Bane of Progress, Austere Command and a few others. The point of these cards is to ideally have a value trade where I clear a bunch of annoying cards out and clear the way for my creatures. These cards have multiple purposes from answering defenses and Humility effects as well as to hinder opponents who are relying on toys as how they are going to win. This deck is a creature based deck so removing a bunch of things that we don't hold as our primary strategy to clear the way for our primary strategy is really strong.
Tempo - Given that I draw extra cards as one of my commander's rolls I built tempo style of ramp into this deck. I have a number of ways to put extra lands into play as well as things like the moxes. If I can get Tymna into play faster it means possibly drawing more cards. When I am drawing additional cards each turn hitting people I can also possibly play more than one land in a turn which keeps me from possibly having to discard cards.
Control creatures with creatures - Whenever I can get a creature who can beat in and possibly control the board it is something I am interested in. There is always the question of how much the control effect costs though too as well as a question of how stat efficient they are and how much they can do for me for how little mana. Karlov of the Ghost Council is a good example of a cheap creature that offers removal for cheap mana while having a positive interaction with the deck given the amount of lifegain triggers just between my two commanders. Drana, Kalastria Bloodchief would be an example of a mana intensive option which I avoid given how much mana it costs for her to do her thing. I have decent card advantage in this deck due to Tymna so keeping removal and control effects cheap and effective is more important to me.
Landfall - I built a number of landfall effects into the deck. Most of these give me more bodies or more mana. Given the tempo role of this list I saw value in generating additional resources from something I was already trying to do (play more lands).
These were most of the concepts I went with while building this list. This list is in a nutshell a tempo style of beater deck. There is a surprising amount of control in the list though even though there is a heavy focus on utilizing creatures.
~ ~ ~ DECKLIST ~ ~ ~
~ ~ ~ CARD OVERVIEW ~ ~ ~
~ One Mana ~





~ Two Mana ~





~ Three Mana ~





~ Four Mana ~





~ Five Mana ~





~ Six Mana ~





~ Seven + Mana ~




ARTIFACT
ENCHANTMENT
INSTANT
SORCERY
LAND
Given that most of the landbase is just fixing mana I wont go through all of those unless someone wants me to.
~ ~ ~ STRATEGY ~ ~ ~
PLAYING THE COMMANDERS:
Being that we have two commanders I will run through each of them independently as they both have different roles and I play they both very differently.


Role: Tymna has the role of keeping the deck moving by giving that consistent card draw that aggro / tempo decks often lack. Its fairly normal to draw an extra 1-3 cards a turn off of her in a multiplayer game of commander. I would say on average you are going to get about 2 extra cards per turn in my experience when she is in play. While Ikra Shidiqi is going to be the primary enabler for lifegain matters effects, don't forget that Tymna can also trigger lifegain triggers.

Play Priority: Most games my goal is to have Tymna in play as much as possible. When I get up to the mana to play her the first time in a game I am almost always going to prioritize playing her first over a lot of other things. Some of the few times I would avoid playing her as a first priority would be if my opponent has a means of easily removing her (aka Umezawa's Jitte + a creature in play). Outside of an oddity of someone having gotten something to actively kill her, my goal is to get her in play as soon as possible and start swinging and drawing cards.

Rebuilding: When you get wrathed, I often do not prioritize playing her that first turn after the wrath unless you happen to have a haste outlet. Its generally better to play other threats first when rebuilding because her small stat line and lack of evasion will make it hard for her to connect on her own the following turn. Due to this after being wrathed I often delay her a turn and prioritize something that can fight for control of the board or has evasion.


Role: Ikra Shidiqi gives two primary roles 1) keep opposing aggro decks from burning us down and 2) give us some great synergy with lifegain matters effects. If you are playing against a bunch of control decks and you don't have lifegain matters cards in hand / play I often lower her priority quite a bit. She can really make some effects like Necropotence very strong though in that she gives large life buffers to dump into more draw. Effects like Aetherflux Reservoir also can use her to fill us up on life to fire off and kill people at will for.

Play Priority: I often do not prioritize her on curve over other creatures from hand. If you run into a turn where you have mana but nothing to do with it she is a decent play but she is not a very aggressive play. She is more of a defensive play which is why I tend to be a little more reactive in when I play her. If you are going up against a deck that is aggressive or directly chips off life like a Purphoros, God of the Forge like deck then I tend to move her priority up some.

Rebuilding: similarly to how I tend to play her more re-actively in the early game, if I get wrathed she is likely not my priority play upfront unless I am being pressured a lot on my life total. You usually want to be casting Ikra Shidiqi as like your fourth or later creature unless you are running out of resources.

GENERAL STRATEGY:

Hit Everyone: This deck is somewhat unique in that while you do want to focus problematic decks down, you need to spread out your attackers so that you connect to a bunch of opponents in order to draw from Tymna. Normally for tempo and aggro decks you would want to focus down one player at a time and you still want to do that, but its very important to hit as many opponents as possible each turn to draw more cards as well. It might seem a bit odd but hitting everyone is a basic concept that Tymna really gives a lot of reward for so while it might result in killing people slower, it will give you more cards to play with and it will pay off generally as you will have more resources to work with.



Opening Hands: this deck has a TON of tempo ramp. I counted something like thirteen ramp effects at the time of writing this with a number of ways to ramp into Tymna or the follow up that comes behind her. Generally speaking I am looking for the 0-2 mana ramp effects as well as 1-4 mana creatures in my opening hand. The most ideal starts have some sort of 0 costing tempo ramp combined with a 1-2 mana creature in the hand. If you can get a creature in before Tymna and or get to Tymna sooner you are going to be having a better start.

Mid Game: focus on drawing cards, playing threats, and ramping mana. We have a lot of disruption as well so try to get value trades where you can and just keep pushing as many cards through hand as you can while disrupting opponents and or hitting them in the face. Ideally have someone you know might be a problem and work on sending the most damage to them.

Late Game: if you are doing well you can kind of stop worrying as much if you optimally draw as many cards as possible here. Start trying to drop the number of players off. If anyone gets a big board on you keep in mind that you can use the other remaining players to bloat up your life total with Ikra Shidiqi and keep drawing cards. If you get in a pinch you might be able to convince someone to not block a small creature to give you draw to hope to hit an out.

Overall, this deck has kind of the same focus through the game. Push resources to play, disrupt the opponent, and draw as many cards as you can. The fact that we can tempo ramp lands often puts us in a decent position if we get swept as we tend to have more lands in play than others.

WEAKNESSES
Repeatable Removal for Tymna: if you run into a number of things like say Umezawa's Jitte, Sword of Fire and Ice, Humility, or Pestilence to name a few that repeatedly give opponents the opportunity to take or or invalidate Tymna, that is a huge pain in the ass for this deck. I run a very high amount of artifact / enchantment removal in my list that are not reliant on creatures in part because you have to remove these things. MOST of these are non-creature effects and they are the reason for most of the removal that I run in my list. It't not the end of the world if someone can use a card to remove Tymna, we just cant let them repeatedly do that on the same card.

Combo: I don't play against combo decks that often so I have not tuned my removal and interaction to be built to play against it. I think you could improve your interaction against combo but... its tough to play against combo without blue or the intention to combo. If you are expecting to play against combo try to increase your cheap instant speed interaction via cards like Swords to Plowshares, Krosan Grip, and Nature's Claim. In general you need to have cheap and fast disruption and you need to know from the get go who is going to be the problem and run them down fast.

Mass Land Destruction: land destruction is challenging for my list in part because it is not something I play against on a regular basis. I think you can increase this deck's performance against it though possibly by using cheap disruption, lowering the curve, and running more mana dorks. It is possible to just try to keep the most dominant board position to keep them from executing their land removal and its also possible to run things like Teferi's Protection, Sacred Ground as well if it becomes a problem. We can also increase our mana dork count with things like Lanowar Elf too as another option.

STRENGTHS

Aggro - given that we have a very deep option to gain a TON of life in our commander zone, our ability to fight against aggro, tempo, and direct damage based decks is actually fairly strong.

Artificer / Enchantress - This deck is a creature based deck and so I have employed several effects like Fracturing Gust and Bane of Progress because while they can hit me, they hit very light in comparison to our opponents. These effects can take out mana rocks and defenses while leaving our own deck largely unharmed.

Mana Rocks - again, given all of the noncreature hate this deck has, this deck punishes those who rely on artifact mana ramp.

Vs Removal - I did mention in the weaknesses that constant removal of Tymna can be a problem for this deck. When I say that I think that this deck has a strength vs removal I mean it more from the standpoint that we have a very thick threat density of creatures who can spiral out of control. Our weakness to removal primarily branches from if someone preemptively sits on our face and keeps us from sticking Tymna. If for instance you were to play out Tymna and someone responds with Imprisoned in the Moon the turn you play her, its possible the game could snowball on you in a bad way (assuming you could not free her). Once this deck gets going I think that our weakness in relying on Tymna tends to fade as the game goes on but especially early on we have a lot more reliance on her to propel us forward. When I say that we have a strength vs removal, I mean it more in a sense that as we move to the mid and late game stages of the game I think our weakness and reliance on Tymna fades.

~ ~ ~ CHANGE LOG ~ ~ ~
1/19/17
This change was to get the list down to 100 cards as the original list was over 100 cards.
cuts:
adds:
1/24/17:
Athreos, God of Passage -> Recruiter of the Guard unfortunately Athreos is not really reliably animating here and his recovery tool is accepting that I get wrathed. I think its alright but its not as explosive out of the gates as I want it to be. Recruiter of the Guard can be treated as if it were a white Abyssal Persecutor in that it can give me a Serra Ascendant into play plus itself. I think it has other great utility as well such as retrieving Selfless Spirit or Gaddock Teeg as well which seem good. It can also get me Azusa or Oracle of Mul Daya so it has ramp, protection, beaters all as options here. I like as well that the Recruiter is more of a 4-6 mana play than something I feel I need to do on turn 3 as well which is nice for an on curve Tymna if it makes sense to drop her.
Anafenza, the Foremost -> Scavenging Ooze I like the natural size of Anafenza but I noticed that she was awkward when not played on curve not to mention that if the game gets slowed down by blockers she has problems. She also seems less good when drawn later so with all of these complications I have chosen to move to Scavenging Ooze which I like that it curves a little better with Tymna as far as the mana costs. Scavenging is just more solid more often. I did end up depriving a Sidisi, Brood Tyrant player his zombies last week with Anafenza but outside of niche cases I feel like having Kalitas, Traitor of Ghet in the deck still gives me that option. I felt like there were more situations where Ooze made more sense than Anafenza is all I guess.
Armada Wurm -> Avenger of Zendikar they are similar in what they do but I just keep getting this feeling that Avenger is just the better card of the two. I know that Avenger fits this sort of deck well I just have a dislike for him I guess. Still, considering the similar mana it makes sense to make this move to something that just gives a stronger wincondition. I like the wurm as I think its a really cool card but for now, I think it needs to go.
2/6/17:
Cultivate -> Bloom Tender I had issues in that Cultivate felt like they landed at a little bit of an awkward mana cost for this deck. I often found myself being too busy for a 3 mana ramp. Its possible I move to more of the 2 mana ramp especially the ones that bring in lands untapped. Bloom Tender gives me a really sick curve with Tymna as it gives me essentially a free commander into play.
Kodama's Reach -> Knight of the Reliquary same issues with cultivate, I just felt too action packed starting at 3 mana to be casting ramp. Knight gives me a lot of utility options as well as some ramp options. I have a lot of landfall triggers in this deck as well which Knight goes well with.
1 Forest -> Yavimaya Hollow I realized my digital list didn't have the Hollow but my physical list did. It isn't something I feel I need too often but it does give me some utility options. I used it once to protect Tymna from a Shard Pheonix as well which is great. Overall I dont know entirely how I stand with it but as of right now I am ok with it. Knight of the Reliquary may increase my interest in my utility lands as well so I will keep an eye on it and see how it performs for me.
8/10/17:
8/28/17:
Avenger of Zendikar -> Avacyn, Angel of Hope so, I did actually have a really good avenger where I was able to play him and buff the tokens to being 6/7s in the same turn. This all said and done, I should have lost the game right after this and only didn't due to luck. My opponents seemed to all have a bunch of flyers and they just chose to not attack me. I realized that Avacyn could be wrath defense, flying defense, plus evasive attacker for me. Avenger is a little bit awkward for me still in that it seems like it either wins me the game, gets me wrathed, or loses me the game. I felt like moving it to something that might be a little more defensive might pan out a little better. Avacyn is definitely a target but at the same time I think its ok to have things that are targets for single target removal. My goal is to not walk into wraths when I can.
Surrak, the Hunt Caller -> Odric, Master Tactician Surrak has just been a little awkward the more I play with him. Tymna + Surrak is not enough power to enable his haste so in operners I have often found him a little less ideal than I was hoping. Playing my creatures in the first main doesn't work well with Tymna's draw either. I considered a few different options to replace Surrak, it was actually rather challenging for me to be sold on any one idea of what to replace him with. Part of my issue with Surrak though was that he didn't quite set himself up on his own as well as his lack of evasion. I like Odric because if his combat control kicks in he gains the power to run past anything I want or to force back blocks as I want. He will totally be a target but at the same time, this is the kind of deck that runs high priority targets. Taking a few high priority targets and pairing them with some fairly strong wrath protection is sort of my goal after all.
9/5/17:
Glare of Subdual -> Purify glare has had a few good situations for me but in a lot of cases I have not had the tokens to really take advantage of it correctly. I find myself kind of always wanting more ways to take out all the artifacts / enchantments and last week I ran into a Torpor Orb keeping me off of the creature tutor to Bane of Progress.
Explore -> Lotus Cobra I found myself wondering why I am not running the cobra here. I saw a little more MLD in the new meta I moved to so I am also kind of weighing in how I feel about that but in the mean time I do feel this is a fairly good change. The cobra can pick me up a good bit of tempo mana and it gives me something to curve before Tymna potentially to draw me some cards. I like that the cobra really picks up a lot of tempo with a lot of the land ramp / fetchlands which this deck does quite well.
11/2/17:
Survival of the Fittest -> Karlov of the Ghost Council - Survival has not been working out. I am intrigued by the fact that both of my commanders have some lifegain to them. If I could curve Karlov in on turn 2 he can draw me cards off of Tymnia and honestly if I can get someone to kill him instead of my commanders I am kind of cool with that. He can really snowball and act as removal when suddenly a bunch of creatures are giving me life as well.
Phyrexian Arena -> Aura Shards - I just all the time want to be removing toys and I have been adding more token makers so I think that the value of shards seems better and better. Both enchantments feel a little slow but its possible that I can trigger the shards a few times quickly. If I have like any other draw going I think phyrexian arena is a bit underwhelming.
Nylea, God of the Hunt -> Dire Fleet Ravager - Honestly, I have just been disapointed by Nylea too many times in this deck. I want her to be great but most of the good beaters already have evasion so it just feels less good.
Odric, Master Tactician -> Odric, Lunarch Marshal you know what, sure I will give it a shot and see how it does. I like that this version picks up all the abilities faster and some of those abilities (like flying) could be really strong to share out en mass. One of my commanders also has menace so its possible that could be a strong evasion to hand out menace + flying + trample... Seems interesting.

11/9/17:
Angel of Condemnation -> Ayli, Eternal Pilgrim - I do really like the Angel of Condemnation but I think it falls into my "only good on curve" sort of creatures. It could still be good later but its slow to do so given its abilities all require it to tap. Ayli, Eternal Pilgrim curves me in sooner which might possibly draw me more cards off of Tymnia which I think is great. I think its a good early and late game creature especially since I often have lifegain in here. I think its second activated ability will be very strong in this deck given the lifegain and being a 2/3 means that early on it wont trade and having deathtouch means it trades up. I really like all of these elements and the fact that it has a sac outlet on it as well means I could possibly protect vs theft with it as well. I think its a well rounded card for this deck and I can see it working early and late for me.
Doran, the Siege Tower -> Elvish Visionary - Doran is just so dang cool I was hesitant to cut him. He is a 3 drop though which means he is generally a 4 drop given my priority is given to Tymia. I think he is one of those creatures that I dont like as much when I dont curve him unfortunately. Elvish Visionary its really a small inclusion but it can curve in before Tymnia and possibly draw me a few cards plus even late, it cheaply cantrips. Its one of those style of creatures which is kind of a low impact add but because it could curve before Tymnia I think its worth including.
Skyshroud Claim -> Lightning Greaves - Skyshroud is just really kind of an iffy in that I feel its not ramping me soon enough but its also not ramping me all the much for where it lands. I think its better to just cut my losses as I just haven't felt that it hits my curve all that well. I am interested in the greaves from the standpoint that they could possibly give some protection to Tymna as well as giving her or other creatures haste could give me more draw. If I curve greaves / Tymnia it kind of turns greaves into draw in a sense as well.
11/14/17:
11/20/17
Mirri, Weatherlight Duelist -> Angel of Condemnation I ran into a situation where my opponents had bigger creatures than Mirri and it just wasn't worth casting her as this like one time evasion effect. I really liked the removal based creatures I added last time and I decided to try to circle back to a little bit of removal. I do like a lot of what Angel of Condemnation can bring to the table as far as disruption and evasion goes.
12/12/17:
Ulvenwald Tracker -> Stoneforge Mystic so, the tracker has been less good because as I was saying I bumped up my cheap creatures who scale decently of late and I noticed a lack of big creatures to use to fight with. I like the mystic because its still a cheap creature I can curve into Tymnia and since I moved to two equipment with Lightning Greaves I thought I could possibly bring it in.
Sword of Feast and Famine -> Umezawa's Jitte I wanted to pick up a little more utility in my equipment as I moved to stoneforge mystic. I like the jitte from the standpoint that it can play a lot of creature control for clearing small utility and tokens and just give me a lot of combat prowess. I do still kind of like feast and famine but at the same time as I have moved to more faster creatures I think I am ok as I am with more utility control over trying to drop fatties. Jitte also has some great interaction with some of the lifegain matters effects (Karlov of the Ghost Council, Archangel of Thune, Crested Sunmare) in the deck so I think its triggers are really versatile.
12/14/17:
12/27/17:
1/5/18:
1/10/18:
Sakura-Tribe Elder -> Elvish Visionary I was working on the OP and I realized that as I have been including more early game creatures in my list Sakura-Tribe Elder has been feeling more awkward to me. If it is something that I try to curve play I essentially do not want to sacrifice it as I would be dropping card draw for ramp that does not get me into my proactive Tymna the Weaver commander play. Later in the game if I topdeck Sakura-Tribe Elder it is also not super great and while its not bad I would rather topdeck Elvish Visionary later in the game and it seems I would also rather curve play it than the Elder. So... I guess in retrospect I am appreciating the Visionary over the Elder.
1/19/18:
6/4/18:
Purify -> Pir's Whim of my noncreature sweepers I would rate Purify as the low hanging fruit of them. This change swaps the hope from aiming to get a value sweeper to something where I could curve cast it and even just hit a little bit of ramp from my opponents and ramp me. Given how many cards I have to hate on noncreatures and that this was my worst and about as hard to tutor as it gets (being that in these colors only black unconditional tutors can get it) I am fine with cutting it for something that might function similarly but with positive value for me.
Woodland Bellower -> Virtus's Maneuver the bellower was always a little questionable when I added it. When looking for room to make a cut it quickly came up as a potential. Virtus's Maneuver looks like a great recovery tool just in how much it does for how little mana it does it. I think that the overall impact to the board will be more to my benefit with this change and it will cost me less mana to do it.
7/16/18:

Signature by
Inkfox Aesthetics by Xen
[EDH Primers]
Tymna & Ikra Shidiqi
[EDH Non-Primer]
Gisela
|
Sram
(auras) |
Edgar Markov
|
Bruna
|
Ghalta
|
Chromium
Testing Grounds