skorchdnite

Location:

Wapakoneta, OH

Join Date:

8/18/2011

Posts:

1,385

Member Details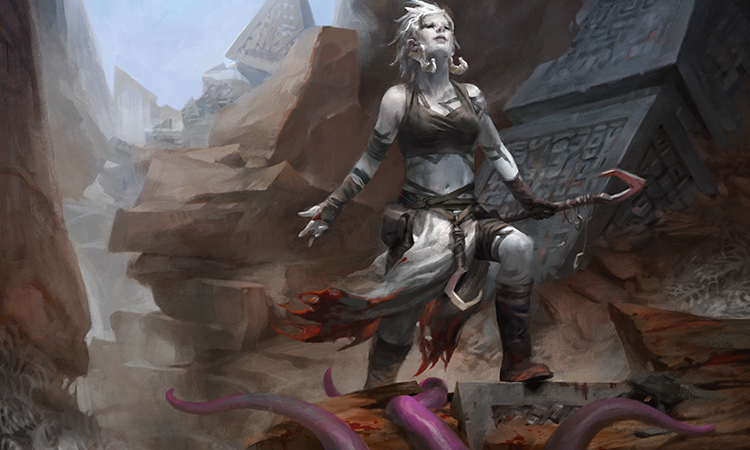 As of the writing of this post,
Ayli, Eternal Pilgrim
is a newly released legendary creature from Oath of the Gatewatch. This deck is based all around making use of her traits and qualities with a great focus on making her work with
Sanguine Bond
.
Firstly, Ayli costs only , which is certainly on the cheaper end of things. He can play Ayli early and often, and this deck is geared to ramp up so even if she dies four times, we'll still be able to replay her and sacrifice things to her.
Second, she's got Deathtouch. Since she's cheap, this makes her a *great* blocker. Other than occasionally using her to make the trade, we're incorporating some super secret tech in the form of
Viridian Longbow
. Why? Deathtouch does not specify combat damage, thus equipping the Longbow makes Ayli a death-pinger which is good for board control.
Ayli's Third ability that we care about is our bread and butter. " , sacrifice another creature: You gain life equal to the sacrificed creature's toughness." Having a sac(rifice) ability for this cheap on such a cheap commander makes a focus on sacrifice and recursion far more efficient than usual, plus it gives us a boost in life whenever used. This is what this deck is based around. We're running large creatures like
Ashen Rider
with good ETB and death trigger effects so that we can play them, reap value, sac them, reap value, recur them, and reap value. Additionally, we can exploit a small loophole on the cards
Fiend Hunter
,
Faceless Butcher
and
Leonin Relic-Warder
: they all have two triggers, one that remove a permanent on ETB and one that gives it back when they leave. Using Ayli as a sac outlet, we play these creatures, their triggers go on the stack and, before those initial triggers resolve, we sac said creatures causing the second triggers to go resolve before the first. The first triggers then resolve, perma-exiling whatever you're targetting. One more note about this ability: Life gain is all well and good, but unless you're making use of it, it's just delaying the inevitable. To push the pace of the game and advance our own position, we're running cards like
Sanguine Bond
and
Cradle of Vitality
.
Ayli's last ability is, " , sacrifice another creature: Exile target nonland permanent. Activate this ability only if you have at least 10 life more than your starting life total." It's another sac outlet. It's more expensive and won't gain us any life, but it's fantastic utility and allows us to better control the board state. Play smart with it though, we don't have an endless supply of creatures.
Ayli's also a 2/3 Kor Cleric, but we're not a Cleric deck and don't pretend to be. A WB Kor tribal deck could be cool, different thing to do though.
Notable Card Choices
Notable Exclusions
Exquisite Blood - This deck *loves* to have Sanguine Bond and similar cards on the field to push the progress of the game as we gain life, so why not set up the old infinite combo with Exquisite Blood? It's personal preference. I barely ever run infinite combos that win on the spot in multiplayer decks. They can be good release valves for when the game state becomes unbalanced or if the game has gone on for an annoyingly long time, but in most other situations, it cheats the rest of the table out of a fair game and awards nothing but a hollow victory. If you're playing in a purely competitive, cutthroat meta, infinite combos can be expected, but progressive strategy and politics tend to carry the day in my meta.
Demonic Tutor/Vampiric Tutor/Enlightened Tutor - Unless a tutor synergizes well with the overall strategy of the deck, I'm not going to run it. It's personal preference, I won't use up valuable card slots that could be used to further diversify and strengthen the deck. Also, tutors such as these promote a greater linearity to playing the deck, which is just fine if your only goal is to win.
Additional Considerations
Comments, concerns, constructive criticisms, alliterations and suggestions are appreciated!
Active CMDR:
Kiki-Jiki
-
Neheb
- Kurkesh - Lyra -
Rhonas
-
Dwayne
-
Brudiclad
- Jhoira - Mizzix -
Ayli
-
Ezuri
- Glissa - Edgar - Tariel - Prossh
Working on: Balan Equips - Brion Flings - Tiana Auratron - Lyzolda Rat Colony - Yennett Free Stuff
Favorite Series: 1. A Song of Ice and Fire, 2. Stormlight Archive/Sanderson, 3. Lord of the Rings/Tolkien, 4. Broken Empire, 5. Powder Mage
Currently Reading: Malazan #3, Witcher #2, Wheel of Time #6
Unpopular Opinions: The First Law, Kingkiller Chronicle