DirkGently
Join Date:

6/14/2011

Posts:

5,688

Member Details
Ladies and gentleman, Christmas came 12 months early this year.
I present the first sultai control commander: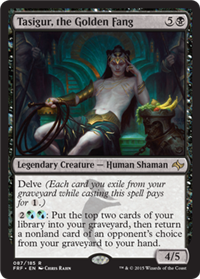 You might think there are other sultai control legends. But you'd be wrong - all the other sultai commanders are fundamentally unsuited to helm control decks. Here's why:
Sidisi, Brood Tyrant
: in order to trigger her ability, you have to be running a significant number of creatures. Guess what card type really sucks when you're trying to react to enemy threats efficiently and control the board?
Vorosh, the Hunter
: this guy is just boring. Nothing specifically prevents you from playing him as control, but he just kinda sucks. And he doesn't help control in any crucial way.
Damia, Sage of Stone
: (1) She costs too much (2) She's a hate magnet, something you don't want when playing control unless you're about to win (3) She works best when you're dumping your hand. Control decks do not dump their hand.
Mimeoplasm
: He works okay as a control commander, but he runs into the same problem as Sidisi, and generally he wants a bunch of card slots dedicated to synergizing with him to really get your money's worth, most of which are not good for control. And he also has the Damia problem of drawing hate.
So, Tasigur? Tasigur is the real freaking deal. I'm sure people will build boring old ramp-draw-bomb decks with him, but they'll always be fighting against his nature. Your opponents don't WANT to give you bombs, they don't WANT to give you ramp. You'd have to exile cards from your own graveyard to force them to give you want you want - and even then, Tasigur can throw a wrench in the works by dumping something you don't want into your grave when you activate him. But if you play him as control - asking one opponent to give you removal or a counterspell to stop a mutually-detrimental bomb from another opponent, you can work not against him, but WITH him. You can use him to pit the table against itself, and destroy your enemies one at a time, using the game's most undervalued resource: your opponents.
Ok, enough
squee
. Here's the decklist I've put together.
Card Choices
Removal
Removal is the lifeblood of Tasigur. Removal is great at breaking combos, saving your bacon, saving someone else's bacon, and generally balancing the table for a low cost.
Tragic Slip
: 4.0
The preponderance of removal in this deck makes it fairly easy to get the morbid, but it also has few creatures of its own to sacrifice. The low cost and ability to kill indestructibles make this a strong creature-only removal spell nevertheless.
Hero's Downfall
: 3.0
The ability to his planeswalkers, which is otherwise fairly difficult for this deck, makes this a strong card despite the relatively high cost.
Into the Roil
: 2.5
Hitting non-creature permanents makes this useful in its flexibility, and the option of casting it without cantrip makes it fairly cheap when necessary. However it can get tiresome to get this back into your hand repeatedly as it doesn't solve problems permanently unless they're tokens.
Wipe away
: 2.0
Very effective at breaking combos, however it's expensive and can get pretty clunky to recur with Tasigur. I would try to hold this in your hand unless it's necessary to cast it.
Submerge
: 3.5
This has a fairly high chance of being totally free, which is outstanding, it can get around indestructibility, and it's easy to tuck commanders in response to a shuffle. When it's not free, it's okay, but clunky. When things get down to 1v1, locking down enemy draws is pretty powerful so you don't get surprised by a lucky topdeck.
capsize
: 4.0
With the amount of ramp this deck generates, Capsize is a strong way to use it, protecting your own critical permanents and getting rid of theirs. With seedborn or Prophet this gets pretty out of control and can be used to lock someone out of lands while you kill the other player with Tasigur.
Spin into Myth
: 3.5
If we had access to white this might not make the cut, but here it's our only reliable tuck spell for commanders on the field. This makes it a great spell to shut down someone who's threatening to overwhelm the table, to hold as ultimate retaliation, or to use once you're down to a 1v1 game to lock down your last opponent. Don't forget that it fateseals their topdeck as well, which either lets you know that their topdeck is dead or gets rid of a serious threat.
Far // Away
: 3.5
This deck needs ways to interact with hexproof commanders, and this is a pretty good way to do it. The cheap bounce is also nice to have access too, and the all-around flexibility makes up for the highish cost.
Domineering will
: 4.5
This card is an incredible blowout for 4 mana. This card has the capability to balance the tables all on its own, and it works oh-so-much-better with collusion. It's not as strong in a combo-centric game, but even then you can probably convince someone to attack you while you steal another player's critical creatures and throw them under the bus.
Victim of Night
: 4.0
No muss, no fuss, 1 creature dead for 2 mana. With a good base this is pretty easy to cast, and black tends to be less valuable anyway since you can't activate Tasigur with it.
Go for the Throat
: 4.0
Better than victim of night if your mana is weaker, but the restriction tends to be more relevant. Staple black removal.
Beast within
: 5.0
Possibly my favorite removal spell. Anything dead - anything - for 3 mana. Quite the deal. This should be an auto-include in any control deck that can run it.
Putrefy
: 4.0
As far as flexible removal goes, this is quite strong, and 3 mana is pretty reasonable for killing 2 of the most dangerous permanent types.
Sultai Charm
: 4.0
The inability to kill most commanders drags on this a lot, but it's very close to a beast within sans beast token otherwise. The draw mode is mostly useless but at least it means it's never dead.
Abrupt Decay
: 3.0
This will always have a reasonable target, so don't worry about it being dead very often. It's not the most thrilling thing to get back over and over, but the uncounterability is nice to have.
Pongify
/
Rapid Hybridization
: 4.5
One blue to kill a creature is phenomenal. The token is a small downside when your commander is a 4/5.
dismember
: 4.0
The life cost can be somewhat painful, but luckily it's optional, and the flexibility here is great. -5/-5 kills most any combo-tasting creature, but won't necessarily deal with the biggest beaters.
Murderous Cut
: 4.5
Cut is not only a very efficient removal spell at just , it's also a great way to thin your grave before activating Tasigur. It gets a little less exciting on multiple recursions once your graveyard gets thin, but it's still one of the best removal available for this deck.
Silence the Believers
: 3.5
Silence is on the more expensive end of this deck's removal, but while it's not great for early-game it gets nutty in the late-game when you can exile multiple targets at once. Also, exiling is fairly hard to come by so it's worth the cost.
Wipes
Wipes are the panic button of Tasigur. Did someone get out to an explosive start that must be controlled? Are there dangerous hexproof creatures around? Crack open that wipe and bring the table back to equilibrium.
Oblivion Stone
: 4.0
Oblivion stone is the gold standard for wipes in any color. It's much better than disk for coming in untapped, however you do need to be careful that it doesn't get killed while you're tapped out. In the late-game, fate counters can be pretty clutch, and don't forget that you can regenerate through it with yavimaya hollow.
Pernicious Deed
: 4.0
This can frequently be used as an o-stone that spares Tasigur, however it does have the downside of killing high-cmc threats. But that's what removal is for, no?
Toxic Deluge
: 4.0
Being able to control this to leave Tasigur alive is great, however like deed it's not ideal for killing the really expensive stuff. Kills hexproof indestructibles in a pinch though.
cyclonic rift
: 5.0
Leaves your stuff untouched while getting of everything else. It's not as OP here as in other decks, but it's still one of the format's defining cards.
This is a tricky deck to make and to look at, so here's a few of the thoughts that went into it to make sense of the madness.
In order to motivate your enemies to give you what you want, you want to provide them with options that they can see immediate utility in. For example, if an opponent has an avacyn on the board, they'll probably be happy to give you your silence the believers. If someone is casting craterhoof behemoth, they'll be happy to give you your stifle. It's a lot harder to motivate your enemies to give you cards that benefit you alone - i.e. most permanents, which is why there aren't very many permanents. It is, however, worth noting that if you want to get back a crucial engine, i.e. crucible or seedborn muse, you might have more luck selecting the opponent who's in the lead - since he knows he'll be the target for hate - and do the opposite when you want your answers.
While ideally you can count on your enemies to give you want you want, so long as it hurts your mutual enemy (i.e. counters and removal to be used immediately), at some point(s) that won't be possible, and you'll have to assume you're getting the most useless card out of your graveyard. For that reason, I've avoided as many low-impact spells, or situational spells, as possible. This is also why I don't have any non-permanent ramp - you don't want to be getting back rampant growths when you're trying to get an answer for an imminent threat, and also why I don't run normally auto-includes like brainstorm and ponder.
The deck avoids a lot of typical engines such as con sphinx and necropotence. I did this mostly because I tend to notice that constant CA arouses quite of a bit of unwanted attention, which is exactly what this deck doesn't want. Getting answers only for what's needed and otherwise minding your own business and being nonthreatening is the order of the day, until you're ready to actually win. When your opponents know, and have some measure of control over, what you're getting into your hand, I think they'll be less likely to pay attention to you, especially with a barrage of targeted removal aimed at whoever defies you first.
A few mechanical details:

To avoid decking yourself, you can use volrath's stronghold or academy ruins. After activating Tasigur's ability at EOT (feel free to mill your entire deck), use your own removal on a creature/artifact and then put it on top of your deck. Then draw the creature/artifact and replay it. If the game goes this long, you effectively have buyback on all your cards, so you can probably counterlock, removallock, and striplock the entire field with the mana you're generating.
Typical intuition pile is LFTL + lands, or LFTL + VS + seedborn. Mystical teachings also works well with intuition, as does a random selection of counters or removal for which to answer the latest threat.
If you're wondering how the deck actually wins, it's probably commander damage via rogue's passage/shizo, or just killing all their stuff and swinging unopposed. But realistically, if you're in the "my lands are on the field and my spells are in my hand" mode described above, winning is pretty trivial. Part of the point of the deck is to avoid having a dangerous wincon, so you make a less scary ally.
LFTL is a clutch engine for this deck - it interacts great with the commander, and also with the cyclers, fetches, and tolaria west.
Yes, there are a lot of ways to make a strip mine chain. Yet another reason your enemies will not want to mess with you.