Forgotten One
Join Date:

1/4/2006

Posts:

3,642

Member Details
Damia, Sage of Stone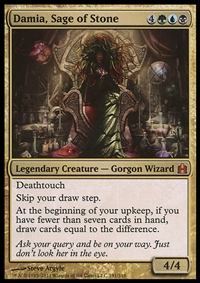 "If there is such a thing as too much power, I have not discovered it."
---
Damia, Sage of Stone
is one of those cards that is an absolute smashing if it resolves and sticks around for any amount of time, but I feel that its high casting cost and the success of other Commanders that have infinite combo potential in the same set leave Damia with a bit of an inferiority complex. It's not like Damia can help any of these things (casting cost or the quality of the commanders that were released in the same se), but comparisons will be made nonetheless. I think that Damia has a lot more going for it than most people realize even if she doesn't have an obvious linear direction to push the deck or cards to infinitely combo with. One of these is the relative certainty that your hand will be full in the mid to late game (if you can survive that long). With this in mind, I went about looking for cards to take advantage of this fact.
The answer was
Maro
; or more specifically, the class of cards that utilize the ability to raise their power/toughness based on the number of cards in hand. Coupled with Damia and all the other card drawing the deck can do, we can make for some awfully big creatures. Of course, there are some Maro's that are not good enough to include (
Sylvan Yeti
from Portal and the original
Maro
), but the other 8 are all very good beaters and they all have great secondary abilities. If there is a "theme" to this deck, it would be
Maro
.
The other way to take advantage of this was to find a way to keep playing as many cards as possible each turn and emptying my hand of cards so as to maximize my draw from Damia. With cheap ramp spells we can accomplish this, but it also helps a lot to run lots of ways to play excess lands. You can take this theme to an extreme if you want to (by playing lots of cards with Landfall, cards like
Horn of Greed
, etc.), but I chose to keep it a minor theme and really just focus on creating a deck that can accelerate out mana sources to accomplish other ends.
As far as those other ends are concerned, I chose to work the deck into a control deck. Lots and lots of removal, counters, and ways to generate card advantage. Although I keep the amount of tutoring to a minimum, I use a lot of redundant and/or flexible answers so as to make sure I'm not left overly exposed at any one time. The key is to be picky as to what to use my cards to remove and to make sure that he way is clear for Damia to refill my hand when needed.
Updated through M19 - 7/13/2018
Damia, Sage of StoneMagic OnlineOCTGN2ApprenticeBuy These Cards
Commander - 1
1 Damia, Sage of Stone

Creatures - 37
1 Sakura-Tribe Elder
1 Lotus Cobra
1 Snapcaster Mage
1 Coiling Oracle
1 Magus of the Library
1 Yavimaya Elder
1 Eternal Witness
1 Lorescale Coatl
1 Chasm Skulker
1 Azusa, Lost but Seeking
1 Wayward Swordtooth
1 Kefnet the Mindful
1 Toothy, Imaginary Friend
1 Solemn Simulacrum
1 Oracle of Mul Daya
1 Bramble Sovereign
1 Mystic Snake
1 Venser, Shaper Savant
1 Glen Elendra Archmage
1 Tatyova, Benthic Druid
1 Rashmi, Eternities Crafter
1 Aeon Chronicler
1 Kagemaro, First to Suffer
1 Overbeing of Myth
1 Psychosis Crawler
1 Sturmgeist
1 Sage of Ancient Lore
1 Mulldrifter
1 Shriekmaw
1 Acidic Slime
1 Multani, Maro-Sorcerer
1 Masumaro, First to Live
1 Soramaro, First to Dream
1 Consecrated Sphinx
1 Realm Seekers
1 Tasigur, the Golden Fang
1 Tishana, Voice of Thunder


Instants/Sorceries - 21
1 Explore
1 Rampant Growth
1 Farseek
1 Nature's Lore
1 Three Visits
1 Counterspell
1 Into the Roil
1 Cyclonic Rift
1 Sultai Charm
1 Capsize
1 Hinder
1 Spell Crumple
1 Disallow
1 Forbid
1 Kodama's Reach
1 Cultivate
1 Putrefy
1 Maelstrom Pulse
1 Cryptic Command
1 Mystic Confluence
1 Promise of Power

Enchantment - 2
1 Exploration
1 Sylvan Library

Arifacts - 3
1 Mana Crypt
1 Sol Ring
1 Empyrial Plate

Land - 36
1 Underground Sea
1 Tropical Island
1 Bayou
1 Watery Grave
1 Breeding Pool
1 Overgrown Tomb
1 Sunken Ruins
1 Flooded Grove
1 Twilight Mire
1 Polluted Delta
1 Misty Rainforest
1 Verdant Catacombs
1 Flooded Strand
1 Bloodstained Mire
1 Wooded Foothills
1 Mikokoro, Center of the Sea
1 Alchemist's Refuge
1 Temple of the False God
1 Ancient Tomb
1 Dust Bowl
1 Command Tower
1 Riptide Laboratory
1 Reliquary Tower
3 Swamp
7 Forest
3 Island


My Commanders
Jalira, Master Polymorphist
|
Endrek Sahr, Master Breeder
|
Bosh, Iron Golem
|
Ezuri, Renegade Leader
Brago, King Eternal
|
Oona, Queen of the Fae
|
Wort, Boggart Auntie
|
Wort, the Raidmother
Captain Sisay
|
Rhys, the Redeemed
|
Trostani, Selesnya's Voice
|
Jarad, Golgari Lich Lord
Gisela, Blade of Goldnight
|
Obzedat, Ghost Council
|
Niv-Mizzet, the Firemind
|
Vorel of the Hull Clade
Uril, the Miststalker
|
Prossh, Skyraider of Kher
|
Nicol Bolas
|
Progenitus
Ghave, Guru of Spores
|
Zedruu the Greathearted
|
Damia, Sage of Stone
|
Riku of Two Reflections