Forgotten One

Join Date:

1/4/2006

Posts:

3,567

Member Details
Jarad, Golgari Lich Lord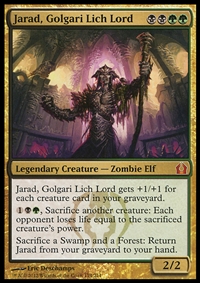 "One way or another, they all end up in the undercity."
---
Jarad, Golgari Lich Lord
is the evolution of one of my oldest EDH decks. It was originally
Savra, Queen of the Golgari
, then
Nath of the Gilt-Leaf
, but once Jarad was released I converted the deck and never looked back.
This deck is as much of a "good stuff" deck that I have ever put together. It runs a ton of removal, recursion, and card draw (and it could run even more if the deck needed it), so the deck naturally wants to play a very controlling game. The deck wins with multiple Jarad activations, overwhelming players with card advantage, or a timely
Living Death
,
Genesis Wave
, or
Profane Command
.
There are tons and tons of cards that the deck could run; its just a mater of getting the deck down to 99 cards and still including most of what you want that is the hard part for me. With BG being one of my favorite color combinations, I could end up making a complete deck with just the cards I cut...
My latest incarnation of the deck is here:
Deck updated 5/22/2018 through Dominaria
Jarad, Golgari Lich LordMagic OnlineOCTGN2ApprenticeBuy These Cards
Commander - 1
1 Jarad, Golgari Lich Lord

Creatures - 38
1 Deathrite Shaman
1 Sakura-Tribe Elder
1 Nezumi Graverobber
1 Viridian Zealot
1 Scavenging Ooze
1 Wood Elves
1 Farhaven Elf
1 Yavimaya Elder
1 Yavimaya Dryad
1 Eternal Witness
1 Bone Shredder
1 Bontu the Glorified
1 Rhonas the Indomitable
1 Oracle of Mul Daya
1 Solemn Simulacrum
1 Disciple of Bolas
1 Twilight Prophet
1 Smothering Abomination
1 Vindictive Lich
1 Sidisi, Undead Vizier
1 Ghoulcaller Gisa
1 Acidic Slime
1 Shriekmaw
1 Kagemaro, First to Suffer
1 Thragtusk
1 Genesis
1 Lord of Extinction
1 Seedguide Ash
1 Kamahl, Fist of Krosa
1 Duplicant
1 Wurmcoil Engine
1 Kokusho, the Evening Star
1 Gleancrawler
1 Demonlord Belzenlok
1 Mikaeus, the Unhallowed
1 Multani, Yavimaya's Avatar
1 Krosan Tusker
1 Protean Hulk


Instant/Sorcery - 14
1 Rampant Growth
1 Nature's Lore
1 Kodama's Reach
1 Cultivate
1 Maelstrom Pulse
1 Putrefy
1 Damnation
1 Living Death
1 Promise of Power
1 Praetor's Counsel
1 Decree of Pain
1 Dregs of Sorrow
1 Uncage the Menagerie
1 Genesis Wave

Artifacts - 5
1 Mana Crypt
1 Sol Ring
1 Skullclamp
1 Blackblade Reforged
1 Birthing Pod

Enchantments - 5
1 Oversold Cemetery
1 Survival of the Fittest
1 Growing Rites of Itlimoc
1 Greater Good
1 Palace Siege

Planeswalkers - 1
1 Garruk, Primal Hunter

Lands - 36
1 Bayou
1 Overgrown Tomb
1 Twilight Mire
1 Woodland Cemetery
1 Tainted Wood
1 Llanowar Wastes
1 Verdant Catacombs
1 Polluted Delta
1 Wooded Foothills
1 Command Tower
1 Grim Backwoods
1 Svogthos, the Restless Tomb
1 Dust Bowl
1 High Market
1 Treetop Village
1 Okina, Temple to the Grandfathers
1 Shizo, Death's Storehouse
1 Gaea's Cradle
12 Forest
6 Swamp


Recent Cuts
-1
Withered Wretch
- With the recent additions of Scavenging Ooze and Deathrite Shaman, this became less necessary for straight graveyard removal
-1
Bane of the Living
- I really like this card, but I figured I had enough sweepers and I liked most of the Sorcery options too much to cut them over this.
-1
Ink-Eyes, Servant of Oni
- I hated to see this go (especially in combination with the various Wood Elves variants), but it didn't fit the theme as well once I converted this from Nath.
-1
Cloudthresher
- Another casualty of 'too many sweepers', but this one was significantly worse than anything else I was running and it came out so that I could run Polukranos.
-1
Kamahl, Fist of Krosa
- This is high on my list of cards to put back into the deck. Having a tutorable Overrun effect like this in the deck would often come in handy.
-1
Visara the Dreadful
- A sad day when Visara is not good enough, but I was already flooded with 6-drops and I didn't need the added removal.
-1
Grave Titan
- As pure value he is very good, but in the end he was not as good as the other 6-drops I wanted to run.
-1
Avatar of Woe
- I didn't need the added removal even in light of the fact that this would often come down for only BB.
-1
Rancor
- Solid card that is somewhat unnecessary when better creature choices are made.
-1
Green Sun's Zenith
- I had to cut one of the creature tutors when I added Birthing Pod and this was the worst.
-1
Hurricane
- I love having X-spell finishers in the deck, but I rarely got myself into a position where this was game-ending
-1
Harmonize
- I don't have a problem with having too few cards in this deck. Harmonize would often rot in my hand with no need to ever cast it.
-1
Liliana of the Veil
- Another relic of when this was a Nath deck, this is a great card that is now not very relevant with the theme
-1
Garruk Wildspeaker
- This is an awesome Planeswalker for EDH that I cut purely for space. It was a close call between this and Garruk, Primal Hunter
-1
Vraska the Unseen
- Included in the deck primarily because of her colors, she is actually a fairly decent deal for the cost. She was cut mostly to just being redundant with other removal already in the deck.
3/26/2017:
+1
Ghoucaller Gisa
+1
Sidisi, Undead Vizier
+1
Smothering Abomination
+1
The Gitrog Monster
-1
Mimic Vat
- This decks wants its recursion to occur from the graveyard and this sometimes gets in the way of that.
-1
Profane Command
- I usually like having 1 or 2 X-spell finishers, but this is rarely how this deck ends games and this ended up not being necessary
-1
Polukranos, World Eater
- There is plenty of creature kill already and this is inefficient at best.
-1
Nantuko Vigilante
- I had overdone the artifact/enchantment kill a bit
4/24/2017:
+1
Protean Hulk
- Card was just unbanned today, so I'm going to put it into the deck that naturally wants it the most.
-1
Terastodon
- Nasty Terasty was basically in there as a 8-drop cap for
Birthing Pod
, but I can live without it.
9/3/2017:
-1
Gitrog Monster
- just felt out of place
-1
Pelakka Wurm
- Underwhelming as sacrifice fodder
+1
Vindictive Lich
- Amazing as sacrifice fodder
+1
Kamahl, Fist of Krosa
- Having a tutorable Overrun was needed
3/10/2018:
+1
Bontu the Glorified
+1
Rhonas the Indomitable
+1
Uncage the Menagerie
+1
Growing Rites of Itlimoc
+1
Pitiless Plunderer
+1
Twilight Prophet
+1
Greenwarden of Murasa
+1
Palace Siege
-1
Fauna Shaman
-1
Burnished Hart
-1
Ravenous Baloth
-1
Arashi, the Sky Asunder
-1
Brutalizer Exarch
-1
Pyrexian Arena
-1
Primal Command
-1
Sensei's Divining Top
5/22/2018:
+1 Blackblade Reforged, -1 Pitiless Plunderer: Pitiless Plunderer was not as good as I thought it would be in this deck.
+1 Demonlord Belzenlok, -1 Greenwarden of Murasa: Trading in one form of CA for another.
+1 Multani, Yavimaya's Avatar, -1 Massacre Wurm - The Wurm is a decent sweeper and an occasional source of damage, but I think Multani has much more damage potential as a huge creature to fling with Jarad.
+1 Llanowar Wastes, -1 Temple of the False God - the deck has all sorts of tricky mana requirements, so I needed to cut a colorless land. I use all the other 4 all the time, so TotFG had to go.
As you can see by the card choices, the deck runs very few "cute" cards or cards that only synergize with Jarad. Instead of being a deck that relies on its commander, this deck uses Jarad mostly as a finisher so synergy with Jarad is not a high priority. Coupled with the various forms of creature tutoring available in the deck (
Survival of the Fittest
,
Fauna Shaman
, and
Birthing Pod
), we can be very select with our sacrificial fodder.
Card Choices
Creatures
Deathrite Shaman
- A nice collection of abilities that allow for the deck to ramp in the mid or late game, but its biggest use is to keep the opponent's graveyard clear of creatures prior to casting
Living Death
.
Sakura-Tribe Elder
- The perfect ramp card for this deck; can be recurred with
Oversold Cemetery
or
Genesis
o help ramp into our late game cards.
Nezumi Graverobber
- Keeps opposing graveyard shenanigans to a minimum until it flips where it turns opposing creatures against their opponent.
Fauna Shaman
- One of the decks three main tutoring engines that also feed Oversold Cemetery and help set up Genesis.
Viridian Zealot
- One of a couple of different cards for removing artifacts or enchantments, this one does me a favor and puts itself in the graveyard to be recurred. It also gets around
Torpor Orb
if the need arises.
Scavenging Ooze
- More graveyard hate that also doubles as a small lifegain engine.
Wood Elves
,
Farhaven Elf
,
Yavimaya Dryad
- Creature-based forms of ramp are perfect here. The provide ideal fodder for
Skullclamp
and are all recurrable with Cemetery and Genesis.
Yavimaya Elder
- The green
Ancestral Recall
is perfect for a recursion deck.
Eternal Witness
- When you don't need to recur a creature you recur this to get back whatever Instant, Sorcery, Enchantment, or Artifact you might need.
Burnished Hart
- Another ideal form of ramp for a graveyard deck.
Bone Shredder
- Some spot creature removal that provides Skullclamp fodder or sacrifices itself to be recurred.
Oracle of Mul Daya
- A green staple of card advantage and ramp.
Solemn Simulacrum
- Value-town coming and going, its a great card to recur when building up resources
Nantuko Vigilante
- Another sweet removal spell disguised as a creature
Ravenous Baloth
- There is a small lifegain theme in the deck that allows the deck to come back from otherwise dire positions.
Disciple of Bolas
- Lifegain is nice but the card draw is the primary reason to run this.
Polukranos, World Eater
- I like this card. Running more sweepers makes less sense once you have control of the board, but running a few cards like this that can take out a few problematic creatures at once can really break open a game.
Acidic Slime
- One of the best removal spells in the game
Shriekmaw
- More inexpensive creature kill that is recurrable
Kagemaro, First to Suffer
- One of many sweepers in black, this one is recurrable and can get huge once your hand refills.
Thragtusk
- Lifegain plus it leaves a body behind if killed or sacrificed.
Genesis
- One of you many recursion engines
Arashi, the Sky Asunder
- Sometimes you just need to clear the air and leave your ground forces alone
Lord of Extinction
- The primary creature Jarad will Fling for the victory
Seedguide Ash
- Another value creature when it gets killed or sac'd to Jarad
Duplicant
- More spot removal, this one takes care of any pro-black creatures that might be lurking
Wurmcoil Engine
- Value when killed or sacrificed, it also provides a ton of value and lifegain
Kokusho, the Evening Star
- The ultimate recursions creature that provides the deck with reach and huge lifegain swings
Gleancrawler
- Another recursion engine, this one is stapled to a 6/6 Trampler
Massacre Wurm
- A nice way to get rid of a mass of tokens, it also provides some reach
Mikaeus, the Unhallowed
- Almost unfair with how much this guy can create an impenetrable wall of creatures, it is also a great way to recur stuff once Jarad is online
Brutalizer Exarch
- More removal or creature tutoring as the need may be
Krosan Tusker
- Solid value when cycled, its also ne of only two 7-drops that the deck runs for Birthing Pod
Pelakka Wurm
- Another creature that provides lots of value whether its coming or going, it also provides another 7-drop
Terastodon
- One of the best removal creatures in the game, it is the only 8-drop for a reason
Instant/Sorcery
Rampant Growth
,
Nature's Lore
,
Kodama's Reach
,
Cultivate
- We are green, ergo we ramp
Maelstrom Pulse
,
Putrefy
- One needs a few spot removal spells.
Beast Within
is also a reasonable choice
Damnation
,
Decree of Pain
,
Dregs of Sorrow
- We are black, ergo we kill creatures en masse
Living Death
- Mass creature kill coupled with mass creature recursion... what's not to like?
Primal Command
- Creature tutoring, killing non-creature permanents, and graveyard hate all wrapped into one package. It can also gain a nice bit of life in a pinch.
Promise of Power
- An underrated form of card advantage that spits out massive Demons in the late game
Praetor's Counsel
- Almost always game over when it resolves
Profane Command
- Will almost always be a
Fireball
to one players head, the other 3 modes are all very useful
Genesis Wave
- Another card that spells virtual game over when it resolves
Artifacts
Mana Crypt
,
Sol Ring
- The two best mana sources in the game
Skullclamp
- There is lots to clamp in the deck, not to mention a +1 boost in damage for Jarad
Sensei's Divining Top
- It was either this or
Sylvan Library
and either is a fine choice
Mimic Vat
- Another great recursion engine
Birthing Pod
- Creature tutoring that feeds the graveyard
Enchantments
Oversold Cemetery
- The primary recursion engine
Survival of the Fittest
- The prime creature tutor engine
Phyrexian Arena
- The drawback on
Necropotence
can be a big bummer, so its little brother gets the call here
Greater Good
- Card draw, sac outlet and a great way to get unwanted cards out of your hand
Planeswalkers
Garruk, Primal Hunter
- There are a ton of good Planeswalkers in black and green, but this version of Garruk is the best for what this deck needs/wants in my opinion.
Lands
Bayou
,
Overgrown Tomb
,
Twilight Mire
,
Woodland Cemetery
- The best BG duals available
Tainted Wood
- The tainted lands are underrated
Verdant Catacombs
,
Polluted Delta
,
Wooded Foothills
- The deck needs to run a few fetches to smooth out the mana, but they also help feed Dethrite Shaman and shuffle the deck when needed
Command Tower
- Staple
Grim Backwoods
,
High Market
- The deck likes sac outlets and these are the best.
Miren, the Moaning Well
is also an option
Svogthos, the Restless Tomb
- Expensive to use, but it gets really big in the late game
Temple of the False God
- This deck has no issue getting and staying at 6 lands
Dust Bowl
- I never leave home without a little non-basic hate
Treetop Village
- One of the few man-lands worth running
Okina, Temple to the Grandfathers
,
Shizo, Death's Storehouse
- The deck runs several legendary creatures and these help out a lot, plus they contribute to Jarad commander damage kills when necessary
Gaea's Cradle
- A nice mid-game mana boost
12 Forest, 6 Swamp - The deck could actually use a few more basic lands. I've actually cut down the number of non-basics
My Commanders


Jalira, Master Polymorphist


|


Endrek Sahr, Master Breeder


|

Bosh, Iron Golem

|


Ezuri, Renegade Leader




Brago, King Eternal


|


Oona, Queen of the Fae


|


Wort, Boggart Auntie


|


Wort, the Raidmother




Captain Sisay


|


Rhys, the Redeemed


|


Trostani, Selesnya's Voice


|


Jarad, Golgari Lich Lord




Gisela, Blade of Goldnight


|


Obzedat, Ghost Council


|


Niv-Mizzet, the Firemind


|


Vorel of the Hull Clade





Uril, the Miststalker



|



Prossh, Skyraider of Kher



|



Nicol Bolas



|





Progenitus








Ghave, Guru of Spores



|



Zedruu the Greathearted



|



Damia, Sage of Stone



|



Riku of Two Reflections