DirkGently
Join Date:

6/14/2011

Posts:

5,688

Member Details
So, for those of you who haven't been introduced, this is my new best friend, Marchesa: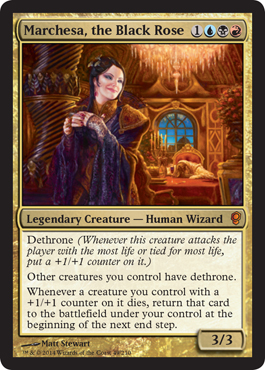 There's a lot of cool keywords that work well with her, but of all of them, I think the most powerful might just be the sadly underused modular. You know, like
arcbound ravager
and....um....did I mention arcbound ravager?
OK, so the arcbound creatures outside of ravager are not very good, but they interact ABSURDLY well with Marchesa, and that absurdity can be used to fuel all sorts of other shenanigans. Besides that, other artifact creatures work stunningly well with marchesa and with arcbound creatures, like
steel overseer
and
mindless automaton
and
triskelion
. So, why not try an artifact build?
Why not indeed.
Basically the game plan is to get engines going early with arcbounds and sac outlets to generate lots of counters and recursion. This could fuel draw (strix, mindless automaton, scarecrone, kelpie, clamp, prophecy), removal (grave pact/dictate, duplicant), tutor (forgemaster), mana (altars) discard (hypnotist) etc. There's a decent amount of control to mess with other peoples' game plans while the board is being set up. Once you've got a pleasant amount of sac triggers going off, you can turn them into hot fiery death by either using them for a ton of damage (purp, flayer, surge, shadows), infinite turns with time sieve, or just jokulhaups and overrun with derpy little artifact dudes.
Sadly I don't yet have a workshop, but I'd like to get one for this deck.