Forgotten One

Join Date:

1/4/2006

Posts:

3,567

Member Details
Zedruu the Greathearted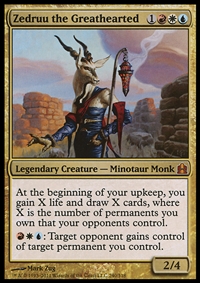 "It's the must-have gift for everyone on your list. Get one for yourself, too!" — Chammi, curio vendor
---
Zedruu the Greathearted
is a unique Commander capable of some very cool and/or very mean things. For every deck that I see that does some cool stuff with Zedruu to draw some extra cards and gain a little life, there is always somebody who is donating
Celestial Dawn
to the non-white players to lock them out of the game. When I first decided that I wanted to make a deck with Zedruu at the helm, I told myself from the getgo that I wouldn't be "that" guy.
I still wanted something that could be semi-competitive and have a coherent theme or themes. I thought I could do this with the inclusion of some chaos-inducing cards while mixing in some strictly fun elements like random effects and coin-flip abuse. Although these themes were fun, it didn't really feel like I was taking full advantage of Zedruu. Couple that with truly awkward situations (getting a
Ral Zarek
with 7 loyatly and my
Krark's Thumb
stolen with my own
Confusion in the Ranks
and getting quadruple time walked... derf), and some times when there was no way to extricate myself from the situation I put myself in (like trying to figure out exactly what will happen if I tried to play a kicked
Rite of Replication
with both
Grip of Chaos
and
Confusion in the Ranks
in play given the creatures on the battlefield).
So what I ended up doing was going back to the drawing board and trying out a few themes that didn't make the original cut. The one that seems to have stuck the most is that of exchanging control of permanents, then sacrificing the opponent's stuff for profit. This was originally a theme that I had begun to develop for what I was hoping to be a
Brion Stoutarm
deck that never came to fruition, but it seemed like a much more perfect fit for Zedruu where I could not only just steal stuff but exchange control of stuff so as to widen my options.
Here is my current take on the decklist:
Deck Updated 4/1/2018 through Rivals of Ixalan
The deck has many ways of exchanging control and/or outright stealing the opponents creatures, only to sacrifice them for damage or some other effect. Furthermore, the creatures I give them either do them no good or come right back to me via some other effect (after I've drawn some cards and gained some life of course). I also have effects that exchange control of lands or artifacts and ways to make sure that those cards never come back to hurt me.
The issue I'm having is that some of the themes are still running over each other causing some synergy headaches (such as trying to maintain a healthy Zedruu count while passing a
Jinxed Idol
or
Jinxed Ring
around the table). I'm also not taking full advantage of Zedruu's ability to give useless auras or global enchantments to the opponent. I'm also wanting to add
Gamble
back in as a way to retrieve Zedruu if he gets tucked, but I'm also open to suggestions for a Plan C for tutoring up Zedruu.
Any help or suggestions would be appreciated. I'm fairly new to this Commander, so I apologize in advance if I'm missing some Zedruu staple; although some of things I'm not interested in running are probably considered staples (such as
Transcendence
,
Pyromancer's Swath
, or
Lich's Tomb
). This is a work in progress and I would appreciate any help. Thanks!
10/24/2014:
-1
Jinxed Ring
, -1
Jinxed Idol
: These just ended up getting in the way of everything else he deck was trying to do.
+1
Puca's Mischief
: Solid card for this kind of deck. I like that this is a may effect and that I don't have to give it to my opponent (unlike
Conjured Currency
)
+1
Gamble
: Backup plan in case Zedruu gets tucked and a quasi-random tutor is on theme for a deck that promotes mass chaos.
10/28/2014:
+1
Springjack Pasture
: Needed another source of 0/1's to give to my opponent (considering
Diamond Kaleidoscope
and
Nuisance Engine
)
-1
Ancient Tomb
: Needed to remove a colorless land.
4/1/2018:
Major Overhaul - see post 4 below
My Commanders


Jalira, Master Polymorphist


|


Endrek Sahr, Master Breeder


|

Bosh, Iron Golem

|


Ezuri, Renegade Leader




Brago, King Eternal


|


Oona, Queen of the Fae


|


Wort, Boggart Auntie


|


Wort, the Raidmother




Captain Sisay


|


Rhys, the Redeemed


|


Trostani, Selesnya's Voice


|


Jarad, Golgari Lich Lord




Gisela, Blade of Goldnight


|


Obzedat, Ghost Council


|


Niv-Mizzet, the Firemind


|


Vorel of the Hull Clade





Uril, the Miststalker



|



Prossh, Skyraider of Kher



|



Nicol Bolas



|





Progenitus








Ghave, Guru of Spores



|



Zedruu the Greathearted



|



Damia, Sage of Stone



|



Riku of Two Reflections