Wallabe
Join Date:

5/31/2013

Posts:

132

Member Details
Phenax, Mill Foreman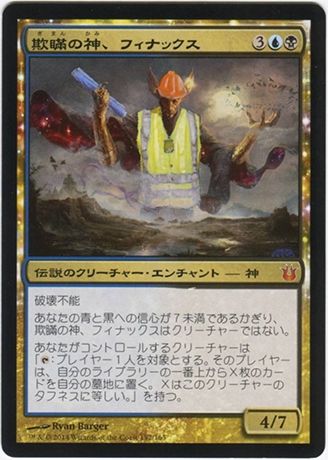 Alter by:
MRB Alters
Introduction & Deck History

The deck originated as a

Lazav

mill/clone deck. I realized pretty quickly though, that the deck was to slow to hold its own. It relied to heavily on other player's cards, and I couldn't really get going until Lazav was on the field. I sought ways to improve it, and the other decks I found relied heavily on control and equipment-based voltron tactics. I started to move in more control and away from clones a bit, but I was still worried about the deck. The type of voltron decks I'd seen him in didn't really appeal to me personally, and I didn't want to change to that.

When BoG spoilers started, I followed it intently, hoping to gain a new piece for the deck in Phenax. Instead, when Phenax was first spoiled, I decided to run him as my new commander. It was clear almost immediately that he's an extremely powerful mill combo card, and he fits in well with a pillow fort theme. While not something I had tried before, it seemed like a deck I would enjoy building around. I knew going in, though, that mill is typically a difficult win con in EDH, and blue/black isn't exactly the best color combination for a standard pillow fort theme. For that reason, I decided to round it off with control and removal. It works with the mill by sending stuff to the graveyard, and with the pillow fort by giving my opponents less to come at me with.

Why Play Phenax?

Phenax

is a mill commander, through and through. Additionally, he's one that needs to be well built around. For EDH, this might not sound like a great combination, but he's a lot of fun. This deck embodies the cobbled-together nature of the format, meaning that every game plays out differently. Each of these plays is going to provide us with different and interesting ways to win the game. Generally, they focus on some strategy of taking options away from our opponents.

Whether we're going for a win, or merely looking for some support, perhaps the best part of this deck is the way the cards within it synergize with our commander. Phenax's ability allows us to use cards in ways they were never intended, but without being totally overpowered or broken. Cards with little to no milling capacity on their own become win conditons. Creatures with hard to use and gimmicky abilities can now be used consistently to great effect.

This deck might be for you if...

You like mill and control: Mill is obviously the most important part of the deck, so it's only for people who like it. Additionally, the deck contains control elements, and it is sometimes best to use mill in control-ish ways.
You like combos: This deck is built mainly around the way different cards interact with each other.
You like decks that give you a unique experience every time.
You like strategic decks: For a variety of reasons, this deck requires you to adapt and react to situations strategically.
You can enjoy winning quickly or slowly: This deck has a lot of ways to win the game. Some take some setting up, and some can be played at a moment's notice. Different games will require one over the other, so this deck is for someone who can enjoy either.

This deck might not be for you if...

You dislike mill: Mill is a polarizing force within the game, so it merits repeating here.
You prefer an aggressive deck: This deck is generally defensive, and it is very uncommon to win via a huge assault.
You like having a go-to card or combo: Every game will require something different. Additionally, something could win one game and not help much the next.
You can't handle taking a fair share of damage: Playing this deck, I can almost guarantee you will get some unfair hate. Oftentimes it's necessary to accept the hate until building up a solid defense.
You're not comfortable building around your commander: Phenax isn't the sole enabler of win-cons, but he's a huge piece in the deck. There are risks to this, and playing this deck requires accepting those.
You want to win every game: This deck is very good at winning, even pulling out a win with our back against the wall. That being said, it does lose its fair share of games, including to the previously mentioned hate.

Alternative Mill Commanders

There are several other commanders that can used to mill. They tend to be more aggressive, and thus represent very different strategies. That being said, they're still worth discussing.

Lazav, Dimir Mastermind

: He's a very powerful clone/copy card when paired with mill. He can make for a very powerful voltron, makes excellent use of milled creatures, and is very difficult to remove.

Wrexial, The Risen Deep

: He's also a powerful as a voltron and a miller. He's great at slipping through to hit your opponent, and can give you access to some great stuff in their graveyard.

Mirko Vosk, Mind Drinker

: Mirko is an aggressive commander who focuses on heavy mill. Getting a free

Mind Funeral

every turnfor free is great, but he needs to get through first.

Szadek, Lord of Secrets

: Szadek shares many of the strengths and weakness with Mirko. When built up, he can mill for devastating amounts. To be useful though, he also needs to hit a few times.

Oona, Queen of the Fae

: Oona is a fantastic commander. She lends herself well to bleeding opponents' libraries as well as some amazing combos. She's probably the most competitive commander for this type of deck, but she's also the least focused on "traditional" mill.
Card Options

Decklist

Win Conditions

Each of the main win conditions for this deck is listed below. Each win-con has a description of the cards that make it possible below it. Combo cards that assist in these wins will be discussed later.

1. Mill

With Phenax, it's surprisingly viable for this format. Even without the wincon, it a toolbox for other parts of the deck.

(Only cards that just contribute to this condition are listed here).

Eater of the Dead

: This guy has one of the most potent synergies with Phenax in the deck. There's a good chance he can mill everyone out as soon as he gets going. If he doesn't, he still mills for a ton, and with Phenax he can also exile creatures from a graveyard at instant speed, eliminating things like Eldrazi.

Endbringer

: Just in terms of mill, this card is great because it scales up with the game size. Even in a 2-player game it can mill for 10 per game round, and that number goes up with each additional player in the game. Plus, depending on how much colored mana we have access to, it has up to four useful and well costed abilities that we can use each turn.

Knacksaw Clique

: While this does give us options from an opponent's graveyard, we need mana for the cards we exile, and we can't use things like creatures and lands during an opponents turn. The ability is very handy for mill though. We can turn excess mana into a large mill, and the exile means a few cards can't ever come back.

Morphling

: Morphling allows us to turn our open mana into huge amounts of mill. With only the five mana we used the turn before to cast it (as long as at least three is blue), it can mill for 20 cards. Additionally, its abilities make it good for defending and good at dodging removal.

Tree of Perdition

: This card is an insanely powerful mill engine. On top of that, it's fairly cheap and an amazing pillowfort card.

2. Pumped up creatures

This deck features several creatures who get bigger and/or deal more damage as opponents' graveyards grow. Often they'll be able to take someone out in 1-2 attacks.

Nighthowler

: He grows slowly by comparison to the others, but he can still get huge quickly off of mill. Additionally, the ability to Bestow will leave us a creature in the event of a boardwipe.

Sewer Nemesis

: This guys is a little tricky, because he requires an milling an opponent to get built up, but in multiplayer we need to keep that player alive to if we want to keep using him. He's also very susceptible to Eldrazi and the like. That being said, He quickly becomes huge, milling for large amounts and often swinging for lethal damage.

Consuming Aberration

: Easily the most powerful creature in this category. He grows huge fast, and the fact that he grows from all graveyards mean that if we tap him to mill, he's always milling for exponential amounts. Being tied to all opponents makes him far less susceptible to gy hate and shuffling. Also, whenever we cast a spell, he's guaranteed to grow by at least 1 for each opponent.

3. Overwhelm them with creatures

Right now this is a small category, but it's still viable. We turn the cards we've milled into an army of creatures to either swing or keep milling with.

Undead Alchemist

: One of the most useful creatures in the deck. Unchecked, he generates a huge army, which grows at a multiplicative rate. He synergizes great with the deck, and occassionally with our opponents decks (for us). With

Intruder Alarm

we have the strong chance of an infinite combo, and

Thousand-Year Elixir

and

Altar of Dementia

both give it a huge boost.

Ghastly Conscription

: While expensive, this card is really versatile in the options it gives us. We have the option of just using it for the army of 2/2s, which can give us a ton of bang for our buck late game. Additionally, we can use it as an expensive enabler to essentially cast creatures from our graveyard or our opponents'. It also has amazing synergy with

Intruder Alarm

4. Turning mill into damage

This one is pretty self explanatory. These cards allow me to turn each card I mill into damage, rather than needing to mill an opponent out completely.

Duskmantle Guildmage

: Because of the mana cost, we need to be careful when we use him and his ability, but he can easily win games. He also has ways of milling for small pockets of damage.

5. Take an opponents win condition

This deck isn't built to be a copy deck, but it does pack a few powerful ways to take options from an opponent's graveyard and their library.

Geth, Lord of the Vault

: Geth lets us grab any creature or artifact from an opponent's graveyard, which is fantastic. He can provide us with some great utility, take options from a reanimator decks, even grab an Eldrazi to keep it out of an opponents deck if we have the mana. The fact that it only costs that cards cmc + 1 is great, and the fact that he

also mills is just fantastic.

Praetor's Grasp

: This card has two uses. We can remove a huge threat from the game permanently, or we can use it to take any on-color card from an opponent's deck for ourselves. The former can save us, the latter can win.

Memory Plunder

: This card gives us a lot of options in this deck. We can use it to grab some emergency control magic or boardwipe at instant speed to stay alive. Also, I've used it on cards like

Insurrection

to turn an opponent's dangerous board-state into a win.

Bribery

: This card is absolutely phenomenal, and well worth the monetary cost in my opinion. Having access to any creature in an opponent's deck on turn 5 can be a humungous advantage, one from which your opponents might never recover.

Supporting Cards

This category is for all of the cards in the deck that don't fit into the category of "win conditions". Cards are grouped by

the role they play instead of card type. Each category of supporting cards has a list of all cards that fit into it below

its description.

Mill

These are all the cards that contribute towards taking cards out of an opponents deck, but don't win the game by themselves.

Again, because so many cards mill and do something else, only the cards that contribute only to this category are listed here.

Traumatize

: This is the only single-target, single-use mill card I consider worth including right now. It inherently can't win a game by itself, but it mills a huge number of cards for cheap.

Pillowfort/Defense

These are all cards whose purpose is to keep us safe. They're here to discourage our opponents from attacking us and/or preventing them from getting through if they do attack.

Fog Bank

: It's a bit lacking in terms of mill, but it's fantastic blocker. It doesn't matter how big a creature is, fog bank can block it again and again.

Drift of Phantasms

: Cheap pillowfort that can mill nicely with the potential to act as a soft tutor.

Wall of Frost

: In addition to having a big butt for blocking and milling, its ability will further discourage players from attacking us in the first place.

No Mercy

: This card is a fantastic deterrent. It forces our opponents to choose between whittling us down or killing us and keeping their creatures.

Propaganda

: This reduces the chances our opponents will attack us. It can make an attack no longer worth doing, and it can also make it impossible for an opponent to take, even stopping some infinitely large armies.

Maze of Ith

: This card is one of the most powerful pillowfort cards out there. It's essentially free to use, and it can even be made to produce mana. Additionally, it has some really strong combos with other cards in the deck.

Control/Removal

All of these cards are here for the purpose of either preventing something from being played or taking something off of our opponents' battlefields.

Evil Twin

: This is one of the two clone cards in the deck. I chose it, and it's in this category, specifically for its other ability. It can give me a copy of a powerful threat and remove it. Its wording also means it can be used to shut a commander out of the game for 2 mana each time.

Glen Elendra Archmage

: This card does a whole lot for us. It lets us counter two spells, and hits a lot, for a pretty reasonable mana cost. It's also great deterrent, gives us an emergency chump blocker, and adds a small amount of mill.

King Macar, the Gold-Cursed

: He does great things in our deck, providing powerful removal and mana fixing. All of this is done while still being able to attack or mill. He also works great with some of the deck's combo cards.

Surgespanner

: This guy turned out to be a surprise hit. While still milling, he provides cheap and recurrable bounce at instant speed. He can set an opponent back or save something of ours, including himself.

Sheoldred, Whispering One

: Within a couple turns, she can clear our opponents' boards. We also get our own creatures back, which is a huge bonus.

Go for the Throat

&

Rapid Hybridization

: These are cheap and easy to use spot removal with minimal downsides.

Counterspell

: Can counter any spell for a good cost.

Curse of the Swine

: This card is fantastic multi-target removal. It's cheap, and the exile kills indestructible creatures as well as keeping anything hit from coming back. The downside might seem like a bit much, but the boars are pretty much guaranteed to be safer than whatever we removed.

Cyclonic Rift

: This card can be used as a quick and easy bounce, but its real value comes from the overload ability. It can prevent a devastating attack, return stolen creatures to our hand, or simply to give us a huge advantage over our opponents.

Muddle the Mixture

: By itself, this card is a half-decent control spell. That's certainly nice to have, but it earned its spot in the deck by having transmute. Transmuting for a 2 mana card gives us access to powerful control, powerful removal, and several combo pieces and win-cons.

Hero's Downfall

: Spot removal that can hit a huge range of targets. I chose if over

Murder

because the defensive nature of this deck means pw's are harder to deal with This helps fill that hole.

Toxic Deluge

: A powerful and cheap boardwipe that has the potential to leave the deck's high toughness essentially unharmed.

Foul Renewal

: Gives us a creature back, and acts as removal.

Life's Finale

: Even though the deck relies on creatures, board wipes are great because they'll get us out of some sticky situations. I chose this one for the flavor, but the ability has actually proven to be a huge boon in some games.

Set Adrift

: Thanks to its synergy with the deck, this gives us removal against things like artifacts and enchantments (not to mention pw's), which is huge for UB. Delve makes it easy to cast, even if it requires reluctantly milling ourselves for a few.

Other Utility Cards

Mana producers aside, this is the category for everything not listed above. These cards provide handy purposes, but don't merit their own grouping for this deck.

Profane Momento

: For just 1cmc this card lets us turn mill into life, providing a safety net with the possibility of saving us from an imminent loss.

Altar of Dementia

: This card gives us some extra mill, and it allows for some great combos. It can also be used to save a creature from a worse fate. This includes protecting Phenax. If he's a creature, he can be sac'd to prevent things like getting shuffled. Additionally, we could sac someone to lower our devotion, making Phenax no longer a viable target for some spells (i.e.

Terminus

).

Geist of the Archives

: This card let's us scry once per turn in addition to having a decent butt for milling and early blocking.

Thousand-Year Elixir

: This is a combo card that unlocks some huge potential. Being able to use tap abilities right away can allow us to beat removal, and even win immediately with some win-con creatures. The ability to untap creatures allows us to use abilities twice. This includes getting two inspired triggers, the first of which we can use at instant speed.

Disciple of Deceit

: This card synergizes great with the deck, giving us recurrable transmute for no mana cost and while still milling or attacking.

Siren of the Silent Song

: The siren does have a mill component, but it makes the deck on its discard ability. It synergizes amazingly with the deck, and its ability can be safely triggered each turn. It can force opponents into top-deck mode, especially with an untapper on the field.

Fallowsage

: Allows for easy to use, recurrable card draw. He does this all while still milling opponents.

Phyrexian Metamorph

: Our second clone card. It's handy because it's cheap and easy to cast, and it can target a creature or artifact.

Oona, Queen of the Fae

: She's easy to cast having 3 hybrid mana symbols, and is a great defender being a 5/5 with flying. Her ability allows us to blow extra mana to permanently remove cards from an opponents deck. Some of these cards can be turned into creatures, which is great for defending and extra mill.

Intruder Alarm

: This card allows us to get multiple uses out of tap abilities per turn. It even allows for combos that can essentially be infinite.

Phyrexian Arena

: Reliable card draw with a small downside, this card is a huge help.

Rhystic Study

: Another source of reliable card draw. Even in EDH, there are a lot of times where the cost won't get paid to stop you.

Reanimate

&

Necromancy

: These cards allow us to bring back our own stuff or take something, including a creature we've milled, from an opponent's graveyard.

Crypt Incursion

: This card is phenomenal in this deck. It can shut down re-animator decks or prevent an Eldrazi from getting shuffled (non-creatures still get shuffled, but this still makes winning easier). The life gain can also be huge with this deck. Being at instant speed, this card can make for some nasty surprises, and can turn a game around.

Sadistic Sacrament

: This card can remove a few threats from an opponents deck, or strip it almost completely with enough mana. This can take away dangerous win conditions, as well as problems like Eldrazi.

Demonic Tutor

: One of only a few tutors in the deck. While this deck doesn't absolutely need any particular card, it's always nice to pull something for a specific situation.

Jace, Memory Adept

: This Jace is nice, because he gives us access to reliable card draw, as well as mill, all without needing to pop his ultimate.

Mana Producers

These are the non-basic sources of mana for the deck. Many of them were chosen because they offer more than just the mana they produce.

Sol Ring

: An extra two mana per turn is great, especially because we get a net gain immediately upon playing it.

Springleaf Drum

: Not only is this easy to cast without upsetting the deck's tempo, but it grants an alternate/early way to trigger the abilities of our guys that happen on tap or untap.

Dimir Signet

,

Chromatic Lantern

, &

Talisman of Dominance

: All of these mana rocks give us access to both our colors, with an added advantage either in cost or secondary ability.

Arcane Lighthouse

: It produces mana and can be invaluable in helping to remove a threat.

Bojuka Bog

: In addition to providing mana, we get to clear out a gy. This is a huge safeguard against reanimator decks.

Command Tower

,

Dimir Aqueduct

,

Drowned Catacomb

,

Creeping Tar Pit

,

Tainted Isle

,

Temple of Deceit

, &

Watery Grave

: All of these lands give us access to both our colors. Each of these offers upsides to make them better options than other lands that do the same thing. Some of the alternatives can be quite viable, however, and should be considered if cost is an issue.

Mystifying Maze

: Another pillowfort land. Even though it costs mana to use, it's nice that it can provide mana and the temporary exile can be quite useful.

Minamo, School at Water's Edge

: This card gives us no real downsides over a normal island, and it allows us to get extra use out of a legend.

Reliquary Tower

: This is a great utility land, providing mana while also letting us go crazy with card draw.

Rogue's Passage

: While the deck is primarily oriented towards defense, there are times where we want to swing in. This card gives an aid to that end, without having to sacrifice something else.

Strip Mine

: We can face some nasty lands in this format. This card is nice to help mitigate them.

Thespian's Stage

&

Vesuva

: These cards are here mainly for flavor, but they can be quite useful. We can use them to copy lands like

Command Tower

for mana, or one of many different utility lands.

Tolaria West

: In a pinch, it's a slow island. The real upside is being able to search for a utility land like

Maze of Ith

Cards I'm considering

All of the cards on this list are cards I'm considering for the deck, but for whatever reason haven't been able to add to the deck or test yet.

Pemmin's Aura

: Essentially turns one of our creatures into a

Morphling

, and allows for some nasty combos.

Mesmeric Orb

: Mills everyone at the table pretty consistently. It's not an auto-include because this deck focuses heavily on tapping and untapping mechanics, so this could potentially get dangerous in bigger games.

Puppeteer Clique

: Cheaply gives us access to 1-2 cards in our opponents' gy's. Adding something to make it infinite isn't out of the question either.

Aetherspouts

: It's a great defensive option. If an opponent sends the creatures to the bottom, great. If they send them to the top, we can either let them draw into them for some card disadvantage or mill them for easy "kills".

Domineering Will

: This card could be extremely valuable to us. We can defend ourselves or build up good will with an opponent, eliminate threats or get rid of utility cards that wouldn't risk attacking, or if we're really in a pinch we can use it just so we can mill twice with three creatures.

Turnabout

Great control magic or additional mill and tap/untap triggers all at instant speed.

Tidal Force

Big mills and a utility that synergizes fantastically with this deck.

Lim-Dûl's Vault

Pretty much speaks for itself, it's powerful library manipulation.

Lantern of Insight

The instant speed mill of the deck allows for controlling player draws in specific situations. This opens up the field of possibilities for this.

Mind Over Matter

It's not the easiest card to cast in this deck, but the potential is huge. It offers great control and abuse of our tap/untap mechanics.

Crumbling Sanctuary

This will likely generate hate, but it also buys us time.

Synthetic Destiny

This has some great potential, including for dodging board wipes.

Dread Summons

Mills everyone and then gives us creatures to keep on milling.

Vampiric Tutor

A strong tutor option for the deck.

Cards that Cost too Much

As the name implies, these are cards that either cost too much to be worth getting (in my opinion), or I intend to get them but haven't yet due to costs.

Force of Will

&

Mana Drain

These are both huge steps up from all of the countermagic in the deck.

Underground Sea

This would be a direct upgrade to any of our two-color lands.

Jace, the Mind Sculptor

For one mana less than

Jace, Memory Adept

, we get to upgrade from drawing every turn to brainstorming every turn. While it would be a little sad to lose the 10 card mill and the 20 card draw, they're something I've rarely found myself using. Additionally, Memory Adept's other abilities do a great job of making up for it.

Polluted Delta

Khans has thankfully drastically lowered the cost of this card, but it's still hard to justify. Without

Underground Sea

, it loses a lot of its utility.

Meta-Specific Cards

These are all good cards that don't fit into my meta or most metas in general. In specific cases though, they really shine and deserve a spot.

Bloodchief Ascension

This card is insanely powerful in a mill deck. The problem is that it's nearly impossible for us to activate by ourselves in a pillowfort deck, and our opponents won't willingly activate it. Decks like

Purphoros, God of the Forge

and

Nekusar, the Mindrazer

that deal damage across the board will easily activate it for us, though. In the case of the latter, this card is also an amazing counter.

Lantern of Insight

This offers us so much control over the game by improving the deck's ability to fateseal our opponents. When an opponent tutors a card to the top of their library or plays with something that reveals the top card of their library, I believe it's their own fault when I purposely mill something away. The level of control this card offers, however, I feel is too cutthroat for what I'm trying to do with the deck. But if it works for you and your meta, it's absolutely worth including.

Changelog

Previous Changes

2/26/14:

Dimir Doppelganger

>>

Undead Alchemist

It's more consistent graveyard hate, and if left unchecked it'll grow an army fast.

Memory Erosion

>>

Siren of the Silent Song

Both slowly put cards into the graveyard, but the discard is extremely valuable, and can be triggered reliably.

Call to Mind

>>

Intruder Alarm

Synergizes greatly with Phenax and the overall deck.

3/7/14:

Mirko Vosk, Mind Drinker

>>

Knacksaw Clique

The two cards have a lot of similarities, but ultimately I feel that the clique synergizes better with the deck.

3/8/14:

Mind Funeral

>>

Altar of Dementia

I chose to swap out Mind Funeral because it's single target, single use mill that is a bit inconsistent, but generally low on numbers anyways. When I first went to test the altar, I was dubious about it, because a lot of my creatures have power's of 0. When I played it though, I got a lot of use out of it, even comboing with Undead Alchemist for a massive combo and a win. I'm very pleased with it

Withered Wretch

>>

Eater of the Dead

While it's more expensive to play, and can't exile just anything, Eater of the Dead gets creatures, which are the most important for this deck to be able to exile at instant speed. Additionally, the 0 cost allows more consistent exiling. It naturally mills for more cards, and it also combines exile with a combo capable of milling a huge portion, if not all, of a person's deck.

Muddle the Mixture

>>

Surgespanner

While both cards provide control, Surgespanner does it better in this deck. It gives me reusable bounce that can be activated at instant speed with Phenax. I can use it to bounce any permanent, meaning I can use it to slow my opponents down, destroy tokens, or protect one of my creatures, even itself.

3/24/14:

Archive Trap

>>

Muddle the Mixture

I realized I was really missing out by taking Muddle from the deck. Aside from being a half-decent control spell, the ability to transmute for a 2 mana card is invaluable in this deck. It can pull a wincon or some of the most powerful control or removal in the deck. I chose Archive Trap because, even with the ability to play it for free, it still wasn't strong enough to justify a single target, single use mill spell.

Mindcrank

>>

Thousand-Year Elixir

I finally got to test the Elixir, and it did SO much for this deck. It really is phenomenal. I got rid of Mindcrank, because aside from an infinite combo with two cards, it's pretty useless in this deck. Luckily the Elixir can still pull off some massive combos.

4/7/14:

Acquire

>>

Bribery

Both have the ability to to pull a win-con or be a dud. That being said, I feel I'm getting better mileage out of Bribery. It's useful in a huge variety of situations, and it's definitely won me a game or two so far.

Szadek, Lord of Secrets

>>

Oona, Queen of the Fae

Oona hasn't quite come out swinging as strong as I'd hoped, but she's still an improvement. For one less mana, I still start with a 5/5 flier when I cast her. Additionally, Szadek's ability didn't really synergize with the deck. This deck does have aggressive cards, but he was too slow and left me open, and that was if he was hitting a player every turn. Oona's ability, while expensive, doesn't require her to attack, bleeds out an opponents deck, and can provide me with chump blockers/millers.

Pilfered Plans

>>

Fallowsage

This was a swap I was hesitant about at first. Pilfered Plans is nice because it gains me two cards early and mills a little. I realized though, that with good mulligans and the high number of win-cons, that I don't really need the early kick. Additionally, Fallowsage can give me more cards consistently, without a drawback like most draw engines, and I can mill with him while still drawing. He'll generally mill for more than Pilfered Plans, and the ability to do so at instant speed is extremely useful.

6/28/14:

Jace's Phantasm

>>

Disciple of Deceit

The easy-to-use and reusable transmute from the disciple was something I had to give a try, and it did not disappoint. I'm swapping it in for the phantasm, because just being a 5/5 flier, even with the U cost, just isn't worth it.

Keening Stone

>>

King Macar, the Gold-Cursed

King-Macar was simply too good to pass up in this deck. Even when he gets to be hated early, the removal and extra mana are simply phenomenal. I pulled Keening Stone because even though it was a win con, I never used it. In fact, it was pretty much an auto-mulligan.

Hedron Crab

>>

Rhystic Study

I realized that this deck really sings when it has some card draw going. I chose Rhystic Study because it's cheap to play and can draw a lot. I pulled the crab because, like the phantasm, I wasn't getting enough bang for my buck, even with the cost.

Dimir Guildgate

>>

Temple of Deceit

This one was an easy choice. The temple is a direct upgrade.

Murder

>>

Hero's Downfall

While this card is also a direct upgrade, it's an expensive one. I went with it because it helps handle planeswalkers, something the deck needed.

12/1/14

Nemesis of Reason

>>

Morphling

The nemesis is a decent miller, but it's kind of underwhelming for its mana cost. The morphling will cost us more in the long run, but it gets way more done for us as well.

Nephalia Drownyard

>>

Reliquary Tower

This was an easy change. I've never found myself using the drownyard to mill. As I've added card draw to the deck, I have found myself wanting for the tower.

Dimir Cluestone

>>

Commander's Sphere

This was a no-brainer, the sphere being a direct upgrade to the cluestone.

3/5/15

Swan Song

>>

Glen Elendra Archmage

The only edge here is that swan song can be cast earlier. The archmage can counter twice, is a great deterrent, can mill a small amount, contributes one devotion, can target more things, and doesn't give our opponent a creature

4/1/15

Island

>>

Tolaria West

Tolaria West is a little less useful as a land, but the utility it provides is too good to pass up.

Swamp

>>

Arcane Lighthouse

The utility on the lighthouse has proven fantastic against things like [Card]Lightning Greaves[/Card

Darksteel Ingot

>>

Talisman of Dominance

The talisman is faster and more convenient than the ingot. It's also been surprisingly easy to live off 1 colorless, so the burn isn't really an issue.

Guiltfeeder

>>

Maze of Ith

As I moved towards pillowfort, the maze became an obvious choice. Guiltfeeder just wasn't doing it for me, so I made the switch there.

Diabolic Tutor

>>

Demonic Tutor

Demonic tutor is strictly better, and I was finally able to get one.

5/18/15

Jwar Isle Refuge

>>

Tainted Isle

Ultimately this is faster mana with a smaller downside.

Shizo, Death's Storehouse

>>

Mystifying Maze

Shizo is only useful in rare corner cases, and I'd much rather use it in another deck and the maze adds pillowfort.

Black Sun's Zenith

>>

Toxic Deluge

I was simply blown away by how much more useful Deluge is, even without the built in recursion.

7/9/15

Rend Flesh

>>

Foul Renewal

While this change is ultimately a side-grade, I feel like Foul Renewal does more for the deck, and it's certainly a better thematic fit.

8/21/15

Liliana Vess

>>

Drift of Phantasms

Liliana was really in the deck as a tutor, and she was pretty bad at it. Even though the drift can grab less, it can grab things like win cons, and it's just a great, versatile card in this deck.

Commander's Sphere

>>

Springleaf Drum

The problem with 3 cmc rocks in this deck is that it tends to be so disruptive to the tempo. The drum is a lot easier to sneak in, and it has fantastic synergy with some of the deck's utility creatures.

11/5/15

Bloodchief Ascension

>>

Profane Momento

As much as I loooove the Ascension, this deck really isn't equipped to set if off. And, I don't have anyone in my meta who does enough non-targeted damage to set it off for me. The Momento on the other hand provides a solid safety net, and can even be a decent tutor target.

1/8/16

Mind Grind

>>

Ghastly Conscription

Unfortunately Mind Grind looked a lot better on paper than in practice. It scales up with bigger games and can mill a ton for a reasonable price. The problem was that because it's spread out, it always felt underwhelming. No matter how much I spent on it, I always found myself wishing I could wait and make it bigger. Ghastly Conscription is a fun card with good synergy with the deck, granting us a few great options late game.

Avatar of Woe

>>

Set Adrift

The synergy the Avatar has with the deck's tap mechanics is great, it's ability came at the cost of being able to mill. It earned its spot because of the extra synergy it has with mill, becoming significantly cheaper. The issue is that it usually takes so long to get 10 creatures in graveyards that it almost might as well cost the full eight mana. It was just too slow. Set Adrift is amazing because it allows us to remove permanents we normally couldn't in these colors.

3/26/16

Sepulchural Primordial

>>

Endbringer

Sepulchural Primordial is extremely powerful in this deck when it goes off. Endbringer is more consistent and easier to use with the added bonus of being more on-flavor. The Primordial is a card I often have to sit on, because it requires a lot of setup to not be a waste. Endbringer on the other hand is always useful the second I'm able to play it, and it has the upside of having a lower CMC. Plus it has a larger array of abilities.

Swamp

>>

Hall of the Bandit Lord

I was worried about this card at first. It's slower than a Swamp, even with Endbringer the colorless mana is far less useful, and every time I use it, unless I have Chromatic Lantern or someone has an Urborg, it deals 3 damage. The haste is insanely useful though. It means being able to use utility creatures and wincons immediately. The latter can mean that instead of dropping something like

Eater of the Dead

and hoping it lasts until my next turn, I can often drop a wincon and immediately win.

Island

>>

Underground River

Like with

Talisman of Dominance

, I've found that I rarely ever end up specifically needing colored mana from this card. This makes its downside almost trivial while having a fantastic upside. Plus as a bonus it helps with

Endbringer

.

9/4/16

Glacial Wall

>>

Tree of Perdition

: The tree is a fantastic win con, and better in almost every way. I'm not crazy about the increase in CMC, but it's proven to be well worth it.

9/26/16

Hover Barrier

>>

Geist of the Archives

: With the need for early fliers not proving to be that important, the geist provides more utility.

4/13/17

Life's Finale

>>

Damnation

: Thanks to the reprint, this is affordable enough to get a spot.

4/26/17

Creeping Tar Pit

>>

Fetid Pools

: The Pools gives more utility for the deck.

Changes I'm Currently Testing

Evil Twin

>>

Clever Impersonator Praetor's Grasp

>>

Wake Thrasher Counterspell

>>

Disallow
Strategy

The Role of Phenax

As our commander, Phenax plays no small part in this deck. That being said, what he does can be summed by three roles. The first of which is mill, the most important part. He enables most of our milling. The mill he enables is often a win con by itself, but it also acts as a toolbox setting up other win conditions. Secondly, he gives creatures a no-mana-cost, instant speed tap ability. While also milling, it gives creatures with triggers on being tapped or untapped a safe way for their abilities to be used. Finally, he contributes towards the pillowfort theme of the deck. Once we have devotion, have a 4/7 indestructible blocker, which obviously can take a ton of pressure off of us.

The Opening Hand

The opening hand is pretty simple, and there's a lot of things that are acceptable. Generally for this deck you'll want 3-4 mana producers. After that, the big things to look for are early defensive options and card draw. The last things to look for are (in order of importance) utility creatures with cmc<5, win cons, and control/removal/other utility. You'll definitely want at least one of the first two that can be dropped before Phenax.

Early Game

For this deck, the early game is going to be everything we do before getting out Phenax. Like with most decks, we want to spend it building a foundation for the rest of the game. After we've established a mana base, card draw if we have it, is our first priority. It makes the deck a lot more reliable, and the earlier we do it the better. Even keeping in mind that we want to hold on to as much life as possible, an early

Phyrexian Arena

is never a bad thing. After that, this stage is all about building up a defense and setting up combos for Phenax. If we have the ability to do both, the order in which we do it all depends on our opponents. If our opponents already represent a threat, it's better to start with defense. If we feel safe, we can get the combo pieces down and then fill in the defensive pieces as needed. There are of course, exceptions to this rule though.

No Mercy

is pretty much always your first option when you get four mana, unless an opponent already has enchantment removal. Conversely,

Duskmantle Guildmage

represents such a big threat that we want to wait to play him until we can actually use him.

Mid Game

This is the part of the game where we get Phenax out, and where we start milling and setting up win conditions. Generally speaking, Phenax is the go-to card for five mana. There are, however, exceptions to this. I personally would play

Consuming Aberration

or

Eater of the Dead

before Phenax when possible. The reason for this is that this order allows us to use their abilities the second Phenax hits the table, speeding the process up by a turn. Once Phenax is out, we can begin milling. Politics are going to be a very important part of this stage. We're a mill deck, which means we are quite likely to be unfairly targeted. For this reason, while we are working towards a win, we also want to keep building up our pillow fort and giving enemies reasons to attack each other over us. We only want to be aggressive is there's a defensive justification, or if we're moving in for a win. When it comes to milling, we want to mill players evenly, so as to avoid hate. It's important to keep in mind what each player is giving us, though. If we're low on life and are getting ready to pop

Crypt Incursion

, for example, we want to be consistently milling a player with a creature-heavy deck. At this stage, it's very important not to get carried away with building up our board. We want to have a strong and secure board

state, but leaving everything on the table leaves us extremely vulnerable to board wipes.

Late Game

This is the part of the game we've been building towards. At this point, we're looking for the final piece(s) we need to end the game. These could come in the form of big mill, but also by using our opponents' graveyards, which should be quite full by now. When tutoring and moving towards a win in general, it's important to keep in mind that there is no 100% go-to target. If we're looking to swing in with a pumped up fatty,

Cyclonic Rift

will work wonders. While this card is always amazing, if we're merely looking to mill, we need to instead keep in mind what cards will combo with our current board to make a win possible.

Intruder Alarm

and

Thousand-Year Elixir

are by far the most powerful cards in

this category, but we also have a variety of ways to win without them. It's worth noting here that given equally viable choices between swinging for lethal with a creature like

Consuming Aberration

or milling, go for the damage, especially against unfamiliar decks. This mitigates the risk of an unforeseen shuffle effect slowing or crippling the win con.

Strengths

These are the matchups our deck does best against. How to handle these matchups is relatively straightforward, so I'll just explain them briefly.

Creature-Heavy Decks

Most of our graveyard shenanigans use creatures, so these kind of decks really feed us. Additionally, we're heavy on removal for those that hit the board.

Self-Mill/Reanimator Decks

These decks fall under both strengths and weaknesses for this deck. We're strong against them mitigating the weakness serves to cripple a key feature of these decks.

Defensive Decks

These are decks that aren't going to be coming straight for us, meaning we'll avoid early hate. Additionally, we're not aiming to (though we can) come at them with combat damage, so their defenses are next to useless against us.

Weaknesses

These are the situations and matchups our deck struggles with the most. Within each, I'll go into ways we can deal with them.

Kozilek

&

Ulamog

While there is a decent number of cards that shuffle themselves or an opponent's graveyard, these two are the only ones who can give us serious trouble. Luckily, we can exile them and eliminate their threat entirely. We can exile them from the battlefield or from an opponent's library to prevent a shuffle from ever happening. We can also catch them in the gy at instant speed. While the shuffle will still happen, it will prevent it from happening again.

Self-Mill/Reanimator Decks

Whether we can effectively deal with this kind of deck depends on whether we pull the right things. Luckily, we have lots of options. Exiling creatures as described above (as well as at sorcery speed) is a great way to take away their bread and butter. We can take the creatures in their gy's for ourselves, as well turn cards hitting their gy into loss of life for them.

Board Wipes

In a creature heavy deck like this, these can get quite annoying. We have a small amount of control available to us to help a little bit, and more can be added depending on the meta.

Swan Song

might be a silly, limited counterspell, but it's hard to regret keeping that U open. Even in a board-wipe light meta, it's important to be wary. This deck is heavy on win-cons; consider holding onto a couple in your hand if you're already in a strong position to take the game.

Creature-Light Decks

Just as milling lots of creatures is great for us, milling only a few can be quite disappointing. We have some very useful options that don't rely on creatures in yards that we can use against these decks. If we need creatures for a win-con, we can mill out other opponents instead. This can take the focus of the player we're not milling off of us. Once the other opponents have given us options, we should take out this player first so we can use the utility available to us against everyone.

When to Mill

Being able to mill at instant speed allows us to mill at just about any time, and gives us a lot of ways we can use the mill to our advantage. Like with most instant speed things, waiting until last-minute is a smart move, and most of our milling will take place at the end step directly before our turn. This our default, when we will be milling in all circumstances not covered in this section.

The first thing I want to touch upon is when NOT to mill. The first case when we don't is when we can only mill for some small number of cards (say 4 or less in total). Even milling one card can generate hate, as silly as that may be, so we want to make sure it's worth it. The second is against a big threat. If milling them isn't going to give us an immediate (or near-immediate) win, there's no sense in drawing their attention to us. The last case is if we know an opponent has an Eldrazi, and we don't have anything to catch it. We're better off having some cards in their gy to use than none at all if a shuffle happens. I should note that in all three cases, it might be worth milling for the ability it triggers.

Now that you know the default case and when not to mill, we can talk about the special circumstances. If an opponent plays a tutor that puts a card on top of their library, it would be a very wise move indeed to hit them with a small mill. This is

to defend as "What else did you expect" and "I had to do it". Triggering an ability is also a good reason to mill and in some cases (it's really up to your discretion) it might even override the reasons not to mill. A good example would be using

Surgespanner

to bounce an attacking creature before it can deal combat damage. If we're going to lose a creature due to something like combat damage to a board wipe, you should absolutely mill the player taking it out. Not only does this give us the most possible use out of that creature, but it's also generally considered a fair response to this action and is unlikely to generate hate. Finally, we have the emergency win. We might be in a position where we'll lose if an opponent makes it to their next turn. In such a case, it's best to mill during the upkeep of the opponent directly after us in the turn order. Being before the draw step, it can kill anyone, and it ensures APNAP is always on our side, allowing

Undead Alchemist

to exile an Eldrazi, for example.

Combos/Synergies

This deck is built very heavily on interactions between cards within the deck. Almost every card has at least a few, and I'll discuss the most significant of them here.

Intruder Alarm

+

King Macar, the Gold-Curse

/

Evil Twin

In the case of the ormer, this gives us the ability to remove one creature for every creature that hits the board. This essentially allows us to temporarily lock our opponents out of the board. In the case of the latter, if we chose an opponent's commander, he'll always be untapped and ready to kill that commander as soon as it hits the board.

Intruder Alarm

+

Undead Alchemist

As long as you can reliably mill an opponent enough to get even a single zombie, this combo essentially turns into infinite mill.

Thousand-Year Elixir

+

Disciple of Deceit

/

Siren of the Silent Song

/

King Macar, the Gold-Cursed

If we have a way of tapping these guys, we can immediately set up an inspired trigger. The elixir allows us to get a second trigger out of any tap ability, but this is especially noteworthy because it allows us to use an inspired trigger at instantspeed.

Undead Alchemist

+

Thousand-Year Elixir

/

Altar of Dementia

Both of these cards allow us to immediately use the zombies created by the trigger to create a long (non-infinite) chain of milling. In the case of the former, we can immediately mill with zombies we create, and keep doing so until we don't get any more. With the latter, we can choose to sacrifice our zombies rather than hold on to them, doing this again and again until we don't get any more zombies.

Siren of the Silent Song

+

Intruder Alarm

/

Thousand-Year Elixir

Like with any creature, these two cards let us turn the siren sideways more often than usual. What makes this synergy so great is that it allows us to force our opponents into topdeck mode early in the game, and then keep them there.

Black Sun's Zenith

/

Life's Finale

+

Eater of the Dead

/

Nighthowler

/

Crypt Incursion

Not only do board wipes take away our opponent's creatures, but they give us lots of stuff to work with. This is especially true with Life's Finale where we can pick add three creatures in a library to the dead. Afterwards, we just drop one of the cards in the second category and go to town.

King Macar, the Gold-Cursed

+

Glen Elendra Archmage

These two together can essentially give you control of the board by turn 6 (or earlier with mana rocks). Almost everything your opponents play will be subject to your approval. It's unlikely your opponents will be able to get a creature to target King Macar until later in the game, if ever, and creatures with Haste will only likely get to attack once.

Maze of Ith

+ Inspired/

Fallowsage

/

Surgespanner

All of these creatures have an ability that triggers on tap or untap without any actual cost. Maze of Ith lets us swing in with them to get an extra, and safe, trigger from one of them each turn.

Ghastly Conscription

+

Intruder Alarm

Because each Intruder Alarm triggers can stack with multiple creatures entering the battlefield, we can use Ghastly Conscription to gain a ton of triggers at once, allowing creatures already on the board to mill like crazy.

I hope you enjoyed the primer and the deck. I'd love to hear any questions or feedback about anything.

Last edited by
Wallabe
: Nov 7, 2017