Forgotten One
Join Date:

1/4/2006

Posts:

3,646

Member Details
Obzedat, Ghost Council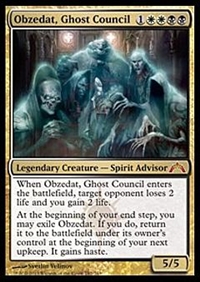 "Tonight, madam, it's your money

and

your life."
---
Obzedat, Ghost Council
carries the torch as the new general for the previous commander
Ghost Council of Orzhova
in what has slowly evolved into my
Drain Life
themed deck. The basic premise is to drain opponents of life points at every opportunity while incrementally gaining card advantage and destroying key permanents. The deck is slow and grindy, but it definitely stays true to its theme and promotes a controlled game state without drawing too much attention or hate.
Updated through Battlebond (6/8/2018)
Card Breakdown:
There really isn't a lot to the deck, but the cards do break down into several distinct categories.
Extort:
The deck runs 9 of the 13 possible Extort cards that were printed in
Gatecrash
and
Dragon's Maze
. If there was enough room I'd run them all, but some of them are just not powerful enough on their own to warrant inclusion or are just plain too expensive. The beauty of the Extort mechanic is that it drains each opponent for each activation, so not only are you efficiently damaging your opponents you are also gaining lots of life in the process. Some of the Extort creatures are small and you may be tempted to cut them, but they will go a long way towards dealing lots of early damage and providing the deck plenty of early plays. The deck also runs a lot of recursion engines so that you never run out of spells to play with which to trigger Extort.
ETB Life Drain:
Highway Robber
,
Geralf's Messenger
,
Bloodhunter Bat
,
Blind Hunter
,
Gray Merchant of Asphodel
, and
Ghost Council of Orzhova
all drain life from your opponents when they enter the battlefield. To promote the reuse of these effects, the deck runs cards like
Oversold Cemetery
to recur them from the graveyard or cards like
Erratic Portal
,
Conjuror's Closet
, and
Cloudstone Curio
to 'blink' them or return them to your hand to cast a gain.
Life Drain Spells:
Although the deck does not play the iconic
Drain Life
, it does run 4 of the best Life Drain sorceries that you can run.
Exsanguinate
and
Debt to the Deathless
are particularly powerful in that they drain all opponents.
Bleed Life Effects:
One of the keys to the deck is to find cards that can repeatedly damage your opponent with little or no additional mana cost since you want your mana available to pay for Extort or to further advance your board. There are several cards available that will slowly bleed away your opponent's life total for doing things that they would normally want to do. Put a creature into play?
Suture Priest
and
Blood Seeker
say hello. Put a land into play?
Polluted Bonds
drains you for two? Draw a card?
Underworld Dreams
hits you for one.
Cards I have considered
Blood Clock
/
Umbilicus
: These cards fit right into the theme, either draining the opponent life or setting their board back a permanent. The problem is that the 'enters the battlefied' effects of creatures has gotten so good that I would often help the opponent rather than hurt them and they rarely drained the opponent like I wanted.
Stab Wound
,
One Thousand Lashes
,
Pillory of the Sleepless
: Great cards that do double duty in the deck, but I hated being torn between wanting these cards on the battlefield and wanted to Wrath the board. I have replaced them with cheaper removal.
Blood Artist
,
Falkenrath Noble
: These cards need more support in the form sac outlets to be effective.
8/25/2014:
+1
Scholar of Athreos
: A card that can repeatedly drain the opponent giving me a nice outlet for all the black mana the deck can produce. It's also much cheaper than the alternatives allowing me to trigger Extort more often.
+1
Underworld Coinsmith
: Another card that can repeatedly drain the opponent, with a nice little life gain upside when I trigger constellation. It's also another cheap Extort enabler.
+1
Ob Nixilis, Unshackled
: Card is so good at punishing tutoring that it slides into the deck perfectly.
-1
Agent of Masks
: Fine card that just ended up being too slow.
-1
Day of Judgment
: The didn't need all 3 Wraths so I cut the one that doesn't have the "cannot regenerate" clause.
-1
Conjurer's Closet
: The deck wants 2.5 of these cards, so for now I'm keeping Erratic Portal and Cloudstone Curio and cutting this.
10/22/2014:
+1
Utter End
: Upgrade over O-Ring.
+1
Underworld Dreams
: This fell out of the deck and I decided it needed to go back.
+1
Scoured Barrens
: This deck had some room for CIPT lands, and the life gain triggers a few effects.
+1
Temple of Silence
: I like the Scry lands in general
-1
Oblivion Ring
-1
Baneful Omen
-1
Plains
-1
Swamp
1/8/2015:
+1
Fate Unraveler
: Another bleed life effect
-1
Divinity of Pride
: Not really on theme other than being a big lifelinker.
3/20/2017:
-1
Oversold Cemetery
: In order to fit in
Palace Siege
, I needed to cut a recursion effect.
-1
Death Grasp
: I like X-spells, but this one only hits one player at a time.
-1
Blind Hunter
, -1
Highway Robber
, -1
Bloodhunter Bat
: Not impactful enough in the long run
-1
Cloudstone Curio
, -1
Erratic Portal
: I decided to demphasize the ETB draining effects and rely on my recursion from the graveyard to keep the cards flowing.
-1
Bone Shredder
: I already had access to lots of removal
-1
Orzhov Basilica
: I needed to drop an ETB land
+1
Palace Siege
+1
Defiant Bloodlord
+1
Ob Nixilis Reignited
+1
Karlov of the Ghost Council
+1
Cliffhaven Vampire
+1
Kambal, Consul of Allocation
+1
Campaign of Vengeance
+1
Shambling Vent
Some reason, I was at 100 and not 99 in the MD...
4/24/2017
Apparently, I wasn't over 99 cards before so the decklist only showed 98 in the MD...
+1
Bontu's Monument
- 1 mana cost savings on all my black creatures (22 plus Obzedat) plus life drain to each opponent for each creature I cast makes this a nice add to the deck.
2/11/2018:
+1
Crested Sunmare
- Another great lifegain triggered effect
+1
Torment of Hailfire
- An upgrade over Blood Tribute in that it can hit all players.
+1
Vona, Butcher of Magan
- A lifelinking removal option replacing Shriekmaw
+1
Twilight Prophet
- A card draw upgrade over Disciple of Bolas that also drain my opponents
-1
Disciple of Bolas
- I have no synergies with the creature sacrifice so Twilight Prophet ends up being the better card.
-1
Blood Tribute
- Pulled for Torment of Hailfire
-1
Shriekmaw
- Pulled for Vona
-1
Ob Nixilis Reignited
- This has always just been fine, but never really that great.
6/8/2018:
So the changes this time around are as follows:
+1
Shriekmaw
, -1
Duplicant
+1
Lich's Mastery
, -1
Nirkana Revenant
+1
Archfiend of Despair
, -1
Torment of Hailfire
+1
Regna, the Redeemer
, -1
Geralf's Messenger
My Commanders
Jalira, Master Polymorphist
|
Endrek Sahr, Master Breeder
|
Bosh, Iron Golem
|
Ezuri, Renegade Leader
Brago, King Eternal
|
Oona, Queen of the Fae
|
Wort, Boggart Auntie
|
Wort, the Raidmother
Captain Sisay
|
Rhys, the Redeemed
|
Trostani, Selesnya's Voice
|
Jarad, Golgari Lich Lord
Gisela, Blade of Goldnight
|
Obzedat, Ghost Council
|
Niv-Mizzet, the Firemind
|
Vorel of the Hull Clade
Uril, the Miststalker
|
Prossh, Skyraider of Kher
|
Nicol Bolas
|
Progenitus
Ghave, Guru of Spores
|
Zedruu the Greathearted
|
Damia, Sage of Stone
|
Riku of Two Reflections