Forgotten One
Join Date:

1/4/2006

Posts:

3,646

Member Details
Gisela, Blade of Goldnight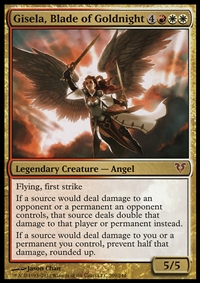 "I don't know why people say a double-edged sword is bad. It's a sword. With two edges."
---
If you are looking to build a deck to have decks for each color combination, you immediately notice that your options in RW are limited . Most generals are well suited to a very straight-ahead aggro approach (
Agrus Kos, Wojek Veteren
,
Aurelia, the Warleader
,
Jor Kadeen, the Prevailer
and the recently printed
Anax and Cymede
) where the primary difference is how you want to exploit your general's abilities to pump an army of dudes. You also have
Brion Stoutarm
(a general well suited to teaming up with every
Threaten
variant ever printed), but that doesn't particularly interest me either. I'm sure there are plenty of fine decks out there that have these creatures at the helm, but none of them excite me to want to build a deck around them.
On the other hand,
Gisela, Blade of Goldnight
has rules text that makes most other Legendary Creatures blush with shame and have a nagging feeling of inadequacy in her presence. Doubling all the damage you deal while halving the damage dealt to you by your opponents is a nice set of abilities. To me, the only things really holding Gisela back are a) her 7-mana converted mana cost, b) the fact that she is red and white which many people consider the two worst colors in EDH, and c) there are no built-in "I win" combos with her abilities. If you look at these drawbacks as more of a challenge, Gisela has the potential to be a sweet deck.
So I've fiddled with this deck a lot recently, moving packages of cards in and out and fussing over the last few slots. I'm happy with the deck in general, but I think there is room for improvement and I'm hoping for some suggestions on where I might take the deck next. Here is the current decklist:
Updated through Dominaria (5/22/2018) (
deck link
)
3/24/2017:
-1
Kher Keep
- decided I needed to shave a land
-1
Chandra, Pyromaster
- upgraded
-1
Chandra Ablaze
- upgraded
-1
Mirari
- replaced with Goggles
-1
Repercussion
- this was cramping my style too much. Great card that conflicted too much with the sweepers and running creatures in general
-1
Volcanic Hammer
- upgraded
-1
Urabrask the Hidden
- not really on theme
-1
Stonehewer Giant
- with only 4 equipment now, I cut the 3rd equipment tutor
+1
Monastery Mentor
- amazing card with burn theme
+1
Exquisite Firecraft
- an efficient burn spell
+1
Pyromancer's Goggles
- copies and adds mana
+1
Fiery Confluence
- great burn spell with options
+1
Chandra, Torch of Defiance
- amazing for this deck
+1
Nahiri, the Harbinger
- solid
+1
Collective Defiance
- burn with benefits
+1
Nahiri's Wrath
- Nice one-sided sweeper
6/2/2017:
-1
Kiki-Jiki, Mirror Breaker
-1
Hellrider
-1
Pyromancer's Gauntlet
-1
Memory Jar
+1
Insult // Injury
+1
Hazoret the Fervent
+1
Harsh Mentor
+1
Outpost Siege
7/20/2017:
+1
Neheb, the Eternal
+1
Firebrand Archer
-1
Nahiri, the Harbinger
-1
Hazoret, the Fervent
9/3/2017:
+1
Alms Collector
- With the various wheels, this seems like a perfect fit
-1
Godo, Bandit Warlord
- Equipment tutoring is not really necessary
1/24/2018:
+1
Angrath's Marauders
- Another damage doubler
+1
Primal Amulet
- Seems perfect for a spellslinger deck like thiis
-1
Mind's Eye
- A fine card that was pulled to make way for Amulet
-1
Insult // Injury
- Not really performing as well as I hoped; pulled for Marauders
5/22/2018:
+1
Jaya Ballard
, -1
Molten Disaster
Some of the themes in the deck are the following:
Burn:
This deck didn't start out as a "burn" deck, but it has slowly developed into one. With 18 cards that deal direct damage, the deck loves throwing its cards at opponent's life totals. Of course, in a multiplayer, 40 life environment, such a strategy would fail miserable if it was not supported somehow. Through various card advantage themes and other support cards that allow our burn spells to do more, we can overcome the inherent weakness of burn cards.
I feel like the deck runs all the best low-costing burn cards. I tried to choose only ones that could be played with
Sunforger
, with special consideration for ones that could also be played with
Isochron Scepter
as well.
EDIT:
Isochron Scepter
has been removed from the deck for not really performing as well as I hoped.
Doubling Damage:
This is probably the defining theme of the deck. Cards like
Fire Servant
,
Gratuitous Violence
,
Furnace of Rath
, and of course Gisela herself are there to increase the effectiveness of the burn cards, incidental damage caused by creature triggered abilities, and combat damage. When unanswered, these cards make sure you have enough reach to close out a game.
Pyromancer's Gauntlet
also falls into this category, although it only deals an additional 2 damage.
There are some other cards that can also double damage in
Curse of Bloodletting
and
Quest for Pure Flame
, but neither are good enough due to their limitations.
Sulfuric Vapors
is half the damage of Pyromancer's Gauntlet for only one less mana.
Equipment:
The deck uses
Stoneforge Mystic
,
Stonehewer Giant
, and
Godo, Bandit Warlord
as equipment tutors. The deck plays 3 swords (
Fire and Ice
,
Feast and Famine
, and
War and Peace
,
Umezawa's Jitte
, and
Sunforger
. SoFI and SoWP have the nice side benefit of granting pro-red, allowing me to choose which creatures will survive the many mass-damage red spells the deck runs, but between all of them I can grant my creatures the protection of any color I may need to force through damage or protect a key creature.
If I had more room in the deck, I would also want to run either
Batterskull
or
Skullclamp
.
Sword of Light and Shadow
is tempting, but I don't think this deck is set up well to take advantage of either ability.
EDIT: The equipment package has changed a lot as the deck evolved. The deck doesn't run a lot of creatures, so I needed to cut one. I also cut Jitte and SoFaF and added Skullclamp instead to give the deck a little more long term card advantage.
Sunforger/Isochron Scepter:
With the equipment theme set, running a Sunforger package seemed like a logical next step. The deck runs 13 different instants of CMC 4 or less for Sunforger targets, most of which are burn cards. The deck runs 10 different instants of CMC 2 or less for Scepter, almost all of which are burn cards.
This is one area that I think the deck can improve on. Cards like
Oblation
,
Return to Dust
,
Debt of Loyalty
, or
Wild Ricochet
all seem like good cards to possibly include but for lack of space. I'm also wondering if I should drop Scepter altogether. It would allow me to upgrade
Disenchant
to something better and I can run something else.
EDIT: I ended up dropping Scepter and upgrading Disenchant to
Orim's Thunder
Red Sweepers/Burn + Boros Reckoner type cards
:
The deck includes 4 Red Burn based sweepers that combine with
Mogg Maniac
,
Boros Reckoner
,
Spitemare
, and
Repercussion
to put the hurt on your opponents while also introducing a nice bit of creature control.
Satyr Firedancer
works as an inverse Repercussion, but the effect is very much the same; get double/triple duty out of your burn spells.
Firestorm
also works very well in combination with these cards.
If I wanted to extend this theme, the next cards to include would be
Stuffy Doll
or
Pariah
, but I have cut these due to their limitations. Another X-spell like
Comet Storm
would also go a long way.
Incidental Damage effects:
Basically, if there is a way to get in some extra bits of damage through doing something I would normally want to do, it made it into the deck.
Inferno Titan
,
Warstorm Surge
,
Purphoros, God of the Forge
,
Hellrider
, and
Balefire Liege
all fall into this category. These effects really add up over time and are especially good at triggering other effects in the deck.
My original incarnations of this deck had a lot more of these kinds of cards, but they were all symmetrical effects. I have since cut all of these cards. Some of the better ones are listed in another section below.
Invader Parasite
has struck me as a card I think I want to include, but I'm unsure what it might be better than at 5 mana. I think I may also want to try
Tunnel Ignus
.
EDIT: Warstorm Surge and Inferno Titan eventually got the axe. They are both excellent cards, but the deck needed the space.
---
Some of the themes that I have tried and eventually discarded are as follows:
Symmetrical Damage Effects:
The deck used to include cards like
Ankh of Mishra
,
Zo-Zu the Punisher
,
Pandemonium
,
Manabarbs
,
Burning Earth
,
Sulfuric Vortex
,
Spellshock
, and
Dingus Staff
to help pile on repetitive damage with little mana investment. These cards are effective at shortening the game and getting your opponents into range of your other damage spells. The issue is that when you start looking at what is available to you these cards start to pale in comparison, and their symmetrical nature can be a big detriment once the table realizes what you are up to and starts to go after you.
If you are interested in these kind of effects, there is also
Coalhauler Swine
and
Cosi's Ravager
.
Ball Lightnings:
At one point, I also had all the
Ball Lightning
variants in the deck, including
Hellspark Elemental
,
Blistering Firecat
,
Sparktrooper
,
Hell's Thunder
,
Elemental Appeal
, and
Zektar Shrine Expedition
. These were great for triggering
Pandemonium
and
Warstorm Surge
when they entered play,
Vicious Shadows
and
Stalking Vengenace
when they died, and they were quite good with the damage doublers. When I started to explore a more spell-based theme, these became a casualty of deck space.
So that's it. I'm hoping for some input, especially on things like Sunforger, Isochron Scepter, and some other cards that I may have missed.
My Commanders
Jalira, Master Polymorphist
|
Endrek Sahr, Master Breeder
|
Bosh, Iron Golem
|
Ezuri, Renegade Leader
Brago, King Eternal
|
Oona, Queen of the Fae
|
Wort, Boggart Auntie
|
Wort, the Raidmother
Captain Sisay
|
Rhys, the Redeemed
|
Trostani, Selesnya's Voice
|
Jarad, Golgari Lich Lord
Gisela, Blade of Goldnight
|
Obzedat, Ghost Council
|
Niv-Mizzet, the Firemind
|
Vorel of the Hull Clade
Uril, the Miststalker
|
Prossh, Skyraider of Kher
|
Nicol Bolas
|
Progenitus
Ghave, Guru of Spores
|
Zedruu the Greathearted
|
Damia, Sage of Stone
|
Riku of Two Reflections