Trav_Ragnar
Join Date:

3/21/2013

Posts:

882

Member Details
Hey all! For anyone who still follows this thread, I'm going to retire it and occasionally post about it over on MTGNexus. Follow the thread here:
https://www.mtgnexus.com/viewtopic.php?f=35&t=39603
I will leave this up for anyone looking though. Thank you all for years!
Cue the epic music.
Sliver Queen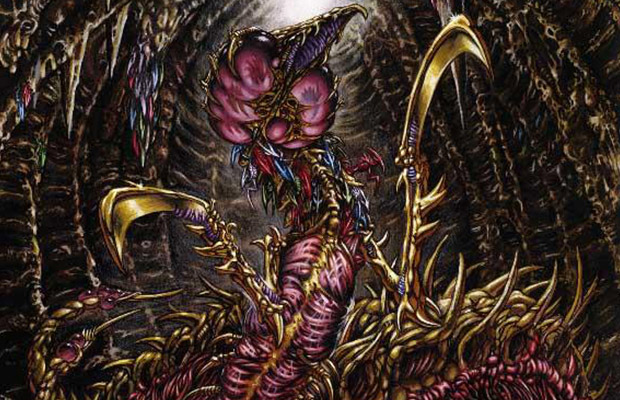 Illustration by Ron Spencer
I. My History with Magic and Commander




---

My involvement with

Magic: the Gathering

, began in the Summer of 2011, shortly after my brother returned with a new enthusiasm about a card game. The whole dynamics and essence that made

Magic

really appealed to me. I suppose I do not remember the exact point in which I started to play, but I just remember the dynamics and essence of what made

Magic

really appealed to me. Fortunately, one of my closest friends, who also began playing during the same time, step-father owned a card shop that was no longer open. He let us scrummage through all the buried treasure in this shop, which had cards all the way from

Alpha

up to around

Time Spiral

. Although, without my brother, we were pretty blind going into there. Anyways, we took back a collection of cards, and in addition to what my brother had accumulated since he first started playing, all my friends and I started assembling are little casual decks. It quickly became evident that older, blue cards were obviously the strongest (ahem,

Counterspell

,

Brainstorm

) and that my friend whose step-father owned the shop basically had a monopoly on all the powerful cards. He was winning fairly consistently, mainly with the help of brother in constructing his deck.

Anyways, onto my involvement with commander. Ironically, my initial involvement with Commander had nothing to do with the format at all, but instead, the

Commander 2011

decks that came out that Summer. It was around the time that my friend with all the powerful cards was always winning when these decks came out, and my brother had expressed to me how good the cards had been in these decks. I decided to go fetch me all five, but upon opening the decks, my reaction had been, "What do you do with these big, dumb cards? Are they special? What's the command zone anyway?" I ignored the confusing terms, being told it's another format (I hadn't even known what format meant at the time) and reaped the awesome benefits of the decks. I enjoyed sending bolts to the face with my big ol'

Magmatic Force

and

Joining Force

to take down the guy with all the old cards. Summer came to an end, my brother left to college, and we all went back to high school, leaving

Magic

behind us. Eventually, in Winter/Early Spring of 2012, friends of mine picked the game back up, still playing casually. They would always ask for me to come play with them, but I hadn't been interested during this time, usually just telling them, "Maybe next weekend." Although, shortly after

Avacyn Restored

was released, I was finally convinced to come play again. I remember one of the first days back I went out and bought four or five booster of

Avacyn Restored

, one holding a

Gisela, Blade of Goldnight

. I was ecstatic, and happy to be playing again. We continued to play casually until my brother returned from college.

After my brother returned we continued to play fun, casual decks assembled from random pieces, up until my brother had finished his commander deck. I was confused, why did he have so many cards in his deck, and "What's the command zone anyway?" My brother played a combo oriented

Barrin, Master Wizard

(which has now evolved into this

primer

, go check it out). This deck was stomping everyone left and right. How could we beat someone who generated infinite mana, who then proceeded to

Blue Sun's Zenith

us to death? It was clear there was only one way, which was to build a commander deck. My response to my brother's deck was a heavily combo influenced

Riku of Two Reflections

deck. My official involvement with the format of commander had just began. Around this time, since my play group was transitioning from casual to casual commander, we had lost a lot of our fellow players, but started expanding to our local game store. My career in commander has led to me to play numerous different decks, one of them being ISBPathfinder's

Jenara list

. I had loved this deck. I thought the play style was amazing, it was perfectly built, and exactly what I wanted to play. Although, there was one thing missing. It wasn't mine. Being a Johnny at heart, I really wanted to express myself through the ownership of a commander deck. I had been stalking MTGSalvation for a while at this point, and the

[Primer]

title was just so enticing. That has brought me to this point, Sliver Queen Superfriends.
II. Deck History




---

Okay, so I want to start off by talking about the roots of this deck. Really, my passion for superfriends decks, really began before I started playing commander, when I actually had played around with a casual superfriends deck. I always found planeswalkers to be the most fascinating cards in the game, at least when I first started playing. So when I first found out about

Doubling Season

I was ecstatic. I played around with that deck, which was a Bant superfriends deck, for a while around the beginning of my

Magic

career.

Six months later, after I had really gotten into the commander format, one of my early decks I had picked up was an

Angus Mackenzie

superfriends deck. This deck was really inspired by the casual deck I had played before, and I really enjoyed it. After putting down that deck, I had played commander for a while, playing multiple different decks such as

Jenara, Asura of War

, as stated earlier. After feeling a little dissatisfied by the fact that the only deck I really enjoyed playing wasn't my own creation, I thought I would go out and try and find myself a deck that I could make

my own

. That's basically when I went full circle, returning to the superfriends archetype.

Around this time my brother, whom I share my collection with, had been working on five mono colored lists, therefore we were left with all of our duals, and considering that and my realization of how great Sliver Queen was for the superfriends approach, my first attempt was born. So I had played a Sliver Queen Superfriends iteration very similar to this one for awhile, but lacked in different areas that never made the deck "click" at the time. Back to Jenara I went, and I was happy to be playing something that I knew was fun. Although, again my Johnny started to rise up in me, and I just wanted to be able to express my creative ability in the game.

There was multiple different decks I started to write-up, but none of them really appealed too much. One day, without evening considering about building the deck, I made a new list for Sliver Queen, updating it with some more efficiency and dropping the

Jokulhaups

effects. Within a week or so, my interest in this deck peaked, and I decided to reassemble it. I'm definitely happier this time around playing the deck, and even though Sliver Queen Superfriends is not necessarily a unique idea of mine, I can say the list and inspiration of the deck is.
III. Why Superfriends?




---

Well, let's begin by addressing the obvious. Playing a deck where you have 20+ planeswalkers is just awesome, plain and simple. Although, there's many reasons why that is. For one, superfriends decks are very resilient. Basically, you have to think of it this way, planeswalkers are essentially little swiss army knives, therefore they can adapt to many different metas. Facing down an Avacyn, Angel of Hope? Karn Liberated. Need card advtange? Jace, the Mind Sculptor. Board position looking complicated? Ugin, the Spirit Dragon. In addition to the fact that they are extremely versatile spells, planeswalker cards are extremely flavorful and interesting characters, capturing the different story of said planeswalker during a time period in Magic.

You may like this list if...
---
You like a five colored general.
You like variance.
You like being flashy.
You like Doubling Season interactions.
You love planeswalkers.
You may not like this list if...
---
You hate to rely on mana fixing.
You like creature-based decks.
You hate unpredictable games.
You like "comboing out".
Your favorite card is Suppression Field.
IV. Deck Themes

---




Planeswalkers - Alright, by now I would imagine that most of you understand one of the central themes of this list is controlling the game and eventually proceeding to victory through planeswlakers. Planeswalkers as a strategy is essentially the backbone of the deck, or in other words, its what we came here for.



Tokens

– After planeswalkers, this is probably the second most prevalent theme within the deck. I have found that a token subtheme has been very successful in super friends lists because tokens often interact very well with super friends related pieces and planeswalkers in general. Take Doubling Season. You can probably find this card in every superfriends list, because it allows planeswalkers to enter the battlefield with double loyalty counters. But another application of Doubling Season is that it gives you the ability to create a swarm, both off of nonplaneswalker cards, such as Sliver Queen, or even planeswalkers like Elspeth, Sun's Champion. Another reason tokens fit so well in a superfriends deck is because tokens provide great protection for your planeswalkers, chumping whenever a beater is swinging in against a crucial planeswalker.



Five Color Control

- Since we want every planeswalker available to us for use, a five color list is essential. Beyond the fact that this is a five color superfriends list, this is also a five color control deck. Since we want to use planeswalkers as our main strategy, which often requires a control on the board state, a superfriends strategy and control go hand in hand. Your gonna find the majority of typical five color control pieces in here: wraths, extra turns, spot removal, tutors, etc.
V. Why Sliver Queen?




---




For some Sliver Queen may seem like an obvious choice, but to others, they do not necessarily understand why there may not be a better general that could be printed for this deck.
Let's begin by analyzing Sliver Queen:




Mana Cost - . Okay, so what does that mean? Well it means a lot of things. For one, it means we have to access to all colors, which allows us to play anything we feel fit for the list. Although, with that being said, it too should be noted that five color lists can have a difficult, and expensive, time spent fixing. Casting into five color can sometimes seem intimidating, but once you get into the detail of what Sliver Queen has to offer, you soon realize the benefits out weight the costs. In addition to the colors, five mana for a commander is probably ideal. It allows us to have Sliver Queen sent back to the command zone two or three times before it gets too expensive to cast. What is also important to remember is that Sliver Queen is fine modeling in the command zone, doing what queens do, looking good for the public. She's not a necessity for the deck to function, but more often than not she will help.



Creature Type

- Sliver. This doesn't necessarily have any relevance to the Superfriends strategy, but it can mean something to our deck if we want. Even though slivers are often regarded as an aggressive tribal playstyle, given Sliver Queen's ability, utility slivers can be put to work if desired. BUT, don't forget. Sliver's are also one of the coolest creature types in Magic's history.



Ability

- " : Put a 1/1 colorless Sliver creature token onto the battlefield." The bread and butter of this card. Who knew one line of text could mean so much? As I mentioned previously, if you decided to include utility slivers, you can reap some amazing benefits off this ability. These tokens aren't necessarily something that your opponents can forget about. With cards such as Doubling Season or an Elspeth, Sun's Champion emblem, these tokens can quickly get out of control, putting the game out of reach for your opponents. Last, but not least, what are they going to be doing most? Protecting your superfriends.



Stats

- 7/7. Although this may not come up as much, we should never forget that Sliver Queen is still a five mana 7/7. If we need to, she can easily turn into a three turn clock.
VI. Alternative Commanders




---

Well... say for some reason you didn't want to play Sliver Queen. Who knows, maybe your family was attacked by the Hive so you have some weird hate for slivers. Anyways, you have options, but let me warn you that these options truly do not compare to Sliver Queen.



Progenitus – Progenitus is honestly the biggest competitor to the throne. Amongst all of the other superfriends decks out there, I would suggest that Progenitus is at least the second most featured as the commander, and potentially even more than Sliver Queen. I think this may be because essentially he serves as a win-condition himself, and his sheer awesomeness is just sorta appealing. Although, Sliver Queen's stats trail right behind Progenitus, and besides protection, she offers a lot more value.


Reaper King – Okay, so Reaper King is the best option out there if you were interested in dropping a color (unless you are comfortable playing with a Nephlim) and still being able to cast your commander. I think dropping red could be a viable move, considering it takes up less than ten percent of the deck, but has equal fixing as every other color. Although, I find the red things I do run pretty awesome (c'mon, Nicol Bolas, Planeswalker?), so I would prefer to stay true to the five color theme. Plus, other than that, Reaper King doesn't necessarily help the strategy by any means.


Child of Alara – Right off the bat, the problem with Child of Alara is he takes all of your planeswalkers with him. Say, for example, if he read "... destroy all artifact, creatures, and enchantments", he could very well be the best contender, potentially even taking Sliver Queen's spot, depending on the meta. But he doesn't. So, as for now, I would suggest not running Child of Alara, unless you feel as though it is in your best interest, based on your meta, to use more board wipes.
VII. The Deck List




---


Deck Stats 6/17/2019
Average CMC: 3.52



Sliver Queen's Superfriends: By TypeMagic OnlineOCTGN2ApprenticeBuy These Cards
COMMANDER:
1 Sliver Queen

PLANESWALKERS (25):
1 Elspeth, Knight-Errant
1 Elspeth Tirel
1 Elspeth, Sun's Champion
1 Jace Beleren
1 Jace, the Mind Sculptor
1 Tamiyo, the Moon Sage
1 Tezzeret, Artifice Master
1 Liliana, Dreadhorde General
1 Chandra, Torch of Defiance
1 Nissa, Voice of Zendikar
1 Garruk Relentless
1 Garruk Wildspeaker
1 Narset Transcendent
1 Teferi, Hero of Dominaria
1 Daretti, Ingenious Iconoclast
1 Wrenn and Six
1 Domri, Anarch of Bolas
1 Ajani, the Greathearted
1 Huatli, Radiant Champion
1 Dack Fayden
1 Saheeli, Sublime Artificer
1 Sorin, Lord of Innistrad
1 Vraska, Golgari Queen
1 Tamiyo, Field Researcher
1 Nicol Bolas, Dragon-God

SORCERY (11):
1 Retribution of the Meek
1 Citywide Bust
1 Austere Command
1 Capture of Jingzhou
1 Temporal Manipulation
1 Time Warp
1 Imperial Seal
1 Innocent Blood
1 Demonic Tutor
1 Nature's Lore
1 Skyshroud Claim


INSTANTS (2):
1 Vampiric Tutor
1 Assassin's Trophy

ENCHANTMENTS (12):
1 Martyr's Cause
1 Anointed Procession
1 Humility
1 Oath of Liliana
1 The Abyss
1 Awakening Zone
1 Parallel Lives
1 Doubling Season
1 Oath of Ajani
1 Oath of Teferi
1 Mirari's Wake
1 Assemble the Legion

ARTIFACTS (7):
1 Mana Crypt
1 Mana Vault
1 Sol Ring
1 Sensei's Divining Top
1 Torpor Orb
1 Chromatic Lantern
1 Rings of Brighthearth

LAND (39):
1 Tundra
1 Underground Sea
1 Badlands
1 Taiga
1 Savannah
1 Scrubland
1 Plateau
1 Volcanic Island
1 Tropical Island
1 Bayou
1 Hallowed Fountain
1 Watery Grave
1 Blood Crypt
1 Stomping Ground
1 Temple Garden
1 Godless Shrine
1 Sacred Foundry
1 Steam Vents
1 Breeding Pool
1 Overgrown Tomb
1 Flooded Strand
1 Polluted Delta
1 Bloodstained Mire
1 Wooded Foothills
1 Windswept Heath
1 Marsh Flats
1 Arid Mesa
1 Scalding Tarn
1 Misty Rainforest
1 Verdant Catacombs
1 Reflecting Pool
1 Command Tower
1 Urborg, Tomb of Yawgmoth
1 Gaea's Cradle
1 Kor Haven
1 Karn's Bastion
1 Ancient Tomb
1 Strip Mine
1 Maze of Ith


Change Log




---
VIII. Strategy




---

Early Game



A five color list comes with a little bit of mandatory on early game fixing. Your initial hand should feature at least three lands, probably even four, and you want as many as those to be fetchlands. Fetchlands are going to give you the accessibility to any colors as you draw into spells. If you don't necessarily have a specific focus to go with, remember that the majority of color requirements the list goes in this order: blue, white, black, green, and red. With that being said, I would suggest to try and get to the point in which you can generate any color mana, and then move on to getting two sources of the colors that need it the most. Other great cards to tutor for or draw into during these stages of the game is Chromatic Lantern, Command Tower, or Mana Confluence.


Going along with fixing, use some of the early game focus to ramp up with spells like Farseek and Nature's Lore. This will help facilitate large early game plays such Nicol Bolas, Planeswalker. Also, don't forget that Wargate can ramp, for any land, at three mana. This can grab something like Command Tower in case of fixing, Kher Keep for some token production, or Maze of Ith to keep your planeswalkers protected. In addition to the traditional Rampant Growth-like cards, we have other means of ramping such as Garruk Wildspeaker and Kiora, the Crashing Wave.


Another resource that needs to be taken care of during early game is utilizing the ability to draw, to begin establishing a greater foundation for the bridge to mid game.
Amongst everything that's in the deck, the best tools for establishing card advantage is the different iterations of Jace planeswalkers. When tutoring for one of the Jace iterations, I would suggest evaluating who you're playing with. If you expect that your meta is cut throat, I would suggest sweetening them up with a Jace Beleren activation every so often. If during the early game the players your meta are more focused on establishing their own board position, the best answer for gaining card advantage is Jace, the Mind Sculptor.

Early-Mid Game Transition

As the game starts to progress, and players begin to build their board state, don't forget to take steps to ensure you will transition smoothly from early game to mid game and have resources in place in case of some type of mass removal.


This is where being a superfriends list is really going to benefit you. There are various planeswalkers that really help provide you value, and essentially card advantage because your investing one card into multiple activations, during this point in the game. Cards like Liliana Vess, Kiora, the Crashing Wave, Dack Fayden, etc. are all fairly cheap and castable at this stage in the game, and can really start helping you amass a board state. Liliana will provide you insane card selection, every time she has two loyalty to spare. Dack Fayden as will help you filter through unwanted cards, such as lands you can pitch and recur off of Crucible of Worlds, or steal someone's Sol Ring. It obviously all varies on the situation you are in, so I would suggest that it is always a fine move to go ahead and tutor for Garruk Wildpseaker at this point in the game, considering he will certainly put you ahead, letting you go on casting your big splashy spells, such asUgin, the Spirit Dragon, a couple turns early.


A key card in this list, to ensure constant land drops and to thin your deck, is Crucible of Worlds. With all ten fetchlands this is essentially an auto-include. Also, don't forget the very powerful interaction between the fetchlands and the Brainstorm-like effects we run such as Sensei's Divining Top and Jace, the Mind Sculptor. Landing Crucible of Worlds will help you consistently hit a land drop, fix your draws, and thin your list. THAT is why this is so amazing during this time of the game.

Mid Game

Okay, the game has been going on for a little while and everyone's agenda is essentially beginning to unfold. This is the time when we need to begin landing our Doubling Seasons, The Chain Veil, planeswalkers, and ways to protect them.


This is also the time that Sliver Queen and our other forms of token production is going to begin fulfilling their role. Usually this is the time you have around three to four planeswalkers on the board, and you need something to get in your opponent's creatures way. I only suggest this is if you're facing down fatties without trample, and have no other means of investing your mana into to protect your planeswalkers. In addition to producing tokens, if you want to put pressure onto your opponents, you can always cast Sliver Queen and starting attack for seven.


As said, this is the time we have a number of planeswalkers on board, and other than tokens, another way to protect them is sweepers. Sweepers like Hallowed Burial or Merciless Eviction are going to ensure we can get rid of pesky commanders and indestructible creatures, in addition to preventing any recursion. Austere Command can be a little one-sided if we have a massive army of tokens on the battlefield, or to pick off all of those artifacts that pesky blue player has on board.


Lands like Kor Haven and Maze of Ith are going to outright fog your opponent's largest threats. You don't really want to spend four mana for a sorcery speed on a single token to have your Elspeth, Knight-Errant eaten up before next turn.


Landing some of the most disrupting permanents in the format, Humility and Torpor Orb, is going to ensure the survival for your planeswalkers. Both of these cards, especially Humility, are going to be devastating if not answered. Also, these effects are essentially one-sided because the only creature we run is Sliver Queen.


We also have to be a little careful of our life total. With all ten shocklands and fetchlands, cards like Bitterblossom and that player playing the annoying "Dah! Big N' Stompy" deck sitting next to you, our life total can begin to dwindle. So, if you have to, let a planeswalker take a hit so you can save a Maze of Ith for yourself.

Winning

Winning the game is going to come in multiple forms with this list, and changes for each of your match-ups. Below listed is the primary forms of winning the game.


One of the most obvious ways to win the game is through different forms of ultimating planeswalkers. Now, none of our planeswalkers actually read "You win the game.", well, Vraska sorta does that, but she's not even in the list. But that doesn't mean we will achieve the victory through these guys. Some of the planeswalkers will allow you to win through beating face, some will be through a ridiculous ability and others will just cause your opponents to scoop. A lot of superfriends list tend to rely on Jokulhaups effects to close out games when you have a board full of planeswalkers, but I'm just not a fan of redundancy in my games, so I leave those effects out. We have plenty of ways between our planeswalkers to win the game.


In addition to just ultimating your planeswalkers, slowly amassing various types of greater board positions over your opponents, through the value planeswalkers provide, can often lead to concession or just eventually putting your opponent's life totals to zero.


Commonly you will win the game through just a massive arsenal of tokens. Landing Doubling Season will not only help ultimate your planeswalkers early, but will also help you create this massive army of tokens. With cards like Elspeth, Knight-Errant, Elspeth, Sun's Champion, Bitterblossom, and the general Sliver Queen, it is not that difficult to put lethal damage on the board. Also, keep this strategy in mind throughout the game, doing things such as using Sorin, Lord of Innistrad to create a few anthem emblems.


Beating with Sliver Queen. Although it is a little unorthodox, she is a three turn clock. Also, with pump effects such as Elspeth, Knight-Errant, she's likely to take less turns to hit for lethal.

Doubling Season & The Chain Veil

Ultimately, these two cards really help take the deck from a steady attrition based control deck that provides card advantage as you find your path to victory, to a deck that just explodes and is just completely oppressive. While The Chain Veil has been recently removed from the list, I will leave the explanation of the card and its functions in this section since it is still a staple for many superfriends lists.


Doubling Season - For those who are unaware, one of the most exciting interactions between planeswalkers and any other card in the game is that of their interaction with Doubling Season. Upon entering the battlefield, the loyalty counters listed at the bottom right of the planeswalkers are placed on the planeswalker. This means that the planeswalkers will enter the battlefield with double the amount of counters that they would have originally. This is because one of the abilities of Doubling Season states that "If an effect would place one or more counters on a permanent you control, it places twice that many of those counters on that permanent instead." Now, compare that knowledge to many planeswalkers such as Elspeth, Knight-Errant, Jace, Architect of Thought, Liliana of the Veil, Ugin, the Spirit Dragon, and the list goes on. All of these planeswalkers have ultimates that are just back-breaking for your opponents, all at double or less than double the amount of loyalty counters they will originally enter the battlefield with. This means that you are able to activate those insane, swingy abilities with just the cast of the planeswalkers.
NOTE: Remember the Doubling Season only affects the amount of counters placed on a planeswalker when the planeswalker enters the battlefield. When a planeswalkers ability is activated, you do not put double the amount of counters on the planeswalker. This is because putting loyalty counters on a planeswalker is a part of the cost of the planeswalker's activation, not the effect.



The Chain Veil - The other staple for planeswalker based list. The Chain Veil, which is less subtle in its effectiveness, is another card that is obviously tailored made for accelerate our deck from 0 to 100 immediately. Unlike Doubling Season, The Chain Veil provides a much more slow, and satisfying, win, yet still oppressive. With at least three planeswalkers on board, casting into a Chain Veil with four mana to activate it, you are almost certain to put yourself in a position to win the game. Take for example you cast The Chain Veil, you have Kiora, the Crashing Wave, Liliana Vess, and Ugin, the Spirit Dragon on board. A set-up such as allows for an insane play that I would image would follow like this:

- Activate Ugin, either bolting an opponent or picking of an X/3 creature
- Activate Kiora, preventing something from dealing damage this turn, which protects the set up for Ugin
- Activate Liliana, tutor for something to also protect Ugin
- Activate The Chain Veil, so that you are able to activate your planeswalkers abilities agian
- Activate Ugin again, now he's at least 9 loyalty, one away from ultimate
- Activate Kiora to draw what you tutored for with Liliana
- Activate Liliana again so that the next turn you'll be able to play it with Ugin's ultimate

That is just one example of a most likely game winning interaction with The Chain Veil. Also, don't forget that similarly to Doubling Season, The Chain Veil helps you steadily tick up loyalty counters to put you into a winning position.


Temporal_Archmage's CMDRDecks Deck Tech FiddlerTheDrum's MTGO Gameplay