ElliotS
Join Date:

11/30/2012

Posts:

853

Member Details
Horde of Notions 5c Goodstuff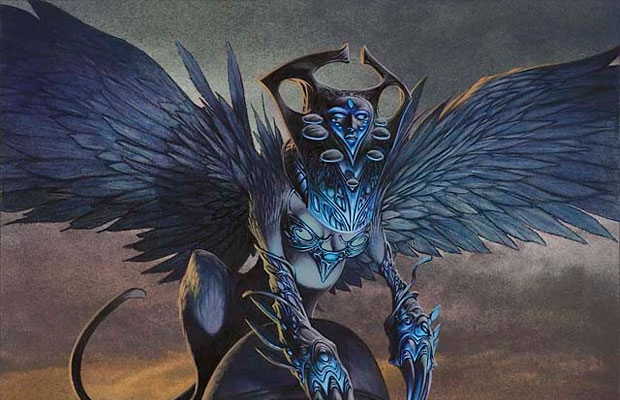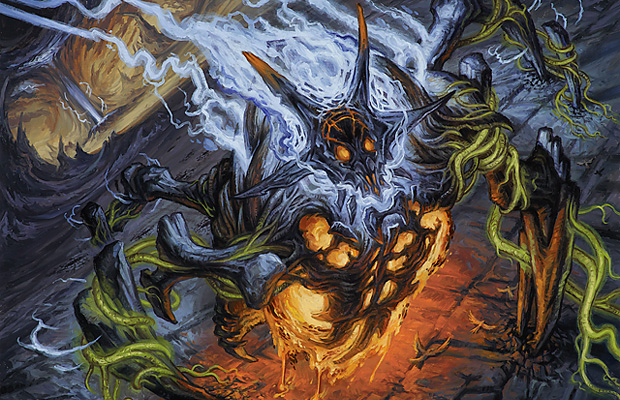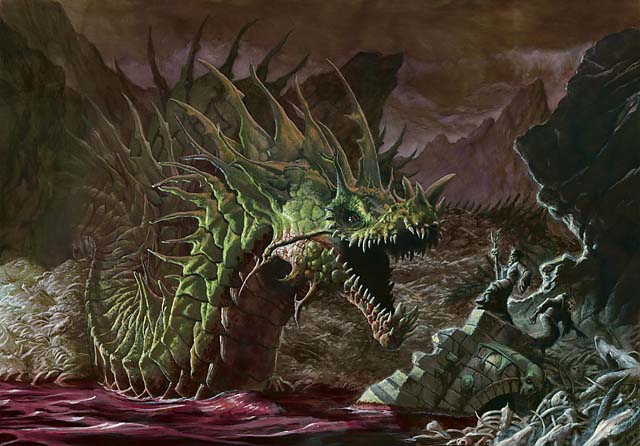 Why to play this deck:
- You like to swing big fat creatures at people
- You enjoy a deck that is resilient enough to win through heavy disruption and boardwipes.
- You love running 16 spells of 7 CMC or more, making things like
Chaos Warp
ing
Mirari's Wake
often backfire.
- You want a deck that truly embraces 'the spirit of EDH' without suffering for it.
Why you might look elsewhere:
- You play versus a lot of combo with little removal. (We can probably stall and kill the average Sharuum or Azami player before they can go off, but versus 2-3 dedicated combo decks we're unable to stop them all.)
- You don't enjoy swinging fat creatures at your squishy opponents.
- You're unable to focus on the biggest threat, and/or have bad threat detection. (If you're swinging equally against snake tribal and Azami Combo, you're going to lose a lot of games.)
Remember that in this deck, almost every card is either capable of doing more than one thing or great at what it does.
Thus if you're unsure why I have so few creatures listed under beaters look at the other categories, a 6/5 Creature with Fear beats hard, but its ability allows it to be removal too, so I listed it there.
While the high average cmc of 4.6 including the general might make you think this is a slow deck, it's actually consistent and pretty fast. While early aggro might be seen as a problem, I have enough lifelink cards to stabilize and take over.
Card Choices:
General
Horde of Notions
: If you've tried
Progenitus
as a general, you'll know he almost never actually drops due to his color intensive and expensive mana cost. Horde drops easily, and is great as killing with General Damage. I suggest picking a target for him, and another for your fatties so you don't waste the general damage.
His recursion only affects a few cards here, but it's not the main reason you want him. (It helps though!)
Beaters
Serra Ascendant
: Brokenly Good Early, Best T1 drop here.
Spellbreaker Behemoth
: Few things scare Azami more than this followed by more fatties.
Dack's Duplicate
: What's better than
Sphinx of Steel Wind
?
Sphinx of Steel Wind
with Haste and Dethrone. What's the cmc though? 4! Wow.
Scourge of the Throne
: At worst you're hitting people with a 5/5 dragon and have the highest life total. At best you're going to have the highest life total soon.
Gisela, Blade of Goldnight
: Aside from the obvious beatdown she provides, she shuts
Niv-Mizzet, the Firemind
,
Nekusar, the Mindrazer
and like
500
other
wincons
down HARD. (If you don't get it RTFC. She
prevents
half, rounded up, so 1 damage pings turn into 0.)
Spearbreaker Behemoth
: So far he's worked great as a way of making people unable to kill or block your fatties, so he's gold in my book. You'll never see a
Wrath of God
while you have him and a few mana open.
Sphinx of the Steel Wind
: Heals you while he hurts the enemy and provides a steel wall of defense!
Avacyn, Angel of Hope
: You win my week's internets if you flash her in response to
Planar Cleansing
via
Prophet of Kruphix
.
Kozilek, Butcher of Truth
: Anti-Mill, Draws Cards, Destroys Boards, Ruins Faces and is totes my BFF!
Buffs
Civic Saber
: Makes your General a 10/5 for easy 3 swing kills. Tiny mana investment for a big gain!
Boros Charm
: Double Strike to secure a kill, or indestructibility to turn a boardwipe one-sided.
Behemoth Sledge
: An allstar on
Retaliator Griffin
, it stabilizes life and adds threat to any creature it's on. Too bad it doesn't make creatures with lifelink give 2x life anymore.
Urabrask the Hidden
: Gives you haste and makes your opponents unable to kill you instantly with infinite tokens.
Earthcraft
+
Squirrel Nest
never seemed so silly. The fact that they can't play surprise blockers and you get a turn to decide if you want to remove a creature is just extra.
Recursion
Sun Titan
: He's a great beater with the ability to bring back fetches at worst for late game ramp. Given you're likely to be getting 2 mana per land tap later, it'll let you continue to play high CMC cards and keep mana open for responses.
Sheoldred, Whispering One
: He does a lot of damage, both to their fields and life, while making them with they hadn't "wasted" that removal on
Vorinclex, Voice of Hunger
.
Charnelhoard Wurm
: With the buffs in this deck hitting with this guy is pretty easy, and with the mana ramp and
Omniscience
playing what you get it easier. I wish there were more cards like this!
Card Advantage
Not all of the card advantage comes directly from card draw, but I have a lot of cards the improve quality of the cards you draw and give you free spells on cast. That's why I chose to title it Card Advantage.
Demonic Tutor
: I don't think I need to justify this. It's like if the blank scrabble piece was worth 50 points.
Vanish into Memory
: This is my favorite card of all time. If you've never used it before, wait till someone tries to Go for the Throat your
Retaliator Griffin
and you respond by drawing 20 cards and discarding two later, while saving him. Or try using it on Spark Trooper, drawing 6, discarding one and getting another swing out of him.
I've got a whole thread about this card, I recommend checking it out:
http://forums.mtgsalvation.com/showthread.php?t=567283
Etched Monstrosity
: Aside from drawing you a lot of cards and being a 10/10 beater after, he's a great
Vanish into Memory
target, because he'll come back as a 5/5.
Maelstrom Nexus
: You can tutor
Claws of Gix
by playing a 1 cost card, or just playing
Maelstrom Wanderer
and have triple cascade, getting
Enigma Sphinx
for Cascade-ception. You'll get all sorts of cool stuff for playing responses on opponent's turns too, so that's cool.
Rush of Knowledge
: What kind of deck runs enough high CMC permanents to consistently make this give you 7-10 cards? Oh yeah, this one.
Memory Jar
: Disrupt your opponents, get a full grip of cards to play and recurs with
Sharuum the Hegemon
. What's not to love? Be sure not to play land for turn before using it.
Enigma Sphinx
: He cascades, beats and is kinda like robot-cat-bird-jesus with his ability to come back three cards later.
Prime Speaker Zegana
: The card advantage god! Turns into a huge fatty that gives you tons of cards as it hits, and therefore triggers things like
Where Ancients Tread
favorably.
Sphinx of Uthuun
: Fact or Fiction is a great card. Maybe the best legal draw spell. This is that card on a 5/6 body. the 6 toughness gives you the ability to survive 99% of fliers in my experience, and the 5 power makes them die and any hits he deals hurt a whole lot.
Wild Pair
: It's a repeatable tutor that brings them onto the battlefield. We have enough creatures that you'll rarely fail to find something. It's pretty great.
Myojin of Night's Reach
: I wasn't sure if this should be in CA or Removal, but the fact is that it belongs in the deck. If it's hardcast and resolves it's almost guaranteed to win you the game.
Maelstrom Wanderer
: Aside from granting haste and giving you two free spells, he also offers the ability to be recurred with cascade triggers intact with
Horde of Notions
. Talk about value!
Jin-Gitaxias, Core Augur
: The one stop whine shop! He'll draw you so hard you may need to discard, plain make your opponent's discard or scoop and has flash for those fancy smart players.
Removal
Qasali Pridemage
: He's great for giving your general a boost on his first attack, allowing for a potential 4 swing kill. The removal is great too.
Counterflux
: We're not going to win a counterspell war, so let's head that off at the pass.
Render Silent
:
Maelstrom Wanderer
won't know what hit him! This is honestly one of my favorite counterspells ever now. Try it out!
Bant Charm
: Tucks generals, avoids grave-hate, breaks artifacts, counters Cyclonic Rift and more. It's one of the best removal cards in the format.
Crib Swap
: Horde of Notions can recast this any time for 5 mana, so their general can look forward to being a lot of 1/1 Merfolk Bird Advisors.
Putrefy
,
Mortify
: Very Solid Removal.
Krosan Grip
: A staple in almost any deck running green! It's one of the best removal spells printed for EDH, and is one of the few cards able to stop a lot of infinite combos even with counter backup! You can blow it on
Sensei's Divining Top
in 1-on-1 and tell them they need to go topless too.
Where Ancients Tread
: Worse Warstorm Surge is still good enough to run.
Warstorm Surge
: One of the best cards here! Removal + Nuke is great, but the fact that the creature deals the damage means that lifelink creatures can quickly erase a life deficit!
Gruul Ragebeast
: Fatties enter, and now land on the smaller creatures. Seriously, this is kinda hard to backfire in this deck.
Ashen Rider
: This is one of my new favorite cards. The value from him makes him a top reanimation target, and he's gotten me out of a lot of sticky situations. Seriously sexy flier.
Avatar of Woe
: It should say CMC: 2, but I can deal with that because of
Rush of Knowledge
. It's a 2 mana 6/5 with evasion and built in powerful, reusable removal, how can it not be great?
Overwhelming Forces
: We like our board, but sometimes the opponent's got a better one. Wrath of God might be nice, but we love our board! Why can't we have our cake, and eat it too? WE CAN!
Lavalanche
: How is a one sided boardwipe that also burns the player not great?
Ramp
Sol Ring
: It may produce colorless, but it's still Sol Ring!
Chromatic Lantern
: How could an artifact that makes every land
Command Tower
in addition to it's original effects, doesn't help my opponents and gives me another mana itself help my 5 color deck? /sarcasm
Burnished Hart
: Great synergy with
Sun Titan
. The two lands from this really helps hit critical mass.
Fertilid
: Ramps land at instant speed, so you can keep mana open to respond! Also is an elemental, and easily recurred with your general!
Sword of Feast and Famine
: Our general is now a 3 hit kill, and becomes an amazing blocker. This is some of the most synergistic equipment available! Thanks to Volango for this and other suggestions!
Kodama's Reach
,
Cultivate
: Secure a land drop and ramp!
Knight of the Reliquary
: Aside from grabbing Gaea's Cradle and perfectly fixing your mana base what good is she? She gets huge biceps from all that work and beats them to death with old trees and stuff!
Skyshroud Claim
: Ranger's Path is amazing, and this is strictly better. Seriously, who doesn't want 2 lands out untapped for only 4 mana?
Academy Rector
: Oh, hello
Omniscience
! Just don't play him unless you can also kill him that turn, because people can stop him if they have time to prepare.
Rangers Path
: Grabbing 2 shocks is a painless play here.
Defense of the Heart
: While not exactly Ramp per se, it's amazing. Either your opponents use removal on it, hurt their tempo and play around it, or give you a free win. (
Avacyn, Angel of Hope
and
Jin-Gitaxias, Core Augur
are only one combo that rocks.)
Prophet of Kruphix
: This enables not just playing your hand, but playing very smart. Don't fall into the common trap of playing all your threats with the mana. Play enough to beat people down and hold the rest!
Mirari's Wake
: More mana? Check! More punch? Check!
Maelstrom Archangel
: Evasive Beater that plays fatties for free and not able to be conventionally countered? Sounds good!
Gilded Lotus
: Do I need to explain how solid this is?
Vorinclex, Voice of Hunger
: Punches, Ramps and Destroys Tempo. While the jump from 8 to 16 mana isn't that big in some decks, we'll utilize him fully!
Omniscience
: Free everything, Game Winner, Top Dog. Too bad I can't run 4!
Sac Outlets
Claws of Gix
: This comes out off of any 1 drop with
Maelstrom Nexus
out, and I'd much rather gain a life than let them have my
Avacyn, Angel of Hope
.
Ashnod's Altar
: Optionally replace with
Phyrexian Altar
. I used this because it was sitting around.
Lands
The shock duels are important. They'll keep your from getting color screwed. Their land-types are the most important part, so don't try to skimp and use guildgates, or you'll have a harder time getting your colors fixed.
Arid Mesa
,
Marsh Flats
,
Misty Rainforest
,
Scalding Tarn
,
Verdant Catacombs
: Fetch any color in combination with shock lands. Duals would make these even better, but our deck packs plenty of lifegain so we should stabilize from a few cases of 3 self damage.
Krosan Verge
: This is ramp in a land! Note that these don't need to be non-basics, so grab whatever colors you need!
Shinka, the Bloodsoaked Keep
: Making horde even harder to block is always a good thing. Occasional political plays and other creatures in our deck are just a bonus.
Rupture Spire
,
Transguild Promenade
: Great Turn 2 lands, as we normally don't do much turn 2.
Command Tower
,
Reflecting Pool
: Both tap for 5 colors, and enter untapped. Simply amazing.
Exotic Orchard
: We have 5 colors, so this is always a good land.
Mosswort Bridge
,
Spinerock Knoll
,
Windbrisk Heights
: Free Stuff? Sure!
Gaea's Cradle
: Does this need explanation? If you're budget you can swap this for almost anything, but Temple of the False God is pretty good.
--------------------
Testing / To Test
Nicol Bolas
:
Wit's End
on a huge, dragon-shaped, stick.
Tsabo Tavoc
: The format is full of legends, and with first strike the 4 toughness isn't really a handicap. TESTING.
Sliver Queen
as General: Killing in three hits is awesome, and
Skullclamp
is better than spark trooper. It's a good swap on paper, but I'll need to try it out IRL.
Please feel free to suggest some more!
Cuts, Exclusions and Failed Tests
Bloom Tender
: Dies to removal isn't a valid argument for most cards, but this guy gets blown over by a stiff breeze and rarely seems to last 2 turns. that's probably because my meta is Niv, Drana and removal heavy.
Fist of Suns
: Even after winning because it made an easy turn 5 omniscience with no ramp, I feel this is a weak card. It's not useless (especially because it ignores general tax, but it's not good enough for goodstuff.
Bloodgift Demon
: We'd rather play our general or a lot of our other guys than him, so he often sat in our hands. Not to mention that when cast, he provides only minor benefit a turn later and isn't a huge beater for the cost.
Solemn Simulacrum
: Sad robot tends to come in at an awkward time, doesn't add to the beatdown and isn't a relevant creature type. Too bad, so sad.
Time Stretch
: It's win-more.
Abrupt Decay
: I've yet to have problems with control and combo isn't big in my meta, so this just ends up having no good targets.
Bant Charm
is amazing.
Taken out for Fetch Lands to sync with
Sun Titan
.
Original Duels: You got that kind of money? I don't.
Wondering why I don't run a card? Feel free to ask! Try to search the thread first though, in case people have asked before.
Last edited by
ElliotS
: Oct 22, 2014