MCR
Location:

Southern California

Join Date:

9/3/2008

Posts:

802

Member Details
Nekusar is his own archetype too: Chaos Ramp Combo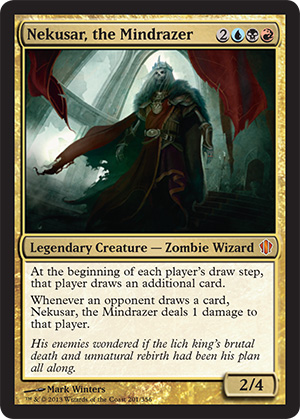 ---
Basic Strategy
1. Ramp into wheels. Wheels draw into more ramp, etc etc.
2. Cast Nekusar and pain permanents.
3. Setup heavy wheeling to burn or poison opponents out.
Broken Paths To Victory
A.
Dream Halls
Perhaps the most busted card in this deck, having this in play means you are well on your way to victory. Wheeling draws you a ton of cards, which you can then play for free, allowing you to effectively power through the majority of your deck with ease. Important support card:
Teferi, Mage of Zhalfir
.
B.
Mind Over Matter
A powerful enabler that allows you to untap artifact mana and lands at a whim. Paired with the heavy amount of card draw, MoM performs a similar role to
Dream Halls
. Less risky, but not as broken. This enchantment also creates nearly infinite mana artifact ramp cards, and has its own infinite with
Temple Bell
.
C.
Hive Mind
An enabler in the sense that you'll cast less wheels while this is in play. Cast a single wheel, and deal up to 28 damage with Nekusar in play. Note that this card is dangerous, and I wouldn't cast it until you're ready to go off.
D. Infect Poison (
Tainted Strike
/
Phyresis
/
Glistening Oil
)
An alternative method to winning via burn. These are cheap enablers that also reduce the cost of winning by a large margin. Cast them on Nekusar before performing two wheels. This is by far one of the riskiest plays - I may end up taking these out if it's too easy to deal with Nekusar.
E.
Notion Thief
EOT flash this guy in and draw up to 28 cards with your next wheel. From there, you can proceed to win via
Psychosis Crawler
or by setting up a big wheeling turn and then bouncing
Notion Thief
to your hand with
Chain of Vapor
.
Things to Keep in Mind
This is a chaos combo deck. Don't fall in love with your hands. If there's a pain card, and it's not convenient to cast, don't be afraid to wheel it away. The point is to build large amounts of mana first. Due to the random nature of the deck, you can't expect to have a linear game plan at all, so embrace what the heart of the cards gives you.
Additional Ideas
Disruptive elements could be added to the deck as well. Thinking of:
Arena of the Ancients
Torpor Orb
Cursed Totem
Stranglehold
Land Equilibrium
They were once in the deck but were now taken out to add in more acceleration.
Last edited by
MCR
: Nov 20, 2013