Vash9177
Location:

United States

Join Date:

4/8/2011

Posts:

579

Member Details
After seeing the new addition I started to brainstorm a list for our new Dragon Commander. I know he has some combo potential but I wanted to take him in a direction that was more token and sacrifice themed, to create a more grindy game. So without to much more fluff here is my current build.
Decklists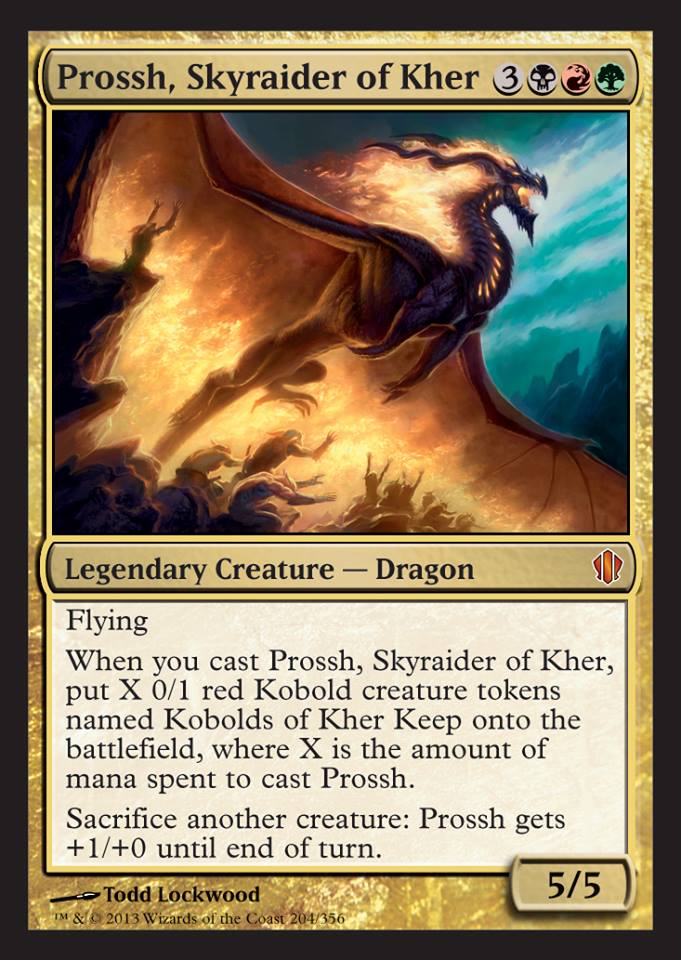 Why Play Prossh
Prossh is a very strong and hard to answer card and when he is answered you get more value the next time you cast him. Since you get the tokens when you cast him Enter the Battlefield hate won't stop you from getting tokens. Having Flying makes it easier for him to get to the red zone and he can pump by saccing anything other than himself which can make him very dangerous.
I wanted to keep him a creature heavy build with ways to keep resurrecting those creatures. So to profit off this idea and his ability I tried to pick the best creatures that make creatures and sac outlets that are easy to abuse.
Like most card Prossh has his pros and cons
Pros
-His ability is on cast so even if he gets countered you get value
-Comes with built in evasion
-Built in sac outlet that pumps him
Cons
-At I would not consider him cheap
-A 5/5 body isn't bad but your going to need to be pumping him if you don't want to take 5 combats to kill one person
-He can't sac himself
Other Generals
Adun Oakenshield
Has a repeatable recursion effect which can make this color combination even more consistent but I don't think he fits the token theme very well.
Bartel Runeaxe
A cool legend but his abilities are a bit narrow.
Darigaaz, the Igniter
a 6/6 for in the command zone isn't bad. His ability isn't super strong but he seems like a decent aggro commander.
Karrthus, Tyrant of Jund
Powerful in many areas. A bit expensive at but a 7/7 with evasion, haste, and an effect that could be built around is pretty impressive. He's great for dragon tribal or even at the head of a good stuff deck, just watch out for clones
Kresh the Bloodbraided
A very solid voltron general that can get huge very quickly, 21 power isn't very hard to get to with him. Might not be bad for a token strategy but I think that would over centralize him a little to much.
Sek'Kuar, Deathkeeper
I would say he is the runner up for a token deck in these colors. His ability wants you to run more actual creatures but the tokens he puts out are 3/1's. He is much easier to stop than Prossh but if you rather have a general that was costed at instead of he is really solid
Vaevictis Asmadi
Flavor points for being an elder dragon and while he is expensive he gives you something to do with most of your mana.
Xira Arien
Cheap and an interesting ability for , she is very efficient but dosen't lend anything to the token theme.
Card Choices
Token Generator
(15)
Token Support
(17)
Sac Outlets
(8)
Ramp
(7)
Removal
(6)
Utility
(14)
Notable Exclusions
Food Chain
- This plus Prossh gives you unlimited colored mana for creature spells
Mana Echoes
- If you have no other dragons or Kobolds out when you cast Prossh for the first time this nets you which is a tad cheesy :tongue:, for a side note a second casting of him on an empty board gets you
Can't wait for the big Dragon to come out, already tired of the proxy of him