Ninja Bob

Join Date:

7/1/2011

Posts:

1,377

Member Details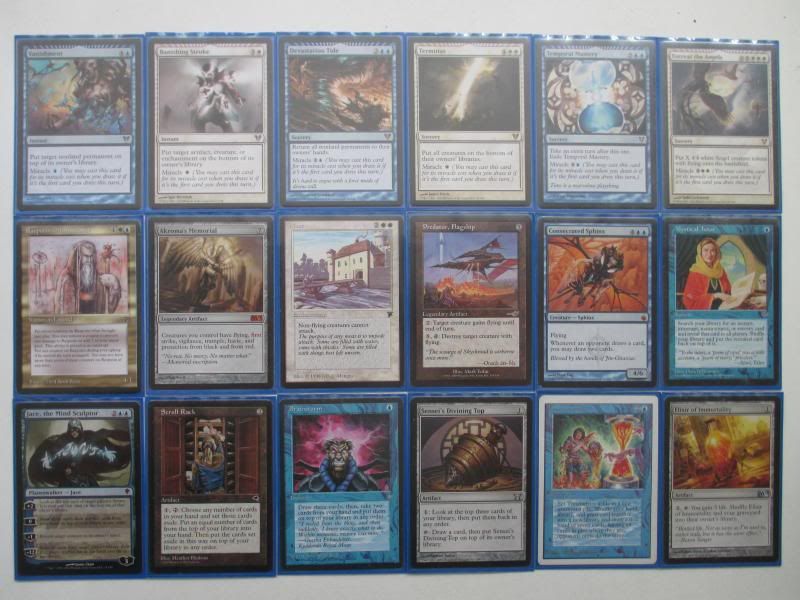 ~ UW Miracles ~
The Miracle Deck
I've always liked miracles. And it turns out that all six of the blue & white miracles are perfectly suited for Commander:
Terminus
&
Banishing Stroke
tuck creatures on the bottom,
Vanishment
tuck things on top,
Devastation Tide
bounces all nonland permanentts,
Temporal Mastery
gives you an extra turn, and
Entreat the Angels
is a really good win condition.
Why Rasputin Dreamweaver?
The combination of
Rasputin Dreamweaver
,
Entreat the Angels
, and
Akroma's Memorial
is the reason you want to play this deck. All 3 are powerful cards on their own, any one of them combos with any other, and if you ever get all 3 online, someone is about to get wrecked. With a light flicker theme, a heavy
Moat
theme, and plenty of card draw & library stacking, the deck stalls with ETB effects while ramping and winning with fliers. (I've considered dipping into red for
Bonfire of the Damned
, but there just aren't any good UWR generals to choose from. Rasputin has such great synergy with the rest of the deck that Bonfire will have to wait until a suitable general is printed.)
What type of deck is this?
When building and tweeking the deck, I have a few rules which I think are important for the deck to remain a "miracle deck" and not just "UW good stuff" deck that happens to have miracles. The miracles already give the deck excellent spot removal, board wipes, an extra turn, and a win condition, so I intentionally decided not to include other popular UW spot removal (Swords to Plowshares, Path to Exile), wrath effects (Wrath of God, Austere Command, Cyclonic Rift), extra turns (Time Warp, Time Stretch), or token generating win conditions (
Decree of Justice
, White Sun's Zenith). Because of these restrictions, the entire deck focuses on building up a lot of mana, searching for entreat, casting entreat, and then recycling entreat. These deck restrictions also helps to skew the deck away from being a dedicated Rasputin flicker combo deck. There are a few flicker effects in the deck, but not many. This isn't a UW good stuff deck and it's a not a flicker combo deck. This deck is a control deck that can grind out games with the best of them and can still go for that big splashy win.
How does this deck win?
The deck has 3 main win conditions:
Entreat the Angels - Ramp for as much mana as possible to cast as large of an entreat as possible, as an EOT miracle if possible, with Akroma's Memorial on the battlefield if possible. (a.k.a. the miracle win)
Akroma's Memorial, Stormtide Leviathan, Elesh Norn, Grand Cenobite, Sun Titan - Cobble together enough other threats to deal enough damage to win through normal attacks. (a.k.a. the normal win)
Jace, the Mind Sculptor, Venser, the Sojourner, Karn Liberated, Moat, Predator, Flagship, Maze of Ith - The deck has enough defensive cards to protect your planeswalkers long enough to try an ultimate one of them to victory, even against multiple opponents. You can even sneak in a Temporal Mastery for double activations if that will put you over the top. (a.k.a. the planeswalker win)
Let me start off first by saying that this deck is intended to be the last Commander deck I ever build. I've already sold off most of my collection on eBay. I had thousands of dollars worth of cardboard sitting on my shelves that I barely even used anymore. I have bills to pay, so it felt like the right time to let go of the game. And yet, I want to hang on to
something
-- at least one deck. And for me, all of this means that the deck must meet some long term criteria:
It must be fun to play with. -- This might be the most difficult deck to pilot that I've ever built, Commander or otherwise. Every decision you make with Sensei's Divining Top, Brainstorm, Ancestral Knowledge, Scroll Rack, and JtMS is huge in how efficiently you are with your mana based on what your opponents will be doing in future turns. Every scry and flicker has at least 2-3 things to consider. Setting up miracle mana is one thing and deciding whether or not to pay for a miracle's alternate casting cost is another. Planeswalkers with multiple abilities, charms with multiple modes, and even cumulative upkeep cost considerations all require a second thought. There are actually very few win conditions in the deck and navigating the deck to get to those win conditions is different every time. My hope is that this deck will take years to learn how to play properly.
It must be fun to play against. -- I'm all for being as Spikey as possible, with as many broken interactions, and infinite combos as you see fit. But for me, it's just not something I want to do every time. I enjoy playing those decks, but sometimes even I need a break from them. For a deck that is supposed to the last I ever make, this deck had to be as "EDH friendly" as possible. There are no infinite combos, no mass land desctruction, and very few counter spells. With the exception of Moat, there are no prison or pillow fort cards. When you get down to it, the deck is just ramp, card drawing, tutoring, acting & reacting to threats, and eventually getting to the deck's bombs to try and win the game. It interacts with other players without completely screwing any other single player over.
It must be expensive. -- I might be a little bit of a snob over this last point, but I've played MTG for ~20 years and I love the how revered some of the older cards are in the eyes of most players. This deck features some of the most expensive and hard to find Commander legal cards out there like JtMS, Mana Drain, Moat, and Timetwister. After selling off most of the rest of my collection (except for a Ravnica Cube), I've funneled a lot of the money I made back into this deck. I enjoy playing with expensive cards.
This is a deck with a lot of synergy, it's very grindy, and it wins in a very "fair" way while still slapping people around with some of the most expensive & powerful cards ever printed. If that sounds like something you want to play, this deck might be for you too.
Early-Mid Game
Ramp with artifact mana, set up future draws by manipulating the top of your library, and play early defensive creatures. Continue with flicker shenanigans on small ETB creatures and don't be shy about setting up some early miracles to delay the game long enough for you to get to Rasputin Dreamweaver. (Note: With the right draw, it's possible to get a turn 2 or 3 Rasputin on the board, launching you right into the deck's "late game.")
Late Game
The late game begins once you hit 6 mana and Rasputin first hits the battlefield. Ideally, the turn Rasputin is played you'll also be able to drop a
Akroma's Memorial
or
Karn Liberated
. Sometimes it's also correct to drop Rasputin when you have or available to flicker for protection. From here you'll either be able to beat down with some big fliers or set up an Entreat the Angels were x=6 or so. Reset the board with Terminus or Devastation tide if things get out of control and make sure to keep recycling your miracles with Elixir of Immortality and Timetwister.
Super Late Game
This deck has a "super late game" scenario that is somewhat unique and it all has to do with
Ancestral Knowledge
. On the surface, you can cast it to dig 10 cards deep and search for an answer to the current board state -- but that's not all. Whenever Ancestral Knowledge enters the battlefield, you are exiling 7-9 cards from your deck. With help from cards like Elixir of Immortality, Timetwister, Flickerwisp, Venser, Sun Titan, and Devastation Tide, you can bring it back over and over again. Eventually, you'll get your library to the point where the only cards left in the deck are the bombs you need to win the game, including Elixir of Immortality, which will help you recycle those bombs indefinitely.