GotJank

Location:

Styx's House

Join Date:

10/6/2012

Posts:

370

Member Details
Hi all! Back again with another Jund deck... I think I have an addiction.
Anyways this deck is supported by a good amount of token gen, a salvaging station package, moderate amount of removal/graveyard hate, sac outlets for shenanigans, and the general that sums it all up.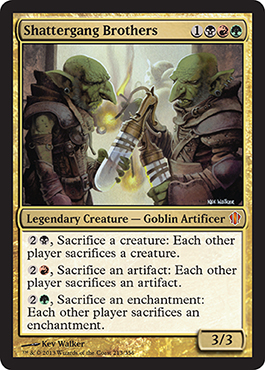 Shattergang Brothers has a very straight forward group of abilities that require a little bit of thinking outside the box in order to do some work with them. To do this I run a good amount of token gen. I didn't want to load the decklist with token gen though, so instead I chose a group that I felt didn't give me an overabundance but still fueled the machine; an example of this would be
Awakening Zone
. I also am trying to run as many artifact creature token gen as possible; one of them is
Spawning Pit
; which also functions as a sac outlet. To back up the artifacts I run a
Salvaging Station
package and
Trading Post
for artifact recursion. The enchantments were a little bit harder, but
Hammer of Purphoros
offer all three of the per-requisites to trigger one of Shatterbros abilities. Otherwise I run enchantments that are auras that come back to my hand without triggering a creature's death; for instance
Rancor
.
Apart from the general specific cards I run some for card advantage like
Graveborn Muse
to help me gain an advantage in hand size. This deck also has some non-basic land hate from cards like
Destructive Flow
to help slow down opponents. Thia deck also has a good bit of removal in it; making sure that I don't have to use the general all the time.
At the moment the deck sits a comfortable 2.85 average cmc.
If you have any questions or any tid bits that you think might be helpful don't hesitate to put them up. And thanks again guys!
10/13
-
Ingot Chewer
+
Krosan Grip
- Cutting out the other creature for another removal spell that has split second to hose combo for a turn.
-
Offalsnout
+
Deglamer
- I have enough token gen/recurring creatures not to worry about a couple creatures, so I'm adding in a couple more removal cards.
-
Chimeric Coils
+
Chimeric Mass
- Cutting one Station piece for another; still fits the package since X=0. As far as I can see the Mass should be better off since it can beat for a a good deal more if I can put enough counters on it; also can still be sacrificed for an artifact or a creature to Shatterbros.
-
Thopter Assembly
+
Myr Battlesphere
- Cutting out the Assembly since I had to wait until my upkeep to get it to fire off; that left a rather big window for some artifact tokens. With it removed I wanted to keep the number of artifact token gen the same, so I decided to pay an extra mana for the Battleshpere which will drop in with four tokens. Gladly will pay the one extra for a beatstick and some ETB tokens.
-
Despondency
+
Fallen Ideal
- Despondency didn't offer an affect that was good for the deck even though it was only in here to be sacrificed by Shatterbros at some point. Fallen Ideal offers a good ability on an enchantment and can stilled be sacrificed and used for later.
-
Dragon Appeasement
+
Ingot Chewer
- The one time I got Appeasement in my hand I didn't have the mana to cast it or the sac outlets to fuel it. Always was a pet card. Put in a Shatter with a possible Diabolic Edict in with Shatterbros ability.
-
Scarland Thrinax
+
Offalsnout
- Took out a sac outlet that had a possibility of becoming a beat stick for another creature with a cheap evoke cost that has a solid ability.
Last edited by
GotJank
: Oct 27, 2013

Signature made by Rivenor at
Miraculous Recovery Signatures
EDH
[
Primer
] -
Adun Oakenshield: Jund Stax/Recycle Bin
Shatterbros Shenanigans