paperhand
Join Date:

2/20/2011

Posts:

567

Member Details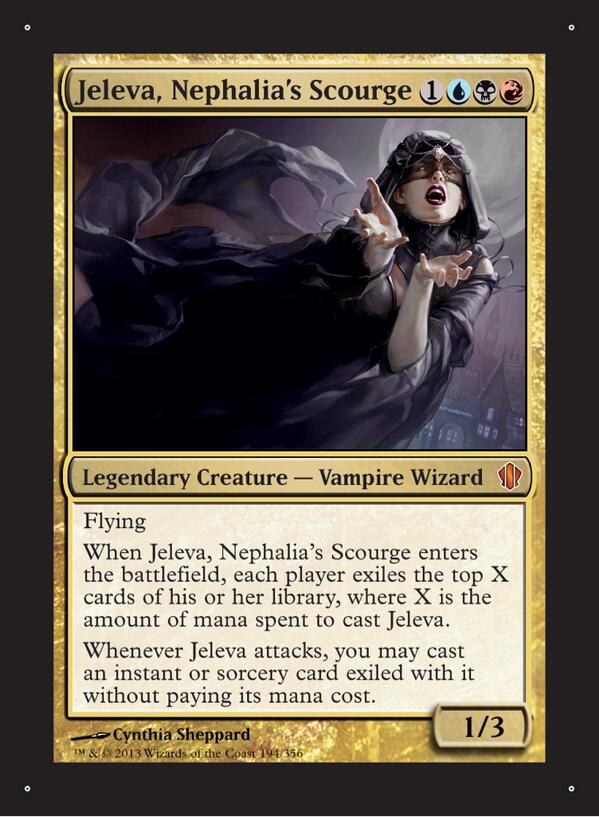 Here's the
Jeleva, Nephalia's Scourge
spellslinger/voltron list I've been trying out. It tends to goldfish around turn 6 or 7 and I'm trying for it not to exceed $150 in worth. This might not count as true budget, but whatever.
The idea with this deck is to utilize a Grixis spellslinger shell, using our general as a means toward card advantage and upping our storm count. Our wincons include voltronish elements, such as
Haze of Rage
,
Leering Emblem
, and
Runechanter's Pike
. Any of the other storm cards should serve as sufficient wincons should Jeleva falter in her duties. Even if Jeleva is killed, she'll exile two more cards per player the next time she enters the battlefield, giving us more options.
DISCUSSION OF ELEMENTS
Untappsters
:
Hidden Strings, Snap, Peregrine Drake, Cloud of Faeries, Frantic Search, Time Spiral, Turnabout
Anyone who has ever played a storm deck, or something like it, knows that a string of these, interspersed with cantripping, can be very powerful. It's just to up the storm count further and keep things running smoothly until we draw a wincon.
Hidden Strings
in particular, that little-known magnificent bastard of a card, can do something cool like untap a
Strionic Resonator
for a third trigger. Also, given Jeleva's wording, if it's one of the exiled cards Jeleva casts upon attacking, if you encode it onto her and connect, it gets cast again, resulting in storm +2 and untapping 4 lands! No
Palinchron
because he costs more money than we need to build a fun deck that wins; same with
Treachery
, though that would be nice. We had to take the hit with
Time Spiral
because this is just that kind of deck.
Rituals
:
Cabal Ritual, Dark Ritual, Desperate Ritual, Pyretic Ritual, Seething Song, Mana Geyser, High Tide
See above; you know the drill. We can use all this mana to pump out long strings of spells while upping our storm.
High Tide
gets better with untappsters.
Cabal Ritual
hits threshold more often than you might think, even on turn 6. And
Mana Geyser
, like our general, gets better as the game goes on.
Extra attack steps
:
Seize the Day, World at War
We want these cards among those exiled by Jeleva's enters the battlefield ability. If we cast them during Jeleva's attack, it's a free +1 to storm count, plus a functional cantrip: the opportunity to attack again, casting another exiled spell for free. Depending on how the deck holds up in coming games, I may want to add
Savage Beating
and/or
Fury of the Horde
. We can't entwine Savage Beating, but the double strike might be helpful if we've pumped up Jeleva with
Haze of Rage
,
Leering Emblem
or
Runechanter's Pike
and it's in our hand and it happens to be able to win the game. EDIT: thanks Kahboom0225, I guess Seize the Day is errata'd to work only during main phases. Savage Beating goes in instead.
Karoos
:
Dimir Aqueduct, Rakdos Carnarium, Izzet Boilerworks, Coral Atoll, Everglades, Dormant Volcano
I expect to get some flak for this. The truth is, though, that these work really well with our suite of untappsters, especially when blue is merely one of our three colors and
High Tide
can't be a four-of. We also don't have the time or money to do enchantment- or artifact-based mana doubling in this deck, like
Crypt Ghast
+
Urborg, Tomb of Yawgmoth
or
Gauntlet of Power
. Having just one of the karoos out before turn 5 is really helpful in securing a good run when you storm out the first time (you should win). The ones from Ravnica also give us crucial fixing in a three-color deck, giving us on turn 2 either one or two colors we didn't have before.
Storm cards and other wincons
:
Brain Freeze, Empty the Warrens, Grapeshot, Haze of Rage, Ignite Memories, Mind's Desire, Temporal Fissure, Tendrils of Agony, Epic Experiment
Most of these are supposed to win you the game, but some of them do other things. For instance, in the late game you can certainly
Brain Freeze
someone to death, but you can also cast it on yourself early game with a storm count of like 8 while you're comboing out and give yourself some
Yawgmoth's Will
/
Past in Flames
fodder.
Empty the Warrens
and
Temporal Fissure
aren't wincons in themselves, but Empty can give you enough goblins to win next turn, and Fissure can definitely prevent your opponents from winning, eliminating landbases and problem permanents.
Grapeshot
has a meager damage output of one damage per storm count, but if it's not a lategame finisher, it can at least remove some non-shrouded problem creatures for you. If you resolve a
Mind's Desire
with a storm count of 15+, you should be winning that game.
Epic Experiment
works similarly, though it's more of a lategame spell. It certainly will soak up excess ritual mana if you have nothing else to do with it, though -- if you haven't drawn any storm stuff yet, try throwing caution to the wind and casting this for 10.
Tendrils of Agony
can also buy you some time if it doesn't kill someone outright. Or, in multiplayer, it can do both.
Mass recursion
:
Past in Flames, Yawgmoth's Will
These are sort of the heart and soul of the deck. For continuity's sake, we had to take the $20 hit on Yawgmoth's. I expect it could get along without it; it'd just be a bit jankier. Anyway, these cards' place in the deck should be fairly obvious: casting one of these lets us re-vomit all our old cantripping and ritualing spells back onto the stack, probably doubling our storm count. Yawgwill exiles anything that goes into the graveyard that turn, though, so be careful if you're using
Runechanter's Pike
.
'Voltron' elements
:
Haze of Rage, Runechanter's Pike, Leering Emblem
These are most crucial in multiplayer, where you can slap one on at the beginning of your storm, end with a lethal
Tendrils of Agony
or
Ignite Memories
, and finish someone else off. Jeleva has flying, so it shouldn't be hard to find someone without a flying blocker on turn 6. If not, maybe you
Grapeshot
someone's
Pilgrim's Eye
.
Eggs
:
Chromatic Star, Chromatic Sphere
These might not last in the deck, because they're not instants or sorceries, and, that being the case, they don't stand to be taken advantage of by our general's ability. However, they cantrip for a CMC of 1 that isn't color-picky, up our storm count, and fix our mana. That's not bad in a three-color deck with a cheap manabase like ours. In a pinch, they can be fetched by
Fabricate
.
INDIVIDUAL CARDS
Quicken
: You will find uses for this; trust me. The most important one I've found has been stacking a
Fabricate
under a
Time Spiral
, putting the artifact card in my new hand. You can also do something sneaky with it at the end of your opponents' turns. At very worst, it's a useless CMC1 cantrip.
Firemind's Foresight
: An amazing card. At instant speed, you can wait until the end of your opponent's turn 6 to counter something, and, if not, fetch what you need to win next turn. The only instants in the deck it doesn't get are
Ad Nauseam
,
Turnabout
, and itself.
Long-Term Plans
: It's not a bad turn 3 play to set up our turn 4 Jeleva with a
Seize the Day
. Otherwise, while you're going off, if you have enough cantrips, it just acts as a tutor. If we were rich we could afford
Grim Tutor
,
Vampiric Tutor
and
Cruel Tutor
instead of this card.
More to come! Let me know what you think! Suggestions, critiques, questions, comments and criticism welcome.
niv mizzet, the firemind
endless fiery mind wheels of death
jor kadeen, the prevailer
weenies and extra combat forever
zirilan of the claw
dragons and damage doublers
wort, the raidmother
burn is now EDH viable
kangee, aerie keeper
birds
jeleva, nephalia's scourge spellslinger/storm
here are the mana costs of generals i no longer play:
numot, the devastator
of
[the spirit of edh]