Sonik
Location:

Spring Hill, KS

Join Date:

5/19/2010

Posts:

4,420

Member Details
The king is dead. Long live the king.
Riku of Two Reflections
A Multiplayer Primer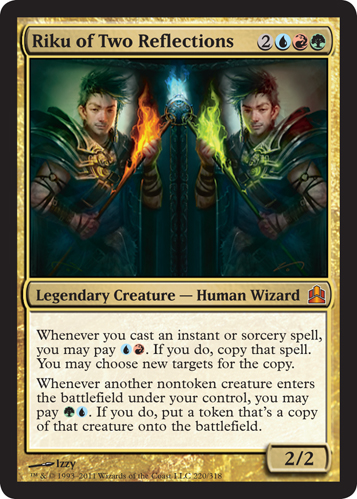 ~*~*~*~*~*~*~*~*~*~*~*~*~*~*~*~*~*~*~*~
Bio
Riku of Two Reflections had two passions: the study of spellcraft and the study of life. The mage could never choose, but had no time to master both. Through an ancient illusionist's spell, he found the solution: he secretly split himself into two reflections, and each Riku trained and studied for years in its chosen field. Today Riku is hailed as a master of both disciplines, and few know his secrets. The reflections never stray far from each other, and when danger threatens, enemies face the power of both Rikus. (Savor the Flavor)
Riku of Two Reflections
is the lead commander of the Mirror Mastery Commander pre-constructed deck
released in June 2011
. He is flanked by
Animar, Soul of Elements
and
Intet the Dreamer
, as well as the bicolored legend
Edric, Spymaster of Trest
. While the the latter three are real build-around me commanders with a specific purpose, Riku is very versatile and can be played with many different strategies. After all, the only thing better than a powerful spell is two of them, right?
Let's run though the card and establish a frame of reference for just what Riku can do for us, as well as what other Magic cards can do for Riku:
Mana Cost
: :2mana::symu::symr::symg:
5 mana is a good spot for a commander like Riku. It is not too high, so he can be recast if necessary. At the same time, 5 mana is a lot to spend on a guy with no protection, so you will have to be wary of casting him against control players and have a backup plan if he dies. If he draws removal so you can play your 6-drop, it wasn't too bad for you :).
The most important thing to remember about Riku is what his role is in your deck: an
investment in your spells
. The payoff may be a little, or it may be great. But Riku represents an investment. He costs you 5 mana and probably an entire turn, for a lousy 2/2 that doesn't affect the board (a poor play in a vacuum, surely), in exchange for added value for your spells down the road. A question I will ask frequently as we consider other "investment" cards, like
Mana Reflection
: "Doesn't Riku already do this?" If you jam your deck full of cards that do what he does, in some form or another, you will have a hand full of dead cards and no threats to multiply. I will discuss this in detail later.
Now for the colors. We're got access to blue, green and red. These are (arguably) the best, second best and worst colors for EDH, in that order. Together, however, they are full of powerful and synergistic effects and allow the pilot to play pretty much whatever style they want.
Blue gives access to card draw, bounce, control magic effects, extra turn effects and counters. And fatties.
Green gives access to ramp, graveyard recursion and noncreature destruction. And fatties.
Red gives access to removal, sweeps, land destruction and copy and redirect effects. And yes, more fatties.
Creature Type
:
Human Wizard
Not much human synergy but wizard tribal is definitely a possibility.
Riptide Laboratory
will probably be the most common usage of his typing.
Power/Toughness
:
2/2
That's right, he's a small fry like most wizards. Obviously, he'll be staying out of the red zone unless you slap a sword on him.
Ability 1
:
"Whenever you cast an instant or sorcery spell, you may pay :symu::symr:. If you do, copy that spell. You may choose new targets for the copy."
A
Fork
on legs. With the important limitation that it can only copy your own spells. Anyway, that's some sweet card advantage there. You can copy removal spells like
Decimate
, ramp spells like
Skyshroud Claim
, extra turn spells like
Time Warp
, and even game-ending haymakers like
Rite of Replication
or
Genesis Wave
. Also plays very well with Flashback and Rebound. Copying the right spell at the right time can surely win you the game. 2 extra colored mana is no joke though, so you will find color-fixing is even more important to Riku than to other commanders.
Ability 2
:
"Whenever another nontoken creature enters the battlefield under your control, you may pay :symg::symu:. If you do, put a token that's a copy of that creature onto the battlefield."
Of course it gets better. Now he gives you free clones. Incredible. Copying guys with "enters the battlefield" effects (henceforth referred to as "ETB" effects) are the most efficient and powerful way to abuse this ability, since even if the next player casts a sweeper, you will have already attained incredible value for your one card. Creatures like
Chancellor of the Spires
,
Terastodon
and
Deadeye Navigator
are the kinds of spells you want to be casting to maximize this particular effect, though there are plenty of less expensive creature spells that love this treatment.
Bonus time!
:
Using both abilities at once
The most versatile and potentially powerful way of using these abilities is to get them both on the stack. Instants and sorceries which cause non-token creatures to enter the battlefield under your control are at a premium here because Riku can copy the spell on the stack
and
copy each non-token creature that enters the battlefield when the spell resolves, provided you have the mana and he isn't removed in response to the original casting.
Tooth and Nail
,
Bribery
, and
Chord of Calling
are good examples of these kinds of spells. When you have all that mana lategame and nothing to do with it, this is how you will break through board stalls and take home the win.
Riku: when 5 copies are not enough.
If I had to describe Riku in one word, it would be
explosive
. If your opponents let him live, they risk their iminent demise simply by giving you a chance to untap with him. Copying a
Time Warp
or a
Chord of Calling
fetching
Avenger of Zendikar
and
Glen Elendra Archmage
will typically be enough to end the game. At that same time, he's a bit of a glass cannon. He's a 2/2 for
with no protection. He's out there for a whole turn and typically you won't get to copy something the turn he comes into play. Thankfully, a good Riku deck will be able to function and even thrive without him, and his colors certainly give you the opportunity to do that.
Somehow, I think Riku represents the giddy risk-taker in all of us as it applies to Magic. You throw him out there, hope he sticks, and if he does you just go Godzilla on the table.
In summary:
This may be the commander for you if you like:
Copying Things
Copying Things
Ridiculous, over-the-top death-laser-on-the-moon style plays
Not losing if your commander gets tucked
Creature-based strategies
Comboing out
This may not be the commander for you if you don't like:
Tapping out
Goodstuff.dec
Long, interactive (and unpredictable) games
Beating face
Shuffling your deck
My name is Kyle, and I like to copy things. I am a Johnny and Melvin first and a Timmy and Spike second. I have been playing magic since the Rise of Eldrazi pre-release and I have loved it ever since. I have a particular a passion for Commander, deckbuilding, and for the social interactions that come from this sweet game.
My favorite ways to play Magic are Commander and Draft, but most of all it has to be fun or I don't want anything to do with it. For this reason, I try to stay away from "un-fun" stuff like easy infinite combos, board lock/stax strategies and such. At the same time, I love the color blue and its representation in magic, so most of my decks have had access to that color. Some of my favorite decks include
Melek
WheelStorm,
Nin, the Pain Artist
steal-n-sac,
Thromok
token bonanza and
Trostani
token enchantress
I moved to the Kansas City area in 2011. I'm closest to Win More Games and Collector's Cache. I have a relaxed playgroup at my new home where we play once a week. If you want to play Commander, or if you think I'd be fun in your playgroup, send me a PM! Though as a new father and homeowner you can imagine my time is limited
"HEY GUYS! I FOUND SOME MORE TREES!"
The Investment
As I said before- Riku is an investment. Riku is a lost turn, in exchange for explosive turns around the corner. If he is removed, you have lost some valuable tempo, even if it's nice when someone burns a card on your Commander that you can just get back for another :2mana:. If he sticks, however, that's where the fun begins.
Now, people love to look at this guy, make a deck with a mean CMC of 5, and just hope no one fights back. Let me give you a hint: that is as dumb as it sounds. I will attempt to explain what you should do instead.
Riku is very good at two things. Firstly, and most obviously, is copying you big spells to just crush everyone. The only thing stronger than one
Time Stretch
is two of them. This is obvious. But in many cases, this is the very definition of "win more". What, was one
Craterhoof Behemoth
not enough? There can be some nuance to this copying business, perhaps contrary to popular belief. The other thing Riku excels at is copying small spells to keep them useful all game instead of just at the beginning.
One of my all time favorite plays in this deck is a turn 3 or 4 Riku, followed by a copied
Fact or Fiction
. "But that's only a 4-mana spell", you say. That's exactly right. I just did FoF twice for 6 mana, and my hand and graveyard are now chock full of gas for the rest of the game. Unless I have some sort of
Identity Crisis
, I'll be in this dominant position for a while. And I haven't yet cast a spell over 5 mana.
If you just tapped out for Riku, then next turn you may probably have that much mana plus one. You COULD play a 6-mana bomb like a titan. Which is good on its own. In which case, why did you play Riku last turn, unless you were just using your commander to bait removal (an acceptable move in some cases, of course)? Or, you can copy a 4-mana spell for ridiculous value. Do you know how aggravating it is to face
two
copies of
Sower of Temptation
, stealing your board right out from under you? Or how awesome it is to hit
two
Skyshroud Claim
s, putting 4 untapped forests into play that early in the game? Or in a token deck, where just 4 1/1 tokens can attack for 36 with a copied
Tears of Rage
, and any more is surely a blowout? The Fact or Fiction example is my favorite, but it's definitely not the only one. All those 2, 3, and 4-mana spells that are normally very helpful early game and somewhat marginal lategame are now amplified greatly by your commander. You can play a normal mana curve and have an explosive endgame with most of your deck, rather than having just a few haymakers sitting at the top of your curve. Those 2, 3 and 4-drop spots are
just as important
as the 6 and 7-drops you are dying to get out there in pairs, perhaps even moreso. And while there will be a time for that, it is important to live long enough to get to that point, and to be well established enough to push back against table resistence once you get there. This is a luxury not every deck has, and a luxury that the most successful decks use to stay on top.
You can pack your deck full of silly six-drops and above and just hope no one kicks your legs out from underneath you. It's funny to try, but at a real table you are going to get slaughtered by aggro-control and any kind of disruption, be it hand, board, yard, or otherwise. Using Riku to amplify the potency of your less expensive spells is the best and most consistent path to victory.
"Quick! Get the shaving cream!"
Card Type Synergy
This section may even go without saying, but I am consistently surprised at how many decks I see pop up which completely ignore card type synergy in favor of just playing big dudes and big spells. The benefits of restricting yourself to a particular card type in a practical manner are huge. Think of it as a set bonus or a buff in an MMO. Your deck can be greater than the sum of its parts if you choose to build it that way.
With Riku, there are a couple of ways to do this. The most effective, in my opinion, is to stick with as many creatures as possible. This allows you to run a creature toolbox and to take advantage of all the cards that like creatures. I prefer creatures over instants and sorceries for a couple of reasons:
Creatures are on the board and threaten as long as they are there. They can attack, block, deter attacks simply by being there, get pitched to Survival, sacrificed to Birthing Pod or Natural Order, get Skullclamped and draw you cards, and I could go on and on here. Their utility is much greater than their power and toughness. This in comparison to most instants and sorceries, which tend to be one shot and done.
Creatures are easier to recur from the graveyard or the board itself. Spells are much harder to return to your hand in general, although it can be done effectively with buyback and cool cards like Mystic Retrieval.
This goes for all of the archetypes I will describe in detail below. While it is not totally necessary to play a bunch of creatures or a bunch of noncreature spells to have a successful deck, perhaps a control deck particularly, it can be much more rewarding on several levels to stick with your guns in deckbuilding and ride the synergy to victory. And most importantly, for those times when you don't have Riku at your disposal due to removal, tuck, or otherwise, this type synergy will get you through the rest of the game without him. Choose your spells appropriately for the deck.
A Brief Ramp Discussion
Ramp is good. Ramp is really really good. To be a turn or two ahead of slower decks is a phenomenal advantage that adds up over the course of the game. Ramp also tends to fix your colors, making it much more likely for you to actually play your spells. Riku tends to be very mana-hungry as a Commander, since you always want two mana more than you have so you can copy your on-curve spells. So play ramp. I like to play at least 7 to 8 pieces of ramp in my commander decks minumum and I hold Riku to the same principle.
There are two kinds of ramp worth talking about here, because most rituals are awful awful card disadvantage in this format. There is artifact ramp and land ramp. Since we are in green, I pretty much don't even want to hear about artifact ramp unless it is stupid broken ramp like Sol Ring and Mana Crypt. Land ramp is better in almost every way. It allows you to fix your colors, it can be copied with Riku, it is harder to kill, it is not swept away by artifact sweepers, and I will say it again, it can be copied with Riku. Do not play things like Darksteel Ingot or the signets over Cultivate or Farhaven Elf unless your manabase is like, all basics. You do not need them. Green ramp should give you all the fixing and ramp you should need. Skew your manabase towards green so you can likely cast your ramp, use your ramp to fix and gain tempo, and don't look back. Leave the shiny things to non-green decks that need them.
Counterspells and Riku
Many players see that their commander is blue and think, "welp, better play my counter suite". Don't do this. Play only your most critical counters. JUST enough to make your opponents think you could tuck their commander with your open mana. I will explain why.
Riku, your commander whose job is to amplify your spells and creatures as a payback on an initial investment, can do almost NOTHING with counterspells. They are close to being complete waste of your commander and they encourage poor deck construction. You should not play spells that don't want to be copied. If you need control elements (which you should), play removal spells instead, which can be copied by Riku for guaranteed two-for-ones or even more.
Riku decks tend to be extremely mana hungry. That is, you will be tapping out most every turn. Slowing yourself down to keep up counter mana is a good way to give up your inherent tempo advantage. In this way, counters encourage poor play here. Develop your board and let your opponents respond. Even if your opponents' threats resolve, your guys should be bigger and better and generally not care about what they have to say.
However, not all counters are bad. Some counters are worth playing even in here. Pact of Negation is a favorite of mine for several reasons, which I'll describe in the Card Options section. But most importantly, you can cast it when tapped out. This makes it a get out of jail free card you can bluff at any time. Arcane Denial is another favorite of mine because it is cheap, unconditional, and draws you a card. Keeping two mana open is much easier than three. The drawback is negligible in multiplayer. And finally, at least one of Hinder or Spell Crumple will keep your opponents honest. So even if you have nothing, you can leave 3 mana untapped and make them think really hard about casting something critical, like their commander. Just the threat of having a counter available, as opposed to actually playing one, is often enough to keep your opponents in check.
Archetypes
As mentioned before, Riku is a particularly open-ended commander. There are several viable strategies, as well as some that are more quirky. It will be up to you to make a decision here before you start putting your list together. Like any good Commander deckbuilder, how well you stick to your strategy or theme will be vital to your success and overall enjoyment of the game.
"Oh, dear! How
ever
will I find an answer?"
Creature Toolbox- This Deck Has Legs
This is my primary style of play. You'll find the Primer slightly biased towards this style as I have considerable experience with it, and I know it is very good and very fun to play. The idea here is to play an efficient and varied toolbox of ETB creatures, starting with your two drops and working all the way up the curve to 5, 6 and 7 drops that you want to win you the game. Every creature does something other than just being a creature. That whole "synergy" thing I was talking about before? It's here where you can see it in action.
If you play a lot creatures, then first of all your board will never be too vulnerable. More importantly though, you can play cards that work with creatures and really maximize their effectiveness. Tutors which search for creatures are the most common application, which is where the "Creature Toolbox" really earns its name. Then you use those tutors to search up creatures, usually ones with ETB abilities, that help you adapt to a changing board state with the best solution for the problems you face.
Creature tutors like
Birthing Pod
,
Survival of the Fittest
/
Fauna Shaman
,
Fierce Empath
, and
Green Sun's Zenith
will be very important here in allowing you to adapt to the board state with your ETB guys. Need to kill a shrouded commander?
Phyrexian Metamorph
has got you covered. Need to ramp ramp ramp to catch up to the monoblack player?
Oracle of Mul Daya
or
Boundless Realms
will get you back on track. Or maybe their Coffers just has to die?
Slime
it. Do you have to wrath now or lose?
Ixidron
or
Crater Hellion
or
Kederekt Leviathan
should slow them down. Just want to win the game? Ok, fetch yourself
Craterhoof Behemoth
and swarm the last guy left. Want to get some recursion going with these creatures?
Creeping Renaissance
and
Genesis
have you covered. Always having an answer doesn't mean just playing counterspells. It means having a gameplan like this, having the ability to respond in the best way possible to the unpredictable board state inherent in multiplayer magic.
Bounce outlets like
Crystal Shard
and blink cards like
Conjurer's Closet
will help to generate additional value out of your creatures, in some cases at instant speed. Riku can copy those cretaures as they re-enter the battlefield, which is just amazing. They are very good in here, but be careful not to get cute and go overboard with these. They are rarely good in multiples and increase the risk that you will have all bounce outlets and no creatures to bounce.
Swords of X and Y are quite good in here to strap on to the early weenies and turn them into serious threats. Feast and Famine is a gamechanger for all the mana it provides. Fire and Ice is very respectable card advantage. Light and Shadow is a fine recursion engine with the best colors of protection for Riku. I don't recommend the others because they don't really fit with the deck's gameplan.
Skullclamp is another way to get great value out of your early plays for when Riku wasn't around to copy them. Just draw a bunch of cards and keep winning. There are more cards like this and I encourage you to find them in the Card Options section as you build this deck.
I like to call this "the
Birthing Pod
deck", even if the goal isn't always to tutor for Pod (though I have no shame in casting
Fabricate
for it). Pod is just insane. I can't sing its praises enough. You can use it the turn you play it, with just 4 mana too, so it's fast. It likes having good options at every part of your mana curve, which encourages good deck construction. With each activation, you are tutoring for an answer, establishing a board state further, and with Riku potentially copying every guy you put into play, it is a fantastic card advantage engine that will absolutely end games if unanswered. Everything this card does more or less exemplifies what this style of deck is trying to do. If you think this card is any good, I urge you to try it out and play this particular style of deck. It is extremely resilient and retains if not surpasses the reach of the most powerful creature decks in the format.
What is a "turn", anyway?
Control- Seedborn Muse Deck Wins
There's no need to get all derpy with creatures like most of us. You can play a control shell around Riku pretty easily and use him as a perfectly acceptable wincon.
Seedborn Muse
is an extremely powerful card. It allows you to play your deck full of instant speed threats on other players' turns. It is a control player's best friend and Timmy's worst nightmare. Since not every card in your deck will be castable at instant speed (or will it?), some flash enablers are recommended.
Vedalken Orrery
and
Alchemist's Refuge
go a long way here, hitting other player's threats on their end step, then untapping for some action. You can use bounce outlets like Crystal Shard to replay some cards over again every turn.
Mystic Snake
and
Draining Whelk
are near board locks, but any creature with an ETB effect is fair game here. A
Capsize
soft lock is another common way to keep things under control and/or just win the game. Don't forget to pack
High Market
and/or
Homeward Path
to keep other players from stealing your Seedborn Muse, a common way for you to lose a game of Magic.
Otherwise, this is just a more defensive version of Riku. Play plenty of removal and counters and draw, as in your typical control suite. Stuff like
Chaos Warp
,
Beast Within
and Spell Crumple will do a lot of work for you. The legendary fog machine
Spike Weaver
is one of the best ways to keep other players off your back in the meantime and protects you from a token or
Insurrection
blowout. Some decks just cannot beat
Constant Mists
either. Keep Riku in your back pocket for when it's time to go over the top. Then, when your opponents' resources are depleted play a wincon and back it up with a counter or two. Tooth and Nail or Time Stretch, with either one copied, should very easily take over the game.
Glen Elendra Archmage
is the perfect protection for your wincon.
Card advantage and selection will be vital here even moreso than in other decks. You'll want to play everything from
Rhystic Study
all the way down to
Brainstorm
, which is actually very good with all the shuffle effects green brings to the table. Tutors such as Gamble and Mystical Tutor will be indispensable for responding to the changing board state.
I don't run this strategy personally, so I am always open to feedback here, as I am with every other facet of this Primer.
Combos with everything, I'm pretty sure.
Combo- "Oops, I win"
Of all the strategies outlined, this is probably the most competitive. Use that power wisely. Combo bring a certain ruthless efficiency to the table that many players find unfun or at least unsettling. Riku has several two-card combos that include him which come very close to, if not actually, winning the game on the spot.
Fast mana will be important in any combo deck, so pack your
Bloom Tender
and perhaps
Somberwald Sage
. Play plenty of other ramp to get you to the point where you can combo out. Bring a couple counterspells like
Pact of Negation
to protect your combo.
Vexing Shusher
is a great tutor target to protect yourself when you go off. And then try some of these on for size:
That ought to be enough to get you guys started. The previous list was by no means exhaustive, but it does hit the most popular candidates for comboing out with Riku. Keep in mind that Riku himself is often outdone by any one of several
Momir Vig
combo decks. His combos are faster and more resilient and he tutors for them., so make sure you are playing the right general here.
Hope you got a wrath handy there, buddy.
Tokens- Dodge This
These are great colors for building token armies.
Doubling Season
and
Parallel Lives
ensure that the math will get difficult as you swing for eleventy-billion, and cards like
Deranged Hermit
and
Avenger of Zendikar
are the perfect guys to help you get there.
Now, there is a teensy-tiny problem with relying on the doubling enchantments: they a royal pain in the butt to dig for in this deck without access to black or white tutors. That leaves you with a few viable options, some moreso than others:
-->
Gamble
-->
Intuition
, searching up your target,
Regrowth
and
Eternal Witness
(or other recursion)
-->
Long Term Plans
(thanks
Weebo
)
-->
Planar Portal
Even moreso than those two enchantments, a card that will elevate the deck to much higher levels of explosiveness is
Gaea's Cradle
. I should not have to explain why. This card is the best card in any token deck, period. There have been calls to ban this card for a reason. There is no argument that would convince me otherwise. I understand that Cradle is very expensive. I also understand that many players are uneasy about proxies for expensive cards they do not intend to buy, including me. I used to play a gold-bordered version of this (while I was planning to buy one) but now that it's up past almost $150 I can safely say I don't intend to buy one anytime soon... so I have cut this card from all of my decks. If you can get one, it's insane. If you can't, it doesn't mean you're at a disadvantage so much as you are missing out on a stupid powerful card.
Now that we have that taken care of, you basically want to look at the first strategy I listed (the one with ETB utility guys) and replace all the midrange and high-end stuff with token generators and buffs.
There are essentially two kinds of token generation: ETB, or "burst" token generation (
Deranged Hermit
), and tokens over time generation (
Ant Queen
). With Riku at the helm, I will try to explain why I believe that the
burst
token making is the way to go, using Deranged Hermit and Ant Queen as examples.
It does no good to copy Ant Queen-type producers with Riku. Deranged Hermit pays you back in spades.
Ant Queen is a prime target for removal as she draws irrational hate because of what she *could* become in terms of threat level. No one will kill Deranged Hermit because he is already dead next turn.
Ant Queen is less efficient in the short term. She is 11 total mana for 4 bodies (and a "token deck" should not care that one is a 5/5). Deranged Hermit is only 5 mana for 5 bodies, one of which must be sacrificed next turn. Oh, and he's clampable and/or saccable to pod (for a 6-drop!) as well, to make up for the echo business.
Deranged Hermit is faster. If you need some tokens after a wrath, Ant Queen is a slow play. Hermit immediately rebuilds your board state for more token shenanigans.
In the long term, I will concede that Ant Queen is a great mana sink, which is why she is famous and still a very good card. If you have 20 mana to dump into her tokens and haste and Citanul Heirophants at work then you can pump out an army every turn. I contend that this is overkill in many cases when a simple Overrun effect would have done the job in the first place. 2 mana per token is great to have an unlimited supply of but I believe is pretty inefficient when you consider realistic mana production.
When building your token deck, I would encourage you to stay away from cards that generate just one token per upkeep. They are typically too slow and are outclassed by better cards. Keep in mind that some "slower" token generators like
Dragon Broodmother
and
Dragonlair Spider
do a reasonable job of imitating burst token generation because they make tokens on other players' turns as well, leaving you with a decent output by your next upkeep to use for whatever you like.
Awakening Zone
also gets a pass because its tokens are Eldrazi Spawn that can be used for ramp as well.
Other than just having tokens, now we need things to do with them. Haste effects like
Anger
and
Concordant Crossroads
are critical here and make finishers like
Genesis Wave
just insane. Birthing Pod and Survial of the Fittest are great ways to tutor for Anger and get in the graveyard quickly. Do not underrate haste. It wins games far more often than whatever other cards you were going to play instead. A
Kessig Cagebreakers
without haste is merely good. One with haste, mid-to-late-game, is just nuts.
Other than haste, the more common way to win with tokens is to overrun with them.
Tears of Rage
,
Overwhelming Stampede
and Craterhoof Behemoth are fine ways to do this, and there are plenty more in the Card Options section. Be sure to play enough token generators that these finishers are reliable. This is the most typical path to victory with a token army.
Some other generally good token synergies:
Post-wrath stabilization is important. Spawning Pit and other sac outlets will help out greatly here. Skullclamp is insane in any token deck and its inclusion is really not up for discussion. You really have to play one, and maybe even a Trinket Mage to tutor for it.
Mimic Vat is also awesome with any token-generating ETB creatures, as the tokens remain on the board even after the creature off the vat is sacrificed. Previously mentioned bounce and blink enablers will also contribute.
Blue brings some really cool stuff to the table too, like Cultural Exchange and Day of the Dragons for massive power plays and Opposition for total board control. Do your research.
Some players prefer to just play a few big token generators and not stuff the deck full of them. They can certainly be successful, but I contend that committing fully to token generation will establish a lot of synergy between your cards and will make your "token" deck a true token deck that is greater than the sum of its parts. As I have said before, choose your cards wisely.
"Look at you, soaring through the air
like an eagle... piloting a blimp." -GLaDOS
Warp World Combo- You Monster
Riku may be one of the finest Warp World generals available.
Building around Warp World itself is a much more solid plan and is a very viable path to victory. The strategy is bafflingly simple (as are many great plans).
And that's it! You get your side of the field loaded with permanents, cast Warp World, recur it and copy it as many times as you like, and either swing for the win or cause every other player to scoop in frustration. It's sort of a griefer deck because of the time it takes to resolve Warp World multiple times, so be careful with your friends if you get attached to your decks.
Spellslinging- A Theme Deck by DramaTurtle
Special Thanks to
DramaTurtle
, who explored and embraced instant and sorcery synergy in this thread, then went off and
made his own concept
. It is excellent and I encourage you to give it a read.
Storm- A Theme Deck by TheEndIsNear
Also, I'd like to thank
TheEndisNear
, who added green to the bobthefunny's fantastical
Tibor and Lumia aggro/storm deck
and created a somewhat casual
Riku Storm
list. You know something wacky is going on when you are casting Genesis Wave as a ramp spell. Great job over there and there's lots of room for creative adjustments too.
Riku Voltron- Strictly Casual
Oh yeah. This is actually kind of playable thanks to
Wild Defiance
,
Beserk
,
Rush of Blood
,
Fatal Frenzy
, etc. Hopefully I'll try this out someday!
Last edited by
Sonik
: Jun 20, 2013
:symg::symr::symu:
Riku of Two Reflections
[Primer]
:symu::symr:
Melek WheelStorm
:symw::symg:
Trostani Enchantress (updated 6/5)
:symg::symr::symu:
Unexpected Results.dec
Thada Adel Stax WIP