ISBPathfinder
Location:

South Dakota

Join Date:

8/16/2010

Posts:

23,776

Member Details
Lin Sivvi and the Rebel Scum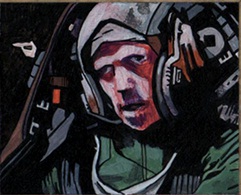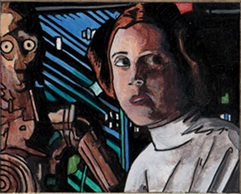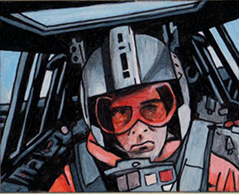 *NOTICE*
- this thread is designed to play a as a defensive toolbox based token swarm deck. If you are looking for a competitive deck to combo out with or play against competitive combo, I would look elsewhere. This deck can play very well but if the end goal is a competitive setting, it will likely not be anywhere near fast enough. The best way to describe this deck is as somewhat of a
pillowfort
style of token swarm.
Why Play Rebels?
Welcome to the wonderful world of rebels. Rebels are an interesting tribe originally out of Masques block and returned in Time Spiral block and is sprinkled lightly across a few other sets. Rebels and Mercenaries are the two tribes that were ever designed as tutoring based tribes. Mercenaries sadly have no legend to run them as a main focus of a deck though. Rebels are the more popular tribe of the two and have seen print in two different blocks in part due to their popularity. For a quick snipit background on Lin Sivvi herself from our very own wiki:
Quote from

Liin Sivi or Lin Sivvi was the daughter of the elderly leader of the Vec tribe on Rath in the time leading up to the Phyrexian Invasion. She was amongst the most skilled warriors of the Vec and an expert in the use of the tribe's traditional weapon, the toten-vec or Lashknife. Following the disorder that resulted from Volrath's disappearance, she led a group of rebels into the Stronghold with Eladamri, hoping to destroy the Predator. The plan failed, but Sivvi and Eladamri used Belbe's personal portal to get to Dominaria along with Starke's daughter, Takara, whom they rescued from the dungeons of the Stronghold.

They arrived near Llanowar and began preparing the locals for the coming invasion. Eladamri became a uniter of peoples during the invasion, Sivvi ever at his side. The warriors' respect between the two blossomed into an ill-fated love over the year of the war; they chose to end their lives together rather than be killed by Yawgmoth when the lord of Phyrexia came to Dominaria himself.
Lin Sivvi's Pros: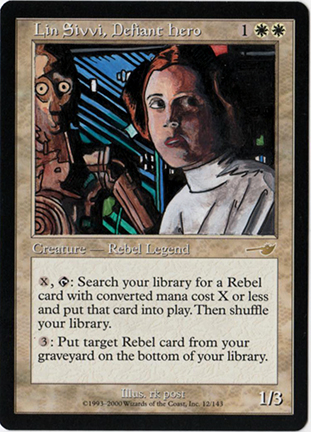 She has a cheap casting cost so she can get in early and replaying her is generally easy.
She has very flexible abilities which allow tutoring for and recycling of spent rebels.
Her tutoring tends to be defensive in nature and tends to pull a lot less hate than the usual tutor commanders.
Being that the tutor targets are more reactive, the deck plays itself out very differently than most tutoring decks.
Rebels provide a means of card advantage in mono white.
There are a lot of elements of pillowforting when looking at a draw / go style of defensive toolbox deck. This can be a pro or a con depending on your feeling of this style of play.
The deck is incredibly strong against voltron aggro. Thank you Bound in Silence, Defiant Vanguard, Whipcorder, and Rappelling Scouts.
Lin Sivvi's Cons:
Shuffling constantly can be annoying and add time to a game. It also requires you to somewhat know your toolbox and when and what tools to access when.
The toolboxing we have access to is primarily defensive. This means that tutoring into the next card isn't necessarily getting us closer to closing out the game.
We are limited to mono white which is often considered the weakest mono color (due to lack of good card draw).
The deck does not win quickly. It is best suited for longer games of EDH where people are not comboing off. In some ways this makes it a little more casual as well.
Playing Mono White
Not to discourage any readers but you need to realize going in that mono white is incredibly difficult to play as. Mono white is generally known as the weakest color when considering mono color deckbuilding due to lack of card draw and tutors. Luckily, due to how rebels function they actually bypass some of these issues. If your commander gets tucked we have a lot of other rebels who can tutor her back into play. Our tutor function gives us access to more cards and functionality thus operating as virtual card advantage as we get a resource we didn't have to draw.



Even with the issues of card advantage and tucking somewhat addressed, rebels are weak utility based creatures. We do often have to rely on other cards to give us threats rather than trying to slow roll 10 rebels into play and swarm out with them. I personally use my rebel package on multiple levels between access to a wincon (Mirror Entity) as well as defensive protection to survive to late game. This is by no means the only direction to build rebels but it is currently the direction I will go into detail about in this thread. If you are interested, it would also be possible to consider utilizing an equipment approach which could use the utility rebels with swords and such to get work done. This style of build would likely look at picking up mass LD assuming you are ok with that style of build and or possibly some stax tactics. Generally speaking, without thinking real hard outside of the box though you are going to look at building rebels in a direction of swarm style of tokens or equipment and LD / Stax.

For those interested, mono white does also have a few combo options if you really want to go there. My issue though is that generally speaking, if you are willing to play combo then your opposition is probably playing combo as well. White doesn't have access to the counterspells, draw, and tutors to really pull combo off effectively so if you are more of a combo player, its an option but I generally dont really suggest playing mono white as a combo player. Rebels in specific have access to an infinite life combo, but setting up a combo for infinite life isnt that great as there are lots of ways to be defeated still in this format outside of doing damage. The few times I have seen the infinite life combo pulled off, that player proceeded to loose next.
Alternate Commander Options:
I will try to outline some alternative options if you feel that Lin Sivvi might not fit your needs. Obviously there will be difficulties transitioning my own deck / strategies to a different commander but some elements or feel might be able to transfer. This is just me hypothetically pointing towards other options that "Could" work rather than suggestions for builds. I am just going to hit on similar type of builds though or this will just get too large in general.
Rebel Based
Equipment Based
(Mono White)
Token Based
(Mono White)
History / Bio
~~~~~Deck History~~~~~
I have always liked toolboxing especially the idea of having a commander who can toolbox themsleves. The problem I tend to have with them though is that they are EXTREMELY BORING and tend to play out similarly each game because most tutoring commanders have specific things they try to assemble in specific orders. Due to the fact that rebels are so defensive in nature, their games tend to play very very differently. I dont have a specific tutor order to go with the rebels and thats sort of what made me really like them initially.
I initially build my rebel deck as sort of an equipment based deck. It would use rebels to connect the equipment and generate some value through that means. It was a fun way to play it but I realized more and more that it lacked much for surprise output. It was sort of linear due to most of the equipment not really having a big punch behind it. I also realized that I was using Mirror Entity a lot as a means to sort of swarm at people but didnt really build the deck to swarm initially. Over time, I started playing the deck more defensively and using more tokens as my means of killing people.
I initially built my rebel deck as the second or third attempt at mono white. One of my biggest background issues with mono white had been its lack of card advantage and how much trouble it gets into when the commander gets tucked. Due to all of this, rebels have sort of stuck with me as one of the better things to do in mono white after playing it for some time.
~~~~~Personal Bio~~~~~
My name is Brian, I am 27 years old, I am a spike player who loves to win and tweak his lists. I live out in South Dakota sort of in the middle of nowhere. I got into playing EDH back in the summer of 2010. Our playgroup started sort of small and we went on and off on EDH play but eventually it took off and most of us sort of started dying off from other formats and only playing EDH. We get together on Tuesday nights where we often see 4-12 guys together down at the shop and just play 4+ hours of EDH every week. I got to be sort of one of the big shot players in my group where a lot of times people would just swing things at me because that's the player I am regardless of what deck I bring to the table. I try to build decks with the mentality that everyone might be attacking me and I might have to fend off more than one opponent. While I love perfecting my decks, I don't particularly like utilizing combos so if I have a combo in my deck it is usually because it has multi purposes that can be utilized to go infinite if it is drawn in that way. I am a spike player who loves the big plays but I also love building synergy throughout my decks. I try to build my decks with different concepts and feels to them so that I can change decks and have a very different gameplan with each of my decks.
I have played magic since hummm I guess like 1996 or 1997. I have been playing magic since Ice Age but that was when I was in like 4th grade so obviously I was not the player then that I am now. I picked up on playing standard FNM a lot in high school where I played a lot in the Odyssey / Onslaught blocks. I played into Mirrodin then quit when
Kokusho
started beating everyone up. I am glad he is finally off of the banlist for singleton play as I think its good to have him back in action.
I am back to playing magic again and have been playing standard since Zendikar came out. I go back and forth on my thoughts of Standard but regardless I love playing EDH. I recently stopped playing standard again sometime just before Avacyn Restored was released due to my own personal issues with the direction Wizards is trying to push standard away from control. I still dabble at standard a little bit but I really have a strong dislike for the current direction Wizards is going with standard. Still, I stay strong as a Commander player.
I have built more EDH decks than I can count up anymore. I am quite good at dropping staple cards into a list which is really unfortunate. I keep the number of decks I have constructed to somewhat of a minimum. I don't like replicating how decks feel so I sort of go with colors / strategies I don't already have. I am sort of an aggro / control player who tends to for the most part not focus heavily on combos. I usually tend to be playing 2-3 decks at a time so if I have more decks than that it tends to be because they have earned their keep and stick around due to that but don't get played much.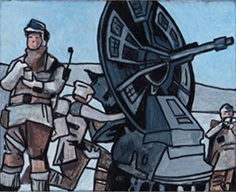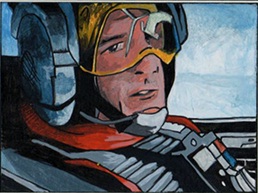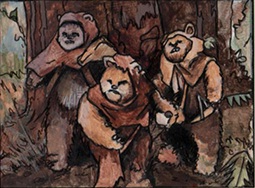 Deckstats for this deck can be found
here
. (Last updated 3/16/15)
Building on a Budget
I realized that I sort of consider my rebel deck one of my more budget lists but in reality, it has a lot of expensive cards in it. I wanted to come up with a build for those looking to experience rebels while not blowing their wallet to do so. That being said, here is a nice budget friendly rebel build. Luckily, the rebels themselves are actually quite cheap to acquire so I think if anything, running the same rebel package and or possibly adding to it is a good thing to look at in a budget friendly build. Since the list will have a little less power to it, I would rather add a few more rebels to the toolbox to make up for it and expand the options of how to rebel tutor.
If you want to cut further, you could cut the landbase back to entirely plains or anything in between. I think springing for
Emeria, the Sky Ruin
at the very least is a useful move but all of the utility lands are really optional. The more you cut back on the landbase, the less good
Weathered Wayfarer
becomes.
Deckstats.net gave me a price around $150.00 for the above budget list. Cutting the landbase back to mostly plains it went down to around $135.00. At the time of writing this content up. My primary list run at approximately $400.00 according to deckstats.net. For me, $400.00 for a deck is actually fairly cheap considering I didn't really spare myself any expenses in creating this deck but I realize that many might have an issue with that sort of price tag which is why I made a budget friendly list that should still give a lot of the experience of the list.
Strategy
~~~~~Deck Objectives~~~~~
This deck is designed to play as a defensive toolboxing style of pillowfort. Its primary winconditions tend to be token swarm tactics that it establishes in the mid to late game. Throughout the game, the access to the rebel toolbox works as a deterrent and utility toolbox to stall for time and generate value. Due to several of the means to lock up, tap down, trade block, chump block, and recover life lost in a turn we make ourselves a bad target for most creatures that might consider coming our direction (this is why I classify it as a form of pillowfort even though it does not use the usual cards and tactics of a pillowfort deck).
Quote from

Pillowfort is a strategy for certain multiplayer formats, particularly Commander. The strategy is political in nature, attempting to make being attacked by an opponent undesirable or futile, thus making the rest of the opponents attack each other. This is achieved through cards that prevent damage or punishing players for attacking, so called Pillows. This also allows players enough time to assemble a combo or series of plays which let them win the game.

Popular "Pillow" cards
Looking at my list offhand, you might expect that I try to swarm with rebels and kill people, that is actually far from the direction I try to go with this deck. Tutoring into a swarm of rebels is extremely slow and inefficient. People can see it coming a long ways out and generally you will get wrathed before that happens. If someone puts a large portion of your tutoring rebels in your graveyard, you become more vulnerable to tuck removal as you have less of the rebels that can recover Lin Sivvi to play. Due to this, I tend to play out enough rebels to be able to work with but I dont necessarily try to maximize my creatures in play due to what I mentioned earlier that its a good way to get wrathed. Instead, I rely on several means to make large token waves at instant speed (
White Sun's Zenith
,
Decree of Justice
(cycled), Miracle a
Entreat the Angels
(
Sensei's Divining Top
and
Scroll Rack
help this),
Luminarch Ascension
,
Mobilization
, and
Sacred Mesa
all help me turn mana into creatures relatively fast.
The primary goal of this deck though, is just continue to live. Shift things around you as best as you can allowing opponents to beat each other up as much as possible. This deck has fairly good surprise burst damage to kill one and possibly two opponents but it tends to be really difficult to kill three players in one shot without crazy silly things lining up correctly. Play defensively and let your opponents beat each other up all they want.
~~~~~Using Lin Sivvi~~~~~
Due to the fact that this deck is a defensive toolbox deck, it can be difficult for me to tell others how to play the deck as every game will be very different based on what commanders and tactics you are up against. The general gist of the deck though is to protect itself from harm and so I guess I can walk through some fairly normal situations you might encounter and how I play Lin Sivvi arround them.
Lin Sivvi Breakdown:
Lin Sivvi, Defiant Hero
is a very key part of our deck. let me do a bit of a breakdown on her and her abilities real quick then I will sort of go over my basic plans for her.
Casting Cost - Lin Sivvi costs which is generally what I would classify as a cheap commander. This means that she can come in early and be recast several times over the course of the game without too much of an issue.
Power / Toughness - As a 1/3, Lin Sivvi can chump block small ETB and utility dorks in the early game saving us from random early pokes. She has enough toughness to not die on her own to Elesh Norn, Grand Cenobite / Massacre Wurm effects either. One of the biggest things to note is that she doesn't die to Sword of Fire and Ice triggers as its probably one of the most annoying things to have happen repeatedly for a utility based commander centric deck. Overall, her improved toughness is greatly appreciated rather than if she had been a 2/2 or something of the sort.
Tutor Capabilities - Lin Sivvi has the cheapest activation cost for fetching other rebels in comparison to their mana costs as she simply has to pay their cost rather than paying one additional. She also scales allowing us to retrieve any of our rebels rather than overpaying for the cheap ones or not being able to fetch the higher cost ones. She has the strongest of the rebel search abilities.
Tuck Capabilities - Lin Sivvi has the ability to put rebels from the graveyard back into the deck. This means she can recycle spent utility creatures on her own. This is an incredibly useful ability as there are several rebels whose function is essentially to die or be sacrificed and so this ability allows us to recycle them back into the deck and back into our toolbox. I have on occasion used an ability like Land Tax to overfill my hand thus allowing me to discard and then tuck rebels that happened to be drawn.
Overall, Lin Sivvi is a very fundamental card to this deck's success. We run several backup tutoring creatures in case she is tucked, but their primary function is to pull her back out so she can be used again. I often prioritize bringing Lin Sivvi out into play if she is not already in play. I am also willing to give up resources to keep her in play if I have the option. If she is repeatedly targeted by removal it is a large hindrance to the performance of this deck. Generally speaking though, since we play as a defensive build style of deck we usually dont get repeatedly hated on directly by opponents.
Rebel Package Breakdown:
In general, I tend to try to keep a second tutoring rebel in play when I have time and can afford to do so. Having a second tutoring rebel in play gives you a backup plan if someone attempts to spot tuck Lin Sivvi and in general just gives people a reason not to bother doing so. Outside of trying to get a second tutoring rebel though, your priorities are defending yourself and your board state. Try to have defenses established before someone swings at you if possible to keep from having to respond to their attack with tutoring. This keeps more options available and having less pants down sort of moments. There is no hard and fast progression for the rebels since most of them have priorities of just keeping us and our boardstate alive. Play with things a bit and figure out what your own priorities are. Each game can be very different depending on who you are playing against. These are most of the rebels I consider grabbing and the situation where I grab them.
Defiant Falcon I tend to prioritize having a second tutoring rebel in play in case of spot tuck removal. If Lin Sivvi is tapped and you dont have another tutoring rebel in play, opponents will consider tucking Lin Sivvi so having a second tutoring rebel really does help just shift the spot tuck down to something else. I often try tutoring for this first assuming I am not being harrassed or have to beat someone else's fast beats deck. The fact that it has flying is really the reason I tend to value this particular rebel over the other two mana tutoring rebels. In a pinch, I will not hesitate to use it as a chump blocker. Other than the capabilities to chump block or swing out with a sword more effectively, any two mana tutoring rebel could be used in its stead.

Bound in Silence this, is one of our most powerful tools that we have access to. Make sure you know where you want it to go as its a pain if there is a bigger threat / issue that needs it later. Due to how tutoring auras into play works, you dont have to target what it goes on so you can put it right on hexproof and shrouded commanders. If you know where this needs to go and another problematic creature comes along, my suggestion would be to use Defiant Vanguard if possible or look to chump block it go get Whipcorder to tap it down. In the case of a fast commander like Kaalia though, I generally dont hesitate to lock her up if you can and force them to slow play the game. Keep in mind, if opponents are not specifically "declaring their attack phase," you can push them back for skipping phases after they turn sideways at you and use Bound in Silence / Whipcorder tap them down before they can declare attacks. If someone is deliberately specifying that they are "declaring their attack phase," you can probably assume that means they are coming at you anyways. Smart opponents will get the hang of this and realize that they can declare attacks against others by means of not announcing their changing phases and just outright declare the attack against someone else.

Lawbringer / Lightbringer if I am playing against a red or black deck I often tutor for these guys immediately following a target that would be sufficient to use these on. I sometimes will tutor for them ahead of time just to save time and have them ready for immediate use such as against decks that run Lightning Greaves and such but in general, I prefer to wait until after a target I want to remove. They can also be used with Distorting Lens for amazing effect to shoot down any creature. Play with it a bit as there are benefits to pre-emptively tutoring these guys and advantages in waiting until they are needed. Thousand-Year Elixir can also be very useful to just allow these guys to be used immediately and remove any openings for spot removing them. In general, multiplayer EDH is a format of multicolored decks and often I will find one or two decks that I can use at least one of these two guys on. Being able to harass commanders if nothing else is still very useful.

Defiant Vanguard generally speaking, just knowing he is in your deck will keep people away from you. Its nice to drop him in against a random Sun Titan or something swinging on the ground. This guy is sort of the bread and butter defense against ground fatties. He can work nicely against a lot of ground based voltron commanders as well assuming they dont randomly start flying which Uril occasionally does. In general, I try not to have him in play other than right when I go to use him as there is no reason to expose him to a potential exile wrath or something of the sort. The fact that he can rebel tutor is useful for digging Lin Sivvi out if she gets tucked too as it increases our number of outs for that.

Whipcorder its nice utility for just gumming up the aggro guys. Versatility wise, you can open up defenses on someone else for people to swing at them or keep that big eldrazi from swinging at you. I tend to go get this guy when someone gets a big fatty out that I dont specifically want to use my Bound in Silence on. It can also be very political in how you use this guy as if they know how to skip phases and do outright attacks, they can attack someone else. If they declare attackers or try to attack you, you can rewind them to declaring attackers phase for skipping phases and tap it down then. My favorite setup is having this guy in play with the ability to go get Bound in Silence as needed if they try to break through my Whipcorder. I dont tend to use Whipcorder a ton just because I would generally rather drop Defiant Vanguard into a block but occasionally something like an eldrazi will come along and the ability to control them is incredibly useful.

Children of Korlis there are a few uses for this rebel in the list. One of the big things I really love about the children is using them to combat Sorin Markov, Magister Sphinx, Debt to the Deathless, and Exsanguinate effects. If you have a large portion of mana up, its possible to net gain life from an opponent doing these effects as well by means of tutoring for the children, using them, tucking them, tutoring them a second time with another rebel, and using them again. They work well to deter random big beats or at least stall them out a bit as well. I also run Phyrexian Processor in this list which they can be used to recover the life paid into it allowing for making 20/20 or 30/30+ sized tokens in here. Again, if you have crazy mana you can set up a situation where you net gain life from doing this too. I dont tend to use the children that often but having access to them is quite nice.



Rappelling Scouts when you just need a wall of a rebel to bounce things off of you, this guy is a nice pick. The protection option is a nice way to push away flyers or ground pounders and a high toughness makes it so we have something that can bounce off random sword guys occasionally without need to pay mana.

Changeling Hero I often use this guy to protect Lin Sivvi from wraths. If someone has a tuck wrath, this is about the best thing you can do as it keeps you from getting your commander tucked and the rebels going back into the deck isn't that big of a deal generally. It really just gets us going again faster by having access to champion Lin Sivvi with him. I dont pull him out very often outside of that but you can occasionally need a lifegain beater where he could be handy. Its really unfortunate to draw this guy as it takes away most all of his useful functionality. It can be a bit awkward to champion Lin Sivvi if someone then counterspells the wrath effect.... Its rare for that to happen though and you still have a decent beater on the ground that can probably chump the bad things that are happening. Tutoring for Changeling Hero ahead of time and then dropping a tuck wrath can be a valid tactic as well which is why I include some tuck wraths. Watch out for instant speed spot removal though in that situation though.

Mirror Entity this is one of my primary wincons. I generally wait to have a big wave of creatures and use this guy to make them into huge beaters. Being a rebel is really handy for grabbing him as needed. Watch out for spot removal and split second junk with him as well. I tend to focus on making as big of an army as possible and then I sacrifice some power to tutor him into play on my turn rather than pre-emptively as it removes the risk of him being spot removed. Once he is in play, I tend to just dump the mana and make things big to get past split second which has occasionally been an issue if you see opponents running it.

I didn't bother mentioning most of the other tutoring rebels because I tend to try not to have a lot of them in play at the same time in case of a wrath or tuck wrath. Keeping a good quantity of them in the deck is usually a good thing so that we have options if Lin Sivvi does get tucked. I will occasionally tutor for them assuming I am just about to go on the offensive or if I just need something to act as a road block chump and dont want to give up any of my good utility to do so. Most of them are just here for redundancy though really.
~~~~~Game Progression~~~~~
Opening Hand / Mulligans
Generally speaking, I try to focus on my mana primarily in the opening hand. I always try to cycle away the rebels in my opening hand given the option but having a tutoring rebel still in hand can be useful in case of getting tucked. I generally try to push them back in the deck regardless though and get more useful resources. Ramp and draw are usually good things to try to pick up on. Make sure to push the utility rebels back into your deck if doing partial Paris mulligans even if it results in putting a card in the deck and not drawing a card as they are better to have access through the toolbox than in hand. I try not to have big mana cards and X mana cards in my opening hand and try to push for mana, ramp, and draw if possible in the opener. Lin Sivvi and the rebel toolbox should help defend and stall for time generally speaking. If you see a commander you know will be a problem you can try to keep some control in the opener as well as I have seen Kaalia tuck or spot remove Lin Sivvi before playing out their commander.
Early Game
Hit lands and ramp as consistently as you can. Drop Lin Sivvi when you hit 3 mana and try to keep mana up to get some rebel friends if you can but prioritize ramp once she is in play until you have enough mana to work with. Try to defend yourself but if possible, try to let some of the early game decks run around you rather than answering them. Ideally, you want to make yourself a bad target but allow the game to continue around you.
Mid Game
Continue hitting lands and drawing cards as best as you can. Try not to overdo your board state as it will encourage wraths. Just sort of maintain enough of a presence to be difficult to do anything to rather than make people think you are about to go offensive. Sometimes this means that you dont tutor for a rebel at end of turn or you get a rebel that doesn't matter like grabbing a Lawbringer or Lightbringer in a game they cannot be used in order to utilize them as chump block shields. Whenever possible try to keep 5 mana up in the mid and late game so that you can have access to Changeling Hero when the wraths do drop. Prioritize living, drawing cards, and hitting land drops / ramp.
Late Game
This is where you want to start figuring out how you might be able to put pressure on people and kill of players. The general go to option for trying to kill opponents is doing an end of turn token swarm followed by Mirror Entity plus a huge buff on your turn. Be careful with this though as generally speaking, its very very hard to kill everyone in one shot with this tactic so try to remove those in the best postion and those who can probably answer you best if you go for it. Obviously killing everyone is the best priority if you can afford to do it but sometimes its not an option. Eldrazi, Phyrexian Processor, Luminarch Ascension and random token swarm / rebel beats are also options but ideally you wont have to kill everyone from full life at this point in time. If you dont see anything that will work as a wincon then just try to keep living and pushing people around for as long as you can. If the opponents start dwindling then the option of going with the rebel army beats is an option but I tend to try to avoid that with a full game of opponents.
~~~~~Build Styles / Packages~~~~~
Generally speaking, there is always more than one way to build any commander. I myself went with the token based build because the natural access to
Mirror Entity
makes for a strong wincondition. There are several other ways to try to build though if you wanted to which I will try to shed some light on in case you want to pick up a package or run with your list in a different direction.
Equipment
:
White has several ways in which it can tutor for equipment and recover artifacts as well. Stoneforge Mystic, Stonehewer Giant, Steelshaper's Gift and Enlightened Tutor are among some of the stronger effects that can be utilized to tutor for equipment. There are several evasive rebels as well that can serve the purpose of a delivery system. My issue with building around equipment when I tried it is that rebels are so small on their own that it was hard to make their damage stack up all that effectively. It also takes up mana on your turn to do the equipping and it can aggravate or provoke opponents when you poke them with your value generating equipment. In general, I think that building equipment based works better when considering adding mass land destruction and or stax based tactics to the deck. Equipment take a while to grind opponents out so without screwing with opponents resources, I had a hard time making the equipment explosive enough to really take anyone by surprise.

Anthem:
There are a lot of anthem type of effects in white and being a tribal deck we have access to a few more useful ones. In general, I would say that most anthems dont add enough of a buff to get away with running them in multiplayer EDH but I will mention a few good ones worth consideration. I would try not to go with the lower powered Glorious Anthem / Crusade type of effects in general unless you are looking to make the list a bit more casual as I dont think these anthems add enough power for spending a card on them. They do have a little bit of help though against opponents dropping things like Elesh Norn, Grand Cenobite though.
Mass Land Destruction:
Most playgroups will sort of frown on using mass land destruction. We have a lot of good defensive creatures though so if you can get a good board state under you, blowing up the lands can be a good way to push your way to some good value generation. I would look to run more value over time effects and keep the mana curve low in general when looking at running this sort of tactic. Its also usually good to consider your playgroup's feelings on these sort of tactics before just springing this on them.
Combo:
There are a few combos that are accessible to mono white and rebels in specific. Generally speaking, my feeling on using them is that if you are using combos, your opponents are probably using them too. Mono white combo will almost always loose to multicolored, blue, green, and black who are running control and combo though. I really wouldnt suggest playing mono white at all if your playgroup is looking to play combo games. If you are interested though, here are a few combos that can be assembled in mono white:
Stax:
Most of white's access to playing stax is through means of things
coming into
play tapped
or not
untapping
. There are also a few select traditional stax effects like
Smokestack
that white also has access to. In general, I would say that these tactics are about as frowned upon as mass land destruction on average though. Personally, I would do some small scale testing on this type of strategy to see if you like it before devoting $$$ to trade or buy into the cards to run this. Stax can be a very fun archetype but it comes down to the player and the meta to see how fun this sort of strategy can be. I am just saying that I would be hesitant to push this hard as something people will enjoy playing because generally most people hate playing against stax.
~~~~~Strengths / Weaknesses~~~~~
Strengths:
This deck is very very good at dealing with voltron commanders and plays well against most styles of control and aggro decks. Due to the ability to dig itself out of being commander tucked and cheat creatures into play it plays well against the control decks. Voltron commanders have a hard time with several of our defensive capabilities and in general we can use this against them to use them somewhat like a puppet assuming they will allow us to do so and attack other enemies or we put a
chain on them
.
This deck is very good at looking less threatening than it is. Rebels are weak utility based creatures and as such, you can usually slip under the radar. People will often not really even realize that you are playing somewhat pillowfort due to the nontraditional effects we utilize.
Weaknesses:
This deck has a few weaknesses as its stands currently. Some of these can be overcome somewhat by changing design slightly and some will just never go away due to being mono white in nature.
Combo - the problem this deck has with combo is that generally speaking the concept of pillow fort is to push people over to other people and not really be all that aggressive in nature. This means we sort of leave the act of dealing with the combo player to the other people at the table. The one advantage we have is that we are playing draw / go style of play which means we tend to have our mana up in most situations. You can use this to your advantage and play heavier spot removal and such to screw with combo pieces as they try to go off. It is however rather difficult to but the pressure on them though outside of just assembling the swarm before they can go off. Try to focus more on the disruption factor than beating them to going off because its a lot harder to race them. You can also consider utilizing things like Jester's Cap to try to scramble combo pieces and Lapse of Certainty to slow them down.


Swarm - overrun decks can be a huge pain in the but to deal with in this deck. These decks tend to take a very large number of creatures and turn them sideways while making them +/+ to make it a giant swarm of kill everyone. This deck plays similarly but isnt real fast about going off. You can defend yourself from swarm style of decks by packing fog effects, and possibly just using more traditional pillowfort effects like Ghostly Prison. Higher wrath counts can also occasionally help but it really depends on how they are swarming and how quickly they can strap together lethal damage. Gaining life is an effective way to lessen the punch of these type of decks as if they dont kill you in one shot, you can use Children of Korlis to recover but generally speaking, these decks output very very large numbers when they go off so the amount of life you gain generally needs to be somewhat substantial. These type of decks often sort of centrally focus on a commander or some specific type of cards so if you can tuck their commander they tend to be hurt by it. Try to focus on their buff effects and key cards and you can generally keep this from being overly problematic. They tend to be more explosive than we are though and our defenses dont work as well against them.


Mass Land Destruction - In the current build that I utilize, I use big mana to kill opponents via big X mana spwans and Mirror Entity. If you regularly face mass LD as a tactic, you might consider shifting a little bit more into considering equipment tactics. Reducing the amount of X mana and large mana activate abilities like Mobilization will help agains these type of decks. Consider recovery plans, add extra mana stones, and dont overextend your landbase. Keeping at least one or two lands in hand tend to help and consider Darksteel Citadel + Flagstones of Trokair in your landbase.
Card Options
I will review several of the cards that I feel would be worth consideration in a rebel deck. I will list the cards that I currently run and several cards that I have run before or put consideration into running for the benefit of any reader who is looking to make modifications to my list.
Cards that appear in my own decklist should be bolded
, that is assuming everything is up to date in this section. I also opted to do a section that involved all of the rebels and changelings rather than putting them in their appropriate sections because not all rebels are creatures.
---REBELS---
Amrou Scout
two mana rebels who can search for rebels are mostly always worth running. Most of the rebel package caps out at the three mana mark so these guys can tutor for a large portion of the rebels that are worth running. The p/t and most other features of this particular rebel are mostly unimpressive. Having two power means it can attempt to stack up on a larger creature slightly easier and it can be
Skullclamp
ed for quick value. Beyond that, there isn't much to say about this particular rebel. Its generally not my go to 2 drop but having it in the deck adds consistency for digging my way out of being tucked.
Amrou Seekers
evasive beater style of rebel. Generally speaking, this style of rebel is designed more for a sword beat down style of build. Even then though,
Zealot il-Vec
's evasion tends to be superior for equipment delivery builds.
Amrou Seekers
is still nice for some redundancy but its evasion can be very dependant on your opponents and the board state.
Aven Riftwatcher
this rebel has a variety of uses. We dont have a lot of air defense so it can serve as a decent chump blocker as well as a source of lifegain. He can also be used in an equipment build as an evasive creature. The lifegain he gives is nice for building a buffer against decks that directly attack life totals. The fact that he vanishes isn't that big of a deal overall but the more pressure type decks you see in your meta the more useful he will be.
Avian Changeling
its a mostly unimpressive changeling that has flying. If you are really hurting for flying blockers though, I would personally reccomend looking at
Aven Riftwatcher
,
Thermal Glider
, and
Nightwind Glider
all to be included before going as far as consider this changeling.
Ballista Squad
this guy acts primarily as a pillowfort effect. The problem for me is that its incredibly slow to be useable and is very mana inefficient. We have better ways of staving off attacks coming our way. As far as utilizing it as support for attacking out, I think that is rather ineffective as it leaves us potentially tapped down as we pass. Personally, I just dont see a lot of merit in running this guy. Our rebel package is already really good at defending us, he is slow, and he is mana inefficient.
Blade of the Sixth Pride
it has a somewhat high power for its mana. It could potentially be utilized in an equipment build but I dont think its a very good creature in general. It could be an alright target to grab when being attacked but x/3's on the ground are not very common in EDH so I would say hes probably just not going to be that effective.
Bound in Silence
this is one of the best pieces of utility in our rebel package. This card on its own essentially means that voltron commanders are going to have an incredibly hard time every doing anything around us. The fact that they have to exile this before they can even really consider doing anything to us is amazing. This cuts right through hexproof and shroud (
When you cheat an aura into play through means of a tutor into play (in this case our rebel tutor), it does not target and is just placed on a creature of your choosing
) and its incredibly difficult to get past.
Uril, the Miststalker
rolls over to this sort of thing.
Changeling Hero
by default, I utilize this rebel to attempt to push Lin Sivvi through wrath effects. It takes a lot less time setting up if Lin Sivvi stays in play and so while I will drop the rest of my board, I generally dont loose much momentum at all if I can keep my commander in play. The abilities of the creature themselves are ok and I have used him to gain life in the past or attempt to trade with an attacker by blocking with him and or stacking blocks against something. Take note thought that the Champion portion of his ability will not work if you have
Torpor Orb
in play which I also run in this build.
Changeling Sentinel
his power and toughness are relatively uninteresting overall and vigilance on a small creature generally doesn't matter. The big question with him is how much you value the changeling ability. If you want to run some tribal cards, the changelings can be somewhat useful in relation to them.
Children of Korlis
this creature can be used in a lot of different ways in addition to just making it hard to swarm at us for larger portions of damage. What I really like about the children though is that I can use them to recover from things like
Sorrin Markov
,
Debt to the Deathless
,
Magister's Sphinx
,
Exanguinate
and such. I also run
Phyrexian Processor
in my build which the children can recover from whatever life we dump into it as well as GAIN life if you sacrifice the children, tuck the children, and tutor them again. This can be expensive to do but if you set them up ahead of time by tutoring for them at the end of your opponents turn before using them it just adds 4 mana to the cost of the processor to essentially double your life total. They are a nice tool to have access to as if someone randomly swings at you for 20 or something you can just sort of dismiss it afterwards assuming its not commander damage. Players hitting you for sizable life swings can actually turn into net life gain with this guy.
Cho-Arrim Bruiser
he sort of fits the equipment build strategy. Considering he can tap down two targets it can open an opponent up for attacks. Add swords and protections to the mix and you can strategically get sword triggers through. In general though, he lacks evasion, size, and is expensive to cast. I was not overly impressed with him in my testing.
Cho-Manno, Revolutionary
he prevents damage to himself which is sort of cool but it really feels like he should have been indestructible before they started using it. He still gets wrathed away and in general, if someone is attacking me with something on the ground of decent size, I am more likely to go and get
Defiant Vanguard
to make it go away. I just found that the number of situations that he fit what I was looking for was too narrow. Any sort of evasion gets past him and he gets swept with the rest of rebels in a wrath. He just.... sort of needed something more to make him better in my mind.
Crib Swap
sadly, rebels were all errata-ed to get "rebel permanents." This means that we can tuck this card with Lin Sivvi but we cannot tutor it out with our rebel package. It is disappointing as it would have been an amazing piece of removal for rebels to have gained. Alas, my pipe dream will have to continue.
Defiant Falcon
two mana tutoring rebels are great as most of the rebel package fits in the 3 or less mana range. This means that the two mana rebel tutors can fetch most of the other utility from the deck and can tutor for Lin Sivvi and have a somewhat reasonable cost still in their tutors.
Defiant Falcon
tends to be one of my go to 2 drop tutor rebels due to having flying in case of needing a blocker in a pinch. It is also the right size for
skullclamp
to run over for some value which is handy.
Defiant Vanguard
having this guy in your deck generally means people will reconsider randomly attacking you with titans and such. Being able to go and get a creature that will always trade with attackers is really handy. I ran it with
Shield Dancer
for a long time but then realized that they had a very similar role but
Defiant Vanguard
did not require additional mana to utilize.
Shield Dancer
can theoretically be better in play over time due to the fact that it lives through its encounters but generally people just dont send random attackers on the ground at us due to our toolbox of tricks in the first place. In the end, I found
Defiant Vanguard
to have the effect I needed more often and the fact that he is a rebel tutor as well helps me out of random tuck incidents.
Errant Doomsayers
generally speaking, this is a very situational
Whipcorder
. While I like the fact that it doesn't require mana to activate, I dislike how situational its tap is. I also dont know how many little creatures I really care if they are tapped or untapped but it could help in an equipment deck to just get past the chump blockers and such. Generally for me, the ability is too narrow.
Fresh Volunteers
vanilla bear rebel, no thank you. It just gives me zero utility and its not a useful sized creature.
Jhovall Queen
the tank of the rebels. She is the largest rebel that has been printed thus far. Her size as a 4/7 is a little awkward but its also the perfect size to put a sword on and wreck some face. She has vigilance and enough toughness to chump a titan sized creature without any buffs on either. I like her a lot but I can never seem to find a build that ever really wants to tutor for her over other options. She has some cool points and is the biggest tank the rebels have access to. With a sword, a 6/9 vigilant creature with protections can definately do some damage given some time. I could see her working well with a mass land destruction style of equipment build.
Jhovall Rider
its expensive and has a mostly unimpressive p/t. It does have trample which might help it connect but sadly its just too small of a body to do much with.
Knight of the Holy Nimbus
its funny and it could be somewhat political but in general, multiple opponents who can each pay to disable his regeneration is not so great. He was really cool back when he was in standard but he just isn't going to fly in multiplayer EDH generally speaking.
Lawbringer
these guys pack a ton of power. Generally speaking, in a multiplayer game of EDH, someone is usually in one of the two colors of the bringers. These guys can be useful in exiling commanders and creatures. They can also pick off other creatures with access to
Distorting Lens
which I use primarily for these guys.
Lightbringer
these guys pack a ton of power. Generally speaking, in a multiplayer game of EDH, someone is usually in one of the two colors of the bringers. These guys can be useful in exiling commanders and creatures. They can also pick off other creatures with access to
Distorting Lens
which I use primarily for these guys.
Mercenary Informer
generally speaking, he is a worse
Nightwind Glider
as mercenaries just aren't something that you see in EDH.
Mirror Entity
this is my primary go to wincon for making a large swarm of lethal damage on someone. Be careful in utilizing it too early as it often means that you will get wrathed and not accomplish enough with him. I tend to prefer to spawn a large wave of tokens at instant speed and follow it up with entity on my turn making that large swarm of creatures into very very large beaters. Tutoring him into play ahead of time so you can get a larger buff is often sort of a bad move because it opens him up to spot removal before you can make your attack. Also watch out for split second shenanigans when playing this guy. I often try to tutor for him and spend his ability before passing priority to avoid awkward situations with split second.
Nightwind Glider
if you need additional protection in the air you can consider the gliders. Generally speaking though, their protections are quite minor.
Lightbringer
and
Lawbringer
bring enough hate to justify being narrow in use but I feel like the gliders dont quite bring enough power really. They can be alright against some decks like
Kaalia
but ideally you started off by using
Bound in Silence
on her slowing her deck to a slow crawl anyways. They can be alright for an equipment based deck as evasive beaters.
Outrider en-Kor
generally speaking about the only use for him is to attempt the rebel based infinite life combo. It is executed by utilizing this guy with
Task Force
to make
Task Force
into an infinite toughness creature and then sacrificing him to an effect like
Miren, the Moaning Well
. Outside of attempting something like that, I wouldnt run this guy or
task force
.
Pious Warrior
he is an amusing chump blocker for his lifegain but in general I would prefer to have
Aven Riftwatcher
due to the evasion. It is also hard for
Pious Warrior
to really soak up more than 6 damage on average so the lifegain is probably very similar but he lacks evasion.
Ramosian Captain
I use this rebel to increase my overall tutoring rebel count. If someone tucks Lin Sivvi, you need adequate tutoring rebels to be able to recover from it. Generally speaking, I dont really tutor for this rebel but I suppose a 2/2 first strike could randomly be useful in some situations. I only run one rebel that costs 4 mana so generally speaking its a waste of mana to use this rebel tutor over another rebel tutor given the option.
Ramosian Commander
I cap my rebels in my list at 5 mana and only run one at 5 mana and one at 4 mana so really spending more mana to rebel tutor is generally a waste. I tend to utilize Lin Sivvi for most of my tutoring anyways so this guy is just more expensive and more expensive to use his abilities for no real good reason. Due to that, I keep my tutoring rebels on the cheap side.
Ramosian Lieutenant
cant ever have enough 2 mana tutoring rebels. Its sort of useful that he can equip skullclamp and not die but in general, I dont really tutor for this one in specific all that much. Its good to have redundancy though to keep out of being tucked.
Ramosian Revivalist
with lin sivvi's ability to tuck rebels and most of the rebels being cheap anyways, this guy is really just not that useful. If it had a lower mana cost / lower mana targets I might consider it but paying 6 mana is the same for me as tucking and then tutoring most of my rebel package anyways. Generally, I dont like over extending my board position into a wrath unless there is a reason to do so.
Ramosian Sergeant
One of the two one drop rebels in the deck. Its really handy having some cheap targets in case I have to mostly tap out for other things in my turn as it means I can still tutor into useful things for Lin Sivvi. It cant get plenty of my rebels but its really cheap to get into play and that makes it useful. Its also useful when trying to multiply as fast as possible as its got the cheapest rebel tutoring outside of Lin Sivvi herself.
Ramosian Sky Marshal
evasion plus decent size are nice. Its rebel tutor though is horrifyingly expensive though. If you have a lot of trouble with getting tucked it might be worth considering just because its not bad as a 3/3 flyer that can carry swords and such but in general, its kinda overcosted and its search is extremely expensive.
Rappelling Scouts
good defensive blocker. It can go protection from colors making it an excelent chump blocker and it has naturally relative high defense. It flies too so its one of my go to flying defense options to just try to make things go elsewhere.
Reveille Squad
its an amusing defensive option. It could be fun in a sword / aggro style of build but generally I feel like I am over-extending into wrath territory with the kind of situations he could be useful in. I could see him being useful in an aggro vs aggro sort of environment though.
Riftmarked Knight
its abilities just aren't really relevant. I would just run the
glider
instead and be happy as flanking doesn't matter and you wont ever want to suspend him.
Saltfield Recluse
its just not that relevant 95% of the time. Its ability doesn't scale at all to make it work for EDH. It looks more designed for limited use.
Samite Censer-Bearer
it seems designed to help assist against
Pyroclasm
effects. I just dont see it being relivant in EDH.
Shield Dancer
I really like the abilities it has but I found it too similar to
Defiant Vanguard
in nature plus there was an issue that the
Shield Dancer
required additional mana after tutoring for it so it wasnt really that easy to use. On top of that, if something had trample, it would sort of push over the
Shield Dancer
without dying. I just found that
Defiant Vanguard
fit the needs of what I was trying to do more often. I really only needed to have one of them in my deck as well to deter attackers.
Shields of Velis Vel
again, I can only tutor for "rebel permanents" with my rebel tutors. There aren't that many non rebels in here and not a lot of specific tribal buffs in here either. This sort of effect could possibly have some synergy with
Coat of Arms
as making my own creatures all creature types would make them massive but without the ability to tutor for this sort of thing with the rebel tutor it just doesn't have enough synergy with the deck. Plus I just run too little that matters as far as being tribal in play.
Soul Charmer
again, I prefer
Aven Riftwatcher
if looking for a chump blocker with some lifegain.
Pious Warrior
probably also trumps this card as well.
Steadfast Guard
vigilance on a small creature just doesn't matter enough. Vigilant bears are not really useful.
Sword Dancer
he has potential to act as an attack deterrent as you could lower creature's power and then dog pile it but in general I think the ability costs too much mana and doesn't do enough. I sort of lump this guy in with
Ballista Squad
as being mana inefficient and too situational.
Task Force
as I mentioned with
Outrider en-Kor
, its a combo card to be used with
Miren, the Moaning Well
type of effects for infinite lifegain. I dont really suggest using this though as all of the cards involved are rather bad cards on their own. In addition, gaining infinite life isn't as good as it might sound due to combo and voltron options of killing players in this format.
Thermal Glider
if you need additional protection in the air you can consider the gliders. Generally speaking though, their protections are quite minor.
Lightbringer
and
Lawbringer
bring enough hate to justify being narrow in use but I feel like the gliders dont quite bring enough power really. They can be alright against some decks like
Kaalia
but ideally you started off by using
Bound in Silence
on her slowing her deck to a slow crawl anyways. They can be alright for an equipment based deck as evasive beaters.
Trenching Steed
its a bad creature. I cant really say a lot more than that considering its not even an
elephant
for mana.
Whipcorder
I like the versatility of this guy as we can use him to poke holes in opponents defenses or defend ourselves with him. It can work well in a pillow fort situation to just take out a blocker and allow someone else to swing in and hit people. I find this useful for sniping out planeswalkers on occasion as well as people tend to defend them with a few creatures.
Zealot il-Vec
he is great at delivering hits with swords and his damage poke to creatures can be useful when paired with
deathtouch
. There are a few utility guys who die to one damage pokes as well. I just really wish he could have redirected his damage rather than doing a single damage regardless of power as it really handicaps him. Great in a sword build though for getting in there.
---CREATURES---
Mother of Runes
possible protection option as well as part of a
Ranger of Eos
build. I like it in wrath light metas, spot removal heavy mentas, or in decks that plan on screwing with lands.
Planar Guide
possible protection from wraths and a
Ranger of Eos
target. He plays well with the draw / go style of build but I generally dont like showing my tricks before I have to so opponents knowing he is there has its pros and cons I guess...
Serra Ascendant
for the more aggressive builds as well as those looking to run sword builds its a nice and cheap beater. It fits into a
Ranger of Eos
toolbox nicely and beats in very well especially in a mass LD build.
Weathered Wayfarer
He searches for any land which is really useful as we have some solid utility lands as targets. If you want, you can run some of the cycle lands as well to use him as card draw assuming thats something you think you would use.
Ranger of Eos
is also a decent card to run assuming you have enough one drops that you would search for. Inflating your hand with lands works well with cards like Scroll Rack too as you can convert lands into cards drawn. He is one of white's few value generators and considering how many good utility lands continue to be printed, I dont see him getting worse anytime soon.
Knight of the White Orchid
the body is mostly irrelevant but it does ramp a land at the cost of one mana considering he brings the land into play untapped. I normally really like this guy in white decks that lack green but generally speaking you have to drop him on turn three which is when I want to be hitting Lin Sivvi so too often I found myself casting him on turn 4 and later which hurt his performance in my eyes.
Stoneforge Mystic
solid creature for running equipment. I ran it for a long time but ended up with just too few equipment to keep him in the list anymore. He is rather standard to see in EDH decks and does some serious work.
Torpor Orb
in my build again does interfere with him on occasion though.
Aven Mindcensor
he can act like a counterspell to opponent's tutor effects. He is cheap to cast and has flash so he sort of works with what the deck is already trying to do. Beyond usually screwing with a counterspell, he often just deters tutoring for a few turns until he gets answered. The big question is how long you can keep him in play. This list as I run it doesn't run a lot of protection for him or reanimation for him either. He can be useful against tutor happy opponents but he also usually dies quite fast against them. He plays better against combo generally speaking.
Burnished Hart
it ramps two lands into play. The sort of awkward part of it though is that Lin Sivvi is what I want to do at 3 mana and so that puts me on playing this on turn four and poping it on turn 5 or pushing lin sivvi back. This sort of eats up two turns too before seeing the results so in general, I guess it just doesn't quite feel like it fits what this deck wants to do.
Mentor of the Meek
rebels are all mostly small creatures. He functions nicely to allow us to draw off of them coming in. He doesn't function under
Torpor Orb
which I also run but there are few enough conflicts that I run both of them in the deck together. He is fairly cheap and my rebels are generally cheap enough that I can usually draw 1-2 cards in a turn with him in play.
Scarecrone
it has a few interesting uses in this deck due to some of the changeling options we run. It can be used to generate some small draw or if you run enough artifact creatures, serve as a re-animator effect.
Stonecloaker
instant speed graveyard hate that is repeatable. I dont like taking out all graveyards necessarily since I can tuck rebels and have
Emeria, the Sky Ruin
in the deck. It can also be useful for recovering Lin Sivvi in a pinch (sometimes she is tapped or you dont have 5 mana up).
Heliod, God of the Sun
the vigilance could potentially be useful in an equipment or stax based build. He will probably end up being animated in a rebel build due to the amount of creatures we tend to put into play. The cost per token is a bit high though so its hard to really run away with him but if you are looking for more token spawning effects he is something to consider I suppose.
Hokori, Dust Drinker
he plays the stax game well. Utilize him with some equipment and mana stones and just stax it up. He has good synergy with things like
Kismet
to keep people from recovering too quickly.
Kor Cartographer
its ramp but its slow and it doesn't have a lot of value behind it. Torpor Orb also hurts it and we run that. In general I would rather the ramp that I run be able to be used immediately and not eat up entire turns if possible. I still run
Solemn Simulacrum
but that's also because of his additional value he brings.
Ranger of Eos
hes a potential add but it really comes down to how many targets you run for him. He can generate some value for us though which is hard to do in mono white but I think it really comes down to what one drops you run that you would want to tutor for and how many of them you run.
Solemn Simulacrum
just ramp value creature. He is sort of slow to drop and eats up the turn if dropped on curve but its still nice value that white doesnt have a ton of access to.
Karmic Guide
you probably need to be running a LOT more creatures that aren't rebels to really make it relevant. I tried it for a while but with Lin sivvi's ability to tuck rebels it just seemed lackluster wayyyyyy too often.
Stonehewer Giant
solid creature for an equipment heavy build. I would make sure to have a decent sized equipment toolbox though to run him. He can generate continued value and the equipment he gets can generate further value. You need to run several equipment though to make him worth including though.
Crovax, Ascendant Hero
he can help against random utility and opposing token decks. His ability to bounce back to hand is really handy and if he gets stolen from deck it doesn't hurt us which is nice. I like him as an anthem for an aggro style of build due to his low backfire capability. His effect is much less potent than
Elesh Norn, Grand Cenobite
's but her backfire capability is quite monstrous for us.
Duplicant
if you have means to abuse creatures then I think hes a decent effect, I just dont have ways to abuse him in here though and I cant really tutor for or recur him that nicely either. I also run
Torpor Orb
which doesn't mesh well with it and he costs 6 mana at sorcery speed which just doesn't feel good.
Felidar Sovereign
this feels like sort of a low blow to run but if you are ok with combo based things its I guess acceptable. The best way to run this guy is with flash so
Scout's Warning
/
Winding Canyons
/
Vedalken Orrery
all help jump him in at the last second for a potential surprise victory. I think its sort of lame but whatever floats your boat I guess.
Sun Titan
I guess I just didn't feel like I really had enough targets I really wanted to rez with him. Its possible to use him but I almost feel like I need to run fetchlands in order for him to have enough value to rez with. I looked at my list and I do have like 15 or so targets for him but it just hasn't been enough. When I would cast him there would be like a single target and then there would be like no other opportunity to generate value with him. I also dont like tapping down 6 mana on my turn if I can help it.
Yosei, the Morning Star
it is possible to establish a Yosei lock to lock someone out of the game by utilizing Yosei with some sort of rez engine. (
Emeria, the Sky Ruin
+ Sac outlet) (
Adarkar Valkyrie
+ Sac Outlet) (
Nim Deathmantle
+ Sac Outlet) are the ones that come to mind offhand. Of them,
Nim Deathmantle
has the capability of locking out several players on its own based on how much mana you have available so I would say its the strongest option of them but
Emeria, the Sky Ruin
being a land is fairly strong as well. Overall, I dont see much synergy with the deck but its an option if you were looking to include some combos.
Elesh Norn, Grand Cenobite
a great anthem and great wincon. The biggest issue I have with her is when people steal her from us and or make a ton of clones of her everywhere.
Avacyn, Angel of Hope
its a strong effect, but honestly its not that hard to deal with her and I think the likelihood of her being stolen from your deck, cloned off you, or stolen off of you after casting it are something like..... 80% stronger than the chance of you drawing it and it working for you. Some people love her but I just haven't ever been impressed by what she has done. Playing her out is sort of like asking to be answered next and she really isn't that hard to deal with.
Kozilek, Butcher of Truth
he draws cards!!!!!!! Also, rebels can deal with him relatively easily if stolen as we have
Whipcorder
,
Bound in Silence
, and in a pinch
Defiant Vanguard
not to mention just the random instant speed answers the deck runs. His annihilate and massive size makes him a nice backup plan. I also dont really mind if my graveyard get shuffled in as most of what I want my graveyard for is the ability to put it back in my deck.
Ulamog, the Infinite Gyre
he has a vindicate trigger on casting and is relatively hard to kill due to being indestructible. He is a nice plan B style of beater and the deck itself can deal with him being stolen and cloned rather effectively due to
Whipcorder
and
Bound in Silence
not to mention just the exile and tuck based removal that we pack.
Blightsteel Colossus
he is big, mean, and he can absolutely destroy some people. We can also generally defend ourselves from him if he gets stolen. He is an option for alternate wincons if you want to run him. In general though, I feel like Ulamog accomplishes more though since he has an on cast ability trigger and essentially any blockers will force Blightsteel into taking two+ turns to kill someone. I think that annihilate 4 plus having 10+ power is more effective than infect + trample.
---ARTIFACT---
Everflowing Chalice
I like this stone as a varying cost / effect mana stone. I can drop it at 2 mana and use it to be more explosive into my early game or I can wait until later and drop it at 6 or more mana as sort of a Gilded Lotus style of stone. The best part is that it comes in untapped so it can be used immediately and so it keeps my rebel tutors still available. Its easy for this to generate some seriously large amounts of mana later on which is nice and it has a varying level of use depending on what you need it to be.
Mana Crypt
it is amazing ramp, but Lin Sivvi costs so it really doesn't ramp well into her. On top of that, this deck wins in a long drawn out game so taking 1.5 dmg a turn (on average) will sort of add up quickly over the course of a long game. I tend to focus on using this more in a deck that I am trying to run out as a fast deck. In slow drawn out games, it can do a lot of damage to you especially if you aren't lucky about its randomness. I have taken damage for like 8 straight turns before using this in my Thrun deck and using it in a slower designed deck seems sort of problematic.
Orochi Hatchery
it can be used as a large token spawner that can be repeatedly activated for dudes. It is a little clunky though in the fact that you generally tend to need to drop crazy mana into it for a turn and then like 2-3 turns later you become a problem for the board. I do however like it as a card that could be run after being wrathed off the board as your first thing back in play. I tend to try to drop it at 3+ counters on it and I like being able to activate it the same turn I drop it. Its not cheap to work with but has potential for CRAZY token generation.
Basilisk Collar
deathtouch can be used to keep attackers away from turning sideways in your general direction. Offensively speaking, it can be paired with
Zealot il-Vec
for a removal stick in an equipment build.
Expedition Map
utility lands are solid. If you want, you can build around one in specific and add this to fetch it. Or, if you just like having access to fun toys its still solid.
Explorer's Scope
it can be amusing with topdeck manipulation but overall, I find it a little underwhelming.
Meekstone
its sort of a stax style of pillowfort effect. The downside to it is that it keeps opponents from attacking each other as well. It can be combined with
Whipcorder
to just lock up creatures though so they cant just defend themselves with fatties. The hard part with this effect is if you try using it with equipment, most equipment will buff the rebels into getting stuck tapped so you will probably have to shift the equipment around and alternate untapping.
Pithing Needle
its a decent card if you encounter a lot of utility commanders. Generally speaking, its hard to consistantly draw it in this style of deck and its an incredibly meta dependent style of card. If you constantly have issues with a commander like
Arcum Dagsson
or
Captain Sisay
though, it can be worth running.
Relic of Progenitus
its solid grave hate. It hits our own graveyard though too so you generally want to tuck rebels before executing it. It can be useful for its tap ability though too as it can keep opponents off of rezing creatures from other graveyards as most players will agree to exile the targeted creature in response to a rez given the option. It cantrips to boot when it pops.
Scrabbling Claws
useful for slow rolling grave hate. The tap ability can often be used to cull graveyards or be used in response to an attempt to rez from someone else's graveyard. It can also pop to hit a target cards plus draw a card which is nice. Its got a smaller effect than
Relic
but it doesn't hit our own graveyard and tends to slow roll just as nicely. It sort of comes down somewhat to how much you value your own graveyard as to how useful it can be in comparison to
Relic of Progenitus
.
Sensei's Divining Top
topdeck manipulation is really prime in a deck where you assume you will search and shuffle about once a turn. This means that every turn, you get access to the best of three cards as your draw. Then you get to ship out the extra cards and send them off. You really have to watch out on using the top's ability to draw a card though as it can be easy to accidentally ship it off if you dont pay attention. This is a great card at triggering Miracle cards too due to being able to stack them as you want and draw them when you need them. This is one of the best tools you have at just getting quality draws. Unfortunately, we dont have a lot of ways to go get it. Its well worth burning an
Enlightened Tutor
to get though as it pays off in gold over time.
Skullclamp
depending on your setup, this can draw a lot of cards in one shot. Its nice to build into using this and just burn off spare rebels with this. It works really really well with the
lawbringer
/
lightbringer
as well. It can be hard to really run away with this card though as its a pain to tutor and tuck the rebels so I will sometimes draw like 2-4 cards and just set it up on a rebel that will live through its equip. Its a good card in here, but unfortunately we dont have a ton of disposable creatures that we want to just die on us in here.
Sol Ring
solid ramp and its cheap. There isn't much to say about it other than its a solid staple. It taps for more mana than it costs to drop with zero downsides.
Wayfarer's Bauble
land ramp can be robust assuming your meta doesn't run a lot of mass land destruction. If you see mass land destruction, you might move this to a mana stone instead. In general though, I would rather have lands in play than a mana stone though as stones tend to get blown up.
Defense Grid
its amusing to screw with opponents since most of what we do on opponents turns is rebel tutoring which this does not effect. It can be useful to keep people off your back but it also screws with us a little and stops opponents from stopping each other at instant speed somewhat. It has pros and cons though and if you play against a lot of draw / go opposition it could be worth considering.
Distorting Lens
this thing has a TON of hidden uses that arent always easy to see offhand. The most obvious use for this card is to enable
Lawbringer
and
Lightbringer
. Using the lens, we can nuke any colored creature which is super handy. Ouside of that, we can poke holes in protections, we can unequip swords by making the swords themselves a color that they protect against, and we can just randomly screw with things lol. Its been more impressive so far than I had originally expected but protection from white is actually a problematic thing so its handy that this deals with it so well by just making the thing that gives the protection into a color it protects against.
Illusionist's Bracers
it can be used to try to swarm with rebels in play. I generally speaking dont play that type of deck where I want to put as many rebels in play as fast as I can though so I dont run this but its an option if you want.
Leonin Sun Standard
its an option for playing anthem effects. Its going to be half as productive as
Mirror Entity
but its still a potentially powerful effect.
Lightning Greaves
it can be used for haste to use rebels sooner. Generally speaking, this really only matters when playing Lin Sivvi out but its also difficult to play her out and have much mana to use for rebels in the same shot. I generally dont worry about this.
Mask of Memory
its an excellent means to generate card advantage. You can ditch rebels to the discard and shuffle them back into the deck later or just get rid of whatever you dont need at the time. I tend to find the card advantage from this to be better than Sword of Fire and Ice and its much cheaper to drop and equip in one shot. The downside is that you need to run some evasive rebels and still need to connect. I cut it myself because too many people in my meta run maze effects so I find it difficult to lightly run an equipment package in this deck and connect through. Too many people were willing to maze a 1/1 bird to keep me off of drawing two cards.
Mind Stone
generally speaking, I try to get my mana stones in this deck to tap for more than one mana. This stone has an advantage though that it can be cycled off for a card later if needed. Colorless mana doesn't really hurt much and ramping at 2 mana works well as it doesn't put me off my curve.
Scroll Rack
we can push rebels back into the deck, we can set up miracles, and we can bloat our hands up full of lands with things like Land Tax and turn them into nonland cards with this. Scroll Rack is a card of many hats but its here to help ship our hand off and make it better. With a high number of shuffle effects we can ship out anything we dont like that is in our hand and draw into something else. Its a very useful card as it sort of selectively wheels your hand however you want. I actually consider it to be one of the better hand fixing / drawing cards in the deck. If you see this in an opening hand with mana you probably dont need to mulligan at all as you can just ship them off with the rack before shuffling.
Surveyor's Scope
I am looking to test this new ramp card and see how it goes. It has some interesting potential and it drops in before our commander drops which is nice. I am not really certain yet as to what to expect from it but it looks interesting.
Torpor Orb
it screws with ETB effects. We run a lot of creatures that dont really have ETB effects so its a nice way to screw with opponents. It does screw with the
Changeling Hero
which is probably one of the more annoying ones that it screws with since he is part of our toolbox. In general though, it screws with opponents a lot more than it does with us though.
Tsabo's Web
this can be a great way to screw with opponents utility lands and open up equipment connecting. Its nice as well that it replaces itself in hand as well. You really dont need to build around this much but I wouldn't push too hard on the utility tap lands if you run it.
Umezawa's Jitte
it can be used for some alright value generation in an equipment build. Generally speaking though, since we are not playing a voltron deck it is hard to really utilize for much. The -/- ability is probably going to be as good as you can get with it in here. Its really not well suited for this deck even if going an equipment package because pumping an evasive rebel just isn't the same as pumping a voltron commander. Lifegain in commander, is mostly under whelming and with the pump less effective, it really limits how productive the card can be in a rebels build. You can toy with it, but I wouldn't go out and buy / trade into one to test it in a rebels build.
Winter Orb
it can be used in a stax style of build where you hate on opponents resources. Rebels tend to be cheap to tutor and have good utility so you could push for mana stone ramp and hate on lands while trying to connect in with equipment and in general setting up stax tactics.
Crawlspace
because it only applies to attacking you, this can be utilized to suppress swarm decks from going all out on you. It is a very specific effect though so I would wait to be having problems with swarm before considering this as its sort of a do nothing style of card against everyone else. It can also be easily removed before attacking you so watch out from depending on this sticking to defend you. It is a pillowfort style of card and can be removed if someone is determined to hit you.
Crucible of Worlds
if you have troubles sticking utility lands, you want to use fetchlands, or you play against mass land destruction. In general, I dont really find myself to be relying on any one land in this deck though so without using fetchlands, it feels a little underwhelming to include in here.
Crystal Ball
topdeck manipulation is fantastic in this deck because drawing more cards is hard to do and we tend to shuffle a lot. This means we can try to dig into the cards you want or need for your turn by having access to the ball. I find the ball to be sort of superior to some other topdeck manipulators in decks that can't shuffle a lot but even with our high shuffle effects, it can make a nice addition as sort of a less powerful
Sensei's Divining Top
effect.
Darksteel Ingot
indestructible, it ramps slightly, and it generally doesn't get swept. Its about as good as ramping a land with some pros and cons to it. I like it as we can use it to break through something like a
contamination
lock. In general though, its a little over costed for what it does here but it doesn't get swept so that's handy.
Darksteel Plate
it can help to stick Lin Sivvi through a lot of wrath effects without needing to try to protect her with the
Changeling Hero
. It is also very handy for just having a really solid blocker on hand. Since the deck already has access to
Changeling Hero
though, I dont think this is really a necessity but it can be nice to toy with.
Diviner's Wand
since changelings are wizards, we can get the auto equip to work for us with this card. Paying mana per card is not cheap but white has cruddy access to draw and this deck does push hard on drawing.
Druidic Satchel
none of the abilities it can hit are necessarily bad and its reveal ability can be used to determine if you want to tap a rebel on your turn before drawing to push off that draw into something else. The land into play is obviously the objective most of the time but tokens and life are not really bad.
Ensnaring Bridge
against opposing aggro and voltron decks this can work nicely. Our draw is really bad but its rare that we are trying to swing with really large creatures. The biggest downside is that it might encourage you to dump your hand and it doesn't keep opponents from taking and dealing damage to each other. Its a political pillowfort card though.
Oblivion Stone
solid sweeper that we can control as we need it. The deck is very defensive as well so we can potentially drop this and defend a few turns before using it. I dont like having to blow up my stuff but its possible to fate counter or even get
Changeling Hero
leading into doing this. Being an artifact means there are a few ways possible to recover it too which can be useful on occasion.
Quietus Spike
this little bugger can do some serious work with some of the evasive rebels. The biggest problem is that its really a pain to drop and equip in one shot as its not cheap to do either. It also sort of falls off on how hard it hits people making it still difficult to close out a game with it. It works well on
Zealot il-Vec
though as he can easily deliver hits one damage pings can be very potent with deathtouch.
Rings of Brighthearth
it works with Lin Sivvi to get two activations out of her but honestly, I would be more interested in using this with fetchlands to ramp. Its sort of an awkward artifact though in general though. I dont tend to try to swarm with rebels either so I just didn't find myself needing rebels two at a time usually. It depends on what you want to do though and how much value you can generate from it. As far as using it to multiply rebels though, I found it underwhelming.
Sculpting Steel
it can be a generally speaking solid card or it can be very underwhelming. It depends on how many good artifact targets you see. I generally like to run it in a list thats sort of artifact heavy. Cloning mana stones can be a nice move and a good way to pick up on other people's good ramp / value generators.
Spear of Heliod
its an anthem effect and a pillowfort effect in one. Generally speaking, the pump is too small and the utility effect on it is rather situational and we can tend to fight off the sort of creatures that we would care about that it can hit.
Staff of Domination
it can do a lot of handy things as mana dumps. Its a nice effect to keep up as options too. Most of the things it can do we sort of can do as well but the option for card draw is nice. I often dont like over extending the rebels in play if I dont have to so it seems like a nice way to fort up and just draw cards. Its a card that you ideally want to be on a big mana strategy to run.
Sunstone
its a pillowfort effect that you can use to try to fend off swarm style of decks. Unfortunately, once again it is a type of permanent that swarm decks dont tend to have an issue answering.
Sword of Feast and Famine
its nice because it can pay for itself and its equip. This means less time with the pants down after doing the cast + equip. The evasions and protections are probably one of the better ones too of the swords. It works well to be moved to another rebel to defend with.
Sword of Fire and Ice
card advantage is hard to come by in mono white. It gives some spot removal and draw so its handy to have. Its sort of a pain to drop and equip a sword in one shot though.
Sword of Light and Shadow
you probably want some fairly powerful non rebel creatures in the deck to make this worthwhile since we can always tuck and re-tutor the rebels. Reanimating rebels is very underwhelming.
Sword of War and Peace
it can pack some punch and since this inst a voltron deck, its a useful card for an equipment package to carry. Its also nice that it punishes the greedy hand players but its protections are kind of terrible since nobody really wants to
swords to plowshares
a rebel anyways.
Thousand-Year Elixir
the ability to tap immediately to rebel tutor is sort of handy. I am often trying to keep Lin Sivvi in play though so if she dies and has to be recast it can be a pain to have extra mana to tutor for much. The untap ability is alright but incredibly costly to pay to tutor, pay to untap, then pay to tutor again. I like it the most with the
Lawbringer
and
Lightbringer
to tap exile on the spot. Its also very funny to surprise someone with a
Whipcorder
that can be used twice in one shot. In general, I found that people tended to blow it up on sight though so I really never got to use it.
Erratic Portal
it can be used to harass opponents creatures or used to recover Lin Sivvi to hand in case of an emergency. Its nice due to the low mana to utilize it. It can be very tricky to play around keeping 2 extra mana up all the time as an opponent as you can use this at the end of opponents turns and on your turn as well to force them to pay two more at a time.
Gemstone Array
it can be used to store mana for turns where you need a large portion of mana. Generally speaking, you wont use all of your mana every turn so this is useful to stockpile mana. Its more useful in the mid to late game though than the early game since it doesn't actually ramp really on its own.
Goblin Charbelcher
spin the wheel of randomness and see how hard you hit lol. This can be very productive in conjunction with
Land Tax
or
Endless Horizons
which can strip large portions of your landbase out. Its sort of a silly random thing but it can be used to dispatch creatures or shoot for direct damage to the face. I would really only use it if you have plans to extract large portions of your landbase though and even then, its a little sketchy. Its super amusing though if you randomly shoot it at someone's face and hit a large clump of no lands.
Helm of Possession
super fun creature theft. Sadly, it really works the best with additional sac outlets. It can be used to harass opponents creatures though which is fun but without a follow up sac outlet I just didn't find it as useful.
Jester's Cap
it can hate on combo players by dismantling pieces of their combo while still in their deck. Generally you only need to take one pice out of each combo to disable a combo so try to find the key piece or pieces to dismantle with this.
Phyrexian Processor
it makes some big tokens to beat face with. Ideally utilize
Children of Korlis
with this card to recover any life you pay into it or possibly gain life by cycling the children back around a second time. The tokens are big and smashy like.
Slate of Ancestry
it allows you to cycle your hand somewhat nicely. It can work just fine even with just 3+ guys in play as often your hand gets a bit stagnant so its a nice card especially with the fact that this deck tends to have several creatures in play quite often. Its sort of expensive to drop and use in one shot but its how I generally suggest trying to use it as slow rolling it doesn't tend to pan out nearly as well.
Smokestack
can be utilized in a stax style of build. Its very harsh if you can manage to ratchet it up to more than one counters while stabilizing but its also very difficult to do.
Sword of the Paruns
it can act as an anthem effect for going on the offensive while still being an equipment which is very rare. It makes it easier to tutor for and still its power buff is fairly strong considering most anthems only give one point of power or toughness.
Teferi's Puzzle Box
it works to turn land fetches like
Land Tax
into card draw and it also ships off rebels and just cycles hands quickly. It can be useful for disrupting combo decks as they can have a hard time setting everything up in their hands in one shot. Its also sort of unfortunate against decks that focus heavily on card draw as every turn they get a chance to bloat their hands up and turn it into a new bigger hand. It does give us a bit of a chance to do the same as we get more access to our big draw effects. It works well with
Scroll Rack
as well as you can push good cards into your next hand. Playing against things like
Consecreated Sphinx
though can be EXTREMELY bad though.
Thran Dynamo
reasonably costed artifact that taps for almost as much as it costs. It generates TONS of mana considering it costs 4 to drop and taps for 3 more mana. Its great as it has very small net mana loss for the turn you drop it and can immediately be used to tutor for rebels.
Tower of Fortunes
its sort of rough on the mana but instant speed drawing 4 cards in one shot for mana is actually not a bad return for the cost when you look at it. Its just soooooo taxing to do this in a turn that I dont like it. Its an option though if you are hurting for draw and are willing to drop some big mana into achieving some draw.
Trading Post
it does a lot of sort of useful things for the deck. You can ditch rebels from hand where you can then tuck them or reanimate them into play via
Emeria
. You can sacrifice rebels to recover draw and ramp effects. It generates goats for chump blocking or mirror entity swinging. Its just..... useful I guess. It can serve as a sac outlet to get Lin Sivvi out of play too potentially if you cant keep 5 mana up for the
changeling hero
.
Vedalken Orrery
being that its sort of a draw / go style of deck, being able to flash cast wraths and creatures has its advantages. It can be very potent to flash in some big plan b style of creatures or even just a big token swarm at end of turn. The hard part of this style of card is that it has some threat attached to it and generally speaking we need somewhat of a setup already to use it. If you get swept for nonlands you will end up loosing a lot but at the same time, using this can help avoid being swept on some key cards too.
Well of Lost Dreams
if you try hard, there are some lifegain rebels that can be used. In general though, I dont think there are enough of them that are really solid that including this becomes that good of a move but it could be something to consider.
Batterskull
it starts with a body on it and can be moved to another creature and utilized as a good attacker + defender. I like it in decks that are looking to do more gradual attacking. The size buff is nice, vigilance is nice, and lifelink on it are all useful to have. It is a little expensive to cast and a little expensive to move though so try not to do that more than you have to. I also saw a lot of people blow it up if I ever tapped out which was sort of annoying.
Coat of Arms
one of the biggest bang for your buck anthems. If you want to work off of a rebel swarm and run people over that way, this is a good way to pack a lot of power for not much mana. It generally works well with token swarms as well as they share creature types.
Mirror Entity
works amazingly well too with
Coat of Arms
as even just making creatures 1/1s will make for a huge power buff since he adds the changeling ability to each of your creatures makeing them absolutely enormous.
Eldrazi Monument
this is more of a defensive anthem. It unfortunately sort of brings a lot of hate down on itself considering how defensive it is. You also have to keep bringing out new creatures as it eats a creature a turn. I didn't have very good results with this personally as it hinders multiplying by forcing you to sacrifice a creature every turn and the rebels were already so defensive it just didn't open me up much for attacking out. It brings a fair bit of utility at least but I found it brought more attention down on itself than the power it actually brought.
Gauntlet of Power
its an anthem and it allows for crazy mana generation. Most of the big game enders involve spending X mana to make a ton of dudes and swing out. It also helps
Mirror Entity
make things really crazy big. Anthems can be useful for keeping rebels in the game against things like
Elesh Norn, Grand Cenobite
.
Gilded Lotus
it costs sort of a lot of mana for a mana stone, but it taps for three mana as well so its a net loss of two mana the turn you drop it. Most of the rebels costs 3 mana as well so it ramps and allows us to still rebel tutor for most things the turn it drops.
Mind's Eye
one of the more powerful actual card drawing engines available to mono white. Make sure to milk it for whatever you can. Its sort of unfortunate that it consumes so much mana the turn you drop it as it can easily screw with your ability to rebel tutor for at least a turn. Still, its really powerful and generally gets answered fairly quickly.
Memory Jar
its card draw, unfortunately I have a lot of things in this deck and build that need to be played at the right time and so I didnt feel that this sort of temporary wheel could be utilized that well. This isnt the sort of deck that just blowing your hand is a good thing so it felt really odd in general. I would rather just draw a few cards than be forced to try to empty a hand on my turn.
Pariah's Shield
it can be utilized with
Cho-Manno, Revolutionary
as a damage shield. You can really put it on any creature and still get some decent results but
Cho-Manno, Revolutionary
in specific wont die regardless of what damage is coming in. Unfortunately, this is fairly easy to break through for those trying to be aggressive. It can work alright against the swarm style of decks that we occasionally have issues with and its an equipment so it can be included into a package there if you like.
Ring of Three Wishes
it is a cheaper and generally better
Planar Portal
due to the lower cost to drop and activate. It can be alright if you specifically want certain cards from your deck more consistantly. Its really expensive to drop and use though so generally I prefer to just run more wincons rather than take up turns trying to tutor but the fact that it can retrieve three cards is fairly strong.
Storm Cauldron
sort of a stax style of effect. Its hard to play arround but keep a low mana curve and use lots of mana stones and it wont be as rough. It will hurt the heavy ramp big mana decks though but its generally an annoying as hell effect lol.
Caged Sun
its an anthem which helps against
Elesh Norn, Grand Cenobite
type of effects which really hurt us. Most of our finishers involve spawning x tokens or
mirror entity
for a huge buff so it helps in a lot of ways to close out a game.
Dreamstone Hedron
its an expensive mana stone but it also taps for three mana immediately so we can still rebel tutor. Its ability to sacrifice for card draw is also really handy as it can get us some cards flowing if the three mana isn't as important.
Knowledge Pool
generally speaking, this card is known for its
Teferi
lock. However, we dont neccesarily cast a lot of spells and and have sort of bad cards to contribute to the pool so it could be amusing to use to push people off of their game. This would be more of using it to troll opponents though but I can see some good value to be had in doing so.
Myr Incubator
with access to sizeable mana, this card can churn out a big stack of tokens in one shot. The biggest problem is that its easy to see coming and we would still need an anthem to make them of decent size. This means that we probably need to keep at least one tutoring rebel in play through the turn so its likely that we would need to drop the Incubator, not get wrathed that turn, and then proceed to not be tampered with in the following turn to make this work. I think its a good card and I use it in my
Marton Stromgald
deck, but I think we probably need more large anthems to really reliably get away with this in here.
Staff of Nin
its card draw and slight pokes. The pokes can be used to harass ETB and utility creatures opponents have. It can poke at planeswalkers to keep them in check and possibly screw with equipment being put onto ETB chumps. In general, I dont bother too much with poking players as it usually just irritates them without making any real progress. The draw is nice and the primary reason for running it. Its really freaking slow though to generate value but its hard to come across good draw in white.
Akroma's Memorial
this gives a lot of cool abilities. My biggest problem with including it is that it generally eats up a turn to cast it and everyone over reacts over it because its good abilities. Its hard to make as much use of the abilities it gives in here as the amount of hate it generally draws. Due to this, I tend to not run it unless I REALLY NEED IT. I think its hard to make it pay off and the small pokes rebels can achieve is not generally that effective for how much of a pain it is to cast and keep in play.
Possessed Portal
it has potential to just lock up the gamestate as it is. It is really nice against decks that just rely on wheeling their hands through card drawing and if nobody has an answer for this card in their hand it can be difficult to break through it. It is also worth noting that it has good synergy with some cards such as
Unexpectedly Absent
and
Lapse of Certainty
where they are potentially just a short stall but in this case they can help escalate a hard lock.
---ENCHANTMENT---
Gerrard's Battle Cry
its a scalable anthem. Its not as efficient as several others but it has the scaling pay mana and pump style of scalability. Its worse than
Mirror Entity
and
Leonin Sun Standard
though.
Land Tax
it guarantees land drops and it can work to bloat up your hand if you have something like
Scroll Rack
or
Teferi's Puzzle Box
to push cards back into the deck and draw other cards with.
Inheritance
card draw in mono white. Unfortunately it can be sort of hard to control when this happens and the mana per card is fairly bad in general. The upside though is that this deck tends to keep most of its mana up and available so it shouldn't be that hard to pay the mana when it does happen.
Blind Obedience
it can be used as somewhat of a stax style of effect to tax opponents resources. It works well with effects that control untapping of permanents as well.
Flickerform
it can be used as a means of protection for Lin Sivvi. The biggest problem I have with this sort of effect is that if you ever tap out, opponents will consider using spot removal on you just because they cant catch you outside of that situation. So, if you run something like this you might have to keep the mana to flicker it out up at most all times.
Luminarch Ascension
its an ANGEL CANNON!!!!! Seriously, when this thing goes active, its a scarry thing. It really doesnt need much support but being a defensive toolbox deck, we can generally speaking defend it alright to go active. It will draw some serious hate though in general so prepare for it to eat every flavor of
disenchant
ever printed lol. It works great though if your meta doesn't run real heavy on spot removal effects though. Even if they do, it has a chance of just running away with the game.
Militia's Pride
it could make an interesting effect for heavy anthem builds or stax based builds. The tokens come very cheaply for the mana per body breakdown. Generally it has some issues with the fact that its hard to swarm with nontoken creatures but they can add up quickly in anthem and stax builds.
Act of Authority
it outright exiles a target when it comes in and you can exile a second target the next turn. It sort of has some political aspects though and its likely that the person you just exiled a card from is going to be slightly irate at you. The upside though is that everyone has to consider if they have good targets in play or good things in their deck still that they wouldn't want this used again against them so its.... interesting and slightly political. I run a LOT of artifacts though in this deck so with close to 30 targets to be return attacked its a little sketchy. It seems like a card that is best used in a deck with relatively few artifacts / enchantments.
Aura of Silence
it can act as as removal or as a tax and slowing effect on opponents until you want to remove something. Its nice to have access to with
Enlightened Tutor
in a pinch. Its also the right mana cost for
Sun Titan
if you want to run him as the fact that it has a sacrifice use is nice with a potential repeatable rez effect.
Crackdown
it works well with stax style of effects such as
Winter Orb
/
Static Orb
/
Kismet
. It can also be used with
Whipcorder
to tap down opponents creatures to swing past and since it only hits nonwhite creatures, we can equip up our guys and swing in without worry about it affecting us. Its an all around useful stax effect. I wouldn't really add it lightly so much as adding it with a stax style of equip build.
Fanatical Devotion
it can be used to keep rebels in play in some wraths or it can be used to bail out in a tuck effect or whatever. Due to having access to
Changeling Hero
and the ability to tutor for our commander though, I think it has less importance in general but I think it can still be used as a decent sac outlet.
Ghostly Prison
token defense 101 here. This is a bread and butter pillowfort card. It is really effective against swarm armies though as it greatly hinders their ability to inflate in size as well as attack you in the same turn. The downside to these style of defenses is that token decks tend to have good answers for them but on the flip side they will have a hard time attacking you until they can get this out of the way. Its unfortunate when this just drops out of nowhere on you though.
Karmic Justice
it can be used to dissuade opponents from blowing up mana stones and such. It makes it harder to sweep your non-creatures in general. I generally dont really like running it though as it often gets spot removed before you take a sweeper. Its often a situational do nothing style of card too often.
Mobilization
generally speaking, its sort of a lot per token but it works as a nice mana dump. Rebels are a pain to mass multiply and generally speaking this handles multiplaying bodies in play a lot easier than rebels do. It also doesn't hurt as much if we eat a wrath due to tokens in play than having a big swarm of rebels as then we have to deal with tucking and tutoring the rebels.
Nevermore
you can entirely shut someone out of their commander being cast or a key card from their deck. It can be used to stumble a combo player assuming you know how their deck works as well. Its a nice card but has to be preemptively cast which makes it sort of awkward in a lot of cases.
Prison Term
its a solid arrest effect. I tend to prefer
Faith's Fetters
for the versatility but this can be moved to new threats and shifted onto a hexproof commander that might come in after casting it.
Sacred Mesa
its a cheap mana per token generator. It works well at getting a swarm of tokens quickly in a deck designed to achieve large mana. The fact that we have to sacrifice a token per turn is sort of unfortunate but if you spend more than 6 mana in a turn on tokens, it becomes much more lucrative than
Mobilization
.
Story Circle
it can be used as a pillowfort effect to keep opponents away. Its nice that it is versatile as to what color you choose but in general, the deck already accomplishes most of what this might contribute on its own with the rebels.
Diversionary Tactics
it can be used to manipulate opponents creatures. In general though, we already have access to Whipcorder though so I would be hesitant to play this but I think it could work well in a meta that runs creature heavy and wrath light. You could focus more on multiplying rebels and tap down problems as they arise with this effect.
Endless Horizons
it can be used to get some card advantage in terms of consistently hitting your land drops or stripping most of the remaining lands from your deck so you dont have to draw them. I tend to play it sort of conservatively in that I usually go for somewhere in the range of 4-7 lands with this card as much more than that and it feels like you have stripped the lands from your deck. It could feasibly be used with
Goblin Charbelcher
to serve as a big cannon if you really want. It also works well with things like
Scroll Rack
and
Teferi's Puzzle Box
to turn into card drawing.
Faith's Fetters
its actually a really solid
arrest
style of card. It works on any permanent and it gains some life. I like it to lock up commanders in play or just stop anything thats a problem. In my mind, this is one of the best white
arrest
effects due to versatility. If you want more answers for opponent's commanders its a good one to consider.
Karma
really going a bit deep here with this one but it can be utilized with
Urborg, Tomb of Yawgmoth
(yes its legal to run in a mono white deck) and used to slowly tax opponents out of the game.
Karma
can be tutored for in a few ways since its an enchantment and with access to
Weathered Wayfarer
and
Expedition Map
to get Urborg, it could be something to toy with but I think its more of a cute interaction than something legitimate.
Stern Judge
also works as a second copy of
Karma
. You can use
Children of Korlis
to offset the loss and outlast opponents. Its also worth noting, that most people run
Urborg, Tomb of Yawgmoth
in decks anyways.
Kismet
it works as a stax based effect to cripple game development. It works really well with things that control untapping as well such as
Winter Orb
,
Hokori, Dust Drinker
, and
Static Orb
to make it even more difficult to play into the game.
Marshal's Anthem
its an anthem and can act as a large rez effect. Unfortunately, most of the rebels aren't worth spending rez on so you probably want to run a good number of non rebel creatures to make this worthwhile.
Cathars' Crusade
it can really bring in a ton of power to your guys. The biggest problem I have with it is that it sort of plays itself out and tells opponents that you will be coming hard soon and you probably should get blown up across the board before that happens. It brings a TON of power but you have to be able to slow roll a really obvious threat which I generally dont like doing.
Mystic Barrier
this card is crazy useful against opposing aggro / voltron decks. You can shift the attacks away from you and more importantly you can potentially shift attacks in the direction you want them to be. This is 100% pillowforting but its nice in the fact that someone with a TON of mana cant push through you and you dont lock up all attacking so much as just push it around you. The biggest downside is that trying to swarm out becomes more difficult too but you can still usually make a productive attack as you get to pick the direction of your attack making it so you can still attack a majority of opponents. It looks super fun to toy with but I think its a bit of a meta call and a personal flavor call to include it.
Sphere of Safety
pillowfort style of card. It can work alright but you have to be sort of heavy on the enchantment build. If you dont have a ton of enchantments in your list I would suggest going with
Ghostly Prison
instead.
Martyr's Bond
I tend to dislike this sort of effect as its really odd in the fact that opponents may shoot your permanents to chain down and hit another opponents permanents and pick up value in their removal. That said, it can do some fun things with the sacrifice based creatures. Overall, I dont really feel that it works that well overall.
True Conviction
it can work as a value generator and damage output in an equipment type of build. Lots of the good equipment do things each time you deal combat damage so double strike can ramp up the amount of equipment triggers. The increased output and lifegain are useful things as well especially if you go up against opposing aggro and or swarm styles of decks.
---INSTANT---
Condemn
it can work as general tuck. The thing is, commanders that attack are sort of this deck's specialty so I wouldn't worry about those commanders so much as the utility ones which are harder to deal with. Due to this, I strongly discourage use of this card in a rebels deck and for the most part as a card at all in this format due to how niche its use generally is.
Enlightened Tutor
we dont have access to many tutors for non rebels. The artifact package in this deck has some very key and useful cards including things like
Sensei's Divining Top
which I almost always want. It can fit a lot of roles depending on what the needs of the situation are though. Its unfortunate that its card disadvantage but I think its still great even if it is disadvantage because of its versatility.
Path to Exile
really solid creature spot removal. This deck generally does well against most creatures you would naturally want to use spot removal against though. There are some utility based creatures such as
Consecrated Sphinx
and
Deadeye Navigator
that can be really necessary to remove. Generally speaking, I found that most spot removal that works specifically for creatures was mostly unnecessary for this deck though so I sort of moved to more of the ones that can target anything instead of the cheap creature specific ones because too often, creatures or non commander creatures were not what I really wanted solid removal for.
Scout's Warning
it can be used to flash in Lin Sivvi which can minimize the amount of time she is exposed in play. Its a little underwhelming though since it only allows you to do it once though.
Swords to Plowshares
solid removal for sure. This deck generally does well against most creatures you would naturally want to use spot removal against though. There are some utility based creatures such as
Consecrated Sphinx
and
Deadeye Navigator
that can be really necessary to remove. Generally speaking, I found that most spot removal that works specifically for creatures was mostly unnecessary for this deck though so I sort of moved to more of the ones that can target anything instead of the cheap creature specific ones because too often, creatures or non commander creatures were not what I really wanted solid removal for.
Tithe
card advantage plain and simple. It can grab us
Mistveil Plains
as well which is handy as turn two we can
Tithe
and drop the
Mistveil Plains
when I normally dont have much to do anyways. There is also a trick to
Tithe
if you bother running
fetchlands
where you can crack it, and while its ability is on the stack you can
Tithe
in which you will have one less land in play before you resolve finding that land. Generally speaking, anytime you dont go first you should have no issue getting the two lands from this card though.
Dawn Charm
it has some nice versatility with the option of fogging, it can push Lin Sivvi through a wrath that you are short of mana to champion out of, and occasionally there are spells like
Mind Twist
or
Recurring Insight
that could target us.
Disenchant
decently solid spot removal that is generally versatile. It doesn't help the deck's card advantage options to one for one spot removal things in multiplayer but these effects are sometimes necessary and its nice to have cheap ones to do it with.
Renounce the Guilds
it can be useful against all the multicolored decks that EDH generally brings. Its unfortunate that the opponent gets to pick the card to sacrifice but seeing as its instant speed for cheap mana and they all have to sacrifice, it packs a bit of a punch. The more mono colored decks you see in your meta the worse this gets but it seems nice to potentially make multiple opponents each sacrifice their commanders.
Unexpectedly Absent
it can serve as a tuck effect. It can target anything at instant speed is part of what I love about this effect. You can catch someone about to tutor for something and tuck something in response or even just push something important to someone 5 cards down at instant speed. The versatility is in what all it can catch and if they are doing a search, we can tuck something for 2 mana. I view it as like an additional
Oblation
.
Ghostway
its nice to dodge a wrath. It doesnt do a lot else but it saves time in recovery. We often dont cause the wraths to happen due to our board unless you are really swarming hard with the rebels. I like this a lot more than other options to try to recover from wraths because if someone casts a tuck or exile wrath, this is the only one that really works right.
Lapse of Certainty
its a good way to stall game ending effects and buy time for answering threats or trying to kill the player trying to go off. It can work as a surprise answer to combo decks or to stall a wrath that comes at a key time you dont want. It can be a handy trick for sure but its just a one turn stall so its sort of dependent on what it will work against.
Oblation
versatile removal. It gets anything in play for one low cost. The draw downside is mostly ok in comparison to getting rid of something problematic.
Rootborn Defenses
its cheap to buy and it can shrug off wraths. Its an alright budget card but generally speaking, I would rather see
Ghostway
or
Faith's Reward
used over it.
White Sun's Zenith
CAT ARMY!!!! This thing makes a lot of power in tokens at instant speed. It is one of the primary swarm tactics to end games with. I generally try not to use it until I can go off hard.
Faith's Reward
it can be a good move to recover from wrath effects. The biggest setup you can get is to recover from a large scale sweeper like Oblivion Stone with this effect or reset after an Armageddon effect. When looking at this against regular wraths it tends to be inferior to
Ghostway
due to the fact that
Faith's Reward
cannot be used against
tuck wraths
and
exile wraths
.
Ray of Distortion
its not cheap to use but it gives the option of two spot remove effects. Its sort of clunky but considering its a draw / go deck that is short on card draw it can be useful to consider. Its really clunky though...
Return to Dust
solid exile removal. You can use it in a pinch on opponents turns or use it on your own for a larger result. The fact that it exiles can be incredibly useful as it shuts out the option of recursion and cuts through to indestructible artifacts.
Miraculous Recovery
its a solid rez spell considering it can rez any creature at instant speed. It is a bit underwhelming though if you dont run a bit heavier on the non rebel creatures though.
Banishing Stroke
it tucks anything at instant speed. Its sort of expensive at 6 mana but we play draw / go anyways so we can usually afford to pay it if necessary. The miracle effect on it can be useful if you are juggling it or just randomly when tearing it off the top.
---SORCERY---
Steelshaper's Gift
its solid in an equipment build as it very cheaply gets an equipment of your choice to hand.
Gift of Estates
lands into hand mean that you can keep playing them out for turns to come. Inflating hand size can also be turned into card draw with some effects like
Scroll Rack
and
Teferi's Puzzle Box
.
Martial Coup
it can wrath the board and leave you with a bunch of tokens. The problem with it is really that it is incredibly slow though. Its nice though to recover from a wrath with a big wave of tokens though.
Planar Birth
this can be used with mass LD to recover as the multicolored decks wont recover as well or against mass LD to recover the landbase. The key here is that its cheap to cast, and opponents wont get nearly as much value from it as we will.
Revoke Existence
its cheap and it deals with something permanently. Its sorcery speed though and spot removal at that. I would only really look at it if you are having issues with opponents recuring their toys a lot or indestructible targets.
Dust to Dust
its nice that it exiles two targets but it is generally just less versatile than
Return to Dust
for not much less mana. I wouldnt suggest running it unless you really start having some issues with artifacts and indestructible ones at that.
Entreat the Angels
this can open up a big wave of ass kicking angels. This is best utilized with topdeck manipulation such as
Sensei's Divining Top
and or CARD]Scroll Rack[/CARD] to juggle this and draw it as needed.
Sensei's Divining Top
in specific can juggle and draw it at instant speed allowing for an instant speed token swarm that hits at end of turn.
Idyllic Tutor
its a solid tutor depending on how many good enchantments you have and what your priority with tutoring for them is. They go to hand which is good but it comes down to what sort of how highly you value your enchantments and if there is one you are often looking for.
Retribution of the Meek
it wraths big creatures and leaves the rebels mostly alone. Its cheap to cast as well. The downside is that it lacks versatility if you needed to get small creatures as well it doesn't really have options to it. It does duck our own creatures though which is useful.
Survival Cache
it has net card draw to it and small lifegain. Its a small little cantrip effect but it has net card draw to it so I think its kind of cool. Its rather small scale though so there is nothing really huge about it and three mana for its effect is a little heavy I think.
Armageddon
mass LD, there isn't a lot to say about it other than make sure that you are ok with running this style of tactic before delving into building around it. Its not something I would really lightly splash around but its possible to just add one or two LD effects to a list and run with it and just wait for a good moment to hit it.
Cataclysm
being that we are more of a small utility style of swarm deck, I just dont really see how this could be that useful to us. I would personally run the straight
Armageddon
effects and leave this one be for this style of deck. You ideally want a big centrally used beater commander to get away with this.
Decree of Justice
with this card, I like 98% of the time always use its cycle option for instant speed soldiers. The surprise factor of this card is what you want as we can follow it up with
Mirror Entity
as a wincon and puch people for lethal. Very very very rarely will you ever consider making angels with this card as the better option.
Ravages of War
a very expensive to purchase
Armageddon
effect. Run it only if you have tested and like the
Armageddon
style of builds and only after including the other runnable
Armageddon
effects. If you have the money to spare, adding another one of these effects to your deck is huge since we lack the ability to tutor for them and our card draw is not great.
Wrath of God
generally speaking, I tend to encourage people to run other wraths other than these four mana options. If you have issues with hyper fast decks like
Edric
, take a look at adding 4 mana wraths but generally speaking, they lack any sort of versatility and I often dont suggest using them. This is at least stronger than
Day of Judgement
because of the no regeneration clause but I dont suggest running either of them.
Conqueror's Pledge
its a slower card but it gives a lot of tokens for the mana. It can be kicked too for about twice the mana for twice the effect. Its nothing really special but if you are hurting for token production its not bad.
Increasing Devotion
its a slower effect but it has flashback and makes a lot of guys in both waves of it. I tend to stay away from sorcery speed token spawn if I can but its not bad if you are looking for cost effective ways to swarm the field.
Hallowed Burial
in a pinch, blowing out the creatures is necessary. This deck's objective is to keep living so if someone is over extending what you can defend against this is worth considering. I often like to set it up by end of turn tutoring for
Changeling Hero
and hiding Lin Sivvi from this effect. It still has a chance to backfire though if someone has spot removal to take the hero out though so think about this before attempting to do it. Its also good to run sacrifice outlets to protect Lin Sivvi from this.
Rout
the fact that it can wrath the board at instant speed as a surprise is a nice option to have. Generally speaking, its hard to champion Lin Sivvi with
Changeling Hero
and do this in one action and it gives away your play if you champion her much more than immediately before this resolves.
Austere Command
its good to be able to sweep some of the noncreature things and generally speaking, the 4+ mana sweeper option leaves us mostly intact which is nice.
Catastrophe
its a versatile wrath that can clear lands if you are ahead or creatures if you are behind. I would not include it if you are not willing to use it on land on average though. The intention behind this card should be to use it for land with a fallback plan of using it on creatures.
Terminus
same as
Hallowed Burial
but with a miracle option that can be set up potentially with
Sensei's Divining Top
.
Storm Herd
it costs a lot of mana but it brings a lot of guys with as well. It ideally works best with something like
Vedalken Orrery
to just surprise flash a giant token wave in but it can be slow rolled. Expect it to provoke every sort of wrath imaginable though when slow rolling something like this. It works well against playgroups that run less control and wraths though because they have less chance of removing it.
---PLANESWALKERS---
Ajani Goldmane
his -1 ability can be useful for swarm tactics. Generally speaking though, it takes too long to really ramp up the swarm in EDH. His ability to act as an anthem back in standard doesnt really transition nearly as well as in multiplayer EDH you have to expect more wraths and make your move much faster. Most of his abilities just dont fit but his -1 can act as an alright anthem effect.
Elspeth, Knight-Errant
creatures every turn and the option of possibly hitting her ult which generally makes people unhappy. Its hard to defend her though so expect a lot of hate and difficulty keeping her afloat against multiple opponents.
Elspeth Tirel
she spawns larger waves of tokens every other turn and has some lifegain options which are handy against the swarm style of decks. She has options to wrath too which can be useful to have access to. She also tends to draw a lot less hate since her abilities aren't as scary since her ult isn't game ending or anything.
Gideon Jura
he has a few useful tricks in his arsenal. He can taunt opponents creatures into walking into combat trick rebels like
Defiant Vanguard
or use his minus ability to kill off creatures that
Whipcorder
taps down. He has several useful tricks to him and the fact that he doesn't have an ult often decreases the amount of hate he draws. He works well as a beater as well if people are all wrath happy too.
Elspeth, Sun's Champion
big token waves as a +1 and her -3 ability misses most of our rebels. She has a really nice set of abilities for this deck and her ult is a really really nice anthem. She is probably the best walker for this deck printed to date.
Karn Liberated
exile removal of any card. Its hard to keep him around but occasionally you can use him for a few turns. My general assumption though is that he will use his -3 the turn he comes in and get mauled by the table though. I have literally seen people
Cryptic Command
to tap creatures just to swing in and kill him.
---LAND---
Buried Ruin
its a nice recovery option and its on a land so it doesn't really need to be used immediately to still get really good value from it. There are lots of very useful artifacts in this deck that I like having access to.
Emeria, the Sky Ruin
random free rez has some solid uses. Generally speaking, its not that impressive though even when its active as most of my creatures are rebels. Its not bad though by any means but I dont build my deck around getting this or getting it online as most of the time its value generation is really small.
High Market
sac outlets are nice to have. They can help get Lin Sivvi out or stop theft from happening. I wish there was a functional reprint of this land as its just so useful for so many decks.
Kor Haven
its a nice deterrent. Since we are essentially a draw / go style of deck its easy to keep up and available. Its also very useful against protection from white swords and such as we can keep them off of us with the mazes.
Mistveil Plains
its useful for tucking since it can tuck things for cheaper than Lin Sivvi and it can tuck things other than rebels. It can be helpful when defending against things like
Chancellor of the Spires
effects assuming you are even the best target.
Mystifying Maze
another maze effect. Its useful to have against pro white swords and such and since the deck is essentially draw / go its easy to keep up and available if needed. It still taps for mana too so I like it.
Nykthos, Shrine to Nyx
This deck often has quite a bit of board presence through its rebels so this land is a nice one to just generate some solid mana for us. It still taps for colorless so the downside of running it is relatively low all around.
Strip Mine
you never know when someone will drop a problematic land into play. Having this handy for
Cabal Coffers
and friends is useful. The number of land answer lands like this sort of dictate how much of a problem utility and mass mana generating lands are for you. I run relatively light on them since I am not running sword setups so I dont need to worry about mazes much and outside of someone really abusing a coffers, I dont really care that much.
Temple of the False God
it ramps and its a land. The only real downside is if you end up opening handing this and getting stuck on lands. Outside of that, it works alright as some ramp.
Tower of the Magistrate
it screws with opponents equipment which can be very useful. Its fun to shoot down a Lightning Greaves equip or if someone tries sliding in with a sword you can take out their protection and deal with them then.
Thespian's Stage
useful land to do whatever is needed. It taps for mana immediately and its only real downside is that its colorless mana when it starts out. Its very useful to turn into a utility land or land that taps for multiple mana though.
Winding Canyons
allows us to flash in creatures. This is occasionally helpful if your plan is to replay Lin Sivvi as it can keep her out of some wrath situations and allow you to keep options up or bluff them.
Change Log
03-03-2012
CUTS:
ADDS:
03-06-2012
03-14-2012
CUTS:
ADDS:
Mind Stone I need more fast early mana stones. This gets me some mana to move arround with in the early game and I like how it can cycle off. This deck plays a lot of draw / go so I should be able to pop it off for a card in a sweeper.
Relic of Progenitus Some basic graveyard hate. I can tuck my rebels before blowing this which is nice. I probably will need more than this in here but I like how it cycles itself which is nice. For now I will start light but Stonecloaker might be soon after here.
Umezawa's Jitte it lends a bit more utility removal which is nice. I have been wanting something I can manipulate for some multi kills decently and I think this will to some point help against some swarm style of decks. It also gives some lifegain options which can be ok.
03-19-2012
CUTS:
ADDS:
03-28-2012
CUTS:
Sword of Feast and Famine I dont tend to try to overextend my board position as much in multiplayer games but if I intended on tutoring into tutoring rebels a bit more often I could see this being more useful.
Strata Scythe I just find that it operates a bit too similarly to the Quietus Spike. I generally speaking have a few evasive creatures so I find the spike does more damage and provides me with deathtouch on defense. It is possible for the Scythe to give a good buff as well but I just find it a bit redundant to have them both now as well as Batterskull.
Shield Dancer The more games I get the more I realize I never tutor for or really want this rebel. Generally speaking if something big without flying is attacking me I go for Defiant Vanguard. There are a few situations in which the Shield Dancer is better however the paying mana to deflect the damage is a bit of a pain in the ass.
ADDS:
04-06-2012
Helm of Possession -> Luminarch Ascension I would say they probably bring about as much hate between the two of them however Luminarch has so much more potential output. This deck is very defensive so blocking for the Ascension really isn't much of a problem plus the fact that Sun Titan can recur it seems solid. If I can get a bunch of bodies out that is what I am shooting for in this deck. The bonus here is that they are big enough that they really dont need the pump effect to make them good.
1 Plains -> Gift of Estates generally speaking I am good for the first several lands but it is the problem of continuing my land drops. Hopefully going down to 37 lands shouldn't hurt my ability to hit 3 - 4+ lands in my opening. Still as long as I can get 2 down this can get me going from there.
Marshal's Anthem -> Sacred Mesa I like the anthem however the biggest thing it does for me is gets me bodies. Sacred Mesa also gives me bodies and probably a lot more. I can always use my commander to move creatures back through the list. Sacred Mesa gives me a cheap option to swarm the board with. From here I can use one of several pump effects to try to close the game out or just use them as flying blockers.
04-23-2012
07-28-2012
09-13-2012
12-05-2012
12-10-2012
Karn Liberated -> Ulamog, the Infinite Gyre I decided that the effect is actually similar here. The difference is that I can actually quite easily defend myself from an Eldrazi so stealing him from me doesn't really hurt much since he is so easily answered by my lockdowns and removal. Karn is cool but he doesn't have annihilate 4 :p. I think that Ulamog gives a more solid backup plan here.
Idyllic Tutor -> Rings of Brighthearth I didn't have much for enchantments that I really regularly tutored for. Luminarc and Land Tax seem like the only ones I would bother tutoring into. Rings opens me up to tutoring creatures faster and opens up the option of fetchlands which is sweet.
Plains -> Thawing Glaciers this opens me up for a continuous land drop and combined with Rings its really cool. I just wish there were some bounce land options to add to this.
02-15-2013
03-21-2013
Gideon Jura -> Karn Liberated I really love Gideon and think he is an amazing planeswalker but sadly he just isn't as great in multiplayer EDH as he was in heads up. Karn has better removal and while I liked the fact that Gideon could animate, its not something I found that useful on average. His taunt into good rebel blockers was fun but Karn just seems to be more reliable.
Thousand-Year Elixir -> Slate of Ancestry this increases my card draw in the deck. Honestly I haven't found myself really ever wishing I could tutor two rebels at a time and its really mana intensive. Its nice for recovery from a wrath but the pseudo haste is about all I was using it for so meh. I like the extra draw that slate adds though.
Faith's Fetters -> Kozilek, Butcher of Truth I decided I wanted to bring up my draw package further and I tend to have a lot of mana in this deck and I can usually lock creatures up fairly effective so I thought Kozilek could be a good asset for this deck. I worry about bringing up the curve so much but in general I can defend myself in the early game with the rebels so having a bit of a higher curve isn't overly concerning.
07-30-2013
Ulamog, the Infinite Gyre -> Stoneforge Mystic I have been playing with both eldrazi for a while now and outside of a situation where I get shut out by means of Elesh Norn, I haven't found Ulamog all that useful to me. I end up throwing away big things in opening hands and my card draw isn't that great so I think I am going to scrap him and go where I think I can get more card draw. I am moving a little more draw back into an equipment package so we will see if its enough for him to come back or not. I like the fact that Ulamog gives me an alt wincon but I don't like how high on the curve he is and I think I would get better results from in increase to my draw package.
Idyllic Tutor -> Mobilization I don't have that many targets to pick from to be honest. I had actually moved to this a while back but forgot to mention it here. I just need options to make tokens at instant speed in this deck. I am very focused on big mana too so I have been getting good results from this when I draw it.
Gift of Estates -> Mask of Memory it adds another means of drawing cards. I often go for the 2 mana bird rebel as a backup to targeted spot tuck on my commander and the mask goes well with him to filter my hand a bit. It drops for less and equips for less than SoF&I which I like and I mainly run it for the draw. I tend to have things I am willing to filter out so it digs me better which I like and for a lot less investment.
08-08-2013
09-24-2013
Teferi's Puzzle Box -> Elspeth, Sun's Champion I LOVE puzzle box. That being said, there are too many value decks in my meta and they know to just blow their hands up as big as they can and float around doing just one or two big things while continuing to blow their hands up huge. I dont like watching someone with no max handsize and 15 cards just roll from big hand to big hand... I love the effect and I have had some good results but I have also had bad results from it. Its just too random as to how it will pan out for me overall. It screws with some combos but my meta doesn't really play much for traditional combo so usually its value generation decks that just abuse it against me. I am not here to play hug. Like I mentioned earlier, elspeth does like everything I want her to do in this deck.
Plains -> Nykthos, Shrine to Nyx going to see how hitting another basic out of the list goes. I have felt like I could add more utility lands to the list for a while but hadnt had any in specific I wanted. Lets try this and see how it goes.
10-23-2013
Prismatic Strands -> Unexpectedly Absent I always want to make fog effects work even knowing that they just sort of wont. I guess swapping it out for a tuck any permanent is a decent swap.
Knight of the White Orchid -> Surveyor's Scope going to try moving my ramp around and see how it goes. I couldn't really consistently run the Knight in here on time as generally speaking you have to lead it on turn 3 and that's when I play my commander. I will see if I can swap the scope in and see if it goes anywhere. It also leaves me with one less bad synergy card with Torpor Orb.
10-30-2013
Ghostway -> Trading Post: Ghostway is sort of a relic of past builds to be honest. I didn't really connect the dots until recently but its more for a swarm the board with rebels style of build. I also realized that Trading Post offered me a lot of utility and multi use functionality to this deck. I occasionally get rebels in hand that I want in the deck. Utilizing Trading Post I can discard them for life and tuck them with Lin Sivvi at instant speed rather than being forced to keep them in hand or cast them out. I can use Trading Post to provide additional tokens to the board for chump blocking or slow building in a way that doesn't commit me to the board with my rebels. The sacrifice to recover an artifact looks very useful as well because I run some artifacts I really like having access to and the ability to pick up recovery in a multi function utility card like this is great.
Darksteel Ingot -> Mind Stone: I realized that I dont like three mana stones because that's when I want to drop Lin Sivvi so I need to look at dropping before or after that for the most part. I like Mind Stone in a mono color deck because the colored mana is probably a lot less necessary. The option to sacrifice for a draw is useful in the case of a sweeper and or just in a pinch to dig for another card. The single card draw can also be useful with some of the miracle cards that I pack as this gives me an option to have that instant speed draw if I had set something up with a topdeck manipulator that cant draw for me.
Mobilization -> Crystal Ball: of my token producers, moblization is one of the less good ones I have access to. I have often found topdeck manipulation to be a very strong element in this deck with so many shuffling options. With all of the shuffle, I think the ball will be less potent in all but it will also help me to just draw into the sort of things I want to be drawing. Its hard to reliably have my topdeck manipulation so its easier to add another one since tutors are really hard to come by in mono white.
03-18-2014
Elspeth, Knight-Errant -> Orochi Hatchery elspeth 1.0 was too hard to stick to the board and her token production was too slow rolling. People also over react to the fact that it COULD ult and smash it like the turn it drops which is aggravating. I never really cared for her second ability either so it left me with mostly just the one token a turn and see if she makes it to ult plan. I think the Hatchery should pan out better for me. I considered it being Mobilization instead but I got to thinking about when I liked seeing Mobilization and it tends to be later in the game and at that point in time there seems to be a lot more value potential behind the hatchery which can produce larger numbers of tokens for a fixed cost. Elspeth just seemed to be a bigger target than defending her was worth.
Staff of Nin -> Druidic Satchel Satchel has the option to ramp me and with all of the topdeck manipulation I have been pushing in my list it seems like I could have some fun manipulating my topdeck to pull the lands off. I dont mind tokens either so it seems like a fairly decent effect in most cases. The lifegain is probably the worst of its options but with my topdeck manipulation I could manage to control it which seems like fun.
04-02-2014
Orochi Hatchery -> Aven Riftwatcher I might be short changing any testing with the Hatchery but right now I just want to get the riftwatcher in for some gameplay. I might have to circle back later to try to test it. Its a good card as I have proved in other token decks but I really haven't gotten it any face time here.
07-30-2014
Druidic Satchel -> Hushwing Gryff the satchel was interesting assuming I had a topdeck manipulator but to be honest most of the time if I wasn't using it to get free lands into play it was underwhelming. It was too reliant on topdeck manipulators to be ok and if I already have a topdeck manipulator I tend to be happy anyways so meh. More Torpor Orb effects and this one is a flash creature which is great.
Phyrexian Processor -> Spirit Bonds I think the processor is cool but too often it has been incredibly clunky in hand. The mana and setup to double my life is just way too intensive and difficult to pull off and while the big tokens are nice, I want to go away from it for a while just due to how often I have felt like its not been what I want in my hand. The bonds gives me some nice token production and protection for my key creatures which are all welcome.
Elspeth Tirel -> Rule of Law I just continue to have a hard time with the elspeths other than sun's champ. I constantly have to evaluate if I can get away with dropping them into play and the answer is usually that I cannot. I want to spend some time with some of these one spell cast per turn sort of things as I think they hurt decks that draw all the cards fairly well with minimal impact to my own list. It is one of those sort of cards that's hard to evaluate because the people it slows down are the people who are doing all the drawing and answering generally speaking so we will give it a test run and see what it can do.
1-22-2015
Surveyor's Scope -> Heliod, God of the Sun overall my issue is generally speaking getting the bodies to be able to attack. The scope has been sort of a varying value sort of ramp card. I have in the past been in games where it fetches me 4 lands into play but at the same time I have been in games where it is a dead card. Heliod's mass vigilance can be useful but even more useful is just sort of how robust he is which means I usually have him after he is cast. There is a large bit of issue with this deck against mass sweeper cards.
Trading Post -> Mobilization I like the versatility of the post but at the same time I have been needing to increase my ability to create tokens repeatedly. I have a lot of situations in the mid to late game where I just sit around waiting to be able to make tokens somehow.
2-03-2015
Wayfarer's Bauble -> Mask of Memory while the bauble is ramp, what I need more than that is a consistent card draw effect. I recently cut Trading Post which did offer as a discard outlet but I think the mask could serve a very similar and useful role. I need draw more than I do ramp in a deck like this. The question offhand goes back to how much of a challenge I have keeping things on the board.
Luminarch Ascension -> Steelshaper's Gift honestly... I would say something like 90% of the time I cant get the Ascension online and running in a way that ends the game. Unfortunately it takes so much setup time that my opponents often deal with it by the time it would go online. I have added more token production to the list of late and I think it makes Luminarch less important as a whole. Generally speaking I am looking for quantity of tokens anyways since Mirror Entity is often used as the pump source.
Mind Stone -> Bazaar of Baghdad one mana ramp isn't as significant overall to the deck. I decided to pick up a copy of the Bazaar of late because it should be amazing in my Daretti and Toshiro decks as well but I didn't think about its impact in rebels until more recently. It would give me the option of cycling out rebels that come to hand and the interaction with something like Land Tax is quite impressive to think about. For the moment I will probably just have one copy that I will hotswap or proxy between the lists but if it performs well here it might mean I might need to buy a second copy to have altered (Gals will cry as he destroys it lol). For now.... I am just going to move to testing it here and if it pays off in the long run I will consider the second copy / alter but not right now.
3-2-2015
Plains -> Thawing Glaciers it sacrifices speed for card advantage and consistent land drops. This deck tends to struggle with card advantage at times and it needs to always be hitting its land drops. This seems to be a fairly ideal deck to add glaciers to as it generally isn't explosive out of the gates and it needs assistance with card advantage and a means to hit all of its land drops.
Plains -> Myriad Landscape it gives me some ramp option without taking up a spot in deck. It unfortunately does accelerate my land count which can interfere with Land Tax, Tithe, and Weathered Wayfarer but I think it is worth doing as I control when to utilize it. I guess I don't really know why I didn't make this change sooner as it seems like one of those cards I have been running a lot more of late.
Spirit Bonds -> Rings of Brighthearth For whatever reason I probably didn't give enough credit earlier to what all interacts with rings in this deck. I did a bit of looking and it seems to be more cards than I had originally thought. The idea of cracking a Children of Korlis or Lawbringer with the ability to copy them seems like fun. In the long run I should probably consider putting fetchlands in to support the rings as well but at that point I would feel like I need to possibly add Crucible of Worlds too so its sort of a rabbit hole of cards I am going to hold off on for the moment. Spirit Bonds has been a little bit awkward between the dropping it, needing rebels set up, tutoring for more rebels and paying mana for tokens all in one shot so its been slower I guess than what I had been hoping for. Torpor Orb effects also turn the spirit bonds off so in all its been sort of more awkward than I had anticipated.
3-16-2015
Entreat the Angels -> Secure the Wastes Entreat is awkward due to being sorcery speed. You can Miracle it but it requires a LOT of setup to execute that well. Without the instant speed miracle, I have mostly been unimpressed by it. We mostly just need bodies when we want them than trying to awkwardly juggle an effect like this. I have had times where I have put Entreat to amazing results but far more often that I struggle with it.
3/30/2015
(The following changes followed the change to tuck which this deck required less redundancy in tutoring rebels afterwards)
7/6/2015
The Alters
---
Rebels
---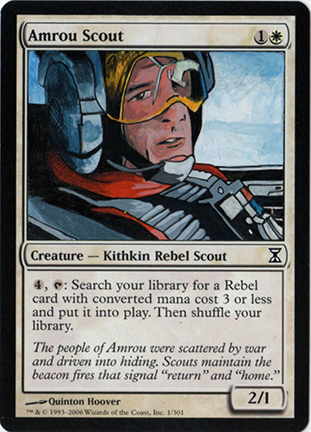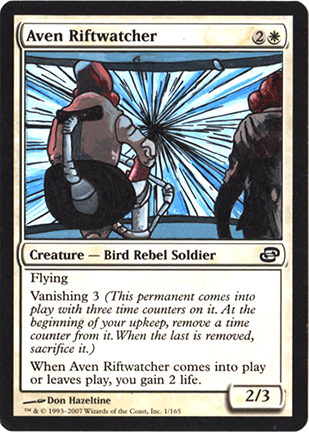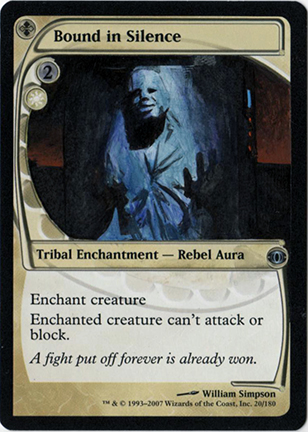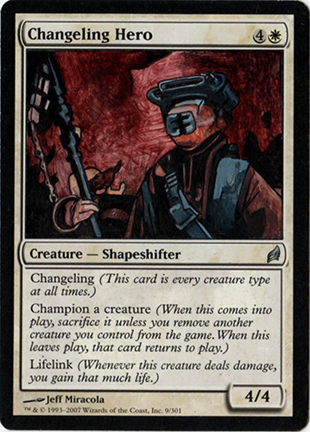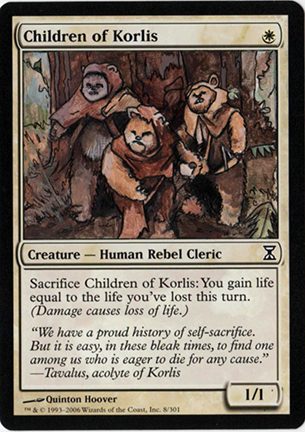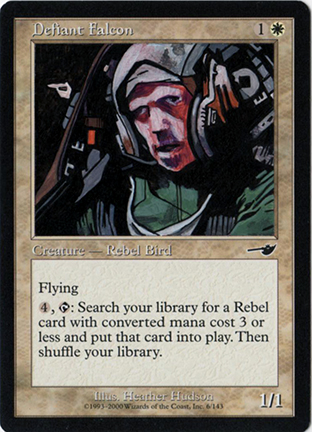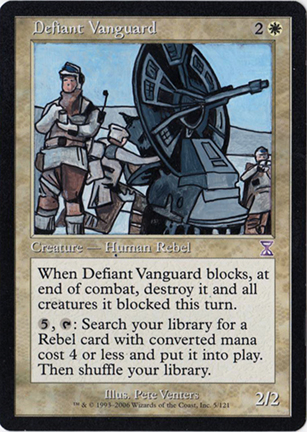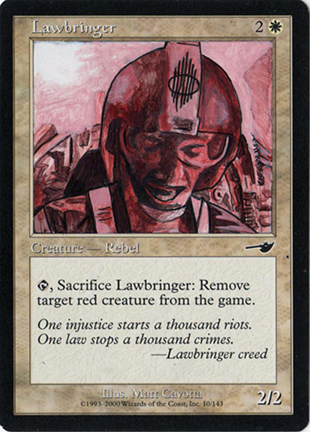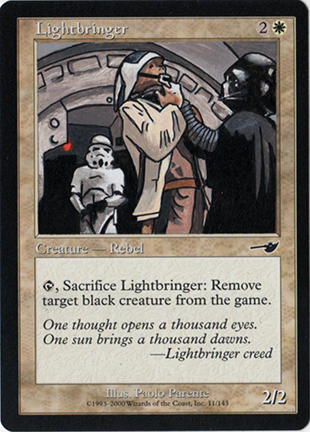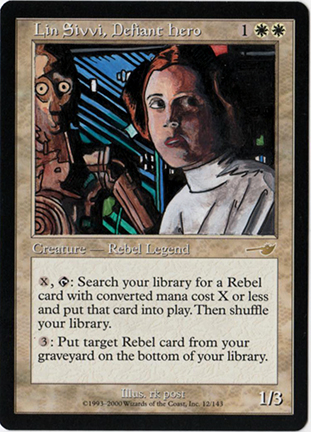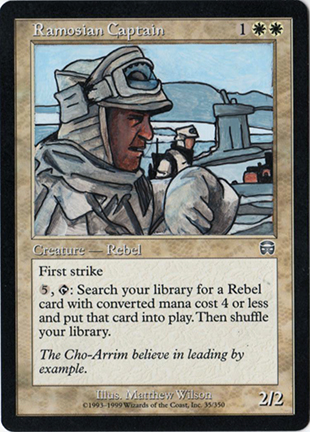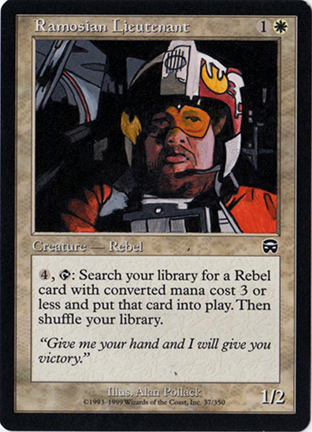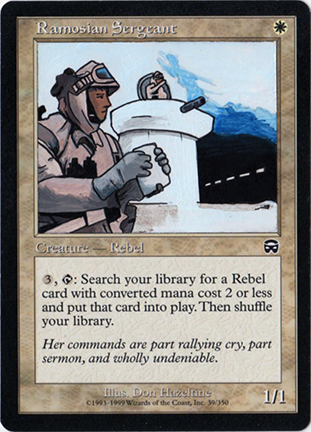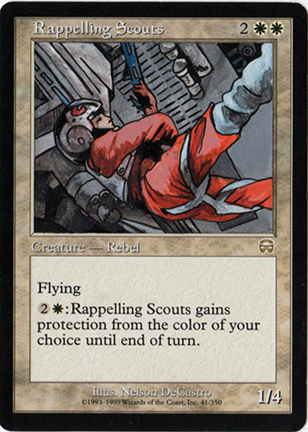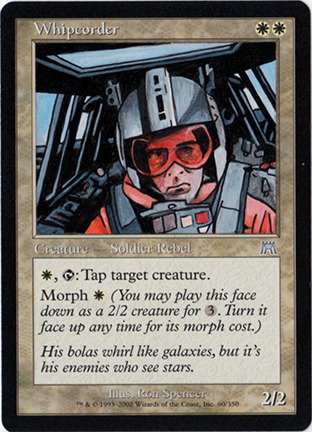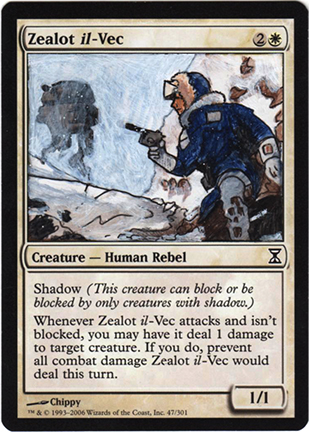 ---
Non Rebel Creatures
---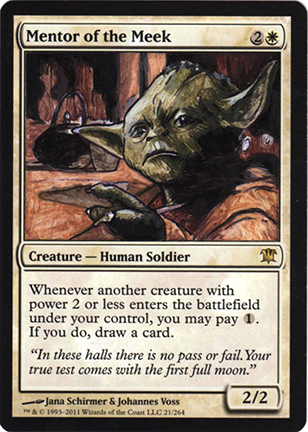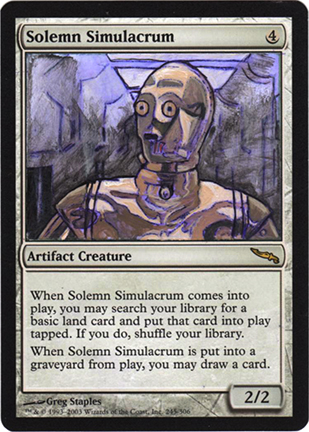 ---
Artifacts
---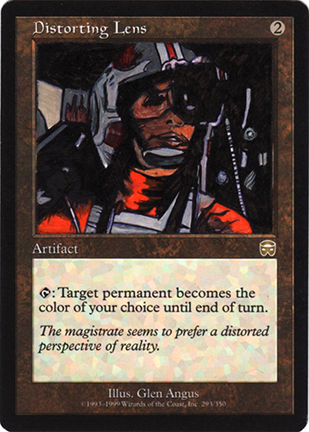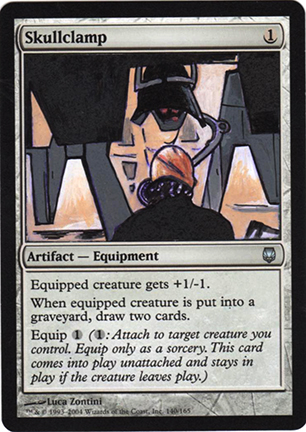 ---
LAND
---
BASICS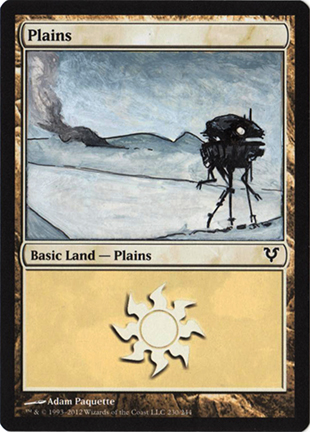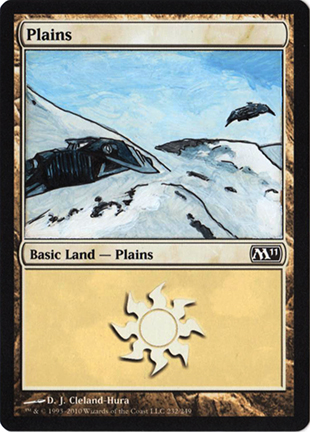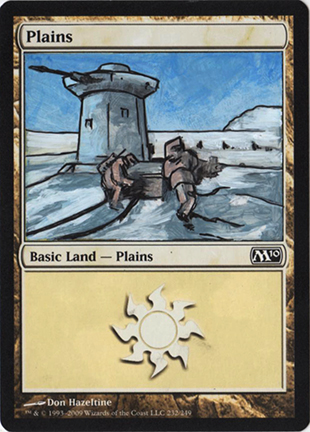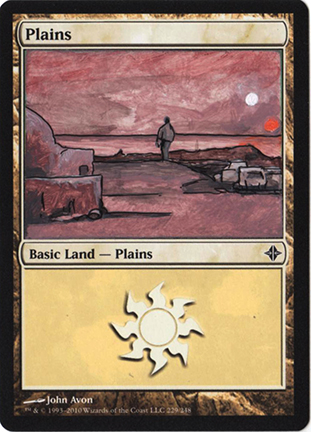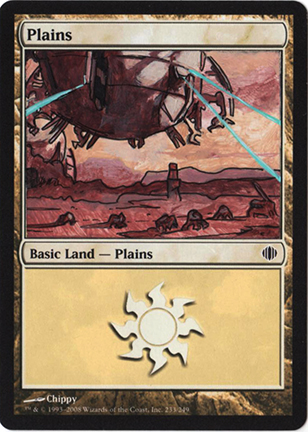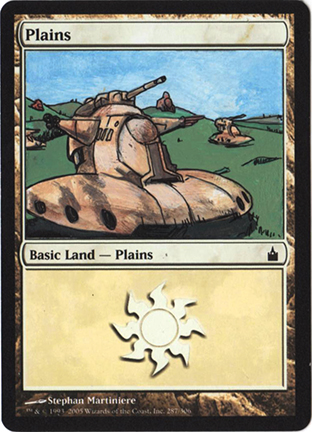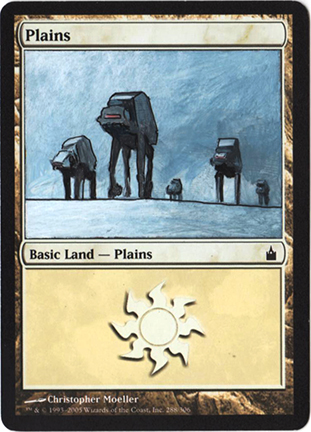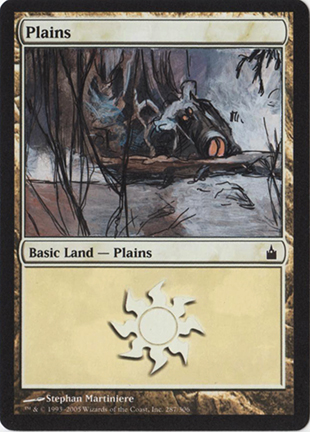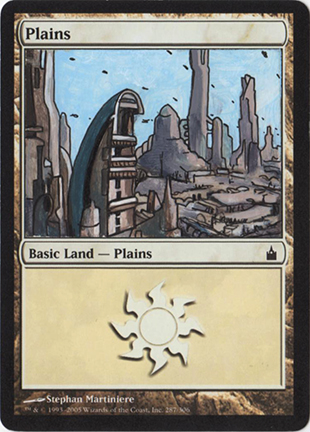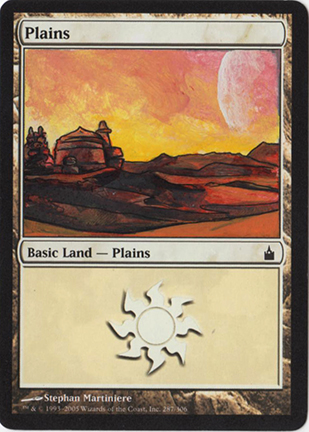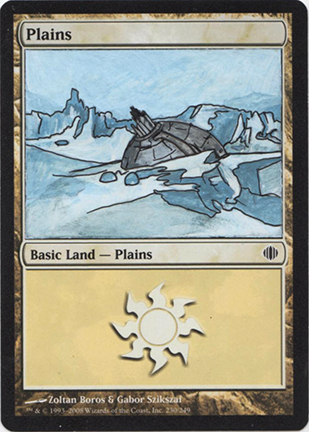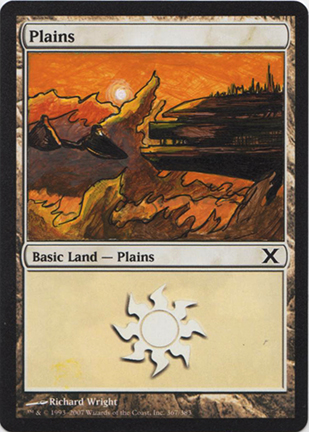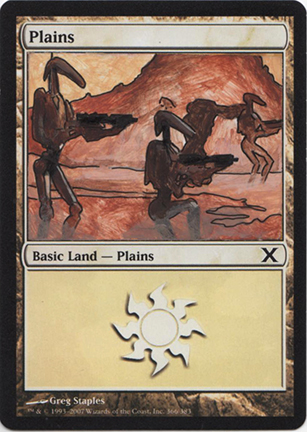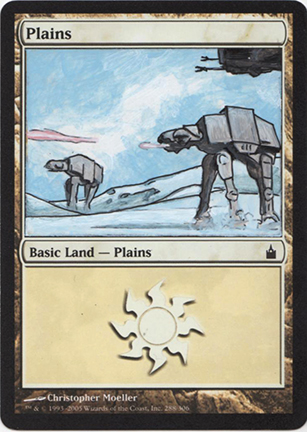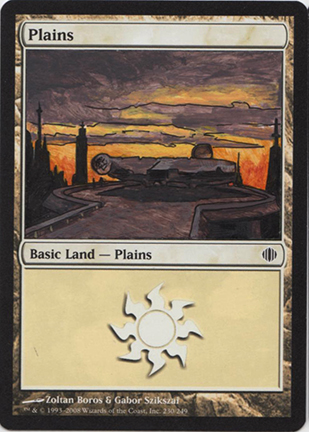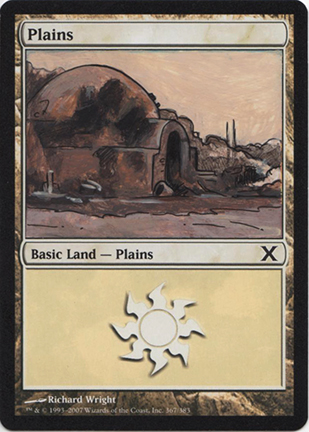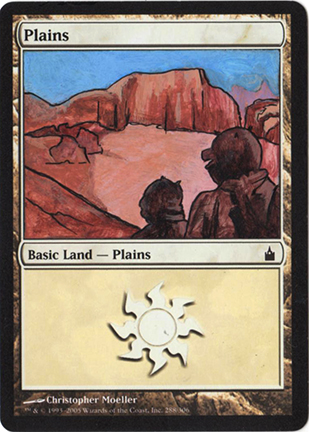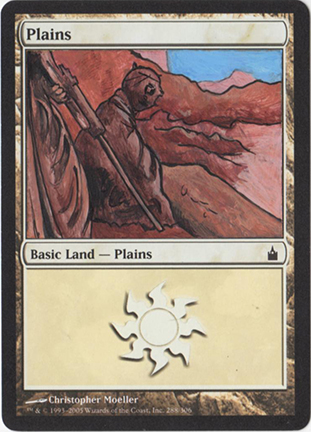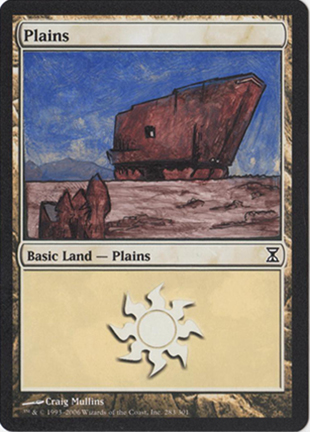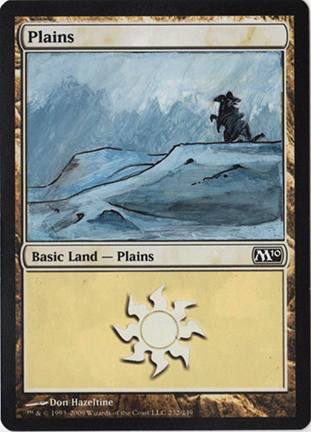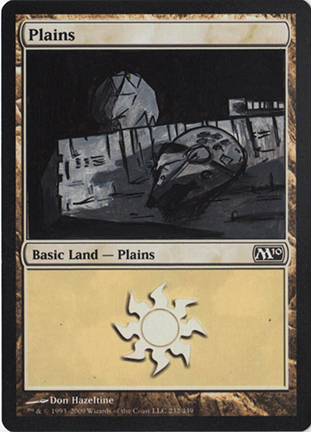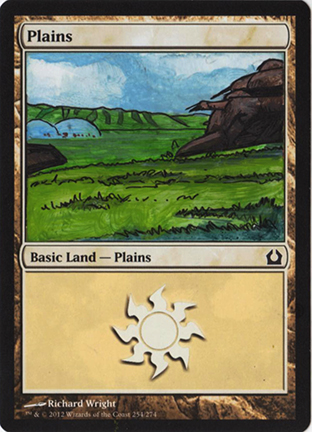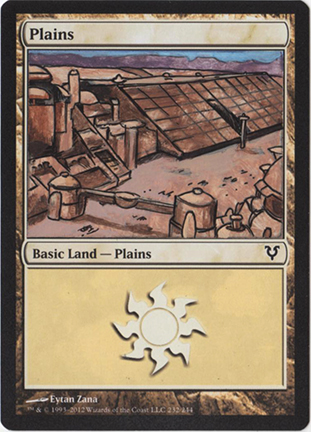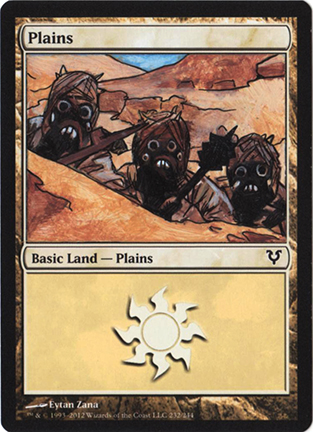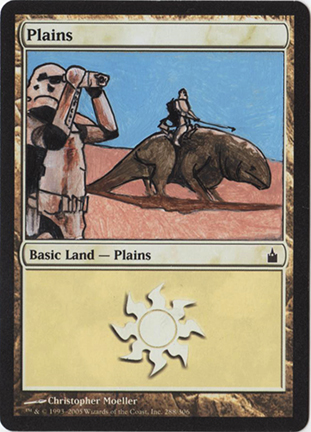 NON-BASICS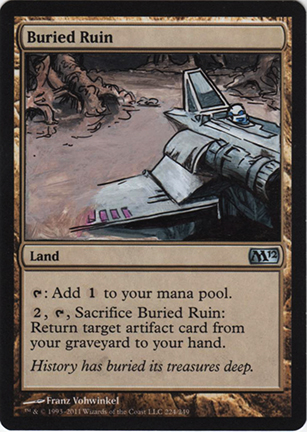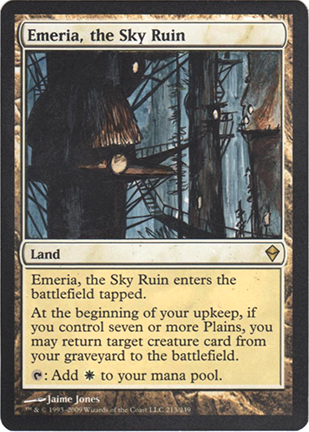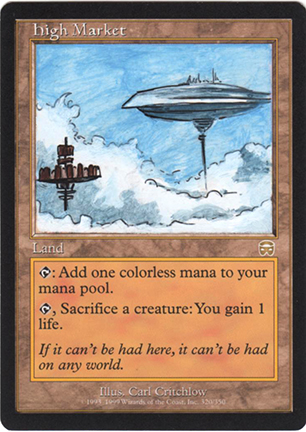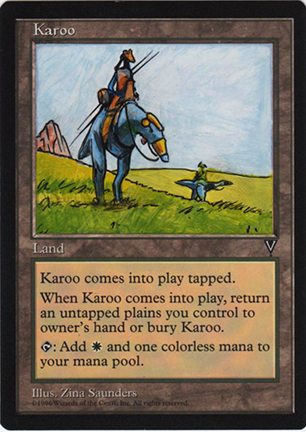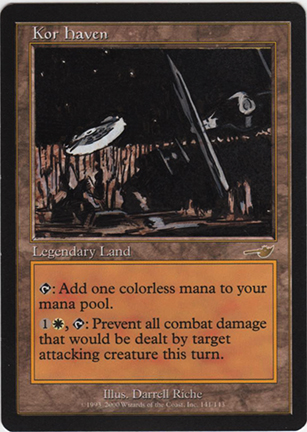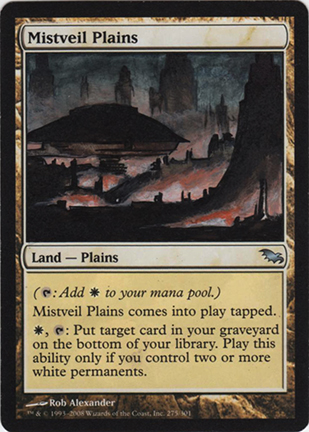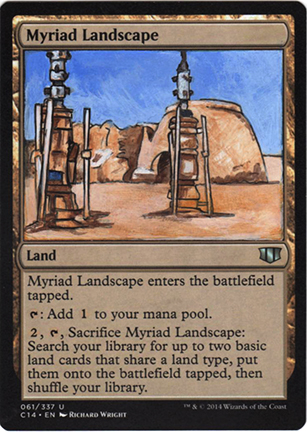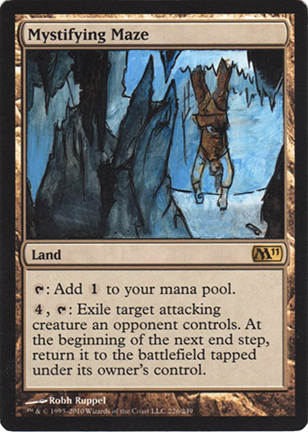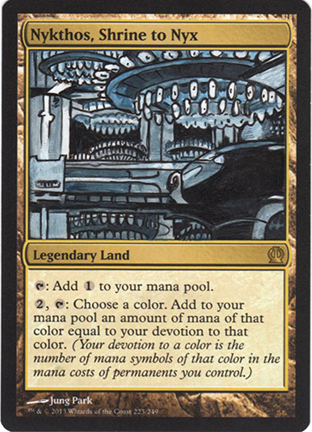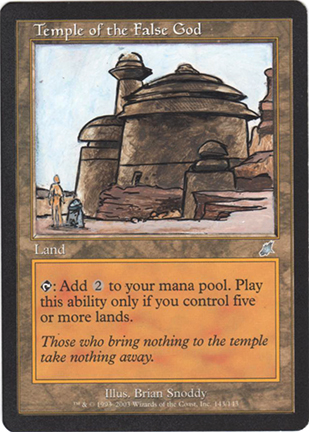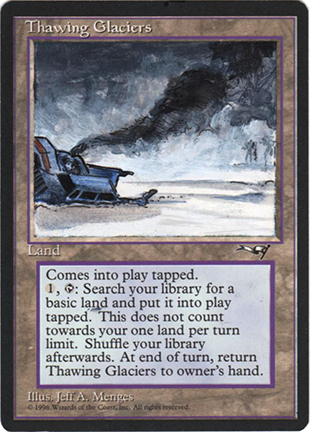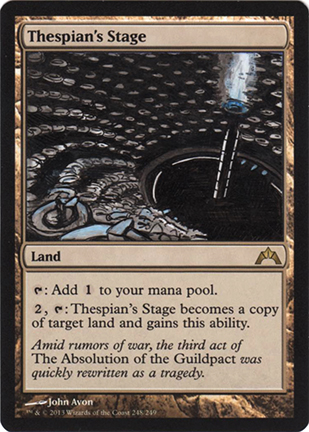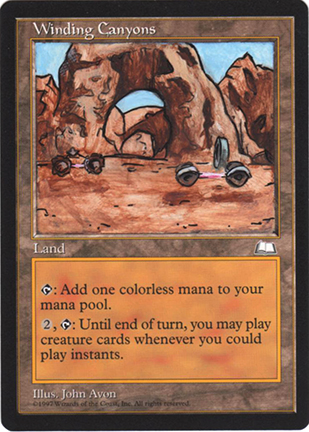 Acknowledgements
First and foremost, thank you everyone who has contributed to this thread. The best ideas tend to come from a group effort so thank you to anyone who has contributed to this thread as I appreciate it. All discussion is useful in some shape or another.
Galspanic altered all of the cards that are found in here. My thanks to him and his hard work.
Sioux created a great banner which I used for a long time. I am no longer utilizing it due in part to not running one of the cards on it as well as just trying to show all of my alters instead. Regardless, kudos to him and his work.
I have officially moved to MTGNexus.
I just wanted to let people know as my response time to salvation decks being bumped is very hit or miss.

Signature by
Inkfox Aesthetics by Xen
[EDH]
Gisela
|
Sram
(auras) |
Edgar Markov
|
Bruna
|
Jori En
|
Heliod
|
Squee
[Modern]
Allies