Rowan
Join Date:

5/18/2010

Posts:

505

Member Details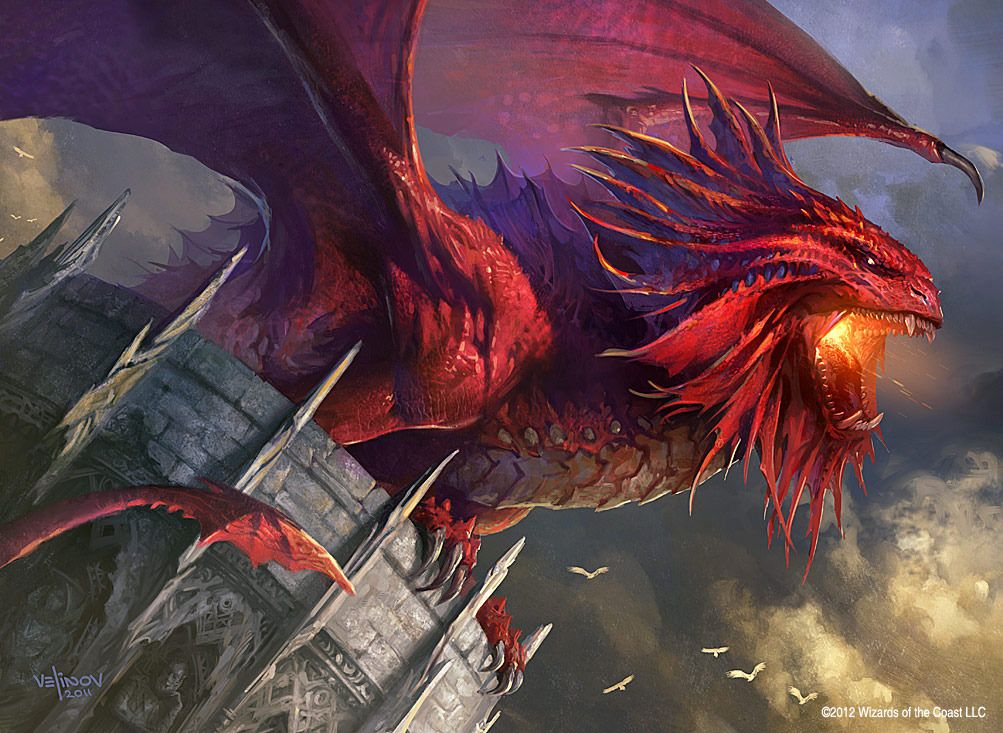 FIREMIND'S FURY
____________________________________________________________________________________________________________
A PRIMER ON NIV-MIZZET, THE FIREMIND
Welcome cyberspace traveler to my official primer on

Niv-Mizzet, the Firemind

. My name is Rowan and I've been playing Magic The Gathering since Rise of the Eldrazi and among other things spend my free time designing custom cards. If you're curious, you can see my full gallery

here

. Among formats, I've been playing Commander almost exclusively. I enjoy this format because it's an eternal format. It allows creation of flavorful decks using nearly any card printed. It's one of the more challenging formats mainly because of the sheer number of options. Also, having access to otherwise restricted or downright banned cards is awesome. Niv-Mizzet is my favorite commander so you'll be hard pressed to find someone more qualified to explain how it works.

A well known top tier commander like

Niv-Mizzet, the Firemind

more or less demands a competitive build. When he enters the battlefield, he's the kind of commander that screams

"Answer me now or die!"

It's an all or nothing kind of arrangement because people will not hesitate to hate you out of the game even if the only asset you have is an island and Niv costs to cast! If you aren't playing against comparably powered decks, the game turns into a game of Archenemy, with you vs 3 other decks. If you want to win, you are going to need those beastly cards like

Cyclonic Rift

,

Counterbalance

,

Dream Halls

, and

Show and Tell

. You'll need to find every way you can to break the format. If you aren't willing to build a competitive deck,

Niv-Mizzet, the Firemind

isn't your commander because it comes with the job description.

Personally, I would never replace Firemind for another commander because the hate that he "draws" is the crucible in which this deck has evolved. Even though I still get hated out from time to time, the deck is so fun for me I don't really care if I win or not. My ego is sufficiently stroked by the fact that my deck could stand up to three other competitive decks for as long as it did.

Firemind's Fury is the result of about three years of playtesting on cockatrice, late night commander gatherings, and at home against my other decks. Through countless revisions, it has slowly evolved into what it is now: a rapid fire, hyper focused, efficient, non-creature based, control/combo deck. In other words,

it's a grossly competitive monster that will eat your opponent's hopes and dreams and then excrete them onto their faces.

If you don't want to pilot a deck that makes people rage quit and send you death threats, go and find a different primer. For example, this deck is capable of winning on turn one,

time walk

ing on turn two, and repeatable one sided board-wipes.

But don't worry, I've created a toned down budget/casual/non-infinite version below the main deck list using

Niv-Mizzet, Dracogenius

as the leading dragon. Feel free to remove anything else you deem to be unfair, but don't come crying to me if you lose.

Also, you don't

HAVE

to win. If the game state piques my interest, I'm liable to cycle away those game winning spells for the sake of continuing the game. I'll also allow my assets to get removed even though I can counter the removal just as a personal challenge. Can the deck recover? Often it does. Sometimes it's more satisfying to deny yourself those early wins and know that you have complete control over the rest of the game.

I often use generally accepted "magic jargon" such as

color screwed

,

bounce

, or

topdeck

sometimes without realizing it.

You can refer to this glossary of magic jargon if you're confused.
"He has no patience for minds that do not inspire him or explode by trying."
SO, WHY PLAY NIV-MIZZET, THE FIREMIND?:
Quite simply,

Niv-Mizzet, the Firemind

is the most competitive Izzet commander. He's a bad*** awesome dragon full of flavor and attitude. He transmutes card advantage directly into damage in such an elegantly simple way. Niv is lazy. Niv is conceited. Niv is impulsive. But he's also powerful, brilliant, and deadly. Izzet is one of the funnest color combos and Niv is an exemplary representation of both colors.

CURIOUSER AND CURIOUSER...

To go infinite or not to go infinite? That is indeed the question when choosing whether or not to pilot Niv-Mizzet and one of the first ones you should ask yourself. Many people find infinite combos to be "un-fun" because they essentially allow you to win instantly if not countered or disrupted in some way. Niv is notorious for infinite combos and this build is no exception.

My deck is often simply referred to as "

that combo deck

." People fear (and/or hate) the combos that he enables, namely

Curiosity

,

Mind Over Matter

,

Ophidian Eye

, and

Tandem Lookout

. And rightly so - they are infinite combos that allow you to draw your entire library! So, even if you choose to exclude the infinite draw combos from your personal Niv build (AND THEY ARE OPTIONAL!), be prepared for some major hate right off the bat - possibly from all players at the table.

Personally, I've chosen to include only one of the infinite draw combo cards.

Curiosity

. That's because these cards rely on Niv being in play, recovered from summoning sickness, granted haste, or the ability triggered by a secondary draw effect (such as

Faithless Looting

). Half the time you will have to wait until your next turn to make use of Niv either because of mana restriction or lack of a way to trigger the combo. It's incredibly fragile because any kind of creature or enchantment removal, and heaven forbid, a counter! Will stop the combo from going off. Curiosity is the most efficient combo card available.

If you do manage to pull it off, the combo is usually game winning. Curiosity is mostly a last resort however rather than a primary win condition. By itself, it can't kill all players at the table since you'll have less than 99 cards in the deck (however casting

Timetwister

to reshuffle will work if you have the mana). It does enable an

Inner Fire

/

Comet Storm

win pretty reliably.

To address the issue of infinite combos in general as being un-fun, I'd have to disagree. There are plenty of infinite combos in every color combination and also plenty of ways to deal with them, thanks to instant removal and control. I take pride in disrupting other people's infinite combos. If two decks are equally equipped, there can be some epic games indeed.

List of infinite combos:

http://forums.mtgsalvation.com/showthread.php?t=395024

and also here:

http://www.magicdeckvortex.com/COMBOS_infinity.htm

If you don't wish to use infinite combos, I strongly urge you to consider a different general such as

Niv-Mizzet, Dracogenius

whom I feel to be the more casual alternative to Firemind. This will alleviate misplaced hate. Also, there are plenty of alternatives to the infinite combos that are nearly as powerful. You can use the empty slots to load up on more counters, early draw, or handcycling. It's up to you. If this path suits you, take a look at the alternate decklist posted beneath the main one.

You can also just put Firemind into the deck and use Dracogenius as a casual front. This is a bit deceptive however and only works once, so I don't recommend it.

IZZET COMMANDERS:

A lot of players new to throw together an izzet deck that is scattered and therefore ineffective, and their choice of commander is arbitrary or based on flavor alone. But before you build your deck

put some consideration into what kind of deck you actually want to build and which izzet commander will do the best job commanding it

. This will make it a lot easier to swap things you need for things you don't. It will streamline the deck and focus your win conditions.

Here I'll list what I would personally do with each izzet commander, complete with an example decklist. Because these decklists are almost entirely theoretical (and therefore likely suboptimal), I'll also link to a couple other lists created by players who actually pilot these commanders.

FIREMIND VS DRACOGENIUS:

Niv-Mizzet, Dracogenius

is a decent alternative to

Niv-Mizzet, the Firemind

and worth some discussion. If you hate infinite combos and decide not to use them but still to make an izzet deck that draws a lot of cards, I would definitely recommend Dracogenius over Firemind for a couple of reasons.

1. Lower profile means less hate. There are no 2 piece infinite combos with Dracogenius like there are with Firemind. HOWEVER

Mind Over Matter

still combos with Dracogenius, you just need a mana source that produces UR. Two

Gilded Lotus

would work nicely (effectively "Discard 2 cards: Draw 3 cards") Or even

Izzet Boilerworks

but I hate that land.

2. He's much better in a vacuum than Firemind. He can draw more cards on his own and can do more damage - killing small creatures and pinging away at your opponents. Unlike Firemind, Dracogenius can draw you cards and still attack. He's a 5/5 vs a 4/4 so he's a bit more durable.

That said,

The infinite combos with Firemind, although clunky and fragile are just killer IF you can pull them off. The damage done by the draw is really just icing. Once Niv has his library in hand it's over. For example:

Inner Fire

and

Comet Storm

will end the game.

In addition, Firemind encourages a handcycling build where Dracogenius offers no benefit from cards like

Timetwister

and

Wheel of Fortune

. Handcycling is very powerful and combined with the right cards it has the potential to do A LOT of damage for very little mana investment.

Turn 5 and 6 wins are typical with Firemind's Fury. It just takes a lot of ramp and tutors to make it work. The deck doesn't depend on the infinite combos to win but the infinite combos certainly do enable some early wins which you cannot do with Dracogenius.

Another combo that you would miss out on is Firemind +

Mindmoil

+

Dream Halls

(or

Omniscience

) which I find to be a very awesome way to win.

Generally speaking, Dracogenius is the more casual alternative, while Firemind is the more competitive choice.

"Niv-Mizzet's genius and vanity reverberate throughout the mirrored halls of Nivix."
PREFACE:
First, I want to give credit to FireStorm4056. His decklist pointed me down the path that brought this deck to where it is now. He's recently made some shiny upgrades to his thread and I highly recommend checking it out:

http://forums.mtgsalvation.com/showthread.php?t=300196

Firestorm discusses multiplayer strategies in depth and offers ways to beat the other deck archetypes in more detail than I do here.

I've tried to keep this primer concise - more of springboard to create your own unique version - but please let me know if I need to further explain anything. And I apologize in advance for any discrepancies. Please bring them to my attention and I'll fix them ASAP.

NOTE:

I don't actually own all the cards in the primer list. For example,

Timetwister

and

Mana Drain

will probably never see my sleeves. But that's OK. The deck doesn't need them to crush your opponents. They are listed there because they are legal and are simply better than the alternatives. The cards in the primer are meant to be the very best they can be for what Firemind's Fury is trying to do:

Win.

Themes of Firemind's Fury

Control - What would blue be without it? Adequate counterspell backup is important to ensuring our combos go off. It's also our first line of defense against other blue decks and our opponents more powerful plays.


Combos - While I don't exactly have the most complicated or obscure combos, the deck does rely on some powerful ones as win conditions or the means to get me there.


Hand Superiority - This is accomplished through ridiculous amounts of draw and handcycling. Card advantage is the surest way to victory.


Ramp - This deck has an above average amount of artifact ramp and is a major reason why this is a competitive build. It can stand toe to toe with dedicated green ramp decks through extra turns and pile of artifact ramp.


Time Manipulation - "A skilled Izzet chronarch can carry out an epic vendetta between the fall of one hourglass grain and the next." With cards like Time Warp, and Time Spiral it's fair to say that Niv Mizzet can bend time to his will for the win.

Pros:

1. Insane card advantage. This deck draws more cards than any deck I've ever played or played against. Card advantage wins games consistently and it's

never

situational. And it's also the funnest way to play the game.

2. Efficient. Where card advantage is king, efficiency is queen. The majority of your cards need to be useful both early AND late game. My average casting cost (ACC) fluctuates around 2 - 2.5.

3. Speed. To be competitive, you need speed. You get speed through ramp. With 16 non-land sources of mana this deck is incredibly fast.

4. Combos! In EDH, your deck needs to combo with your general's strengths but not be reliant upon them to win. Besides Curiosity, I have several others that I've listed in latter sections. But rather than throwing in a shotgun spread of combos, I've focused on several that I've found to be most effective.

5. A good balance between answers (counters and removal) and raw power (ramp, extra turns, draw). I know some decks that are close to being 1/3 ramp. I also know some decks that are 1/3 counters and removal. In general, more speed means less answers, and vice versa. Finding the sweet spot between the two extremes has been a challenge but hundreds of plays has yielded a pretty workable balance. Basically it means having a lot of both, and cutting anything extraneous.

Cons:

1. I've sacrificed some flexibility for speed, and some speed for flexibility. So very occasionally, I'll be scarce of counters or removal, or even get out-ramped by another deck. You can add more ramp or more answers depending on your playgroup.

2. This is a very competitive deck mainly because of how fast it is, the powerful combos that it runs, and the counters/blue shenanigans. Turn 1 and 2 wins are possible. Turn 3 wins are occasional. Turn 5 or 6 wins are typical. HOWEVER, if you're playing with comparatively powered decks, games can last much longer.

3. This deck is capable of winning without Niv ever seeing the table and often does! This is mostly because of his relatively high and color heavy cost. When I cast him, it's usually already too late for my opponents or I'm about to win with an infinite combo. If you enjoy attacking with, enchanting, or equipping your general, I would choose a different general. Again, I think Dracogenius would be better suited for this kind of play since he can attack and still draw cards.

"Don't just have an idea—have all of them."
DECKLIST:
Here's the deck on tcgplayer.com:

http://magic.tcgplayer.com/db/deck.asp?deck_id=996297

Primarily I want you to notice the average casting cost (ACC). What does that value mean? It means this deck is efficient. The individual spells may not be all that powerful solo, but in combo they are deadly. It also means I generally get very nice castable opening hands.

Also notice the mana curve. My effective curve looks a bit better. Generally you want it to look be a nicely shaped hill with the peak being at CMC of 2-3.

Next take a look at the color weight. It's about 70% blue - 30% red.

Lastly, deck price. At about $2,500 (considerably more if you're prone to buying foils and promos like I am) this is definitely NOT a budget deck and I would be unlikely to purchase it in its entirety. The most expensive cards are

Timetwister

,

Intuition

,

Force of Will

,

Volcanic Island

,

Mana Crypt

, and

Mana Drain

and can be substituted for cheaper stuff if you're not playing online. The fetchlands and duals of course aren't cheap either. They make the deck better but I would say they aren't all necessary.

It's certainly possible to put together a very competitive version of Firemind's Fury for less than $500. My personal paper deck, even without a lot of the more expensive stuff listed in the primer (sans

mana crypt

,

mox diamond

, all of the fetches,

force of will

,

intuition

,

show and tell

and many others), continues to dominate the competition. It's just so flexible and powerful that not much can stop it. I attribute its success mostly to the handcycling, ramp, and counter support. Having 30 cards in hand at pretty much any given time is also nice.

The cards are ordered in ascending order of CMC within category of function. The number listed before the cards is the CMC

"The mizzium-sphere array drove her mind deep into the thought field, where only the rarest motes of genius may be plucked."
BUDGET/CASUAL/NON-INFINITE ALTERNATIVE
I realize the deck above isn't going to be realistic for a lot of people and/or doesn't suit their playstyle. So I created this alternate version. I've removed all the infinite combos, as well as any cards that are worth more than $10 a pop. The deck still retains its themes though and plays more or less the same. You can adjust the amount of ramp/counters/extra turns/draw/removal according to your preference. It's flexible.

Note: This deck uses Dracogenius as a commander because, generally speaking, Firemind draws too much hate. You can still use him if you want, but just be aware of his reputation and maybe explain that this deck is just a casual version.

Note:

Dream Halls

is a very competitive card when used properly. You can choose to keep it or use something different if it's too powerful for your tastes.
STRATEGY:
This deck works very simply. It's all ramp and draw + a few counters/removal and some tutors. Essentially, this deck focuses on drawing as many cards as possible as quickly as possible then comboing out, unless a win condition presents itself sooner. All the other cards in the deck allow these combos to happen quickly and with minimal interference.

Early Game (Turns 1-3):

This is probably the most essentially part of the game for us. These early turns can mean the difference between a win and a loss.

Ideally, the first couple of turns are used to lay down ramp, hand cycle, and do some hand improvement with the cheap draw. If you've got cheap global hand cycling such as

Windfall

,

Wheel of Fortune

, or

Winds of Change

that's great because it means we can screw with our opponents' carefully mulliganed hands, after casting anything useful in our own hand.

Fortunately, it's hard to get a bad opening hand with this deck, especially with this format's mulligan rules. But, make sure you have at least a couple lands, some ramp, and some cheap draw or handcycling, maybe a counterspell or two. Don't be afraid to mulligan away anything that's over 3-4 cmc. We can dig or tutor for it again later.

Good opening hands:

Mountain

,

Mana Crypt

,

Wheel of Fortune

- even though we're missing 4 cards, this is a great opening hand. We'll get to destroy our opponent's mulliganned hands and get a brand new set of 7 cards with plenty of mana to cast it.

Scalding Tarn

,

Island

,

Mox Opal

,

Sol Ring

,

Windfall

,

Mystic Retrieval

- with this hand you can pop a fetchland, lay down some essential ramp, and then cast Windfall, all on turn 1. Mystic Retrieval will allow another Windfall casting in a couple of turns. This is a very nice hand indeed and even better than the first.

Volcanic Island

, Mountain,

Sensei's Divining Top

,

Mindbreak Trap

,

Counterspell

,

Long-Term Plans

,

Brainstorm

- We don't have any ramp, but we've got the means to dig or tutor for it. Counterspells are fine to have in your opening hand because they stop early wins.

Command Tower

, Island,

Faithless Looting

,

Recoup

,

Time Warp

,

Helm of Awakening

,

Chaos Warp

. - 2 lands are risky to keep but as long as you've got some cheap card draw it shouldn't be a problem. We're going to pitch Recoup and Time Warp into our graveyard for later use using Faithless Looting since we can't make much use of them this early. On turn 2 we'll cast Helm of Awakening and then on turn 3 we can flashback FL again for only even if we didn't get a land.

Mystical Tutor

, Island,

Chrome Mox

,

Izzet Charm

,

Timetwister

- This hand allows for a turn 2 miracle casting of

Temporal Mastery

. Followed by a turn 3 (actually turn 2) Timetwister to reset our hand.

Mid Game (Turns 4-6):

Your objective should be to draw your library, so that we can cast either

Inner Fire

/

Comet Storm

or

Dream Halls

/

Omniscience

and hand cycle everyone to death. There are 4 ways of doing this:

Restraint is the name of the game. If you attempt to go for a win, make sure you have the means to do it. You want a couple of hard counters, some nice mana accel, maybe a board wipe and your method of drawing a bunch of cards. If you fail to win this turn, you will likely become the biggest threat at the table and those hordes of soldiers/goblins/saprolings will start bee-lining towards YOU!

Be especially leery of casting Niv. He will be seen as a huge threat regardless of the rest of your board position or the size of your hand. You often don't need him to win anyway. Alternatively, you can cast him to bait removal and counters, then go for your bigger play. Something that makes this deck awesome is that there is always a back up plan.

Save your counters and removal for only the most relevant threats, to protect your own assets, and to ensure that your combos go off. This isn't a dedicated control deck. Its strength lies in its speed, so you should ignore the vast majority of plays your opponents make. You should use your mana to cast ramp and draw cards.

Having a huge hand can be a bit mind boggling. Don't freeze up. Remember your win conditions, use tutors if you need to, cast the moxen, and make sure you have enough mana open for counters, etc.

Late Game (Turns 7+):

If you're still playing, the deck must either be having some hard luck or your opponents have countered your win conditions. That's okay and rather expected! If you had already won, the game wouldn't be very fun would it? This is where things get interesting and where the real game begins.

Cyclonic Rift

is a awesome card to have now. If your library is looking slim, try to re-shuffle your graveyard with

Time Spiral

or

Timetwister

or alternatively recast key spells using our recursion options.

If you've attempted a win and failed, you're likely being hated out or maybe you aren't perceived as a threat anymore. Act accordingly.

"To those in tune with the Firemind, there is no difference between knowledge and flame."
HANDCYCLING:
Handcycling is an integral part of your path to victory so lets discuss it.

My esteemed colleague FireStorm4056 claims to have invented handcycling. While I'm not sure that this is entirely true, I couldn't agree with his definition more. Handcycling is

"The abuse of powerful, efficient, and aggressively costed Timetwister effects for the purpose of generating overwhelming card advantage, dominating the boardstate, rushing to victory, and having fun."

I consider handcycling to be any card that allows you to trade an old hand for a new one.

Timetwister

,

Wheel of Fortune

, and

Windfall

are some of the more classic examples.

My philosophy is that Niv fits

handcycling

rather than handcycling fitting

Niv

. Why is this? It's because handcycling in and of itself is very powerful, under-utilized, and under-rated. It allows you to cycle through your deck and play the cards you need at that specific point in the game. At its best it's almost like having your whole deck in your hand at once (and many times you actually do). Also, you will notice that all the handcycling cards are either red or blue. Niv can make use of handcycling better than any other general because he deals direct damage whenever you draw.


So let's break down some of the benefits of handcycling:

Gives us access to more of our deck at an efficient cost - Cast Tolarian Winds and/or Winds of Change to dig for what you need. Have half your deck in hand but missing both Omniscience and Dream Halls? Cast Winds of Change. Generally speaking, unless you're lucky, you'll only have 2 or 3 relevant cards in every 7 card hand. So why not cast those cards, then cycle the rest away for later use? Most decks cannot do this. They're more or less stuck with the hands they have. Handcycling lets you take some of the luck away from the game. Handcycling should really be called hand control.


More cards for less mana - Compare Wheel of Fortune to Stroke of Genius. To get 7 cards I can either use or .


Gives you more card advantage than your opponents 90% of the time - because you are the one casting these effects, you are the one in control. This works similarly to cards like Balance, Wrath of God, and Aluren. You cast these effects when you you can benefit the most - when your hand is smaller than your opponents, when you have 6 lands in hand, when you have Recoup in hand and can access the discarded cards later, or when you are digging for answers or win conditions, or maybe all of the above!


Trigger Niv's damage ability efficiently - Aside from the infinite combos, handcycling is the single most efficient way to trigger Niv's ability. With just I can cast Winds of Change with 30 cards in hand to deal 30 damage.


Combo with Consecrated Sphinx and Alhammarret's Archive for insane draw - Most handcycling effects are so synergistic with Sphinx that they might be considered broken. With Sphinx on board, I cast Timetwister. With 3 opponents, I will be drawing 49 cards. Have Alhammarret's Archive on board? That's your whole deck!!


Shuffle and discard enemy tutors - when timed correctly we can effectively prevent our opponents from keeping their tutors.


Handcycling effects like Wheel of Fortune and Reforge the Soul fill your graveyard for later recursion - With four recursion cards in the deck, this is an efficient way to grant ourselves access to more of our library.


Handcycling effects like Time Spiral and Timetwister protect us from decking ourselves, save us from enemy mill strategies, and shuffle our opponents' recursion fodder back into the deck. - This is pretty relevant since decking ourselves is a real danger sometimes. Also we're not the only ones using a recursion strategy. A well timed Living Death can really mess things up.


Combo with bounce effects to cycle away our opponents' boards - Cast Cyclonic Rift and then handcycle - pretty straight forward and also totally evil. Who ever said black was the cruelest color?


When cast early, you can really screw with your opponents hands. - A turn one Windfall can be truly devastating to all your opponents, replacing their carefully mullianged hands with uncastable landless hands.


Combats other decks that draw a lot of cards - Has your opponent just drawn 30 cards using Skullclamp, Puresteel Paladin, and Hero of Bladehold? Time Spiral BAM!

There are two distinct classes of handcycling. Draw 7 and replacement. Among those class types there are 2 subtypes: shuffling and discard. Discards are nice because they are generally cheaper to cast. The shuffle type are necessary because they let you reuse your deck. You should have all 4 types in your deck and plenty of them.

Draw 7 Type:

The draw 7's allow you to refill your hand quickly after casting a bunch of spells. They are excellent cards to have in your starting hand and very nice early draws (the cheaper ones). In addition to refilling your own hand, they tend to screw up your opponents carefully mulliganed and tutored hands. They aren't so great in late game because you'll already have a large hand. Without Sphinx in play you will be netting less cards.

Discard Type:

Shuffle Type:

Replacement:

Replacement handcycling is great in combo with Niv because you'll likely deal the most damage. With just and a full hand of cards you can cast

Winds of Change

and deal a ton of damage to some very unfortunate critters or players. They are great to have in your hand late game when your hand is huge, but not as good early game. In addition they combo with

Alhammarret's Archive

to double your handsize.

Shuffle/goes to bottom Type:

Discard Type:

Cheapies:

While not true handcycling (since your whole hand isn't being cycled, they still allow you to trade what you don't need for what you do. These are all awesome cards to have in the first few turns (the most crucial part of the game) and help give me that little extra boost or recover from a bad mulligan. They are also the most numerous type but I will attempt to list most of the relevant ones for you.

Shuffle/back to library/scry type:

Discard type:

Here's the but: Underworld Dreams

,

Spiteful Visions

,

Sudden Impact

, and

Runeflare Trap

are just a few of the cards designed to combat overzealous draw. If you're facing a

Nekusar, the Mindrazer

deck you can expect to see a lot of these cards. Hopefully you can tutor up some removal or counter these sorts of things, or just gun for the problematic player until they die.

"The Izzet learn something from every lesson they teach."
MIRACLE TOOLBOX:
Casting cards for their miracle cost fairly reliably is yet another way for us to stay ahead of the curve.

The miracle cards in the deck are

Temporal Mastery

and

Reforge the Soul

. Both awesome to cast as early as possible. You can also swap in

Devastation Tide

if you feel you need even more board control than is already in the deck.

The miracle enablers in the deck are

Sensei's Divining Top

,

Scroll Rack

,

Brainstorm

,

Personal Tutor

, and

Mystical Tutor

. Brainstorm and Scroll Rack are particularly broken because they allow you to set up miracle castings for cards already in your hand. One of the best targets for Mystical Tutor early in the game is Temporal Mastery, effectively allowing a turn 2 or 3

Time Walk

.

"Time is a marvelous plaything."
GRAVEYARD RECURSION
Cards like

Faithless Looting

,

Frantic Search

,

Windfall

, and

Wheel of Fortune

fill the deck and they fill your graveyard pretty quick too. Being able to access those discarded cards means that the graveyard is almost like an

extension of your hand

.

To comprehend the power of this strategy imagine if Faithless Looting was

, and Wheel of Fortune was : Draw 4 cards

. That's almost what's happening when you have effects that let you cast things from your graveyard just like they were in your hand. It's a powerful tool on our path to victory. : Draw 14 cards

Being able to recur things from our graveyard means that we have the opportunity to cast them more than once. In a format where you can only have a single copy of each card, this gives us a leg up. For example, repeatedly casting handcycling effects, tutors, or board wipes makes for some insane advantage. It also grants us some much needed lategame resiliency.

Once you understand how this works, you will be casting

Wheel of Fortune

followed by

Tolarian Winds

on turn 4 or 5 just to start filling your graveyard with recursion options later. You also won't mind discarding key cards because you trust that you'll be able to get them back later. If I top deck

Enter the Infinite

on the first turn and discard it to

Faithless Looting

, my opponents will often forget that it's there until I cast it for the win using one of my recursion spells.

Graveyard recursion is also a natural protection against decks designed to discard your hand or mill you to death. Just got smacked in the face by

Nicol Bolas

with 30 cards in hand? Likely one of those cards was

Mystic Retrieval

, or

Recoup

. You should at least be able to deal with the threat. Just got

Traumatize

d and then

Mind Funeral

ed? You should thank your opponent for giving you access to more than half your library.

The cards in the deck that grant us access to the graveyard are

Snapcaster Mage

,

Recoup

,

Call to Mind

,

Mystic Retrieval

, and

Academy Ruins

simply because these are the very best recursion cards available to .

Worth noting,

Intuition

becomes even more broken when you can actually cast all 3 spells that you fetch.

Recoup

+ 2 sorceries that you need = win. Recoup can only target sorceries, but don't worry. Most of the relevant spells we have are sorceries. A good combo is usually two draw sevens and recoup. You'll be able to repeatedly hand cycle triggering Niv's ability and find key cards.

Need I explain why

Snapcaster Mage

is included? He has flash! He can target instants! And he's a frickin 2/1 creature! Just disgustingly broken for .

Call to Mind

- this is just a simple and powerful effect at an efficient cost. Is it as good as Snapcaster? Nope but it comes close because flashback doesn't work with

Omniscience

. I also don't have the cast the recurred spell immediately.

RULES NOTE: "9/22/2011 Only instant and sorcery cards in your graveyard when Past in Flames resolves will gain flashback. Instant and sorcery cards that are put into your graveyard later in the turn, including the resolving Past in Flames, won't gain flashback."

Also according to the rulings, Casting

Comet Storm

from your graveyard using flashback is perfectly legit. You can choose a value for X as well as pay kicker costs. Don't let anyone tell you otherwise.

Mystic Retrieval

- This plays very nicely with handcycling effects. Being able Cyclonic Rift repeatedly is just downright degenerate.

Academy Ruins

- This can be nice protection against artifact removal. It also lets you topdeck key pieces of ramp from your graveyard if they've been milled or discarded.

Here's the but:

Now, in a perfect world we would be home free

but graveyard hate exists

.

Bojuka Bog

,

Relic of Progenitus

,

Nihil Spellbomb

,

Tormod's Crypt

,

Leyline of the Void

,

Rest in Peace

, and countless other nasties will try to nuke our graveyard and render our recursions spells useless! Don't hesitate to counter these spells when they pop up, especially if you know you're going to lose key cards. Bojuka Bog is especially despicable because it can't be responded to and is an auto include in just about every deck running black. I've considered running

Extract

or

Jester's Cap

for the sole reason of removing this card!

"The only action worth taking is one with an unknown outcome."
COUNTERBALANCE PACKAGE:
Counterbalance

, for just manages to become a grossly overpowered control engine that demands removal. On the other hand, it's very political because its ability is a may. You can pick and choose what you want to attempt to counter. It also forces your opponents to play around it, changing their gameplan. They might not play as efficiently as they could - deciding to play that 2 drop instead the 3 drop because they know the 3 drop will get countered.

This little gem is a stupidly broken card alongside the library manipulation cards in the deck. Comboed with

Scroll Rack

,

Sensei's Divining Top

,

Brainstorm

, Fetchlands, and

Mystical Tutor

it has the ability to significantly hinder your opponents' gameplan.

Fun fact: Counterbalance can actually counter spells with Split Second because you are neither activating an ability or playing a spell. Counterbalance is a triggered ability.

Unlike the majority of control spells it actually gives you card advantage over time. Even if you only counter one relevant spell with it, it's on par with

Counterspell

in terms of card advantage for mana invested.

Rhystic Study

also has some nice synergy with

Counterbalance

. People might let you draw cards and hope that you won't counter their spell. It's a bit sadistic because allowing Niv-Mizzet to draw cards is usually just as detrimental to our opponents in the long run than countering their stuff. Additionally, since Rhystic is a may, if you have

Future Sight

on board you can choose to draw or not in order to get a second chance at countering something.

Academy Ruins

can be used to put the desired cmc card from your graveyard on top.

But be careful, your opponents will almost assuredly try to hate you out of the game for playing this single card depending on their prior experience with it. If you are fighting against creature based decks, they have a good chance of successfully dealing lethal damage, so make sure you have the board-wipe capability to back this up if you decide to attempt it. And that is of course one of the many beauties of this deck. If you don't want to cast it, handcycle it away or discard it!
WIN CONDITIONS AND NOTABLE COMBOS:
Combos are awesome because they fully utilize the card's potential. Two cards together become much better together than when on their own, but your combos shouldn't RELY on having the other pieces. They should be good solo. They also all work in concert toward the goal of winning as quickly as possible.

Win Conditions:

I consider a win condition to be anything that says "I win now." It has to be something that's going to clearly kill your opponents regardless of life totals or how many opponents you have. This list is probably not exhaustive of all the ways this deck can combo out, but if you can think of something I've missed, let me know!

Inner Fire (or any source of arbitrarily large amounts of mana) + Comet Storm. This is my primary win condition. Because it's totally non-permanent based it's much harder to stop. It's also the simplest and says "I win" very loudly and clearly. If you are using Inner Fire as the mana source, you only need to cast it and enough cards in hand. If you don't have quite enough cards in hand you might be able to recur Inner Fire for what you are lacking using Call to Mind, Recoup, Past in Flames, etc...


Dream Halls or Omniscience + Mindmoil + Niv-Mizzet, The Firemind + a decent hand size. It's not immediately apparent how this works, but basically you can hand cycle indefinitely for free, resulting in near infinite damage from Niv. This is the most flashy win condition but also totally permanent based. I really like how it just totally transcends the idea of drawing cards and using mana to cast them. Niv is rather spendy to cast. He's at the top of my curve, so hard casting him without dream halls in play is to be avoided. If however you don't have Dream Halls/Omniscience, you can still pull off a win. It's pretty likely that you will handcycle into one of these anyway.
A lot of handcycling + Niv - Sometimes you just can't get your primary win conditions to stick and you just need to hand cycle until everyone dies. It's kind of tedious to do all the shuffling and drawing, so this isn't the ideal way to win. Mindmoil can do this, but it's not hard to chain and recur handcycling cards for lethal damage either.

The Infinite Combos: Niv-Mizzet, the Firemind

+

Curiosity

combos to draw all of your library.

Future Sight

+

Sensei's Divining Top

+

Helm of Awakening

- combos to draw all of your library.

Other Strong Combos: Consecrated Sphinx

+ Any draw 7 = draw half your library.

Cyclonic Rift

or any bounce effect + any handcycling = epic removal

Alhammarret's Archive

+ any handcycling card = massive draw.

Wheel of Fortune

becomes : draw 14 cards.

Winds of Change

becomes : double your handsize. You can very quickly deck yourself with Alhammarret's Archive so be careful!

Add

Mindmoil

and you have "Whenever you cast a spell, double your handsize." This is a very very dangerous combo so be careful! If you think you're going to deck yourself, just

Chaos Warp

it, or you can cast

All is Dust

. Pyroblast or Red Elemental Blast are the most efficient ways to get rid of it if you happen to be running those cards.

God Hands (possible turn 1 wins):

The simplest way to win on turn one is to lay down

Omniscience

using

Show and Tell

and then cast

Enter the Infinite

. You only need an island and

Mana Crypt

to get . I fully expect at least one of these cards to be banned in Commander within the next couple years so don't get comfortable with this play. It's dastardly and you should do it at least once just to see the look of disapproval on your opponents' faces.

Alternatively, your opening hand is: A land that produces ,

Mana Crypt

,

Mox Opal

,

Sol Ring

,

Dream Halls

,

Enter the Infinite

, and another blue card.

Ok, so play your land, cast

Mana Crypt

and then

Sol Ring

using

Mana Crypt

. Cast

Mox Opal

. You have exactly to cast

Dream Halls

. Do so. Now just cast

Enter the Infinite

and then pick a win condition.

But you don't even necessarily need Enter the Infinite. You can also hand cycle into your win conditions using other spells. It all depends on what your opening hand is. But

Dream Halls

or

Omniscience

is a must. Another thing you should be able to do is chain extra turns until you find what you need.

Now that you've managed to win on turn one, congrats on being a complete dick. Now politely excuse yourself from the game and allow the rest of the non-combo casual people to play their game.

GLORY TO NIV-MIZZET!

"As brilliant as a cut diamond, and with just as cruel an edge."
VULNERABILITIES:
Just like any deck, Firemind's Fury is susceptible to other deck archetypes and gets shut down by certain cards. Often the best defense is a good offense. Superior speed and card advantage is the surest way to beat any other deck. But our second best line of defense against these decks is our removal and control suites. These aspects of the deck's structure can be tailored to best combat your opponents. Refer to the sideboard section for specific recommendations.

First, lets discuss specific archetypes and how to deal with them. I'll also list some of the stereotypical commanders that tend to embody these strategies.

Now lets discuss specific cards that tend to hurt Firemind's Fury. These kinds of cards tend to fall into a few specific categories.

Draw Hurts

These cards come in two flavors. Cards that hurt you when you draw and cards that punish you for cards already in your hand. Both, quite unsavory. The good news is that these cards are pretty uncommon outside of a deck that uses them specifically as a win condition. Grixis decks ( ) are the mostly likely to run these cards. Watch out for

Crosis, the Purger

,

Nicol Bolas

, and especially

Nekusar, the Mindrazer

.

Draw Bleeding:

Hand Punishment:

Discard Effects (Hand Hate)

This is the antithesis of card draw and usually isn't a huge problem in a multiplayer format but you should be aware of it. Typically, discarding effects will be combined with other cards that punish you for discarding such as

Liliana's Caress Graveyard Hate

Although not a serious threat it will go a long way towards handicapping the deck. That's because this deck burns through a lot of cards very quickly - often discarding 10-20 cards when digging for something or trying to deal damage. A well timed graveyard exiler can forever sever us from game winning spells and important removal and control.

Other Forms of Control, Lockdown and Resource Denial

These types of cards are so numerous that I'll just mention some of the ones that you'll see most often. COUNTER THIS STUFF OR GET RID OF IT!

Library Hate

For a combo deck this is a relevant threat. Fortunately, Firemind's Fury has several routes to victory. It takes either a kicked

Sadistic Sacrament

or a ridiculously high storm count on

Bitter Ordeal

to even come close to crippling this deck. They would have to exile Dream Halls, Omniscience, Curiosity, Enter the Infinite, Consecrated Sphinx, Mindmoil, Alhammarret's Archive, Inner Fire, Comet Storm , and MOST OF MY HANDCYCLING to actually take me out of the game. Hard to do, but still damaging and worth countering if it is attempted.

"We can't beat the necromancers in numbers or raw power. We must beat them with ingenuity and timing."
SIDEBOARD:
Sideboards aren't typically a feature of the format, but I like my deck to be adaptable to whatever playgroup I tend to spar with. My sideboard is essentially a special page in my binder that I reserve for cards that are overly situational to maindeck but powerful against certain opponents. You will be constantly trying to balance raw power and speed against control and answers. There really is no perfect sweet spot. It depends on your playgroup and each game you play.

Antiblue Suite:

Other blue decks are typically your toughest opponents because of the control magic they tend to run. These are your best answers to blue.

Red Elemental Blast

and

Pyroblast

I've considered main-decking these. They are essentially a

Counterspell

and a

Vindicate

for . I guarantee your blue opponent won't see these coming.

Teferi, Mage of Zhalfir

- This guy is a bit heavy in the CMC and I typically don't run him but if your combos are routinely getting sniped, you may want to try him out.

Last Word

and

Counterflux

are great offensive counters.

If you're facing off against another strong commander don't hesitate to swap in

Hinder

or

Spell Crumple

to tuck it. I don't maindeck them because they are slightly subpar in comparison to what I'm running but commander tucking is oftentimes worth the cost. It can all but cripple some decks.

And if you really want to shut things down for your opponents:

Price of Glory Defense Grid Stranglehold Citadel of Pain Specialty Control: Time Stop

- a nice alternative to one of the extra turn cards in more control oriented playgroups. It's a good answer to a lot of more competitive problems such as infinite creature hordes, infinite turns, etc...

Trickbind

or

Stifle

- Some really good control here. But most of the time you will want a hard counter. This is not always the case however and you want something with a little more finesse.

Foil

,

Daze

- If someone is trying to pull off ultra early wins, these are a great backup to

Force of Will

.

Removal: Chain Reaction

,

Blasphemous Act

, and

Devastation Tide

are some of the best answers to creature hordes.

Are your opponents heavy in artifacts? Try out

Vandalblast

,

Hurkyl's Recall

, or

Shattering Spree

If you are routinely getting hosed by a certain combo or card you can swap in

Extract

and/or

Jester's Cap

for some library hate. Both of these cards can be recurred for multiple uses. Jester's Cap is especially nasty with

Academy Ruins

. Extract has the advantage of being castable on the first turn and easily copied or recurred. If you really want to go overboard there is always

Denying Wind

.

Wipe Away

or

Boomerang

are some powerful bouncers and probably good swaps for 1v1. Land bounce is evil and powerful and will win you games consistently alongside

Strip Mine

,

Venser, Shaper Savant

and others.

"Izzet brains and Izzet boilers: contents under pressure."
Last edited by
Rowan
: Nov 24, 2015

MY PRIMER ON NIV-MIZZET, THE FIREMIND
,
MY CUSTOM CARDS ON DEVIANTART
My other decks:
Kaalia of the Vast: Certified Air Raid Material
Prossh, Skyraider of Kher: NOM NOM NOM!
Aurelia, the Warleader: Warclamp