Hallucigenia
Snow Creature—Human Scientist
Location:

Kjanada

Join Date:

10/20/2012

Posts:

1,523

Member Details
Diaochan's Art of War:
Speak Softly and Carry an Army of Screaming Goblins

A Diaochan, Artful Beauty Token-Shenanigans Deck, by Hallucigenia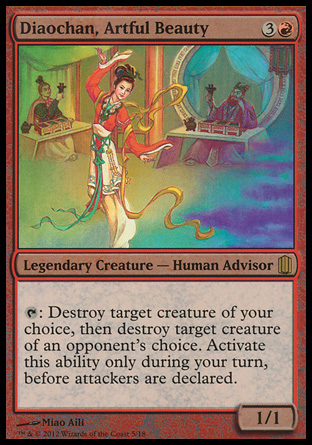 Introduction
** This is Iteration #1 of the deck, and still a bit clunky. Your advice is greatly appreciated! **
This is my attempt at a fun, political, tricky but casual-effective mono-red deck, with
Diaochan, Artful Beauty
at the helm.
It might be they call her "artful" because of the whole dancing thing, but with this deck she puts the "art" back in "art of war"!
The word "art" is beginning to lose all meaning, so let's get to the deck list!
---
Deck Overview
The Commander
First, a few words about Diaochan.
To clarify her ability, you first tap her to kill a creature of your choice. You then choose an opponent, who chooses a second creature for her to kill. You can only do this on your turn, pre-combat. Having the ability turned on you seems frightening at first glance, but you might be surprised, for a number of reasons:
Diaochan herself is the source of both effects, meaning she can not only be protected by the usual Shroud and Indestructibility (

Hexproof does not work

as she is still a source you control), but also Protection from Red, making the Swords of Fire and Ice and War and Peace both offensive and defensive tools.
You choose the opponent who kills the second creature. In multiplayer games, you can often find an opponent who's more interested in someone else's creatures than yours.
Tokens. Don't put all your eggs in one basket. This is one thing this deck does.
Creatures with Enter-the-Battlefield (ETB) abilities. Focus on creatures who already give you an advantage merely by entering the battlefield. Often there will be better creatures on the board for you opponents to kill, who haven't already exhausted part of their usefulness.
Hard-to-get-rid-of creatures like Kuldotha Phoenix.
If you think you'll get the worse end of the deal, it's

your

choice to

not

tap her!!
Token Shenanigans
This deck controls the board through Diaochan and token shenanigans and has a few finisher strategies. First, the shenanigans. Tokens perform a few functions in this deck, aside from making you a poor Diaochan target:
Enter-the-Battlefield (ETB) Effects
Creatures in this deck have an ETB focus, for a few reasons.
It makes your creatures poorer targets if Diaochan's ability turns on you. If part of their function has already been realized simply by coming into play, your opponents may likely have better targets.
Warp World becomes explosive on the play. It's not a rare occurrence this deck will convert a hand-full of weenies into a Bogardan Hellkite, a Molten Primordial, a Duplicant, etc... so what of your opponent is sitting on a Wrath?
Confusion in the Ranks synergy; you get the ETB effect, and opponents are often left with a vanilla creature (at worst a vanilla flyer) afterward. Mindclaw Shaman, for example, nets you the free spell, then you give them a 2/2 Lizard.
Recurrence with cards like Mimic Vat and Trading Post is quite easy with sac mechanisms. How fun to play a Molten Primordial, sac it into Ashnod's Altar, put it under the Mimic Vat, and spend that mana towards a second Primordial in the same turn!
The ETB theme overlaps heavily with the token theme, in the form of Beetleback Chief, Siege-Gang Commander, Chancellor of the Forge, etc.
Creature Overview
Under construction.
Strategy
Under construction.
Update Log

Playtesting
|
Karador, Ghost Chieftain
|
Narset, Enlightened Master
|
Ephara, God of the Polis
Established
|
Gahiji, Honored One
|
Shirei, Shizo's Caretaker
|
Opal-Eye, Konda's Yojimbo
|
Rubinia Soulsinger
Retired
|
Medomai the Ageless
|
Diaochan, Artful Beauty