ISBPathfinder
Location:

South Dakota

Join Date:

8/16/2010

Posts:

23,779

Member Details

Banner.
siouxwerks.
&
rizlawerks
***Note***
: This primer is to build a very powerful agro / control based bant deck. Jenara is great as she is versatile and there are many ways in which to build her. I try to keep an open mind to others opinions so if you feel strongly for or against a card please voice it and we can discuss. Feel free to ask any questions about card choices as I would love to review any past experience I have had with other options. If you are looking for a deck that combos out on turn 4-6 though this is not the deck for you.
Deck History
I started playing EDH the summer of 2010 with a new meta and it was a ton of fun. My first deck was
Captain Sisay
. I think in the first few months we all played all of the tutoring commanders to death and sort of as a consensus everyone just got sick of them all. We don't have any combo tutoring commanders in our meta anymore even though there is nothing holding us back from them other than nobody feels like playing them. I moved from there to Korlash, Teferi, and a few other smaller decklists temporarily in there in the months that came after that. I finally picked up on Jenara sometime around January 2011 and have been in love with Bant and Jenara as a commander since then. She has been to date the most versatile commander and set of colors that I have played and I love all of the interaction within the deck. It is currently my oldest deck to date that is still assembled.
When I originally built Jenara she was a bit voltron and I built it with the sole intention of killing opponents with her and due to such it was a lot more protective of her running a lot of equipment and enchantments that would stop opponents from targeting her and such. I have since then realized the power of the rest of the deck and I rely on her a lot less than I used to. My average cost per spell was a lot higher back then as well as I used to run
Time Stretch
,
Genesis Wave
, and
Rite of Replication
.
From there I changed the deck to be all about the interaction of dropping creatures with enters the battlefield (ETB/CIP) triggers. I pushed it to the point where I tried to replace everything that wasn't a creature with a creature. This version turned out to be good against the wrath control heavy decks which we had been rolling for some time but I found it a bit lacking when facing some creature based decks. Uril for one used to roll me every game.
Currently I would consider this deck to be an aggro-control deck. We have a lot of creatures in the list but most of those creatures are about building up card advantage and taking away threats of opponents. As a game goes on our deck is designed to have better resources and win the game through means of our better resources. For a long time I considered this deck an aggro deck but I have since sort of changed my mind a bit to say it is aggro-control with plenty of control elements in it that you probably could get away with calling it a control deck. Regardless the deck has had fantastic performance to date and I am happier with the list than I ever have been.
Why Play Jenara?
Jenara is completely different from every other bant deck. Unlike Rafiq, Jenara's abilities can cover all of the buffing necessary. Jenara's flying helps evade chump blockers as well which are often found in token and utility decks. Using Jenara as your general means that you will not be relying on your deck to boost your general up for a win, likewise you do not require your general to win the game. I often throw my general out into play early on just to throw a few punches. She will die eventually and it is fine as she has a very low starting mana cost.
You should consider running Jenara if you like a powerful commander that your opponents will always fear at every stage of the game while not being bound to using her to win. The colors of Bant allow us a huge variety of builds between being a control player, a combo player, and perhaps an aggro player. It is up to you to determine what sort of build you want to take on your deck. I like to think that most every Jenara deck can be a bit of a combination of the three all at once.
Our colors give us the following:

Counters, Draw, Theft, Clones, Recursion.

Ramp, Noncreature Removal, Recursion, Creature Tutors

Wraths, Spot Removal, Recursion
The three colors are very powerful together leaving very little weakness to any one specific tactic.
REASONS YOU SHOULD PLAY JENARA:
- You enjoy having a commander who scales well at every stage of the game. She is just as amazing on turn 3 as she is on turn 15. She comes in early and can make herself scary simply by paying some mana. She needs no other cards to build up.
- Her decklist can run a lot of amazing cards that are truly powerful with or without access to Jenara. I find that due to this interaction you see less people tucking Jenara as it does a lot less to your deck. Plus this deck can do a lot without her as well as having an easy time tutoring her back up if needed.
- You love Bant! Personally it is probably my favorite 3 color combination in EDH as it is so versatile. The colors lend to some strong agro tactics while giving options to control as well in white and blue. Green gives ramp and fatties so it really covers most every outlet.
REASONS YOU SHOULD NOT RUN JENARA:
- You enjoy a synergistic build around commander. Jenara's ability to self buff makes her a bit of a goodstuff commander. The equipment in here are primarily for the utility abilities rather than the buff / evasion.
- You enjoy streamlined commanders that build their deck for you. Jenara has tons of different ways to be built because she is more of a good-stuff Bant approach than a build around sort of commander. Every decklist you see out there could very well be different as every meta is different.
- You want to combo out on turn 4. Jenara has some very powerful interactions and some good solid combos such as the Lark + Survival combos but these colors aren't the best at tutoring noncreatures. There are a few white tutors that still work for this but you are probably better with someone else other than Jenara if you want to dedicated combo.
RUNDOWN ON JENARA HERSELF
Ok, first lets stack up all of the bant options before we go in depth on Jenara herself just to show other options and then I will justify why I chose Jenara to lead this deck.
So you can see that there are a few other decent choices in bant. I have seen some of the alternates and played a few of them myself. In my experience,
Jenara
is the option that plays the best as a goodstuff commander and while many of the alternate options have their merits, I found that many of them required more building around them in general. The utility bant commanders are fun but I personally have really enjoyed the versatility of a cheap wincon as a commander. It also frees up some of the slots in the deck and allows the other 99 to perform a bit more consistently in my experience.
Rafiq
is sort of the one other solid beater commander but I personally find him requiring more cards to set up and he tends to be more explosive of an early game kill style of commander but I have seen many complain that they run out of gas trying to push early game
Rafiq
beats.
As for Jenara, I could talk all day about how she can be utilized but honestly I will save all that talk for the strategy section of the primer. Breaking her down quickly she is a 3/3 flyer for which in its own gives her good power for her cost as well as evasion with flying. Add to that the fact that you can pay to give her a +1/+1 counter and she can be an absolute house in the mid to late game. She comes in early and has good power + evasion making her powerful in the early game. Combine this and the fact that she scales her powerful at every stage of the game. She is always a big threat and never easily dismissed. When opponents start running out of removal in the late game you can punish them with her then as she tends to be the biggest beater on board.
Personal Bio

My name is Brian, I am 27 years old, I live out in South Dakota sort of in the middle of nowhere. I have been playing EDH with the same group of people most of my EDH career with some time spent in a few other playgroups but I am back to where I got started on EDH again. We often get together on Tuesday nights and split into 2-3 games of EDH playing for a real fun time. I tend to get targeted quite heavily as a player for having good cards and good decks. While I love perfecting my decks I try not to make them too broken in the ways of combo and mass LD so I tend to stick to synergistic strategies that avoid that when possible. I am a spike player and I love getting my cards worth so I play plenty of card advantage style cards and I love comes into play effects.

I have been playing magic since 1996 or 1997. I have been playing magic since Ice Age, but that was when I was in like 4th grade, so obviously I was not the player then that I am now. I picked up on playing standard FNM back in high school where I played a lot in the Odyssey / Onslaught blocks. I played into Mirrodin and quit around when Kokusho started beating everyone up. I don't hold it against him though, I would love to see him come off of the ban list as I think he is fine in EDH. Perhaps keep him banned as a commander.

I am back to playing magic again and have been playing standard since Zendikar came out. I go back and forth on my thoughts of Standard but regardless I love playing EDH. I am sure that at some point I might give up on standard again but I hope to keep playing EDH for years to come. My EDH play started up sometime early in the summer of 2010 so I guess around the release of Rise of the Eldrazi or somewhere in that time frame. (You can bet we all smashed with all 3 big eldrazi in like every deck early on.)

I have built a whole lot of decks at this point but generally I have stripped away most of the decks I have built. Jenara is my oldest deck at this point and one of my favorite go to commanders. Due to how much play testing I have put into her though I dont play her all that much anymore as there isn't that much more tuning to do I feel like. I don't like replicating how decks feel so I try to have each deck have its own unique style or game plan to it. I was originally a huge aggro player but have really sort of blossomed into a control player the longer I play magic. I tend to dislike playing combo so I never really add cards because of their combo off interactions but if a card belongs in the deck it will make the list regardless of the combo interaction.


Deck List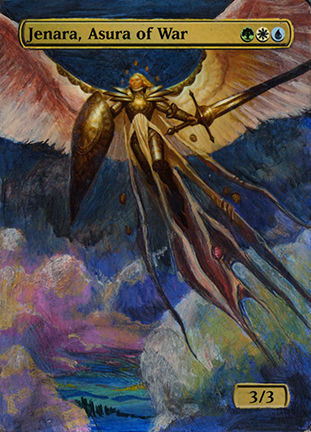 The original deck development / alterations can be found
here
if you are interested to see some of the progressions my deck went through.
You can find other user's lists of Jenara following the primer posts.
I discussed my list on a Commandercast podcast here.
Strategy


Using Jenara


Deck's Strategy


Combo Options

Weaknesses


Card Options
I will try to give a bit of a breakdown on different cards that can give some good flavor to any build of Jenara. Some of these cards are cards that I have had in my own personal build in the past and for some reason or another I have removed or never used them in my build.
Keep in mind that the cards listed here are just cards that have at some point been in or considered for the list
. The decklist itself is located further down in this post. I will try to explain within the card's details what I had wrong with the card or the reason it was cut.
I will try to keep what I am currently running in my list updated in bold here.
CREATURES
Serra Ascendant
Alright, anyone who has ever tried this in a multiplayer setting knows it has some issues. If you drop it turn one in a FFA you will turn the game into archenemy and probably die first. I would generally speaking not recommend playing this out in a FFA multiplayer game of commander. There are a lot of issues that
Serra Ascendant
has in FFA which are usually you can only focus fire a single opponent to under half life then people start stabilizing. People get really pissed off when they see this on turn one and it usually leads to the whole table running you over first. Not to mention the issues if people start cloning it. I love that it is a good target for
Ranger of Eos
but it is just one of those stupid cards that when played in the first few turns really screws with the game.
Coiling Oracle
I like this guy as I never really dislike drawing him. He has a lot of ways to be abused and has the chance of ramping you in the early game. Later in the game he comes in and essentially draws you the next card keeping some good card momentum going while leaving you with a body to be abused with sac outlets, carry swords, and whatever really.
Elvish Visionary
generally speaking, I would say that
Coiling Oracle
is stronger than visionary but his effect is still strong. Drawing a card might not seem like much but he does it very cheaply, then provides as a means to abuse him through means like
skullclamp
, chump blocking, carrying swords, and possibly a bounce target with something like
Crystal Shard
or
Venser, the Sojourner
if it came down to it. I consider him better than cards like Wall of Omens / Wall of Blossoms due to the fact that he can attack with swords and he dies to
skullclamp
which is usually a good thing.
Gilded Drake
This guy is a bread and butter type of answer. He is very cheap so its easy to tutor for him and cast him in the same turn or do an X mana tutor for him. Stealing someone's powerful threat / commander is a good way to deal with them as they usually need to kill them to get them back. I was afraid that
Homeward Path
was going to be like everywhere in every single deck but that is far from the case. Overall I have been pleased with having him in here. He gives us some great utility for our creature tutors as he can be a great solution to a sticky situation and he is a very good abuse target with
Venser, the Sojourner
(who targets permanents you OWN which menas you can flicker him under someone else's control). He also rezes off of
Sun Titan
which is just groovy.
Mistmeadow Witch
This is another card to abuse enter battlefield creatures. It can also be used to a lot of success in defending your creatures from wraths. Generally speaking though it is too mana intensive for most Jenara builds though as paying 4 mana to flicker is just a bit too much. I love the feel of the card but generally speaking I get the impression that it just costs too much.
Phantasmal Image
this guy is the cheapest clone effect you can get. He was absolutely incredible when clones used to kill legends but even now he is a very cheap clone who copies ETB effects and such. Some of the few times I regret him is when there is something in play that I want a copy of that is a robust creature like
Avacyn
or
Ulamog
where the target and sac still happens. He is useful though as a solid
Sun Titan
target though as its super fun to get a
Sun Titan
and get this guy back as a
Sun Titan
continuing the chain of fun things.
Qasali Pridemage
another option for some creature based removal. If you see people in your group packing some
Torpor Orb
, this is a great creature to pack to counter them. We have a high density of creature tutors to go get him. He rezes off of like everything as well and even can grab
Skullclamp
and then pop something off very profitably. He is likely the next place I would go to pick up more artifact / enchantment hate in the deck.
Sakura-Tribe Elder
I love this guy for a number of reasons, he comes out on turn 2 and can fix my mana in time for a turn 3 general drop, he can chump block into a land late game. If he isn't needed he can always be fed into something like a
skullclamp
for some other fodder. One of the biggest upsides to him is that he gives you some ramp at the 2 mana mark that can be abused in other ways later, or if you draw him later on he can carry a sword in for some card advantage.
Scavenging Ooze
I like the ooze for being versatile. I can tutor him up easily when needed, he can strip several targets at instant speed in response to them being abused, he gives a little lifegain and is a huge beater that I can also easily recur. He doesn't do anything on ETB per say but with a good manabase I can generally use him 3+ times by turn 6 or so.
Snapcaster Mage
the biggest value from this guy is that you can just keep him back as a wildcard until you are ready to do something. With cards like
Archaeomancer
or
Eternal Witness
you need to play them at sorcery speed and pick something back up, this guy flashes in and immediately gives you access to cast that card. This means that you are keeping your options open until the last second. Being a cheap drop 2/1 is also a lot of bonus as there are tons of things you can do with a 2/1 to get additional value and he recurs easily. He gives you access to abuse your spells and the deck can abuse him nicely so its a good tie in to multiple sides for this deck.
Stoneforge Mystic
really amazing with an equipment package. The fact that he cheats equipment into hand is really solid. I also like how he can cheat swords out and equip on turn 4 which makes for a great setup with Jenara if you turn 2 stoneforge + fetch a sword. Turn 3 hit Jenara. Turn 4 cheat a sword in and equip it to jenara for a nice hit for 5+ the sword advantage. Really a solid creature at any point in the game and great to abuse with rez and such.
Edric, Spymaster of Trest
he gives a good bit of card draw. Personally I don't really like giving opponents cards though so I don't run him. He can result in a lot of card draw for you very quickly though. I think there are some social aspects to him as well. If you like manipulating your opponents with words and such you might like him more than I. He is easy to tutor for, easy to recover, and can draw tons of cards. If you play against a lot of swarm decks or lots of white spot removal he becomes a little less good. I think he actually gets much better if you see more combo decks as they tend to run less creatures.
Eternal Witness
Hands down best recursion in the game. Sure there are bigger flashier recursion cards but I never regret getting a witness to hand. Generally speaking I tend to use her to rez spells back to hand for further use due to all of the creature recursion I already have but in a pinch she works fine to rez anything really. Of late I have been using her to rez extra turns back to hand which has been absolutely backbreaking for my opponents. Probably the hands down best graveyard recovery spell ever printed.
Farhaven Elf
another low mana critter with some good utility behind him. I like having a higher creature count in this deck as I abuse enter battlefield triggers and this allows me for more ways to abuse stuff. I like the value that the creature based ramp options give me when you start looking at sacrificing them to things and carrying equipment / recovering them with things like
Sun Titan
and
Reveillark
.
Fierce Empath
so I have known about this guy for a really long time now and just of late he has become like one of my favorite creatures to add to decks. He replaces himself in hand with any big fatty which gives me another sort of toolbox and he can be rezed, bounced, equipped up and punch in for utility sword triggers. He just has so many uses that he has become one of my favorite adds.
Harmonic Sliver
This guy gives some great removal. He is really cheap, he can be abused after his ETB trigger, cloning him works fantastically, and he is super easy to rez and tutor into. We don't run a whole ton of artifacts / enchantments either so even when playing against a sliver deck he can be nice. The fact is they MUST destroy a target when a sliver comes in so eventually they will be wrecking their own stuff as well. I have had great luck with him and generally speaking I don't run into sliver decks all that often but even when I do I haven't seen him really be a bad thing for the most part.
Mirror Entity
Part of the Reveillark combo. Generally speaking, outside of wanting to run a
Reveillark
combo I don't really care for this creature. Every now and then you can still stomp people with a bunch of 13/13 creatures but generally speaking he is hard to use outside of the combo.
Silverblade Paladin
he has been brought up a few times as another double strike option to push Jenara. Overall, I am not as fond of him as I am
Rafiq of the Many
. However that being said, he can be rezed off of
Sun Titan
and
Reveillark
which Rafiq cannot. Rafiq on the other hand moves his buff a bit more freely, buffs exault as well, and can be tutored for off of Green Sun's Zenith. There are clearly some gives on both sides. Again the Silverblade gives a nice extra buff to sword triggers hitting them twice per combat. Also, the fact that you are not constricted to attacking with one creature alone is nice.
Stonecloaker
sort of a cool creature as he hates on graveyards while saving himself or another target from removal. I ended up cutting him as I never really got much use out of him. I found
Scavenging Ooze
to be a better graveyard removal card due to less mana investment and the fact that the ooze is easily recurred and can hit a handful of targets when he comes in.
Trinket Mage
I used to use multiple topdeck manipulation cards such as the
Sensei's Divining Top
,
Sylvan Library
, and
Scroll Rack
. After a while I realized that it is probably better to use one topdeck manipulation card and multiple ways to tutor into it as it really reduces redundant cards. I like how I can tutor into this creature or pass it off to Survival if needed. I can bounce, flicker, persist, and rez the
Trinket Mage
really allowing me to pick up some card advantage and create an artifact toolbox of utility cards that I can use.
Wood Elves
these land ramp critters are great as they can grab a dual land and it comes in untapped. We can abuse land ramp critters in a lot of ways to generate extra value and the ability to rez them again for a bit more value is always good too. Try to generate additional value outside of the ETB abilities is important for this deck. This is usually considered the best of the land ramp critters due to its ability to retrieve dual lands into play untapped.
Ephara, God of the Polis
as she is still a relatively new card I cant speak much about her yet but I am looking forward to seeing how she performs. The gods in general are a great cycle of cards for consideration in a creature based deck like this as we can tutor for them much easier and she has synergy with playing creatures which is what we do already anyways. I have very high hopes for her in here. I sort of look at her like an indestructible creature tutorable
phyrexian arena
that has a downside of the deck needing to play like it already does so... it seems really good to me.
Glen Elendra Archmage
Two counterspells ready to rumble. It is a bit annoying when you play her out to be followed by a
Duplicant
but it still solves a lot of problems. She makes for a good
Tooth and Nail
target as well if you would like to run it and
Avenger of Zendikar
. I ended up cutting those other cards however the fact is she is easy to clone, rez, tutor, and equip. Putting a
Skullclamp
on her and passing is a one way ticket to value town.
Mystic Snake
A counterspell with a body. The snake is much better than
Draining Whelk
in my mind because of the problem that the Whelk sort of suckers you into countering bad things just for the bigger amount of counters on it. It is fun to recur this or slap it into your
Mimic Vat
given the option for even more fun. The big problem that it seems to have though is that most of the rez in these colors are into play which makes it hard to utilize there. It is great when bouncing and flickering it though.
Oracle of Mul Daya
Oracle can generate a lot of card advantage that people really don't seem to notice or mind. Remember that your opponents don't have an option to kill her when she hits play until your pass priority. Always try clearing lands off the top of the library first before you do anything else. Library manipulation such as
Sensei's Divining Top
and
Sylvan Library
are great for setting up your land drops for Oracle use too. Fetchlands can give you a second chance to sculpt your topdeck when she is in play as well.
Phyrexian Metamorph
is almost a strict upgrade over
Clone
. This is the damn best clone avalible so far. I still really like Phantasmal Image for its cheap use and easy rez but as far as power goes the Metamorph is as good as it gets. The fact that you can artifact tutor into it and rez it off of
Academy Ruins
or creature tutor into it and then copy an artifact. It just has so much versatility.
Rafiq of the Many
for anyone looking to push Jenara just a little faster and harder, Rafiq adds a ton of damage to Jenara's output. Generally speaking,
Finest Hour
is a little bit more robust than Rafiq. The reason though I would recommend you look at running Rafiq over
Finest Hour
though is that this deck has a lot of ways to tutor into creatures and recur creatures. Due to this you will see more reliable results from Rafiq than you will from Finest Hour. Another big plus to these effects is that they double trigger sword effects. So if you want to push your swords a bit further he is also nice. In the end I stopped using him because in general when he would be useful, I was already doing good. He is nice for a surprise buff in a situation where someone is setting up to answer you next turn though.
Restoration Angel
the flicker ability here can be used for a variety of purposes due to the flash ability it has. Re-triggering an ETB ability works well with this or even saving a creature from a spot removal or aura lockdown. The fact that it has flash + well costed + has aggressive stats + flying makes this guy really nice. Keep in mind that you will have better results with her in a spot removal heavy meta and worse results with her in a seeper removal meta. I often wished she was just a counterspell when I would get her and she doesnt work well if you find yourself pushing Jenara for fast kills often either since she is an angel and un-blinkable with
restoration angel
.
Solemn Simulacrum
this creature tends to give a lot of good card advantage throughout the course of a game.
Birthing Pod
off of him into a
Karmic Guide
or hook him up with a
Skullclamp
. He does a lot of good card advantage generating things and can work great on defense or carry swords in. He reanimates easily and is nicely cloned. There are lots of great ways to generate advantage off of him.
Venser, Shaper Savant
a very nice control creature. He has so many ways to be used and abused. Anytime you can rez him, he can do something useful. He can be bounced and flickered for great results too. Keep in mind that if you rez him, you can always target him to bounce himself loading up to counter things again. He is just so dang versatile. The only time I don't really like using him is against cheap removal. Even in that situation though, you can always bounce the target of the removal. He is really a nice creature though.
Wickerbough Elder
I don't run this guy anymore but if you are looking to run more artifact / enchantment removal I found that he works fine. He works really well with
Cauldron of Souls
if you are into running it as well. Overall I just found that there were better options available and he left the list to better cards IE
Harmonic Sliver
. Another side note, he works really well if you face down a lot of
Torpor Orb
users as he can still break it.
Acidic Slime
this guy has gotten me out of many a tight jam. The fact that you can blow up any troubling artifact / enchant / land then have a deathtouch creature for chump blocking is just sooo good. Plus its low power allows you to rez it off lark. Also functions in lark combo.
Body Double
this guy actually reads
Rise from the Grave
for blue. He is a great piece of utility that you just cant get in these colors otherwise. I originally ran clone over him but after some experience with him having a mix of clone effects including him has been fantastic.
Ixidron
he gives a tutorable wrathlike effect to the deck. Creatures are much easier to abuse in this deck so anytime we can pick something up on a stick it is going to be great. His ability is very unique in the fact that he disables commanders without killing them. He deals with indestructible and hexproof or shroud creatures. To top him off, he is usually fairly decent sized to beat on people with.
Karametra, God of Harvests
it is still a new card so I cant speak much about her yet but I am looking forward to seeing how she performs. The gods in general are a great cycle of cards for consideration in a creature based deck like this as we can tutor for them much easier and she has synergy with playing creatures which is what we do already anyways. The one sort of downside I see so far about this god is that it has sort of a relatively high cost to get into play in the first place. It does great though at just picking up solid value though once it makes its way into play and it should open me up to having easier access to multi tasking in my turns and doing bigger things in general.
Karmic Guide
amazing recursion on legs. Also part of the
Reveillark
combo. There are tons of uses for her between using
Birthing Pod
off of a
Solemn Simulacrum
or rezing a good creature then putting a
Skullclamp
on her to watch her die. Generally speaking she usually only sticks around for part of a turn but the fact that you get a rez effect + get to abuse her and possibly have a spare blocker for a turn is all good stuff. If you pay for her echo cost it is usually because you need a flying attacker / blocker or intend to
clone
her next turn.
Mulldrifter
I go back and forth a lot on my thoughts of this guy. I like that he somewhat cheaply draws me a few cards and gives me an evasive body. He can carry equipment and he can die if need be to things like
Birthing Pod
or sit back on defense with a clamp on. There are a lot of nice things that he can do for me and in an opening hand evoking him for the cards is usually still really solid.
Prophet of Kruphix
I will digress that this is essentially a better
Seedborn Muse
so I wont bother talking about seedborn since I will address this one. Prophet is a great card if you run it in the right deck. These style of cards give a much larger potential mana availability per turn rotation and prophet allows flashing creatures. I think its best means to be utilized is with mana sinks so if you can spend mana and achieve some sort of value without burning cards in hand it can get really out of hand. I myself have relatively few mana sinks as this deck is built around being an ETB value deck. Prophet can be used to flash in creatures but my problem with that is it usually just leads to burning yourself out too quickly. Dropping and pumping Jenara is probably the biggest thing that I can consistently do in this deck as it stands now. I think it's a great card but I just dont believe that it fits in this deck.
Reveillark
mmmm recursion. This deck runs a lot of creatures with power 2 or less so even if you don't want to run the combo, lark is an amazing creature to include in the deck. Also remember that it triggers its ability when it leaves the battlefield so it still works great even if someone is dropping an exile / tuck effect on you. He can be slow played or evoked and generally speaking he is just huge value regardless of how he is played.
Consecrated Sphinx
I am guessing by now it needs no introduction. Sometimes he draws you your deck and sometimes he draws you 0-2 cards. Results may vary but generally speaking that is because he is more of a later game type of creature. If you are playing him on turn 6 then I have to say that generally you are playing him incorrectly. Later in the game when people have used a lot of their removal he can come in and be difficult to answer. If you can time him right you can also draw stupid amounts of cards as well. Flash him in off of the flash lands in response to a wheel effect is also very very stupidly good.
Deadeye Navigator
I often am asked why I do not play with this card. I think it is an excellent card but it is not quite what I am shooting for here. Let me explain some of why I dont run it:
It costs 6 mana to drop into play. It's ability to generate value is driven by how much mana you have available beyond this so its extremely expensive to utilize quicly. Personally, I feel like my ramp in this deck is acceptable but this is the style of card you want to be running what I would consider to be a heavy ramp package to take advantage of. It also works well with cards like Seedborn Muse and Prophet of Kruphix to run away with value if you can set up that position and keep it.
Its ability to soulbind utilizes the stack thus making it and its bound target vulnerable to spot removal before you ever have the ability to use its blink effect.
You generally speaking want to be running a heavier counterspell package to be able to protect it after dropping it into play.
It is a card with a lot of power but I feel like it requires a lot of setup and for your opponents to not have answers in hand or foresee ably in the future to take the most advantage of.
Duplicant
Nice and easy removal effect on legs. The fact that he can be tutored by so many effects in the deck is very useful. The fact that his removal means is exile is really solid as well as it stops opponents from abusing them. His low power allows him to be rezed off of lark and his artifact status allows him to be rezed off of Academy Ruins. Very solid all in all.
Prime Speaker Zegana
she has been an absolute bomb for card draw in this deck. Among the advantages she has, she is green and so can be tutored with green creature only tutors like
Green Sun's Zenith
. She has low power/toughness on card which means she can be rezed with lark, and she is a huge creature in play with a big draw effect. If you tutor her into play with something like
Green Sun's Zenith
,
Chord of Calling
, or
Birthing Pod
, your opponents cannot respond to her getting her +/+ counters and thus she gets her card draw short of some sort of
stifle
effect. Overall, she has proven to just draw cards really well and be a solid threat in play. She is also very well costed for what her effect tends to be.
Primeval Titan This is sort of a basic high end ramp effect where it gives a 6/6 creature who immediately fetches any 2 lands including utility lands if I want them then still leaves me with a 6/6 beater that needs to be answered. Generally speaking I dont need a ton of mana beyond 6 to operate my basic cards however every bit of mana I have is more mana I can multi task with or keep mana up for removal or pump jenara with. He is sort of winmore ramp but he gives a great target where opponents need to sink good spot removal on him taking more of their spells away from them.
(
BANHAMMERED!!!
Otherwise I would still be playing him.)
Sun Titan
Originally I didn't give Sun Titan as much credit as I do now. Generally speaking he is only a step behind Primeval in broken power in a deck that can properly use him. He doesn't ramp nonbasic lands into play but there are so many amazing cards that he can rez back into play that it feels silly how good he is sometimes. I see a lot of broken plays sort of originate by Sun Titan rezing great cards.
Avenger of Zendikar
He is really aggressive however there are also some problems with the avenger due to the fact that he often demands to be answered by all of your opponents. He can be hard to protect but he can also end games very quickly. You have to sort of weigh on fast game enders vs playing the slow grind game here. I found that in situations where he didn't get answered I likely had the game with any threat at that point anyways.
Elesh Norn, Grand Cenobite
She doesn't technically have a comes into play ability but it really does. It eats tokens and small commanders on entry without actually triggering an ability, it hinders agro strategies, it strengthens my creatures. She is scary and very powerful. She is sort of situational depending upon what your meta looks like though. If you see a lot of agro and token strategies she is good. If on the other hand your meta is all control and combo then she isnt as good. I have had good results so far from her though.
Sphinx of Uthuun
Fact or Fiction
on legs. He draws cards, dumps some in the bin, and usually draws like no threat beyond that. He is a fire and forget card draw that can be cloned, rezed, flickered, whatever for further value after his initial value. I like the guy but I moved to
Prime Speaker Zegana
who was easier to tutor and rez not to mention it tended to get me a lot more cards when it would hit play and cost me less mana to play her.
Sylvan Primordial another card that got banned. Honestly I didnt abuse him in this deck nearly to the extent of some of the GB lists I had. He was fairly broken overall though with how much he did but yea.... hes gone now.
Akroma, Angel of Wrath
Akroma is a really controversial card to be totally honest. I use her because of all of her political uses she has. If I play out Akroma and hit someone for 6, the rest of my opponents have to deal with her on defense. She defends like a champ and doesn't really pull spot removal all that much. She isn't the most aggressive creature out there but she plays politics fairly well and usually just turns attackers around you until the next wrath goes down. She also doesn't usually on her own spawn those wraths unlike Avenger.
Terastodon
He kills 3 targets on ETB and the elephants are generally speaking never an issue. He is really abusive when you clone / rez him for another shot as well. It sucks that he doesnt have trample but you can still slap a sword to him or just beat into an open board though. He eats up blockers and makes a great blocker which are all great. I stopped running him because generally I didnt need the level of removal he gives. He isnt bad but he can sit in a hand a long time and usually I am fairly good at removing a lot of the targets he would go for before there gets to be that many.
Woodfall Primus
He is a good option for a big finisher / noncreature removal. The downside here though is if someone messes with his persist by means of grave hate / mimic vat / exiling him. Other than that I like his persisting quality. I like him a little more though in a list that has the ability to sacrifice him at will though.
ARTIFACTS
Tormod's Crypt
There are a lot of options to deal with graveyard abuse out there. One of the big percs of this card though is that it takes out an entire graveyard without touching my own graveyard. It is tutorable off of
Trinket Mage
,
Wargate
, and
Tezzeret the Seeker
as well making it generally speaking easy to retrieve when needed. It can be recurred off of
Sun Titan
,
Academy Ruins
, and
Eternal Witness
as well making it very nice for re-usability which it's cousin
Relic of Progenitus
does not have going for it. It is unfortunate to topdeck when you are not facing a graveyard abuse deck but it is one of those tools that I would rather have access to than not have access to it.
Sensei's Divining Top
This deck has a ton of ways to shuffle the deck and thus clear out a bad topdeck. I have started seeing this card a bit less as a staple for every deck out there and more of a great tool for decks that do a lot of shuffling. The more shuffling you can manage to do the more chances you can get a crack at a new set of three cards. Card selection is always amazing and the more often you can refresh your selection the better this card becomes.
Skullclamp
This card might be the hands down best card draw engine in the deck. All of our x/1 utility guys can be clamped for 2 cards apeace. This thing is bonkers and if your opponents let you keep it then it becomes even crazier. If you haven't ever experienced the power of the clamp this is a great deck to see it in.
Sol Ring
Sure it doesn't get me into having my 3 colors sooner but it gets everything other than Jenara going sooner. This is just basic good ramp.
Crystal Shard
Very nice for re-triggering ETB abilities. You can force opponents to sort of play around it a bit as well which is fun. Generally speaking I use it to play defensively and pick up extra ETB triggers however it is interesting if you want to control an opponent who just happened to tap down too much mana as well.
Mimic Vat
another card that I have stopped using a while back. I love Mimic Vat and it is fantastic when it gets going but my problem was getting it going in the first place. I have very little for means to get it going so sometimes it just sits empty for a time or gets blown up before I can activate it. With more sac outlets I think it would be a great card again but unfortunately a lot of our removal is counters, exile, and tuck effects. I just couldn't easily get it going more often than not.
Oblivion Stone
I started running Oblivion Stone as my 3rd wrath in this deck when I realized that it gave me a tutor target wrath effect which I could recover with
Sun Titan
/
Academy Ruins
. The fact that I can sit behind this effect and set it off at instant speed is just fantastic as well. It has great synergy with the list and it gives a good wide sweeper effect.
Proteus Staff
somehow or another I went a very long time before considering this card in the list. However I have been impressed at how it can go both offensive and defensive very nicely. Our creatures are all about the ETB effects so we can easily polymorph them after that and flip out a new creature. I like how it can tuck opposing commanders and big fatties if necessary as well. The big downside to it being the sorcery only as well as 3 mana at sorcery speed feeling a bit heavy. If I could do it at instant speed I would likely pay 4 for the mechanic but at sorcery speed even 3 mana feels a bit heavy.
Sword of Feast and Famine
I didn't like this sword at first due to the lack of CA on it however the land untap is huge and I like it a lot now. It can give you extra mana to dump to Jenara and or give you options to pretend to have counters / answers on opponents turns. Best of all you can drop / equip and untap all your land at 5 mana so it really doesn't slow me down much. It also screws with opponents a little due to the discard on it.
Sword of Fire and Ice
The more I use this sword the more I like it. Card draw and control all in one sword activation is probably my favorite of the swords. I like having it at most any time during the game and the results are quite solid.
Sword of Light and Shadow
This sword used to be my favorite but then someone pointed out to me how slow it was to go active. Since then I have gone away from using it due to the slow time to get it up and running however the lifegain and recursion were quite solid.
Birthing Pod
this deck is all about the CIP triggers and this card is very nice for abusing that. It can only be activated at sorcery speed but it just churns value so amazingly. This deck is great at turning creatures over with this effect.
Tawnos's Coffin
a little spendy to drop and use in the same turn however when you do the breakdown on what you would spend to bounce things in and out using the
Crystal Shard
this is actually probably a cheaper option and it can be used against opponents. It is expensive to cast and use though so it has some issues.
Vedalken Orrery
anytime you can play behind flash you open yourself up to control the board better. The downside is that it also extends your board position further to the point where it can be difficult when someone blows everything up. These mass flash effects bring down some hate on themselves. Being 4 mana makes it hard to recur but somewhat optional on tutoring in these colors.
Cauldron of Souls
mass persist in an ETB deck can be very crazy. The big problem I had with it though is the lack of a mass sac outlet made it hard to really abuse regularly. I liked it but it seemed like it was really hard to work with when I was testing it in here.
Conjurer's Closet
sort of like a Venser planeswalker light card. It allows us to re-trigger an ETB ability at EOT every turn it remains in play. It looks decent on paper however I still think that it is a little bit overpriced in my opinion. It is hard to tutor and hard to recur due to its mana cost. It generates value every turn it remains in play though. It could be worth testing but I also dont know what sort of lifetime to expect from it. It has the advantage of not dying from combat damage like Venser can however artifact removal is easier to come by than planeswalker removal. Also with venser, his ultimate is game winning in itself so I personally like venser due to his ability to flicker more things and end games on his own. Keep in mind as well that this doesnt trigger at all until EOT so any sort of instant speed artifact removal can remove it before it kicks in once where as venser can be used immediately and can steal back things that were stolen from you.
ENCHANTMENTS
Mystic Remora
an option for some card draw in Bant. The upside is that it is cheap to cast and generally can draw a bunch of cards / it can be recurred of of
Sun Titan
which is nice as well. The downside though is that it ties up a lot of mana to keep it rotating. However it is sort of rare for it to just sit in play for an extended amount of time as that just turns into you winning.
Sylvan Library
This card is all about card selection. If every turn you pick the best available card and then shuffle your deck you are seeing a lot more of your deck and essentially weeding out the things you do not need. If need be drawing extra cards is also an option off of it as well. This card comes in very quickly and generates great value over the time it sticks to the board. Don't feel like you have to pay much life for this card to be amazing. Even just picking the best card every turn is often amazing on its own.
Survival of the Fittest
this is a great creature tutor ability. Expect this card to be blown up almost on sight most of the time. If you want there are some great combos that you can execute off of this which I cover some in the strategy section. The fact that you can rotate any creature into whatever you need it to be for a single green mana is really great. Expect this to die on sight most of the time.
Aura Shards
I ran this for a while but my issue with it is still that it draws tons of hate. Generally speaking you want to play it and a creature in the same turn to ensure you generate some value so it puts it sort of slow to come in. I like this card a lot more in a token deck where you might see creatures hitting play right away. You can still run it but I just found that too often it blows up before I kill anything.
Rhystic Study
a nice taxing effect that can draw you some cards. My problem was that we didn't have a way to really improve on this effect and later in the game it just never really mattered. It was great to drop on turns 2-5 usually but beyond that I felt like it just didn't matter. Still it can make it difficult for opponents to play multiple cards in a turn as the tax adds up quick.
Coastal Piracy
ok, so its hard to tutor for, and hard to recur. Beyond that though, this thing is solid gold. It gives you cards for every creature you can connect with and gives opponents nothing. It is high impact and high profile. I have been really meaning to playtest it some but keep putting it off.
Edric, Spymaster of Trest
is similar in a lot of ways but easier to go get when you want him. He has more political aspects as he benefits opponents as well and is easier to answer but there are some pros and cons between the two.
Greater Good
I ran this early in the deck's creation. I still like it however the problem with it is that we don't have a ton of big fat creatures to run through it. I still think it is solid but with so many small utility creatures it is sort of hard to run it in my mind.
Leyline of Anticipation
mass flash for everything and the ability to come in for free in an opening hand. This card is really powerful and really cool. It lets you play behind your opponents sorcery speed effects and respond better to things. Adding more mass flash in these sort of cards really increases your ability to control games. Opponents not knowing what they are attacking into or playing into is a huge advantage.
Mirari's Wake
This is the best mana doubler available in bant. My issue with it is that it is a high profile card that when blown up leaves you with really nothing. If you don't find your enchantments being destroyed as much then I think you can go for it however I just have a problem that I want to ramp sooner and I want to have lasting results from my ramp. This card is blown up on sight quite a bit and it is a bit slower than I like ramping.
Lurking Predators
Great in a creature heavy build as it is a fire and forget sort of effect. It just does its own work and you can let it roll. Even if someone tries to answer it it will trigger once for you. The downside is that even in a creature heavy deck it will whiff at least 2/3 of the time. Even when you are hitting creatures you often don't have much for control of their triggers.
INSTANT
Pact of Negation
this is by far my favorite counterspell of the deck. We can counter opponents when tapped out! You do have to pay for it later but generally speaking that isn't a problem. Be careful using this if you are at low land count or if opponents run large scale land destruction as they can force you to loose the game off of them. Generally speaking though what I counter with this effect is a gamebreaking effect that either forces me to win then or stops an opponent from winning on the spot.
Enlightened Tutor
So I go back and forth on this card. If you are running a survival lark combo then you probably want this card to help you tutor into the combo. In my own list I have a hard time including this when there are so many artifact tutors that don't involve card disadvantage. I only run 2 enchantments and honestly I dont find myself really wanting to tutor into them all that much. I still like
Tezzeret the Seeker
more than this card due to not having card disadvantage plus the chance of tutoring into 2 separate artifacts is quite solid.
Mystical Tutor
This gives sort of a versatile tutor into our spells. Unfortunately it is card disadvantage however it toolboxes us into our spells. This opens up the option of grabbing a wrath,
bribery
,
Knowledge Exploitation
into an opponent's game ender, extra turns, creature tutors. This card might be card disadvantage but if you use it to fetch an extra turn it totally evens out. I just love how this opens up a whole new toolbox of card options.
Path to Exile
not as good as swords but when you need an answer, paying only one to answer any creature is very nice. I dont like using this on commanders as it feels even worse then.
Pongify
/
Rapid Hybridization
this would be my next addition if I were to include more spot removal to the deck. Generally speaking though I would rather add more versatile spot removal if I were to expand my spot removal package though. These cards are solid to be fair but I just dont want to be looking at 3-4 instant speed creature only spot remove effects.
Swords to Plowshares
great creature removal that exiles the target. Stopping opponents from abusing creatures later is always a plus. This is the best of the cheap creature removal. The only reason I ever consider passing up on Swords in white would be if the deck already deals with creatures extremely effectively and then I would probably be looking at something with more versatility than just a creature kill effect. It is incredibly efficient and strong.
Arcane Denial
I have always found this counter to be useful in a multi colored EDH deck due to its low color intensity and mana cost. The fact that you give an opponent 2 cards in a multiplayer format isn't as big since you get yourself a card too. Remember, that one card you counter off of this is probably going to be rather important to them so giving them 2 replacement cards often wont be as useful to them. Plus it shines a bit of a better light on you and draws less hate your way. You cant count card advantage the same way in multiplayer as heads up. In heads up, this spell is a lot less effective but in multiplayer its actually quite reasonable.
Constant Mists
reusable fog. If you find yourself needing a means of blocking off a troublesome general like
Uril, the Miststalker
for instance, this card can stall him for ages. Often someone with a strong attacking general will swing elsewhere after you buy this back once as they will want to be killing opponents rather than killing one land at a time. Try not to piss off the counterspell.deck player as if you do, expect this to get blown up.
Cyclonic Rift
I think its a decent card. I was actually less keen on it when it came out but you should generally speaking consider it a 2 mana removal effect that CAN be overloaded. Don't get it stuck in your head that it has to be overloaded as there are plenty of situations where you cant keep up 7 mana at all times and a bounce will save your bacon. Overall though, this sort of effect is a stall at best or possibly a means to try to tempo through to connect on an opponent. It can be a powerful move to overload this and then chain together some extra turn effects.
Eladamri's Call
tutor into any creature and put it into hand at instant speed for only 2 mana…. This is probably the best creature tutor in existence. If you want to step up to something better than this you are looking at black tutors generally speaking. Still this is 2 mana at instant speed for a card into hand with no limitations on what color, creature type, or mana size. It is really really good.
Mana Drain
solid counterspell with the potential to ramp you some mana. In the early game this gives you a chance to ramp into a larger play earlier or later in the game you can take this mana and dump it to Jenara. There are a lot of solid things you can do off of this as it sets you up for some big plays. As for the counter... it is a counter for 2 mana which is about where we want our counterspells to fall. Being in the cost is a bit rougher on the manabase but assuming you have a solid one its shouldn't be a problem. For anyone out there on a budget, I would recommend you look at:
Voidslime
,
Arcane Denial
, or
Mystic Snake
in place of this. This is probably the last place I would spend the money on this deck. The counter is nice but in my opinion its about the last polished card I would go for.
Bant Charm
Versatile tuck spell at 3 mana that can do other things if needed. Don't forget that it has other options other than tucking creatures. Using it as a counterspell and or an artifact kill can be quite useful as well. This is the best of the charms by far and it is an amazing spell. Generally speaking I use it as a tuck spell but dont forget the other options it has.
Beast Within
versatile removal effect and the 3/3 beast generally speaking doesn't matter. It has versatility going for it so generally speaking it can dig you out of a situation in a few ways. Keep in mind that in EDH, a 3/3 is a very small creature with little that it can do. Giving some token decks a free 3/3 can be slightly problematic but overall, I haven't found that the downside really ever matters here.
Chord of Calling
instant speed creature tutor that puts it into play. The convoke portion of this spell is nice as well as it lets you keep less mana up to run this than you normally would. Often you end up just paying the cost of the creature with this. The fact that it is instant speed into play and you can cheat on its cost by using creatures in play makes this high up on my list of amazing creature tutors for this deck.
Ghostway
This card can be very fun with enters battlefield creatures such as
Eternal Witness
. This can re-trigger all of your ETB effects all in one shot and dodge a wrath. It is a good effect but it is very dependent on sticking a few good targets in the first place. Of all of the flickering effects you can use, this in my opinion is the best option for if you want to run a bit of a blink package but might not want to go all out. It would be one of the first tools I would add to any deck looking for blink effects for this style of deck.
Hinder
I personally don't run a whole lot of counterspells but being able to tuck a problematic card is amazing. The fact that it stops the spell from being recurred is also nice. If you only have room for one tuck removal use this one because leaving it in the graveyard is better than bottom of the library how Spell Crumple works.
Oblation
This sucker can tuck generals or just deal with anything that is giving you problems. I think the big thing that does it for me is the ability to target any permanent with it. Sure your opponent will draw 2 cards but if you were loosing to a specific threat what is two cards really? Also as a side note if you
Oblation
a permanent stolen from you, you get the two cards.
Spell Crumple
Yet another
Hinder
counterspell. The fact that it tucks itself is actually probably a bad thing here as it is easier for this deck to use a spell in the graveyard than it is to tutor for it again. Still it is essentially another copy of
Hinder
.
Voidslime
another decent counter option. I like that it has the option to be
Stifle
or
Counterspell
. Generally speaking I find
stifle
only effects to be too narrow but in this situation it is a nice optional portion of the counter. Three mana is generally the top of what I want to play for a counter though without some sort of additional incentive. Keep track of how often that
stifle
option is for you as if you never find yourself using it, there are plenty of other two and three mana counterspells.
Fact or Fiction
This is one of my favorite draw effects in commander. It digs deep and you get to decide what stack of cards you want. Drawing 1-4 cards at instant speed while digging 5 cards deep is amazing. If you catch someone who is dying with this effect sometimes they will give you a 0-5 split as well lol. For downsides, often you get the whole table throwing in votes on how to split it and everyone sees what you draw off of it. Still though it is great as it digs deep at instant speed for relatively cheap mana.
Vanish into Memory
sort of a tech card for this deck. I used it early in my builds. You can flicker Jenara and turn all of her counters into straight card draw here. It works nicely with equipment as well and it can work against opposing voltron strategies as it returns them without auras / equipment / +/+ counters.
SORCERY
Green Sun's Zenith
This is essentially a green wildcard creature. It costs one extra than the creature itself but can be any of the green creatures. Anytime I can toolbox into what I need to keep going it is a good thing for me. I wish I had a few more multicolored creatures in here though to improve this card. Still, it opens itself up to ramp and noncreature removal fairly solid still.
Cultivate
/
Kodama's Reach
both very solid cards to be honest. I stopped running them a long time ago though in this deck because of the fact that I just got more value and synergy out of the creature based ramp critters. When you
Birthing Pod
, flicker,
Skullclamp
, swing with swords, the creature options just become much more powerful. These effects are strong but I put a lot of emphasis into creature abuse in here so it just makes more sense to stick with creatures when I can.
Wargate
This tutors for any permanent. Originally it was primarily in here to tutor for the Survival combo but I enjoy all of the options I can use it for these days. At 3 mana it can ramp a land into play, at 8 mana it can be Venser who has no other way to be tutored up in this list. It is one of the slower tutors that I still use however its versatility is really nice.
Rite of Replication
This is a really big game ending spell when copied but I realized that I had more ways to tutor, recur, and use clone creatures in this deck. Until you actually kick a rite it is almost strictly worse than a clone creature. Even then when you go to kick a rite of rep you run the risk of someone screwing with your target which fizzles the spell. It is big but it is bad in a lot of situations and I just found the clones to work out better generally speaking.
Skyshroud Claim
It ramps 2 land into play untapped. It is actually quite good however I was really not happy drawing it later in the game so I ended up cutting it. Keeping the ramp package creature based means you can abuse those creatures in the late game still.
Bribery
This card is so stupidly versatile. Just remember that if you are using it early on people usually still have removal. Early on I try to grab some fast value effects. Later on I am more willing to grab slow rolling effects like Consecrated Sphinx or an eldrazi but early on they tend to have more chance of being removed. Just sort of know your meta, if a group is running removal light then go for a game ender early on can be easier done.
Hallowed Burial
Tuck generals while essentially wrathing the board. Downside being that you can recur creatures that would be normally dead to this. Upside being we run a ton of tutors and can probably go get a creature that got tucked by this easier than a lot of opponents. I love hitting a graveyard abuse deck with this wrath as it usually jacks them up good.
Rout
Instant speed wrath is good to have. This would be one of the next few wraths considered if you wanted to bring your wrath count up above the 3-4 mark though. I like the versatility of the instant speed, however I have found that my other wrath options that I use often give me better results. Again though, if you want to bump the wrath count higher this is a good one to consider.
Time Warp
/
Temporal Manipulation
/
Capture of Jingzhou
There are a lot of benefits to extra turn cards. They can allow you to ramp from 5 mana to 6 while drawing a card and untapping you land so it can be good tempo in the early game. They can provide an extra attack phase to get an extra swing in with a titan / sword / Jenara. They can allow you to drop a few small critters then untap and draw a card. Overall, these effects have a lot of plus sides to them with little to now downside. For anyone on a budget, I would recommend you go with
Time Warp
and
Walk the Aeons
and call it a day at that.
Austere Command
So many ways to use it that it is truly an amazing wrath style card. It allows you to selectively wrath what is giving you problems potentially allowing you to keep your own threats on the board and sweep up opponents. Other than the fact that it doesn't have a can't regen clause on it I really like this.
Terminus
another wrath very very similar to
Hallowed Burial
. Generally speaking though, I have a hard time ever wanting to miracle a wrath card though. It can be nice with topdeck manipulation especially
Sensei's Divining Top
or tutoring for it with
Mystical Tutor
. Overall though, I have found the cheaper overall mana cost of
Hallowed Burial
to be a bit more solid than the random situations where you can profitably miracle cast a
Terminus
.
Knowledge Exploitation
this is a nice versatile card that can do about everything you could need it to do. I usually consider it to be a mana for a more versatile
Austere Command
that could be an
Insurrection
,
Decree of Pain
,
Plague Wind
,
Tooth and Nail
,
Storm Herd
, etc etc. This card is a little expensive at 7 mana but it has a lot of potential uses.
Tooth and Nail
There was a time I felt like this was mandatory in every green deck I ever built. I have since then changed my opinion of the card but it is really powerful still. The downside of it in this deck is that there aren't a lot of creatures to tutor up to end the game on the spot. I ran it with
Avenger of Zendikar
but still I want to end games upon resolution if I am running this. It was cool but really seemed to be very narrow as to when it would work. Plus Avenger seems like he never really ends games anymore unless its super late game or my opponents aren't doing much of anything.
PLANESWALKERS
Jace, the Mind Sculptor
I have to say, I think he is better in 60 card 1v1 but even here he can be a good source of card advantage. He is sort of hard to protect from a table of opponents though for his sort of slow over time advantage though. Still, brainstorming every turn is really powerful thanks to how many shuffle effects we have.
Tezzeret the Seeker
Good bit of utility since he can repeat tutor. He has a lot of different targets he can go get and can repeat tutor if you can defend him. In the early game I often try to use him to ramp or grab me a top. In the midgame I will usually consider grabbing the clone or
Birthing Pod
. Its really all about what is good for the situation though.
Venser, the Sojourner
Blinking comes into play effects for tons of fun. Remember that you can blink a
Bribery
'ed creature to return it to your control. He builds fast and his emblem is totally nuts. Gilded Drake is like his best buddy thanks to how his ability works. Venser is probably my favorite EDH planeswalker.
LAND
I will divide this up between mana fixing and utility lands. If I dont mention a mana fixing land it is probably because I view it to be low on the priorities list.
THE FIX
Starting at the top being the best and going down is how I would prioritize the mana fixing lands. If you cant afford one set you might just keep going down the list until you find some that you can afford.
Original Duals:
(Savannah, Tropical Island, Tundra)
These will put you back somewhere in the range of $50-100 in most situations for a cheap one. However they are very powerful in this deck. I often try to have all three of my colores fixed by the third land drop and having expensive lands like these help me make that objective. These are the cream of the crop. I would not bother obtaining these first thing for your list but they do finish off the list quite nicely.
Ravnica Shocklands:
(Breeding Pool, Hallowed Fountain, Temple Garden)
I would highly reccomend obtaining at least the shocklands if you pass on the original duals. Having some sort of fetchland targetable dual land will really strengthen your decks power a lot. Unfortunately Modern Magic just came along and destroyed the pricetags on these lands. I obtained all of mine for $5-10 apeace a year back and now they are in the range of $20-35 per land which sucks but if you are lucky you already have them.
Command Tower
I was tempted to put this at the top of the list just because it is so silly good but sadly due to the fact that I cannot easily tutor it out I am placing it here between the dual lands and the fetchlands. Considering how easy to obtain these things are you would be crazy not to run one. It has like no freaking downside.
On Color Fetchlands:
(Misty Rainforest, Flooded Strand, Windswept Heath)
These fetchlands are really solid especially if you also have some of the above dual lands as the on color fetchlands can solve any mana issue you have in conjunction with set of dual lands.
Off Color Fetchlands:
(Wooded Foothills,
Polluted Delta
,
Arid Mesa, Marsh Flats, Scalding Tarn, Verdant Catacombs)
While these off colored fetchlands aren't as good as the on colored ones, if you have plenty of dual lands in your deck then these are still quite powerful. Keep in mind that all of these can only go get one type of land so when obtaining these I would recommend just obtaining the cheapest ones first and the more expensive ones later. So essentially fill in the Zendikar ones first and the last one you need to obtain is
Polluted Delta
. I have found 8 fetchlands to be quite powerful and I just left the 9th one off myself. I dont really feel I need the last one. I would strongly reccomend considering at least 5-6 fetchlands if you are trying to max this list out. I went all the way up to 8 of them and I enjoy them but I dont think it is really necessary.
Eventide / Shadowmoor Filter:
(Flooded Grove, Mystic Gate, Wooded Bastion)
These lands are so good at filtering mana if you tap wrong or have some spells with 3+ colored symbols on them. The one constraint for them is you sort of want to use them first so that you arent stuck with colorless mana open. I have found them to be very useful when trying to activate Jenara's ability a lot in one turn as I can filter other colors to be white mana for this process. Dont forget though that if you save them to use last you will end up with colorless mana.
20XX Core Set Duals:
(
Glacial Fortress
,
Sunpetal Grove
) These things are really actually great lands assuming you have a good density of dual lands. While they are not fetchable themselves, they have a very high tendancy to come in untapped and provide either of 2 colors of mana with little to no downside.
Mass Fix:
(
Seaside Citadel
,
City of Brass
,
Grand Coliseum
) These lands have the ability to tap for any color mana that we need. Unfortunately the come in tapped, ping us for the mana, or both and they are harder to go and find. Grand Coliseum is probably the worst of them so if you dont need these lands cut that one first followed by the City of Brass as it can really add up over the duration of a game.
Pain Duals:
(
Adarkar Wastes
,
Brushland
,
Yavimaya Coast
) These lands arent too bad if on a budget. I like how you can choose to use them for colorless mana and not get pinged which sort of pisses me off later in the game with City of Brass. I dont run these just because they are sort of lower on my rung of land fixing.
Worldwake Manland:
(
Celestial Colonnade
,
Stirring Wildwood
) Personally I hate lands that come in tapped so I try to avoid them when possible. If I have a land come in tapped I want really solid utility or I want it to fix for all of my colors. Even then I hate lands that come in tapped. The big disappointment in these lands is that they just dont scale all that well into commander with the 40 life totals. If you have nothing better to do in a turn than activate a manland then you have some really really bad hand / deck.
I could continue with more examples but the land beyond this point gets sort of really lackluster. If you need help with a landbase beyond these examples leave me a message on this page or send me a PM.
UTILITY ACTION
Utility lands can make or break you in commander. If you run too much utility you could have problems with being the target of 3 LD off of a
Terastodon
, you could run out of basic lands to fetch with your ramp / fetchlands, or you could be blood mooned to death due to your lack of basic lands. However by using utility lands we can have the ability to strip lands, stop voltron commanders, gain card advatnage, or regain the use of lost cards. The key is balance in your utility. If you find that your utility lands are always being targeted by opposing LD you might cut it back and thus become less of a target in these measures. Sometimes it is better to have a basic land in play then have no land in play. I will try to discuss some of the better options for utility lands in this section. These are by no means in any order though just sort of the list I thought of them in.
Target LD:
(Strip Mine,
Wasteland
,
Tectonic Edge
,
Dust Bowl
,
Ghost Quarter
) These things are great answers to someone having a
Cabal Coffers
,
Emeria, the Sky Ruin
, or
Gaea's Cradle
. On occasion I will use these to destroy random other lands such as maze lands or who knows what. I tend to try to get 1-2 of these lands in every deck I build as someone is going to make you pay for not having them. My favorite 2 of these to run are usually
Strip Mine
and
Tectonic Edge
. Sure
Wasteland
is tecnically better than
Tectonic Edge
but most any time I would use it in multiplayer the
Tectonic Edge
does the same thing for a hell of a lot less money. If you find yourself needing to shotgun lands every turn you might consider
Dust Bowl
. Ohhh also if you run
Flagstones of Trokair
it can be good.
Maze Effects:
(Kor Haven,
Mystifying Maze
,
Maze of Ith
) I usually try to reccomend running at least one of these maze effects in a list. In a more control heavy list I might run more than one of them. I tend to like Kor Haven in here as it still taps for mana and has the lowest mana activation of the ones that still tap for mana. Plus you can still gang up on the attacker to kill it whereas
Mystifying Maze
will retrigger a ETB effect for them. These lands can really screw with voltron commanders though as you can fog their attacks.
Academy Ruins
one of my more recent favorite utility lands. It can recur equipment and
Oblivion Stone
s like a champ when needed. I have also used it to recur my
Phyrexian Metamorph
and
Duplicant
s on occasion. It is a great land and it can really come in handy. Keep in mind it is a legend though.
Flash Lands: (
Academy Ruins
&
Winding Canyons
) These lands enable really stupid instant speed responses. They can get you behind the lines of wrath effects later in the game and allow you to respond to all sort of emergency situations. Banking off of flash really opens up how we can play and puts us even further into a control setup than normal.
Sac Outlets:
(
Miren, the Moaning Well
,
High Market
) These lands are good if you use a lot of theft or want to protect a creature from being stolen itself / tucked. There are a lot of uses to have a land that allows you to sac to out there and if you feel strongly about having one I think they work quite well. I feel like my colored mana really matters a lot early on in this deck though so I limit my colorless options quite a bit.
Diamond Valley
also belongs in this group but considering I dont see enough reason to run a sac outlet I am sure as hell not paying over $100 for a sac land like the Valley.
Homeward Path
this one is sort of a meta call. If you see a lot of theft you might consider running this card. To be honest though this list runs a ton of creatures with ETB abilities that arent nearly as big of a deal if they are stolen after that. Obviously there are still several solid targets in here but I dont feel it is as backbreaking as it can be for other lists.
Yavimaya Hollow
regen... hummm it can be good but there are a lot of things you cant regen through in EDH. Of the few effects that you can regen from I can think of are
Oblivion Stone
and
Austere Command
. I suppose creature combat also but still I dont see this as a really needed ability.
Vesuva
sort of a fun land to steal fixing or utility with. Keep in mind that legendary lands will blow up on you so keep an eye on what you are copying but it can be fun. I dont care much for the fact that it comes in tapped though.
Tower of the Magistrate
I have seen this used to prevent people from equiping stuff or to nock an equipment off of a creature before. I suppose this is also sort of a meta call but if you see a lot of equip decks run this as it is really funny and it will piss them off to no end.
Flagstones of Trokair
a great land if you combat mass LD regularly or like using your
Dust Bowl
. Generally though I dont see much of a need for it outside of those though.
Tolaria West
It can tutor for another land or
Pact of Negation
which are both nice options. However I hate tapped lands a lot and if I have to play the damn thing I hate it. I find I have plenty of things to do in a turn and I dont like paying 3 mana to sorcery speed tutor for a land or pact. So I dont run it but if you want to run more utility land you might consider running it.
Hideaway Lands: (
Mosswort Bridge
,
Windbrisk Heights
) The blue one is terribad so I didnt even link it. Out of the two I guess either are probably attainable but the deck doesnt really easily and regularly obtain either of them. They are decent for getting card advantage but I found I would get mine striped a lot before I could hit them. Plus they are tapped lands and I dont hit them that often so I dont run them anymore.
Oran-Rief, the Vastwood
it can be amusing for abusing people with persist but it is a far cry from perfect. I found the interaction just way too narrow for how annoying the land is. Keep in mind that it only affects
Woodfall Primus
in here as it specifically says that it does it for green creatures.
Novijen, Heart of Progress
can give counters to other persisters but there is no way in hell that I would take a colorless land for something so narrow.
Minamo, School at Water's Edge
this land could be really fun if you made the deck more control heavy and draw / go based rotating arround Jenara. You could use her to attack and defend using this land and save mana to level her up until end of turns. It could be interesting but I am not going to run it in the forseeable future.
Reliquary Tower
cool in the fact that you dont have to ditch your hand but sort of lame in the fact that it is a colorless land. I havent found a max hand size worth the addition of this land yet but it is an option. I do have to discard cards now and then but it doesnt give me enough pain that I care to solve the problem.
Mistveil Plains
Personally I dont know how effective this land is for this deck. It gives some good defense to rez tactics that might target our graveyard but it can be tricky to activate. This deck taps out a lot and it requires 2 white permenants to activate. I wouldnt really be worried about using this to defend the graveyard from being exiled as if it does its not the end of the world. We have some graveyard recursion cards but not enough that I feel I need to protect it. This land can be fetched as it is a plains which is handy however it is a nonbasic so it is susceptible to Blood Moon effects and Ruination and the sort. My big dislike for the land is the comes in tapped part. I have to admit though I have not played it in this list so I cannot say for sure on it but I have my doubts.
Deckstats
The deckstats for this list can be found
here
. (Last updated 9/17/2014)
I try to keep the deckstats info up to date best I can as it provides some fairly good information on mana curve and average costs and what not. If it is a bit behind please don't worry I will do my best to update it regularly.
I used to have sample hands in this section as well but the decklist kept changing and that information might have been a ways off in some places so I am just going to opt to not include that information anymore.
Building on a Budget
The purpose of this section is sort of two fold for users either trying to assemble this deck from the ground up and or users who just never intend to go all of the way on the investment involved here. This deck can easily hit over $1,200 without doing any foiling due to some pricy cards. I will try to cover some of the less essential cards here and or some substitutions here.
Top ways to cut costs here:
Capture Of Jingzhou
- the tip top of expense in my list currently. There are three different five mana extra turns and I am running them all in here. This one will put you back something close to $180.00 - $250.00 last I checked. My suggestion for a budget replacement is to use
Walk the Aeons
which costs more and is unlikely to use its buyback effect however it is a very cheap card to obtain and the drop in performance is very small.
Mana Drain
- this is honestly the absolute last place I would put my money into this deck. This is a nice card to finish things off with however a simple
Counterspell
or
Arcane Denial
works just fine here. This is the absolute last thing I would spend money on in this deck. I just happened to have one sitting around and it works nicely.
Tropical Island
/
Tundra
/
Savannah
- even to get white bordered versions are extremely expensive on these lands. They are really nice to have but I remember not having them not so long ago and they are not a mandatory card to play the deck. Getting some shock lands (
Breeding Pool
, Hallowed Fountain, and
Temple Garden
) and getting fetchlands (
Arid Mesa
,
Flooded Strand
,
Misty Rainforest
, etc) to back them up is what I would suggest for anyone with sort of a medium budget they can allocate to a landbase. That being said, if you are going to penny pinch while building an EDH deck whatever landbase you can afford might be what you get to run.
Temporal Manipulation
- Cutting this will save you another $50.00. If you already added
Walk the Aeons
in place of
Capture Of Jingzhou
then I would probably suggest adding Temporal Mastery in place of this card to save yet again, a lot of money. It will end up being less powerful but it also saves another good portion of money when it comes to building this deck. If you fill out the rest of the deck, replacing
Temporal Mastery
with
Temporal Manipulation
is a decent move but as a finishing touch after you finish the other parts of the deck.
Pact of Negation
/
Sphinx's Revelation
/
Survival of the Fittest
these are just three cards from the deck where I feel like their value comes after you have most of the rest of the deck assembled. These are all good solid cards but I don't believe that their price tags are worth obtaining until you have the deck mostly assembled.
Just cutting the above cards however will save you something like $800 - $900 on the overall cost of the entire deck. These few cards really do make up over half of the cost of the deck. Making adjustments here is how I would still get the biggest bang for your buck in assembling the deck.
---
Moving on to how I would personally suggest to build this deck from the ground up. This deck costs a lot of money and I outlined a number of cards above that avoiding as you build the deck will help you money wise. I am playing a little bit with how I personally suggest to build the deck and I think my current advise is along these lines:
Step 1: Equipment
especially early on, you will be pushing Jenara extra hard as a wincon until you can piece more of the deck together. So to get started expect you might be playing sort of almost a voltron build of Jenara. I suggest starting with an equipment package to help pull this off.
Step 2: Creatures
This is a creature value deck so I would suggest trying to get a lot of the creatures early on as well. Keep in mind that until your creatures are mostly filled in, the creature tutoring wont be as good so I suggest mostly filling in the creatures before going for tutors as without a full arsenal of creatures your options will be limited making the tutors less effective.
When it comes to money though, I would suggest that
Gilded Drake
,
Scavenging Ooze
,
Snapcaster Mage
, and
Glen Elendra Archmage
be lower in your priorities as they are more expensive to obtain. You might wait until it comes to time to obtain the tutors and come back to these guys then potentially. They are good solid creatures but I don't think they need to be early priorities. There is a lot of their power comes from being able to tutor and recur them which isn't something that a half built deck will be able to do efficiently.
Step 3: Extra Turns
Extra turns serve a lot of different functions for this type of deck. It turns into more combat damage, another card for the turn, and any sort of value over time engine will generate additional value meaning that there is potential for a lot of value out of a single extra turn. At worst case they will replace themselves in hand and draw another card assuming they aren't countered obviously. Extra turns will help you run Jenara extra hard with will be important early on before the entire deck is together. She will be a primary wincon early on and even once you get the deck together.
For budget reasons, I would suggest going with
Time Warp
,
Walk the Aeons
, and
Temporal Mastery
in place of what I run. I run very expensive ($$$) extra turns which are not needed for someone approaching this from a budget approach. While mine will be cheaper (mana wise) and more consistent, these three will still give you a very good punch and cost a LOT less ($$$) than the ones I run.
Step 4: Tutors
By now, you will have a lot of the creatures filled in. Tutors help consistency and allow you to toolbox into the cards you need for the situation at hand. I usually suggest tutors to come essentially last because until you have good targets for them, they aren't that productive. This deck is a toolbox deck and putting in the tutors should allow you to go and get the correct answer for the situation at hand.
Stragglers
I didnt cover literally everything from my list in the 4 steps above. You can sort of grab anything left at this point either before or after you go for the tutors. I attempted to sort of outline a priority way to get the deck where you will get good value from the cards in the order you buy / trade for them.
Change Log
4/6/11:
Grand Coliseum -> Oran-Rief, the Vastwood (I had been reluctant to add more tapped lands to the deck. I suppose one in for one out is decent enough. I like the utility oran gives for the persist critters.)(I might also swap a forest out for an island as this pushes my green mana only producing lands one higher)
4/27/11:
So I had swapped out Mystic Snake for Rhystic Study quite some time ago and just never really noticed it still on the decklist. The problem I had with the snake was it required me to have a large amount of mana untapped to utilize it. I have found the Rhystic Study to be extremely effective in the early game as I can often draw several extra cards every turn. Later in the game it doesn't do a whole lot for me unless people forget about it. Seeing how I have to ask people about it every time something is cast though most people dont forget about it. Still it has panned out very well several times where I dropped it in the first 2-3 turns.
4/28/11:
Farseek -> Farhaven Elf Farseek was somewhat of a relic of the past before I got all of my fetchlands in a row for this deck. I cant say that all of my tests are going to be final yet but this one is an easy update. I am no longer having any issues hitting my land base as of currently (turns 1-3 strip mine effects aside). There is no reason for me to be using Farseek anymore. The addition of another creature to my count helps me with several strategies. His small size allows for a Lark rez, Sun Titan can rez him for another land accel, he is bouncable and can be persisted through several other tactics or cycled off to Survival of the Fittest for something better. I feel safe saying that the Elf has earned a spot in the deck finally.
Sylvan Library -> Trinket Mage I dont know yet on Tezzeret for sure but I can say that the Trinket Mage has earned his stay. He removes the problem I had of drawing multiple topdeck manipulation effects before while giving me a toolbox effect for several other effects I may enjoy. he is easily recurred and or bounced / persisted. In the worst case scenario he tutors into a skullclamp and equips it to himself ready to chump into 2 cards drawn. I cannot say for sure which of the other topdeck manipulation cards would come back if Tezzeret were to not make the final cut but the mage has made it in for one of the slots for sure.
Night Soil -> Tormod's Crypt due to the additon of extra artifact tutor effects such as Trinket Mage I think this change will probably stay. Night Soil had some limitations that were tough to get over such as the fact that I could not remove a sole creature from a graveyard or hit noncreatures that might be used in graveyard rez schemes. The crypt is a good bit of tech that works with my artifact tutoring tactics and was selected due to its ability to remove other players graveyards without hitting my own. While I like a bit wider selection when it comes to someone playing Geth or Chainer I think it is acceptable to use this card.
5/12/11:
Time Stretch -> Greater Good I cannot for sure say with 100% certainty that Greater Good has a position for sure in here but to be honest it feels a lot better than Time Stretch did. The stretch just bogged down my hand for ages and it was a huge hassle. Greater Good gives me something to do with scrap creatures that were on their way out anyways and can give me card draws if I am in a pinch. Plus I can protect from tuck effects or save creatures from being exiled giving me a chance to rez them later.
Cultivate -> Yavimaya Elder So far it hasnt been an entirely seamless transition but I have to admit that the Elder is a very good creature with good options to him. He is one of the few low mana ramp creatures that I would actually consider for some of my better rez. The downside obviously being that I cannot as easily abuse him due to him needing to die to get anything.
Trygon Predator -> Wickerbough Elder I haven't looked back yet on replacing the Predator. When something really needs to die I hate relying on him connecting. I have to admit though he is a useful little guy to just toss out and let him run rampant. I had one of them running me down the other day when I was playing Teferi and I just couldn't stop the damn little monster. However I would rather have a single removal when I need it than a variable guy who just deturs use of artifacts / enchantments.
6/1/11:
Scroll Rack -> Tezzeret the Seeker I have had some time now to test Tezzeret. My only complaint to this day is how slow he is to go get my top. I will say though that he has often gone to get me 2-3 good utility artifacts before dying though so he is great for those utility tutors.
Desertion -> Chancellor of the Spires Desertion was just costing me wayyy too much mana open to use. I am running more of an agro deck than a responsive counter deck. I love countering and stealing creatures but Desertion wasn't the way to do it. I enjoy being able to pick up some utility cards off my opponents using the Chancellor though.
6/24/11:
7/6/11:
7/19/11:
Condemn -> Darksteel Plate condemn wasnt doing what I needed. I dont like waiting until something attacks to deal with it as that can mean eating an eldrazi annihilate, allowing a sphinx to go unanswered, allowing utility commanders to go unanswered. Long story short it wasnt what I really wanted. The Plate will give me some wrath protection and allow me to expand a bit easier against a control player.
Bribery -> Oblivion Stone Bribery hadnt been working so well due to Homeward Path of late. O stone gives me another wrath option and I can recur it with academy ruins and I can tutor it up with tezzeret.
Gaddock Teeg -> Primal Command teeg has been too random for this deck. Without being able to build around him more he has been too hit and miss. I have had really bad effects due to him and I have had really good effects due to him. I think it is just a bit too random for this deck. The command gives me several options, of which answering graveyard abuse which has been a problem of late.
7/21/11:
Umezawa's Jitte -> Bribery I am not 100% sold that Bribery deserves to stay in but the Jitte has been a bit lackluster of late. I will continue testing with Bribery with the new complications of Homeward Path. I had one bad experience with it but I want to continue testing and see if I cant make it work better next time.
7/25/11:
Saffi Eriksdotter -> Solemn Simulacrum I cant say for sure that this is the exact trade that was made but I swapped saffi out and sort of jumbled from card to card for a bit. I think that this is a decent fit as it gives me another 4 drop for my birthing pod chains. I have had some success with it already chaining off to Karmic Guide to rez him back in for more card draw and ramp.
7/27/11:
Phyrexian Ingester -> Elesh Norn, Grand Cenobite this gives me some options to deal with token strategies as well as swarms of utility guys. I can use my own utility guys with this to do an alpha strike for some good damage.
8/19/11:
Rings of Brighthearth -> Jace the Mind Sculptor the rings had become a bit too much of a winmore. I was down to like 5 nonland cards that it interacted with. While I love using my fetchlands twice I just don't see it as a necessary card. I haven't actually tried out Jace TMS in EDH so I will give it a shot as Ammo187 suggested.
Greater Good -> Mirror Entity greater good has been in this deck so long that I haven't really ever reevaluated the card. My curve has gone way down in the past few months and a lot of my creatures are a net loss. I have plenty good enough card draw as is and I think it is time to axe the card from the list. Mirror Entity will allow me to Lark combo again to blow out lands so that should be fun.
8/24/11:
Cauldron of Souls -> Lurking Predators The problem with the Cauldron was that it was situational in when it was good. It was primarily in for wrath defense but if I wasnt against decks that did lots of wrathing it was sort of lackluster. I do like Lurking Predators in the fact that it is sort of a fire and forget sort of card that just works amazingly on its own. It works really well with the top in play as well.
Jace the Mind Sculptor -> Beast Within Jace just wasnt working out. I assumed as much but he only went in for testing. Beast Within gives me more instant speed removal. While Krosan Grip is really solid in this spot too I like the extra versatility of Beast Within instead.
Brutalizer Exarch -> Harmonic Sliver I might end up missing the option to hit lands, indestructables, and planeswalkers at some point but the sliver is cheaper and more abuseable than the exarch is. Plus a side note, the sliver gives my Mirror Entity a naturalize which is nice.
8/29/11:
Mirror Entity -> Phantasmal Image honestly I dont like to combo out unless I am forced to and the Mirror Entity is sort of bad outside of the combo so I think it is out. Phantasmal Image has been a card I have meant to test for a while anyways so it can come on in. Thanks for pointing this out Ammo as I agree with your reasoning to cut the Entity.
9/1/11:
Avenger of Zendikar -> Wurmcoil Engine I had a tough time with dropping Avenger into play. He is usually met with a wrath response so it can be tough to utilizie and took a lot of setup usually. Wurmcoil on the other hand is a solid wrath positive creature as it splits into two more targets. I also like the Wurmcoil Engine in respects to a Birthing Pod target, equipment carrying target, Academy Ruins target and a rez target. The lifegain that it provides is something that we did not really have before so if we start looking a bit low on life it can be tutored up which is quite nice. Overall, Wurmcoil Engine is a lot less of a target than the Avenger was due to it having a bit of a lower profile and being less attractive to use a non exile kill spell on. Plus black has problems killing artifact creatures with things like Terror, Shriekmaw, Go for the Throat so that is also a plus.
Darksteel Plate -> Mystic Remora the plate sort of goes a bit against what we really want to be doing in this deck. While protecting is nice we dont have that many targets that we really NEED to protect. The Remora is another very solid card draw outlet and it can be rezed off of Sun Titan which is extremely cool.
Lurking Predators -> Aura Shards while lurking predators is a good card unfortunately it does have sort of a high cost to drop in and it is completely random. It is a value engine but it can take some time to get going. Unfortunately in this deck we don't have that many impressive creatures so a lot of the time it will probably be flipping 1/1 guys when it does work and it is only going to work like 1/3 of the time. Aura Shards on the other hand gives us another route to mass destroy opposing setups. I like how it can quickly mass shatter mana stones and other value engines. Plus Aura Shards is able to rez off of Sun Titan which is always a plus.
9/15/11:
9/20/11:
Aura Shards -> Lurking Predators So with the addition of Terastodon last update I am feeling a bit heavy on these effects. Aura Shards is sort of an odd card that you cant just play whenever either as it is hard to play and utilize well in the same turn. It draws a lot of hate quickly and usually doesnt accomplish as much as I would hope. Lurking Predators just feels like it is less situational and it works on its own in the fact that I dont need to worry about pushing interactions or anything.
10/4/11:
Rhystic Study -> Snapcaster Mage the problem is that Rhystic Study is a card best in the first few turns of a game. If it is drawn beyond the 8th or so turn of a game it becomes much weaker. While it is still a good card we have like no ways to tutor for it and no means to improve on its effects with additional taxation. The Snapcaster Mage gives us some further reach into our spells while giving us a body that can be abused in all of our usual ways. While we don't have tons of targets for the snapcaster usually any one of our spells is good enough to warrant him a spot.
10/11/11:
Mimic Vat -> Crystal Shard Mimic Vat had been a problem to get active and it drew ****loads of hate. I am hoping that the shard wont draw as much hate and possibly will do a bit more for the deck. Ideally I think that crystal shard will likely go out if I come across a better creature utility card yet but I just havent found something I think will be better. I still probably like Mimic Vat more than the shard but due to the hate that it seems to always draw and the time to go active I am cutting it.
10/18/11
Crystal Shard -> Green Sun's Zenith green sun gives us another toolboxing tutor and it just costs so little to cast vs how flexible it is. Worst case it tutors up a Fierce Empath into a big fatty. It can ramp us in the early game or go get a noncreature hate card. It can hit E witness for recursion. Overall I think it will be a great add to the list.
11/4/11
Scavenging Ooze -> Loaming Shaman we went back and forth on this one for a while and it ended up me being in the minority of people for the Ooze so I am swapping the shaman in for it for a bit to see how it operates in comparison. Personally I would have rather included them both over making the swap but I was again in the minority.
11/9/11:
Forest -> Winding Canyons I wanted to test out another utility land in this deck now that I finally got all of my original duals squared away. The canyons has some nice options for our late game plays while only imparing us if we get few lands in an opening hand with it.
11/14/11:
1/10/12:
Loaming Shaman -> Scavenging Ooze I dont like how Loaming Shaman only gets a single graveyard and even then they can tutor that stuff back up which I still dont like. I prefer to exile things. The grave abuse decks tutor into their graveyard so just retucking doesnt do a good enough job especially as I can only use this at sorcery speed without some means to flash him in which I only run the Winding Canyons and Chord of Calling currently.
Preordain -> Tormod's Crypt I needed a second piece of grave hate and I like how the crypt is easily tutorable through several means and I have good means of recurring it. It can work at instant speed without any mana available which is a plus as well.
1/30/12:
Lurking Predators -> Knowledge Exploitation Lurking has been sort of on my radar as a largely unknown payoff effect that draws a ton of attention and rarely lasts long enough to do much. Knowledge Explosion gives me all sorts of capabilities and versatility is definitely king in EDH. If need be it can be another wrath effect or I can go for extra turns, mass LD if someone is running it, mass graveyard return effects, big wincons like storm herd / Insurrection, Wildfire, Tooth and Nail, Warp World... I really like the versatility of the card and the ability to get utility in red and black if I want or situational cards that I just didn't want to run in my own list.
Oblation -> Venser, Shaper Savant I unofficially made this alter but unless it doesn't pan out I plan on keeping it that way. It increases my creature count, venser is great for recursion, it gives me another 4 drop option off of Birthing Pod and he functions somewhat similarly to Oblation without giving a CA bump. He will be a little worse vs opposing commanders but it opens up another tutorable ability that the deck doesn't have and he recurs nicely. I considered Mystic Snake here instead but it doesn't recur nearly as nicely.
2/23/12:
Skyshroud Claim -> Time Warp sort of a small swap but I have been less impressed by Skyshroud of late. I have no way to abuse it or tutor for it and beyond the opening several turns I don't like drawing it. Time Warp opens up a lot more ways in which to be utilized for mana management, drawing cards, and card advantage off of titans / swords due to more activations. It also has the capability of going into infinite turns if I get the right setup.
3/28/12:
Yavimaya Dryad -> Rafiq of the Many this gives me a bit of a power buff to hit harder. It opens up my Green Sun's Zenith package as well which is sort of nice.
Brainstorm -> Crystal Shard Brianstorm has been sort of my rotating card for a while now. It has actually not been in the list for a while now so it needs to be cut. I haven't really gotten much testing in with the shard however it seems promising in here.
4/20/12:
Winding Canyons -> Alchemist's Refuge because it is such a tasty delicious upgrade!!! It is a bit harder on the manabase considering that Alchemist's Refuge requires colored mana to activate however its ability is a strict upgrade. This seems to be one of the easy swaps from AVR. Other changes will be further discussed.
4/25/12:
6/11/12
Restoration Angel -> Mana Drain There were some issues in what the angel would cover for me as far as not working against wrath effects and not working to help Jenara evade either. I couldnt use it to flicker Karmic Guide or Akroma as well so there were some issues with the coverage that I got from it. The 4 mana casting cost was a bit troublesome as well when trying to hold it up as an answer to things. I have been trying to push another counter into my list for a while and I think that defensively speaking it gets me out of a lot mroe issues than the angel does. I can stop combo decks and I can stop wrath effects which the angel couldnt do. Counters can be very versatile and I felt like the angel was sort of like an expensive counter that was very situational. I like the angel but I felt like I wanted a counter more in most situations.
9/19/12:
Primeval Titan -> Venser, Shaper Savant Well... Primeval Titan got banned yesterday so its time to make a change. I considered replacing him with a 2-3 mana ramp spell but it just didnt seem like it would ever really be a decent swap. So, instead I added a lower mana replacement control style creature back to the deck. Venser offers a lot of versatility and is one of those cards that takes sort of a high amount of skill to abuse correctly. I like him though because he really keeps me on my toes thinking about all of his possibilities.
10/15/12:
Knowledge Exploitation -> Ixidron as I always say, bant has a much easier time tutoring, recurring, and abusing creatures than it does spells. Ixidron is sort of a weird effect that isn't so great vs tokens. However the fact that this gives us a tutorable wrath seems really useful. He bounces nicely, he screws with opposing commanders, and he actually buffs a lot of our creatures who are usually 1/1s. He deals with indestructible, hexproof, and shroud as well.
2/4/2013:
Sphinx of Uthuun -> Prime Speaker Zegana Prime Speaker really interests me as it is something we can tutor into through a lot of means and it is easier to recur / tutor for because it has low power on the card and it is green so that means that Reveillark can rez it and Green Sun's Zenith can tutor into it.
Akroma, Angel of Wrath -> Sylvan Primordial this gives me another ETB trigger and removal / ramp. What I like about him is that unlike Terastodon it cant be turned to hit multiple of my own cards when stolen and it doesn't benefit the non green player like primetime did. Well, he needs to be tested for sure and in theory sounds amazing.
9/24/2013:
Crystal Shard -> Bident of Thassa If you like playing combo, you probably want to keep the Shard in the deck. Outside of going infinite turns, I haven't found the shard really that amazing. I am going to try out the new Bidant because I have wanted to play Coastal Piracy for so long anyways.
1/24/2014:
Bident of Thassa -> Ephara, God of the Polis I am trading card draw for card draw. The big thing is I feel like Ephara is more robust and easier to go get thanks to it being a creature. Ephara is more of a value over time where as Bident was more of a hope for fast value until it got answered but I think the fact that the gods are indestructable and likely not to go active is a good trade off.
Solemn Simulacrum -> Karametra, God of Harvests it is a bit of a bold move to consder cutting simulacrum but he is a bit slow on the ramp and I still have Mul Daya in the 4 cost to ramp with if need be. Since Simulacrum was sort of a slow value based ramp I felt like it was the most similar to Karmetra who will also be sort of a slow value based ramp effect. The gods have some advantage in their being creatures for tutoring purposes but probably not being a creature in play for removal purposes and having built in indestructibility. When I originally added Simulacrum to the list it was in part because I didn't have very good or very many 4 mana targets for pod to hit. I am picking up Ephara as well as a 4 drop target which is good and bad since she is a dead end to podding but still very good as a target.
2/20/2014:
Sylvan Primordial -> Conjurer's Closet SP was banned shortly ago and I guess I need to make a swap. The closet really sort of reminds me of Mimic Vat in a lot of ways but I dont have to drop mana into it and it has a much shorter time until value sort of measurement to it. It also has good interaction with extra turns which is a plus but on sort of a downside for me further enables infinite turns via Eternal Witness. Still, I really like what Venser, the Sojourner does for this deck and I have to assume it will be sort of similar in execution.
4/15/2014:
Conjurer's Closet -> Brainstorm closet has been very awkward in most every situation I have seen it. It lacks the ability to theft back Guilded Drake like Venser does and has no crazy ult that takes over the game. As much as I wanted it to be Venser PW #2 it just wasn't. Brainstorm isn't anything huge but it very cheaply increases my hand quality. It is very useful with shuffle effects as well as topdeck matters effects like Oracle of Mul Daya. I dont feel like I am really missing anything in the deck currently though so I feel like just a cheap hand improvement effect like Brainstorm will work just fine.
9/17/2014:
Path to Exile -> Unexpectedly Absent I have had some really good results in switching Path out for Unexpected to be honest. One game I was stringing together extra turns and I ended up using it on my own Snapcaster Mage to add another extra turn into the ones I was already taking. It has potential to set up your own creatures for another ETB trigger in some situations but its also really strong against the opposition as it can potentially tuck things in response to shuffle effects as well as just act as an emergency stall effect. Its relatively cheap to push around and its increased targeting capabilities have made me overall quite happy having it over Path. There is still something to be said about exile removal and ease of use of Path to Exile but I love having increased targeting and have so far enjoyed having it over Path to Exile.
Duplicant -> Wall of Reverence it might seem like an odd change but time and again siphoning and overly aggressive decks have proven to be an issue for this deck. There isn't a lot of sustaining lifegain effects in this deck as it stands and in trying to be a toolbox deck I have found I don't use Duplicant as much as I used to in general. The wall acts as an amazing blocker and dodges the protections that a lot of the common swords use (Sword of Fire and Ice / Sword of Feast and Famine). Its an odd move but I have found it gives me a great ongoing sustaining buffer against decks that push hard on life and or if I get low its a means to get back into a safe range. Its an amazing defensive tool and so far I have enjoyed having access to it. There are games where it is not needed for sure but there are some games where its a high priority tutor as well. Its ability to block is quite strong though in general paired with its lifegain it grants some great sustainability. With even just Jenara + the wall in play you can often control combat entirely.
Ephara, God of the Polis -> Clever Impersonator of the two gods, Karametra, God of Harvests seems to continue to do work for me where as Ephara seems to not quite have the same effect. I find myself tutoring for Karametra fairly normally but almost never for Ephara. I don't think that Ephara is bad but I need to make room for Clever Impersonator and my continued lack of interest in Ephara leads me to think I should cut her.
I have officially moved to MTGNexus.
I just wanted to let people know as my response time to salvation decks being bumped is very hit or miss.

Signature by
Inkfox Aesthetics by Xen
[EDH]
Gisela
|
Sram
(auras) |
Edgar Markov
|
Bruna
|
Jori En
|
Heliod
|
Squee
[Modern]
Allies