ISBPathfinder
Location:

South Dakota

Join Date:

8/16/2010

Posts:

23,779

Member Details
Marton Stromgald
Banner by Rivenor
Marton: CHARRRRGEE TROOPS CHARR...
Soldier 1: Wait... What happened to Marton?
Soldier 2: I believe a
Squire
killed him as we Charged...
Introduction
This list is designed to build a very powerful attack cannon. Due to the limitations of being mono red I designed the deck to attempt to aggressively win ignoring a lot of whatever else is going on. This deck is designed as a bit of a glass cannon that ignores most everything else in an attempt to go off. Due to the fact that we are a token based deck we can use tokens to try to stall for us but with the overall goal to go off our primary goal is to keep pushing for the win rather than put up defenses.
This deck is designed to be somewhat of a fast exponential aggro deck that pushes for one large wave of damage to kill everyone. While we have a lot of alternate wincons they are there because of how fragile this tactic can sometimes be. This is after all mono red aggro and sometimes you will be required to go all in on a move. If you feel uncomfortable on occasion pushing your deck to the limits like that then this may not be the deck for you. You will make enemies long term playing a deck like this and in the end my consensus has been to just ignore them and go off before it matters.
---
Why Play Marton?
Welcome to mono red! There are a lot of really interesting commanders to pick from in mono red so you might be interested in some of the reasons I play Marton myself. I will do my best to run through some of what you can expect from playing Marton as a commander. If you are looking for a token based commander there are lots of options out there to choose from. Marton is probably one of the least controlling type of token commanders due to his color options. He is also one of the largest token buffs in the game though and combined with haste he has one of the best out of nowhere glass cannon attacks in the game.
Marton's Pros:
Totally amazing style points. There aren't many really old legends that really stand out as being powerful. Much less mono colored old commanders.
He gives an amazing pump effect that is non tribal based. This means we get to use the best of the colorless and red token producing tactics.
Mono red decks often have a very low threat profile. People often dont worry too much about you if they dont know your deck unless you are playing Kiki-Jiki, Mirror Breaker. Our plays seem smaller and not as significant until we really get going. Sometimes people dont see our wins coming until it literally happens which is a nice bonus.
His CC is very affordable at 4. Having a low casting cost means that you can easily chain other effects the same turn that you go to utilize him. This can win you the game as I have won plenty of games from a board state of mana stones only to winning that turn and killing 3 opponents in the process off of 12 ish mana and a haste outlet.
Marton is literally one of the most obscene buffs in the game for its mana. On average I am increasing the damage output of my creatures by usually a minimum of 30 or 40 damage and I often end up using him to increase my damage output by a magnitude of hundreds or more damage.
Marton's Cons:
Mono red really has some limitations on good token production, card draw, and removal. Sometimes you will feel like you are using really crappy cards, and sometimes you are.
Marton is frail as a 1/1 creature. Due to this he dies easily to a stiff breeze. You really have to watch what is on the board and what people are playing when you try to push for the win. There are so many things that can stop him from going off so knowing your opponents and watching the board state is important.
This particular build tends to ignore a lot of the problems going on (IE, all in). You dont have to necessarily take it as far as I do in this list but I honestly dont really miss having answers most of the time with this build. You find things like Warp World, Goblin Bombardment, Zelous Conscripts, and several others to function quite well in a variety of roles when needed. As I said though, if you dont care for going all in, you might not like my approach.
Overall I decided to run
Marton Stromgald
as my commander for my own reasons. Mono colored decks are challenging in nature. One of the biggest things that I love about this deck is how suddenly it can change the game and win. Most decks require you to setup a winning position over several turns. This deck essentially only needs mana and haste to go off on its opponents.
Marton Stromgald
as a commander is a very unique buff where he gives probably the most potent buff for his mana of all commanders out there. He has great synergy with a lot of elements of red and heads up a very powerful token based deck.
---
Deck History
My Experience with "The Order":
I started playing Marton sometime around October of 2011. My initial thought was that I would just be sort of slowly building big waves of creatures and herp derping it up with slow big fat waves of tokens. As I played it though I kept trying to ramp harder and faster and go from no board presence to killing everyone in one shot. Tokens almost always have problems with wrath effects because you need a lot of them to do anything. Thanks to Marton though this deck can accomplish a lot more off of a lot less. The big downside though is that it is often more difficult to set it up as you need tokens + marton + haste usually.
Initially I built the deck with equipment and lots more control. The problem I was noticing was that it was sometimes hard to find bodies to put a sword on in this deck or if I found a body it was like one of 5 tokens I had so the equipment really wasn't effectively buffing them. The control was having problems as well as control is always conditional as you usually have to hold onto it until the right moment. This deck kept using a lot of mana on most of its turns to do things and I found it was difficult to keep mana up for the control options and when I did my 1 for 1 effects really got outpaced by other color's draw effects. Due to that I had to sort of scale back on the control and equipment. I still have some control but I want it to be multifunctional and work towards me winning the game rather than just being dead cards in hand that poorly trade off.
As I kept playing the deck, I realized that all I really needed was ramp, draw, tokens, and haste. I kept narrowing out the cards I didn't really need or that were just sort of standalone ok cards and adding more cards that interacted with my token tactics.
The Order of Stromgald:
So I did some digging into Marton and I came across a tidbit about
The Order of Stromgald
as I did my digging. Straight from MTGSalvation's own wiki:
Quote from

"The Order of Stromgald began as a sub-movement within the various political movements of Ice Age-era Kjeldor.

On the surface, the Order of Stromgald appeared to be a concerned party that feared the weakened will of Kjeldor's king, Darien. However, under the surface the Order has more malign roots. The Order was formed by former Kjeldoran knight Avram Garrison and the necromancer and archenemy of the people of Kjeld, Lim-Dûl. The true intent of the Order of Stromgald was to assassinate Darien and weaken the political structure of Kjeld, hastening Lim-Dûl's victory over the already assaulted nation. The Order eventually fell apart after the defeat of Lim-Dûl, but various factions that were rumored to exist probably merged with his surviving undead army at Tresserhorn.

The Order of Stromgald took its name from the legendary Kjeldoran general Márton Stromgald."
I felt that the history was sort of cool pertaining to the order. So I did a bit more digging into the matter for actual cards that had tidbits pertaining to such an order and came across the following of which most have some flavor text pertaining to The Order:
Also sort of bouncing off of the last statement of "The Order eventually fell apart after the defeat of Lim-Dûl, but various factions that were rumored to exist probably merged with his surviving undead army at Tresserhorn." We find this last guy:
---
My Bio
My name is Brian, I am 27 years old, I live out in South Dakota sort of in the middle of nowhere. I got into playing EDH back in the summer of 2010. Our playgroup started sort of small and we went on and off on EDH play but eventually it took off and most of us sort of started dying off from other formats and only playing EDH. We would get Tuesday Nights where we would get 8-12 guys together down at the shop and just play 4+ hours of EDH every week. I got to be sort of one of the big shot players in my group where a lot of times people would just swing things at me because that's the player I am regardless of what deck I bring to the table. I try to build decks with the mentality that everyone might be attacking me and I might have to fend off more than one opponent. While I love perfecting my decks, I don't particularly like utilizing combos so if I have a combo in my deck it is usually because it has multi purposes that can be utilized to go infinite if it is drawn in that way. I am a spike player and I love getting my cards worth so I play plenty of card advantage style cards and I love comes into play effects.
I moved from my original EDH playgroup to a college town in May 2012. My competition when I moved to this new meta was totally terrible when I got here. Due to this I was playing things like a $1,300.00 Jenara deck against $50-$100 decks. Sadly, I had to push the guys in my meta to proxy decks up so that I could have some competition. Currently they have gone a long ways and give me a much better run for my money.
I have played magic since hummm I guess like 1996 or 1997. I have been playing magic since Ice Age but that was when I was in like 4th grade so obviously I was not the player then that I am now. I picked up on playing standard FNM a lot in high school where I played a lot in the Odyssey / Onslaught blocks. I played into Mirrodin then quit when
Kokusho
started beating everyone up. I don't hold it against him though, I would love to see him come off of the ban list as I think he is fine in EDH. Perhaps keep him banned as a commander.
I am back to playing magic again and have been playing standard since Zendikar came out. I go back and forth on my thoughts of Standard but regardless I love playing EDH. I recently stopped playing standard again sometime just before Avacyn Restored was released due to my own personal issues with the direction Wizards is trying to push standard away from control. I still dabble at standard a little bit utilizing my friend John's collection, who has been very gracious and allows me to use his cards, but I really have a strong dislike for the current direction Wizards is going with standard. Still, I stay strong as a Commander player.
I have built more EDH decks than I can count up anymore. I am quite good at dropping staple cards into a list which is really unfortunate. I keep the number of decks I have constructed to somewhat of a minimum. I don't like replicating how decks feel so I sort of go with colors / strategies I don't already have. I am sort of an aggro / control player who tends to for the most part not focus heavily on infinite combos. I tend to keep like 3-4 decks together at a time and I usually end up scrapping decks beyond that for lack of regular use reasons.
---
Deck List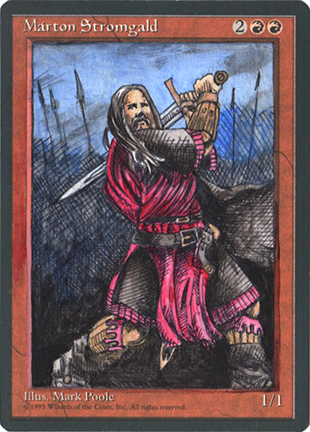 Deckstats for this list can be found
here
. (last updated 10/21/2013)
---
In the Spotlight
Well, I always like to acknowledge anything someone else might write up on my deck list that is separate from the thread I create itself. I had the honor of having Sheldon Menery (Rules Committee member often hailed as the father of EDH) spotlight this deck in one of his SCG articles back on 08/08/2012. Sheldon's article can be found
here
and it takes up the rest of the article after his discussion on his new alter.
My thanks go out to sheldon for such a kind and thorough article. I know the deck itself isnt what he tends to run himself however he did put some effort into evaluating the list and adding some feedback of his own. Publicity for obscure commanders is always a nice thing as well.
---
Strategy
Deck Objectives:
To be totally upfront and honest, the deck plays sort of like a combo deck. The whole game you are focusing on setting up to go off and kill everyone. It has the advantage of not really having infinite combos involved in most of what it does. Marton is very synergistic to the build here and while I lean on him as a finisher I have encompassed a lot of backup plans to the deck as well. Most of the game you will focus on developing your manabase and keep rotating cards through your hand as fast as you can. Generally speaking the idea is to go from very very few creatures in play to killing everyone in one turn. Sometimes the deck takes a turn to mass produce creatures then drop marton with haste next turn. The deck has a lot of ways to win though so just dealing with marton usually doesn't keep me from killing people in other ways.
EARLY GAME
Build your manabase as best as you can here. If possible blow your hand as fast as possible if you have a wheel effect just to jack with the people who didn't get as fast of a start as you or just hit the lands and stones as fast as you can. Try to partial Paris the expensive cards out of your hand and keep card draw and ramp in the opening.

MID GAME
Keep ramping when you can and drop your lands but you should be mostly done with the ramp aspects here. Do what you can to keep card draw up and your threat perception down when possible. Try to keep a low board presence unless you are being focused on then drop creatures to stall for you. Don't be afraid to take some damage here but being the low hanging fruit can get you bumped off by someone else so I usually try to keep a high life total and don't bother poking at people for small damage. The small damage rarely matters in the long run and only makes opponents. Swinging back at people who are making you their enemy is perfectly fine but don't start things with poking someone for 4-5 damage here.

LATE GAME
Ideally hand sizes should be a bit smaller by now. To be really explosive you really want a haste outlet. Work on setting up how you will get a big wave of creatures and Marton in one shot or if you have to set them up over a short span of time. Don't be afraid to do an all in move as sometimes that is what it takes to win the game. I cant tell you how many times a flashed back Firecat Blitz has won me the game. I wouldn't push this tactic unless it is a last resort but don't be afraid to drop your landbase to kill someone either if the alternative is dying.
Opening Hands:
Generally speaking this deck does a lot of pushing things around in an opening hand. Keep in mind that my own experience here comes from playing a "partial Parris" no freebie setup so if you play differently than my setup than I you might need to adjust how you do your mulligans a little. That said, you will still be looking for similar things in your opening hand:
Land - you need the land to play the game first and foremost. Ideally I often like to see something in the ballpark of 3-4 lands in an opening hand just so that I am relying less on topdeck draws. Keep in mind that drawing more lands later is still good, drawing no lands later is bad. Beinig land flooded isnt neccesarily a bad thing as we still want to be landing a lot of land in the long run. The biggest downside of having 5+ lands in an opening hand is that you will probably just be slow rolling out of the gates with no draw / ramp. You will at least have your land drops for a while figured out though.

Draw / Filter / Scry - Landing some land drops and then getting some draw / filter / wheel effect going can be very useful for this deck. If you can drop lands + ramp then wheel it is really golden. Draw gets us out of a stagnant few turns. Generally in the first 4-6 turns we will have done most of what we can productively do for a while other than drop more lands. Hitting up some draw of some sort keeps the fuel going. Sometimes you will help others out who ramp faster than you but the point is that you get to keep dropping more lands, ramp, and have more fuel to go forward. Ideally if you can do it set up a one sided draw but if you have to wheel it is often better to just do it than sit on a dead hand longer than neccesary. Keep in mind that most of your opponents can draw cards a lot better than you can. Hitting up a wheel effect is often a disadvantage to the decks that have good draw because you are ofsetting their advantage of superior draw and giving everyone resources. It benefits those who are the worst at drawing the most.

Ramp - This lets us do everything bigger and faster. If we can ramp our hand into play and then wheel we offset a lot of our opponents cards. We often dont make big plays to try to win quickly so that usually isnt the intent of this so a big downside is if someone whipes the artifacts out as we need our mana. In general I am usually at like 8-12 mana minimum when I make an actual move to seal the game up. If I have to work off of less mana than that I can try to win still but generally it is going to be less explosive and or slow rolling it over several turns.
Other cards I tend to try to keep in an opening hand. These cards are also sort of nice to have in opening hands beyond those three above groups but they dont tend to be my first focus.
Tutors (Imperial Recruiter, Gamble) - the two that I listed in specific are really solid in an opening hand because they are so versatile. Using Gamble into an early Sol Ring or Wheel of Fortune is really solid. The Imperial Recruiter is very versatile as well and can tutor into ramp, filter, and most of my goblin package. These cards can fill most any roll in a lot of situations. The other tutors such as the Moggcatcher and Goblin Matron are good as well but more situational based on what the hand looks like.

Haste - There are a lot of haste outlets in this deck but we really need haste as well. If I can I try to keep the haste outlets when possible because there are a lot of elements in the deck that work off of them. If I am hurting for other more important things though these effects go out.

Vedalken Orrery - It seems sort of silly to single it out but this deck is very vulnerable to removal. Flashing in a guy at EOT plus playing some guys with haste is really solid. Flash is sort of like haste but also stacks amazingly with haste for this deck. Some of our creatures tap to do things and if you can flash them + haste tap + on our turn tap again it can be game over. Using this card + Moggcatcher I have sealed games off in one turn. Flash lets me jump over board sweepers and essentially take 2 turns in a row when I want to. This is one of my favorite cards to have in an opening hand because it just means that I get to react to things and it becomes harder to respond to what I am doing.
It is hard to categorize most everything else. Depending on the hand other cards are largely subject to if I have my land, draw, and ramp figured out. Most of the expensive finisher cards and X mana spawn stuff are pushed out of my opening hands in hope of getting the above options.
Using Marton:
If you are used to just flipping your commander willy nilly into play, just stop. Marton isn't the type of commander that you drop in the first few turns because he is our late game wincon. Marton is a huge target, the ability to cast him for 4 mana the turn you want to push for a win is huge. Marton getting tucked is unfortunate but not a game over situation. Keeping him at a low casting cost though so he can win you the game later is very important. There are very few reasons I would cast him outside of needing him to try to swing for some kills.
Try to bank off of a haste outlet whenever possible while playing Marton out. It isnt as though you can't slow play Marton, but you really project what you intend to do when he hits the board. Haste is really key with this deck and if you cant achieve haste with him I usually look for another path or try to flash him in or use an alternate wincon to get to the win. It is up to you as the player to determine if you can get away with playing your haste outlets ahead of time or if you need to play them the same turn as marton. Sometimes a surprise last second haste outlet + marton in the same turn will throw people off as they didnt think you could come out swinging with him. This can allow you to build a larger token force sometimes. Even after all that is said and done, on occasion you might have to slow play him or loose. Just know that slow rolling Marton is far from the ideal situation.
Backup Plans
- There will actually be times where utilizing Marton
just isnt going to be an option
. I deliberately built this deck with fallback plans. I have had to deal with a lot of different issues to get through with this deck before. Some of the worst issues you might encounter are:
Fog
s, Mass -/- static effects (
Crovax, Ascendant Hero
),
AEther Flash
style of ETB or attack based dmg effects like
Caltrops
, and effects requiring mana per attacker such as (
Propaganda
). The idea behind this deck is to have alternate ways to win. If one of these effects comes down on you I would usually turn to
Warp World
,
Vicious Shadows
, and
Kozilek, Butcher of Truth
to do all of the damage you can to the offender. Don't point out how much of a problem it is for you and try to keep the other players in the game because as long as they are around they might clear this stuff up for you. Keep in mind what your backup plans are and try to bank opponents into solving the issues or the problematic player for you.
Zealous Conscripts
has on several occasions stolen a
Ghostly Prison
effect for me to push a win. Keep in mind the multiple ways to get around these effects and do what has to be done to get the job done.
Don't Sweat the Small Stuff:
If you have ever played mono red then you should understand that it is extremely difficult to control everything that your opponents do. Your removal and card draw is just too limited to try to react to everything else that goes on in a game. Due to this I tend to try to just ignore a lot of what goes on in the game. By forcing other players to use their answers on other big threats it just makes it easier for us to go off. Remember that you are the mono red player and there might be a few blue, green, and black players that you are facing. Generally speaking a lot of these people sort of regularly draw the hate of the game due to the colors of their commander. Often in a game you can just let the other people draw out the first wave of hate. By the time you are ready to make your move most people will have smaller hands and less answers. Try to let people swing into other people. Don't make a bit fuss over taking 5 damage here and there as only the last bit of life matters. This deck can try to force a win out of nowhere in a lot of ways late in the game. Just sort of roll with the game until the time is right to make a move.
The goal of this deck is essentially to set up a position to eliminate all of the opposition while trying to ignore most of what else is going on. We have some removal such as
Goblin Welder
,
Siege-Gang Commander
,
Kozilek, Butcher of Truth
, and
Goblin Bombardment
but the primary goal of the deck is to sort of just kill everyone outright.
Playing against Combo:
I should probably start out by saying that when I originally built this deck it was because combo was frowned upon in my meta. I do have a little bit of combo in the deck but that isn't for the intended purpose of comboing out so much as because the cards just work well in the deck for multiple purposes. Some options when going up against combo:
Wheel Their Hands - there are a lot of combo players who set up their hands with tutors and what not to try to go off quickly. You can interrupt these tutors by wheeling and stripping entire combos out of their hands. Wheel of Fortune, Reforge the Soul, and Chandra Ablaze can all be used very disruptively against tutor and big draw effects.

Control - I purposely run a bit of a glass cannon list with a mostly all in. When playing against combo it is possible to add a little control to the mix but keep in mind that your card draw is usually worse than theirs is. Creature removal, artifact removal, forks, and redirect effects can all screw with a combo player though. One of my favorite cards to use is Grip of Chaos and it is control in a sorts and it does make things really difficult for some control and combo players. Stranglehold can also screw with some players but can be a bit meta dependent.

Kill Faster - Generally I just hope that I end up going off before they do. Often times control decks will be drawing the hate of the other players. We have the advantage of being mono red and dont quote me but "usually" having a little lower threat rating than the Sharuum the Hegemon player. Sometimes you can just race them to the win or if necessary try to build yourself up sooner and just swing with enough to be lethal to a single opponent.
If you come to me and ask:
"BUT ISBPathfinder :eek:, I cant find a way to fight a turn 4/5 combo out."
My response is going to be, go find another deck. This is mono red after all and while I find the build to be very very solid, it isn't going to fight against turn 5 consistent combo decks. The deck does play really fun though and can fight against a lot of decent combo decks but if they are consistently going off very early, you need to be playing something else.
Playing against Mass Land Destruction:
I myself haven't really ever played much in a LD happy meta but hey it happens and I suppose I will try to give some pointers where I can on the matter. Some sort of basic strategies assuming the LD is a regular in your meta:
Reduce Mana Costs - The higher your mana curve is in the deck the harder hit you will be by someone blowing up the lands. Try to cut out some of the X mana spawning effects and the 6+ mana stuff will help here.

Increase Mana Stone Count - more stones can help against mass LD because it gives you a starting point to get going again. I go back and forth on how many stones I run but in general I run a decent number of them. If you don't see a lot of artifact sweepers or see a lot of mass LD in your meta then the stones get better.

Darksteel Citadel - Considering we are running a mono color deck, it becomes easier for us to fix mana here. An indestructible land can get you jump started on your mana count. There are a few utility lands that tap for colorless in here that aren't as important so bringing this in against a Mass LD meta seems like a good add.

Crucible of Worlds - Generally I like to add a fetchland package as well to the list if you want to run crucible.

Strategy - try to keep at least a land or two in hand once you get up in land count. Having no lands left in hand is a lot worse than not having that extra land or two in play that you could have. It is sometimes hard to remember to do this and difficult to tell when you need to start holding some back but it can make or break a game having those first few land drops after a LD effect.
In general, I wouldn't plan too much around LD countermeasures unless your meta specifically uses it. In my experience a majority of playgroups and players online don't find it acceptable so I would generally wait until you encounter problems before worrying too much about the countermeasures for it. Keep in mind as well that a lot of the plans to recover from a mass LD effect will just be too slow to recover in time. Most people will blow the lands up when they are in a position to win with some good board presence. Your best bet is to try to use a combination of tactics to combat it. If you have mana stones in play with a land recursion method and lands in hand you aren't going to have a problem with it.
I have officially moved to MTGNexus.
I just wanted to let people know as my response time to salvation decks being bumped is very hit or miss.

Signature by
Inkfox Aesthetics by Xen
[EDH]
Gisela
|
Sram
(auras) |
Edgar Markov
|
Bruna
|
Jori En
|
Heliod
|
Squee
[Modern]
Allies