DramaTurtle
Join Date:

5/10/2014

Posts:

1,729

Member Details
Spellslinger Riku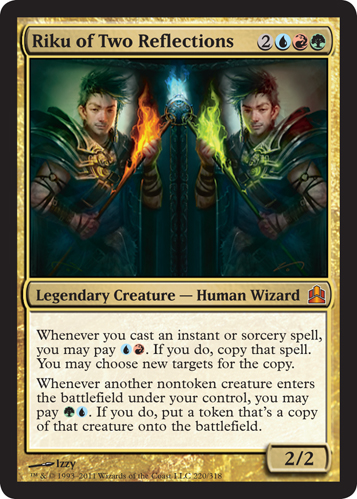 I play in a very competitive meta and this deck has, interestingly enough, proven both stronger and more fun than my last creature-based iteration. This is, of course not to say that Riku can't be played as a creature-based deck, but this deck made me feel like I had a much stronger effect on the games I have played with it, even those I didn't win (which was not many).
The Gameplan
The gameplan looks a little something like this:
A.
1. Start ramping like a fool.
2. Cast Riku.
3. If Riku dies, repeat steps 1 and 2.
4. Play spells.
5. Copy step 4.
6. ???
7. Profit!
B.
Play
Eternal Dominion
, AND COPY IT!!!! VICTORY!!!
But honestly, there's no 'right' way to play this deck. Depending on your starting hand and a number of other factors, you might decide to go all-out banarama explosive, or you might choose to be the little inconspicuous schemer. The deck has strong recursion and copying options for us to use in the variety of situations that we might find ourselves in. These situations all share one thing in common; they all factor into our inevitable victory.*
*
Disclaimer: You may or may not win every game with this deck. If you do not, you likely made a mistake.
Okay, yes, the deck does play like that, but here's a closer look at how this deck
actually
plays (and could play like):
The More Honest Gameplan
Honestly, the deck does more or less play like I described in "The Gameplan". In here, I'm just going to take a more in-depth look at how you can come about these courses of action and achieve such goals as "winning" and "having fun".
The deck can be taken in a number of directions. You can go all-out power plays with cards like
Time Stretch
,
Bribery
,
Insurrection
,
Plow Under
,
Stunted Growth
. This could lead to your opponents fearing your every move and hating on you like there's no tomorrow. It's a risky play-style but there is a high reward involved as some of these spells are simple wincons and others cripple single opponents. I would recommend playing powerful spells, but less hateful ones like
Plow Under
and such, as those tend to be mean, and things get ugly real fast.
You can play more passively with cantrips like
Electrolyze
,
Manamorphose
, and
Brainstorm
, filling up your hand and upping your arsenal for the endgame. Messing with people's plans ever so slightly by redirecting things and
Blood Frenzy
ing opponents' creatures against other opponents. I employ this strategy to a fair degree. I like having a measure of control of the early game, but I don't want to feel overpowering to my opponents, lest they start blowing my $#!1 up. I often try to set up and protect Riku with cards such as
Darksteel Plate
when I'm going for the big plays. Play smart and play hard.
An idea came up recently. One that I've always wanted to fit into a deck, but never really did. This idea involves
Swerve
,
Redirect
,
Fork
,
Twincast
,
Reverberate
. These cards form a package of what I like to call "stack control" cards that I was contemplating after the addition of
Isochron Scepter
. This stack control package would add a substantial amount of trickery to the deck while giving us plenty of options with other people's spells, especially if we managed to imprint one of them onto the scepter. I may try to incorporate the "stack control" package into the deck in the near future.
The deck is very capable of making very powerful plays. In a much earlier iteration of the deck, I managed a
Jokulhaups
with mana to float a
Galvanoth
and a
Life from the Loam
in the grave. Yes, plays like this are just cruel, but they can be fun if you don't do it too often :D.
So Why Play Spellslinger Riku?
You may want to play this deck if you like:
1. Playing explosive decks
2. Copying things because it's funny
3. Ridiculous Ramp
4. Recursion for things other than creatures
5. You think the idea of a badass mage kicking ass and taking names by casting spells and using premonition is awesome.
6. Winning

This deck may not be for you if you like:
1. Turning creatures sideways
2. Remaining relatively inconspicuous
3. Losing
Card Rundown
Some of the cards listed here may no longer be in the deck. Nonetheless, every single card here has potential to make any given Riku Spellslinger build. Additionally, I won't add how copying each thing makes it better because I'm pretty sure you already knew that.
WARNING: Injection of flavour in to this section of the Primer led to copious amounts of "mage-like explanations" for cards. Just imagine a great mage explaining the effects of any of these various "spells" to you.
Creatures
Every aspiring mage needs familiars in order to deal with his many enemies. These minions should serve to either aid him in controlling his magics, or to disrupt those of others. His feelings do not overcome him should they die; they are merely his pawns. A means to an end.
Sorceries
A mage must ready his spellbook with spells of a more offensive nature; those that will singe enemies, strongly increase mana reserves, and manipulate time. Sorceries are a mage's most powerful spells and should be used with abandon against those that threaten his very existence.
Instants
A mage must be prepared to deal with opposing threats. Instants (or Instantaneous Magics) consist of the more subtle spells in a mage's spellbook: the evocation of primal and destructive forces within his enemies, the amplifying and redirecting of enemy spells, and the rapid replenishing of his mental reserves. Such reactive trickeries should be tailored as the mage sees fit to weather his own coming storm.
Enchantments
Enchantments are often raised by mages in order to better their defenses, increase the contents of their spellbook from their mental library, or remember lost spells. They can be powerful tools when maintained against those who would oppose them.
Artifacts
Magical trinkets are a great and valuable asset to any mage. These can be used for a variety of purposes, but one thing is for certain: they all aid in overcoming enemies in ways that sometimes even magic cannot.
Combos and Synergies
Alright, I'm sure many people are thinking, "it's about damn time DramaTurtle got to this!". And I agree. Wholeheartedly. With a flower on top.
Keep in mind that I'm adding many different combos available to the powerful combination. Not all of these combos are necessarily in my deck but they can be in yours!
----------------------------------------------------------------------------------------------
Isochron Scepter
+ any 2cc or 1cc instant.
Okay, yes, this one is obvious, but it's great! Seriously. The scepter can get out of hand very quickly.
Arcane Denial
,
Brainstorm
,
Manamorphose
,
Impulse
,
Blood Frenzy
all become
insane
when they get imprinted to this thing.
And the best part?
Riku can copy the copies of the Scepter! WOOOOO
---------------------------------------------------------------------------------------------
Turnabout
+
Reiterate
Basically, this makes infinite mana. I know, right! Genius!
+
Comet Storm
: Blow everybody out of the table in dazzling display of molten rocks.
+
Capsize
: Bounce all your opponents off the boat. You are always on a boat when you play this deck (I don't even know what that means).
+ Any number of other outlets you might be packing.
----------------------------------------------------------------------------------------------
Charmbreaker Devils
+
Time Warp
/
Capture of Jingzhou
Devils just love causing a ruckus. Get a time walk into the grave with the devils out and you could get a bunch of turns out of the deal!
----------------------------------------------------------------------------------------------
Radiate
+ anything (
Beast Within
, for example, would transmute every permanent in play into a Beast!)
Yep, this spell is crazy. Basically, just cast this and good (funny) things will happen. Copy this and the depths of your dark heart will glow with a feeling of happiness that you have never felt before. Don't ask me where I get this stuff.
----------------------------------------------------------------------------------------------
Eternal Dominion
+ whatever you feel like
After
Radiate
, this is probably the most satisfying way to win with this deck. It's cruel, though. Copying adds to the fun in so many ways, it's indescribable. You really have to cast it to believe it.
----------------------------------------------------------------------------------------------
Crystal Shard
+
Eternal Witness
/
Izzet Chronarch
/
Mnemonic Wall
+
Time Warp
/
Temporal Manipulation
This is a fun infinite turn setup. All cards are good on their own and most everything synergizes with the deck in good ways. You play the Witness, bounce it, then play the Warp. Over and over. It takes quite a bit of mana but pulling this off nets you a terrifying win.
----------------------------------------------------------------------------------------------
Kiki-Jiki, Mirror Breaker
/
Splinter Twin
+
Deceiver Exarch
/
Pestermite
Hey, if you like combos, be my guest. This is a classic that has always put fear into the hearts of men.
Tooth and Nail
and
Defense of the Heart
get this out easily if you find yourself in a very, very tight jam (container).
----------------------------------------------------------------------------------------------
Keldon Firebombers
+
It that Betrays
This may well be one of the most satisfying ways to win. If your opponents don't concede after having resolved this, prepare for a very fun fight to the finish. It's honestly like pulling a Fatality out on someone, they're so dazed they can't do anything about it! Get it out the same way you would the above combo and you'll be pulling out somebody's heart and eating it in no time!
*Disclaimer 2: Adding Riku to most of these combos just makes them that much more ridiculous. Overkill is fun, people.
----------------------------------------------------------------------------------------------
RIKU COMBOS
Riku likes making combos too! These are a couple of his specialties:
Riku +
Palinchron
Yep, that's infinite mana. Just find an outlet for it and you're set.
----------------------------------------------------------------------------------------------
Riku +
Worldgorger Dragon
Another one of those pesky infinite mana combos. It also triggers your other creatures ETB if stacked right. This combo is quite complicated, what with all the blinking and stack monitoring. But here's a little rundown, courtesy of
bobthefunny
:
CASE A
: Riku on the Bottom, Dragon on Top (How to end the loop).
-Dragon eats everything, (you float a ) You have a dragon in play, a Riku trigger on the stack, and UG floating.
-Riku's trigger goes off, pay the UG. It triggers. You (very briefly) have 2 dragons, and a trigger on the stack.
-Token Dragon Eats the real Dragon.
-Real Dragon has a Leaves the Battlefield trigger.
-Everything else returns. (Dragon is exiled, tied to the tokens leave play ability).
End result, you have everything blinked, returned untapped, and a healthy Dragon token. The loop has ended.
CASE B
: Dragon on the Bottom, Riku on Top (How to iterate the loop).
-Pay the copy, you get a token. It triggers, goes on top of the stack.
-Copy resolves, eats Everything. Real dragon Leaves play ability goes on stack.
-Leaves play resolves, Returning nothing (nothing was exiled yet).
-Real Dragon's ability resolves, eats the token permanently (oh no!).
-Token's leaves play ability resolves, returns everything.
Everything is blinked, untapped, and you have a dragon entering play with a triggered ability, and Riku's holding his hand up suggestively... (repeat as needed for infinite mana).
Now introducing... RIKU FLARE!!!!!!
So... Riku Flare...
Is. The. Funnest. Deck. I. Have. Ever. Played. And I've been playing for a long time.
The deck plays like a traditional ramp goodstuff deck until you draw or tutor one of the flares. Then the $4!t starts hitting the fan. These cards are risky, but they're a part of the fun. Plus, the deck is designed so that you can make the most of the mana provided, and leave your opponents in the dust ASAP. Being able to copy things gives you such a strong edge over the competition that your opponents will be behind for the entire game. Then, drop Jin-Gitaxias or combo out. Whatever feels appropriate.
Of course, this deck is not for casual tables as it can make terribly overpowered plays. This deck is packed with card advantage and big mana so it'll likely blow away more casual tables in a matter of moments (which could be pretty funny).
This is officially my next big multiplayer project as I've never played a deck like this before. But I need advice. I could use more mana sinks and more exciting big mana options. I'm going to be adding this list to the OP as an alternate way of playing Riku so I would love to hear some of your opinions on the new list.
A Rhys to the Past
Sorcerer Supreme
Emmara is like the worst parts of Legends and Homelands got pregnant, aborted the fetus, tossed it in the trashcan, set it on fire and wrapped the corpse in a Dragon's Maze pack wrapper.
Kruphix Krux