jylichan
Location:

Manila

Join Date:

4/17/2007

Posts:

2,244

Member Details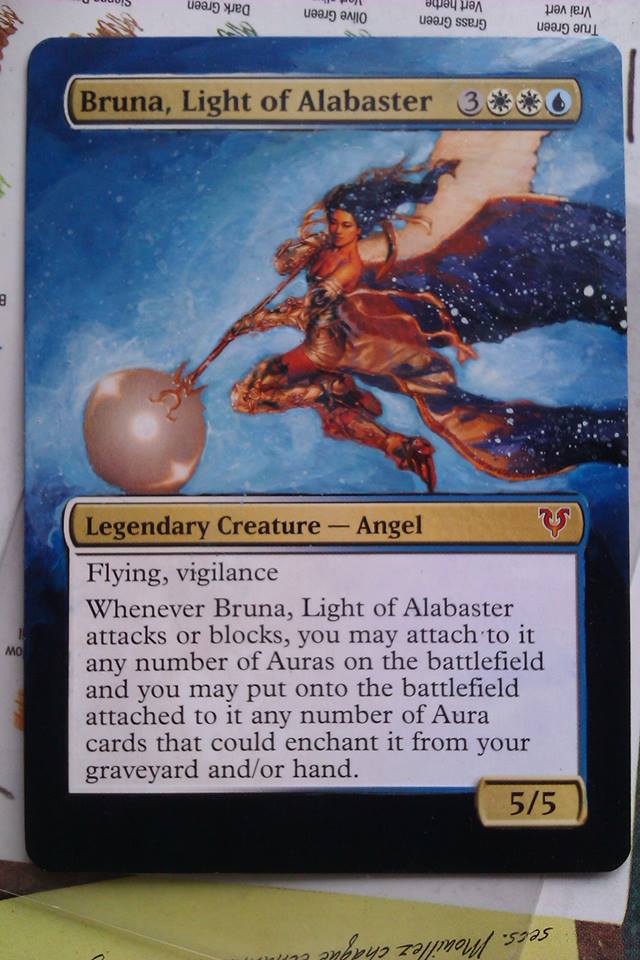 Introduction
UPDATE: So I held off editing the main post because
I'm lazy
I was pretty sure the Commander Rules Committee will end up repealing their announcement about the tuck rule. It's been MONTHS, and everyone seems to have settled on it staying gone... so HOORAY! THE WITCH IS DEAD! Anyway, as anyone who has read this primer before knows, getting your commander tucked is a lot more crippling to this deck compared most others. That's not a problem anymore.
Also,
Tragic Arrogance
came out with Magic Origins, and it's probably the most relevant addition to the strategy in years. It will be replacing
Spectra Ward
, which is fancy and everything, but not really all that powerful. - Mark, 7/30/15
How time flies! Avacyn Restored came out over two years ago and I made this deck not long after then. My heartfelt thanks go out to everyone who has contributed their suggestions and experiences, and I'm so happy that a lot of people out there have taken this commander and staved many opponents' faces in with it. With this writing comes the largest batch of changes in the decklist ever. Partially, that's because M15 gave us a whopping THREE new cards to play with! The bigger reason is I've decided to share some of the more expensive cards among my decks. Anyway, much of the general philosophy behind the deck (and, therefore, the text in this primer) remains the same. If there are any inconsistencies between the list and the text, I apologize in advance. I'll try to weed them out bit by bit in the following weeks.
Why Bruna?
From the card text alone, I think it's pretty obvious that you'll be winning games by getting a lot of quality auras on Bruna and sending her in the general direction of your opponents like a very, very pretty freight train, Voltron-style.
Having white/blue as her color identity provides you with the means to protect her (shroud auras, totem armor, countermagic) and yourself (defensive auras, …countermagic), which a lot of other Voltron Commanders are short on. More importantly, white and blue have a few cards that prevent your opponents from meddling during your turn.
Three Dreams
and
Intuition
are in these colors, so that's cool.
You'd enjoy this deck if:
-You like putting the fear of God into your opponents because you can eliminate a player out of nowhere without resorting to some infinite loop that wipes the entire table.
-You like how aura effects interact apart from making your dudes bigger.
-You like to play with auras, generally, and would like for them to be more appreciated instead of being considered one of the worst card types (if not the worst outright).
-You used to enjoy Uril, but you can't get over how easily he gets
Hinder
'd.
-You thought you'd like Zur, but then your friends complained about how annoying he is.
This deck might not be for you if:
-You just can't get over how using lots of auras can feel like shooting yourself in the foot.
-You can't get over using
Read the Runes
and
Tunnel Vision
instead of
Sphinx's Revelation
and
Rhystic Study
.
PROs
Bruna has the crazy ability to take all the auras in play, in your hand, and in your graveyard. No need to pay for them. No three CMC limit. Just turn her sidew—OH RIGHT, she has vigilance. Bruna's ability extends to your graveyard, so the main weakness of auras—that they die along with the creatures they enchant, thus risk massive card disadvantage—is mitigated.
CONs
What I would give to trade Bruna's vigilance and flying for hexproof and haste! A good part of my efforts goes into getting Bruna attacking as soon as possible and protecting her from
Doomblade
and its ilk. Her cost is also somewhat problematic (she's one of the more expensive Voltron Commanders), but six isn't that big of a number in this format, right?
There's also the issue of needing to have a lot of auras, which are considered by many to be the worst cards in Magic because of the card disadvantage thing I mentioned. Thankfully, Bruna gets around this rather well.
Mass land destruction could be a kick in the gut, but when has it never been so? The deck tries to prepare for this with mana rocks, land tutoring, and countermagic, but that can only do so much.
My personal reasons for playing Bruna are relatively shallow: I already have a relatively developed W/U card pool and I love the art.
Pedigree
Bruna hails from a prestigious line of enchantment-based Commanders, which in turn hails from a broader line of Commanders who want to have stuff attached to them and charge into the red zone. We'll just discuss the enchantment-based ones. I also already mentioned that Bruna is not exactly better than either Zur or Uril. Picking her is all a matter of preference.
Zur the Enchanter
– Zur is considered by many to be one of the most insufferably broken Commanders in the format. Being in the notorious Esper colors is bad enough, but Zur is able to tutor a
Necropotence
directly into play, which fills your hand with answers. Forever.
In my opinion, Zur's only weakness is he's TOO powerful. The person running him can easily find himself the target of the entire table the moment he declares his Commander. Still, a good Zur player fending off three opponents isn't exactly unheard-of.
Uril, the Miststalker
– Uril is the Timmy player's dream. He has inherent protection against those mean control players and their targeted removal, grows bigger with each aura you put on him, and is conveniently in the colors of
Runes of the Deus
and
Shield of the Oversoul
: two of the most un-subtly awesome auras available. His weakness: mass removal, especially of the
Hallowed Burial
variety.
Bio
I'm Mark. I'm
27
31, and I live in the Philippines. I used to play Standard, but had to quit because of school. Even when I was playing, I constantly felt bad about needing to replace my deck because of the rotations and back then, my LGS played Standard almost exclusively.
Years later, some friends introduced me to Commander. I actually didn't want to try it at first, but they eventually convinced me to cobble together a deck from their pool. I picked the first legend that seemed plausible:
Grand Arbiter Augustin IV
. I think they mildly regret that whole affair.
Anyway, that's the intro stuff. Let's get on to what you came here for:
Typical Game Plan
Mulligan Concerns
As you draw your opening hand, be on the lookout for ways to draw and ramp. Starting with a few lands and only auras might not be a good idea because they'd just end up doing nothing. That said, the deck contains a lot of card draw so I rarely find myself in a situation where I'd really need to mulligan--the deck naturally operates as though almost each card in it has cycling.
Opening Play
The plan for the first few turns is to establish a mana base. Ideally, this would involve playing some mana rocks, or pushing a few land drops ahead with
Walking Atlas
. It's very important to not miss any land drops, so if you have any looting spells, don't hesitate to cycle auras so you can draw into lands. Bruna can get those back later, anyway.
Don't be afraid to play Bruna early if you can sense that your opponents are lacking in removal or if you have countermagic in spades. Otherwise, don't rush her in because cards like
Hinder
and
Spin into Myth
exist. Instead, play one of the other creatures in the deck and enchant it with an aura or two. Most of the time, even something as innocent as
Weathered Wayfarer
can turn into a beast when you stick some good auras on him.
If Bruna DOES get tucked, you're going to have to rely on your other guys to win. Thankfully, as stated in the previous paragraph, each one of your creatures can become a legitimate threat. Additionally, the deck contains enough aggressive card drawing, so force a shuffle by using a tutor effect and you stand a good chance of drawing into Bruna herself or into a continuous supply of threats.
Sometimes, you'll get insane ramp,
Force of Will
, and
Intuition
. If you want to win more games, you may consider holding off until you can safely wipe everyone out. Sometimes you may just feel like putting the fear of god into the table and eliminate a player early. Even if the table panics into dogpiling you, maybe it's worth it. And maybe you can still manage to wipe them all out. Depends on how gung-ho you feel.
Another thing: graveyard hate exists. The deck doesn't have any direct answers to cards like
Tormod's Crypt
aside from countermagic, and they can put a big dent on your plans. Discard key auras sparingly if you can help it, but I've determined by playing the deck over and over that the best solution to graveyard hate is to be continuously aware that there's always a possibility of getting your graveyard exiled.
In short, never overextend. Each one of your creatures has the potential to force a board wipe and that's one less spell to worry about when Bruna comes in later on, hopefully with haste and shroud/hexproof. Never overextend the auras in your graveyard, either. Play carefully, but always be alert for a chance to play Bruna and knock out that guy holding all the removal while he's tapped out from playing
Time Stop
or whatever on some other dude. Then, take out that other dude.
Late Game
If you haven't wiped everyone out yet, you probably won't reach the late game because it's likely that the table has panicked and dogpiled on you. If you do reach the late game, it's probably because Bruna got neutered somehow, or you took the route good players (unlike myself) take and waited things out as your opponents spend their answers on each other while you gather enough mana and countermagic to play an utterly unanswerable Bruna. With haste.
Card Selections
Draw and Discard
The deck includes a wide array of blue cards that let you draw cards at the expense of discarding some. While this is seen to be inferior to straightforward card draw (something that blue does well already), Bruna's ability makes your graveyard an extension of your hand. In this regard, Bruna is more similar to
The Mimeoplasm
or
Karador, Ghost Chieftain
than the other aura-based Commanders.
Notable cards:
Compulsive Research
,
Fact or Fiction
,
Read the Runes
,
Intuition
,
Memory Jar
,
Frantic Search
,
Cephalid Coliseum
,
Windfall
Tutors
And then there are the tutors. This deck had the dubious honor of being the only deck I know of that actually uses
Tunnel Vision
to tutor for something. It's not in the deck at the moment, but it's great gimmick that you might want to try. There are also some land-specific tutors because
Hall of the Bandit Lord
gives Bruna much-needed haste.
Notable cards:
Three Dreams
,
Enlightened Tutor
,
Totem-Guide Hartebeast
,
Intuition
.
Haste Enablers
A lot of the cards serve to protect Bruna until she can attack or giving her haste so she can attack immediately (or both!). Alternatively, you can wait for your opponents to tap out and sneak Bruna in via
Scout's Warning
.
Notable cards:
Lightning Greaves
,
Swiftfoot Boots
,
Hall of the Bandit Lord
,
Scout's Warning
Ramp and Other Lands
Bruna can get pretty mana-intensive because it would be foolish not to answer her, so her mana cost does tend to go up. Besides, Bruna does take 6 mana to cast the
first time
, so ramp is pretty important. It's not always necessary to hurry into getting Bruna out, but there's always something to do with a lot of early mana.
I actually want to prioritize basic Islands and Plains over mana-fixing duals because accelerating via Terrain Generator is more important and the deck has enough card draw to smoothen out the colors--and not everyone can afford the more expensive duals. Speaking of expensive cards, the deck would greatly benefit from Mana Crypt, and I do urge anyone who has it to include it (although I hate you forever and ever).
This is no longer true for the current list, as I have sold one of my kidneys for a Mana Crypt, and shared my Azorius duals from my other deck. Still, if you're on a budget, Terrain Generator will do a lot of work with a list heavy with basics.
So far,
Walking Atlas
has been great. He functions as the
Exploration
that doesn't care about color identity. He can wear auras, chump block, and do lots of other fun stuff small, unassuming creatures do. A neat trick is to slip
Hall of the Bandit Lord
in at the end of an opponent's turn for some hasty Bruna action. Along the same vein, you can use
Frantic Search
to untap the Halls and get a surprise attack.
High Market
and
Homeward Path
get a slot because it would be very, very bad for you if Bruna gets stolen.
Notable cards:
Gilded Lotus
,
Azorius Signet
,
Wayfarer's Bauble
,
Sol Ring
,
Expedition Map
,
Walking Atlas
,
Temple of the False Gods
,
Mana Vault
,
Hall of the Bandit Lord
,
Homeward Path
,
High Market
,
Ancient Tomb
,
Thawing Glaciers
.
The Auras
Here are the specific aura choices I made, and the notable interactions among them:
Eldrazi Conscription
,
Corrupted Conscience
,
Battle Mastery
– These three are the main kill auras. More often than not, if Bruna slams into someone with any of these on along with some others, that guy's not getting up. Never forget that you can use
Corrupted Conscience
to steal an opponent's creature.
Pariah
,
Unquestioned Authority
– Renders you immune to creature damage.
Pariah
can double as creature removal in a pinch--just slap it onto someone else's creature and it'll be dead in a few turns. If it survives, that probably means nobody attacked you.
Unquestioned Authority
makes Bruna unblockable, too. And draws you a card, which I value over the +1/+1 that
Spirit Mantle
provides.
Alexi's Cloak
,
Eel Umbra
– Flash makes these auras invaluable to keeping Bruna alive. They serve as limited counters. It's usually a good idea to keep these in your hand instead of discarding them because they can act as emergency "counterspells" if somebody tries to off Bruna before she gets all the auras.
Flickerform
,
Vanishing
– Also along the lines of keeping Bruna alive, this time against mass removal and similar kinds of non-targeting nastiness. You can attach these to enemy creatures too, as somewhat expensive removal.
Flickerform
on
Totem-Guide Hartebeast
,
Heliod's Pilgrim
,
Boonweaver Giant
or
Auratouched Mage
is pretty awesome, too, because you get to recycle their enter-the-battlefield abilities.
Vow of Duty
,
Vow of Flight
– Aim your opponent's guys at other players! Bruna can absorb these later for a damage boost. It kinda irks me that the two vows that are available to Bruna provide abilities she already has, but the +2/+2 has been relevant at times. A Vow of Hexproof would be nice for the next Commander product, but I'm happy with the ones we have now. Vow of Duty is especially strong because it gives so much incentive for your opponent to attack with the enchanted creature.
Spectra Ward
,
Steel of the Godhead
– These are generic good auras that provide a pump bonus, lifelink, or unblockabilty. Fliers are common enough in Commander that Bruna can benefit from being unblockable reasonably often (although not often enough to warrant
Robe of Mirrors
. Ew. If anyone has tested
Rogue's Passage
with success, please tell me about it.
Other Creatures
While the deck does mainly rely on Bruna, I've included some creatures that can function as smaller versions of her in case she gets tucked (or I just need a blocker). Note that a reasonable amount of pump auras plus
Corrupted Conscience
can still kill anyone out of nowhere.
Pariah
and
Unquestioned Authority
can turn any of your creatures into a little forcefield against attackers.
Notable cards:
Totem-Guide Hartebeast
,
Auratouched Mage
,
Sovereigns of Lost Alara
Countermagic
Ideally, I would like to limit Bruna's counterspells to ones that can be cast for free, since I want to be able to cast Bruna, and then attack with her.
Forbid
is exceptionally good in the deck, though, because you can just pitch a couple of auras and expect Bruna to get it back.
Notable cards:
Misdirection
,
Pact of Negation
,
Forbid
,
Force of Will
Notable Exclusions
Mesa Enchantress
,
Kor Spiritdancer
– These seemed to be obvious inclusions, and they actually were part of the deck when I put it together for the first time. However, I quickly realized that I almost never cast my auras. They also pale in comparison to the card drawing that blue already provides.
Umbra Mystic
– I noticed that protecting Bruna from being targeted or countering spells is usually more effective than just protecting her from being destroyed at the cost of a marginally useless creature taking up a slot, but I cut the Mystic out mainly because a lot of the effects that remove Bruna don't go through the "destroy" route. She's still a very good card, though. I might test with her in place of one of the redundant auras from time to time.
Flux
, along with every other draw X then discard X card ever – There are lots. I can make an entire deck with ONLY these cards. I'd like to believe I narrowed out the best (I did play with
Ancestral Memories
, though). Any suggestions would be welcome. You can also play
Three Wishes
, since it does something the deck wants to do AND you get to play with both
Three Dreams
and
Three Wishes
in one deck!
Sigil of the Empty Throne
– This was one of the cards I originally wanted for the deck. As I already mentioned, I find myself actually casting enchantments very rarely, so I never pursued this card.
Faith Healer
- I've seen this being used as a life engine, taking advantage of Bruna resurrecting boatloads of enchantments with each combat step. While I think the interaction is cute, by the time Bruna's doing that, your opponents should already be dropping like flies.
1v1 Gameplay
Bruna does really well on single player matchups, although I don't think I've fought a deck that's specifically tuned for 1v1. I suspect to have trouble with faster, even more aggressive decks, but I'm sorry to say that I really don't know and can give very little input other than try to ramp Bruna out and hope to have counters for their counters.
There always is the chance of getting hit with
Bojuka Bog
,
Relic of Progenitus
, or whatnot. Most of the time, it doesn't really cripple you because there are always more auras in your deck. It may be a good idea to take it easy on discarding key auras if there's a chance of a graveyard nuke.
Conclusion
Well, there you have it. I hope you enjoy reading through my rambling and I would love to get some suggestions to make the deck better.
PS: So, the forums has a like function now. I know it probably doesn't mean much of anything, but in a blatant plea for validation, please like this post if it's not too much trouble (and if you do like it, of course).
Augustin, Rasputin, Bruna, Brago, Ojutai