Hallucigenia
Snow Creature—Human Scientist
Location:

Kjanada

Join Date:

10/20/2012

Posts:

1,523

Member Details
---
Make Love and War
A Rubinia Soulsinger Populate Deck, by Hallucigenia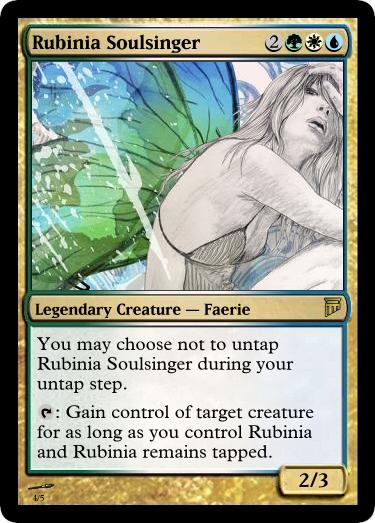 ---
Introduction
So most folks who want to try a Populate deck in EDH will probably run Trostani as the general, but I don't want to
just
be populating boring-ass wurm or centaur tokens (though it does that too)... I want to be populating token copies of my
Woodfall Primus
or my opponent's
Angel of Serenity
! So it is. No Bant-coloured generals are particularly thematic, but
Rubinia
adds some extra functionality to
Cackling Counterpart
and
Tempt with Reflections
, and allows me to put
Followed Footsteps
on an opponent's creature using
Sovereigns of Lost Alara
, rather than just my own. Plus, creature theft is never bad in Commander!
This deck attempts to put token copy cards like
Rite of Replication
and
Spitting Image
into overdrive using the Populate mechanic, and has a healthy amount of token generation and fatties with good come into play abilities like the Primus and
Craterhoof Behemoth
to make sure the copy cards have good targets. I've tried to round it out with some mid-range beats and card advantage.
Without further ado...
Creature Overview
** To be expanded when I have time **
In a game of heavy removal, you'll get the most out of your populate spells by copying creatures with handy come-into-play (ETB) abilities as you get an immediate benefit, even if the creature doesn't stick around.
As such, this deck runs a healthy amount of ETB creatures like the Primus, the Behemoth,
Sun Titan
,
Mulldrifter
and
Duplicant
, or they generate worthwhile tokens, like the
Geist of Saint Traft
and
Rampaging Baloths
. Some, like
Hornet Queen
,
Wurmcoil Engine
and
Terastodon
, do both.
Decks like this should have a nice curve, with plenty of early utility creatures that curve nicely into
Conjurer's Closet
and can start generating some nice early engines with creature-copiers or just start hitting with swords.
Note
Ixidron
turns over NON-TOKEN creatures, making it very effective here.
Strategy
** To be expanded when I have time **
This deck likes a nice opening curve, as it can run away fairly quickly. Turn three
Wayfaring Temple
s followed by turn four
Cackling Counterpart
s or
Dance of Many
s have been known to happen. An early army of
Trygon Predator
s,
Cold-Eyed Selkie
s or accelerated
Acidic Slime
s is an excellent head-start.
Wrath is never nice when playing an aggro deck, but this deck proves robust against sweep: it keeps its hand full; it runs non-creature sources of aggro like
Mimic Vat
and
Luminarch Ascension
, and it runs some recursion like
Sun Titan
,
Karmic Guide
,
Sword of Light and Shadow
and
Eternal Witness
. Most mid-late game wraths are little concern -- last game I had a
Parallel Lives
out, I played a
Karmic Guide
and
Dance of Many
, and not only I was back in the game, my explosive start after the wrath won me it.
Big creatures here try to be solutions to late-game problems, like
Woodfall Primus
and
Terastodon
. Perhaps by the time you're playing them you have
Minion Reflector
and
Parallel Lives
in play! Ouch.
Card advantage and mana acceleration should ideally come in the form of copyable bodies, like
Farhaven Elf
and
Regal Force
.
Finally,
Conjurer's Closet
is an all-star not only because of all the handy ETB abilities, but note that it returns the creature back under YOUR control, not ITS OWNER'S control, meaning that creatures stolen with Rubinia's ability may be blinked and kept permanently.
Update Log

Playtesting
|
Karador, Ghost Chieftain
|
Narset, Enlightened Master
|
Ephara, God of the Polis
Established
|
Gahiji, Honored One
|
Shirei, Shizo's Caretaker
|
Opal-Eye, Konda's Yojimbo
|
Rubinia Soulsinger
Retired
|
Medomai the Ageless
|
Diaochan, Artful Beauty