midoriryu
Join Date:

6/7/2010

Posts:

273

Member Details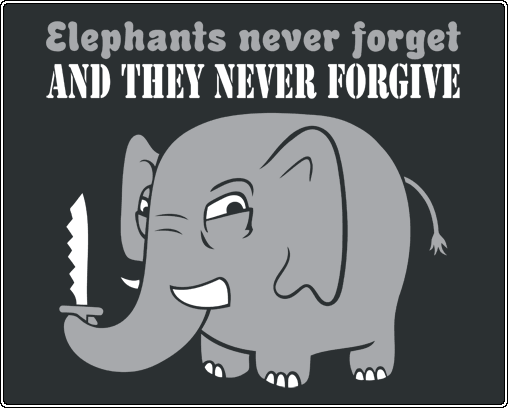 See what I did there? Got a little knife there, don't he?
Stampy's Revenge!
The
WHY
of it:
Pretty well started as a dare. What's the worst creature type in magic that you could build a compete tribal EDH deck out of? And can you make it PLAYABLE?
Now, don't get me wrong, there are some excellent elephants available. And then there's the
Endangered Armodon
.
Loxodon Anchorite
? The
Peacekeeper
? Ventara, Bull, or Wild Elephant? They're not exactly "choice" EDH picks...
But as YouTube and the Internet have proven, SOMEONE had to do it!
The
HOW
:
The
FUN
:
My playgroup loves to see this deck in any multi, EDH or otherwise. It means several things: I won't be playing some insane table-smashing denial monster, that I'll probably lose (and badly), and that we can all have a few laughs at the expense of the packyderms.
Examples?
Tapping a
Power Matrix
will always yield a sing-song round of "Well I be-done seen about ev-er-y thing... When I see... An elephant... FLY!!"
Painfully fluorescent pink sleeves. How could it not?
Or my +1/+1 counters: stale, bright orange "Circus Peanuts" candy or Peanut M&M's (perfect counters for EDH and it's long games with regular board-wipes).
Playing
Southern Elephant
elicits a "Oh HEY! Got some boiled peanuts, ya'll want some?"
See Family Guy reference below: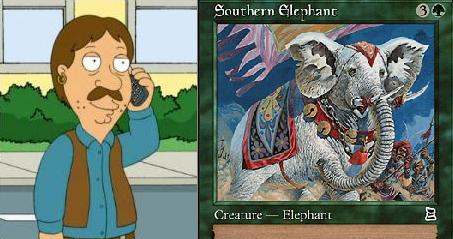 And lets not kid ourselves; An active Kazandu Tuskcaller with Quest for Renewal? Yes, it's hilarious in the only format it would ever last, and it's very likely I own 99% of the elephant tokens pulled at our local game store via donation
The
Pics
:
This is generally the more fun of my EDH decks, and the most "casual" one I can wrap my brain around when deck building. I did, in all fairness, give it the full EDH treatment: Anything that has been printed as a first run and is available as a foil typically is (about 80%), and everything else is black-bordered (look the other way,
Sol Ring
and
Ivory Tower
, LOOK AWAY). All told, the deck has run me maybe $20 in purchased cards, and everywhere I go people ask if I'm the "elephant guy" and offer me foil elephants, even the foil
Kazandu Tuskcaller
,
Terastodon
, and
Mammoth Umbra
on night #1 of the prerelease drafts (Thanks Ben, Shawn!)
edit September '12: Sheldon Menery has written an
article
and featured my deck at StarCity Games! Thanks Sheldon!