Monkmiroku
Join Date:

8/7/2012

Posts:

1,306

Member Details
Wrexial, Memser of the Deep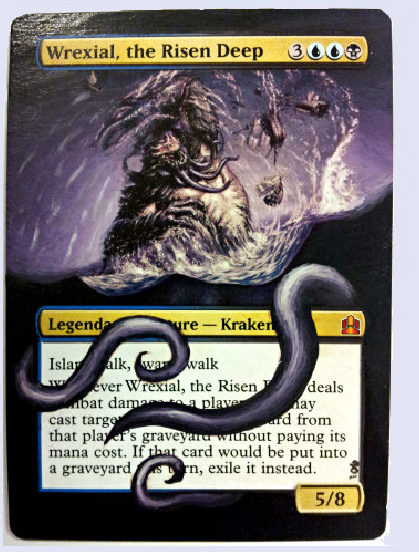 ---
Why should I play Wrexial?
Well, why not? In my opinion, he's one of the most flexible Dimir commanders in the first place. He has double evasion, a nice 5/8 body, and an incredible on hit ability, all bundled up for the cheap price of

I play Wrexial as a mill/graveyard commander. My deck's main win condition is going to be mill, but runs a lot of ways to abuse the well-fed graveyards it creates, which often opens new avenues for victory. The deck ALWAYS plays different, so it's never boring to play twice at the table.
. He can be played in a variety of ways, from voltron to control, but the strategy I use is a bit less straitforward.
Reasons to Play Mill
You love to live in the graveyard. It's a mill deck. Graves are stocked, dive right in!
You find underplayed strategies interesting. Unless it's exile mill, it's generally a bad strategy, we'll get into why later.
You want a deckbuilding challenge. The math behind Mill is definitely not on your side. The more players, the harder it gets.
You like to be highly interactive with other decks. A good portion of the deck uses others cards. If that's not interactivity I'm not sure what is.
You like your deck to play differently every time. Opposing graveyards will never be the same, so your deck will never play the same.
You like the freedom to change your commander around. Wrexial is Certainly a supplement to the strategy, but by no means is he built around.
You like making unexpected explosive plays. It's not a spike deck, but once you get a chunk of mana to work with, you can do a lot of stuff in one turn.
You want to play UB, but want to avoid the control/combo stigma that follows. My deck runs no in-house counterspells, and no infinite combos, and unless a meta change demands otherwise, I intend to keep it that way.
Reasons

Not

to Play Mill.
Your meta runs copious amounts of grave hate, namely Rest in Peace and Relic of Progenitus.
You feel the need to win every game. Kozilek, Butcher of Truth and Ulamog, the Infinite Gyre want to have a word with you.
You dislike being bullied early game. People don't like getting milled, despite it probably helping them. Taking their stuff probably doesn't help.
You dislike working around snags, such as Ulamog, Kozilek, Time Spirals, and things of that nature.
You feel the need to build around your general. Of course, you can. I prefer to use the commander as a supplement, not the whole show, but there's nothing stopping you from building differently than myself.
You feel powerless in UB without playing control or infinite combos.
Alternative Strategies and Commanders in Dimir
Circu, Dimir Lobotomist: He's not a terrible choice, and if you wanted to assemble a storm combo you could certainly do so. However, it's a singleton format so the mileage you'll get out of his ability is limited. It is funny to exile a Sol Ring off of him though.
Dralnu, Lich Lord: He has to be built around to some degree, at least to try and give him hexproof or shroud. He offers INCREDIBLE card advantage on the cheap, but god help you if he takes damage. Still, he's really fun and I use him sometimes as an alternative to Wrexial.
Grimgrin, Corpse-Born: I most often see him used as a zombie tribal, but he can also be used for stax or general UB sac recur type deals. He's incredibly fun as a commander.
Lazav, Dimir Mastermind: Hot damn, now there's a mill commander. Tons of fatties go into the graveyard in EDH without mill, imagine the potential! He can constantly shapeshift and has hexproof. He's incredibly fun, and is the #1 alternate commander I can recommend.
Mirko Vosk, Mind Drinker: Another good option. During Gatecrash Lazav was a hot choice for new on-the-rise mill decks, but some preferring a more traditional Szadek like approach took a liking to Mirko. He's pretty good. Mind Funeral on hit is great, but flying isn't quite enough evasion for me to use an on-hit commander. good in mill-tron.
Nebuchadnezzar: He kind of works like Cabal Therapy He's not terrible, but I wouldn't use him. He's fun as a blank-slate commander though.
Oona, Queen of the Fae: As I stated before, probably the best competitive Dimir commander. has a lot of access to infinite mana, and any of those in combination with Oona as your general means a win unless someone can instant speed shuffle their grave into their library (and even then, you can probably just exile again in response to draw). Even if they manage to work around having no library, you've got a huge army of flying faeries. She IS sometimes used for a Faerie tribal.
Princess Lucrezia & Riven Turnbull: Well, they're no Birds of Paradise, that's for sure. Both are pricy for what they do, but have decent bodies. They're best used as blank slates.
Ramirez DePietro: Another blank slate, but this one's got first strike. Her name is incredibly fun to say.
Ramses Overdark: Good in certain metas, of if you do the enchanting. Original gangster from Legends.
Sivitri Scarzam: Another fun one to say his name, but he's a blank slate, nothing more.
Skeleton Ship: It's another good blank slate. It'll kill weenies all day, and with tap/untap stuff he can machinegun clear the board.
Sygg, River Cutthroat: My second favorite general for UB. He works great in both control and aggro strategies, netting you a lot of card advantage.
Szadek, Lord of Secrets: I feel like he's the "go to" commander for UB mill, but that's all he really does, mill. He's expensive and takes time to get going. Hilarious to use with Essence Harvest.
Ur-Drago: Ironic, because the only time I can see him being good is if your meta is filled with Wrexials and Sheoldreds. Just another blank slate.
Vela the Night-Clad: She came with ninjas as the ninja commander, and I think they could have done better with her design. Rite of Replication kicked on her becomes a win condition though, and she DOES give your entire board evasion, which is a thing.
Wrexial, the Risen Deep: You know what he does. He's large and in charge.
Wydwen, the Biting Gale: I'm not sure why I like Wydwen so much, but she's really fun. having flash on your commander may as well be haste, which makes her great for voltron and her bounce ability is incredibly useful. Dire undercurrents Makes her an absolute star when she cantrips you and makes someone discard. She'd be my go-to for a faerie tribal or UB Voltron.
---
A Not-So-Brief History
I enjoy writing about things I like, so sometimes I get a bit lengthy in my writings so I've condensed it a few spoiler tags.
My Introduction to EDH
As far as most would go, I'm fairly new to magic. The first deck I ever played was a jib-jabbed deck I threw together on the old Apprentice program, which only had sets through Lorowyn at the time. After a bit of explanation from my friend Gabriel, I threw together a Mono-B Zombies deck based around Korlash, Heir to Blackblade and knocked his deck down my first time, and from there, I was instantly hooked. I learned about the MTG Workshop and MTGplay and played consistently every day for a long time, but eventually dropped off. It wasn't until I decided to take a few friends to a Magic draft that we all got back into it again.

I was the first of my group to take an interest in EDH, with Korlash, Heir to Blackblade being my commander only seeming natural. Innistrad had just came out, and with the zombies at the time I threw together a deck. I never got to use it until Dark Ascension came out, and out of boredom my friends bought Commander sets to try it out to kill time for the midnight release. I pulled out Korlash and good times were had as we were taught by a more seasoned player.

We all threw standard aside basically. Korlash wasn't keeping up with the preconstructed, and I didn't have the card knowledge at the time to branch out on my own. I bought the Devour for Power preconstructed commander deck, and I don't think I could have been happier. I love the graveyard, I always have, and this deck was completely dedicated to reaping the benefits of both my own and others' graveyards. Still, I felt the need to branch out and try a new deck because playing a preconstructed is pretty lame. During the playing, Wrexial, the Risen Deep took a shine to me. At first, I actually thought on hit I got to cast a card out of my own graveyard for free, and was ecstatic. I immediately tossed together a deck for it, but the first time playing it someone read the card and corrected me. I was a little bummed, but I still had fun no less.
History of the Deck
The first incarnation of Wrexial was a Quest for Ula's Temple deck, and by that I mean it was basically a multi-tribal including Krakens, Leviathans, Serpents, and Octopuses...Octopi? Anyways, this was incredibly slow, and mana wasn't working, so I put mill in it and used it to mull my own cards away to bring them back out with the equipment The Mimeoplasm so graciously gave to me. Living Death after a Traumatize was an easy win condition, but my own Kederekt Leviathan often foiled my plans, as well as Political Puppet's False Prophet did. It was time to change. The next incarnation was Voltron, where I focused a lot more around Wrexial. It didn't go so well, so I changed it yet again. Steal/Clones was next, and this one was a blast. Generals were incredibly easy to remove with almost every clone at my disposal, and every game was different. However, the mana curve was atrocious, and eventually lead to it's downfall.

At this point, I actually switched commanders. I had a token deck with 2 commanders I could never decide between, Grimgrin, Corpse-Born and Oona, Queen of the Fae. Regardless of which one I used, I was always ecstatic to see the other drawn, as they work great with one another. It was tribal faeries/zombies, and was an awkward deck but functioned. At this point my playgroup got wrath happy and it was of no use to run, and the faeries were cut in favor of Grimgrin, using a zombie tribal theme. The first time I comboed out it was fun, but it was too hard to pull off with 5-6 moving parts, and zombies are rather inconsistent as it is. At this point, my playgroup was leaving me behind. I was being inconsistent with my UB deck and constantly changing it so much while others were fine tuning their decks to be even better. I had to decide on a theme. I went online, and found a few lists, and the one that was most interesting to me was a UB mill strategy they were using. Mill seemed stupid at first, but as I read it it made sense. It's not supposed to win, its supposed to just be interactive and fun. The deck was packing a few infinite combos, standard Hinder+Tunnel Vision, Mind Over Matter+Temple Bell type stuff, and I used that list as a backbone. It was inconsistent, but I expected it to be. Over time i slowly started putting more money into it and finding new engines to run off of. A delicate balance between mill, steal, and reanimation was found, which is where we are today.
The Deck Today
Honestly, even now I'm surprised the deck runs as smooth as it does. They say if you're playing 3 people, your deck should be able to do 120 damage. This isn't necessarily true, as any damage your opponents deal to each other is synergistic to your own. However, mill is incredibly rare in EDH, so the chances of someone helping your strategy, other than a rogue dredge reanimator deck, meaning you literally need to come expecting to mill close to 300 cards. That alone is terrible math. Mindcrank and Crumbling Sanctuary help, but the latter of the two is scary as hell to use and near killed me the first time I used it, and was immediately cut. I wanted to stick to non-combo, simply because it was rare and I had never heard of anyone making it work consistently before.

The reason the deck works as well as it does is due to constant frustration and many lost games. Finding a balance between Mill, Steal, and Recursion of both my and others things while steering clear of infinite combos insane as it is, but the gears finally clicked together at some point. To borrow a metaphor from Cyrogen's Daakon Blackblade Primer, If you rate decks from 1 to 10 where 1 is Norin the Wary with 99 mountains, and 10 being a 2000$ Five-color Hermit Druid deck, then I'd place this in a 4-8 range. The wide gap is due strictly due to how reliant this deck is on opposing deck's quality of spells. 18 out of the 66 non-land cards in the deck are primarily used to take things out of opposing players libraries or graveyards. You can get lucky and get really powerful really fast, or stall. A powerful tutor package as well as a way to still achieve a lot of mana without infinite comboing still rests as a back up plan. It could be a lot more consistent with Oona, Queen of the Fae at the helm, but the chances are if you're doing non-combo mill, it's not going to get much better

---
The Deck
The left list sorts by function, to where they are most applicable. Undead Alchemist is an example of multipurpose, as he acts as grave hate as well as making milling worth it in the first place. The right is done simply by type.

Note

: To decrease confusion for counting the total number of land slots in the deck, regardless of what category they fall under, they are listed in one clump under "lands".
Deck by TypeMagic OnlineOCTGN2ApprenticeBuy These Cards
Creatures
2 Crosstown Courier
2 Fathom Feeder
2 Merfolk Mesmerist
2 Shriekgiest
2 Snapcaster Mage
3 Jace's Archivist
3 Raven Guild Master
4 Clever Impersonator
4 Dreamborn Muse
4 Phyrexian Metamorph
4 Undead Alchemist
5 Consuming Aberration
5 Dralnu, Lich Lord
5 Phenax, God of Deception
5 Mirko Vosk, Mind Drinker
5 Nemesis of Reason
6 Extractor Demon
6 Oona, Queen of the Fae
6 Sire of Stagnation
6 Wrexial, the Risen Deep
7 Szadek, Lord of Secrets

Sorceries
2 Demonic Tutor
3 Dark Deal
3 Praetor's Grasp
3 Sadistic Sacrament
3 Windfall
3 Yawgmoth's Will
4 Damnation
4 Whelming Wave
4 Whispering Madness
5 Beacon of Unrest
5 Telemin Performance
6 Life's Finale
6 Tunnel Vision


Instants
1 Brainstorm
1 Visions of Beyond
2 Brain Freeze
2 Cyclonic Rift
2 Trickbind
3 Soul Manipulation
3 Wipe Away
5 Psychic Spiral
5 Silumgar's Command

Enchantments
2 Animate Dead
2 Chronic Flooding
2 Jace's Erasure
3 Memory Erosion
3 Sphinx's Tutelage

Artifacts
0 Tormod's Crypt
1 Altar of the Brood
1 Codex Shredder
1 Expedition Map
1 Nihil Spellbomb
1 Sol Ring
2 Altar of Dementia
2 Anvil of Bogarden
2 Lightning Greaves
2 Mesmeric Orb
2 Mindcrank
3 Coalition Relic
3 Sword of Body and Mind
6 Keening Stone

Planeswalkers
3 Ashiok, Nightmare Weaver
5 Jace, Memory Adept


Land
0 Island x4
0 Swamp x5

0 Academy Ruins
0 Cabal Coffers
0 Cephalid Coliseum
0 Command Tower
0 Creeping Tar Pit
0 Deserted Temple
0 Dimir Aqueduct
0 Drowned Catacomb
0 Exotic Orchard
0 Faerie Conclave
0 Hall of the Bandit Lord
0 Minamo, School at Water's Edge
0 Nephalia Drownyard
0 Petrified Field
0 Polluted Delta
0 Strip Mine
0 Sunken Ruins
0 Tectonic Edge
0 Temple of Deceit
0 Thespian's Stage
0 Tolaria West
0 Underground River
0 Urborg, Tomb of Yawgmoth
0 Volrath's Stronghold
0 Watery Grave


Deck by FunctionMagic OnlineOCTGN2ApprenticeBuy These Cards
6 Wrexial, the Risen Deep

The Mill Package
1 Altar of the Brood
2 Altar of Dementia
2 Brain Freeze
2 Chronic Flooding
2 Crosstown Courier
2 Jace's Erasure
2 Mesmeric Orb
2 Merfolk Mesmerist
2 Mindcrank
2 Shriekgiest
3 Memory Erosion
3 Sphinx's Tutelage
3 Sword of Body and Mind
4 Dreamborn Muse
5 Consuming Abberation
5 Jace, Memory Adept
5 Phenax, God of Deception
5 Mirko Vosk, Mind Drinker
5 Nemesis of Reason
5 Psychic Spiral
5 Telemin Performance
6 Extractor Demon
6 Tunnel Vision
7 Szadek, Lord of Secrets

Psuedo Mill
2 Anvil of Bogarden
2 Fathom Feeder
3 Ashiok, Nightmare Weaver
3 Dark Deal
3 Jace's Archivist
3 Praetor's Grasp
3 Raven Guild Master
3 Sadistic Sacrament
3 Windfall
4 Whispering Madness
6 Keening Stone
6 Life's Finale
6 Sire of Stagnation
6 Oona, Queen of the Fae


Tutor Package
1 Expedition Map
2 Demonic Tutor

Making Mill Worth It
1 Codex Shredder
1 Visions of Beyond
2 Animate Dead
2 Snapcaster Mage
3 Yawgmoth's Will
4 Undead Alchemist
5 Beacon of Unrest
5 Dralnu, Lich Lord

The Mana Rocks
1 Sol Ring
3 Coalition Relic

Control Package
0 Tormod's Crypt
1 Nihil Spellbomb
2 Cyclonic Rift
2 Trickbind
3 Soul Manipulation
3 Wipe Away
4 Damnation
4 Whelming Wave
5 Silumgar's Command

The Unfair Advantages
1 Brainstorm
2 Lightning Greaves
4 Clever Impersonator
4 Phyrexian Metamorph

Land
0 Island x4
0 Swamp x5

0 Academy Ruins
0 Cabal Coffers
0 Cephalid Coliseum
0 Command Tower
0 Creeping Tar Pit
0 Deserted Temple
0 Dimir Aqueduct
0 Drowned Catacomb
0 Exotic Orchard
0 Faerie Conclave
0 Hall of the Bandit Lord
0 Minamo, School at Water's Edge
0 Nephalia Drownyard
0 Petrified Field
0 Polluted Delta
0 Strip Mine
0 Sunken Ruins
0 Tectonic Edge
0 Temple of Deceit
0 Thespian's Stage
0 Tolaria West
0 Underground River
0 Urborg, Tomb of Yawgmoth
0 Volrath's Stronghold
0 Watery Grave


---
The Instructions Manual
If any commander works, why Wrexial?
The reason I chose Wrexial over other great choices like Oona and Dralnu is because he offers the most interactive ability out of the UB legends. He allows me to answer the board with my opponents cards, including the ever elusive artifacts and enchantments Wrath of God off of a white player's graveyard. He was never intended to be a win condition via general damage anyways, the win condition is mill! He is a 5/8 which means if you needed to for some unknown reason, you could use general damage. I personally tutor out Urborg, Tomb of Yawgmoth quite early as both a manafix and to make him unblockable. The obligatory Cabal Coffers normally shortly follows.
is known for having difficulty with. That, stapled to a 5/8 double evasion body makes him EDH gold for 6 mana in my opinion. Another reason I chose Wrexial over the others is BECAUSE his ability answers problems. My control package is honestly quite light in comparison to most, most notably I'm only packing two board clears. The reason for this is Wrexial has no complaints being sent headfirst into cast
Cards in Depth
Condensed for reading convenience, but this is a complete guide of every card in the deck and why it's there. Don't worry, every update will have the cards changed!
Mill Package
in Depth
It wouldn't be a mill deck without the mill package. These cards are that are specifically included to flip cards from the deck to the grave.
Pseudo Mill
in Depth
Not everything included in the mill package technically mills, and much of it is a side effect. Some pluck problems out of people's decks (namely the legendary Eldrazi), some take things, etc, but don't directly flip cards over.
Tutor Package
in Depth
My NUMBER ONE tutor target is going to be Urborg, Tomb of Yawgmoth followed by Cabal Coffers. Getting large amounts of mana early sets me ahead much farther than you can imagine, and Urborg makes Wrexial Unblockable. That aside, here's our list:
Making Mill Worth It
in Depth.
JUST milling unfortunately is like trying to saw through a desk with a butterknife; You can do it, but it will take a while. As a result, a supplement of cards taking advantage of both my opponent's as well as my own enlarged graveyards have been included. Cards mill yourself as well as your opponents, and I'm well prepared for this.
Mana Rocks
in Depth
No deck goes without at least a few of these. I kept the package light but powerful.
Control Package
in Depth
It's UB, it'd be difficult to not have some sort of control package. As prestated, board wipes are low due to their abundance in enemy graveyards.
The Unfair Advantages
in Depth
It's UB. there has to be at least a little bit of good stuff for no real reason.
Lands
Considering their abundance, we're not going to hit every single one, just the major ones.
[/SPOILER]
Now, not everyone will agree with this, but when I made Wrexial I sought out with a goal and a vision. I wanted to create a mill deck that could compete without infinite combos or a clutched control package and prove truly any strategy is viable. I've gone through great lengths to make sure that this laser-focused goal is fulfilled. Every time I've swung a creature in this deck I've made sure it was always for a purpose other than doing damage. It is CRITICAL that this stays true to me. I feel this is one of the things that separates mill from the rest; Everything done is toward a laser focused goal in the end that can only be achieved through proper planning and execution. It's the ultimate test of deck knowledge and piloting ability.
Piloting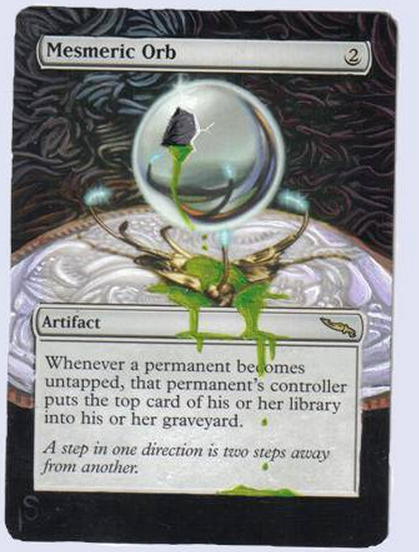 Mulliganing is quite important in this deck. In my group, we are pretty easy going on mulligans, offering a free full/partial then partialing down from there. Normally what you're looking for is lands. Getting blue mana is for whatever reason much harder to come by than black mana, so if you see an Island be sure to keep it. Keep note of the quality of lands. 5 lands is a great starting hand but if 3 of them don't tap for color what good is it? Also make sure that the lands that you have correspond what you have in your hand. If you opened your hand with a Fathom Feeder, making sure you can get the mana is important. Aside from Lands, just try not to get stuck with big high drop creatures to start.

The first few turns are the strangest. Generally, just focus on your land drops, tutor out either an answer or try and get Urborg, Tomb of Yawgmoth for manafixing and swampwalking. One thing you *don't* want to do is drop a Mesmeric Orb or Dreamborn Muse within the first few turns. Both of these chunk libraries very fast, and if nothing else has happend in the game, you've made yourself public enemy number one, even if you are milling youself just as much, maybe more than eveyone else. Hold them until someone drop something big so your milling can be considered the lesser of two evils. Don't hesitate to claim that you only played Dreamborn Muse to have a blocker for X creature. Play in the background like a Dimir agent until your mana base is good enough to support bigger plays.

Actually playing Wrexial isn't quite as straitforward as it may seem. Wrexial is odd in that he is by no means a hated on general, but he can be. Dropping Wrexial turn 6 when graves aren't very stocked won't draw much attention to him often, but putting him in late game when there is some bombsy spell like Time Stretch or Armageddon(with a good board state, extreme example) will make him the most relevant threat on board. As time has gone on, I've found that broadcasting when I'm going to play Wrexial by rifling through each of my opponents graves can be used a political tool, but for power plays its better to try and simply take a mental (or physical) note of the threating spells you can take; This gives Wrexial a bigger chance of sticking around for players who aren't on top of their game, and that little advantage has won games. That being said, The best time to play Wrexial is either A: Just after mill has started (the turn after Mesmeric Orb) or B, before doing a bigger mill spell like Tunnel Vision. I try to have him on board when the cards actually go in, preferably without summoning sickness as it maximizes his chances of sticking around. Wrexial will net you sick card advantage and often multiple tutors, so don't be afraid to try and reap those benefits.

Mid game is when you need to start making more noticable plays. I'd say Mid-game starts at turn 5 or 6 in EDH, at least on average. This is normally when people are going but haven't reached full speed yet. Drop your Orb, Muse, or Archivist, pull a few Eldrazi Titans out of a players deck with Sadistic Sacrament or Praetor's Grasp, but nothing to make any particular player your nemesis for the game. Start playing creatures if you have them avalible. The mana curve starts at 4 for creatures, but a lot of reanimation cards can get you creatures out before then. Just do what you can to keep the cards flipping over into thier graveyard without getting yourself too beaten up. Diplomatically use Whispering Madness and Windfall at times that benefit both yourself and others. Try to make some allies if you can.



Stablizing: My deck more often than not is a contender for one of the decks that need to be dealt with by this point. I lose life pretty often through suicide cards, pain lands, and other sources, so often I find myself having to "stablize". Life is often the big problem. If you've gotten your engines going early it's very easy to turn into a punching bag. There isn't really any in-house answers to life gain anymore, but Profane Momento, Psychic Drain, and Whip of Erebos are all great options if you choose to run them. However, as we all may know, life isn't the only problems that you can have at times. If mana becomes an issue, say to stax or MLD, consider adding Crucible of Worlds or Gilded Lotus to keep yourself in the game.
There so far hasn't been many ditches I couldn't climb out of... Except for Rest in Peace. That card can die in a hole.

Late game is when it's time to drop Wrexial, the Risen Deep. By now, each grave should have anywhere from 30-40 cards and upwards if everything has gone well, and there will likely be something you're going to want Wrexial to pick up for you. If you've made a few allies then they won't be too frightend by Wrexial, but those who you haven't normally get nervous. Although he has to slap someone in the face a tedious five times to kill them with commander damage, simply being unblockable (assuming urborg is out) makes people quite uneasy. Haste makes him 3x better, but normally he wont be removed right away. He's a 5/8 so block to your content, that rear end of his isn't sideways yet. Drop bombshell spells like Blatent Thievery to push yourself as the controller of the board, but don't get too crazy. SAVE Yawgmoth's Will until you either need it or can do an explosive play. It's singlehandedly the most powerful card in the deck and with enough mana can often pull out a win on it's own. I refuse to run Exsanguinate or Mind Grind because by the time you have the mana to use them you're normally already in a winning position. Granted no Eldrazi or shuffle-itself-into-library cards stand in your way, it can chunk all of your opponents librarys down to a very small amount.

Although Mill is the main win condition,, there will be times you are going to be a bit more agressive on damage also. Many other any-graveyard reanimators often provide big beaters to start chunking people's healthbars, and shouldn't be ignored. The deck is heavily laser-focused on making mill work, but if Oona, Queen of the Fae offers an army of faeries to you, don't decline it. Despite all of the grease to make this engine run properly, it's some high quality grease. If you need to play it out like a UB goodstuff deck, well, it happens.
As you may have guessed, the main strategy of the deck is to till every card of a libary into their respective graveyards uninterrupted by Kozilek or Ulamog, and pass turn for a kill-well, it's not a kill. The main Win con of this deck doesn't kill, it simply says "You went insane, and lost." But, this is a bit more difficult than it may appear. Even if you're focusing down one deck, that is still 92 cards out of the starting gate you have to mill out of their libraries, and with cards like Time Spiral and Elixir of Immortality being very popular in EDH, simply blasting libraries doesn't always cut it. Here's how to address various problems that may stop your master plan:
---
---
You'll figure out ways to deal with your meta in your own way, but here's a few various problems that came up in mine from time to time and how I dealt with them. PLEASE NOTE: Some cards will appear a few times. This is because they fill multiple roles, and therefore some redundancy may be present.
Kozilek & Ulamog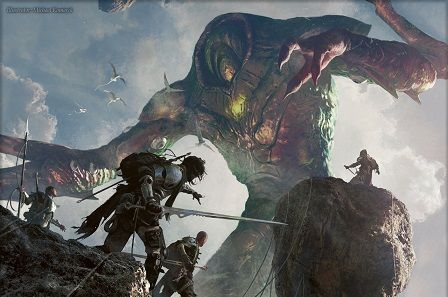 The picture shown is a pretty accurate representation of how it feels to be playing Mill vs Eldrazi. These two cards alone are responsible for mill being as unpopular as they are. Luckily, Emrakul received a ban a few years ago, chopping down one of the three headaches. Kozilek isn't seen much outside of control decks, but Ulamog is a colorless, indestructible behemoth that will win the game alone if unanswered, and as icing to the cake blows something up on the way, in any color. But I'm not concerned about removing them from the field, thats what Silumgar's Command, Wipe Away, and others are for. The issue at hand is that unlike most cards that wizards wants to prevent being anally abused in the graveyard, these two greedy bastards shuffle the whole graveyard back in with them.
So how do we deal with it? Knowing who has them, first off. I have a consistent playgroup, and know which decks have them, and which don't. Those that do, I lay off and committed mill like
Tunnel Vision
until the problem is solved. The best answer to them is simply have
Tormod's Crypt
or
Nihil Spellbomb
on board. They offer safety nets to anything froggy, but especially eldrazi.
Sadistic Sacrament
, kicked or not, is the preferred Eldrazi shredder. I first pick of the 3 or 15 should be Ulamog or Kozilek, or both if they had them, then focus on cards that will be a problem or will end the game. examples include
Mikaeus, the Unhallowed
/
Triskelion
,
Mind Over Matter
,
Phyrexian Altar
and many more. Just knowing my opponents deck and taking my time looking through their deck makes is worth the effort.
Praetor's Grasp
can also pluck an Eldrazi, and if conditions are right I can even use it, I just have to be aware once it dies your efforts on their graveyard are obliterated. I normally use it to grab
Demonic Tutor
,
Sol Ring
(still nice at 2BB), or a combo piece of theirs to prevent them from going off.
Other ways to deal with it include:
Tunnel Vision
will force it onto their topdeck, and deny them of a useful topdeck next turn if they don't have the mana for it. It is safer in their hand than it is in their deck, unless they have some way to discard it. Giving them a possible opportunity to use an eldrazi titan is less than favorable, especially in the event of a Ulamog blowing something up, but at least we have a few ways to exile him.
Oona, Queen of the Fae
Exiling does not hit graveyards, however being the trolls they are you cant turn them into faeries, still safe mill.
Undead Alchemist
I have no fear of milling if he's out. Any creatures milled turn into zombies and exile themselves. The trigger will go off, but its worth it since I now have a mill-army with no eldrazi to stop me.
Feeding a Grave Deck
Whether the player intend for being milled not,

ALL EDH DECKS SHOULD INCLUDE SOME FORM OF GRAVE ABILITIES.



Whether it be flashback, unearth, return-to-hand recursion, reanimate, whatever. It gives an incredible amount of card advantage and can save your ass late game. That being said, this deck can sometimes fueling a decks fire if they intended to stock their own yard anyways. Fighting a self-mill or graveyard deck is a double edge sword. Without mill at the table, grave decks have to work harder to make their strategy work, but with it half the work is done for them. I can control how much mill I target at them to fight it, but on the other hand if I focus them down I can drown them in their own strategy of them hitting themselves, just like playing burn against a deck with lots of shocklands. I just have to decide from the start.
[SPOILER]
It works equally as well on heavy control decks. Knowing how many creatures, and how many (relevant) spells each opponent is running will help chose who you should mill the most.
Oona, Queen of the Fae
Once again, exile mill is almost always safe.
Beacon of Unrest
,
Animate Dead
.
Grouped together for all doing similar but different things. Take their things from them plain and simple. They all do it a bit different, and some can be used to recur your own things, but they're all powerful
Bojuka Bog
Why would I use
Tormod's Crypt
if I can use a land?
If your group has copious amounts of grave shenanagins but you're still crazy enough to try non combo mill make sure you have a
Bojuka Bog
. That aside, my go-to's would be
Nihil Spellbomb
, and
Tormod's Crypt
. Spellbomb is cheap and replaces itself, so even as a 1B bog+draw a card, its still good being used immediately.
Withered Wretch
is slightly more efficient ability wise, but it's cast is more color demanding. The graverobber is still great surgical grave hate with the potential to become a repeatable, abusable
Rise From the Grave
on a stick.
Aggro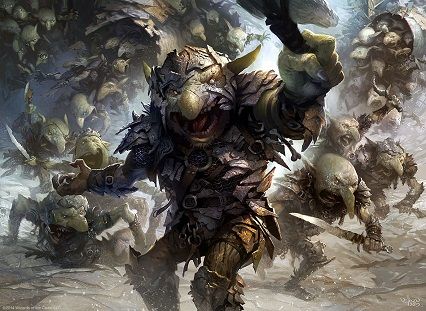 I find Aggro to be a rather weak strategy for EDH, what with 40 life and what not, but then again, mill without combo is as well so I'm not not one to judge. Although it's more difficult to just shove cards into a deck and intend to just turn cards sideways, it is present among Goblin, Elf, or Voltron decks. This is a weak point in the deck, but I'd say there are still a good number of responses.

Generally speaking, a board clear will do the trick almost every time. This used to be an issue, not having many hard board clears, but the additions of Damnation and Whelming Wave both offer early options to bomb the board. Of course, they're sorcery speed so be wary of haste. If your meta has rush tactics with small armies, consider cards like Infest(Horobi's Whisper is an awesome 4CMC instant version).

Artifact Aggro is a bit of a different story. Though it is certainly dramatically different than say a red aggro deck, it's still aggressive. Pumping out combos quickly or eldrazis, titan or not, is scary stuff. Blue has a handful of ways to deal with artifacts, though most involve bouncing, as to where black basically has Gate to Phyrexia and that's it. Hurkyl's Recall is fun to use against a artifact deck, and very cheap. Reduce to Dreams is slightly worse CMC wise and speed wise, but it hits enchantments also. I'd put Devastation Tide and Cyclonic Rift if you're trying to spread the carnage board wide. Otherwise, you're limited to Oblivion Stone and other artifact sweepers. Artifacts are scary ;_;

Other than that, I wouldn't worry too much. This deck doesn't have many big plays early on, so focus on just trying to tempo up lands mostly so you can step into the game and show presence when it matters. Tutoring Hall of the Bandit Lord or Lightning Greaves may be a favorable idea to make sure you can haste out Wrexial in a pinch for an answer from someone else's graveyard.

If for whatever reason aggro continues to be a problem, you'll inevitably have to lower the mana curve of the deck and include creatures like Baleful Strix as deterrents. This deck matters a lot more about how you play the deck rather than the draws themselves. Don't drop a Mesmeric Orb turn 1 or 2 if you know that someone is playing a faster deck, because during the first 5 turns, there's no better target for them, so the slight annoyance the orb is causing is good enough to make you a target.
Combo
This deck is actually quite strong against combo with Sadistic Sacrament and Praetor's Grasp and unless they have ways to recurse their combo pieces, it will often get thrown into the grave before they ever see it. It's straitforward how to fight against it, so I'm not going to give a whole section to it.
---
Giving Into the Madness
Wrexial, the Risen Deep was inspired and based upon Cthulhu from H.P. Lovecraft's Call of Cthulhu (and various other novels). The novels are revolvent around many mental disorders, insanities, and unexplainable horrors. His work is great and I would reccomend it to anyone who likes reading.

Even still, Non-Combo mill in EDH is frankly insane, which is perfect for a deck with what is for all intents and purposes our favorite elder god, Cthulhu himself. I find that over the course of the game, graveyards run high, which is good, but that isn't limited to my opponents. Between Dreamborn Muse, Mesmeric Orb, and even other cards like Anvil of Bogarden continually fill my own graveyard. Normally, this isn't a problem because decks like The Mimeoplasm that know that this happens normally run either Kozilek or Ulamog, or even so much as a bootleg Elixir of Immortality to counteract that. My deck runs none of these cards to recycle it's library. Some may ask why, but that is honestly half the fun to me. Because of the nature of how the deck works, I will eventually deck myself, but it will hopefully deck everyone else first. Essentially the deck turns the game into is a giant race (for last place!) to see who goes insane first, them or me. The risk of being your own demise is both exciting and an extra challenge, which to me adds an entirely new level of flavor. If things get bad enough, normally I can find some way out of it through a Praetor's Grasp recycled off of Yawgmoth's Will or Dralnu, or even from Wrexial himself, but that is a desperate last resort.

Have fun, be disruptive but not a dick, do some big splashy plays. This is what EDH, and by extension Magic is all about. It'd be very easy to throw in a couple cards and make this a consistent winner just because it's running tutors, but that's not why my build is all about. Try to just have fun and keep it casual. Keep your competitive deck for "once in a while" when you're on a losing streak. Kitchen-table games are meant to be fun, not about winning.