bobthefunny
Staff
Moderator
Resident Plainswalker
Location:

Northern VA, near DC

Join Date:

4/13/2011

Posts:

9,505

Member Details
.
Mono-Black Reanimator Control: A Kokusho unbanning test
Origins of the Deck
Previously, for a period of about 2 years,
Kokusho, the Evening Star
had been banned in Commander. The original ban reason was that Kokusho warped gameplay around herself and was over-centralizing the game. She was banned at the same time as
Recurring Nightmare
, an incredibly strong combo piece that was used to loop Kokusho with very little available disruption. As time went on, and stronger creatures and graveyard hate were printed, a larger and larger vocal group took part on the internet. This eventually lead to a re-evaluation of Kokusho on the banlist. This deck was first conceived and built during a unique opportunity to test play Kokusho in a current environment prior to her unbanning. Many of my original thoughts and considerations for the deck stem from the testing mindset, many cards were added to support the core theme I'd decided on (influenced by what value Kokusho would bring to the deck), and many cards were forced to rotate rather quickly to try different ideas and angles in a short time frame. Many of the earlier write-ups are also very focused on how Kokusho did and did not impact the game. Here is my original opening statement of this deck:
I thought that was banned?
Armada Games, the Brick and Mortar store which is Sheldon Menery's local playgroup, play league games running for 2 months. For the duration of the league, some twist to the rules is given. For example, a previous one was to disallow
Primeval Titan
. For
Armada League 15
, Sheldon Menery and Armada Games have implemented a very interesting twist: unbanning
Kokusho, the Evening Star
.
Now, I have never played when Kokusho was legally viable. I joined EDH after that point (I think). For the most part, I actually have no interest with what's on the banlist and why. It's pretty self-evident to me, for the most part. Kokusho, however, has always been a sore-spot on the internet. Much as a train wreck, World of Warcraft guild drama, or Judge Judy, it held a strange fascination for me. I knew it was bad, but I couldn't stop staring at it. Not one to turn down potential drama, I decided: "why should those Armada people get all the fun?"
So I talked with my playgroup, at length, and despite a heated and explosive start, we agreed to try the same thing at our local area! When I pitched the idea initially, I was hoping more people would join in (one player has, though we've never seen Kokusho from him, yet), but it's been an interesting and unusual treat to us thus far.
The beginnings: What deck would want this?
When I knew that I wanted to play test Kokusho, I knew that I also should not build a super-combo-abuse deck, for three reasons:
Once you set up any combo, it doesn't matter what the combo is. You aren't testing the cards anymore, but rather the combo. I will grant that this is only partially true: how easily a combo can be set up, and how hard it can be to be disrupted is also a factor. But in this case, we have an obvious mirror: Mikeaus, the unhallowed and Triskellion. Two cards, one a 6-cost general, in mono-black with all of mono-blacks tutors, that's dependent on the graveyard.
Once you set up an infinite recursion loop with Kokusho, it could be anything else at all, and it wouldn't make a difference. It could be Highway Robber, and infinite recursions will net you the same exact result, you'd just have to do more of it. If you really want to gripe on the "target," Malakir Bloodwitch can step in its place. There are a ton of other options. If the loop is non-infinite, then it makes a large difference in investment.
When considering Griselbrand, the RC (or at least, Sheldon) have stated that they don't really care about how the hyper-aggressive combo turn 4 decks work. That's not something you bring to a casual table. If you want to be a competitive turn-4 vintage 100-card singleton player, good for you! But that's not Commander. The importance is to look at the impact across the board of 'any' game (I may have paraphrased this a little bit. This is my general understanding of their philosophy; I could be wrong).
So, what kind of deck does want Kokusho? Obviously something that reanimates, but that's like saying air+lungs=combo. So I got to looking at what Kokusho does:
It's big, it flies: This means she can block like a champ, threaten people like a boss, turn sideways if needed, and ward off small attackers.
Threat on death: Her ability goes off when she dies, this gives us a few points:

It means she's something opponents may not want to remove if she's not directly threatening them. She's potential energy, rather than being kinetic energy.
It also means she's an even greater deterrent as a blocker.
Makes other players more wary of clearing the board. Even if you extend a bit more, it's just a tiny bit of extra weight on the "Don't blow everything up" side of the scale.

Finally, she drains life. Life is typically viewed as a useless resource. You're not dead until you have 0 of it, so no life matters except for the last one. This viewpoint is even more true in EDH, where life-gain is given a natural counter in the form of Commander Damage. For this reason, most people focus more on the damage dealt half of the drain, but I think that's wrong. There are a few reasons why the lifegain is equally important, if not more so. After all, if the ability were only a 5 pt earthquak to players, it would be nothing special.
First, a lot of people do die over the course of the game to damage. Life still is one of the factors that determines if and when you lose. Getting more of it makes your opponents work that much harder to actually win the game.
Incidental damage, from utility creatures, random equipment, other hate cards, still occurs. Having an extra buffer against such effects may not be such a terrible idea.
Making one avenue of you losing harder to handle (killing you with regular damage), forces your opponents to instead use a different option to win the game. Forcing your opponents more towards a different path is disadvantageous to them, after all, they may not be geared as well to that path, but it's even more directly advantageous to you: by closing off one path (or making it harder) to victory, you can plan and include more narrow answers to the other paths. It buys you deck construction space.
The next big point is that in order to play Kokusho, we need to incorporate black. Black is the single best color in converting life into a resource, from mana (Vesper Ghoul) to card draw (Necropotence), black can absorb the strengths of other colors at a cost of a resource most of them can't even tap into. Kokusho refills this resource, allowing for some serious extra power.

So where does that leave us? Kokusho, the Evening Star blocks like a champ, deters attacks, lends some counter-weight to removal and wraths, and gains us life which means more resources, closes off an avenue to victory, and gives us more time.

Oh my goodness, Kokusho, the Evening star buys us TIME. We've uncovered a control deck's dream.

My general conclusions on my analysis of Kokusho eventually led me to building a Mono-Black Control deck, with a very heavy reanimation focus, and a large theme of abusing the color's capabilities to gain life through theft, and converting life into another resource, usually cards, which also takes advantage of Commander's higher starting life total.
Once I had my deck style solidly determined, I had to decide on a Commander. Two factors led to my choices of potential Commanders: One, was that I wanted to be able to run Kokusho as a Commander. While most of the banlist thread was willing to compromise as 1 of the 99, I figured if I was going to test this thing, I was going to
test
it. After all, if
Mikeaus, the Unhallowed
can be a Commander, maybe Kokusho could too. This led to needing a Mono-black shell. Since Kokusho needs two pieces to work, herself and a reanimation method (sac outlet is an enabler, you can get her to simply die normally, so is not technically "needed," only helpful in terms of combo ability), it made sense that her companion Commander should serve as the mirror role.
I settled on the choice of
Chainer, Dementia Master
, but kept considerations open for other potential Commanders.
Which Commander to Choose?
To date, Commanders I have personally run in this shell include
Chainer, Dementia Master
,
Kokusho, the Evening Star
(while illegal),
Mikeaus, the Unhallowed
,
Griselbrand
(while legal),
Sheoldred, Whispering One
and
Balthor the defiled
. The two that I have used the most are Chainer and Balthor, the others have had varying lesser appearances.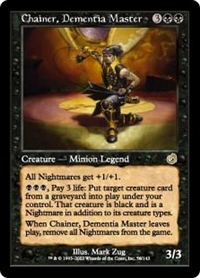 Chainer, Dementia Master
My initial choice to run this deck,
Chainer, Dementia Master
gives us instant speed targeted revival. Chainer also lets us use enemy creatures, and has a built in exile mechanic, which is not to be underestimated. He also has a built in pump, which can help in creature trades. I have found that Chainer's precision resurrection makes him play very different from other Commanders. It allows you to play more reactively, and causes you to consider each option in depth, and the lasting advantages of many situations.
You might like Chainer if...
You like playing control. Chainer lends himself better to a drawn out game. You're reviving one target at a time, so it's all about utility, maintaining a board position, and keeping that life coming in.
You enjoy drawing out a game, winning through attrition and bleeding opponent's resources.
You might not like Chainer if...
You dislike Stax strategies. While not necessary to running Chainer, it is some of the best removal black has access to, and the slow chain of dying corpses is one of the best way to fuel some of the lifegain abilities to offset his pain.
You dislike Suicide Black. Chainer hurts you. 3 life doesn't seem like much, but when you repeatedly start using the ability, it adds up very quickly.
You dislike reliance on lifegain. Lifegain holds Chainer together.
Considerations:
Lifegain is highly important, not just to stall, but to provide additional resources. Protect your lifegain engines.
Be ready to use Chainer as graveyard hate. Chainer himself adds strong anti-creature graveyard abuse, as you can simply steal their stuff in response.
Sacrifice Outlets are needed in order to control and offset Chainer's exiling effect.
You can also look at
jmdt
's
retired Chainer primer
for more ideas.
jmdt
has a different style to Chainer, though we've stolen quite a few ideas from each other.
Balthor the Defiled
Balthor the Defiled
is another Commander I have been very pleased with. Balthor provides more immediate advantage, though he instead has a heavier tax on use, making his use far more limited as the game goes on. He can also provide excellent value out of mass creature resurrection and death with the vampire drainers like
Blood Artist
. He loans himself well to a combo synergy, making for essentially half of a
Living Death
loop. Pair him with
Phyrexian Altar
, and you can kill a table.
Mikaeus, the Unhallowed
Mikaeus, the Unhallowed
comes with a bit of baggage. He's a two card combo with
Tsikellion
, so people treat him as a single tutor away from winning the game. Aside from that, he's plenty potent with sac-loops, ETB/LTB abilities, and +1 counter abuse, as he gives you a free second use on everything.
Geth, Lord of the Vault
Geth, Lord of the Vault
is another extremely strong reanimator General. His limitation of only playing with your opponent's stuff is mitigated by the capability of returning artifacts. Geth lists typically go straight up heavy mana play, and then play out of opponents graveyards. People may hard target Geth if they think you might be packing an infinite mana combo as you'll be able to mill out the table on a single turn, similar to Oona.
Xiahou Dun, the One-Eyed
Xiahou Dun, the One-Eyed
allows for recursion of any black card, allowing for powerful interactions: for example, XHD can return
Living Death
, and by letting your Commander go to the graveyard, Living Death will then return XHD to play, allowing for a loop of carnage and death.
Also see:
XeroxedFool's retired Xiahou Dun primer, which is still an excellent in-depth look into this unique Commander.
Kokusho, the Evening Star
The poster-girl of the deck, and the reason I finally built a mono-black deck to begin with.
Kokusho, the Evening Star
brings the lifegain and stall to the forefront. Furthermore, you are rewarded for buying time by simultaneously killing your opponents. All you have to do is stall enough, and they'll all die eventually. Now that Kokusho is fully unbanned, she could play a much larger role in Commander, and warrants a second look.
During the Unbanning Testing event, I theorized some changes to make the deck more focused on Kokusho in the Commander slot, and she plays far differently than any other commander. Kokusho is much safer from graveyard hate, as she herself can always return to the Command Zone, and every time she dies she allows for a good target for your reanimation spells. You can also focus more purely on control with Kokusho at the helm, since Kokusho will eventually win the game for you just by dying.
Building the deck
The deck has come a long way since its inception. While I had previously attempted to rigorously avoid infinite combos, I have recently decided to allow some of them back in, though it is still not a focus of the deck. Chainer has progressed through many phases of changes, alternating between being powered up, and powered down due in part to responding to changes in my playgroup. The majority of my stable playgroup prefers less powerful, more relaxed games, and so generally dislike my Chainer deck on general principles. Sometimes though, a few players join who tend to prefer more powered games. Chainer changed accordingly, being one of my more powered (yet not competitive) decks. Despite not focusing on infinite combos, I now classify it as Combo-Control deck. While I still Identify with the Control aspect most strongly, it does move into dies/sac loops for a combo win.
Why are you running that?
Currently Running: the detailed list
The deck still breaks down into specific sections:
Card advantage to keep a full grip and maintain threats in the field and in the yard.
Life Recovery to fuel the various costs the deck incurs.
Reanimation: the core interaction that makes the deck tick.
Answers to specific problems, usually in creature form to be easily recurred.
Finally, the mana needed to progress the deck throughout.
Card Draw:
The card draw this deck utilizes focus on two aspects: The first lies in converting life as a resource, such as Bloodgift Demon variants, and the second lies in converting dying creatures into future resources, such as Skullclamp and Grim Haruspex. Recursion can also fit into this category, and honorable mentions go to Oversold Cemetery and Sword of Light and Shadow. The Recursion from the commander, and other cards in the deck helps strengthen the Card advantage package. For one, recursion itself is a form of card advantage, resulting in increased board presence and less need to replace removed pieces. Secondly, it can help keep the advantage engines online. Black's high volume of tutors can help get them going in the first place.

Life Recovery:
Life recuperation serves different roles depending on the Commanders I have played with; despite this, I'm happy with similar selections for all of them so far. With Chainer, the life recovery is there to keep you afloat, and to use as a resource. It counteracts the suicidal nature that Chainer brings to the table. With Kokusho, it closes off an avenue of attack. With Balthor, it buys the time the deck needs to gain the advantage on the field, and in the yard, to win the war of attrition.

While the cards may stay similar, different ones stood out a bit more per Commander. Chainer enjoyed Dross Harvester a lot, as specific individual creatures would die and return often, over a period of time. With Balthor, the Blood Artist and Falkenrath Noble are able to do a lot more damage, as masses of creatures return and die together. Kokusho benefits the most from Kokusho herself.

Reanimation:
Whether you're running Balthor or Chainer, you have reanimation immediately available to you, but other sources are helpful: It is never wise to rely on specific resource. Whether you lose your Commander somehow, or they get too expensive to cast, backup plans are always useful. Likewise, alternative means may cost less (Hell's Caretaker), or it may be needed to avoid the life-payment of Chainer, or you only need to resurect one target with Balthor. Kokusho obviously also needs her own fair share of reanimation, as she'll be counting on you drawing into them. The star players here are Hell's Caretaker which can upgrade a creature of yours for free on the upkeep, Nezumi Graverobber who can also act as graveyard hate, Corpse Dance which is instant speed, and remains a surprise until needed, and Dread return which can be used twice. Beacon of Unrest also brings extra utility to the field in artifact recursion. Living Death likewise can also serve as a wrath option while also a resurrection spell. Certain Colorless options bring the possibility of recurring artifacts as well, which helps mitigate some of Black's weaknesses. Trading Post has been especially powerful, and Geth, Lord of the Vault allows you to pick up your opponent's utility artifacts. A Salvaging Station mini-package could also be very powerful alongside trading post, as the deck can certainly power out the dies triggers. There are already a few useful 1 cost artifacts in the deck.

Answers:
As I've run into problems, this is where the deck has changed the most.


Artifacts and Enchantments:

Currently I am watching the need to answer artifacts and enchantments, as that is what black has the largest difficulty removing. Answers to these problems lie mostly in colorless solutions, like Oblivion Stone and Steel Hellkite. Karn liberated, Spine of Ish Sah and All is dust are all also good answers, though you'll note they tend to be expensive. Artifact specific answers also include Gate to Phyrexia and Phyrexian Tribute. As you can see, these problems have very narrow answers.

Protection from black is another strong problem to resolve, especially if you are playing Chainer, Dementia Master as your commander. Many people forget that when Chainer reanimates, he makes the creature black as well, which means that you can't reanimate an artifact to toss in front. Making colorless token creatures can help a bit, but in terms of removal, the colorless solutions above are strong.



Stax:

Named after the popular card Smokestack, stax derives itself from a style of deck that seeks to deny opponents' resources and increase their costs with cards like thorn of amethyst. Stax cards usually refer to the cards that continuously cause an opponent to sacrifice a resource, like Smokestack or Braids, Cabal Minion. This strategy is very powerful in this kind of deck, as Chainer and Balthor both return resources to you to negate the symmetrical effect, and Kokusho can likewise mitigate a cost while providing a faster clock to the lock. The deck initially ran Braids, cabal minion, Smokestack, Magus of the abyss, and Sheoldred, whispering one. They were removed to test other strategies, but it remains one of the best methods to answer problems in the deck. Removal of these forced me to find other answers to common creature problems. Other stax effects can also include Anowon, the ruin sage to join the vampire package the deck could run. Pact effects (named after Grave pact), like Butcher of Malakir can also fit in this style of answers. Since the deck currently is built to stall and survive, adding the last bit in the tax effects can make this deck easily turn into a controlling Stax deck as well. Today, the deck focuses more on reactive reanimation of Fleshbag Marauder variants.



Targeted Removal:

Targeted removal can help remove pinpoint answers. There are creature-based answers, such as Skinrender, which is aggressively costed, and differs itself from other black answers in that it does not have a non-black clause; Shriekmaw, which can evoke for a quick terror, though is more limited in its scope of targets; and Duplicant, which answers the most problems of the three, hitting even protection from black creatures, though not if resurrected by Chainer. Other options I considered were Nekrataal, which lost to shriekmaw's evoke cost; Nightshade Assassin, which lost due to requiring cards in hand, telegraphing information to the enemy, and a lack of a reliable way to madness it.

Spell based options can also be potent, and black has a number of excellent options: Tragic Slip is very easy to 'turn on,' and Go for the Throat is applicable among a large set of threats. Murder is simply the case to judge all others by, as it's the general catch-all. On top of those options, I particularly like Sudden Death, Sudden Spoiling, and Nameless Inversion, in differing situations.



Mass Removal:

When I removed the Stax effects, two problems increased immediately: The first was board positions became larger, as nothing was weeding out the chaff, and the second came in the form of indestructible creatures, most notably in the form of Avacyn, Angel of Hope. That game I really was unhappy at having removed my Stax effects. I looked into mass removals that would deal with both problems. Mutilate and Black Sun's Zenith both showed as potential answers, and All is dust got another point in that direction. Eventually, I decided on two creature based options that would do the job well enough, and could be recurred. The first was Massacre Wurm, which leaves me untouched, can be brought back multiple times if needed, and also serves as an alternate win condition. The second was Kagemaro, First to Suffer. Though he does need cards in hand, he's aggressively costed, is easy to sac and recur multiple times, and does not require that I share my information with my opponents.

Mana:

The last piece of the puzzle, and a large one, is the mana to do everything that is needed. Despite having an aggressive curve, both Commanders, and the various sac effects, are very mana-intensive. It is rare to not be able to use all your mana if need be. This is compounded by blacks typical weakness in its inability to ramp. To sate the massive mana demands of the deck, we have to turn to colorless sources, and also to some trickery. The most obvious at first are the mana rocks. I run 9 artifacts that cost 3 or less that tap for mana (or, in the case of the Wayfarer's bauble, get a land), that can take the early turn out of our equation, and push us to a reasonable amount to act. Cheap is important, as it is the early turns we need to skip past. While Gilded Lotus is impressive, it doesn't help us if we have a low land count, and arrives on turns we'd rather be dropping Chainer, Bloodgift Demon, or many other things. The next obvious inclusion are the 4 mana doublers, and Cabal Coffers. Since the coffers need a large number of swamps anyways, Extraplanar Lens, Gauntlet of Power, and Caged Sun help increase the value of our mana sources. Nirkana Revenant adds a recurrable option to the lineup. Crypt Ghast is the latest all star to the party, being a recurable creature, cheaply costed, and having built in lifegain. He's practically built for this deck.

The next pieces are in the lands: Never underestimate the power of simply making land drops on time. While we're low on lands to consistently draw into them (it should average one in three cards) our card-draw helps some, and thawing glaciers helps, as does Crucible of Worlds. With a sac land, like Marsh Flats, the crucible turns life into consistent land drops and deck thinning. Paired with a Rings of Brighthearth, and you turn it into ramp, which pays itself back in two turns. Faster with a Coffers out. Thawing Glaciers is a land that allows you to make a land drop every other turn. With a 35% chance to draw a land, this means you should be able to make land drops 2 of every third turn, though every land in hand extends this even further out. With Vesuva, you can make a land drop every turn, until you're ready to return the Vesuva to hand to copy something else. Again, Rings of Brighthearth or Deserted Temple turn the glaciers into ramp as well. The final land is Terrain Generator. This land helps increase the land drops you can make, considering that 2/3 of our lands are basic swamps, this can help immensely in the early game, or once you have a powerful card advantage machine online.

Per card Analysis
Creatures - 25
Since we are running a reanimator strategy, many of our permanents have been converted to creature-based equivalents. This helps make our utility packages reusable with the reanimation we run.
Artifacts - 16
Enchantments - 7
Spells -5
General - 2
Yawgmoth's Will - Nick-named "Yawg-Win," the will is the ultimate rescursion tool for black, allowing you to bring anything back at all. Great second or third tutor target, as you can then re-use all of your tutors. You can also re-play a land, so if you're going to be using the will, be sure to play a land from the grave, not your hand. Note that the exile applies until the end of the turn, so be wary of people aiming their removal the turn this is played, as it can moderately back fire.
Living Death - Simultaneously a board wipe, and a reanimation spell. Use Grave Hate to help make it more powerful. Combos with Xiahou Dun, the One-Eyed, as he can return it, then it will return him, etc.
Tutors - 3
The tutoring package allowed me to slot less answers, and more versatile answers. The tutors were chosen as they are the easiest to cast.
Mana Rocks - 8
Since black has no existing ramp, artifact mana is important in order to have a fair amount of acceleration. Not much is actually needed, even one piece puts you into comfortable territory with the mana curve. They all cost 3 or less so that they are easily played early game, and work as real acceleration. Most also tap for black, rather than colorless.
Planeswalkers - 2
Liliana of the Dark Realms - Every Liliana has powerful interactions, but as the deck is highly starved for mana, Dark Realms' land tutoring is enough for inclusion. The final emblem is icing on the cake, and the deck has enough control to pull it off. The middle ability is useful in emergencies.
Karn Liberated - Karn is another of our sources of removal for targets that Black would otherwise have problems with.
Land - 38
Bojuka Bog - Free slot of grave hate.
Buried Ruin - Returns artifacts. Quite good with Crucible of Worlds as they each protect the other.

Cabal Coffers - Incredibly powerful. It will die, often.
Deserted Temple - Untaps Cabal Coffers, doubling its power, High Market/Phyrexian Tower, giving you an extra sac outlet, Terrain Generator, for increased ramping/hand thinning, or Thawing Glaciers, turning the Glaciers into ramp.
High Market - Sac outlet.
Petrified Field - Land recursion. My coffers die a lot.
Phyrexian Tower - Sac outlet, and also serves as extra mana with Bloodghast.
Temple of the False God - Taps for more than 1. Always good.
Terrain Generator - This helps ramp out more swamps for coffers use, and is also part of that limited acceleration that black has access to.
Thawing Glaciers - A form of consistently making land drops, when paired with Deserted Temple or Rings of Brighthearth serves as acceleration.
Urborg, Tomb of Yawgmoth - For Cabal Coffers.
Vesuva - Clone, for lands. Usually copies Coffers, but is also great with Glaciers to thin the deck and to make land drops every single turn.
Winding Canyons - Follows the lines of Vedalken orrery. Keeping information in surprise is always good, and also gives you a turn of protection from sorcery-speed removal. This also allows Chainer and Balthor as Commanders to truly be instant speed GY reanimation, protecting you even more against exile effects.
---

Swamp - Need these for coffers and end up getting doubled to high production.

3 sac lands

- These are the 'good' sac lands. Which 3 you run really doesn't matter. It comes down to life being a resource, and having that land come in untapped. These are used to get consistent land drops with Crucible, and to actually ramp with the Rings.
Wishlist
Imperial Seal - Price tag aside, the sorcery speed limitation on top of waiting for a turn to get your tutor target (assuming no interference from the opponents), is quite problematic. It's offset some by card draw, but the slowness of it remains a large problem for me. It could replace the Diabolic Tutor, due to mana cost alone, but the speed issue still bothers me.
How does it play?
The short answer: very well, thank you.
The deck is very much in a control-oriented seat. The early game is dedicated to setting up your mana base, with lands and mana-rocks. The next step is to begin developing the board position, with draw engines, and whatever creatures you have around.
It's difficult to give terribly more than that, as the deck is largely reactive for much of the game. A large resource also involves the use of the General considering what's in opponents' grave yards, and what's in yours, and this is something that is dependent largely on the game. The deck wins primarily through attrition. While the rest of the table loses creatures, life and resources, as the game progresses your reanimation and life recovery keeps you even, or increases as other positions diminish. Eventually you can simply walk over everything that's left.
Since I had built this deck for testing, I have written up some brief play descriptions. This will show how I pilot the deck and react to various problems. Initially I largely relied on my memory, as I wanted to emphasize what key events stood out the most in games, but in several I took better notes, such as post #43, where I kept detailed notes throughout the game. Not quite to the level of a play-by-play, but pretty darn close.
Throughout this thread I have copied over my replies to the various Kokusho unbanning updates. If some are quoted, they are copied from a Kokusho discussion thread. Clicking the arrow next to my name in the quote will link you to the Kokusho armada report threads, which had more discussion and replies to my tests. You can find my play reports in the following posts:
post #7:
The first game played with the Deck. Chainer leads the team. I made a few mistakes, with both Chainer and Dark Mike, forgetting small facets of their abilities, but nothing game changing.
Post #26:
Two short recounts. A mistaken win, and a loss due to
stigma lasher
.
Post #27:
Where I continue with Chainer for 3 more games.
Post #35:
Post #29 had some initial confusion, I'd played rather late and had merged the two later games together. It took some time through emails with my playgroup, but managed to get those correctly sorted out with an extra tidbit from my brother, which I then posted into post #35. I had 3 Chainer games, including a 1v1, and 2 games with Kokusho at the helm.
Post #41:
I skipped a week of testing (I had seriously overplayed the deck), so my initial planning for Balthor was delayed. I played 2 games on two different days, one of which was uninspiring, but the second surprised me by the versatility Balthor offers. Not slapping yourself every time you use the ability also helps.
Post #43:
A second game heading up with Balthor shows some unique strengths of several under-appreciated cards.
Post #48:
A few changes to a more beefed up version, but it's
Blood Artist
who takes the spotlight in these two games with an amazing performance.
What happened when the 8-week (and change, I started early :rolleyes:) tests ended?
Only the most awesome thing EVER!
Read about the
The Super Extravagent Rainbow KOKUSHOPALOOZA (the first).
The most important thing in a game is to have fun. We relaxed the rules to run the unbanning test to begin with, so why not relax the rules for some fun and a good laugh at the end?