asteriskreaper
Location:

Missouri

Join Date:

4/17/2012

Posts:

1,768

Member Details
The Ultimate Killer Troll, this deck has had dozens of versions during its design phase from Enchantment-based control to Creature-based beatdown black metal Grixis control. However, I am thoroughly enjoying this newest iteration of all my hopes for the deck. I am a troll... let me rephrase that I am a troll in the truest sense of the original internet term, "one who use logic, reason, and evidence in my opinions and debates" not to be confused with today's version of internet trolling that can get you banned from reputable sites like 'salvation (not to say 4chan isn't reputable... its just grey area). Thraximundar is a killer troll, making sure only thrax is on the field... or else.So, Why so serious?
---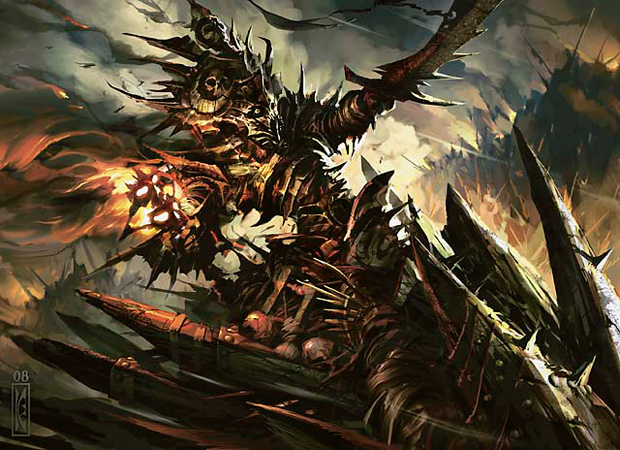 the General
the Deck
Strategy
My killer troll is really based on two of my favorite trolls. I named the deck after one of them, the other of from a manga/anime that i love. but since I cannot actually name it here( copyright issues and stuff) I will give his name translated into English, " Isiah, who watches over all". How does this affect the strategy? Simple, it gives you two forms of winning, Beatdown-aggro and Beatdown-control.
Beatdown-Aggro:
Pretty much this is the voltron win aspect. Thrax's abilities are perfect, first:
"Whenever, Thraximundar attacks, defending player sacrifices a creature."
For the most part unless the other player(s) are either noobs or token players, I have noticed that most top decks in my area has one or two creatures out on the field, and almost always one of them is their general (exeption: kaalia). So, why not get rid of the general and/or problem creatures? Well making the opponents choose for you sounds more like fun.Yes, you can and probably will be getting tokens sacrificed more often than not, but even dead tokens are good.
"Whenever a player sacrifices a creature, you may put a +1/+1 counter on Thraximundar"
In other words attacking as much as possible is a good thing. Making the defending player sacrifice a creature makes thrax bigger with each attack. This effect is also important because it segways into the next strategy, but before I get to that I have a beatdown combo for thrax,
Aggravated Assault
+
Sword of Feast and Famine
. as long as you have :3mana::symr::symr: in land you can attack until Thrax dies unless you
Darksteel Plate
Him then you can attack nigh Indefinitely.
Beatdown-Control:
Beatdown-control, how does the even work you ask? Simple,Thraximundar's Second ability:
"Whenever a player sacrifices a creature, you may put a +1/+1 counter on Thraximundar."
The control aspect means everyone sacrifice their creatures whenever possible.
Aether Barrier
and
Vile Consumption
are great examples of this. They are perfect against token decks. By either tapping them out or draining their life totals . Outside that they put pressure on everyone making cards like
War's Toll
even more funny, they have to tap out anyway. Shutting down removal and counter spells is a big plus with this deck.
Other Control cards like
Smoke
and
No Mercy
make it harder for the other players to attack you with out suffering consequences.
You always need an Ace in the hole, Mine is
Su-Chi
, his infinte combo with
Blasting Station
and
Nim Deathmantle
make him another great troll. Tutor the pieces you need a once with
Diabolic Revelations
.
Pros of Thraximundar:
+ Good against top level decks
+ Good level of control
+ Effective removal of other creatures
Cons of Thraximundar:
-must get out and keep out
war's toll
again decks heavy in instants both removal and counter spell
- token spawning out of control can also be a problem
-Ubber fast decks are a no-no...some of the time
Why Thraximundar?:
Simply put the moment I say Thraximundar spoiled i thought to myself, "WOW, what a troll" and ever since I have been working on him as a general. His abilities work well with each other and so many other cards to create amazing synergy that you can easily win with, or just troll with no intention of actually winning which ever you would prefer.
Card Reasoning
Sept. 23, 2012
Cut:
Vicious Shadow
not as Utility as I would like in this deck.
Add:
Prince of Thralls
makes opponents pick whether or not to pay life or give you nice guys
Dec.21,2012
Cut:
Null Profusion
: i realized that it can become a liability if played even slightly off.
Omniscience
: as part of Null Profusion, it has become a liability.
Helm of kadra
: not worth it
Sword of kaldra
:not worth it
Shield of kaldra
: still not worth it
Worldslayer
: would have been amazing, but not worth it
Add:
Aggravated Assault
: one turn potential kill combo piece
Sword of feast and famine
:Part of a combo i've been wanting to try out.
Twisted Justice
: another sac card
Perplex
: counterspell
Malfegor
:makes sacrifices, good for Thrax
Kokusho, the Evening Star
:just love the card
May 18,2013
Cut:
Cabal coffers
: land combo piece I decided to cut
Deserted Temple
: land combo piece I decided to cut
Great Furnace
: Arty-land getting cut for cutting Opal
Seat of the Synod
:Arty-land getting cut for cutting Opal
Urborg, tomb of Yawgmoth
: land combo piece I decided to cut
Vault of Whispers
:Arty-land getting cut for cutting Opal
Grave Betrayal
:not as trolly as I had hoped
Grave Pact
:not as trolly as I had hoped
Rain of Gore
:not as trolly as I had hoped
Counterspell
:no more counterspells for now
Perplex
:no more counterspells for now
Elbrus, the Binding Blade
: not as sharp a knife as i was hopping for
Mox Opal
:need to get one first
Quietus Spike
:to big a target
Blood Tyrant
: fun, just not thrax fun
Butcher of Malakir
:killspell susceptible
Kira Great-Glass Spinner
:killspell susceptible
Malfegor
:killspell susceptible
Ulamog, the infinite Gyre
: moved it to Teysa
Add:
Crosis's Catacombs
: tri-land
1x
Island
1x
Mountain
4x
Swamp
watery grave
: fixed my mana base
aether barrier
:presence control
smoke
:attack control
vile consumption
:presence control
gatekeeper of malakir
:general killer
havengul lich
:recursion
shriekmaw
:sacrificing
terror
blasting station
:combo piece
dimir keyrune
:mana rock
nim deathmantle
: combo piece
cruel edict
: sac spell
diabolic intent
: sac into tutor
diabolic revelation
: tutor
diabolic edict
:sac spell
geth's verdict
:sac spell
June 1, 2013
Cut:
Cruel Edict
:trying out rapacious
Add:
Rapacious One
: trying it out
June 8, 2013
Cut:
1x
Swamp
: trying out Creeping tar pit
Add:
Creeping Tar Pit
: testing it out for now
June 10, 2013
Cut:
Diabolic Edict
: cutting out effects like these.
Add:
Ulamog, the infinite gyre
: bringing it back.
June 13,2013
Cut:
Shriekmaw
: trying stax out
Twisted Justice
:again trying out stax
Swamp
Geth's Verdict
Gatekeeper of Malakir
Add:
Pendrell Mists
: A second Vile Consumption
Beseech the Queen
:Getting more tutors
Mountain
Stranglehold
Future sight
June 17,2013
Cut:
Unscythe, Killer of Kings
: just not as synergism and I had been hoping when i first put it in.
Add:
Tezzeret the Seeker
: Almost only s tutor for sol ring and Sword, Might sometimes use his +1 ability, but all in all just another tutor
July 21, 2013
Cut:
Rapacious One
: its worthless , just kept getting removed
Add:
Barter in Blood
:Hoping it will be a better control card.

"I thought what I'd do was, I'd pretend I was one of those deaf-mutes." -the Laughing Man
"In a world of locked rooms, the man with the key is king. And honey... you should see me in a crown... "-James Moriarty(Sherlock)