pervythemilkman
Location:

Toledo, Ohio

Join Date:

12/12/2009

Posts:

1,837

Member Details
Wrexial Classic Control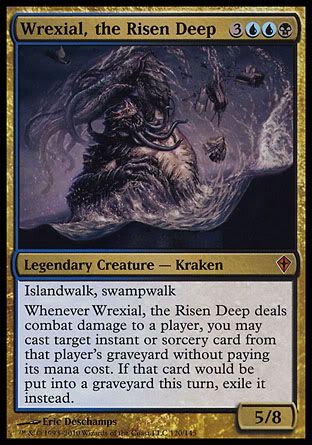 I hadn't seen a
Wrexial, the risen deep
primer yet on these forums, and I have a ton of experience playing this deck. I have been playing Wrexial since he first came out, he was my first general. I thought I would convert this thread into a primer, since I see a lot of players making Wrexial deck lists these days.
This deck is for you if:

-You like control decks.
-You like the potential to have combos.
-You like playing the best colors in the format.
-You like drawing a ton of cards.
-You like taking extra turns.
-You like being able to deal with a wide variety of threats.
-You like having a general that has the potential to go voltron.
-You don't like having to rely on your general to win.
-You like consistency.
-You like having a powerful deck that is able to do douchey things, and is competitive, but doesn't have to be considered a "douchebag deck."
-You like being able to steal things from your opponents.
-You're not a huge fan of recursion.

This deck is not for you if:

-You like having complete control of the board at every single moment (ie: draw, go).
-You like to run sub-par cards because it is "fun."
-You like to run lots of mill cards.
-You like aggressive decks packed with creatures.
-You hate decks that require a lot of thinking.
-You have a meta where artifacts constantly get blown up.
-You have a problem with being public enemy #1 on occasion.
-You prefer budget decks.

Deck list:
How to play the deck:

In the early turns, the deck wants to either play cheap artifact mana acceleration, play small spells that can generate card advantage like phyrexian arena, or leave mana open for countermagic. I would advise against early tutoring unless you really need extra mana acceleration (a common turn 2 play for me is demonic tutor for sol ring), or you are positive about something you are going to get that will turn the tide of the game in your favor early on, like bribery. Usually you want to save the tutors for later so you can tutor up answers, or tutor up a combo piece.

After the early turns, there are so many options to consider. The main thing you want to spend the first 10 turns doing is generating card advantage. This means draw as many cards as possible, and find a way to get your reliquary tower out quickly. You should also be answering your opponents threats during these turns. The more cards you have in hand, the more likely you are to win. Rhystic study is a great way to draw a ton of cards, as is thought reflection, as it combos with a ton of things. If you manage to get thought reflection and phyrexian arena, you draw 4 cards per turn. If you manage to get it out with consecrated sphinx, you probably will win that game. Another thing you should get out as soon as possible is myojin of night's reach. If you put all your opponents in topdeck mode early on, they will be unable to answer you for the rest of the game.

In the late game, you need to focus on winning. This can be done a number of different ways. You can go voltron with Wrexial. You can equip him with lightning greaves and darksteel plate to protect him, and equip with fireshrieker to win even faster, and abuse his ability. You could go for the mindslaver+academy ruins combo, or you could use the deck's infinite combo, with time stretch+mnemonic wall+Jace, the mind sculptor. You could also put someone to 10 with Sorin, and swing with some of your creatures. However you choose to win, by this point in the game, your opponents should not be able to answer it.

Why you shouldn't use the mill strategy:

I have seen many people make deck lists using the Wrexial mill strategy. I have tried it before, and the control strategy is much more consistent and efficient. The problem with mill is that it is inconsistent. You never know what you are going to put into your opponent's graveyard to feed Wrexial's ability. You don't even know if Wrexial is going to stick around to make the mill useful, half the time, he will eat removal. Milling people also tends to piss them off for some reason. There is just no reason to do it in this deck. There are exceptions like Geth, but he actually does more than just mill them.

But Milkman, why aren't you running more stealy cards? Isn't Wrexial a pirate general?
Yes and no. Wrexial can be built around, but he is best used to compliment your deck rather than to be built around. His graveyard ability is meant to be gravy, not to be the whole damn show. Wrexial is an awesome general because he is in great colors, has a huge body, has two super-relevant types of evasion, and has a gravy ability that can turn the tide of the game in your favor. Besides, the more cards you steal, the more people you will piss off. Also, there is this new card called
homeward path
, you may have heard of it.
Weaknesses of the deck:

-The deck lacks haste effects, so if you cast a creature, you better be sure that it won't die right away. Because of this, I have included ways to protect creatures.

-This is not a draw, go style deck. You will never have complete control over the board, the purpose is just to deplete your opponent's resources enough so that you are able to win.

-There are not a ton of ways to deal with artifacts and enchantments, although I have tried to supplement this.

-Although this deck CAN be fast, it is not a fast deck. It is meant for multiplayer, so in 1v1, it is likely to lose to a really fast deck.

-Some of the douchey plays will make you the target.

Card choices>>>>>
Creatures:
The fatties:
Geth, lord of the vault
,
Sheoldred, whispering one
, and
Steel hellkite
. These are the creatures besides Wrexial that you want to be doing most of your lethal damage with, but they are each included because they do something more than just attack. Geth is a sweet reanimator. Sheoldred can bring back your fallen allies, but her most useful ability is the free edict each turn. Steel hellkite is great utility, not only can it nuke an opponent's board, but it offers artifact, enchantment, and planeswalker removal in colors that don't usually have it. Also note that each of these creatures has a relevant type of evasion as well.
Grave titan
. I recently obtained a copy, so I decided to give it a shot. It gives this deck the ability to be a little more aggressive, which is certainly not a bad thing when you are facing 3 opponents. If I can cast this early on, I will have a lot of card advantage, which isn't true for some of the other big creatures in this deck.
Myojin of night's reach
. This deck simply needs this card. The ability to make each opponent discard their hand at instant speed is amazing. It will instantly put them in top deck mode, the sooner you can hit this card, the better. Your opponents will be helpless to answer you after you play this card.
Consecrated sphinx
. This is a must-have in the color blue, and the way it interacts with thought reflection is just stupid. This is one of our main sources of card advantage.
Nezumi graverobber
. I decided that I needed to put some graveyard hate in this deck, because there seem to be a few graveyard-based decks in my meta, and they were able to steamroll me because I didn't have an answer. This is some of the best graveyard hate there is.
Countermagic:
Counterspell
. I think every blue deck should run this, to be honest. It is a reliable way of saying "no" for 2 mana every time. It is relatively easy to hold back 2 mana just in case.
Hinder
,
spell crumple
. These are almost identical, but they each accomplish the same thing. These are meant to tuck an annoying general, or another annoying threat that can be recurred. We only have access to a few of these effects in these colors.
Cryptic command
. No explanation needed, one of blue's swiss army knives.
Glen elendra archmage
. This helps protect your threats. If your opponents have removal/counters for your important things, they'll have to go through this first. Most importantly, it has persist, so it counters twice.
Ertai, wizard adept
. I recently decided to add this card, because I wanted to have more control options available for me. This is one of the most annoying control cards out there, since it basically says "deal with me or you can't do anything." Most importantly, it forces your opponents to constantly try to play around this card. This card is really versatile.
Spot removal:
Fleshbag marauder
. This is an edict for each opponent, which is relatively useful, and is card advantage. This card really shines when you combine it with
volrath's stronghold
. It will keep the board clear for as long as you need.
Rend flesh
. This is as close as we can come to "destroy target creature" in these colors. I figure more people run artifact creatures than spirits in EDH, so I opted to run this over
go for the throat
.
Brittle effigy
. It is a colorless exile effect for only 5 mana. Sometimes you want to do more than destroy a card. Sometimes exiling is better than tucking as well, in the case of
ulamog, the infinite gyre
.
Spin into myth
. Another tuck effect, and it can possibly push another threat to the bottom as well.
Sweepers:
Damnation
. The black wrath. It is needed here, it is a great, cheap answer to lots of creatures.
Decree of pain
. Probably the best sweeper in the deck, it offers flexibility, and massive card advantage. It is well worth the 8 mana.
Black sun's zenith
. This is a great way to get rid of indestructible creatures.
Life's finale
. This is good against combo decks, and bad against reanimator decks. I guess it is a meta choice, but I mainly choose to run it as another wrath variant. You can never have too many sweepers.
Oblivion stone
. This is one of my personal favorite sweepers, I run it in every deck. 8 colorless mana to destroy all nonland permanents seems good to me, especially when these colors lack artifact and enchantment removal. Sometimes you just need to reset the board, and that is exactly what this card does.
All is dust
. I chose to run this over disk, because it kills stuff the turn I play it, and it doesn't affect my mana rocks. This is another great sweeper.
Tutors/card fixing:
You should primarily use these tutors to set up important combos and card interactions, or in desperation in case you really need resources.
Demonic tutor
,
diabolic tutor
,
mystical tutor
. I don't think these need any explanation, they are among the best tutors in these colors. Diabolic tutor may cost 4 mana, but it is still another way to go get any card. the extra 2 mana doesn't really matter.
Trinket mage
. This is simply in here to tutor for top and sol ring, which are two of the most useful cards in the deck.
Liliana Vess
. She is simply amazing, due to the potential to tutor more than once. She helps set up combos late in the game. The option to make an opponent discard a card can be useful sometimes, but mostly you only activate that ability so that you can get her loyalty up to tutor again. I have never once activated her ultimate though. If you have her in play for that long, you should have won the game anyway.
Sensei's divining top
. EDH staple. I run plenty of shuffle and draw effects, so I can get the most use out of this.
Draw (the bread and butter of the deck):
Fact or fiction
. This is one of the best draw spells we have available. It is so good because you actually get to pick what you keep, and it can be played at instant speed. This is one of the most useful things that you can play in the first few turns.
Blue sun's zenith
,
recurring insight
. Both of these are better in the late game, and work differently, but accomplish the same purpose. They both combo with
thought reflection
very well, and they can draw you a ton of cards. You will probably win if you resolve one of these. Zenith costs more mana, but it can draw you more cards. You can also pick how much mana you want to pay. Insight is dependent on your opponents, but it can also cost a lot less mana than zenith.
Rhystic study
. I cannot stress how amazing this card is. If I cast it on turn 3, I have probably won the game, since nobody wants to pay the trigger. It can draw me a couple extra cards each round of turns. It is one of the best sources of card advantage in the deck.
Phyrexian arena
. Paying 1 life per turn to draw an extra card seems fair to me. It is enough to turn the tide in my favor. It gets busted with thought reflection.
Thought reflection
. This is one of the most important cards in the deck. If you can stick it, you will probably win, and it becomes much more than arena #2. This card lets you dig so far into your library. It combos with anything that lets you draw a card. The potential number of cards you can draw due to this card is just absurd. I would never run a blue deck without it.
Trade secrets
. This is actually quite good in multiplayer, if nothing else, it is 4 cards for 3 mana. However, you can make an alliance with someone so that you draw even more cards. This deck is all about drawing cards, and this does that quite well.
Syphon mind
. Speaking of drawing cards, this also does that quite well in multiplayer. It is 3 cards for 4 mana, but the important part is it takes 3 opposing cards out, while only costing 4 mana. I wanted to try to include as many low casting cost cards that generate card advantage as possible.
Jace, the mind sculptor
. His brainstorm gets ridiculous with thought reflection. He is also an infinite combo piece. His unsummon can buy you lots of time. You almost never activate his +2 unless you need to add loyalty, and you never try to ultimate him unless you are down to only one opponent. He is useful by himself, but I wait to play him until later, because he gets immensely better with other cards.
Ramp:
Sol ring
. Duh.
Dimir signet
,
talisman of dominance
,
mind stone
,
everflowing chalice
. These are simple turn 2 ramp spells. They are there to give you a slight boost of mana. Everflowing chalice is good in the late game as well. Mind stone can draw you a card if someone decides to nuke the board. The other two can fix your mana.
Darksteel ingot
,
coalition relic
. These serve similar purposes. They both fix your mana, but ingot survives sweepers, and the relic ramps even more due to the charge ability.
Gilded lotus
,
Thran dynamo
. These also serve similar purposes. The only difference is the colored mana vs colorless. These are two of the best ramp spells in the deck, as they can take you from virtually nothing, to be able to cast your big spells.
Solemn simulacrum
. Some people like this card so much that they include him in every EDH deck. I don't think he is that good, but he does three relevant things; he ramps, he provides a body, and he can draw a card. He also combos with
volrath's stronghold
and
sheoldred, whispering one
.
Steal/copy effects:
Bribery
. One of the best blue cards, it has gotten worse with the printing of
homeward path
. It is still awesome if you can rip a huge creature out within the first few turns and really do some major damage with it. Either way, it forces your opponents to spend resources in order to answer.
Rite of replication
. Another one of the best blue cards, this can kill opposing generals. It can also copy important things, like opposing
primeval titan
s. When it is kicked, it turns into a win condition.
Blatant thievery
. This is an incredible swiss army knife, I think every blue deck should run it. It can steal artifacts and enchantments, which these colors have a hard time getting rid of. It steals opposing walkers. Puts annoying utility lands on your side. Steals your opponents best creatures, and the best part is, it gets up to 3 permanents!
Treachery
. This is the only control magic effect I would ever run, because you essentially get to play it for free. I love tempo advantage. This also steals opposing generals, etc.
Phyrexian metamorph
. I realized recently how good this card is, but I wasn't sure whether to put it under copy effects, or mana ramp. I put this in here primarily to copy mana rocks and put me further ahead, and it does that for a cheap price. However, it also has versatility, and it can copy creatures as well, or even act as a removal spell for an opposing general.
Equipment:
I don't run many creatures in this deck, so I need ways to protect them, especially the general.
Darksteel plate
,
lightning greaves
,
swiftfoot boots
. Plate is seriously an MVP. It survives sweepers, and it makes sure that your creature does too. Greaves and boots are super important, because there are few haste effects available in these colors. It sucks having to wait an entire turn, because your creature might be dead by then. The shroud/hexproof is gravy, making your creatures invulnerable to spot removal.
Fireshrieker
. This is an absolute requirement in a Wrexial deck. Not only does it allow you to swing for twice the general damage, but it allows his ability to trigger twice. That is twice the fun, twice the abuse!
Game enders:
Sorin Markov
. Bam, 30 damage to target player for 6 mana. If you ever need to take someone out of the game, Sorin is one of the best ways to do it. He becomes even more evil if you can play him within the first few turns.
Mindslaver
. This can be great when used politically. You can take the best player's next turn, and prevent others from attacking you, with the promise of retaliation. You can also just screw up an opponent so badly that it wrecks the game for them. This also turns into an infinite lock when used in combo with
academy ruins
.
time stretch
. If you have a good enough board position, this is usually enough to finish off your opponents. As stated before, time stretch+mnemonic wall+Jace, the mind sculptor is an infinite turns combo. That is one of my favorite ways to end the game.
Land:
I'm not going to explain the mana fixing lands here, as those are self-explanatory. I am only going to comment on the utility lands.
Minamo, school at water's edge
. I put this in there because my friend likes to be a douche and run
meekstone
. You may find other uses for it.
Shizo, death's storehouse
. Another way to give evasion is always nice.
Strip mine
. This is needed, to answer annoying lands like
homeward path
.
Urborg, tomb of yawgmoth
. This activates Wrexial's swampwalk, and fixes your mana.
Halimar depths
. A top effect for free? Seems good to me.
Volrath's stronghold
,
academy ruins
. These are almost identical. They are among the best lands in the deck, stronghold brings back fallen creatures and abuses ETB effects, and ruins can bring back your mana stones that got blown up in sweepers. Ruins can also be douchey with mindslaver, and it can recur O-stone over and over, which can get quite annoying.
Reliquary tower
. The single most important land in this deck. With all the cards you are bound to draw, you do not want to be discarding them. This allows you to keep 30 cards in your hand, and then you end up winning. This deck is all about drawing a ton of cards.
I will play these cards when I obtain them... you should too:
If anyone wants to mention cards that could be in here, I will be more than happy to explain why I am not running them. As always, questions, comments and suggestions are welcome!