Forgotten One
Join Date:

1/4/2006

Posts:

3,646

Member Details
Bosh, Iron Golem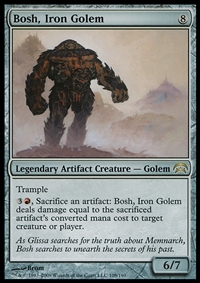 "Oi oi oi, me gotta hurt in 'ere, Oi oi oi, me smell a ting is near, Gonna bosh 'n gonna nosh 'n da hurt'll disappear."
"A golem's hands know no tenderness."
---
Latest Decklist - Updated 4/27/2018 through Dominaria
Forgotten One's DeckMagic OnlineOCTGN2ApprenticeBuy These Cards
Commander - 1
1x Bosh, Iron Golem

Creatures - 11
1x Goblin Welder
1x Slobad, Goblin Tinkerer
1x Pia and Kiran Nalaar
1x Feldon of the Third Path
1x Kurkesh, Onakke Ancient
1x Neheb, the Eternal
1x Hellkite Igniter
1x Artisan of Kozilek
1x Kozilek, Butcher of Truth
1x Ulamog, the Ceaseless Hunger
1x Ulamog, the Infinite Gyre

Artifact Creatures - 14
1x Myr Retriever
1x Foundry Inspector
1x Scrap Trawler
1x Metalworker
1x Burnished Hart
1x Palladium Myr
1x Junk Diver
1x Solemn Simulacrum
1x Treasure Keeper
1x Mishra's Self-Replicator
1x Steel Hellkite
1x Wurmcoil Engine
1x Duplicant
1x Sandstone Oracle

Instants - 2
1x Starstorm
1x Chaos Warp

Sorceries - 5
1x Scrap Mastery
1x All is Dust
1x Blasphemous Act
1x Rolling Earthquake
1x Bonfire of the Damned


Planeswalkers - 4
1x Daretti, Scrap Savant
1x Kar, Scion of Urza
1x Karn Liberated
1x Ugin, the Spirit Dragon

Non- Mana Artifacts - 14
1x Voltaic Key
1x Scroll Rack
1x Lightning Greaves
1x Mycosynth Wellspring
1x Ichor Wellspring
1x Mirage Mirror
1x Crucible of Worlds
1x Rings of Brighthearth
1x Trading Post
1x Mind's Eye
1x Mirrorworks
1x Paradox Engine
1x The Immortal Sun
1x Spine of Ish Sah

Mana Artifacts - 13
1x Everflowing Chalice
1x Mox Opal
1x Mana Crypt
1x Mana Vault
1x Grim Monolith
1x Sol Ring
1x Pyramid of the Pantheon
1x Coalition Relic
1x Worn Powerstone
1x Cloud Key
1x Hedron Archive
1x Thran Dynamo
1x Gilded Lotus


Lands - 36
1x Darksteel Citadel
1x Great Furnace
1x Dust Bowl
1x Mage-Ring Network
1x Sanctum of Ugin
1x Shrine of the Forsaken Gods
1x Sea Gate Wreckage
1x Inventors' Fair
1x Arch of Orazca
1x Ancient Tomb
1x Blasted Landscape
1x Phyrexia's Core
1x Desert of the Fervent
1x Scavenger Grounds
1x Valakut, the Molten Pinnacle
1x Thespian's Stage
1x Forgotten Cave
1x Smoldering Crater
1x Shinka, the Bloodsoaked Keep
1x Eye of Ugin
1x Bloodstained Mire
1x Scalding Tarn
14x Mountain


3/16/2017
-1
Arc-Slogger
- I still think this is a very underused card in EDH, but I felt it would be better elsewhere.
-1
Darksteel Juggernaut
- Excellent card that survives most of my sweepers, but I needed to pull either it or
Hellkite Igniter
.
-1
Soul of New Phyrexia
- It became too much to try and hold up 5 mana for the ability.
-1
Mimic Vat
- Conflicted with my overall plan of recursion of artifacts and relatively expensive to use.
-1
Illusionist's Bracers
- Great with Bosh, but almost always dead otherwise. Rings of Brighthearth and Kurkesh are much better.
-1
Su-Chi
- Just got squeezed out due to space.
-1
Darksteel Ingot
- Only so many mana rocks can fit into the deck.
-1
Expedition Map
- I really didn't need this. Finding Valakut or Eye of Ugin is sometimes nice, but its more of a waster of time.
-1
Sensei's Divining Top
- I also don't really need this. I'm only running a few fetchlands to shuffle my library, and although the number of shuffle effects went up with my latest updates I think either this or Scroll Rack had to go to free up space.
-1
Buried Ruin
- I now have more ways (and better ways) to recur artifacts
-1
Mikokoro, Center of the Sea
- A very underrated card that is somewhat outlcassed by the new
Sea Gate Wreckage
-1
Reliquary Tower
- Rarely ever came up and there are other better lands to run now.
-1
Thawing Glaciers
- Love the nostalgia, hate the glacial-ness...
-1
Flamekin Village
- This isn't worth it in a deck that can't play it untapped.
Hanweir Battlements
is a strong consideration and would be a slam-dunk if it tapped for red.
+1
Ugin, the Spirit Dragon
- Amazing top-end card with game-altering abilities
+1
Pia and Kiran Nalaar
- A mini-Bosh, got the nod over
Barrage Tyrant
because it can turn things like Clues into damage.
+1
Paradox Engine
- Fuel for the shenanigans.
+1
Hedron Archive
- A good mana rock with card-draw upside when needed.
+1
Foundry Inspector
- A
Cloud Key
slapped onto a 3/2 body is good for this deck.
+1
Sandstone Oracle
- A pleasant surprise as to how good this card can be.
+1
Tamiyo's Journal
- Value-town, whether you are feeding a sac outlet or drawings cards.
+1
Scrap Trawler
- Value-ville, keeping the cards flowing.
+1
Treasure Keeper
- Value-city, keeping you at card parity in the face of removal of when sacrificing artifacts.
+1
Mage-Ring Network
- Nice mana-sink that allows me to ramp if needed.
+1
Sanctum of Ugin
- Nice tutor to help fetch either threats or "removal"
+1
Shrine of the Forsaken Gods
- Helps to pay for the really high-end spells
+1
Sea Gate Wreckage
- Some much needed card draw
+1
Inventors' Fair
- Another solid tutor
4/28/2017:
+1
Pyramid of the Pantheon
- Seems like enough of a reward for running this.
+1
Oracle's Vault
- Seems great, not to mention cheaper overall than Tamiyo's Journal.
-1
Tamiyo's Journal
- Slower and more expensive than Vault
-1
Mind Stone
- Pulled o make space of Pyramid; may go back in depending on how it works out.
7/18/2017:
+1
Ulamog, the Ceaseless Hunger
+1
Neheb, the Eternal
+1
Mirage Mirror
+1
Scavenger Grounds
+1
Desert of the Fervent
-1
Dreamstone Hedron
-1
Sculpting Steel
-1
Unstable Obelisk
-1
Blinkmoth Nexus
-1
Mishra's Factory
4/27/2018:
+1
Arch of Orazca
, -1
Temple of the False God
+1
The Immortal Sun
, -1
Oracle's Vault
+1
Karn, Scion of Urza
, -1
Pirate's Pillage
(which in turn had replaced
Scarecrone
)
+1
Mishra's Self-Replicator
, -1
Karn, Silver Golem
A little Deck History
As soon as the color identity rules changed and Bosh became a legal Commander, I started tinkering with possible decks and fun ways to use and abuse his talents.
The first pass at a decklist looked like this:
Its basic premise was to take advantage of Modular creatures and +1/+1 counters to try to give Bosh plenty of sacrifice fodder without losing any power on the board. Proliferate cards and other cards with counters were also included to help with the deck synergy.
It didn't take me long to figure out that the Modular creatues aren't powerful enough on their own to use in EDH, and I had a lot of "cute" card choices that really kept the deck away from being good enough to play. So I trimmed some of the pet cards, upped the mana a bit, and played with more legitimate cards and came up with this list.
The deck took in a lot of suggestions and became a lot more competetive. It ratcheted up the power level without going too far overboard and made me feel like I wasn't playing at a huge disadvantage. The deck still has a lot of disadvantages; playing with artifacts (the most easily hated permanent in EDH just behind creatures) and red spells (easliy the worst color) is still a hard handicap to overcome, but these are things that I've learned to live with and are fun to try and overcome.
With that said, I felt the need to want to revamp the deck once again. First off, I was still playing Metalworker even though it was banned (I swear I didn't realize that until someone pointed it out to me). I also felt that since the deck still plays "fair" that I could ratchet up the power and find more efficient ways of creating epic wins and force my opponents to spend less time comboing out and more time trying to stop me as a legitimate threat. At the same time, I also wanted more ways to try and interact with opposing strategies where I could.
This is where I currently stand with the deck
As you can see, I haven't made a lot of changes to the deck in the last revision. There are a lot of cards I am looking at wanting to include, but none of them seem to really address any major weakness or add anything to the deck that it doesn't already have.
Cards that I'm considering for the deck
Vicious Shadows
: I love this card, and it fits well with the sacrifice theme, but it would be somewhat redundant with Stalking Vengeance.
Kiki-Jiki, Mirror Breaker
: Can do all sorts of cute copy tricks, and although he has no infinite combos here he can still do some cool things. I've never been able to justify him however and his triple-red casting cost makes him hard to play at times.
Staff of Nin
: Another really good card, but I'm not sure what to take out for it.
Wheel of Fortune
,
Reforge the Soul
: I always want to add these, yet drawing cards is not particularly hard with this deck. Still if I can fit in at least Wheel I would be happy.
Warp World
: I run at least 91 permanents in the deck, plus I have token making ability in Pentavus and Triskelevus and I can add in more token-making with
Kher Keep
.
Blinkmoth Urn
: I don't think I've ever really given this card a proper tryout, but it seems like it should be nuts.
Unwinding Clock
: I did give this card a spin and I found that it didn't really do enough to warrant an inclusion. Still, if there is a way to manipulate the deck where I can try it again I'm open to suggestions.
More Sweepers: Cards like
Comet Storm
,
Magmaquake
, or
Blasphemous Act
.
Aftershock
,
Fissure
: I rely a lot on other more expensive cards for removal, so having another few cards to get rid of problematic creatures would be nice.
Crucible of Worlds
+ more Fetchlands and
Wasteland
and/or
Strip Mine
: I'm only running a few Fetches to basically add some shuffle effects for SDT and Scroll Rack, but the mroe I think about it the more I think that being able to disrupt major mana engines and being able to always make land drops is a good thing., I would probably have to sut some of the colorless lands to do this, but which ones...
Phyrexia's Core
: Maybe better than High Market in this deck, especially if it allows for recursion of Spine of Ish Sah.
Rings of Brighthearth
/
Basalt Monolith
: They combo so well together, plus Rings combos nicely with Bosh and a bunch of other cards in the deck.
Big mana Sorceries like
Insurrection
,
Alpha Brawl
,
Decree of Annihilation
: I'm always open to adding them, then I always immediately cut them.
Anyway, and help or suggestions on how to fit any of the above cards into the deck or to add something that I haven't though of would be very appreciated.
My Commanders
Jalira, Master Polymorphist
|
Endrek Sahr, Master Breeder
|
Bosh, Iron Golem
|
Ezuri, Renegade Leader
Brago, King Eternal
|
Oona, Queen of the Fae
|
Wort, Boggart Auntie
|
Wort, the Raidmother
Captain Sisay
|
Rhys, the Redeemed
|
Trostani, Selesnya's Voice
|
Jarad, Golgari Lich Lord
Gisela, Blade of Goldnight
|
Obzedat, Ghost Council
|
Niv-Mizzet, the Firemind
|
Vorel of the Hull Clade
Uril, the Miststalker
|
Prossh, Skyraider of Kher
|
Nicol Bolas
|
Progenitus
Ghave, Guru of Spores
|
Zedruu the Greathearted
|
Damia, Sage of Stone
|
Riku of Two Reflections