Forgotten One
Join Date:

1/4/2006

Posts:

3,646

Member Details
Niv-Mizzet, the Firemind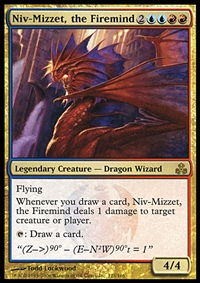 "Don't just have an idea—have all of them."
---
Updated 5/17/2018 (Through
Dominaria
)
Current Decklist
10/19/2015:
+1
Howl of the Horde
, -1
Izzet Chronarch
: Izzet Cronarch was always a tad too expensive to play and Howl is better CA.
+1
Treasure Cruise
, -1
Jace Beleren
: Little Jace was good, but always a bit underwhelming and Treasure Cruise was a no-brainer.
+1
Tormenting Voice
, -1
Ponder
: Ponder was good, but getting the extra draw on the cheap makes Tormenting Voice a better card for this deck.
+1
Crucible of the Spirit Dragon
, -1
Thawing Glaciers
: Glaciers was always a bit clunky in this deck and Crucible helps ramp and fix mana better for this deck.
+1
Monastery Siege
, -1
Mind's Eye
: A cheaper alternative to getting additional draws albeit without as much obvious upside.
+1
Ugin, the Spirit Dragon
, -1
Starstorm
: A better sweeper to be ramping into
+1
Dragonlord's Prerogative
, -1
Opportunity
: A nice (however little) upgrade
+1
Haven of the Spirit Dragon
, -1
Maze of Ith
: Maze has lost its luster a bit in a Post-Primetime world where Urborg is seen less often
+1
Alhammarret's Archive
, -1
Staff of Nin
: A casualty of deck space more than anything.
+1
Jace, Vryn's Prodigy
, -1
Æther Adept
: I never found myself really liking Æther Adept, and new Jace is pretty good for this deck.
+1
Magmatic Insight
, -1
High Market
: The deck was cheapened a bit and added more digging, so shaving a land was due; it made the most sense to cut a colorless land given some of the other adds.
+1
Hedron Archive
, -1
Darksteel Ingot
: Artifact mana acceleration plus card draw tacked on... 'nuff said.
+1
Blighted Cataract
, -1
Spinerock Knoll
: Knoll rarely ever triggered and getting a virtual freeroll on some card draw is nice.
3/21/2017:
+1
Mystic Confluence
+1
Nahiri's Wrath
+1
Metallurgic Summonings
+1
Cathartic Reunion
-1
Monastery Siege
- not a bad card, but Metallurgic Summonings is so much more impactful.
-1
Electrolyze
- there just weren't enough relevant targets for this.
-1
Molten Disaster
- cleared space for Nahiri's Wrath
-1
Desperate Ravings
- cleared space for Cathartic Reunion plus the random discard never quite sat well.
7/15/2017
+1
The Locust God
+1
Desert of the Fervent
+1
Desert of the Mindful
-1
Keiga, the Tide Star
-1
Ryusei, the Falling Star
-1
Howl of the Horde
1/31/2018:
+1
Chart a Course
, -1
Cathartic Reunion
- A bit of an upgrade
+1
Primal Amulet
, -1
Izzet Boilerworks
- I had added two lands last update and decided that was one too many. I wanted to shed my worst ETB tapped land and this ended up being it. It has some good interactions with the cycling lands, allowing me to bounce one of them back to my hand if I had to play it for whatever reason, but overall it was just worse than running the full 7 cycling lands.
+1
Riverwise Augur
, -1
Aeon Chronicler
- Augur is a tad cheaper to cast straight up, and its much better at generating draws for Niv-Mizzet triggers where Aeon Chronicler is just so much slower in comparison.
+1
Azor's Gateway
, -1
Ugin, the Spirit Dragon
- So Ugin is great, but loads more expensive. Gateway seems really neat, has value to the deck flipped or unflipped, and it can impact the game much sooner than Ugin.
5/17/2018:
-1
Mulldrifter
: This was a tough cut, but this is often just worse than a
Divination
since it doesn't have the synergy with my Instant/Sorcery theme.
-1
Sower of Temptation
: Another tough cut, but it just doesn't justify the slot.
-1
Haven of the Spirit Dragon
: With all the Dragons and Ugin cut from the deck, it made little sense to ave this in the deck anymore. I also felt like I could shave a land with the extra mana artifacts I was putting in.
-1
Memory Jar
: I don't get enough advantage out of this to be worth tapping low to cast it. I think I would rather run
Wheel of Fortune
or
Windfall
at this point, given that both are less expensive and synergize better with the spellslinger theme.
-1
Tidings
, -1
Deep Analysis
: In an effort to free up space, I cut my most expensive, Sorcery-speed draw spells.
-1
Fire//Ice
: I also decided that this wasn't really cutting it as either a removal spell or a good way to synergize with the rest of the deck, so it needed to go.
+1
Mana Vault
, +1
Grim Monolith
, +1
Voltaic Key
: This gives me some more early plays, gets me to the mid-game quicker, and allows me to have some massive turns.
+1
Paradox Engine
: With all the changes, this seemed more and more likely to be something that this deck is willing to tap out/low to put into play. There is a more combo-ish feel to the deck when this is out, but its a type of combo I'm more than happy to actually play because you have to work to win once it hits play.
+1
Jhoira, Weatherlight Captain
: By upping the artifact count from 17 to 20 and the number of cards that trigger this going up to 24, this will make a fine addition to the deck.
+1
Windfall
: I decided that I wanted a bit of a combo finisher without going overboard, and Windfalling for 20+ cards and Niv-Mizzet out seems like my kind of combo.
+1
Commit // Memory
: Even better than Wheel or Windfall in the right circumstances, I'm going to try this out for a spin.
One of the first decks I made when I decided to start playing EDH was
Niv-Mizzet, the Firemind
. I chose Niv-Mizzet not for his combo potential, but mostly because his colors complimented the deck I was making at the same time, I thought he would make a cool general for a Dragon-themed deck, and I wanted to choose something that had some 'build-around-me' potential.
So I picked 10-12 of the coolest Dragons, a bunch of X spells, as many Looters as I could find, some wacky fun stuff, and any spell that said "draw" on it. I thought it was pretty cool and would be fun to play with or against...
Of course I learned fairly quickly that a)Niv-Mizzet has a bad reputation as a 'dirty combo general', and that b) most of card choices were inherently weak (mostly the Dragon theme, the Looters that dies to mass removal, and cute but narrow cards like
Goblin Flectomancer
,
Dracoplasm
,
Djinn Illuminatus
, etc.). I found that trying to convince people I wasn't about to drop
Mind Over Matter
and kill everyone was not an optimal place to be, but neither was having a deck full of jank.
Anyway, I took the time to try and make every card in the deck really count while maintaining the deck's original intent of not just being an "oops, I win" combo deck. Below is the latest incarnation of that deck.
Niv-MizzetMagic OnlineOCTGN2ApprenticeBuy These Cards
Commander
1x Ni-Mizzet, the Firemind

Creatures - 14
1x Snapcaster Mage
1x Aether Adept
1x Venser, Shaper Savant
1x Solemn Simulacrum
1x Sower of Temptation
1x Archaeomancer
1x Glen Endra Archmage
1x Izzet Cronarch
1x Mulldrifter
1x Pychosis Crawler
1x Aeon Chronicler
1x Consecrated Sphinx
1x Keiga, the Tide Star
1x Ryusei, the Fallen Star

Planeswalkers - 1
1x Jace, the Mind Sculptor

Instants/Soceries - 29
1x Brainstorm
1x Ponder
1x Faithless Looting
1x Counterspell
1x Spell Crumple
1x Hinder
1x Dissipate
1x Capsize
1x Electrolyze
1x Fire//Ice
1x Compulsive Research
1x Frantic Search
1x Thirst for Knowledge
1x Chaos Warp
1x Dismiss
1x Cryptic Command
1x Careful Consideration
1x Deep Analysis
1x Tidings
1x Opportunity
1x Time Spiral
1x Repeal
1x Comet Storm
1x Starstorm
1x Invoke the Firemind
1x Blue Sun's Zenith
1x Bonfire of the Damned
1x Blasphemous Act
1x Molten Disaster


Enchantments - 1
1x Volition Reins

Artifacts - 16
1x Mana Crypt
1x Everflowing Chalice
1x Sensei's Divining Top
1x Sol Ring
1x Mind Stone
1x Izzet Signet
1x Darksteel Ingot
1x Coalition Relic
1x Worn Powerstone
1x Crucible of Worlds
1x Thran Dynamo
1x Gilded Lotus
1x Memory Jar
1x Mind's Eye
1x Dreamstone Hedron
1x Staff of Nin

Lands - 38
1x Volcanic Island
1x Steam Vents
1x Izzet Boilerworks
1x Command Tower
1x Reflecting Pool
1x Cascade Bluffs
1x Shivan Reef
1x Sulfur Falls
1x Scalding Tarn
1x Arid Mesa
1x Polluted Delta
1x Desolate Lighthouse
1x Riptide Laboratory
1x High Market
1x Mikokoro, Center of the Sea
1x Reliquary Tower
1x Dust Bowl
1x Strip Mine
1x Temple of the False God
1x Thawing Glaciers
1x Minamo, School at Water's Edge
1x Cephalid Coliseum
1x Shinka, the Bloodsoaked Keep
1x Spinerock Knoll
1x Blasted Landscape
1x Forgotten Cave
1x Smoldering Crater
1x Lonely Sandbar
1x Remote Isle
1x Maze of Ith
5x Island
3x Mountain


Recently Cut Cards
1x Forbid
1x Remand
1x Train of Thought
1x Desperate Ravings
1x Overwhelming Intellect
1x Concentrate
1x Rolling Earthquake
1x Slice and Dice
1x Vessel of Endless Rest
1x Anvil of Bogardan
1x Fellwar Stone
1x Nivix, Aerie of the Firemind
1x Oboro, Palace in the Clouds
1x Vesuva
1x Academy Ruins
1x Miren, the Moaning Well
1x Arc Slogger
1x Kumano, Master Yamabushi
1x Galvanoth
1x Nucklavee
1x Draining Whelk
1x Control Magic
1x Thought Reflection
1x Word of Seizing
1x Arcanis, the Omnipotent
1x Azami, Lady of Scrolls
1x Tamiyo, the Moon Sage
1x Jace Beleren

Cards I want to Avoid
1x Curiosity
1x Ophidian Eye
1x Mind Over Matter
1x Whell of Fortune
1x Reforge the Soul
1x Winds of Change
1x Windfall
1x Teferi's Puzzle Box
1x Mindmoil
1x Whirlpool Warrior
1x Words of War
1x Words of Wind
1x Bribery
1x Acquire


The deck plays out more along the lines of control, with lots of sweepers, card draw spells, and more removal than most Niv-Mizzet decks. The idea is to stall the game and to try and interact with all the other players as much as possible, all the while accumulating mana and cards until you can drop and protect Niv-Mizzet and start killing people.
This latest version still shuns most of the truly busted combos with Niv-Mizzet and a lot of the more annoying cards (like Puzzle Box), but it still runs a ton of cards that have a lot of synergy with the Dragon Wizard and can still dole out damage at an alarming rate.
Anyway, I'm posting this to see if there is anyone else out there who is running Non-Combo versions of Niv-Mizzet, what cards they like to run, and what cards from
Return to Ravnica
you think might go into the deck. Some of the RtR cards that look really interesting:
Cyclonic Rift
Instant
Return target non-land permanent you don't control it's owner's hand, Overload
Might be a good candidate to replace one of the creature sweepers.
Epic Experiment
Sorcery
Exile the top X cards of your library. For each instant or sorcery with converted mana cost X or less among them, you may cast that card without paying its mana cost. Then put all cards exiled this way that weren't cast into your graveyard.)
Looks pretty nuts for Commander in general, but in any deck that plays sufficient instants/sorceries (which this deck plays a lot of) and can generate a lot of mana (which this deck can also do) this card should be awesome. I don't think its as good as
Genesis Wave
, but its definitely no slouch.
Goblin Electromancer
Creature-Goblin Wizard
Instant and sorcery spells you cast cost
less to cast
2/2
Helm of Awakening
and
Cloud Key
both are considerations for the deck, and this is potentially better than either of them. I'm looking forward to seeing how good it is.
Guttersnipe
Creature-Goblin Shaman
Whenever you cast an instant or sorcery spell, Guttersnipe deals 2 damage to each opponent
2/2
The fact that he damages EACH opponent is huge. I think having a 3rd way to turn card drawing spells into damage (along with Psychosis Crawler and Niv-Mizzet) may be a good thing to consider.
Hypersonic Dragon
Creature-Dragon
Flying, Haste
You may cast sorcery spells as though they had flash.
4/4
I am going to try this out in place of either Ryusei or Keiga, but I'm not sold that he is going to be worth it in the long run as I don't think I run enough Sorceries
Izzet Charm
Instant
Choose one -- Counter target noncreature spell unless its controller pays 2; or Izzet Charm deals 2 damage to target creature; or draw two cards, then discard two cards.
Would replace
Fire//Ice
I think, and given that its more flexible I'm fairly sure I'm making this swap.
Mercurial Chemister
Creature-Human Wizard
:symu:, :symtap:: Draw two cards.
:symr:, :symtap:, Discard a card: Mercurial Chemister deals damage to target creature equal to the discarded card's converted mana cost.
2/3
This card is pretty slick whether Niv-Mizzet is in play or not. Great design and one of my favorite cards in the set. I'm definitely finding a place for this.
Niv-Mizzet, Dracogenius
Legendary Creature - Dragon Wizard
Flying
Whenever Niv-Mizzet, Dracogenius deals damage to a player, you may draw a card.
: Niv-Mizzet, Dracogenius deals 1 damage to target creature or player.
5/5
As awesome as this card is, there are lots of subtle things wrong with it in the context of this deck. The biggest one is that it has to damage a player to draw a card, while the ping ability can hit creatures or players. Anyway, he might just go in for the sake of completeness, but I'm not sure how long he's going to end up in my version of the deck.
Nivix Guildmage
Creature - Human Wizard
: Draw a card, and then discard a card.
: Copy target instant or sorcery spell you control. You may choose new targets for the copy.
2/2
I ditched all my Looters a while back, and the fact that this costs mana to loot doesn't bode well for my tastes. But not needing to tap is a big bonus, and the second ability to copy spells seems like it pushes this into playability for me.
Thoughtflare
Instant
Draw four cards, then discard two cards.
I'll need to decide whether this is better than
Careful Consideration
or
Tidings
.
My Commanders
Jalira, Master Polymorphist
|
Endrek Sahr, Master Breeder
|
Bosh, Iron Golem
|
Ezuri, Renegade Leader
Brago, King Eternal
|
Oona, Queen of the Fae
|
Wort, Boggart Auntie
|
Wort, the Raidmother
Captain Sisay
|
Rhys, the Redeemed
|
Trostani, Selesnya's Voice
|
Jarad, Golgari Lich Lord
Gisela, Blade of Goldnight
|
Obzedat, Ghost Council
|
Niv-Mizzet, the Firemind
|
Vorel of the Hull Clade
Uril, the Miststalker
|
Prossh, Skyraider of Kher
|
Nicol Bolas
|
Progenitus
Ghave, Guru of Spores
|
Zedruu the Greathearted
|
Damia, Sage of Stone
|
Riku of Two Reflections