hoborobot
Join Date:

9/12/2006

Posts:

795

Member Details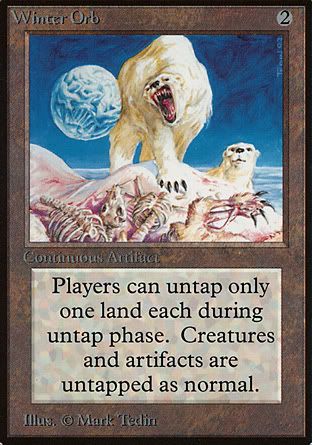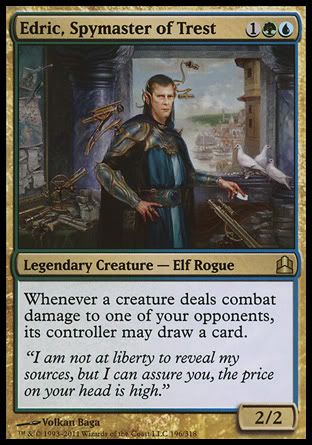 Why play
Edric,Spymaster of Trest
?
Pros
-low costing general (3 mana)
-one of the best combination of colors that has synergy together (counters and creatures)
-can be a political general forcing your opponents to stay away from you in order to draw cards
-draws cards with any creatures attacking, so small creatures tend to be best for this task if they have useful utility or are evasive
-this build is made to pray on the multilayer format, so it uses cards to slow down opponents while cheap creatures come and attack for small amounts to get card advantage
-since people view aggro strategies in this format as weak because of high life total, you use every tool available to you such as chaining
timewarp
like spells and pumping your creatures with
Beastmaster Ascention
and low costing counterspells
Cons
-you like to play expensive bombs
-you don't like to control the stack
-you hate aggro
-you hate pitting opponents against each other
-you don't like playing solitaire (constant
timewalk
like spells)
-you like running a lot of non-basics/mana rocks
-you like keeping a low profile
Deck History
I used to run many more color fixers and non-basics so it was basically a normal Edric build, but that became boring, and I thought, how can I annoy people to end, especially with their optimized mana base. Then it came to me, mana disruption without land destruction. A Tempo based edric that is even more tempo than usual.
Deck by card cost
Deck By card function
Card Explanations
Strategy
land a bunch of evasive creatures. land edric. attack with creatures to gain lands/counters to back up the rest of your spells that let you take extra turns. watch out for over extending and not being able to counter wipes.

Things that mess with our deck:
Infest effects such as Massacre wurm, Infest, Hideous laghter Black Sun Zenith, and one of the worst offenders, Elesh Norn, Grand Cenobite, however the are spells and can be countered, but two sweepers that cant are supreme verdict and a cycled decree of pain

Most people will know that Edric, spymaster of trest rewards the one who attacks with cards and will not be lulled by false promises of cards if they bicker amongst themselves instead of attacking you. your general will probably gotten rid of on sight by good players. Thats where your counters come in and all the disruption that is in this. it is made to slow down opponents and get you more cards. usually those cards will contain some sort of timewalk card which you can use tto beat some more and get more cards getting more timewalk variants etc.
Gaddock Teeg
is another thorn in our side since with him in play we cant use our business spells. the solution is usually to try and attacking him while waiting for
beastmaster ascension
or just counter him untill he becomes too expensive to cast. You can also hope others will help you gang up on him as he usually annoys EVERYONE and they will be happy to get cards for their efforts.
Mass wipes also affect our strategy but we tend to have enough counters to deal with, so if you suspect a mass wipe keep some counter mana open.
Some other generals that can be annoying:
Grand Arbiter Augustin the IV
since he increases the cost of our inexpensive things, while at the same time decreasing the cost of his spells while having the color most known for
mass removal spells
.
Zur the Enchanter
esper combination is a force to be reckoned with since it has white for mass removal, black more mass and targeted removal and blue for counters. plus Zurs ability can easally stop our game plan if he searches up
Solitary Confinement
Both white and black crovaxes are annoying as well since they put a damper on weenies. but it takes 6 mana for both versions to come online and by then you should probably have counters / activated
beast ascension
or forced some tempo loss via
Rising Waters
/
Winter Orb
/
Tangle Wire
Cards to look out for: steal effects that can take Edric. they include mind control and its buddys.
vedalken shackles
and
gilded drake
.
Ixidron
also is a hateful card since without edric or
coastal piracy
, the deck falls appart
Card Swap
edit: recently changed the decklist
want to try out some removal ala
Pongify
, and
Beast Within
and also a card that recently caught my eye is
Druids' Repository
but not too sure what to take out.
EDH decks in cockatrice, look me up under hoborobot