elvishchampionforever

Location:

Palo Alto, USA

Join Date:

4/29/2010

Posts:

284

Member Details
Some generals, you see spoiled and need to build immediately. Mikaeus, the Lunarch, is simply one of those generals. Everyone knows how good
Ajani Goldmane
's second ability is in token decks - now, we have a general who can do that ability.
I'm not really sure whether to call this a primer, because as Mikaeus was just spoiled, I've never played him before. I do have a fair amount of experience with tokens - my
Darien, King of Kjeldor
deck - but that's a bit different. Oh well - this will grow into a primer eventually. I'll eventually write up an explanation for my card choices, but only when I've tested the deck a little bit longer.
Here's my rough first draft of a decklist:
The General:
You may have noticed that if you attempted to click the link in the decklist to Mikaeus, he didn't show up. That's because he is in fact a BRAND NEW cleric from Innistrad. If you haven't met him yet, here he is: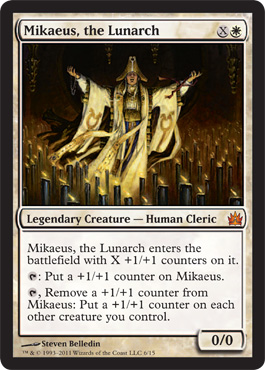 That is pretty damn powerful. His second ability is similar to
Ajani Goldmane
's second ability, and we can play him literally whenever we want (with a white mana open, but that would be a bit silly). My plan is to combine him with a bunch of tokens as well as a few untap effects, and perhaps some effects that reload his own counters, and see where it leads.
Strategy:
Make tokens, pump them up a ton, beat face.
Other Card Choices:
COMING SOON TO A MTG FORUM NEAR YOU!
Thanks to SushiOtter at
Hakai Studios
for the sig. Check them out!
Standard:
Dungrove Wolf Run
Modern:
ExarchMite KikiTwin
EDH:
Omnath
Darien
Ezuri
Intern:

Sir, the Modern metagame is horribly unhealthy! What should we do?

Aaron Forsythe: BAN EVERYTHING