MCR
Location:

Southern California

Join Date:

9/3/2008

Posts:

802

Member Details

Teysa, Orzhov Scion for 1v1 EDH (MWS Banlist)
brought to you by Khymera and MCR
"The darkest hour is just before the dawn."
I must first state that this deck is not for everyone. I know I wasn't a believer at first; a pile of janky combos and synergies that hang by threads, how could this deck possibly win? Hatched from the very peculiar mind of Khymera, Teysa is a deck based on elegant combos, the might of banned cards, all cradled by the inexorable strength of the black white combination. This list is weaved together by complexity and depth, a combination that can only be understood through trial, error, and experience. You might question card choices; you might scoff at my results; but I assure you that Teysa works and is to be reckoned with.
I wanted to wait until I had some real results with the deck, as well as a more optimized list, before coming back and making a whole huge thread about it. I struggled a lot with this general, trying to wrap my head around dozens of interactions and then both optimizing my playstyle as well as the list at the same time. At one point I almost gave up and just wanted to play a dumbed down Ghost Council deck. But I persisted and managed to do fairly well against some very strong generals in the format, as well as break into the top 8 of my first EDH tournament. There's something very real about this deck - people don't talk about it that much, but they always seem to secretly dread the matchup.
I quit EDH for a few months and recently came back. Upon my return, I was quickly ushered by a few old friends into the fourth online tournament. I had no idea what I wanted to play, and as I was sifting through old deck lists I finally came across my original project:
Teysa, Orzhov Scion
. After Khymera released his initial list earlier this year, I tried it out and we worked together to optimize it. While the core of the deck remains unchanged, several edits were made prior to this tourney based on a handful of play test matches. The deck had a lot of chaff and cards that were good on paper, but rather poor in practice. My experiences playing this deck have taught me many valuable things and I wish to share some observations with you guys. I think there are several choices that we need to reassess in order to more optimize the list.
I was going to post this after the tournament, but then I realized that I don't really care if people know what my list looks like or not. The point is I want to make Teysa the best she can be and that will only happen through everyone's feedback.
Please refer to Khymera's original Teysa thread to view the earliest developmental stages of the deck.
Development Circa EDH IV (September 2010)
Let's go through my initial thought process for the changes I made prior to the tournament.
Keep in mind that this entire section was written prior to the tournament and may not necessarily reflect my current opinions on certain cards.
I managed to play a few games against
Thada Adel
and
Jenara, Asura of War
. Hardly the proper spectrum of generals, I know, but enough to let me see right away things that didn't deserve their spots in the list.
Changes for EDH IV:
Volrath's Stronghold
->
Library of Alexandra
: Volrath was never one of the cards I cared for. I've had it in so many lists before this one as well and it never seemed to pull its weight. I can acknowledge how good it is with cards like Eternal Witness, but I have never once needed to use this card. In fact, I actually grimace when it's in my opening hand - that colorless mana definitely needs to be kept at a minimum. Library on the other hand has just been phenomenal the games I've had it in. I used to omit the card because I could not afford it, but since I'm playing online for the tournament I said: what the heck, why not. Boy was I mistaken for not running it before.
Academy Rector
->
Reassembling Skeleton
: Rector is cute. Too cute. Really though, after we cut
Debtor's Knell
, she just was never worth it. Slow AND you required a sac outlet. I have more important things to be doing on turn 4 than casting a creature with no immediate board impact. Since my enchantments are basically all utility ones now, her value diminishes as she can never get anything that'll instantly win me the game. Reassembling Skeleton was the latest addition to the clamp crew and has been insane ever since its inclusion. Sometimes you just have those land-light hands that are unable to abuse Bloodghast; Reassembling Skeleton rectifies this problem by providing a cheap way to constantly bring back a sacrificial (or clampable) body. The advent of Bloodghast's new partner in crime has also led me to question the usefulness of Nether Traitor (and the Phyrexian Altar combo altogether) which I will discuss later.
Yosei, The Morning Star
: was always so slow on his own. In 20/20 hindsight, this might've been a mistake. I'm actually considering putting him back into the deck, but I'll explain that later. For my justification of cutting him prior to the tourney, I just never wanted to see him. I would always go for the Iona/Painter/Ghast combo in the yard anyways. After playing the deck much more extensively, I now recognize his value. It was not a direct replacement here, but after I cut Yosei I added
Chrome Mox
which has been solid so far. I felt like I needed more mana, which will bring me into the next card discussion.
Coldsteel Heart
->
Mox Diamond
: Coldsteel Heart is another card that I'd probably want to include in the future, even after cutting it. During my test runs though, I opened with Land Tax so often that I wanted to test
Mox Diamond
in this slot. It's really a toss up between the two, as diamond is awful without proper support and Coldsteel Heart conflicts with your turn 2 plays. I'm considering
Dark Ritual
in this slot (no joke).
Sign in Blood
->
Dark Confidant
: While a strong card, when making cuts for efficiency, Sign and
Night's Whisper
were under heavy scrutiny. Yes they help you dig and sift, but as this deck grew more and more efficient, the need for these cards weren't as apparent. I opted to cut Sign and keep Whisper because of the slightly more prohibitive mana cost of Sign. Replacing it would be our favorite black creature, Dark Confidant. Serving as draw, a clampable body, and a sacrificial body, he was more than welcome to join the crew. Granted there are a few high CC cards in the deck, the curve for the most part is fairly low.
Castigate
->
Inquisition of Kozilek
: Castigate's mana cost was really a tad too difficult sometimes. I still do really like this card and think it has a place, but I opted to run the turn 1 card instead. Other interesting choices I'm looking into are
Mesmeric Fiend
and
Tidehollow Sculler
, since they serve as sacrificial bodies as the game progresses on.
Damnation
->
Devour in Shadow
: I wanted to make sure that I had more ways to deal with Rofellos and Braids before it was too late. I bumped up the spot removal a bit to address this. Not much to say here. Nothing is wrong with Damnation, but I do feel like I care a lot less about mass removal in 1v1 and more about just buying enough time for myself to power out a combo. This deck is decently fast and disruptive - if I fall to zerg aggro I probably deserved to lose anyways.
Living Death
->
Sun Titan
: I never really liked Living Death here. Although it is a pretty good effect in this deck, I don't think it's necessary with all the reanimation spells we have now. It's a bit overkill and at an uncomfortable spot on the curve. Sun Titan was a last minute add (literally changed my list like an hour before it was due). I was yearning for a way to return destroyed combo pieces from the GY, and Sun Titan looked perfect for the job (along with the fact that he is both a decent reanimation target and an even more decent beater). He can Strip lock people on occasion as well. How has he been in practice? I haven't had the chance to do anything insane, but I foresee him being a solid roleplayer in the future. And while we're on the subject of insurance cards, a lot of people really wonder why
Yawgmoth's Will
is missing from a combo deck. The answer is simple: almost all of our combos require the use of the graveyard. While we may be able to save things here and there, we cannot win the turn we play Will, and that greatly diminishes its value (in my eyes at least).
Snuff Out
->
Oblivion Ring
: I often tutor for or play
Darkest Hour
early on in the game, meaning Snuff Out is at a very clear disadvantage in comparison to the other removal cards in the deck. As I played the deck more, I actually felt like the deck was overstocked on removal so I let this one go. I reread the entire Teysa thread and kept thinking about how Khymera was trying to defend the inclusion of
Idyllic Tutor
. I then decided: why don't we just up the value of Idyllic Tutor zby running more enchantments? Oblivion Ring has been amazing in all of my games (usually serving as artifact removal, funny enough) as an all-purpose answer to anything.
Return to Dust
->
Seal of Cleansing
: Dust was too expensive. The effect is great, but in the end I opted to run a quicker, more efficient spell, Seal of Cleansing. Like Oblivion Ring before it, the value of Idyllic Tutor jumps up significantly with the inclusion of this card. Another very interesting card that I want to add is
Runed Halo
, which effectively trumps most general beatdown strategies (think Godo, Thraximundar, and even Tendrils of Agony, etc). On its own it acts as a pseudo, but effective enough, removal spell. Definitely worth considering. Many other people have suggested
Aura of Silence
, but the WW in the cost is very counter-productive to this deck's earlier plays, many of which involve a turn 2 BB.
Exhume
->
Animate Dead
: I will go into further detail later about why I chose Animate Dead, but the short story is that it is another enchantment card that can be tutored for with Idyllic etc without any major prerequisites. Recurring Nightmare requires you to have a creature in play and sometimes you just don't have the luxury. By running Animate Dead, you allow yourself much more consistent and realistic turn 2-3 Iona. Exhume does the same thing, but cannot be fetched by either Enlightened nor Idyllic Tutors.
I also added
Wasteland
to the list in order to have more game with Weathered Wayfarer.
I entered into the tournament with the above changes. The deck has worked fairly well for me, though I do have many, many more things I want to say about cards that have been great and cards that have just been blah.
EDH Tournament IV
I had the chance to run this against
Uril, the Miststalker
piloted by bimmerbot as well as
Akroma, Angel of Fury
piloted by mutedequilibrium the following day. My record vs each came out to be 5-3 vs Uril and 1-2 vs Akroma. I felt confident in both matchups, though my games vs Akroma were much more tight due to the fact that Akroma could still be played under Iona if painter was not around.
The tournament itself is still going on right now, so I'll update here as soon as we're finished. As of this posting, I am in the top 4.
Understanding Teysa
This section may contain a lot of things that are both obvious but subtle (if that makes any sense), but I feel the need to point them out. While this may be an odd way to go about a primer, I think it's best if I unraveled everything slowly in the same way that I learned the deck. I will be writing in a sort of 'stream of consciousness', as the deck makes much more sense if I move from thought to thought, rather than chop it up into rigid sections. The multiple stances that the deck can take are truly astounding and I want to make sure everyone understands that.
It's also important, I suppose, to state that we will rarely (if ever) use Teysa's first ability. The requirements for it are quite costly and the fact that our primary combos turn all creatures black further shies away from the ability. That was never her forte, so this deck was designed with only her second ability in mind.
What Pushes the Deck to a Competitive Level?

Banned cards.
When Khymera first built Teysa, I'm sure he had a clear mission to abuse the hell out of all the cards that were originally banned in the multiplayer list. Now I understand that such cards were banned for a reason.
Balance
,
Recurring Nightmare
,
Painter's Servant
, and
Library of Alexandria
are all cards are so disgustingly effective at what they do that the deck is able to stand toe to toe with some of the best generals in the format. By granting the
Iona, Shield of Emeria
and
Painter's Servant
combo, you have a very solid primary reanimation plan backed by a plethora of combos with Teysa. However, the raw strength of the deck comes purely through the brutality of its color combination. I have never experienced nor witnessed a color pair so riddled with efficient answers to just about anything in the format. On top of this, black and white offer the best tutors for finding all of the combo pieces, creating an envious level of consistency. The greater idea however, born from a culmination of different facets of abuse and combos, is a truly unique approach to 1v1 EDH and a very formidable playstyle.
Deckbuilding Philosophies
The original list came from Khymera, who drew inspiration from two things: combos based off banned cards and synergy. Just about every card in here has more than one function, and it takes a lot more than a card "being good" to make it into this list. Because we cannot run the full sets of tutors, we have to resort to transmute cards and weaker tutors (such as
Idyllic Tutor
), and thus we must maximize their potential. Luckily, that isn't a problem at all. The way I like to build decks is with an efficient curve. While others place more value in acceleration, allowing them to keep their curve higher, I'd rather come out the gates with strong plays and control the entire early game. I've tried very hard to optimize the list in terms of flexibility, which I will talk about in the next section. As for the efficiency of the list itself, barring reanimation targets and larger effect cards like
Hallowed Burial
, the average CMC of this entire deck rests at a very comfortable 2.44. It's not wonder I'm so infatuated with the black white color combination - all of its spells are cheap and efficient to the core. It also helps that virtually all of my combo pieces cost 3 or less, meaning matchups against Gaddock Teeg and land destruction aren't so painful. All this said, my card choices follow two simple rules: aid the combos or impede the opponent immediately. Simple as that. Oftentimes cards in here will do both, and that's when you know you truly have a gem.
Varying Mana Costs and Card Types
While playing the deck, I realized the importance of maximizing the utility and flexibility of each slot available to the deck. Because there is never one straight forward plan, this deck must be played flexibly. In order to enable this, it is no coincidence that
Weathered Wayfarer
and
Devout Witness
(now
Necrotic Sliver
), both cards that could possibly be replaced, are still in the deck. Why? Because they fulfill different mana slots during different situations. What if you had
Victimize
in hand and only enough mana to tutor and play a 1CC creature? What if you needed a creature to sacrifice and
Dimir Machinations
was your only tutor in hand? These very tight, niche situations arise more than you would think. A good example of improving value while still promoting flexibility was how I opted to include many more enchantments into the deck that cope with various situations. Instead of
Exhume
,
Animate Dead
was chosen in order to fill the 2CC slot for
Shred Memory
while still enabling
Enlightened Tutor
and
Idyllic Tutor
in a situation where you do not have a creature to sacrifice to
Recurring Nightmare
. There is a more intricate purpose for each card, and I want people who look at this deck to ponder, understand, and appreciate that fact. This leads me directly into the very unique playstyle of this deck...
Variability and Deception: A Deck of Many Combos
Playing this deck requires a very clear understanding of the combos available. The beauty of this deck, however, is that its more intricate combos are hard to attack. What I mean by this is that your opponent will often have to choose between stopping one piece or another, and since each piece is a part of multiple combos, judging which is more important to counter or destroy becomes nearly impossible. While this does indeed force Teysa to play a risky game at times, it is precisely the variability in combo pieces that makes this deck so powerful.
Before I continue on about the centric combo pieces and multiple angles of attack, I want to make sure you're acquainted with all of the primary combos available to the deck (even if some of them may come in or out of the deck over time):
Combos in the Deck
1. Iona, Shield of Emeria + any reanimation spell (w/ Painter's Servant)
2. Blasting Station via Darkest Hour/Painter's Servant + Teysa, Orzhov Scion + any creature
3. Blasting Station via Karmic Guide + Reveillark
4. Phyrexian Altar via Nether Traitor + Teysa, Orzhov Scion + Profane Command
5. Phyrexian Altar via Darkest Hour/Painter's Servant + Teysa, Orzhov Scion + creature + Profane Command
6. Phyrexian Altar via Karmic Guide + Reveillark
7. Altar of Dementia via Darkest Hour/Painter's Servant + Teysa, Orzhov Scion + creature
8. Altar of Dementia via Karmic Guide + Reveillark
9. Yosei, The Morning Star + Recurring Nightmare + any creature
Here's a more sorted way to interpret the various Teysa combo pieces:
A. Infinite creature generator: Teysa, Orzhov Scion + Painter's Servant/Darkest Hour; Karmic Guide + Reveillark
B. Combo finishers: Blasting Station, Phyrexian Altar, Altar of Dementia
C. Alternate lock: Yosei, The Morning Star + Recurring Nightmare

The primary and most simple win condition for the deck is indeed reanimating Iona, with or without Painter's Servant. Her value in certain matchups fluctuates a bit, as mutli-colored decks will generally have answers in more than one color, meaning playing her without painter is a risk. Against mono-colored decks however, finding Entomb + Reanimate/Animate Dead with the kind of tutor density this list packs is not difficult at all. In fact, having Iona out by herself is not an uncommon turn 2-3 play. It's only when you must have both painter and her out simultaneously that things begin to get a little tricky, since you will most likely need to go with a tutor for Buried Alive (fetching Iona, painter, ghast), followed by a Victimize the next turn on the ghast.
While the first combo is the primary method of victory, you might be asking: why Teysa? Teysa herself is a combo piece that enables an infinite generation of tokens by altering her second ability with
Darkest Hour
or
Painter's Servant
. Coupled with a sacrifice effect and a creature to sacrifice, you can use cards such as
Blasting Station
or
Altar of Dementia
to win instantly by generating an infinite number of sacrifices.
With this in mind, a very combo-centric piece to tutor for is Painter's Servant. He is the crux of many combos, including the primary Iona one.
You will almost always name 'black', as this allows you to combo off with Teysa in play. While he may not always be the first thing you tutor for (and often he's not very safe to run out there early, as he still is just a creature), it is important to remember that he is a core card. Darkest Hour, while not able to combo with Iona, allows for virtually the same thing at a very, very efficient cost of B. It is also an enchantment and difficult to get rid of. The other very important card that leads into virtually all of your combos (even the most elaborate ones) is
Buried Alive
. You're able to set up any game plan based off your starting hand, but again be wary because this is a sort of "all in" type of card that is subject to graveyard hate.

So now that we understand the primary Teysa combo, it's now important to discover what you can do with individual pieces.
Phyrexian Altar
is a peculiar piece because it has an interesting role in this deck. It is clearly the less efficient combo in comparison to
Blasting Station
because you will need an alternate means to win after you generate infinite mana. So why do we bother keeping this around over, say,
Altar of Dementia
which allows you to virtually win right on the spot? To be absolutely honest,
Altar of Dementia
may rightfully take this spot, but hear the following points and ponder the advantages and disadvantages. Phyrexian Altar is less likely to be destroyed or countered over, say, Painter's Servant or Skullclamp. This allows you to play it with some liberty, because even if it is destroyed you don't really mind. In fact, you almost welcome it over the destruction of painter. However, because it is often left alone, a single tutor for
Nether Traitor
will allow you to generate infinite mana with Teysa in play. You sacrifice the traitor to create a 1/1 spirit, which you then sacrifice and use the initial mana to bring traitor back - this nets you 1 mana each time you perform this cycle. After you have infinite mana, there are two primary cards that will lead you to victory:
Skullclamp
and
Profane Command
. Yes, some of these combos may feel like they have too many pieces, but you're going to realize that while playing this deck pieces just fall into your lap and you can make do with any combo, really. With the tutor density, there's really not much to worry about. So, in short, if your opponent decided that he'd rather stop your painter and NOT your altar, you go with this plan and win without the need to turn all of your creatures black. Variability.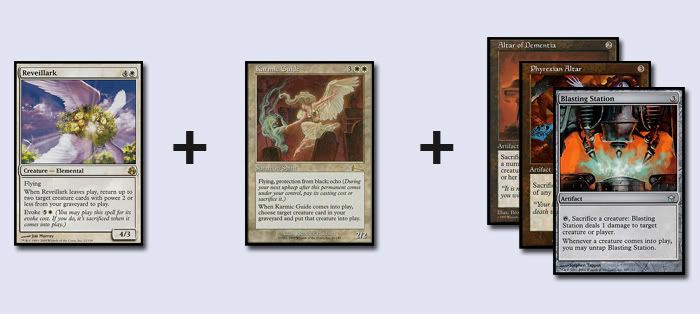 Sometimes you'll dump a bunch of stuff into your yard, like ghast, traitor, Iona, painter, etc, and your opponent will demolish your ensuing plays with a well-timed graveyard hate card. It's times like these that we look for yet ANOTHER backup plan. The infamous duo,
Karmic Guide
and
Reveillark
, combined with either of the other combo finishers will allow you to sacrifice an infinite amount of times. This combination is powerful because it does not require Teysa nor painter/darkest hour. The one major drawback is the cost of executing this plan - you often need to reach 5 mana to cast either Reveillark or Karmic Guide. However, with the use of reanimation effects, you are able to cheat these guys into play. It's quite simple to cast Buried Alive for both of these if you already have a Blasting Station in play and a reanimate spell in hand. The other reason these creatures are here is because they are both good on their own! Karmic Guide serves as another reanimation spell and Reveillark can bring back several important pieces (such as painter). Once again, more back up plans, and more subtle flexibility.
While this may or may not be included into the deck, I should not fail to mention BW's easy access to the
Yosei, the Morning Star
+
Recurring Nightmare
combo. This is the plan C, should games ever go that far. If you have any other creature, you can constantly sacrifice it to bring Yosei back and then use Recurring Nightmare to sacrifice Yosei and bring that creature back. Repeat forever and tap your opponent out, allowing you to do whatever you want. I would never actively go for this combo, as it does not guarantee you an 'instant' win and it's fairly slow, unless you're in a gamestate that would allow you to lock your opponent out or it just conveniently falls into your lap.
You should also never rule out the option that some games you just won't have anything at all, though they may be few and far between. That's when you're going to have to rely on token beats to get the job done. Given a few fairly strong stand-alone cards in here, winning in this matter is not completely foreign. A few key cards that allow this are
Elspeth, Knight-Errant
,
Bitterblossom
, and
Sun Titan
. It's also worth noting that Sun Titan pairs particularly well with
Strip Mine
,
Seal of Cleansing
, and
Necrotic Sliver
.
Weaknesses
This deck is far from infallible. In fact, while it does have very strong plays, there are often hands that meander about and accomplish nothing significant on their own. It's these games, where you only have access to so little, that you must depend on BW's answers to keep you aloft long enough to buy a win. Go for card advantage plays, such as
Skullclamp
or
Phyrexian Arena
that allow you to swing yourself back into the game.
The one archetype that Teysa struggles most against are generals that have a heavy amount of blue in them. Versus any other type of deck, aggro or combo, Teysa is much more more well-equipped in both disruption and removal, backed by rather quick wins when unmolested. Blue is the complete opposite, as they can always meddle with your plans. I've tried to include as much hand disruption as possible, but it will come down to how well you can utilize your mana and tutors to play deceptively, forcing them to counter the wrong spells while meticulously setting up an angle of attack. Nothing will teach you how to fight blue as a combo deck other than play experience, and I can assure you that any veteran would tell you the same thing. All this said, blue is a rather popular choice in EDH, so prepare yourself should you chose to partake this road.
Intense amounts of artifact/enchantment destruction is also rough for this deck, forcing you to go the reanimation route. Any time a player can recur artifact hate is bad times for Teysa (ie. Kiki-Jiki). Luckily those same matchups usually allow for Iona without painter.
Graveyard hate is always an issue, but thanks to the fact that you have so many options, you're almost never putting all your eggs in one basket. Even in games where I've had my entire yard removed twice, I still felt like I was 100% in the game. Just be wary about what your opponent is capable of so that you don't walk into these traps mindlessly.
When I have more time...
I will fill this section with important matchups and how to deal with them!
Ideas and Reassessment
While I think the list is great as it is, there are still many cards that may not be optimal. I'm going to list them here and see what you guys think. This is EDH and that means the list will always be growing with each set and evolving with every new metagame. There are actually tons of cards that people can argue the inclusion of - here are a few that I think stick up above the crowd:
Increasing Reanimation Target Count
Because reanimation is still the primary role of this deck, increasing its value and power only seems natural. However, the reason why this strategy is so powerful in the first place is because the deck is always trying to lock the game out with Iona. There are very few other targets than can seal a win away like she can, which has basically led me to question whether or not I even wanted to have secondary targets. Oftentimes though, I feel like if we could just add in another great reanimation target, it would go a long way to helping out games plagued by hate. There have been several choices, and while they are all inferior to Iona in terms of strictly winning, they are efficient role players that can quickly swing the game.
Angel of Despair
: BW's utility at its best. The problem with Angel of Despair is that she doesn't actually win you the game. In fact, her contributions to the greater goal of the deck are virtually non-existent. Sure a 5/5 flier is nothing to scoff at, but we're looking for something that packs a bigger punch.
Blazing Archon
: In attempts to find a card that will create instant board impact, Blazing Archon looks like an amazing show stopper. Sure it's a powerful effect, but he's just as fragile as the next creature. There are just those times when the board is so full of creatures that it's too late to bring Iona/painter out - this is where he would be valuable.
Pestilence Demon
: Discussed amongst a few fellow playtest partners, Pestilence Demon is probably the most powerful of the bunch in terms of being both a show stopper and ending the game on his own. His Pestilence ability is borderline insane in EDH and his body is huge. I see great potential for this card, especially in the aggro matchup.
Yosei, The Morning Star
: I had originally cut this card, but I sort of want it back in again just because he forms a two-card combo with
Recurring Nightmare
. Granted, it is slightly slow (since you have to use Recurring Nightmare twice to have him sacrificed - bring him back then use it again), it seems like a powerful show stopper against any time of deck, not just aggro. In the end, the fact that Yosei is part of an infinite lock might prove more valuable than Pestilence Demon. I don't want to bump my fat creature count up too high for several reason, so only one of the above will make its way in.
In the end, no additional reanimation target may be necessary either as we're looking for game winners and Iona is the only one that can truly accomplish that task.
The Battle of Altars
The first iteration of the deck utilized both of the altars,
Phyrexian Altar
and
Altar of Dementia
. However, Khymera made the point that the introduction of the Eldrazi invalidated the mill combo with Altar of Dementia. At that point,
Blasting Station
was brought on board as the alternative 'instant win' artifact. A great deal of my victories have been thanks to Blasting Station, and I find myself rarely ever 'going' for the Phyrexian Altar combo unless I exclusively have Nether Traitor in my staring hand. This brings me to the issue of
Nether Traitor
and
Profane Command
. Both cards, while not terrible on their own, are definitely weaker cards in the deck. I always go for Bloodghast or Reassembling Skeleton because I can bring them back to be used with clamp or nightmare rather easily. Nether Traitor on the other hand requires you to have another creature entering the graveyard first AND the black mana available. Even though this means drawing extra cards with clamp, it is often just overkill. The function of the card is practically backwards for this deck. That said, I think the introduction of Reassembling Skeleton dwarfs the utility that Nether Traitor brings to the table. Profane Command on the other hand is not a terrible card per se, but I haven't found it useful outside of the infinite mana combo with Phyrexian Altar. The deck just doesn't ever reach that kind of mana to gain proper mileage out of the various options on the card, so its utility is virtually wasted here. Now bringing the conversation in a roundabout way, it seems the Eldrazi do not plague the 1v1 lists much like they do to multiplayer, meaning that playing Altar of Dementia may not be so bad. Just scanning over the various viable decks, the only lists that actually play Eldrazi are mono-green decks that use them primarly as win conditions. It could be as simple as not going for the dementia combo against green and using it against everything else. If we run Altar of Dementia, this means we can cut three spots:
Phyrexian Altar
,
Nether Traitor
, and
Profane Command
- all of which are very sub par cards in here. The one thing that has me walking the fence is the fact that you absolutely need to resolve either Painter's Servant or Darkest Hour for these combos, otherwise you cannot go infinite unless you have the Karmic Guide/Reveillark duo. The way I see it though, is that even though the infinite mana combo only requires Teysa, Phyrexian Altar, and traitor, you still need to have the win condition (or a tutor in hand). In this sense, it is no different than just streamlining the combo process and require sticking a painter effect, but you gain the benefit of two stronger slots. At this point we have to weigh a sub par set of cards that create variability against more powerful cards that aid a more streamlined, but predictable, combo.
The Necessity for more Hand Disruption
This is just a small section, but I feel that I could go with another hand disruption spell or two. IMO, hand disruption goes a long way in EDH, and oftentimes it's not even just for securing your own win but for taking someone out of the game entirely. Snatching a key play out of an opponent's hand is invaluable and I think this deck could use some more of that. To counter this deficiency, I propose the addition of
Mesmeric Fiend
and
Tidehollow Sculler
. We may not be able to abuse their abilities using the stack all the time, but they offer sacrificial bodies on top of their pinpoint discard, something that the deck is always fond of. As long as you can halt your opponent long enough to allow a combo, you're good to go, and these cards do exactly that while providing fodder for infinite sacrifice combos. By the time you go off, whatever card you snatched from their hand will more than most likely become irrelevant.
Fickle Mana
One of the few drawbacks of the BW color combination is how fickle the mana can be. There are tons of BB, WW, and WB casting costs that need to be met by the second and third turns. Maximizing the amount of lands able to produce both B and W become crucial, so I've shaved down a lot of chaff. However, three lands in particular have become somewhat of a hindrance to the natural early game development of the deck, and they are:
Bojuka Bog
,
Orzhov Basilica
and
Salt Flats
. It's pretty much decided that enemy color decks will have to run CIPT lands just to make sure they can consistently make their hearvy-colored plays. Bojuka Bog is never there when I want it to be and is often just a CIPT Swamp. I've consulted Evergreen and a few other players about this, and they all concur that bog is best left out of more aggressive decks; I'm going to replace it with
City of Brass
. Salt Flats is sub par to
Vivid Marsh
(and Meadow) in much too many ways. I'm going to replace it with the aforementioned card; same for Orzhov Basilica.
Cards that Should Be in Here but Aren't
And this is what many people consider the most fun part about EDH - your deck is never perfect. There are always slots that can be changed depending on your metagame or as new sets are introduced. Ahead is a list of cards that I personally think are powerful enough to warrant inclusion. However, I have not managed to find room for them. Most of these cards, while very powerful in their own respects and would be auto-include in any other BW list, often do not share enough synergy with the combos at hand. Therefore they are omitted not due to lack of power, but because they lack harmony. Most of these I have tried, some of these I have not. If you have a particularly good counter argument for any of these, I will gladly hear it.
Khymera, if you're reading this, I'd like you to make comments on these choices.
Elspeth Tirel
- lot of buzz over this card. The verdict? She's not good enough here. She's expensive and doesn't aid the gameplan in any way except make tokens (and potentially disk the board). You may argue that this is a lot, but you have to take a look at the larger picture, and that is she doesn't aid our combos enough and she doesn't provide any immediate control. Those are the criteria for earning a spot in the deck and she just barely falls short in both categories.
Damnation
- definitely a good card, definitely deserves a spot. However, I don't think the deck even needs it. It pretty much ignores creatures en-mass by comboing before that happens and carries plenty of spot removal for ones you do care about. Mass removal like Damnation just isn't really necessary, and if it REALLY is, we can always opt to either Balance, Sickening Dreams, or Hallowed Burial.
Yawgmoth's Will
- cannot combo the turn you cast it, making it fairly weak in here. I've thought long and hard about this, and the disadvantage is just so blatantly annoying that I can't bring myself to run it. You can't even go Will -> Buried Alive, which is one of the spells that gets countered the most. However, I must admit that Yawgmoth's Will is still EXTREMELY powerful, especially in a deck that has so many efficient tools, such as Balance. This alone may warrant its inclusion, as I don't think many decks should ever pass up the opportunity to play this card.
Serra Ascendant
- this is another card people have been talking about endlessly. Simply put, I cannot consistently cast him turn 1 without starting at 29 life. Yes a 6/6 flying lifelinker is still good on turn 2, but if you remember back to my section about the deck philosophy, this card neither helps to immediately control the game nor provide aid to my combos (other than being a sacrificial creature, which I doubt will happen since it's a magnet). You might beat them very low, but then what? This deck wasn't designed to get in the red zone, so chances are you won't even be able to finish the opponent off. Coupled with tons of lifeloss in this deck, I can't consistently keep him at a 6/6 early on, so if he's not in my opening hand he's just a big fail.
Salvage Scout
- a card almost designed for this deck. It's unfortunate that he can't also get back enchantments - that would make him an auto-include.
Runed Halo
- I really honestly love this card. However, I just can't find room or justify it replacing another card in here.
Mortify
- no room.
Unmake
- no room.
Grasp of Darkness
- no room.
Oust
- could be good, but I've yet to test it.
Identity Crisis
- too expensive.
Diabolic Intent
- better on paper than in play.
Diabolic Tutor
- slightly too expensive. Consideration.
Pithing Needle
- is this better than some of the cards in the deck?
Luminarch Ascension
- slow in 1v1.
Argivian Find
- better than Sun Titan?
Dark Ritual
- unnecessary 1-shot ramp.
Gideon Jura
- unnecessary, does not further gameplan.
Sorin Markov
- unnecessary, does not further gameplan.
Liliana Vess
- too slow.
Moat
- consideration.
Aura of Silence
- double white hurts.
Mind Slash
- better on paper than in play.
Condemn
- might replace Devour in Shadow. Thoughts?
Guul Draz Assassin
- not worth the mana investment.
Royal Assassin
- pretty decent, but not worth the slot?
Preacher
- same as Royal Assassin.
Cabal Therapy
- in essence it should be good, but I still think it's too narrow.
Fallen Ideal
- another enabler, pretty good one too, I just hate using the red zone to win.
Orim's Chant
- decent, but no room.
Prospective Changes
Given all of the observations above, I have concluded that these changes should be made to the deck in order to bolster its effectiveness. Whether you all agree or disagree, I'd love to hear opinions!
- Bojuka Bog
- Salt Flats
- Orzhov Basilica
- Phyrexian Altar
- Nether Traitor
- Profane Command
- Smallpox
- Insidious Dreams
- Devout Witness
- Corpse Connoisseur
+ City of Brass
+ Vivid Meadow
+ Vivid Marsh
+ Altar of Dementia
+ Living Death
+ Tithe
+ Mesmeric Fiend
+ Tidehollow Sculler
+ Necrotic Sliver
+ Dark Tutelage
These changes basically tackle the Altar Battle argument. By removing the Phyrexian Altar combo, you effectively free up an extra two slots, which I then filled with
Living Death
and
Tithe
. Living Death fulfills two roles in this deck, a sweeper that I wish I had just a bit more often as well as another reanimation effect, which just makes this better than a plain Damnation; it also allows you to play more aggressively with painter, as now you have more ways to bring him back from the dead for a combo kill. Tithe is amazing for making sure we hit our land drops as well as fix for our more difficult early plays (insane with Mox Diamond!) I was also originally worried I couldn't deal with Rofellos or Braids in time, but Smallpox is coming out because I feel like its power level in here is so insignificant. It is true that we can use the discard to our advantage and that it's our only edict effect, but In the long run I think we could do without the card. I felt like some of the 'discard as an extra cost' cards were just too overwhelmingly bad in multiples (or without Land Tax), so I opted to exclude the weakest one,
Insidious Dreams
. This slot should honestly be replaced with
Diabolic Tutor
, but I wanted to address the areas that the deck could use the most help in, and that would be adding a tad more discard. I then added in
Mesmeric Fiend
and
Tidehollow Sculler
because they provide two advantages: a powerful hand disruption effect backed by a body, which I can then use to sacrifice into my combos. It's a good thing I'm going to put these guys again and I have no idea why I even cut them in the earlier iterations of the deck. The necessity of having a combo start is a very common problem with this deck; and while it isn't hard to find a body, I'd rather just up the creature density so that annoyance becomes much less frequent.
Devout Witness
was cut because she just didn't carry the kind of punch I thought she would. Once again, discarding a card is a bit much unless you have one of the cards that allow you to enter surplus (Library, Tax, Wayfarer), and she's a bit slow. I've opted to try
Necrotic Sliver
in this slot, since he fulfills the 3CC slot for
Dimir Machinations
should I need to tutor for a creature. I still foresee the sliver being a bit too slow for my tastes, but we'll see how he pans out. However, he has two subtle saving graces that are: comboing with Sun Titan and solid when I'm being liberal with excess reanimation effects.
I've been continually unimpressed by
Corpse Connoisseur
. The three suggested cards,
Dark Tutelage
,
Salvage Scout
,
Serra Ascendant
are all cards that I think are much more useful. Corpse Connoisseur seems like he'd be the perfect setup card, but in reality he's just way too slow. The most ideal scenario I can think of is having Altar of Dementia or Blasting Station in play with a reanimate spell in hand. If you play Corpse Connoisseur, barring any interruptions, that is an instant win via Karmic Guide and Reveillark, but it'd cost a whopping 9 mana. Dark Tutelage should probably be in the deck regardless, as it's these kinds of cards that will gain you a great advantage over the course of a game.
Argivian Find
has always been on my watch list because it's pretty good against blue decks to try and force through a certain piece, or getting back clamp (which is a huge deal). I think the better card, now that it's out, is
Salvage Scout
. Not only is a creature for Victimize and combo starting fodder, but he gets back artifacts! The only things you
really
need to get back are usually Skullclamp, Painter's Servant and either altar or station - so this is perfect! Anytime we can include a creature that will either aid our combos or help to disrupt our opponent is the double green light, and I think he fits the bill perfectly. he only downside to this is I hate running reactive cards, so at least Salvage Scout provides that combo fodder / clampable (irony?) aspect. It can't get back Recurring Nightmare or Darkest Hour, so I'll leave the verdict up to you guys. Serra Ascendant is kind of weird. Everyone tells me that it's insane, but I don't think I can justify running it in here with so much early life loss. I only have 5 Plains and a total of 8 ways to produce W on turn 1 without taking a hit. It can be good, as even a 6/6 flying lifelinker on turn 2 is awesome, but I'm afraid it just doesn't do enough for the gameplan as a whole. I still would also like to run
Yawgmoth's Will
, if you read the section above.
Overall I'm still trying to find the balance between answers and combo. I find that I'm really drawn to cards like
Dark Confidant
because they fulfill so many roles in this deck, including aiding consistency. If there is a creature variant of a spell, you bet that I'll most likely be running it. I've said it a thousand times already, but it is CRUCIAL that we have combo starting fodder here! It's just really difficult to plan the deck so that it fairs well against such a diverse array of generals. Sometimes I feel my deck is too removal light against voltron generals or Rofellos. Then sometimes I feel like my deck is too hand disruption light versus control and combo decks. In the end I'll never be happy, but I'm just glad that the color combination offers such amazing options like
Vindicate
.
The last card I want to mention here is the one that I've been eyeing for a few weeks now.
Scroll Rack
has been ridiculous. And what I mean by that is that it's either really good or it's really bad. Yes it lets me see much deeper, but at the same time it can really throw some plays off and is a bit of a pain to constantly sink mana in to. Yes it is insane with Land Tax and whatnot, I know, that's not what I'm complaining about. I'm complaining about those average hands where you don't have an insane card drawing engine that Scroll Rack will only ever let you dig 3 cards deep. It's just slightly annoying. I've pondered what replacements I could find, and I really think
Yawgmoth's Will
might take its place. Otherwise, another very interesting card is
Plunge into Darkness
. I know Khymera has a hard on for Scroll Rack, but I've been skeptical about it since the orginal list. It has proven itself to me, but that doesn't mean it's not streaky enough to make me question its inclusion.
Latest Updates
I have been playing with this list a decent amount and I can say that it is much more comfortable than any of the earlier iterations. I really cut out a lot of fat cards and now it's a stream of efficiency. I'm interested now to hear everyone else's opinions!
Credits
I'll first give credit where credit is most due. I want to thank
Khymera
, foremost, for the skeleton and input that went into this deck. Without his guidance, I would still be playing Ghost Council with geddon.
mutedequilibrium
- An old friend and an excellent player. If not for Chris, my interest in EDH would not have been rekindled. I'm sure we're to have many more EDH endeavours in the future.
Evergreen
- Another old friend and excellent player, I always enjoy talking about combo decks and Magic in general with him. It also helps that we're both infatuated with black
LennonMarx
- a good listener and one who provides solid feedback all the time (and for putting up with me complaining endlessly about how shoddy my mana base is >.< )
xCHRISTIANx
- disss guyyy. Some Thrax kid who thinks he's cool at life and signets.
Surging Chaos
- for his support of both the format and my deck, thanks so much
Thank you too, readers, if you managed to scour the entire thing. I'm always open to constructive feedback and am looking forward to your thoughts on how to optimize this list!

For probably the only other person on this planet that has played this type of Teysa deck, with so many different combos, knows what I am about to comment on right now. I will address the nuances of the deck below. There might be fixes, there might not. They may simply be the shortcomings of the deck itself and cannot be rectified, but I feel the need to point them out so that we may possibly address them, be it through existing cards or future sets:


Not having creatures to sacrifice

Most of the combos in here require a creature to sac and that is a very big annoyance. Actually, I have lost games where I have Altar of Dementia with Darkest Hour, but cannot find a creature for the life of me. As a result I've added creatures like Mesmeric Fiend and Tidehollow Sculler to help, and they've been great for that, but it's still a problem sometimes, as they are pretty high priority targets anyways. My idea was that they soak up removal and artifact destruction spells that would have otherwise been pointed at your more important combo pieces, so they pass. There's also the issue that whatever they have removed you don't want to see happen to you mid combo, such as removal for Teysa while he first trigger is on the stack or even cards like Krosan Grip. I even went as far as to look for more non-discriminate creatures that'll serve as removal (ie. Nekretaal or Shriekmaw), but the fact that they only kill non-black is a very annoying drawback.


Never having enough mana

The curve of this deck is beautiful. I really like the fact that the average CC is 2.44, that just makes me all giddy inside. However, since we don't have very many lands, the problem of casting transmute cards and then waiting an entire turn before comboing off is a large nuisance. I really hate just throwing stuff out there and passing the turn, so I usually want to save my second and third combo pieces till I can play them both (usually Teysa is the third). I want to do a lot of things, but I don't always have the mana. Chrome Mox and Mox Diamond have both been VERY helpful here, but i do wonder if the inclusion of one-shot cards like Dark Ritual are worth their weight in gold here.


Having enough removal, having enough consistency

This is a delicate balance. I tried adding and removing card draw, and I feel like the ones that build you an advantage over time are the best, like Dark Confidant and Dark Tutelage. The problem is that we don't have enough mana each turn to actually use all of our cards each turn, even though our curve is extremely low. So I've also tried bumping up the spot removal as a way to "buy time" for us to play more lands and set up our combos. That backfired, as I was often flooded with removal and could never find my combo pieces. The current setup is decent, but I feel like I'm barely handling the aggressive generals and still a bit short on reaching a greater consistency. I suppose this is fine, and the fact that I don't feel like there's actually a significant deficiency in either probably means I've found something close to balance. Just wanted your opinion, because EDH is a format of extremes. Bump up the removal and lose to combo, bump up the consistency and lose to Rofellos (though not really lol).

Last edited by
MCR
: Oct 1, 2010